Edinburgh Architecture Offices, Lothian Architects Practices, East of Scotland Design Studios
Edinburgh Architects
Scottish Architectural Offices, Lothian Architecture Studios – Design Practices East of Scotland
post updated 2 July 2023
Edinburgh Architects Practices
Edinburgh Architectural Studios – with contact info: address, phone, email & website
Edinburgh Architecture Office Listings, alphabetical:
Beecher Architect Ltd
Melford House
3 Walker Street
Edinburgh EH3 7JY
0131 603 4844
[email protected]
Beecher Architect
Bergmark Architects Ltd
3 Walker Street
Edinburgh EH3 7JY
0131 603 4848
[email protected]
Bergmark Architects
Calum Duncan Architects
Officer's Club, The Drill Hall, 30 -36 Dalmeny Street
Edinburgh EH6 8RG
07899 905 543
[email protected]
Calum Duncan Architects
Crichton Lang, Willis + Galloway Architects
38 Dean Park Mews
Edinburgh EH4 1ED
0131 315 2940
Crichton Lang, Willis + Galloway Architects
Domus Design Architect
9 Craiglockhart View
Edinburgh EH14 1BX
0131 455 7773
[email protected]
Domus Design Architect
Fletcher Joseph Associates
5 Millar Place
Edinburgh EH10 5HJ
0131 447 5000
[email protected]
Fletcher Joseph Associates
GLM
58 Castle Street
Edinburgh EH2 3LU
0131 225 4235
[email protected]
GLM
Graeme Massie Architects
99 Giles Street
Edinburgh EH6 6BZ
0131 556 9911
[email protected]
Graeme Massie Architects
Graphite Studio Chartered Architects
7/3 East Trinity Road
Edinburgh EH5 3DZ
07761 756483
[email protected]
Graphite Studio Chartered Architects
Hackland & Dore Architects
16 Annadale St
Edinburgh EH7 4AN
0131 538 7707
[email protected]
Hackland & Dore Architects
Hypostyle Architects
4 Sandport Pl, Ronaldson's Wharf
Edinburgh EH6 6EU
0131 555 0688
[email protected]
Hypostyle Architects
LDN Architects
57-59 Bread Street
Edinburgh EH3 9AH
0131 222 2900
[email protected]
LDN Architects
Lee Boyd Designers + Architects
6 Canaan Lane
Edinburgh EH10 4SY
0131 447 1818
[email protected]
Lee Boyd • Designers + Architects
Morgan Architects
5 Advocate's Close
Edinburgh EH1 1ND
0131 332 4200
Morgan Architects
Oberlanders Architects
16 Melville St
Edinburgh EH3 7NS
0131 225 9070
Oberlanders Architects
SHS BURRIDGE ARCHITECTS
Studio 33, 33 Ashley Terrace
Edinburgh EH11 1RE
0131 313 1311
[email protected]
SHS Burridge Architects
QB Wood Architects
The Station Master's Office, Dalmeny Station
South Queensferry EH30 9JP
0131 319 1260
[email protected]
QB Wood Architects
Smith Scott Mullan Associates
378 Leith Walk
Edinburgh EH7 4PF
0131 555 1414
[email protected]
Smith Scott Mullan Associates | Architects
Somner Macdonald Architects
126/2 Calton Road
Edinburgh EH8 8JQ
0131 558 7575
Somner Macdonald Architects
Sutherland Hussey Harris
99 Giles St
Edinburgh EH6 6BZ
0131 553 4321
[email protected]
Sutherland Hussey Harris
Zone Architects
211 Granton Road
Edinburgh EH5 1HD
0131 551 1973
[email protected]
Zone Architects
Edinburgh Engineers
Edinburgh Engineers
David Narro Associates
Consulting Structural and Civil Engineers
34-36 Argyle Place
Edinburgh EH9 1JT
0131 229 5553
[email protected]
https://www.davidnarro.co.uk/
Edinburgh Architect Listings Fees
£100 per annum for Offices
£80 for Sole Practitioners
This architectural resource was one of the first established in the world, way back in 2000. The only other one which could possibly be described as internationally known was 'Death by Architecture'.
The website was thriving six years before the likes of Archdaily and Dezeen came along in 2006. Our focus was on forming a useful resource mainly for the Lothians architectural community, but an offshoot was providing information for visitors to navigate the city.
The internet has come a long way since then, and hundreds of architecture websites have been formed, and more locally, masses of tour companies to show visitors around the Scottish capital city. The early website was split into seven tours for the various parts of the city – Old Town, New Town, North, East, South and West, plus the environs.
New National Centre For Music Edinburgh at Royal High School on Calton Hill, the building design is by Edinburgh Architects practice led by Richard Murphy: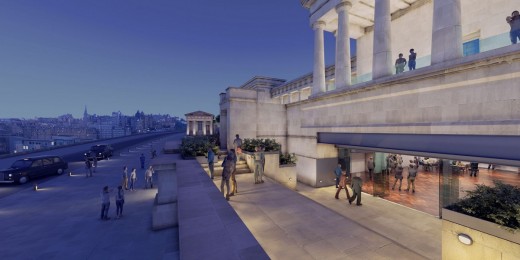 image courtesy of architects practice
As a practising Edinburgh architect I knew a fair amount about the major building developements, and also what the key architects were thinking. We had a number of scoops, most notably an interview with the leader of Edinburgh Waterfront which was picked up by the Edinburgh Evening News as a major story.
Since my days working as an architect in Edinburgh I have worked for a couple of practices overseas. I left Scotland to work for Pace in Kuwait City. The practice has around 700 employees, with a floor of roughly 60 architects in the main building.
I was Project Architect for a 'New Town' in Bahrain, essentially an urban quarter near the brideg from Saudi Arabia. The mixed-use development has a mix of retail, leisure and residential. The purpose was to tempt footfall from saudis heading to the more liberal Bahrain, especailly at weekends. The nine residential buildings were four storeys high, with three small pocket parks set off a high street with retail on either side at ground and first floor levels. A supermarket anchored one end of the development, with a cinema at the other end. The project has been built and was called Liwan.
After that project was signed off by the Client I started work as Project Architect for a pair of towers on a tight rhombus-shaped site in Sharq, in the city centre of Kuwait City. One tower (24 storeys high) was mainly for apartments with F&B at its base. The smaller 13-storey tower was for private clinics, quite a major typography in the city. The development was for Mazaya Holdings. To allow the project to stack up financially it needed a certain amount of underground parking (no space at grade) and due to the tight footprint we developed a basement of seven floors, unheard of in the city where one to two parking levels is more common.
I was then headhunted by GAJ due to my tower experience to work on another pair of skyscrapers, this time in Dubai, UAE. I was Project Architect for the Dubai Creek Harbour Palace Hotel and Residences, for major developer Emaar, at the DCH site on the Creek.
This development has a much larger footprint, so we stacked four floors of basement to form a raised podium looking out over the Creek. A five-star hotel tower contained 121 rooms with a spa on the penultimate floor, and a pool bar on the roof. All day dining and concierge facilities like meeting rooms were obviously laid out on the ground floor.
The larger tower had 587 apartments in two joined blocks of different heights (39 and 43 storeys). I developed a matrix to ensure efficient stacking of services and structure, whilst hitting the Client's ever-changing ratios of apartment types. Four-bedroom apartments were placed at the top, facing the Creek, with a mix of two and three-bed flats below. On the boulevard facades I placed a mix of one and two-bed apartments.
Materials for this concrete building were primarily GRC panels of an off-white colour with flecks of stone, bronze curtain walling and of course lots of glass. The seismic zone was not too onerous and the bedrock underneath was fairly close to the surface.
One of the key challenges was servicing the buildings, especially location of kitchens and stores to serve the F&B. The Client wanted the hotel located on the site facing a spectacular new bridge, however the service road (sikka) was at the opposite end of the site. Thus deliveries and removals all had to wind through the basement from one side of the plot to the other.
Another challenge, as ever, was locating large spaces for MEP. This plant is noisy and can create fumes, for example the daily generator power test. Also transformer rooms need attic slabs and are tightly controlled by the authorities with little room to manoeuvre. Due to the height of the building we also had to place an MEP floor on Level 21, with an extract flue needed at that level too. The apartment building roof also had an entire louvred MEP floor.
Hopefully the above was of some interest – I am back in Scotland now, and busy publishing architecture projects from around the globe. I retain an interest in the Scottish architecture scene, and am open to continued work doing crits at the Schools of Architecture. In the past I have done crits at both the (former) Edinburgh schools and at RGIT in Aberdeen.
Scottish Parliament building – new entrance by Edinburgh architects lee boyd: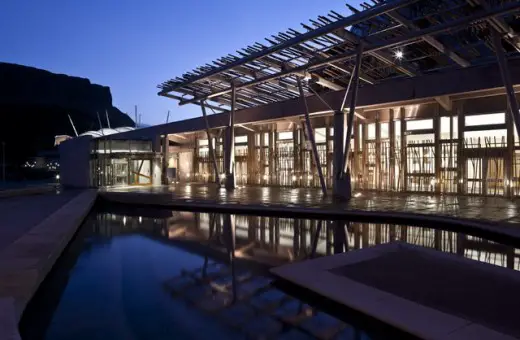 image courtesy of Edinburgh Architects practice
Architecture in Lothian
Scottish National Gallery Transformation by Hoskins Architects
Comments for the Edinburgh Architecture Offices – Lothians architect practice listing page welcome