Edinburgh Architecture Offices, Lothian Architects Practices, East of Scotland Design Studios
Edinburgh Architects
Scottish Architectural Offices, Lothian Architecture Studios – Design Practices East of Scotland
post updated 19 December 2021
Edinburgh Architects Practices
Edinburgh Architectural Studios – with contact info: address, phone, email & website
Edinburgh Architecture Office Listings, alphabetical:
Beecher Architect Ltd
Melford House
3 Walker Street
Edinburgh EH3 7JY
0131 603 4844
mail@beecherarchitect.com
Beecher Architect
Bergmark Architects Ltd
3 Walker Street
Edinburgh EH3 7JY
0131 603 4848
jb@bergmarkarchitects.co.uk
Bergmark Architects
Chris Matson Architect
79 High Street, Miller's Close
Dalkeith, Midlothian EH22 1JA
T. 0131 561 5623 M. 07906324343
mail@chrismatson.co.uk
Chris Matson Architect
Calum Duncan Architects
Officer's Club, The Drill Hall, 30 -36 Dalmeny Street
Edinburgh EH6 8RG
07899 905 543
calum@calumduncan.com
Calum Duncan Architects
Crichton Lang, Willis + Galloway Architects
38 Dean Park Mews
Edinburgh EH4 1ED
0131 315 2940
Crichton Lang, Willis + Galloway Architects
Domus Design Architect
9 Craiglockhart View
Edinburgh EH14 1BX
0131 455 7773
ceg@domusdesign.demon.co.uk
Domus Design Architect
Douglas Strachan Architect
79 High Street
Dalkeith EH22 1JA
0131 663 9735
douglas@douglasstrachan.com
Douglas Strachan Architect
Fletcher Joseph Associates
5 Millar Place
Edinburgh EH10 5HJ
0131 447 5000
admin@fletcherjoseph.com
Fletcher Joseph Associates
GLM
58 Castle Street
Edinburgh EH2 3LU
0131 225 4235
enquiries@weareglm.com
GLM
Graeme Massie Architects
99 Giles Street
Edinburgh EH6 6BZ
0131 556 9911
info@graememassie.com
Graeme Massie Architects
Graphite Studio Chartered Architects
7/3 East Trinity Road
Edinburgh EH5 3DZ
07761 756483
mail@graphitestudio.co.uk
Graphite Studio Chartered Architects
Hackland & Dore Architects
16 Annadale St
Edinburgh EH7 4AN
0131 538 7707
admin@hackland-dore.com
Hackland & Dore Architects
Hypostyle Architects
4 Sandport Pl, Ronaldson's Wharf
Edinburgh EH6 6EU
0131 555 0688
edinburgh@hypostyle.co.uk
Hypostyle Architects
LDN Architects
57-59 Bread Street
Edinburgh EH3 9AH
0131 222 2900
architects@ldn.co.uk
LDN Architects
Lee Boyd Designers + Architects
6 Canaan Lane
Edinburgh EH10 4SY
0131 447 1818
design@leeboyd.com
Lee Boyd • Designers + Architects
Michael Laird Architects
5 Forres St
Edinburgh EH3 6DE
0131 226 6991
Michael Laird Architects
Morgan McDonnell Architecture Ltd.
5 Advocate's Close
Edinburgh EH1 1ND
0131 332 4200
Morgan McDonnell Architecture
Oberlanders Architects
16 Melville St
Edinburgh EH3 7NS
0131 225 9070
Oberlanders Architects
SHS BURRIDGE ARCHITECTS
Studio 33, 33 Ashley Terrace
Edinburgh EH11 1RE
0131 313 1311
info@shsburridge.com
SHS Burridge Architects
Slorach Wood Architects
The Station Master's Office, Dalmeny Station
South Queensferry EH30 9JP
0131 319 1260
Slorach Wood Architects
Smith Scott Mullan Associates
378 Leith Walk
Edinburgh EH7 4PF
0131 555 1414
mail@smith-scott-mullan.co.uk
Smith Scott Mullan Associates | Architects
Somner Macdonald Architects
126/2 Calton Road
Edinburgh EH8 8JQ
0131 558 7575
Somner Macdonald Architects
Sutherland Hussey Harris
99 Giles St
Edinburgh EH6 6BZ
0131 553 4321
architecture@suhuha.com
Sutherland Hussey Harris
Zone Architects
211 Granton Road
Edinburgh EH5 1HD
0131 551 1973
info@zonearchitects.co.uk
Zone Architects
Edinburgh Engineers
Edinburgh Engineers
David Narro Associates
Consulting Structural and Civil Engineers
34-36 Argyle Place
Edinburgh EH9 1JT
0131 229 5553
mail@davidnarro.co.uk
https://www.davidnarro.co.uk/
Edinburgh Architect Listings Fees
£100 per annum for Offices
£80 for Sole Practitioners
This architectural resource was one of the first established in the world, way back in 2000. The only other one which could possibly be described as internationally known was 'Death by Architecture'.
The website was thriving six years before the likes of Archdaily and Dezeen came along in 2006. Our focus was on forming a useful resource mainly for the Lothians architectural community, but an offshoot was providing information for visitors to navigate the city.
The internet has come a long way since then, and hundreds of architecture websites have been formed, and more locally, masses of tour companies to show visitors around the Scottish capital city. The early website was split into seven tours for the various parts of the city – Old Town, New Town, North, East, South and West, plus the environs.
As a practising Edinburgh architect I knew a fair amount about the major building developements, and also what the key architects were thinking. We had a number of scoops, most notably an interview with the leader of Edinburgh Waterfront which was picked up by the Edinburgh Evening News as a major story.
Scottish Parliament building – new entrance by lee boyd: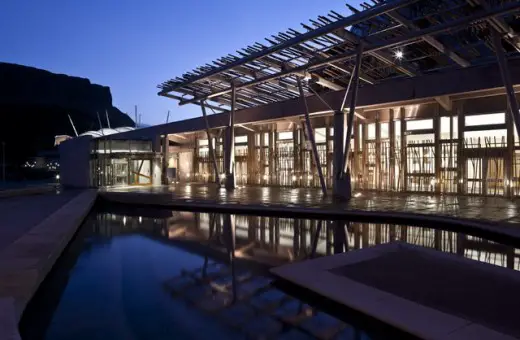 Architecture in Lothian
Scottish National Gallery Transformation by Hoskins Architects
Comments for the Edinburgh Architecture Offices – Lothians architect practice listing page welcome