Edinburgh Architecture Website Contact, Lothian Building, Architects Scotland
Edinburgh Architecture Contact Info
About us: Scottish Architectural Website – Built Environment News
Edinburgh Architecture Website Contact
Contact
phone – mob 07952 149814
info(at)edinburgharchitecture.co.uk
Address
e-architect limited, 4/1, 1083 Sauchiehall Street, Glasgow, G3 7UE, Scotland, UK
Directors
Adrian Welch + Isabelle Lomholt – both trained as architects
Edinburgh Architecture : Project Submission
Images
send mail attachments to:
info(at)edinburgharchitecture.co.uk
or post disk to:
e-architect limited, 4/1, 1083 Sauchiehall Street, Glasgow, G3 7UE, Scotland, UK
Images require a clear credit to the photographer, artist, graphic designer, etc.
longest side: minimum 1200 pixels wide
jpg preferred, RGB format
resolution: minimum 72dpi
Videos for our youtube page:
WebM files, .MPEG4, 3GPP and MOV files, .AVI, .MPEGPS, .WMV, • .FLV
Text
At the base of the Project Description we like to publish 'Building Information' which is our umbrella term for Credits, Design Team and Project Summary information.
Preferred information structure
Project Title:
Client:
Architect:
Site area:
Gross Floor area:
Location:
Status:
Project start date:
Cost:
Collaborators:
Building Address
We also require a detailed location for the google map at the base of new pages – ideally the street name for the building entrance.
e-architect : Adverts + Photos
Advertising
All pages available for advertising – see the Rate Card
e-mail us for rates
Photographs
Original photos available upon request
Photos by Adrian Welch since Feb 2009 taken with:
Canon Digital IXUS 8215: 3264×2448 pixels
Photos by Adrian Welch since Sep 2006 taken with:
Panasonic DMC-FX01 lumix camera; Leica lense: 2816×2112 pixels
Scottish Parliament entrance: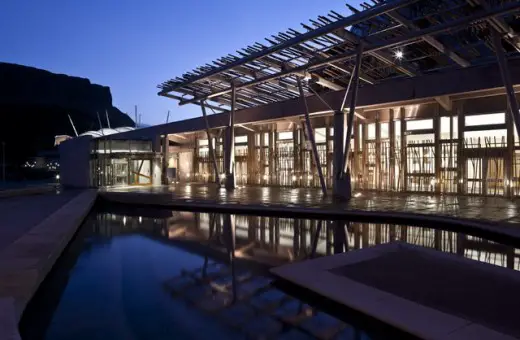 Comments for the Edinburgh Architecture Contact page welcome
Website: Edinburgh, Lothian