Edinburgh Walking Tours, Architecture Guides Lothian, Buildings, Architects, Visit Scotland
Edinburgh Architecture Walking Tours
Scottish Architectural Guides + City Construction – Visiting East of Scotland Built Environment
post updated 2 July 2023
Edinburgh Architecture Tours by e-architect – available to groups
Scottish Parliament building entrance: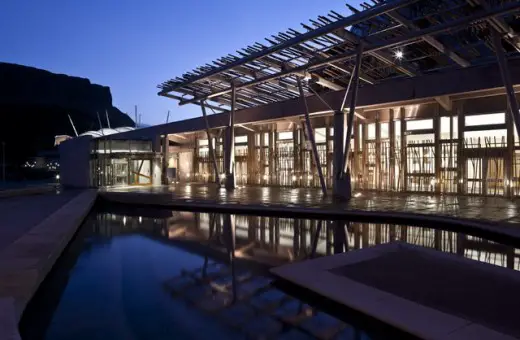 The two major recent buildings in Edinburgh to visit are the Scottish Parliament by EMBT/RMJM and the Museum of Scotland (extension) by architects Benson + Forsyth.
Edinburgh Walking Tours
Walking Tour Reference, 23 May 2018
Hi Isabelle,
We had a wonderful architecture trip! After your inspiring tour we went for lunch in The Dome as suggested which was very good. After that we had a nice walk and a little shopping in New Town.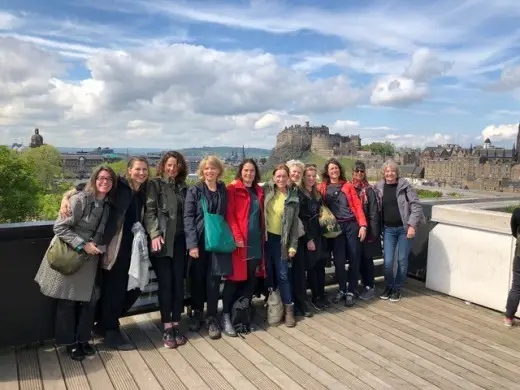 It is indeed special to make trips like this with colleagues who are also good friends.
Best regards!
van Gemert, interieurarchitectuur
Some recent architecture in the Scottish capital city:
Oriam Building at Heriot-Watt design by Reiach and Hall Architects, located just outside the city to the west: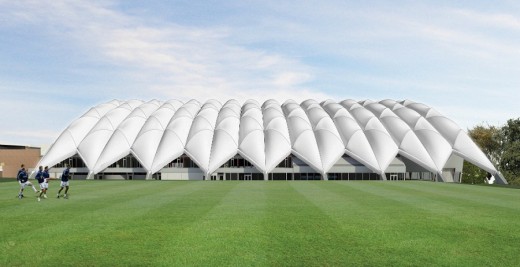 3-8 St Andrew Square Building design by CDA / Hoskins Architects, in the centre of the capital: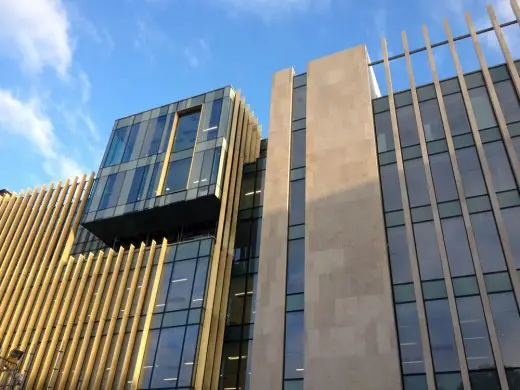 Most of the significant contemporary Scottish buildings have been built in the central belt, but the V&A in Dundee (2018) and the recent Aberdeen Library Building by SHL (2012) are exceptions. However there are also a number of Maggie's Centres sprinkled around the country – in Edinburgh, Glasgow , Aberdeen, Dundee, Inverness, Kirkcaldy, and Wishaw.
Famous architects with buildings in Scotland include the late Zaha Hadid, Frank Gehry, Norman Foster, Steven Holl and David Chipperfield, though none of the buildings represent their best work.
Three major recent buildings in Glasgow are the Riverside Museum by Zaha Hadid Architects, the BBC Scotland offices by David Chipperfield Architects and the Radisson Hotel by gm+ad architects.
Edinburgh architecture walking tour by e-architect on the Museum of Scotland terrace: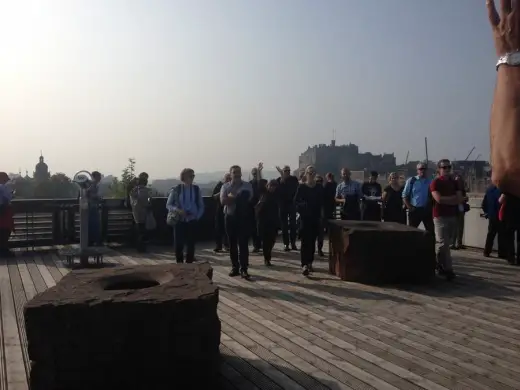 Recent Edinburgh walking tours took place for a Dutch architects studio trip and for a London architecture office trip.
Architecture Walking Tours in Edinburgh
Book your Scottish walking guide: [email protected]
Edinburgh Walking Tours since 2001, in the Scottish Capital
Our most popular Edinburgh Walking Tour is the Old Town. We look at contemporary architecture within the context of the historic environment, with information on buildings + architects. The Old Town tour typically takes 3 hours and takes in buildings such as the Scottish Parliament and the Museum of Scotland. Contemporary buildings such as Dance Base and the Scottish Storytelling Centre are also popular with visitors.
A recent Edinburgh Walking Tour for a group of Swedish developers + architects, photos:
"Hi Isabelle – and first of all – very much thank you for organizing a wonderful tour for us.
Our days in Edinburgh were just perfect planned – all by you!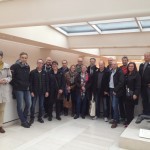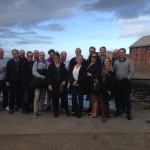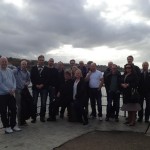 I would strongly recommend everyone that's planning on going to Edinburgh to contact you and hope for that you have got the time to help them.
The start with the capital's City Architect Riccardo Marini was brilliant. To see your beautiful city after his lesson was perfect. We still talk about how important it is to have living places where people like to spend their time. Our walking tour really showed us places of both kinds.
Just wish you all the luck with e-architect and a very merry Christmas."
Scottish Parliament Building in the Old Town: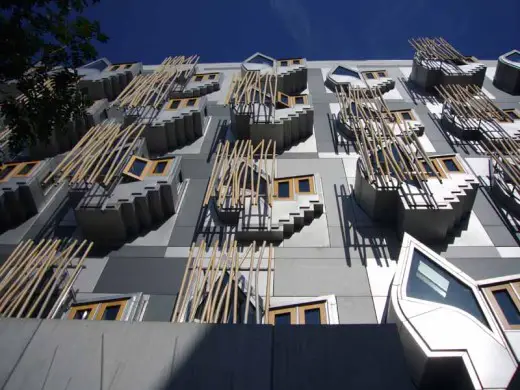 picture © AW
We also do New Town walking tours and occasionally guide in the historic centre of Leith (the port for the city) where there is a range of ancient and contemporary Scottish architecture. In addition, e-architect offer Edinburgh Bus Tours which allow visits to more outlying buildings in the city and Lothian, for example the Forth Rail Bridge.
We can arrange accommodation in contemporary quality hotels, dining in a range of good restaurants and suggested evening entertainment in the Scottish capital, ie the whole package for a fee. We can also provide groups requiring Scottish architecture walking tours architectural information on key building locations and building types.
Quartermile, just south west of the Old Town, by celebrated architects Foster + Partners: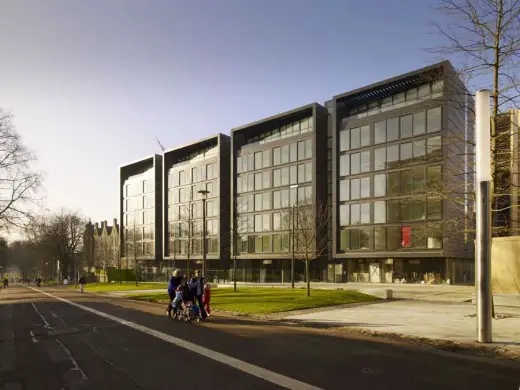 photo : Nigel Young, Foster & Partners
Visitors are usually at the starting point of their walking tour (or bus tour) of the city, though sometimes the guide can meet the group at their hotel. Edinburgh Walking Tours can simply be a guided tour of the capital's new & historic architecture. The guided tour can be backed up by hand-outs and experts for buildings of special interest, for example a project architect of a certain building.
Hotel Missoni on the Royal Mile, by Matteo Thun, Milan, with Allan Murray Architects, based in the Scottish capital: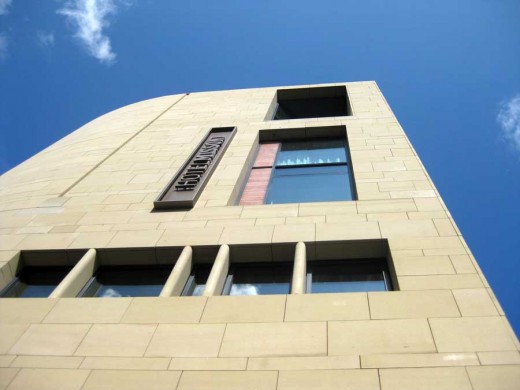 photo © AJW
A standard architecture tour proforma allows a tailored service, eg for larger groups a second or third guide may be required on the architectural tour, some groups are not interested in anything other than the new architecture in the capital whereas others like a mix of history and architecture.
Other than Edinburgh, we have done numerous architecture walking tours and bus tours in and around Glasgow since 2001. Many visitors staying in Scotland for two or more days like to combine visits to both cities, typically with a day in each location (though we have had quite a few trips with 2 days in each).
Edinburgh Architecture Tours
Edinburgh Architectural Walking Tours Proforma
Contact us for your Scottish guided tour: info(at)e-architect.com / mob. 07952 149814
Please advise if you wish to have a coffee stop halfway through the walking tour!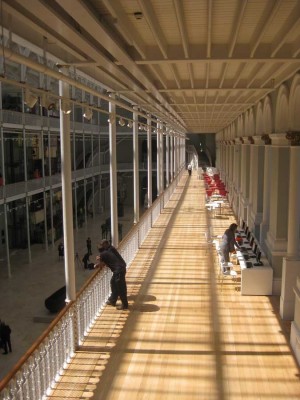 photograph © AJW
Edinburgh Guided Tour – Architectural Walk References
On Monday the 9th September 2013 three members of the e-architect team showed 64 professional people (mostly architects) from Bangkok around the Old Town. The walking tour was, despite the weather, a success. The three groups enjoyed the healthy mix of historical and contemporary architecture and general cityscape of the Old Town. For this group of visitors e-architect put special emphasis (by request) on the city's sustainable visions and plans for the future. The group's favourite point on the walking tour was the rooftop terrace above the Museum of Scotland building. Their biggest concern was the lack of trees (something many of our Asian visitors on tours have said) in the centre, though they enjoyed the foliage in The Grassmarket! 11 Sep 2013
Photos of another walking tour in the Scottish capital for a Norwegian architectural group – Scottish Parliament Building: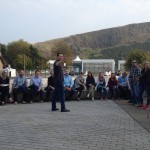 photo © Isabelle Lomholt
Edinburgh Walking Tours – Reference 18 May 2009
Dear Isabelle,
Oh yes, we had a splendid time in Scotland, thanks to you, Colin, and your beautiful country.
Vennlige hilsener fra, Øyvind
Edinburgh Bus + Walking Tour – Reference 24 Oct 2005
Adrian,
Thank you so very much for the spectacular job that you did for NBBJ Architects! They were so impressed with you and enjoyed the afternoon so much. I think they would like to send you a proper thank you and also keep in touch. I hope we meet next time – I will certainly ask you to lead any groups that I have in Scotland in the future!
Very best regards, SB for NBBJ Architects
Edinburgh Tours – Reference 19 Nov, 2003
Dear Adrian and Isabelle,
Your warm welcome for us in Edinburgh was much appreciated by all. Our post-trip surveys ranked the Scotland tour as one of the very best we have ever offered.
The arrangements you made for Chicago Architecture Foundation were superb. The walking tours with you and Isabelle gave us good insight into the architectural scene, historic and modern. It has been a great pleasure to work with you,
Very best,
Barry Sears, Special Tours Consultant and Tour Leader
Chicago Architecture Foundation
Photo of a recent walking tour in the Scottish capital for a Danish engineering + architectural group – Scottish Parliament Building: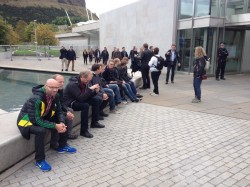 picture © Adrian Welch
Edinburgh Tours
Recent architecture walks in the Scottish capital we've organised:
2014-19:
too many to name anymore!
2013:
Thai, Swedish, Danish walking tours
2012:
Chinese, Swiss, Northern Irish, German, Dutch walking tours
2011:
Edinburgh Walking Tours for Swedish, Norwegian and American visitors
2010:
Edinburgh Walking Tours for Norwegian, French and Spanish groups plus a bus + walking tour for an English group
2009:
Edinburgh Walking Tours for Dutch, American, Norwegian and International visitors
2008:
Cologne walking + bus tour, London, Danish, Glasgow, Italian walking tour
2007:
Edinburgh Walking Tours for Bath, London and American groups
2006:
two English walking tours, two Scottish tours, Swedish, Swiss, German bus tour, Spanish, American walking tour
2005:
repeat visit to Scotland from the Architects Association of Catalonia; a group of 73 Swedish architects & engineers from White Architects; a group of architecture students from England; 42 architects from Lyon; German architecture studio, Architects from NBBJ in the USA, Spanish architect office, numerous UK architectural tour groups, Russian architects, 40 Dutch architects.
In previous years we have done Edinburgh Walking Tours for 22 members of the Chicago Architecture Foundation, the Royal Society of Dutch Architects, 18 Ukrainian architects, 52 Dutch architects, 12 members of the Architects Association of Catalonia, Bartlett Architecture students and an architectural walking tour for Dublin planners.
Edinburgh Walking Tour : contact us on [email protected] to book your architectural tour of Scotland
Architecture in Lothian
Edinburgh Tours : Architecture Guide
UK Architecture Walking Tours
London Architecture Walking Tours
Manchester Architecture Walking Tours
We also do British guided architecture tours in Dublin, Liverpool, Birmingham, Oxford and Cambridge.
Edinburgh Architectural Tours
Key Buildings in the Scottish Capital:
Scottish Parliament Building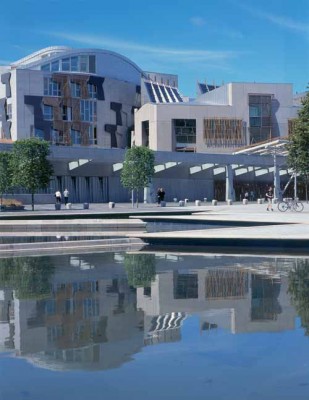 picture © Keith Hunter
This building is unmissable, whether you like it or not this is a major building designed by one of the key architects of the late 20th Century, Enric Miralles. The interior is warm and complex, whereas the exterior is rather austere being mostly clad in grey Scottish granite and precast concrete.
Museum of Scotland building interior: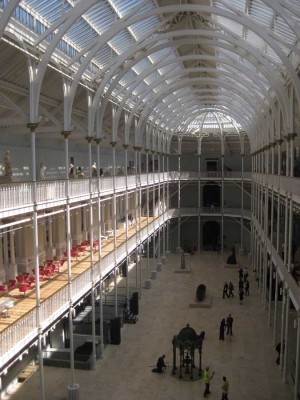 photograph © AJW
This is a lovely building to visit, combining new and old, and frequently the favourite on our walking tours of the capital. There are two adjacent buildings, new and old, though the Victorian original has now been completed redeveloped and is a pleasure to walk around.
Edinburgh Castle
This is a classic, world-famous, however from an architecture point-of-view it is not so important (if you do go in make sure you see the beautiful war memorial interior).
Hotel Missoni
This was a controverisal new building, completed in 2009 in the heart of Edinburgh Old Town. The building has a traditionally-proportioned facade on the Royal Mile whereas on the other elevations it uses sandstone with crisp contemporary detailing.
An Old Town hotel for your architectural visit to the Scottish capital – Radisson Blu Hotel Edinburgh
Glasgow Architecture Tours : architectural walks in the west of Scotland
Buildings / photos for the Edinburgh Architecture Tour – Scottish Walking Tours page welcome