Edinburgh Architecture Talks 2020, Lothian Building Events, Architects Scotland, Design
Edinburgh Architecture Events in 2020
Scottish Architectural Talks + Exhibitions – East of Scotland Construction Lectures
Edinburgh Architecture Talks in 2020
Edinburgh Architectural Events for 2020
What does the future of the Scottish Construction Industry hold?
Date: Friday 3rd July
Venue: Online Webinar
Time: 11:30am
In conjunction with Forum for the Built Environment, join this event to hear from the panel of 4 leading industry professionals including:
John Edwards: Chair of RICS Scotland and Director of PMP
Gillian Stewart: BCO Chair for Scotland and Director of Michael Laird Architects
A. Ross Taylor: Partner at Wright, Johnston & Mackenzie LLP
Graeme McCormick: Manager for Hays Construction & Property.
As we all adjust to the impact the COVID crisis has had, this webinar allows you to get various opinions on what the future will hold for the Construction sector in Scotland.
The panel will answer and discuss a number of questions relating the impact COVID has had on the sector, and there will be an opportunity at the end of the webinar for Q&A.
Book your place here: Future of the Scottish Construction Industry Online Webinar
Virtual Coarum – Re-imagine Edinburgh
Coarum: (Scots) a group, gathering;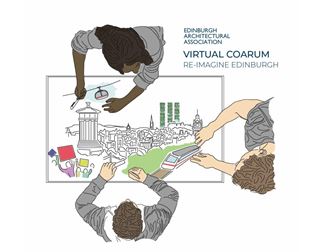 Virtual Coarum is an online discussion to explore a better way of living post-COVID 19.
"By leaves we live. Some people have strange ideas that they live by money. They think energy is generated by the circulation of coins. Whereas the world is mainly a vast leaf colony, growing on and forming a leafy soil, not a mere mineral mass: and we live not by the jingling of our coins, but by the fullness of our harvests." Patrick Geddes
The Edinburgh Architectural Association are asking members of the design community to contribute to a new vision for Edinburgh and the surrounding areas.
While COVID 19 is an urgent threat to life, the threat posed by climate change is a more existential threat to life on earth. Pre COVID it seemed impossible for us to change the way we lived to alleviate climate change, during COVID we have demonstrated our ability to adapt. As lockdown regulations begin to ease, there is an opportunity to define a better pattern of life.
VIRTUAL COARUM: Re-Imagine Edinburgh
'Edinburgh Architectural Association' (known as EAA) is a Scottish Charity SC050008 regulated by the Scottish Charity Regulator (OSCR)
Edinburgh Architectural Association | 15 Rutland Square, Edinburgh, EH1 2BE United Kingdom
How can we build a better city?
EWH have released more free tickets for their online event this Thursday.
They will welcome four leading Edinburgh politicians and ask the question: how can we make our capital city a better place in which to live and work post-Covid?
Joining the event will be:
Adam McVey – Leader of City of Edinburgh Council
Sarah Boyack MSP – Labour Party spokesperson for Local Government
Alison Johnstone MSP – Co-Leader of the Scottish Greens in the Scottish Parliament
Jeremy Balfour MSP – Scottish Conservative spokesperson for childcare and early years
Book free tickets for 'How can we build a better city?'
Recent East Scotland Events:
Edinburgh World Heritage in conversation with…architects
Today's Edinburgh skyline reveals not only the towers and spires of our renowned World Heritage Site, but also countless cranes and gantries which signify the biggest building boom the city has seen for many years.
In this conversation with leading architects Rab Bennetts, Malcom Fraser, and Richard Murphy, we will look at how the city is changing and ask whether future generations will look back and call this a 'golden age'.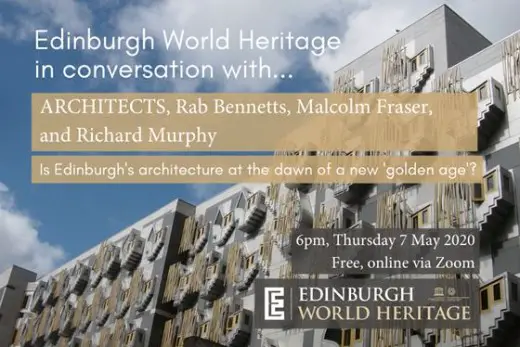 From left: Rab Bennets, Malcolm Fraser and Richard Murphy.
Tickets are available for free at the link below – don't miss out.
Date: Thursday 7 May 2020
Start time: 6pm
Venue: Zoom online
Please note: EWHT events have been selling out within 48 hours, please book now to avoid disappointment.
Over the coming weeks, we will be hosting a series of on-line conversations with leading local and national figures to discuss some of the issues we face as a city, both during and after the coronavirus lockdown.
All events are free, though we will be asking for a donation to help us cover the loss of income we are experiencing during the lockdown. We can promise lively and stimulating conversation, as well as a chance for you to put your questions directly to our guests.
Architectural Conservation Masterclass March 2020
Cancelled!
5 March 2020
The next session of the 43rd annual series of Architectural Conservation Masterclasses is:
How Lime Mortar Works
This masterclass is jointly offered by the Scottish Centre for Conservation Studies and the Institute for Historic Buildings Conservation – IHBC.
Drawing on research and practice, an examination of technical masonry conservation, focussing on the functional behaviour of lime mortar and its role in keeping buildings dry and conserving the masonry fabric in the process.
David Wiggins has a doctorate in the functional behaviour and technical conservation of heritage masonry. He is a CARE-Accredited structural engineer, part of the Conservation & Heritage team at Curtins. His work focuses on the structural repair and conservation of architectural and civil engineering heritage.
Time: Thursday, 5 March 5.30-7.00pm, followed by a wine reception
Venue: Adam House Lecture Theatre, 3 Chambers Street, Edinburgh EH1 1HR
(map here: http://www.ed.ac.uk/maps/maps?building=adam-house#main-content)
2020 programme:
Bookings: https://www.epay.ed.ac.uk/conferences-and-events/college-of-humanities-and-social-science/edinburgh-college-of-art/esala (£20 / £5 students).
We're looking forward to seeing you there!
SCOTTISH CENTRE FOR CONSERVATION STUDIES
Edinburgh School of Architecture and Landscape Architecture
Edinburgh College of Art, The University of Edinburgh
More Edinburgh Architecture Events for 2020 are welcome!
EAA Awards News
Submissions Deadline – Wed 26 February 2020 – 4pm
EAA members, and non-members, are invited to submit nominations in the following award categories.
Please see Rules of Entry below for full entry criteria.
Large Project / Small Project / Wood Award
Regeneration&Conservation / EAA Ambassador
All entries built within the chapter area are eligible for the highest accolade of Building Of The Year.
Short-listed entries will be notified in March with site visits proposed to take place in May. The winners will be announced, and presented with their awards, at a Drinks Reception held at St Cecilia's Hall, Edinburgh on the evening of 4th June.
CLOSING DATE WED 26 FEBRUARY AT 4PM
Edinburgh Architectural Association | 15 Rutland Square, Edinburgh, EH1 2BE United Kingdom
Free lunchtime talk for Scottish Architecture firms
Date & time: Thursday 20 February 2020 13:00 – 14:00 GMT
Location: The Merchants' Hall, 22 Hanover Street, Edinburgh, EH2 2EP
Free lunchtime talk
Architecture is amongst the most targeted sectors in Scotland when it comes to cyber crime.
During this free lunchtime talk, we'll explain the implications of the growing cyber crime threat that is now one of the biggest business risks you face.
In a short, non-technical session we'll be discussing the most common ways businesses like yours are targeted and how this is likely already happening with or without your knowledge.
We'll also give you some information on how successful Architects' businesses are ensuring they are best protected.
Please note – the talk is not for people working in IT but aimed at business owners and senior management.
Full details and registration are in the link below:
Free lunchtime talk for Architecture firms in Scotland
Architectural Conservation Masterclass – Human Habitat as a System: Soviet Mass Housing since 1948
The next session of the 43rd annual series of Architectural Conservation Masterclasses:
This masterclass is jointly offered by the Scottish Centre for Conservation Studies and DOcumentation and COnservation of the MOdern MOvement – International Scientific Committee on Urbanism and Landscape docomomo ISC U+L.
Soviet Mass Housing is arguably the largest project in the history of architecture. Harnessed by Soviet authorities and confined by rigid regulations, it nevertheless begot a great variety of standardised designs, representing both different stages of development and different geographical areas of the Soviet Union.
This variety was codified through an intricate naming system, which—at the most abstract level—was intended to describe the whole human habitat. In his lecture, Dimitrij Zadorin will introduce the origins and the functioning of Soviet Mass Housing as a system and explain what consequences this perspective has for working with standardised residential blocks and estates as architectural heritage.
Dimitrij Zadorin (Minsk, 1983) is an architect and a doctoral student in Architectural History at the University of Edinburgh. Since 2013 he has been a freelance writer and lecturer on post-war modernism and mass housing in the USSR, as well as on his native city. He is a co-author of the book Towards a Typology of Soviet Mass Housing (2015) and the author of the Architectural Guide Minsk (2018).
Time: Thursday, 6 February 5.30-7.00pm, followed by a wine reception
2020 programme:
New Edinburgh Architecture Events 2020 are welcome for this website
Architectural Conservation Masterclass – Conservation and Climate Change
Next session of our 43rd annual series of Architectural Conservation Masterclasses:
There would appear to be a conspiracy of silence about the extent to which construction contributes to carbon emissions. We are all familiar with the need to replace fossil fuel use with renewable energy, to stop forest clearance and plant trees, to insulate our homes and to support domestic re-cycling: but do we think about the impact of construction?
Statistics suggest that construction is responsible for 11% of total global carbon emissions, including 8% associated with the manufacture of Portland cement. If we believe in the risks associated with climate-change, then we cannot allow development and construction to be as market-driven and as unfocussed in this respect as they currently are.
A hundred years ago, Sir Patrick Geddes, a biologist who became a pioneer of town-planning and urban conservation, regarded towns as 'complex living organisms' and advocated a cautious approach to change, for avoidance of unintended consequences. Fifty years ago, Alex Gordon , then President of the Royal Institute of British Architects, advocated 'Long Life, Loose Fit, Low Energy' construction. Both men foresaw the importance of sustainability well ahead of their time. Climate-change was the sort of unintended consequence that Geddes and Gordon had in mind.
If the impact and carbon footprint of construction are to be reduced, we must plan to reduce land-take, build less, build better and build to last. At least as importantly, we should learn to value, to maintain and to make maximum use of our existing building stock: re-purpose it, improve its performance and enhance its appearance. While both matter, climate-change may supersede heritage as the principal driver of urban conservation.
It is well-known that re-use is preferable to recycling, but when a building must be demolished, its materials should be salvaged and all new construction should be designed with recycling in mind. If anything approaching carbon-neutral construction is to be achieved, the industry must undergo rapid change, re-learn some of the lessons of pre-industrial building and reduce its dependence on cement, concrete and steel.
There is considerable scope for using natural materials in new ways. 'Engineered timber' is well-known, but there is also scope for engineered and post-tensioned stone, which may be stronger in compression than concrete. Lime should be preferred to cement and there is potential for building with earth and bricks of naturally dried clay: a tradition which clings on in corners of the UK and which has been used in parts of the world for buildings of up to twelve storeys.
Climate-change will affect every aspect of our lives, requiring us to re-assess the consequences of the industrial revolution and our dependence for over two centuries on fossil fuels. Construction can be no exception and we must look to the industry, and to the architectural and engineering professions in particular, to lead us towards new ways of building which are sustainable in the true meaning of the word.
Dr James Simpson OBE, Honorary Fellow of the University of Edinburgh studied Architecture at the Edinburgh College of Art and received his BArch(Hons) degree from Heriot Watt University. He trained with Ian G Lindsay & Partners and with Sir Bernard Feilden at his practice in Norwich. After returning to Edinburgh in the mid-1970s, James continued to work with Sir Bernard on St Giles' Cathedral and began teaching Architectural Conservation at the Edinburgh College of Art.
In 1977 he joined Stewart Brown to form Simpson & Brown. With Simpson & Brown, James has worked personally on major conservation projects in Scotland including Yester House, Arniston House, Auchinleck House, Law's Close, Stirling Tolbooth and many others. In England, James led the team that restored Alderman Fenwick's House, Newcastle and he was appointed Surveyor of the Fabric of York Minster in the 1990s.
James became a consultant to the practice in January 2010. James has been a member of numerous boards and committees, including the Ancient Monuments Board, the Royal Commission on the Ancient and Historic Monuments of Scotland and the Edinburgh World Heritage Trust.
He is a Vice President of ICOMOS-UK. He has initiated and co-founded several charitable trusts, including the Cockburn Conservation Trust, the Scottish Historic Buildings Trust and the Scottish Redundant Churches Trust. Some of his current interests are in India, where he is a consultant to the Punjab Government for heritage projects in Amritsar and has advised on the Victoria Memorial in Calcutta. He continues to lecture and campaign for heritage causes in Scotland and beyond.
James has published widely. Principal publications include: Vitruvius Scoticus facsimile, introduction and notes on the plates (Paul Harris, 1980, and 2nd edition, Dover Press, 2011); contributions to The Care and Conservation of Georgian Houses – A Maintenance Manual for the New Town of Edinburgh (ENTCC, 1991); The Care and Conservation of Ancient Monuments and Historic Buildings by Government Departments in Scotland (DNH, 1994); The British Standard Guide to the Principles of the Conservation of Historic Buildings (BS 7913-1998).
Time: Thursday, 30 January 5.30-7.00pm, followed by a wine reception
Tickets at the door (£20 / £5 students).
RSA Metzstein Architecture Discourse 2020
Event to be held at the following time, date and location:
Wednesday, 29 January 2020 from 18:45 to 20:30 (GMT)
Gordon Aikman Lecture Theatre
32 George Square
Edinburgh EH8 9LH
United Kingdom
The RSA is delighted to announce that Snøhetta will present this years Metzstein Architecture Discourse.
Snøhetta is an international integrated architecture, landscape architecture, interior architecture, product design and graphic design firm. The firm has offices in Oslo, New York, Innsbruck, Paris, Stockholm, Adelaide, Hong Kong and San Francisco.
"A definite relationship between multiple disciplines is a driving force in all of Snøhetta's work. Our work strives to enhance our sense of surroundings, identity and relationship to others and the physical spaces we inhabit. All our projects get the same care and attention to purpose.
Snøhetta's working method practices a simultaneous exploration of traditional handicraft and cutting edge digital technology.
With more than 230 employees from 30 different nations we know that it is people that drive the creative processes. We use the expression "singular in the plural" to emphasize the value of the individual and ones interests in the performance of a group.
Snøhetta thrives on rich collaborations to push our thinking. A continuous state of reinvention, driven by our partners in the process, is essential to our work".
The RSA is indebted to the continuing support of the Scottish Government.
Snøhetta Architects, Oslo
Architectural Conservation Masterclass
The first session of the 43rd annual series of Architectural Conservation Masterclasses is organised jointly with the British Council, Cultural Protection Fund:
The Soqotra Heritage Project
The Soqotra Archipelago is an isolated continental fragment 300km south of Yemen in the Arabian Gulf. It was designated as a World Heritage Site in 2008 for its unique and globally important biodiversity, which has been well documented following years of research. However, the cultural heritage of Soqotra is very poorly known.
The Soqotra Heritage Project was established to redress this imbalance, through training a cadre of Soqotri experts in a selection of methods to locate, document and assess a wide range of both tangible and intangible heritage assets, to raise awareness about their importance, and to start to deliver practical conservation measures in a complex and challenging physical, social and political environment.
Dr Alan Forrest is not what would be traditionally described as an expert in cultural heritage, and his research has mostly focused on biodiversity conservation. Since joining the Centre for Middle Eastern Plants in 2012, his work has diversified to bring together strands of natural and cultural heritage in a region where they are inextricably linked and have evolved together, as well as working towards sustainable use and associated conservation and governance measures.
His work on Soqotra has involved consideration of spatial evolutionary diversity measures as predictors of Protected Areas, conservation assessments, and working with global experts on the heritage of Soqotra to bring natural and cultural heritage conservation under a single banner leading to sustainable livelihood options.
Time: Thursday, 23 January 5.30-7.00pm
Architecture and Collective Life conference, Dundee
Thursday 21 & Saturday 23 November
Architecture and Collective Life takes place between and will include highly anticipated tours of Dundee's industrial docklands as well as its architectural heritage, including the recent V&A Dundee on the city's waterfront, designed by the award-winning architect Kengo Kuma.
Edinburgh Architecture Events 2019
Recent Edinburgh Architectural Events
Scottish Parliament entrance: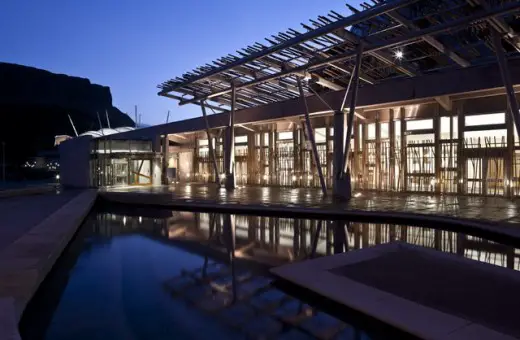 Architects and designers to discuss sustainable renovation, RGU, Aberdeen
19 Nov 2019
Event co-hosted by RGU and The Pebble Trust to discuss the major issues of climate change and fuel poverty, and the role architecture and innovative design can play in providing solutions.
'Sustainable Renovation', which takes place at RGU on Tuesday, November 19, will feature presentations from local architects and academics which focus on their work on renovation projects and present case studies on successful work carried out.
RGU sustainable renovation event
STUDENTS
The APEAS Part 3 professional practice exam is soon approaching! From personal experience we know this can be a stressful and overwhelming time.
We want to invite you to a social evening where you will have the opportunity to meet other students currently undertaking Part 3 and others who have been through the process already for informal discussions, moral support and sharing personal stories.
Royal Scottish Academy Open Exhibition Promenade
Open Exhibition Promenade
Event Dates:
20 November 2019
A fabulous opportunity to listen to a selection of exhibitors in the RSA Open Exhibition discuss their work, influences and future plans over a glass of wine. Led by Kate Downie RSA.
RSA Galleries | 6.30 – 8pm
Tickets £10 | RSA Friends & Patrons £8 (includes a glass of wine)
Royal Scottish Academy Open Exhibition Promenade
********************************
Edinburgh Architectural Events
Edinburgh Architectural Events Archive
EAA CPD & SOCIAL // EAA Award Winners 2019: A Showcase of the Best
6th Nov
Introduced by EAA Council members, the EAA & ESALA have brought together architects and clients from different projects to talk about their 2019 award winning projects. The concluding event to the EAA's annual programme of CPD, this packed evening will include short presentations on each project followed by some drinks and a chance to socialise with speakers and fellow attendees.
Confirmed Speakers:
Sebastian Coupe || Winner of the J R McKay Silver Medal – Tectonics of the Immaterial: The Rings of Flotta
Henry McKeown || J M Architects || Winner of the Ambassador Award – Alyth Primary School
Kieran Gaffney || Konishi Gaffney Architects || Winner of the Small Project award – Blackford Road
Annie Macpherson || Gray Macpherson Architects || Winner of the Regeneration//Conservation Award – The Borders Distillery
Sally Mackay || Bennets Associates || Winner of the Large Project award – Bayes Centre
Dermot Patterson || LDN Architects || Building of the Year – St John's Church
Date: 6th Nov 2019 Time: 5.30-8.00pm
Registration from 5.15pm
Location: Edinburgh College of Art, West Court (room C13)
74 Lauriston Place, Edinburgh, EH3 9DF
Tickets:
£10 Members // £15 non-members // £5 concessions // £free RIAS Students/Associates & ESALA Students
Proposals Invited – Biennale Architettura 2020
Applications welcome
The deadline for submissions was noon on Monday 9 September 2019.
The Scotland + Venice partnership has announced details of the open tender for Scotland's proposal for the Biennale Architettura in 2020. Creative teams are invited to submit proposals for a project to celebrate architecture, with the potential to showcase the work at one of the most prestigious architecture events in the world – the Biennale Architettura, Venice.
23 May to 29 November 2020
Biennale Architettura 2020
EAA SGM & SOCIAL – 23rd Oct
Join us for welcome drinks (on us!) from 17:45. EAA President, Ben Rainger, will outline the proposed new Constitution, then, teams will compete to become EAA Lego Champion 2019! Click the link below to register your team.
New Edinburgh World Heritage Lecture
29 Oct 2019 6pm
"All in a Blaze": The Story of African-American Freedom-Fighters in Edinburgh
Last year's 'Strike for Freedom' exhibition at the National Library brought to the public's attention for the first time the remarkable story of anti-slavery campaigner Frederick Douglass and his time in Edinburgh.
Edinburgh World Heritage are delighted that the curator of the exhibition, Professor Celeste-Marie Bernier, will give EWH's Black History Month lecture this year on the little-known story of 19th-century African American authors and activists who had links to the city.
Professor Bernier is Personal Chair in English Literature and Professor of United States and Atlantic Studies at the University of Edinburgh. She will be signing copies of her biography of Frederick Douglass and his family If I Survive after the lecture.
The publication maps the activism and writing career of Frederick Douglass and his sons, and contains full colour facsimile reproductions of over 80 previously unpublished speeches, letters, autobiographies and photographs.
Date: Tuesday 29 October 2019
Start time: 6pm
Lecture venue: Auditorium, Carrubbers Centre, 65 High Street, Edinburgh.
Duration: The lecture will run for around an hour, followed by a 45 minute reception for members of Edinburgh World Heritage at Trinity Apse.
Tickets are available on Eventbrite:
New Edinburgh World Heritage Lecture
EAA CPD – Community Engagement in City Development
9 Oct 2019
Edinburgh Architectural Association hosts a series of alternative perspectives on Community Engagement in Edinburgh from a number of industry leaders.
Elliot Wishlade from ARUP will provide an insight into the ongoing Edinburgh Waverley Masterplan. Councillor Neil Gardiner will discuss the 2050 city vision and the 2030 city plan. Linda Somerville of the grassroots community campaign Save Leith Walk will discuss the campaigns approach to engaging the community and David Wood from Scotland's leading place and active citizenship charity, PAS, will give insight into their approach to community engagement.
Book Tickets for Edinburgh Architectural Association Event
Date: 9th Oct 2019 // Time: 6.00-7.30pm
Registration from 5.45pm
Location: Edinburgh College of Art | Lecture Theatre E22 |
74 Lauriston Place | Edinburgh | EH3 9DF
Managing Mental Health in the Workplace Event
Monday 30th September 2019
Edinburgh
Book Now: https://holyroodinsight.com/booking/3387/SNZEZO-1241058
Expert Speakers:
• (Chair) Nigel Henderson, Chief Executive, Penumbra
• Yvonne Stewart, Assistant General Secretary, Operations and Equality, Scottish Trade Union Congress (STUC)
• Philippe Guijarro, Responsible Business Leader, PwC in Scotland, Chairman, This Is Me Scotland
• Catherine Eadie, Founding Director, MH Scot Workplace Wellbeing
• Representative, NHS Health Scotland
• Colin Borland, Director of Devolved Nations, Federation of Small Businesses
• Lorna Davis, Senior Associate, Harper Macleod LLP
The Farmer/Stevenson Review 2017 identified that a major contributor to the increased levels of absence in the UK is a rapid rise of mental health issues.
Business in the Community's Mental Health at Work Report 2018 found that in Scotland, employees are more likely than the overall UK workforce to have been formally diagnosed with a mental health condition, at 36% compared with 32% for UK workforce.
Now is the time to prioritise and invest in improving mental health. It is clear that good employee mental health is crucial to running a successful, sustainable organisation, with employers who take steps to support mental health at work benefiting from a more productive and loyal workforce.
Holyrood Insight's Managing Mental Health in the Workplace Conference brings together highly instructive, cross- sector speakers, who will discuss culture change and ways to destigmatise mental health.
Attend this conference to learn how to safeguard staff wellbeing, address problems before they become severe, and support staff when issues do emerge. Improve your confidence in approaching distressed employees, creating reasonable accommodations, resolving performance concerns and managing an effective return to work.
Key Points
• Understanding Modern Working Practices and their Effect on Workplace Stress
• The Importance of Good Leadership and Culture Change in Tackling Stigma and Promoting Positive Mental Health in the Workplace
• Providing High Quality Training for Managers and Mental Health First Aiders to Spot the Early Warning Signs and Provide Appropriate Support
• Making Reasonable Adjustments, Successful Interventions and Supporting the Recovery Process
• Low Cost and Scalable Interventions for SME's
Conference details:
Monday 30th September 2019
09:20 – 15:40
Edinburgh
Pay with a Credit or Debit card and receive a further 10% off
Book your tickets today
Free CPD – Building Standards Technical Updates 2019
25 Sep 2019
As part of Building Standards continuous improvement and engagement with internal and external stakeholders, they will present the latest updates to the Technical Standards to members of the EAA.
Scottish Building Standards Technical Updates 2019 Tickets
RIAS Convention & Doolan Award – Climate of Opinion
4 – 5 Oct 2019
This year's event combines the conference and Doolan Award. Climate of opinion takes place in Edinburgh with a day of discussion, debate and celebration around designing for climate resilience, diversity and northern Europe. The A&DS and RIAS student awards ceremony will also take place and the students will exhibit their work.
In the evening the Best Building in Scotland Award will be presented by Cabinet Secretary Aileen Campbell in the stunning surroundings of the National Museum of Scotland. The event will be rounded off on the Saturday morning with building visits and a city tour exploring some of Edinburgh's award winning architecture.
JUPITER RISING, near Edinburgh
23 – 25 Aug 2019
JUPITER RISING, Scotland's newest festival of music and contemporary art will unfold across the iconic landscape of Jupiter Artland.
Headliners include Mercury-prize nominees The Comet is Coming, The Vaselines and Cate Le Bon, alongside site-specific commissions from Mary Hurrell, Ain Bailey, Steve Warwick and Carlos Maria Romero.
Festival goers will be able to camp in the sculpture park and experience woodland-dining, lakeswimming and a variety of artist-led workshops.
jupiterrising.art
EAA Summer Building Visits
Edinburgh Architectural Association (EAA), with the kind support of practices and building users, have lined up a series of fantastic building visits over four July lunchtimes.
A rare opportunity for a guided tour of these recently completed projects, including a chance for question and answer with the architect and/or client.
Tuesday 9th July 1pm
Edinburgh Law School
Wednesday 10th July 1pm
Observatory Road
Friday 12th July 1pm
St John's Church
Tuesday 16th July 1pm
Collective on Calton Hill
Cost: £5 – limited to a maximum of 15 tickets per building. Please select the applicable date for the event you would like to attend from the drop down menu – see the link below:
Edinburgh Architectural Association Summer Building Visits
Edinburgh Architecture Events 2019 – January to June
Edinburgh Architecture Events 2018
Edinburgh Architecture Events 2017
Lothian Architectural Updates
GENERAL
Edinburgh University Student Architecture Society Events
Website: Edinburgh University Student Architecture Society Events
Website: Edinburgh Architectural Association Event
Website: ECAN CPD Event in Edinburgh
Website: Edinburgh, Lothian
Comments for the Edinburgh Architecture Events page welcome
Website: Edinburgh, Scotland