Edinburgh architecture talks 2023, Lothian building events, Scotland architects design lectures
Edinburgh Architecture Events
Scottish Architectural Talks + Exhibitions – East of Scotland Construction Lectures
post updated 18 November 2023
Edinburgh Architecture Events and Talks in 2023
Concrete Conservations: The Conservation of Scottish Modernism, Edinburgh
11 October onwards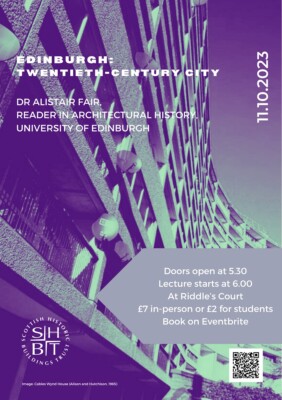 The Scottish Historic Building Trust launch their Autumn lectures on 11th October. The team have worked hard behind the scenes to develop a programme with some fantastic speakers.
This Autumn, SHBT bring you 'Concrete Conservations: The Conservation of Scottish Modernism". This six-lecture series launches with a lecture from Dr Alistair Fair, reader in architectural history at Edinburgh University. Edinburgh's architectural heritage is usually defined in terms of the medieval Old Town and the eighteenth-century New Town.
This talk, however, will argue that the city has a substantial body of notable twentieth-century architecture, and that the decades since 1945 have, in fact, seen substantial interventions in the built environment which have fundamentally shaped the city of today. The talk will offer a panoramic survey, including projects such as the university's post-war expansion, modernist housing and public buildings, Holyrood, and the international conference centre. Please join us to re-imagine a new future for the past.
All events are listed on Eventbrite and can be found here https://www.eventbrite.co.uk/o/scottish-historic-buildings-trust-32047600789
Links to related SHBT pages are below:
https://www.facebook.com/ScottishHistoricBuildingsTrust/
Tweets by SHBT
https://www.instagram.com/ScottishHistoricBuildingsTrust/
Scottish Historic Building Trust
+++
2023 Metzstein Architecture Discourse, Edinburgh
Wednesday 11 October 2023 7 – 8.30pm
Xaveer de Geyter
Gordon Aikman Lecture Theatre
32 George Square, Edinburgh, EH8 9LH
£14 | £10 RSA Friends and Student Concessions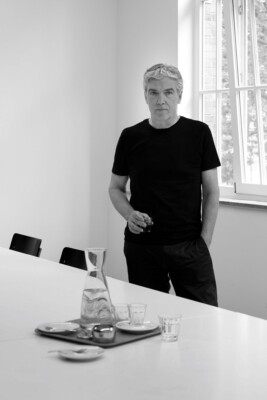 Xaveer de Geyter, 2020. © Jesus Granada.
We announce that Xaveer De Geyter will present this year's Metzstein Architecture Discourse, which will take place on Wednesday 11 October at the Gordon Aikman Lecture Theatre.
Xaveer De Geyter Architects (XDGA) is a Brussels and Paris-based office practicing architecture, urbanism and landscape design, founded in 1988 by Xaveer De Geyter after his experience at OMA/Rem Koolhaas.
Since then, XDGA has managed to build up a significant portfolio and obtain worldwide recognition thanks to its radical approach, diversified expertise and international team. XDGA counts to this day 5 monographs, numerous awards (Mies Van der Rohe Award, Bigmat Award, Flemish Culture Award for Architecture) and 3 travelling solo exhibitions.
"Ideally architecture is not about fixing activities, fluxes or programs, or worse, about solving spatial problems. On the contrary, it is about opening up possibilities: the potential of a site, the hidden opportunity of a particular situation in time, of a programmatic conflict. It is about dealing with uncertainty, about enabling different and unforeseen scenarios. In that sense architecture and urbanism are not opposed disciplines with different outcomes, but similar mediators, on different scales and in different degrees of complexity, with the same goal of enabling life." XDGA Statement.
The Metzstein Discourse, inaugurated in 2014, is named after Professor Isi Metzstein OBE RSA, a hugely respected architect and teacher as well as former Treasurer of the RSA. Generations of students, both at the Mackintosh School of Architecture where he taught for most of his life, and at Edinburgh University where he was Professor and Head of Department, found him to be an unforgettable inspiration.
Doors open 6.15pm
Green Home Festival, Edinburgh
Date: 18 August 2023
Church and community groups urged to attend Green Home Festival and discover how former religious buildings can be resurrected for energy-efficient housing
Organiser of the upcoming Green Home Festival are urging religious and community groups to attend their upcoming show and discover how Scotland's abandoned churches can be transformed into energy efficient social housing that benefits whole communities.
The Green Home Festival show will feature a church building conversion in Shettleston, Glasgow.
In Bringing Churches Back to Life, architects will explain what happens to former churches and community halls at the end of their working lives and how they can be converted into sustainable, eco-friendly homes for those who need them most.
And organisers say the show is the ideal opportunity for religious bodies to see how Scotland's classic buildings can be saved for future generations – and the potential of transforming them into low-carbon homes that also benefit the environment.
Green Home Festival co-organiser David Logue, who is partner at Gardiner & Theobald, said: "Scotland has a large number of churches and other religious buildings that face a wide range of challenges due to their ageing infrastructure and exposure to the elements.
"Running costs, ongoing maintenance and dwindling usage can all mean that such buildings face an uncertain future, plus their very size often means that it's difficult to know what to do with such a large space.
"Converting such buildings into energy-efficient social housing is already gaining traction and the upcoming Green Home Festival will give examples of how such ideas have already become reality.
"We hope that religious bodies, community groups and those with an interest in Scotland's heritage will join us to explore the options for resurrecting buildings that might otherwise be left to decay or stand empty."
The Green Home Festival show on Friday 18 August will see Eamon McGarrigle and Jess Davidson from PagePark architects explain the challenges of marrying old with new to achieve 'passivhaus' standards.
They'll reveal details of the first social housing built to such standards in Glasgow and share their experience in developing retrofit plans for the conversion of existing buildings for housing, with a focus on the delivery of low-energy and zero carbon strategies.
CICV Green Home Festival church show will take place on Friday 18 August, 2023.
This will be followed by a presentation by James Anthony of Eco Congregation Scotland, who'll outline the many issues found in church buildings while seeking to reduce carbon and give an overview of the body's own 'greening' strategy for such structures.
Co-organiser Gordon Nelson, Scotland Director of the Federation of Master Builders, added: "Scotland has some truly beautiful religious buildings that are coming to the end of their working lives and yet absolutely deserve to be preserved, used and admired for generations to come.
"If we can combine such preservation with energy efficient-housing that benefits local communities, that has surely got to be a good thing for both the environment and the people who live in them?
"This Green Home Festival show will demonstrate some excellent initiatives and we would encourage anyone with an interest in church buildings to attend and find out the potential for bringing them back to life and giving them a useful and rewarding purpose."
Starting on Monday 14 August, and organised by the Construction Industry Collective Voice (CICV), the second Green Home Festival will deliver 11 free shows on low-carbon living as part of the official Edinburgh Festival Fringe.
Topics will include how to reduce energy bills, preparing for heat pumps, community heating networks, creating sustainable kitchens, green garden rooms and offices, making retrofit projects eco-friendly and how the home of the future will be powered.
Live sessions will take place at the Royal Institution of Chartered Surveyors (RICS) at 10 Charlotte Square in central Edinburgh, with contributions from the likes of Home Energy Scotland, Scottish Water, SNIPEF and SELECT.
The festival is the latest in a string of practical and constructive initiatives launched by the CICV since its creation at the start of the pandemic in March 2020.
Made up of 28 trade associations, professional services bodies and companies, it has maintained a steady supply of information and practical advice to the sector as well as carrying out surveys, producing animations and posters, hosting webinars and maintaining close dialogue with Scottish Government ministers.
• Full details, including how to book tickets for each event, are available on the Festival's website at greenhomefestival.co.uk
Background:
Stronger together: about the Construction Industry Collective Voice
The Construction Industry Collective Voice (CICV) was formed in early March 2020 as the Construction Industry Coronavirus Forum, in response to the urgent COVID-19 threat to people and business.
With a focus firmly on collaborative action, the CICV brings together senior representatives from 28 professional bodies and also benefits from the input of more than 40 other organisations who contribute their expertise to the CICV's 12 sub-groups. Its members operate the length and breadth of Scotland's built environment supply chain.
Whether merchant/wholesaler, contractor, or multi-million-pound building firm, Scotland's construction sector is fighting to keep its people, businesses and livelihoods intact and, in turn, the CICV is fighting for them.
By pooling expertise and knowledge, CICV represents the interests of Scotland's diverse construction supply chain with one consistent voice. Priorities include lobbying the Scottish Government to influence policy and to push for positive action, and to give expert focus to important sector issues including commercial, employment, planning for the future, skills, and health and safety.
The CICV is chaired by SELECT, Scotland's trade association for electrical contractors. Current members are:
1. Association of Brickwork Contractors (ABC)
2. Association for Consultancy and Engineering (ACE)
3. British Constructional Steelwork Association (BCSA)
4. Build Scotland
5. Builders Merchants Federation (BMF)
6. Building Engineering Services Association (BESA)
7. Chartered Institute of Architectural Technologists (CIAT)
8. Chartered Institute of Building (CIOB)
9. Chartered Institute of Plumbing and Heating Engineering (CIPHE)
10. Chartered Institution of Civil Engineering Surveyors (CICES)
11. Construction Plant-hire Association (CPA)
12. Electrical Distributors' Association (EDA)
13. Federation of Master Builders (FMB)
14. Finishes and Interiors Sector (FIS)
15. Lift and Escalator Industry Association (LEIA)
16. National Association of Shopfitters (NAS)
17. National Federation of Demolition Contractors (NFDC)
18. National Federation of Roofing Contractors (NFRC)
19. Royal Incorporation of Architects in Scotland (RIAS)
20. Resource Management Association Scotland (RMAS)
21. Royal Institution of Chartered Surveyors (RICS)
22. Scaffolding Association
23. Scottish Building Federation (SBF)
24. Scottish Plant Owners Association (SPOA)
25. Single Ply Roofing Association (SPRA)
26. SELECT
27. SNIPEF
28. Stone Federation (GB)
+++
The Patrick Geddes India – Scotland Talks
Sir Patrick Geddes was born in 1854 in Ballater, Aberdeenshire, and died in Montpellier France in 1932.
In his obituary, written for the Spectator Magazine, the novelist E.M. Forster wrote:
"Sir Patrick Geddes was seventy eight, but had the adventurous spirit of a young man, and it was characteristic of him to spend his last few years in founding a Scots College at Montpellier to promote friendship among all peoples. He was primarily a biologist and botanist, as befitting an old student of Thomas Huxley."
He was also admired by Annie Besant, Mahatma Gandhi and Charles Darwin.
"But though he lectured for many years in Edinburgh and Dundee, he was better known as a sociologist in India, as a town-planner in Jerusalem, and, in his "Outlook Tower", by the Castle, Edinburgh as the promoter of all good causes, educational and other, for the benefit of mankind.
To sum up Patrick Geddes in a few lines would be impossible, for he touched life at so many points".
One of his most enduring mottos is: Think Global Act Local
Educational and Cultural agencies have adopted his philosophy of survey and consultation before action.
Artists and Scientists collaborate to help empower individuals and communities to express their role in society. We recognise his themes >By Leaves We Live and are inspired 'By Creating We Think'
Description of the Geddes Talks on Thursday 4th May – 10.00am > 5.00pm
There will be @ six speakers, a short Indo-Scottish Film and Presentation and sale of unique books published by Walter Stephen on behalf of the Geddes Trust.
• We will be informed of a major Geddesian urban renewal project in Delhi by Ujwala Menon which is led by Ratish Nanda from the Aga Khan Cultural Trust.
• Professor Dorian Wisznieswski of Edinburgh University will present details of his research project linked to a community participarion scoping survey linked to the Botanical Gardens in Kolkata between December 2020 and August 2021. Part of this will reveal the historic relationship between Bengali scientist J.C. Bose and Patrick Geddes.
• Will Golding and Malcolm Fraser will talk about the Bridgend Farmhouse at Cameron Toll, Edinburgh and discuss how Geddesian concepts have guided the formation of the remarkable urban multifaceted Social Resource Centre, as it provides a 'show-case' to encourage other aspiring community groups.
To conclude, Marion Geddes, the grandaughter of Patrick Geddes will discuss plans to celebrate the centenary of the Geddes Scots & Indian Colleges in Montpellier in 2024.
The Patrick Geddes India Scotland Talks
At The Patrick Geddes Centre, Riddles Court, 322 High Street, Edinburgh EH1 2PD
website: shbt.org.uk Disabled Access
Event enabled by The Sir Patrick Geddes Memorial Trust & Scottish Historic Buildings Trust
www. patrickgeddestrust.co.uk
Thursday 4th May – 2023 from 10am to 5pm
A free ticketed event – Donations are welcome.d
SEEING LIFE WHOLE
"I grew Up in a Garden"
SHBT Spring Series Lectures
An upcoming series of hybrid events Scottish Historic Buildings Trust are hosting.
This spring, SHBT bring you 'Tales from the Tron'. In this five-lecture series, guest speakers will cover the story of the Tron from the fantastical public spectacles staged at the Salt Tron on Edinburgh's Royal Mile, via a shopper's prehistory of Marlin's Wynd, through to the Tron Kirk in its urban context and the working class and slum clearances of Old Edinburgh.
The final lecture, A Walk through a Thinking Machine: from Riddle's Court to the Tron with Patrick Geddes, will end with a walk to the Tron Kirk to explore how we use spaces and places to learn.
Events are listed on Eventbrite.
Tales from The Tron
A SHBT Spring Lecture Series
The Ballad of a Great Disordered Heart
A Film screening at Riddle's Court
– Fri 17th March, 5.45 PM
A film from Musician Aidan O'Rourke, about the handful of streets around the Cowgate in Edinburgh which have long housed a proud Irish diaspora. A film about folk music and its power to connect people.
Before The Tron Kirk: Mount Parnasuss and a miraculous tree at the Salt Tron
– Wed 29th March, 5.30 PM
Dr Giovanna Guidicini talks us through the 16th and early 17th century Salt Tron – the weighing beam and public house that stood where the Tron Kirk was later constructed. It was one of a selected handful of key locations which repeatedly enjoyed a central role in public ceremonies.
Gone With the Wynd: A Shopper's Prehistory of The Tron Kirk
– Wed 12th April, 5.30 PM
It's the 1580s in the Royal Mile, so where could you buy 60 shirts, foil cloth breeches, drawing boards, pan hats, Spanish almonds, Swedish iron bars, confectionary boxes, French canvas and 636 golf balls? Meet the ancestors with Morag Cross and find out where.
Puddings, printing and Palladianism: The Tron in its urban context
– Wed 26th April, 5.30 PM
This talk, by John Lowrey, focuses mostly on the period between the 1640s and the 1824 and looks at the Tron in its urban surroundings from the tightly-knit fabric of the seventeenth century in an area of trade and commerce (including the pudding market) to the modernisations of the late seventeenth and eighteenth centuries.
Tenements, the Working Class and Slum Clearance in Old Edinburgh
– Wed 10th May, 5.30 PM
Join us for a talk from Aaron Sheridan, which will take you through the interesting history of the tenement and working-class culture in Edinburgh, the politics of housing in Scotland and the various efforts at slum clearance that have changed the character of urban Scotland forever.
A walk through a thinking machine: From Riddle's Court to the Tron with Patrick Geddes
– Wed 24th May, 5.30 PM
In this session, Ed Hollis, professor of Interior Design at the University of Edinburgh, will talk and walk us through this
thinking machine, from the ceiling at Riddles Court to the Tron Kirk, exploring how Geddes – and we – use spaces
and places to learn.
To book your tickets visit www.eventbrite.co.uk and search for title
www.shbt.org.uk
https://www.facebook.com/ScottishHistoricBuildingsTrust/
https://www.instagram.com/ScottishHistoricBuildingsTrust/
Scottish Historic Buildings Trust
Riddle's Court | 322 Lawnmarket | Edinburgh | EH1 2PG
++++
Design for Inclusion Webinar Series
How can we create more inclusive communities through public engagement and consultation?
Thursday 15 September 2022, 17:00 – 18.00
Join the first instalment of the Design for Inclusion Webinar Series, where BDP's inclusive design consultancy, Human Space, will present an interdisciplinary panel of global experts to discuss how we can apply the fundamentals of inclusive design, by engaging with the public to co-create better spaces for all people.
SHBT Spring Lecture Series
Scottish Historic Buildings Trust (SHBT) have organised a short series titled 'New Perspectives of the Country House' which contains four free online talks throughout May and June:
From the Country House Estate to the Council Scheme
6pm Tue 3 May (free online event)
John Lowrey looks at the importance of industry as a component in the economy of the country house estate as far back as the 17th Century.
https://www.eventbrite.co.uk/e/327248337587
Projects, Plans and Politics – A Scottish Tour in 1712
6pm Tue 17 May (free online event)
Margaret Stewart uses newly uncovered evidence of a Scottish country house tour in 1712 to cast light on the architect James Gibbs.
https://www.eventbrite.co.uk/e/327267013447
Ghosts of Strathleven – Colonial History and Approaches to Heritage
6pm Tue 31 May (free online event)
Esmé Coppock investigates stories of colonial exploitation, and searches for approaches to heritage which recognise this past.
https://www.eventbrite.co.uk/e/327272118717
Technology and the Country House – Understanding Design and Materiality with Drones, LiDAR and 3D Scanning
6pm Wed 15 June (free online event)
Dan Bochman explores the use of drones, LiDAR and 3D Scanning to better understand the design and materiality of country houses.
https://www.eventbrite.co.uk/e/327953948087
************
ARCHIVE for 2022:
Scotland's UNESCO Trail – a tour through Scotland's wonders
Join us on a not-to-miss virtual tour of Scotland's six iconic UNESCO World Heritage Sites.
This is an online event.
Join the annual World Heritage Day lecture, with special guest Neil Gray MSP, Minister for Culture, Europe and International Development.
This year we will be celebrating Scotland's contribution to world heritage by exploring the country's six iconic World Heritage Sites.
This online event will feature exclusive talks, and insights into World Heritage Site management, from those who look after the heritage of-
• St Kilda, rugged and windswept islands
• The Forth Bridge, a dramatic feat of Victorian engineering
• New Lanark, a Georgian model industrial village
• Neolithic Orkney, an ancient and mysterious human landscape
• Edinburgh, one of the world's most fascinating historic cities
• The Antonine Wall, the final frontier of ancient Rome
Visit and learn about some of the world's most varied heritage sites from the comfort of your home!
Date: Thursday 21st April 2022
Start time: 6pm
Tickets: £4 for Members, £10 for Non-members
Venue: online
Book now
The Impact of Enslavement on Scotland's Built Environment AHSS lecture
Monday 11 April
AHSS Forth & Borders
Venue: Online & in person at Augustine United Church, George IV Bridge, Edinburgh EH1 1EL
Time: Lectures commence at 6.30pm
Cost: £6 / Students £2
Tickets available on Eventbrite
Drawing on her recent research for the National Trust for Scotland, Jennifer Melville provides historic examples of the acquisition and enhancement of properties in Scotland by Scots living in the West Indies, where a disproportionate number of Scots settled, and shows how wealth derived from the enslavement of people in these far-flung colonies came to have such a significant impact on Scotland's buildings.
Book tickets for The Impact of Enslavement on Scotland's Built Environment
Live from the Academician's Studio with Robin Webster OBE RSA
Thursday 27 February at 7pm on Zoom
RSA Event
Robin Webster formed cameronwebster architects with his architect son-in-law (Stuart Cameron) and his architect daughter (Miranda Webster) in 2005. Stuart and Miranda had been working in London. Stuart with Munckenbeck and Marshall, and Miranda with Allies and Morrison. The practice has designed a wide range of projects, and is best known for arts related buildings and domestic houses, often in rather dramatic sites.
Robin will be chatting from his Glasgow studio with fellow architect Graeme Hutton RSA.
Link: https://www.royalscottishacademy.org/events/live-from-the-academicians-studio-with-robin-webster-obe-rsa/
Edinburgh Architecture Talks in 2021
COP 'Conversations' in the Highlands and Islands, ICHT & IAA
Title: Heard about Retrofit?
3 November 2021 19.00-21.00
Venue: Inverness Cathedral, St Andrews, IV3 5NN
Cost: Free
Every home and homeowner in Scotland will be affected by the need to reduce carbon emissions; its part of the government's strategy to tackle climate change.Inverness Architectural Association invite you to an information evening where you can learn about retrofit and get some answers to your questions.
No need to book you can come along to Inverness Cathedralbut details and booking also on:
https://www.eventbrite.co.uk/e/heard-about-retrofit-tickets-196468020137
Title: The River and Its City
6 November 2021 14.00-15.30
Venue: Eden Court, Inverness, IV3 5SA, Meet at the Entrance Canopy
Cost: Free
A guided walk and conversation about the River Ness and its historic and present influences on Inverness. The partially completed River Ness Flood Alleviation scheme is already an existential reminder of the city's vulnerability as a coastal city on a tidal river. 'There will be challenge and opportunity in a future of growing Climate Change on sea and land'
No need to book you can just come along to Eden Court and meet us under the Entrance Canopy – dressed for the weather!
https://www.eventbrite.co.uk/e/the-river-and-its-city-tickets-198540228167
Skye Tidal Marker
Date: Saturday 6 November 11.00 TBC
Venue: Talisker Bay, Skye, Meet at the IAA Marker
Cost: Free
Volunteers will take part in a beach clean, organised through IAA Members on the Isle of Skye. No need to book but for further details contact [email protected].
Make It Smart
Date: 8 November 2021 19.00-21.00
Venue: On-line
Cost: Free
The Make it Smart Hub (MISH) iscomingto the Highlands andIslands. MISH is part of the Construction Innovation Scotland Centre's (CS-IC mission to support contractors and designers in Scotland to innovate and work towards a lower carbon future.) This is an opportunity to hear about their work using Scottish timber and their plans for training and access to state-of-the-art equipment in our area. Join us to hear about CS-IC and what will be available at UHI. All welcome for a glimpse into a more innovative construction future.
https://www.eventbrite.co.uk/e/make-it-smart-tickets-198561200897
Space for Creativity
Date: 9 November 2021 19.00-21.00
Venue: WASPS Inverness Creative Academy, St Stephens Street, Inverness, IV2 3JP
Cost: Free
Law & Dunbar-Nasmith, and subsequently LDN architects, have a long history of creative working nationally but critically for us in the Highlands and Islands. They are not only talented designers of new buildings but have key skills in re-purposing and bringing new life to existing buildings: a vital practice if we are to tackle our climate and resources challenges and support vibrant future lives for our communities. Join Stuart MacKellar, partner in LDN's Forres office, for a stimulating talk illustrating some fabulous buildings and projects.
Link for further information / booking: https://www.eventbrite.co.uk/e/making-space-for-creativity-tickets-198584079327
Edinburgh Architecture Events Archive for 2021
Webinar for World Green Building Week
24 Sep 2021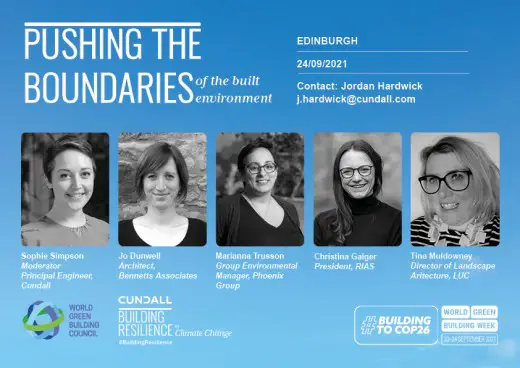 Cundall Edinburgh is hosting a webinar for World Green Building Week:
The event will feature a panel of industry leaders from the Edinburgh area who will discuss their company's approach to climate change, the challenges we face and how we can push the boundaries of the built environment together in the lead up to COP26 and beyond.
Event details:
When: 8.30 – 9.30am, Friday 24 September 2021
Where: Zoom
Panellists:
• Sophie Simpson, Principal Engineer, Cundall
• Tina Muldowney, Director of Landscape Architecture, LUC
• Marianna Trusson, Group Environment Manager, Phoenix group
• Christina Gaiger, President, RIAS
• Jo Dunwell, Architect, Bennetts Associates
The link for registration is: https://cundall.zoom.us/webinar/register/WN_in51jEptTACLpd-OJMudkA
RIAS Lunchtime CPD: Heritage and the Sustainable Development Goals
16 Sep 2021
Date: Thursday 16th September
Time: 12pm- 1pm
Venue: Online (zoom)
Cost: £5.00 (RIAS members) / FREE (RIAS Student Members) / £9.00 (non-members)
Booking: https://www.eventbrite.com/e/heritage-and-the-sustainable-development-goals-tickets-165728706021
Description: Presentation followed by discussion and Q&A with attendees.
In March of this year,ICOMOS published a new policy document on Heritage and the Sustainable Development Goals.
Produced by ICOMOS' Sustainable Development Goals Working Group (Priority Action 1 Task Team), the document aims to advocate and localize the UN 2030 Agenda and SDGs from the perspective of heritage. In this presentation, Linda will briefly discuss the Policy Guidance and the SDGs, before focusing on SDG 7 (Affordable and Clean Energy) and the relevant Case Study: Lauriston Place in Edinburgh, to then explore SDG 8 (Decent Work and Economic Growth) and SDG11 (Sustainable Cities and Communities) as examples on how the PG might be localised here in Scotland considering recent policy developments.
Andy MacMillan Memorial Lecture 2021 – Dr Jos Boys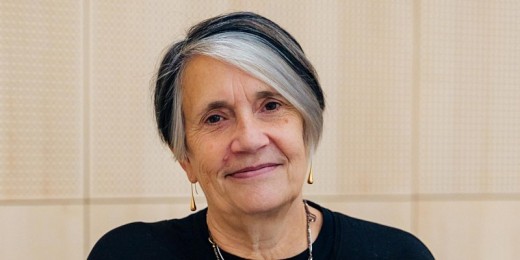 Date: Thursday 23rd September 2021
Time: 6.00pm – 7.00pm
Venue: online (zoom)
Cost: FREE
Booking: https://www.eventbrite.co.uk/e/andy-macmillan-memorial-lecture-2021-dr-jos-boys-tickets-168085364851
Description: Join us for the Andy MacMillan Memorial Lecture 2021 and to celebrate the A&DS and RIAS Scottish Student Awards shortlist announcement. This year's Andy MacMillan Memorial Lecture will be given by Dr Jos Boys, The Bartlett / Co-founder of The DisOrdinary Architecture Project.
The awards offer a rare opportunity to see all five schools together and recognise the achievement of individual students and their schools of architecture. They are a mark of the continuing high standards of Scottish architectural education and enable both the public and the profession to enjoy the creativity and vision of Scotland's future architects.
RIAS Convention 2021: Draw Together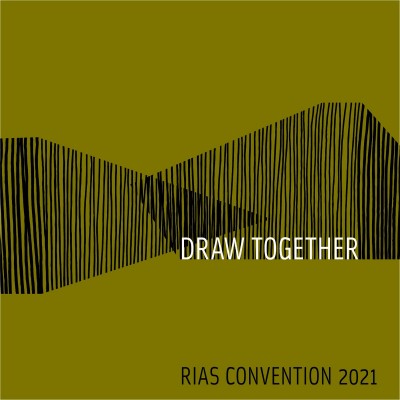 Date: Tues 28th Sept – Fri 1st October
Cost: £20 per person (one ticket gives access to the full programme) / Free for RIAS Student Members
Venue: Online event
Booking: https://riasconvention.squarespace.com/tickets
Description: Join us for our virtual architecture and built environment conference – four days packed with talks from our international line up of over 20 speakers, CPD, debate, discussion, sustainability speed mentoring (delivered in partnership with RIBA) and more! The RIAS Convention is open to all to attend (members and non-members).
Draw Together will bring architects, built environment professionals and the wider public together to show how change is already happening to tackle our climate goals and targets, with spotlight on work across Scotland as well as UK and international examples.
View the full programme here or click below to see the programme for each day.
DAY 1: CLIMATE CHANGE & URBAN OPPORTUNITIES
DAY 2: CARING SPACES & COMMUNITIES
DAY 3: RESILIENT PLACES
DAY 4: INSPIRING SUSTAINABLE FUTURES
ARCHIVE
Storage Part 1 – Passive and Active Storage, Supply and Demand
21 June 2021
SEDA Solar Seminar #5
Date: Monday 21st June 2021, 5:30-7:00pm
PrivSec Global
A Global Live Stream Experience
22 – 24 June 2021
Upcoming livestream experience
The event puts content first with over 210 speakers and 55+ hours of content, this is an unrivalled opportunity to gain an understanding of today's data protection, privacy, security and governance landscape, while gaining insight into what the future holds.
With all that content, it can be hard to choose what sessions to see.
Here are the five sessions you could most benefit from attending:
1. Schrems II and International Data Transfers panel: The Journey to a new Privacy Shield and Who Is Leading the Way
2. Confidential Computing: The Next, Great, Development in Data Protection
3. Risk Assessments of Fast-Tracked Digital Transformation and the Importance of Back-up
4. Why Companies Need Simplified Privacy Policies?
5. Why a Privacy-Focused Company is a Sustainability-Focused Company
Also potentially of interest: Kremlin vs the World and your Personal Data
Visit Website & Learn More
Edinburgh Architectural Events for 2021
The 10th session of the 44th annual series of Architectural Conservation Masterclasses is jointly offered by the Scottish Centre for Conservation Studies and the Institute for Historic Buildings Conservation – IHBC Scotland Branch:
Dilemmas of Translating Theories into Practice: An Indian Perspective
Aishwarya Tipnis, Aishwarya Tipnis Architects
Details: https://blogs.ed.ac.uk/sccsmasterclass/tuesday-13-april-2021/
Tuesday, 13 April 12.00-13.00 BST, Zoom Webinar
FREE Eventbrite registration: Eventbrite Architectural Conservation Masterclasses 2021
The 9th session of the 44th annual series of Architectural Conservation Masterclasses will be:
Urbanisme Patrimonial: The "Casier archéologique et artistique" an early experimentation of heritage planning for the "Grand Paris", 1916-1928
Laurence Bassières, Ecole nationale supérieure d'architecture de Paris-La Villette
Details: https://blogs.ed.ac.uk/sccsmasterclass/tuesday-6-april-2021/
Tuesday, 6 April 12.00-13.00 BST, Zoom Webinar
FREE Eventbrite registration: Eventbrite Architectural Conservation Masterclasses 2021
Recent Edinburgh Architectural Events in 2021
The 8th session of 44th annual series of Architectural Conservation Masterclasses will be:
Engineered timber and historic buildings: The future role of Mass (engineered) Timber in Historic Building Conservation
Peter Wilson, Timber Design Initiatives
Details: https://blogs.ed.ac.uk/sccsmasterclass/tuesday-30-march-2021/
Tuesday, 30 March 12.00-13.00 GMT, Zoom Webinar
FREE Eventbrite registration: Eventbrite Architectural Conservation Masterclasses 2021
See forthcoming sessions in April-May on the series website (Eventbrite registration coming soon):
Masterclasses 2021 – Architectural Conservation Masterclasses
blogs.ed.ac.uk
We're looking forward to seeing you there!
SCOTTISH CENTRE FOR CONSERVATION STUDIES
Edinburgh School of Architecture and Landscape Architecture
Edinburgh College of Art, The University of Edinburgh
Architectural Conservation Masterclasses
The 6th session of the 44th annual series of Architectural Conservation Masterclasses will be:
Architectural Regeneration: Looking beyond conservation
Aylin Orbasli, Oxford Brookes University
Details: https://blogs.ed.ac.uk/sccsmasterclass/tuesday-16-march-2021/
Tuesday, 16 March 12.00-13.00 GMT, Zoom Webinar
FREE Eventbrite registration: Eventbrite Architectural Conservation Masterclasses 2021
Series website: https://blogs.ed.ac.uk/sccsmasterclass/masterclasses-2021
The second session of the 44th annual series of Architectural Conservation Masterclasses:
Tuesday, 16 February 12.00-13.00 GMT
Venue: Zoom Webinar
FREE Eventbrite registration: Eventbrite Architectural Conservation Masterclasses 2021
NHS Heritage – A Conservation Challenge: a case study of the post-war redevelopment of the Victoria Hospital, Kirkcaldy, Fife
Harriet Richardson Blakeman, The University of Edinburgh
Details: https://blogs.ed.ac.uk/sccsmasterclass/tuesday-16-february-2021/
Website: https://blogs.ed.ac.uk/sccsmasterclass/masterclasses-2021/
NHS Heritage – A Conservation Challenge: a case study of the post-war redevelopment of the Victoria Hospital, Kirkcaldy, Fife
Harriet Richardson Blakeman, The University of Edinburgh
Masterclasses 2021 – Architectural Conservation Masterclasses
The University of Edinburgh is a charitable body, registered in Scotland, with registration number SC005336, VAT Registration Number GB 592 9507 00, and is acknowledged by the UK authorities as a "Recognised body" which has been granted degree awarding powers.
blogs.ed.ac.uk
Architect Ryan W. Kennihan Talk
Wednesday 24th February, 2021
Online | Zoom
The EAA invites architect Ryan W. Kennihan to speak about his work and practice.
Practice Statement:
The practice is committed to the creation of careful and timeless architecture. Our buildings are designed with durability and permanence as primary objectives in order to make lasting and sustainable contributions to the lives of our clients and their communities. Each project is a tailored response to the specific needs of individual clients. Our work is unified by a desire to create characterful buildings and beautiful spaces. We believe that any valuable architecture must arise from a close reading of its local context, culture, and history, thereby avoiding the contemporary trend towards superfluous form.
Our work extends across a wide range of scales, budgets and contexts, both in Ireland and internationally, yet we approach every project with the same dedication and meticulous attention to detail.
Edinburgh Architecture Event Tickets
Architectural Event News for 2020
What does the future of the Scottish Construction Industry hold?
Date: Friday 3rd July
Venue: Online Webinar
Time: 11:30am
In conjunction with Forum for the Built Environment, join this event to hear from the panel of 4 leading industry professionals including:
John Edwards: Chair of RICS Scotland and Director ofPMP
Gillian Stewart: BCO Chair for Scotland and Director ofMichael Laird Architects
Ross Taylor: Partner atWright, Johnston & Mackenzie LLP
Graeme McCormick: Manager forHaysConstruction & Property.
As we all adjust to the impact the COVID crisis has had, this webinar allows you to get various opinions on what the future will hold for the Construction sector in Scotland.
The panel will answer and discuss a number of questions relating the impact COVID has had on the sector, and there will be an opportunity at the end of the webinar for Q&A.
Book your place here: Future of the Scottish Construction Industry Online Webinar
Virtual Coarum – Re-imagine Edinburgh
Coarum: (Scots) a group, gathering;
Virtual Coarum is an online discussion to explore a better way of living post-COVID 19.
"By leaves we live. Some people have strange ideas that they live by money. They think energy is generated by the circulation of coins. Whereas the world is mainly a vast leaf colony, growing on and forming a leafy soil, not a mere mineral mass: and we live not by the jingling of our coins, but by the fullness of our harvests." Patrick Geddes
The Edinburgh Architectural Association are asking members of the design community to contribute to a new vision for Edinburgh and the surrounding areas.
While COVID 19 is an urgent threat to life, the threat posed by climate change is a more existential threat to life on earth. Pre COVID it seemed impossible for us to change the way we lived to alleviate climate change, during COVID we have demonstrated our ability to adapt. As lockdown regulations begin to ease, there is an opportunity to define a better pattern of life.
VIRTUAL COARUM: Re-Imagine Edinburgh
'Edinburgh Architectural Association' (known as EAA) is a Scottish Charity SC050008 regulated by the Scottish Charity Regulator (OSCR)
Edinburgh Architectural Association | 15 Rutland Square, Edinburgh, EH1 2BE United Kingdom
How can we build a better city?
EWH have released more free tickets for their online event this Thursday.
They will welcome four leading Edinburgh politicians and ask the question: how can we make our capital city a better place in which to live and workpost-Covid?
Joining the event will be:
Adam McVey – Leader of City of Edinburgh Council
Sarah Boyack MSP – Labour Party spokesperson for Local Government
Alison Johnstone MSP – Co-Leader of the Scottish Greens in the Scottish Parliament
Jeremy Balfour MSP – Scottish Conservative spokesperson for childcare and early years
Book free tickets for 'How can we build a better city?'
Recent East Scotland Events:
Edinburgh World Heritage in conversation with…architects
Today's Edinburgh skyline reveals not only the towers and spires of our renowned World Heritage Site, but also countless cranes and gantries which signify the biggest building boom the city has seen for many years.
In this conversation with leading architects Rab Bennetts, Malcolm Fraser, and Richard Murphy, we will look at how the city is changing and ask whether future generations will look back and call this a 'golden age'.
From left: Rab Bennets, Malcolm Fraser and Richard Murphy.
Tickets are available for free at the link below – don't miss out.
Date: Thursday 7 May 2020
Start time: 6pm
Venue: Zoom online
Please note: EWHT events have been selling out within 48 hours, please book now to avoid disappointment.
Over the coming weeks, we will be hosting a series of on-line conversations with leading local and national figures to discuss some of the issues we face as a city, both during and after the coronavirus lockdown.
All events are free, though we will be asking for a donation to help us cover the loss of income we are experiencing during the lockdown. We can promise lively and stimulating conversation, as well as a chance for you to put your questions directly to our guests.
Architectural Conservation Masterclass March 2020
Cancelled!
5 March 2020
The next session of the 43rd annual series of Architectural Conservation Masterclasses is:
How Lime Mortar Works
This masterclass is jointly offered by the Scottish Centre for Conservation Studies and the Institute for Historic Buildings Conservation – IHBC.
Drawing on research and practice, an examination of technical masonry conservation, focussing on the functional behaviour of lime mortar and its role in keeping buildings dry and conserving the masonry fabric in the process.
David Wiggins has a doctorate in the functional behaviour and technical conservation of heritage masonry. He is a CARE-Accredited structural engineer, part of the Conservation & Heritage team at Curtins. His work focuses on the structural repair and conservation of architectural and civil engineering heritage.
Time: Thursday, 5 March 5.30-7.00pm, followed by a wine reception
Venue: Adam House Lecture Theatre, 3 Chambers Street, Edinburgh EH1 1HR
(map here: http://www.ed.ac.uk/maps/maps?building=adam-house#main-content)
2020 programme:
https://sites.eca.ed.ac.uk/sccsmasterclass/masterclasses-2020/
Bookings: https://www.epay.ed.ac.uk/conferences-and-events/college-of-humanities-and-social-science/edinburgh-college-of-art/esala (£20 / £5 students).
More Edinburgh Architecture Events for 2020 are welcome.!
EAA Awards News
Submissions Deadline – Wed 26 February 2020 – 4pm
EAA members, and non-members, are invited to submit nominations in the following award categories.
Please see Rules of Entry below for full entry criteria.
Large Project / Small Project / Wood Award
Regeneration&Conservation / EAA Ambassador
All entries built within the chapter area are eligible for the highest accolade of Building Of The Year.
Short-listed entries will be notified in March with site visits proposed to take place in May. The winners will be announced, and presented with their awards, at a Drinks Reception held at St Cecilia's Hall, Edinburgh on the evening of 4th June.
CLOSING DATE WED 26 FEBRUARY AT 4PM
Edinburgh Architectural Association | 15 Rutland Square, Edinburgh, EH1 2BE United Kingdom
Free lunchtime talk for Scottish Architecture firms
Date & time: Thursday 20 February 2020 13:00 – 14:00 GMT
Location: The Merchants' Hall, 22 Hanover Street, Edinburgh, EH2 2EP
Free lunchtime talk
Architecture is amongst the most targeted sectors in Scotland when it comes to cyber crime.
During this free lunchtime talk, we'll explain the implications of the growing cyber crime threat that is now one of the biggest business risks you face.
In a short, non-technical session we'll be discussing the most common ways businesses like yours are targeted and how this is likely already happening with or without your knowledge.
We'll also give you some information on how successful Architects' businesses are ensuring they are best protected.
Please note – the talk is not for people working in IT but aimed at business owners and senior management.
Full details and registration are in the link below:
Free lunchtime talk for Architecture firms in Scotland
Architectural Conservation Masterclass – Human Habitat as a System: Soviet Mass Housing since 1948
The next session of the 43rd annual series of Architectural Conservation Masterclasses:
This masterclass is jointly offered by the Scottish Centre for Conservation Studies and DOcumentation and COnservation of the MOdern MOvement – International Scientific Committee on Urbanism and Landscape docomomo ISC U+L.
Soviet Mass Housing is arguably the largest project in the history of architecture. Harnessed by Soviet authorities and confined by rigid regulations, it nevertheless begot a great variety of standardised designs, representing both different stages of development and different geographical areas of the Soviet Union.
This variety was codified through an intricate naming system, which—at the most abstract level—was intended to describe the whole human habitat. In his lecture, Dimitrij Zadorin will introduce the origins and the functioning of Soviet Mass Housing as a system and explain what consequences this perspective has for working with standardised residential blocks and estates as architectural heritage.
Dimitrij Zadorin (Minsk, 1983) is an architect and a doctoral student in Architectural History at the University of Edinburgh. Since 2013 he has been a freelance writer and lecturer on post-war modernism and mass housing in the USSR, as well as on his native city. He is a co-author of the book Towards a Typology of Soviet Mass Housing (2015) and the author of the Architectural Guide Minsk (2018).
Time: Thursday, 6 February 5.30-7.00pm, followed by a wine reception
2020 programme:
https://sites.eca.ed.ac.uk/sccsmasterclass/masterclasses-2020/