Edinburgh Building Materials Selection, Scottish Capital Property, Construction Scotland
Edinburgh Architects Building Materials Guide
Scottish Architects Article
1 Mar 2019
Edinburgh architects: here are the building materials you're NOT considering
Builders like to think big. The tallest skyscrapers, the longest highways, the most intricate designs perfected in the most virtuoso ways.
But while a highfalutin project manager is busy considering the intricacies of their grand vision, they could be overlooking a thousand tiny but equally important facets of their building.
Whether you're staring up in awe at Edinburgh Castle, Holyrood House or Greyfriars Kirk, there are a million pipes, wires, bricks and joists working behind the scenes…
…and without them, every one of these buildings would fall apart.
The constituent elements of a building are rarely discussed at any great length on blogs such as this. Perhaps it's because they aren't sexy enough, not clickable. Perhaps the glue which holds a product together, so to speak, isn't an interesting enough subject for most people.
And that's a real shame, because there's nothing more vital than the materials used to keep a piece of architecture standing.
So let's take a look at some of these materials, just this once. We'll doff our caps to their existence and move on with our lives safe in the knowledge that these products are all around us.
Edinburgh Building Materials
Wiring
Look around the room you're sitting in right now. Behind those plasterboard walls there lies a mass of wires, each with a different purpose.
Some are keeping the lights flickering above your head. Some are pulsing power to your plug sockets. A few are probably lying errant and unused thanks to the dodgy electrician you hired on Gumtree. But for the most part, they're all serving a purpose, like worker bees maintaining the hive.
Wires serve other purposes, too. They're holding up lighting fixtures, maintaining the structural integrity of a sculpture, and much more.
The best Wiring suppliers: For our money, Ormiston Wire are the best wiring suppliers in the country.
Concrete
Concrete is the glue holding every brick in place. But unlike the Pritt-Stick in your kitchen drawer, this glue was built to last.
Mixing concrete is a deceptively simple mixture. All you have to do is mix one part cement, three parts sand, and three parts aggregate to achieve a sturdy concrete mix. But this creation is a fine balancing act. Too much water and you'll have weak concrete. Too little and your concrete will be too dry for use.
The best Concrete suppliers: CEMEX UK are one of the most trusted suppliers in the trade.
Foundation
The foundation of a building is quite literally ground zero. Laid evenly over the ground before building work can begin, this is how a structure stays on balance.
The best Foundation suppliers: Foundations are made of a number of constituent elements, and so don't have any particular suppliers. But check online for more information on creating the ideal foundation.
That's our list! What's your favourite building element? Let us know in the comments below!
Edinburgh Architecture
Courtyard by Marriott Edinburgh City Centre Hotel
3-8 St Andrew Square, central Edinburgh
Design: CDA and Gareth Hoskins Architects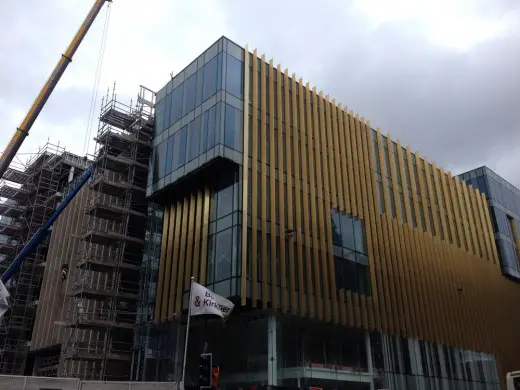 photo © Adrian Welch
St Andrew Square Building
Comments / photos for the Edinburgh Architects Building Materials page welcome