Edinburgh Stone Structures, Old Lothian Architecture, Scotland, Durable Material
Edinburgh Stone Structures
Scottish Architecture Article
5 Mar 2019
3 stone structures we LOVE in Edinburgh
Stones are one of the world's oldest building materials, and they remain one of the most durable materials on the planet.
It's for this reason that the wooden shacks that the average person lived in aren't around anymore, but the majestic castles of the Middle Ages still stand proudly on the Scottish skyline.
Naturally, many of these castles have had to be maintained over the centuries, and some are no more than ruins. But a vast number of these ancient strongholds look largely the same as they did a few hundred years ago.
Case in point – Edinburgh Castle.
This historic fortress still maintains its position on Castle Rock, as it has done since the Iron Age. It's long and feted history is just one of the reasons for its popularity as a tourist attraction, welcoming almost 1.5 million tourists every year.
People travel from across the globe to see the Castle, not least because of the structural integrity placed into it from the ground up.
It's clear the Castle would have housed many hundreds of people at some point in time, whether they were cooks and servants, entertainers, or the king's court.
And why were they so secure inside the vast courtyards and labyrinthine corridors of the Castle? It's simple – stone.
So, in association with Marchington Stone, let's take a look at some of the other great stone structures in Scotland's capital.
The City Observatory
The City Observatory is a neoclassical structure in the Old City, and it's played host to millions of star spotters. Its telescope is incredibly high-powered and has aided astronomers for centuries, allowing countless important discoveries to be made in this illustrious location.
The building itself is based on the ancient Greek temple of the Four Winds, and its stone blocks and proud pillars give it the air of a building which has existed forever.
Edinburgh National Galleries
Edinburgh's National Galleries are probably one of the first tourist sights you'll spot when you come out of Edinburgh Waverley Train Station. It's another paean to the neoclassical architecture of the 19th century, which merged classical and gothic influences to create a novel style that symbolised an era of flux, philosophy and invention.
Made entirely of stone, this is a building with a patrician-like air, like an overbearing art critic lording over you. However, its feeling of superiority is offset by the sheer extravagance of its pillars. This is still the best gallery in Edinburgh to visit.
Moray Place
The houses of the New Town are testaments to how beautiful stone buildings can look. Many view the buildings of Moray Place as the embodiment of Enlightenment Thinking in architecture, with its balanced proportions and sharp right angles.
That's our list! What stone structures in Edinburgh do you love? Let us know in the comments below!
Edinburgh Architecture
Edinburgh Georgian Townhouse Apartment
Mezzanine Apartment in Edinburgh
3-8 St Andrew Square
Design: CDA and Gareth Hoskins Architects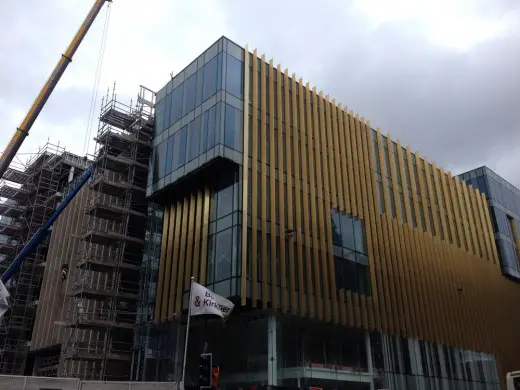 photo © Adrian Welch
St Andrew Square Building
Comments / photos for the Edinburgh Stone Structures page welcome