Interview Room 11 at Ocean Terminal Edinburgh, Architecture Talks, Leith Events, Art Scotland, Design
Interview Room 11 at Ocean Terminal Event
Scottish Architectural Talks + Exhibitions: Crowdfunding Campaign for artist-led gallery in Edinburgh, Scotland
19 Mar 2016
Interview Room 11 Show for Spring 2016
New opening at InterviewRoom11: N.O.W.H.E.R.E.
N.O.W.H.E.R.E.
25 March – 16 April
Opening: 25 March, 6-8 pm
N.O.W.H.E.R.E. presents a collection of contemporary artist video work from Northern Ireland. The exhibition is a continuation of the gallery exchange with Catalyst Arts, an established artist run art project based in Belfast. Two of the IR11 gallery artists showed their work in Belfast in the Autumn 2015 and IR 11 will in response install the work of 4 video artists in Ocean Terminal.
The thematic of the exhibition is informed by the gallery' s ongoing interest in conceptions of space; the various video approaches installed in the gallery space present juxtaposing narratives of alternate spaces and locations, inviting the viewer to reconsider the material context of the gallery itself – a retail complex – and the dynamics and expectations such a space sets into action.
Artists:
Colin Martin, Ian Griffin, Laura Smith, David Fagan
http://www.catalystarts.org.uk/
15 Feb 2016
Interview Room 11 Show
Robert Davies. Development
Robert Davies. Development
19 Feb – 11 March
Opening: 19 Feb, 6-8pm
'Development', Robert Davies' photographic study of coastal Edinburgh, is moving to Interview Room 11 from 19th Feb for three weeks.
'With this body of work I set out to explore the changing edge of a city, and in doing so found a coastal landscape in limbo. One of stalled housing developments and dislocated communities – a landscape of unfinished visions, uncertain of its future and disconnected from its past.
Having grown up on the South coast of Wales and lived in St Ives in Cornwall, I have an affinity with the coast. Its towns, cities and communities are familiar to me, as are the changes brought on by development and the shifting needs of society. Having moved toEdinburgh I found similar locations, the port areas of Leith, Granton and Newhaven, which became the focal point for my research and photography.
My images explore these spaces – generic isolated housing developments that resemble compounds rather than luxury homes, surrounded by wasteland, they appear to have more in common with the West Bank than the Water of Leith. Not the "luxury urban village", or "place where people and their children want to live, work and play…" as described in the promotional literature. The architecture is utilitarian and uninspiring, the public spaces ineffectual and desolate, cut off from the city they lack any sense of community.
If "cities are the privilege scenes of memory" perhaps what was imagined for these developments, and what has turned out to be the reality are quite different things.'
From Robert Davies photo essay of Edinburgh's coastal communities, Granton, Newhaven and Leith in Volume 2 of The Evergreen: A New Season in the North.
'Development' by Robert Davies is featured in Volume II of The Evergreen: A New Season in the North (2015) published by The Word Bank.
Sean Bradley & Elizabeth Elliott
The Evergreen: A New Season in the North
The Evergreen is a Word Bank project from Edinburgh Old Town Development Trust
www.eotdt.org
Edinburgh Old Town Development Trust is a company limited by
guarantee no: SC366198 and is registered as a Scottish Charity no. SC042964
@ INTERVIEWROOM 11
Ocean Terminal Level 1
Ocean Drive
Edinburgh
EH6 6JJ
20 Nov 2015
Interview Room 11 at Ocean Terminal in 2015
Departure – first Interview Room 11 show at Ocean Terminal
Artists: Susan Boyle, Brian Cheeswright, Magdalen Chua, Alberto Condotta, David McDiarmid, Janie Nicoll, Derek Sutherland, Willem Venter, Mirja Koponen
The first show by Interview Room 11 at Ocean Terminal 'Departure' responds to the current climate of uncertainty. The political and economic patterns that govern our everyday are marked by increasingly catastrophic fluctuations. The cumulative experience of this structural instability, suspended now for several decades, is the context that informs our social assessment – instead of a societal evolution we might be witnessing a breakage, a stuttering global paradigm shift. An artist's response to this condition is to track, dig, point and question, but also to wait, listen, manoeuver more slowly.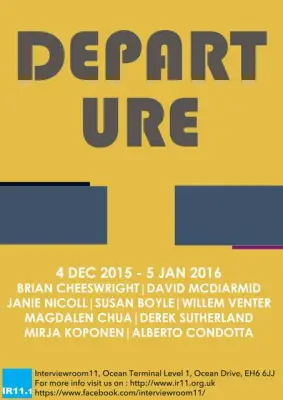 From this position, we have explored in our programme contemporary artist strategies that deal with a general sense of restraint: lack, scarcity, economy of thought or means, in search of a more nuanced account of the contemporary condition. We are interested in a tactic that stops at the border, takes a second look, withholds judgment, suspends belief; art that counts down, draws a breath, pauses. The sense of some kind of prohibition, omission, reversal or loss can be experienced in many ways – as absence, through memory and distance, through a system or method of various constraints, or addressed as rhythms and patterns of small personal actions.
20 Nov 2015
Interview Room 11, Ocean Terminal
Interview Room 11 at Ocean Terminal in Leith
Crowdfunding Campaign. Interview Room 11 is moving
About Interview Room 11 and our project
Established in 2013, Interview Room 11 is an artist-led gallery based in Edinburgh, Scotland. For the past three years we ran a gallery space at the Argyle House, a 60s brutalist office building and former job centre in the heart of Edinburgh, as part of Forest Center Plus with studios and working facilities for over 80 artists.
We held over 15 exhibitions, published ten exhibition catalogues, participated in two art fairs and welcomed hundreds of visitors from in and outside Edinburgh. Our main goal is to promote the work of Scottish artists and to provide a platform for exchange to the local community. Due to our contract we were facing homelessness by the end of November.
However, our friends from Kalopsia, a textile design collective at the commercial complex of Ocean Terminal have offered to support us with a space and keep the gallery project alive.
To be able to undertake the refurbishing process we need your help!
https://www.indiegogo.com/projects/interview-room-11-at-ocean-terminal#/
Edinburgh College of Art exhibition: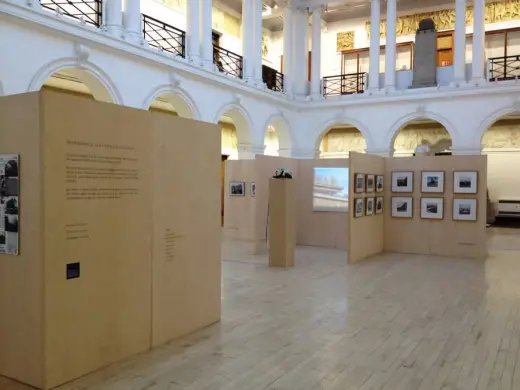 What we will do with your funds
A total of £350 will enable us to build a freestanding exhibition wall between the gallery space and the Kalopsia Facility.
An additional £250 will be used for paint, wooden displays and printing materials.
£350 will serve to do preparatory work for our next two exhibitions, an exchange with Catalyst Arts in Belfast, Northern Ireland and an exhibition of works by the Scottish photographer Robert Davies together with a book launch.
Thank you!
We are very grateful and pleased about any support you can offer to help our project! Below you can find a list of rewards we can offer you in return. We will provide updates on a regular base, but please don't hesitate to get in touch with us if you want to know more about our work or want to get involved as a volunteer!
Rewards
£7 – Individual Mini-Print
At Forest Centre Plus we have various printing facilities. As a sign of our gratitude to your support, the IR 11 team is going to produce a number of individual mini-prints related to our own artistic practice.
£25 – Each of our exhibitions is accompanied by a small publication with texts of our committee members and a catalogue of the artist's work. You will receive one of our catalogues related to the following artists and exhibitions:
Susan Boyle – Meanwhile
Brian Cheeswright – 36 Years of Brainfeed
Janie Nicoll – Rough Edit
Derek Sutherland – Waste
Willem Venter – New Work
£45 – Signed sketch or drawing
Sketches are items of everyday artistic practice and experimental playground for new ideas. You will receive a signed sketch or drawing, individually signed by one of our artists featured in Sluice!
£70 – Surprise Artwork
Each artwork is unique and a reflection of the artist's individual expression of form, material and techniques, You will receive a surprise artwork, individually signed by one of our artists featured in Sluice!
Mailing address:
interviewroom11
38 Castle Terrace
Edinburgh, Midlothian EH3 9SJ
United Kingdom
Interview Room 11 Events
Recent Interview Room 11 Exhibition Edinburgh Architectural Events
Projection by David Mcdiarmid – New Interview Room 11 Exhibition
10 -25 Apr 2015: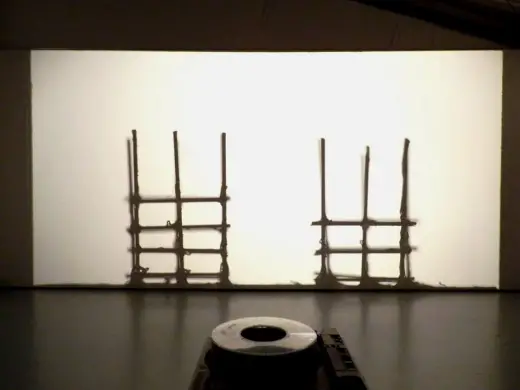 Building Echoes exhibition at Argyle House
21 Jan 2015

Architecture in Lothian
Scottish Poetry Library building: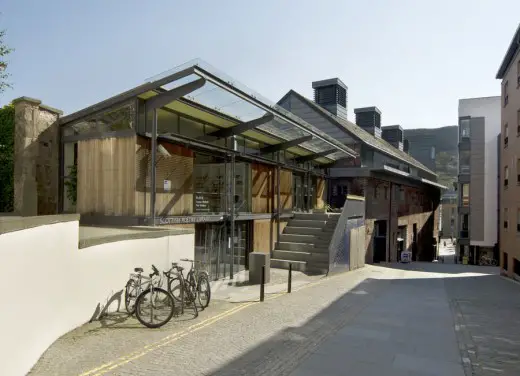 Comments for the Interview Room 11 at Ocean Terminal, Edinburgh page welcome