Edinburgh News – February 2013 : Buildings in Scotland
Edinburgh News : February 2013
Lothian Building Developments, Eastern Scotland
Edinburgh Architecture News – February 2013
Edinburgh Academicals Development
Michael Laird Architects has submitted a revised detailed planning application to redevelop Edinburgh Academicals' Raeburn Place sports ground, Edinburgh.
The oldest rugby club in Scotland plans to create a 2,500 seat stadium, clubhouse and museum, plus a number of retail units fronting Comely Bank Road and Stockbridge. 25 Feb
Selfridges Glasgow Development
Selfridges Glasgow department store proposal – with initial designs by world-famous Japanese architect Toyo Ito – ended with news that the retailer is in discussion with property firm Frogmore to sell off its land holding. Frogmore are considering a mixed-use scheme. 25 Feb
Housing Development in St Andrews



picture from Sutherland Hussey architects
Sutherland Hussey Architects have recently won an architectural competition to design a new housing development in St Andrews for Eastacre Investments.
By inviting several firms to develop proposals, Eastacre's ambition was to select a design that can provide high quality contemporary houses and apartments in the rich and complex conservation area. The West Burn Lane site, located in the heart of the university town adjacent to the School of Psychology and Bute Medical Building, is an important part of the Rigg structure of the medieval plan. 21 Feb
Tog 2013 Live-Build Summer School
22-29 Jun 2013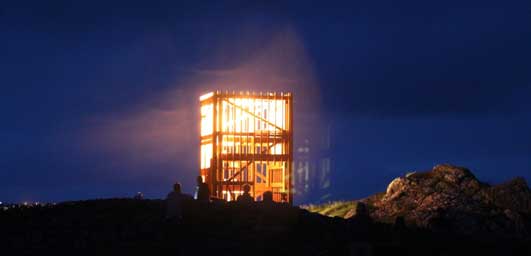 photo © Tog Studio
Tog 2013 – second Scottish live-build summer school, on the Isle of Tiree.
"Following the success of our award-winning lighthouse project last year we're gearing up to do a bigger and better project – a boathouse on the Isle of Tiree. We're looking for participants who don't mind getting their hands dirty as part of a multi-disciplinary team working on an exciting project in a remote location.
This is a particularly good opportunity for architects, engineers and students to learn practical construction skills and gain unique on-site experience".
The application process is open until 4th March – see events for details. 21 Feb
Baxter's Place Hotel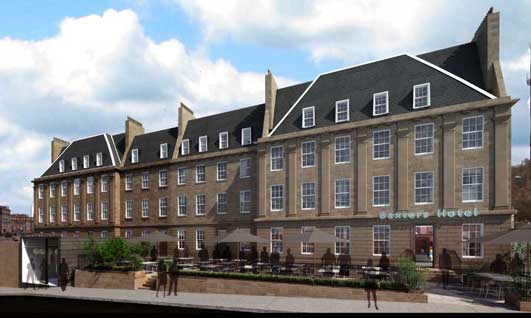 image from the developer
Baxters Place
The Chris Stewart Group, a property development and investment business, was today granted planning by City of Edinburgh Council for the redevelopment of Baxter's Place to turn it into a hotel. No's 1-5 Baxter's Place is a row of former townhouses dating back to 1798. The proposed redevelopment will create a 239-bed four star hotel with restaurant and bar open to the public. 20 Feb
HYBRID IDENTITIES | UK / Cuba 2013
International Art Festival of Photography, Video Art, Computer Graphics, Architecture and Performing Art, at Old Ambulance Depot in Edinburgh and FIVAC Festival, in Camaguey (Cuba).
This event is organized by International ArtExpo (Italy) who e-architect have helped promote many times over the years around the world.
Opening: 29 Mar at Old Ambulance Depot in Edinburgh
Dates: 29 – 31 Mar
The deadline for applications is 25 Feb – see events for contact details
Selected artworks will be presented at the Old Ambulance Depot.
The Edinburgh event is open to photography, video art, computer graphics, architecture and performing art; the Cuba event is open only to video art.
Kengo Kuma Lecture
18 Feb 2013
Kengo Kuma, architect of the new V&A at Dundee, will discuss his approach to architecture and how a new relationship is being formed between people and place at a public lecture in Dundee. The `Power of Place' lecture will take place at the Dalhousie Building, University of Dundee, at 6pm on Monday February 18th – see Edinburgh events for details.
RSA New Exhibition: Sculptors' Prints
an investigation into printmaking by sculptor members of the RSA
23 Feb – 31 Mar
RSA Projects and Finlay Room, RSA Building, The Mound, Edinburgh, EH2 2EL
Admission Free
The RSA is pleased to announce a brand new, specially-curated exhibition for spring 2013: Sculptor's Prints. Featuring work by eighteen Academician sculptors and two internationally significant invited artists, the exhibition will take a close look at the printmaking output of artists best known for their three-dimensional sculptural work.
David Skinner Lecture 2013



image from organisers
20 Mar at 7pm – revised date
João Nunes is one of the leading Landscape Architects in Portugal. He gained a Degree in Landscape Architecture from the Institute Superior de Agronomia da Universidade Técnica de Lisboa in 1985 and a Masters in Landscape Architecture from the Escuela Tècnica Superior de Arquitectura de Barcellona, Universitá Politecnica di Catalunya in 1996. He founded the office PROAP in 1989.
Main Lecture Theatre Edinburgh College of Art – see Edinburgh events for details.
Faculty of Humanities & Social Sciences in Glasgow
Faculty of Humanities & Social Sciences. Sheppard Robson completes £14m remodelling of the University of Strathclyde's Lord Hope and Curran buildings in Glasgow for the newly formed Faculty of Humanities & Social Sciences. 15 Feb
Historic Scottish Architecture
Historic Scottish Buildings
Scotland's oldest work theatre, a suspension bridge and two mills are among the recipients in the latest round of Historic Scotland's Building Repair Grants worth almost £600,000.
In total six historic sites across Scotland will receive funding totalling £587,049 through this grants scheme. 15 Feb
Perth City Hall Development
Groups bidding to save Perth City Hall are to have a full nine months to get funding into place for their visions for the future use of the Edwardian-listed building and how it would be financed. Jones Lang LaSalle are marketing the empty civic building on behalf of Perth and Kinross Council. The closing date for the submission of detailed proposals for city hall is 31 Oct 2013. 15 Feb
George Street Underground Car Park
Essential Edinburgh looking to fund an updated feasibility study into a fully automated subterranean car park. Previously Edinburgh City Council had a 1000-space car park proposal. 14 Feb
Speirs Locks Masterplan
Speirs Locks Masterplan design by Stallan-Brand, revising the scheme by Edinburgh architects 7N (which in turn took over from a plan by make architects) to incorporate a 400 bed student housing scheme. 14 Feb
RSNO Glasgow News
Royal Scottish National Orchestra
Work has started on the construction of a £17.6m rehearsal and recording facility for the Royal Scottish National Orchestra (RSNO) and a new 600 seat music venue for Glasgow. 14 Feb
St Andrews International Golf Club Development
£20m golf course and clubhouse at Feddinch near St Andrews wins conditional approval from the Scottish Government. St Andrews International Golf Club plan a clubhouse with a restaurant plus 41 accommodation rooms for 160 people and a shop. 14 Feb
Abbotsford News
Abbotsford, the Sir Walter Scott home near Melrose in the Scottish Borders, is to reopen on July 4 after a major refurbishment. 14 Feb
RMJM
Some anonymous comments on Archleaks re RMJM, the Edinburgh-headquartered architecture practice, that weathered the Scottish Parliament job but now seems to have lost its way, like RBS, BoS and so on a sign that the Scottish capital is on the wane, those in charge need to gather themselves for a more positive future not just for us but for the next generation:
"If you like living on the edge, could be made redundant at any time, with no pay, no prospects, working for incompetent, dishonest bosses who have no real interest in architecture, then this is definitely the practice for you".
"It gets worse and worse, anyone with any architectural talent has left this organisation. So there may be opportunities for talented architects … but on the downside you probably won't get paid regularly, if at all, and the main men, (there are no women), who pay themselves salaries you can only dream of, have never been involved in architecture … at least not until daddy bought the business and friends and relations jumped in to help spend the profits. They won't know if your talented or not, so won't appreciate you until you leave. It's a lose, lose situation for any employee".
"RMJM was once one of the great post-war British architectural practices. Its decline arguably started when Brian Stewart was ousted in 2002 – forced out, some say, by the well known investor he had introduced to the practice. Post 2002, the architects who filled the vacuum left by Stewart and others were nowhere near the calibre of previous RMJM Directors – here began the architectural decline of RMJM.
The work produced during this period was banal and lacked the intrinsic intelligence and civic undertanding of the founders – many of the post 2002 RMJM Directors have now left to start practices doing equally banal work. It goes to show great architectural practices are about talented people, not past reputations". 13 Feb.
More at http://www.honestr.com/Archleaks_UK/RMJM
Deaconess House Redevelopment
£14.5 m redevelopment of historic Deaconess House on Edinburgh's Pleasance, design by The Kalyvides Partnership. Over 300 new student apartments are planned on the site of the former hospital, developed by Mace Real Estate. Main contractor Graham Construction has just started work with completion due in summer 2014. 12 Feb
Edinburgh BioQuarter Development News
Edinburgh Bioquarter
Three new life sciences companies move into leading research centre.
Cutting-edge life sciences research is being expanded in Edinburgh, at the city's dedicated facility for academic research, clinical professionals and industry expertise.
Three new specialist research companies – Science Squared, R-Biomedical and Marks and Clerks – opened on 5 Feb at the city's BioQuarter research campus, bringing the total from seven to ten.
The expansion means the life sciences provision at the BioQuarter – based at Nine, a flagship multi-occupancy building for early stage and established life sciences companies – has grown by more than a third in the last month alone. 6 Feb
Maxim Office Park Development



photograph © Neale Smith Photography
Maxim Office Park, Motherwell – contractors have now started work on the fit-out for SEPA at Maxim Office Park. 5 Feb
Dundee City Square
Construction has started on Dundee City Square improvements – over £2m project of soft landscaping, new lighting and drainage, due to be complete in mid June 2013, designed by Dundee City Council's City Development Department. 5 Feb
Ardrossan Health Centre News



image courtesy of architects
Ardrossan Health Centre by Reiach and Hall Architects – a total of £5.2 m has been granted to Irvine Bay Regeneration Company which will see an area of derelict land in Ardrossan transformed into a new medical centre, and the development of quality industrial and office space in Irvine. 5 Feb
New Glasgow City College Building
Design: Reiach and Hall Architects + Michael Laird Architects
New Glasgow City College Building, Scotland
Winner selected from shortlist of two for new £228m campus development project. This project has seen an open collaboration with Reiach and Hall Architects and Michael Laird Architects, both from Edinburgh. 4 Feb
A-listed status for Burrell Museum Building
Burrell Collection
The internationally-renowned Burrell Collection in Glasgow has been awarded A-listed status by Historic Scotland. 1 Feb
Walking Tour News
e-architect have expanded our architecture tours out of Edinburgh and Glasgow in the last few years. In August we have now added tours in Liverpool, Dublin and Cambridge alongside London which is now well established. Link here for Edinburgh Walking Tours.
Edinburgh Building News Summary
Comments / photos for Edinburgh Architecture News for February 2013 page welcome