Edinburgh News May 2013 : Buildings in Scotland, New Lothians Property Designs
Edinburgh News May 2013
Lothian Building Developments, Eastern Scotland
post updated 10 January 2022
Edinburgh Building News May 2013
Architecture Designs – latest additions to this page, arranged chronologically:
Edinburgh School of Architecture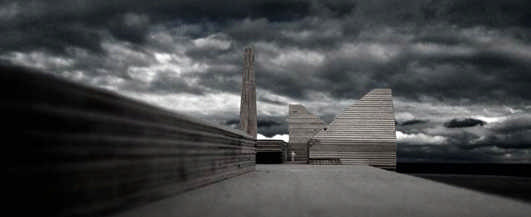 photo © Ross Aitchison
ECA Degree Show night – an enjoyable visit to the various Edinburgh College of Art shows, art, jewellery, sculpture and of course architecture! We had a good look at Andrea Faed's unit and Adrian Hawker's unit, and were impressed with the level of design, presentation and model-making. In fact the models were superb, definitely a link back to the work we saw at Edinburgh University (Dorian Wiszniewski, two years ago, or was it three?), textured wood and metal on pedestals, delicate, sensual, architectural.



photo © Ross Aitchison
We were personally talked through two projects, by two students – Ross Aitchison (images above) and Melissa Lawson – who had visited Reykjavík in Andrea's unit. It was good to engage, rather than simply try to work out what was what. Visiting the annual shows always makes us think about our time as students in the 1990s, what has changed, has it got better or worse, or simply just changed?
Edinburgh College of Art Degree Show
The exhibition continues from 1 Jun to 9 Jun, 10am to 5pm (until 8pm on Wed + Thu) on the Lauriston Place Campus. 31 + 30 May
Inverness College Building News
Construction will start in June on the £50 m Inverness College at the University of the Highlands and Islands (UHI). 30 May
New Forth Bridge Approval



Forth Road Bridge: image © Adrian Welch
MSPs give the new Forth Bridge Replacement their official sanctioning in a vote.
The bridge name choices:
Caledonia Bridge
Firth of Forth Crossing
St Margaret's Crossing
Queensferry Crossing
Saltire Crossing
More than 27,000 people have so far voted on the 5 choices for the bridge. 23 May
Balerno Eco-homes News
Four eco-homes in Balerno designed by Kenneth Reid Architects have been refused planning. The site for the homes is located in Edinburgh's green belt and the development included felling a number of mature trees. The proposals to redevelop the Old Mill site on Lanark Road West, Balerno, were narrowly refused. Nigel Bagshaw, Scottish Green group councillor, said: "Unless there are compelling reasons for why we should go against policy, I don't think we should. Replacing this with eco-homes by destroying the environment doesn't make sense." 23 May
Scottish Home Builder of the Year
Mactaggart and Mickel scoop Home Builder of the Year as industry award winners announced
Celebrating the success of the home building industry across a range of issues which remain key to the sector's ongoing drive towards recovery, trade body Homes for Scotland has announced the winners of its 2013 Awards.
Now in their 11th year, the Awards were focused around four themes of particular importance to the industry's ability to deliver desperately needed housing across all tenures: people, process, product and partnership.
Accolades were given to those stand-out submissions which showcased new and innovative approaches to the low carbon and environmental agendas, housing delivery, partnership working and customer awareness as well as those individuals who demonstrated an exceptional contribution to the overall industry.
The below companies and individuals were recognised in front of a record 800-strong crowd at the ceremony on Friday 17 May, the largest such industry gathering in Scotland.
Adding an element of extra "buzz" and atmosphere to the awards ceremony, the audience also voted for Mactaggart and Mickel as Home Builder of the Year using a special electronic voting system.
Best Employer
winner: Mactaggart & Mickel Group
Young Achiever
winner: Maureen Douglas – Forster Roofing
Outstanding Achievement
winner: Ronnie Jacobs
Best Marketing Campaign
winner: CALA Homes
commended: Cruden Homes West
Best Green Initiative
winner: Mactaggart & Mickel Group with CCG & Cruden Homes
commended: Springfield Properties
commended: Housing Innovation Showcase (Kingdom Housing Association)
Best Home Design (sponsored by Gillespie Macandrew)
winner: Cruden Homes West
Best Development – large (30+ units)
winner: Cruden Homes West
Best Development – small (up to 29 units)
winner: Headon Developments
commended: Springfield Properties
Best Partnership in Planning
winner: Places for People with East Dunbartonshire Council
Best Partnership in Affordable Housing Delivery
winner: Dunedin Canmore Housing with City of Edinburgh Council, Hart Builders & Lovell Partnerships
commended: West Lothian Council with Lovell Partnerships
Best Supporting Company
winner: PPS Scotland
commended: Gillespie Macandrew
Homes for Scotland Home Builder of the Year 2013
Mactaggart and Mickel Group
Commentator and former Executive Editor of The Scotsman Bill Jamieson, chair of the independent judging panel, said:
"Attracting a record number of entries, the judges were delighted to see so many positive demonstrations of the ways in which individual companies are striving to overcome the numerous barriers to recovery that the sector still unfortunately faces.
"What drives this industry forward – and what has historically always done so – is its ability to create, innovate, adapt and inspire.
"My fellow judges and I are delighted to have played a prominent part in helping to ensure such efforts are properly recognised and promoted to the benefit of the industry as a whole."
Forth Bridge World Heritage bid opens for consultation



image © Adrian Welch
The public's views on the World Heritage nomination of the Forth Rail Bridge is being sought through a 12-week consultation launched today (20 May 2013). The Forth Bridges Forum – which includes a number of local and national organisations – is keen to gather input from individuals and interested parties in support of the iconic railway bridge's nomination. It also wants to hear people's views on how the potential social, economic and cultural benefits of World Heritage can be managed in the local and national interest.
Three Glens Eco House, Dumfries and Galloway, south west Scotland
Design: Mark Waghorn Architects
Scottish Eco House – 14 May
With the building process completed, Three Glens, the ultra modern eco farmhouse is finally a reality. Designed by Mark Waghorn Architects, Three Glens is a 450m2 five-bedroom farmhouse situated on a working farm near the village of Moniaive, South West Scotland. Its owners Mary and Neil Gourlay, are the third generation of the Gourlay family farming in the Cairn Valley.
Israeli Architecture
e-architect editor Adrian Welch was on an architectural tour of Israel last week. He met architects Souto de Moura, Amnon Rechter, Roger Diener, Zvi Efrat and Israeli President Shimon Peres. Numerous other architectural connections were made. In the last year e-architect have been to visit, photograph and review buildings in Amsterdam, Paris, Hamburg, London and Copenhagen. After Israel our next visit will be to Sicily followed by London and Berlin.
Tel Aviv is closer to Edinburgh than one might think. Architects in the city revere Patrick Geddes, and in turn have a soft spot for Edinburgh and Scotland. The idea to establish a cultural center in the city was originally proposed in the Geddes Plan, the first master plan of Tel Aviv planned by Patrick Geddes in the late 1920s. Geddes envisioned a kind of a modern "Acropolis", where the city's main cultural venues would be, now called Habima Square.
Glasgow Architecture Tour
We were delighted to show a group of Dutch architecture students around the city yesterday. Two weeks ago we also showed Finnish visitors around the city – Building Control board members from all over Finland, highlights were the tour around Hillside Primary School and the visit to the Italian Centre. 14 May
Glasgow Walking Tours
St Andrew House Development
St Andrew House Glasgow – 13 May
Ryder Architecture has completed the £27.5 million conversion of the disused St Andrew House office block into a 210 bedroom Premier Inn hotel, bringing back into use a prominent landmark in Glasgow's skyline.
Glasgow School of Art Extension
Glasgow School of Art New Building – 13 May
The new Glasgow School of Art, designed by Steven Holl Architects in partnership with JM Architects (Glasgow) and Arup Engineering, celebrated its topping out yesterday. The building stands across from Charles Rennie Mackintosh's 1909 Glasgow School of Art in complementary contrast, forging a symbiotic relation in which each structure heightens the integral qualities of the other.
Challenge of the Ordinary Project
Challenge of the Ordinary – 10 May
The work was set in motion by comments made by Richard Waite of the Architects Journal after the 3D Reid student prize in 2010. The unit set out a master-plan and development strategy for the Cuningar Loop, including ideas for transportation, housing and landscaping and were encouraged to explored the "ordinary" in architecture for their individual buildings.
Celtic Park Transformation
Celtic Park Glasgow – 8 May
Following today's decision, the first phase of development will see the creation of a new public realm area, dramatically changing Celtic Park. The development will provide a new pedestrian avenue leading to the stadium for supporters, a new attractive public space, and the whole area leading to the stadium will be fully landscaped, providing an approach to Celtic Park which is befitting of one of the world's great football arenas.
Designer Job in Edinburgh
Speirs + Major are award-winning international designers who work with light.
We have positions available in our Edinburgh studio for skilled designers with a passion for light and excellent visual communication skills.
Applicants must be able to hand sketch and should be experienced users of Photoshop and either SketchUp or 3D Studio Max. Previous experience of lighting design is not essential. Language skill in French or Mandarin would also be beneficial.
Edinburgh Architect Jobs
New School Building in Orkney
Design: Keppie, Architects
2 May – Leading architectural practice Keppie Design and Morrison Construction have completed and handed over Stromness Primary School in Orkney as part of the Orkney Islands Schools Investment Programme. Designed by Keppie and built by Morrison Construction, Stromness Primary School will provide modern and sustainable learning facilities for 200 pupils and also includes a 30-pupil nursery and community resource.
Edinburgh Building News – news in full from April 2013
Walking Tour News
e-architect have expanded our architecture tours out of Edinburgh and Glasgow in the last few years. In August we have now added tours in Liverpool, Dublin and Cambridge alongside London which is now well established.
Links here for Edinburgh Walking Toursand Glasgow Walking Tours
Edinburgh Building News Summary
Comments / photos for Edinburgh Architectural News for May 2013 page welcome