Opening of First Casino in Ukraine in Kyiv, Architectural Guide
The Opening of the First Casino in Ukraine Was Celebrated in Kyiv
31 May 2021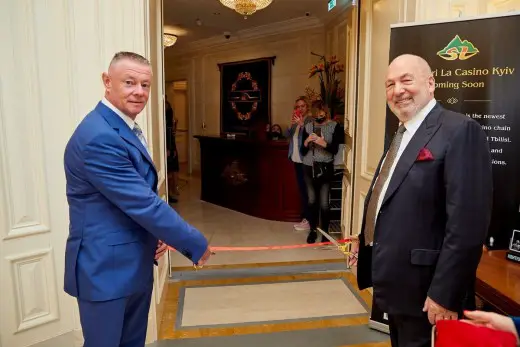 The grand opening of Shangri La Kyiv took place on May, 15. Many Kyiv residents and guests of the capital joined the brand's team to celebrate this significant event. The opening ceremony was led by company leaders Michael Boettcher and Darren Keane, who happily greeted the assembled guests and unit staff.
Of course, it was done with the traditional cutting of the red ribbon. Michael Boettcher, founder of Storm International and the Shangri La brand, has been joined by CEO Darren Keane. Together they cut the ribbon, thereby laying the foundation for their company in Ukraine.
Guests were invited to visit the luxurious casino halls – the main hall with 20 tables for playing the most popular games and a slot hall with 80 slot machines. There is also a cozy bar and a separate VIP area.
With the launch of its new unit, the international Shangri La brand raises gambling entertainment in Ukraine to a new level. The casino is located in the building of the fashionable Fairmont Grand Hotel Kyiv, which is located in the central historical district of Kyiv on Podil, among many iconic sights and historical monuments.
It is also worth noting that the brand's new project has become a major employer that provides great employment opportunities and also brings in tax revenues.
"I am full of gratitude and excitement and proud to open a new page in the history of the brand now in the capital of Ukraine. Kyiv amazed me with its bright, distinctive atmosphere and reverent attitude to cultural values. But I was even more impressed by its residents with their sincere and honest mentality, which is fully consistent with my principles of building a business. From that moment on, a place appeared in the capital of Ukraine where wealthy people could play the best games at a decent level. We are delighted to open an extra-class complex in Kyiv and thereby provide guests and locals with a reason to celebrate," noted Michael Boettcher.
"We went to this for a long time, but the wait was worth it to see how everyone here celebrates with us today. This is a turning point for Kyiv to have such a massive entertainment destination, and we are thrilled to contribute to an already thriving leisure offer in the city. We also hope to play a significant role in the economic and social sphere of the country, providing new jobs and guaranteeing stable receipts to the state treasury. Thanks to the legalization of the gambling business in Ukraine and the permission to open casinos in hotels, we can move forward along this path and provide the best opportunities for recreation and entertainment," said Darren Keane in a statement.
Shangri La Casino Kyiv – the best games and premium service
This is the only Shangri La brand complex in Ukraine and the first casino of an international brand that received the approval of the country's regulatory authorities.
Shangri La Casino Kyiv has 20 gaming tables offering American Roulette, Texas Hold'em, Russian, Caribbean, Three Card Poker, Blackjack and Punto Banco. In addition, there are 80 modern slot machines, including electronic roulette from the best developers EGT, Novomatic, Scientific games and IGT.
For the most discerning guests there is a VIP zone. Here you can enjoy privacy and a new level of high-limit gaming in separate private rooms.
In the interior of the gaming halls, every detail deserves attention – elegant furniture, expensive decor and original pieces of art, finishes with precious woods and dim lighting. All of this creates a stunning experience and immerses you in an atmosphere of understated luxury.
The casino's convenient location in a 5-star hotel makes it an ideal base for junket tourists. The Shangri La junket package includes flights, transfers, accommodation at Fairmont Grand Hotel, food and drinks. Guests simply purchase casino chips for a pre-agreed amount and spend time in the luxury casino playing their favorite games.
A few words about the brand
All units of the network are developed, owned and operated by Storm International, which currently manages gaming complexes in Yerevan, Tbilisi, Minsk and Kyiv. In addition, there are several elite Storm Casinos slot halls in Germany.
The company also operates several international online casino sites that are available in dozens of countries. The widest range of entertainment is available on these platforms: online slots, livecasino games, scratch cards, bets on real, virtual and e-sports.
The brand's quality standards have been set for decades. One of the fundamental principles of the company is excellence in everything. Each task here is carried out by all means and for maximum results. In addition, all of the brand's complexes offer amazing hospitality. The company believes that it has a special responsibility to ensure the comfort of all its guests.
This global approach allows Storm International to develop exciting new offerings and deliver the highest quality and most innovative products. This makes the Shangri La brand a top rated entertainment complex by TripAdvisor. And each of the network objects has repeatedly received the highest awards. Shangri La Tbilisi has been awarded the highest rating as the best gambling house in Georgia several times. Shangri La Minsk has been receiving the "Casino of the Year" awards for many years in a row. Shangri La Yerevan is the most popular gambling place in Armenia.
And the new casino in Kyiv will make every effort to adequately represent the Shangri La brand in the capital of Ukraine.
Comments on this guide to Opening of First Casino in Ukraine in Kyivarticle are welcome.
Edinburgh Architecture
Liberton Brae Townhouses
Design: LBA Architects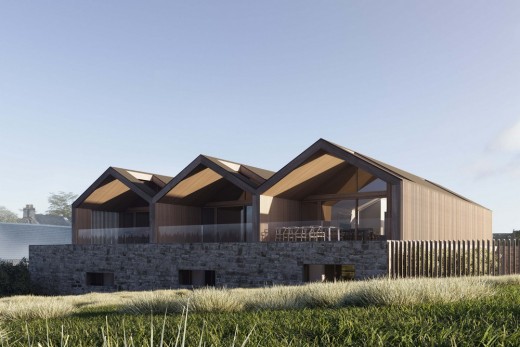 image courtesy of architects
Liberton Brae Townhouses
St James Quarter Edinburgh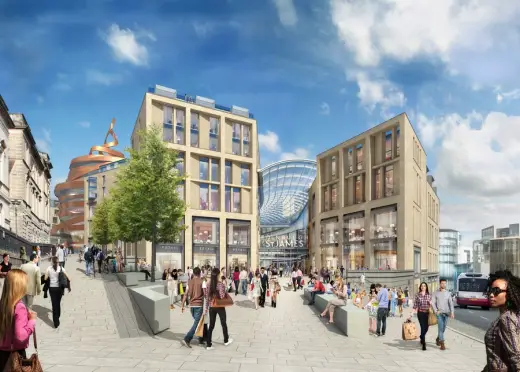 image of the development
St James Quarter
Comments on this guide to Opening of First Casino in Ukraine in Kyiv article are welcom