Edinburgh Architecture News, Lothian Buildings, Architects, Images, Scotland, Design
Edinburgh Building News
Scottish Architectural + Construction Updates – East of Scotland Property
July to November 2016 Archive
Edinburgh Architecture News
Scotland's Construction Expo
Day Two features (24th):
The Women in Construction Afternoon Tea is at 2.30pm – 4pm – FREE tea, coffee and pastries.
The Sustainability Summit featuring top level speakers from BRE, Energy Savings Trust, Glasgow City Council, MEARU, Atkins and many more.
Conference Sessions with key presenters including speakers from the Construction Scotland Innovation Centre, Balfour Beatty, Transport Scotland, Institute of Civil Engineers Scotland, McTaggart and Mickel, Austin Smith: Lord, ECD Architects.
2 CPD Workshop Areas running all day with training sessions on Business Development, Marketing Tools & Skills and Sustainable Building.
120 Booth Exhibition showcasing their products and services.
Cairngorms National Park Authority Architecture Awards
22 Nov – The Cairngorms National Park Authority have moved to recognise the best design within the park area, designating a private home at Newe, Strathdon, with their top honour, reports Urban Realm.
Strathdon House by Brown + Brown Architects was praised for its 'compelling, simple design' which saw it recognized as best residential new build. Runner up was Tigh an Uillt in Nethybridge, an extension to an existing property.
HRI's Russwood offices at Newtonmore claimed top honours in the commercial category. Corndavon Bridge in Deeside picked up the infrastructure prize.
Am Fasgadh at the Highland Folk Museum, also in Newtonmore, was recognized for its place-making qualities.
Scottish Building of the Century
17 Nov – Scotland's favourite building revealed.
Culture Secretary Fiona Hyslop will be in Dundee tomorrow to reveal the winner of the Scotstyle building of the century, as nominated by the Scottish public.
Part of the Year of Innovation, Architecture and Design, Scotstyle is one of the Festival of Architecture headline exhibitions celebrating the top 100 Scottish buildings from 1916 to 2015.
Scotland's home builders respond to review into declining home ownership
16 Nov – Responding to the findings of the Redfern review into the decline of home ownership, Homes for Scotland Chief Executive Nicola Barclay welcomed the focus on a "long-term, cross-party approach to housing issues", saying:
"The conclusions of the Redfern Review echo the joined-up approach to increasing housing supply which we are calling for in Scotland. With all political parties acknowledging the fundamental national need for more homes, the report further reinforces that the challenge of delivering more homes on the ground can only be achieved by working in partnership with all levels of government over the long term.
"It is important that we fully recognise the housing needs of our growing population, whether that be the aspiration of the majority to own their own home or by increasing access across other tenures in order to create and sustain a healthy market for all."
Tour a Unique Mezzanine Apartment in Edinburgh
16 Nov – Installing a mezzanine floor in a double-height apartment to transform it from a one-bed flat into a two-bed home. Architect Jonathan Thomas and his wife were first-time buyers. When they came across this one-bedroom flat in a 19th century former nursing home in central Edinburgh, however, Thomas tapped into some potential that possibly only an architect could spot:
Mezzanine Apartment in Edinburgh
Vote for the Best Building in Scotland
If you go to the www.foa2016.com/scotstyle website before the 18th November (this Friday) you have the opportunity of voting from a list of ten for the best building in Scotland from the last 100 years.
Buildings include Dundee Contemporary Arts by Richard Murphy Architects, The Scottish Parliament by EMBT / RMJM and the National Museum of Scotland by Benson + Forsyth.
Richard Murphy's House
Richard Murphy's own house at Hart Street Edinburgh is one of 20 to feature in the forthcoming Channel 4 RIBA / Grand Designs "House of the Year 2016" programmes.
The four week series starts on Thursday 24th November with Hart Street featuring the following week, Thursday 1st December at 9.00pm. If shortlisted for the final it will also appear on Thursday 15th December at the same time.
Carolina Cruz Guimarey. Walking In Circles
11 – 26 November
Opening: 11 November, 6 – 8 pm
The Spanish artist Carolina Cruz Guimarey will arrive in Edinburgh in order to walk. She will trace circular routes, an action vested with multiple meanings. We walk in circles when we are lost, as if trapped in an endless cycle. It is also a statement of resistance, or a reflection of nature: walking in circles while the earth turns on itself and around the sun, while the moon turns around the earth. We walk in circles like an imprisoned dog around his house, like a protagonist in endless repetition of life and seasons. Walking in circles makes us Taoists; it keeps us from getting lost, calms our mind and heart, and allows us to rediscover meaning in meaninglessness.
Interview Room 11 is housed in Ocean Terminal, a shopping mall. This context, goal-oriented in its focus on commercial transactions, enhances Carolinas work by standing in stark contrast to the diffuse, inquisitive action of wandering with no particular goal.
In addition to circular walks, Carolina will exhibit her previous photographic works. The relationship between body and nature is central to all her photographs, where she explores the intersection of natural and human landscapes in order to create a new, hybrid universe.
This project is supported by Acción Cultural Española (PICE, Programme for the Internationalization of Spanish Culture) Furthermore, the gallery thanks for the generous help of Consulado general de España en Edimburgo
Interview Room 11
Ocean Terminal Level 1
Ocean Drive
Edinburgh
EH6 6JJ
http://www.ir11.org.uk/
Scottish Civic Trust My Place Awards for 2017
11 Nov – The Scottish Civic Trust is calling for nominations from local civic trusts, amenity societies, community councils and other heritage or community groups around Scotland for new buildings, restoration projects, landscape designs and other placemaking projects for the annual My Place Awards. The trust is also looking for nominations for a winner of the My Place Civic Champion award.
Website: Civic Trust My Place Awards Scotland
Riccarton Mains Village
11 Nov – Planning permission in principle is being sought for an 'independent village' for students and permanent residents at Heriot-Watt Universities Riccarton Campus, reports Urban Realm. Led by landowner H&H Group Riccarton Mains Village will involve provision of 200 homes, 200 student flats, a community centre and supermarket on 12 hectares of land using designs intended to respect the area's 'rural character'.
National Galleries of Scotland Fly Through
11 Nov – fly-through of The National Galleries of Scotland redevelopment by Hoskins Architects:
Scottish National Gallery Transformation
Paul Curran appointed Chairman of the Scottish Property Federation
10 Nov – Paul Curran, Managing Director of Edinburgh-based Quartermile Developments, has been announced as the new Chairman of the Scottish Property Federation (SPF).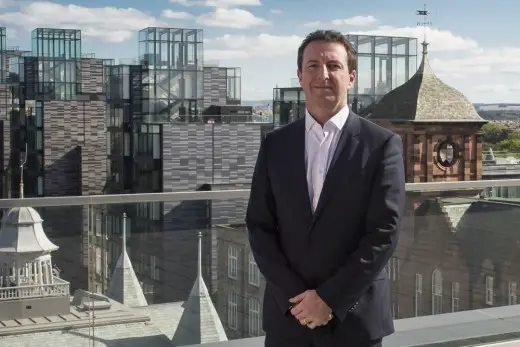 Succeeding current Chairman Chris Stewart, Chief Executive of the Chris Stewart Group, Paul took up his new position at the SPF's Annual Dinner at the Edinburgh International Conference Centre on 10 November 2016.
Paul, as the SPF's figurehead in Scotland, will use his new position to advocate the benefits of the real estate sector to the Scottish economy but also emphasise the importance of attracting global capital to Scotland which can in turn be invested locally.
David Melhuish, director of the SPF, said:
"We are delighted to welcome Paul Curran into his new role as Chairman. Chris Stewart has done an exceptional job over the past year, raising both our profile and engagement with government, particularly on the importance of the capital markets to the Scottish real estate industry. This is something I think Paul's experience in working on large-scale developments and attracting investors to local Edinburgh developments will take forward.
"We look forward to working with Paul over the next 12 months to continue to strengthen our growth strategy set to benefit the property industry in Scotland."
Paul Curran said:
"Scotland's real estate industry contributes just under £6bn a year to the economy. Its continued growth is essential for further financial and societal benefits, including a better built environment and job creation.
"As Chairman of the SPF, over the course of the next 12 months I will focus on how we can further positively develop the industry for the nation's advantage. In particular, we need to consider how we can make development and investment in Scotland much more attractive.
"We need to secure international capital to invest in property and infrastructure across the country. This in turn will create opportunities and drive growth in our local communities.
"In addition, we will explore how the private and public sectors can work closer together to secure this type of international investment for Scotland. The impact of land tax and business rates will form part of this dialogue to help us forge a way forward.
"I'm looking forward to working with David Melhuish and the team over what will be an extremely important 12 months for Scotland's economy and the real estate sector."
Paul is responsible for both Quartermile Developments' strategic direction and the company's successful project delivery. The business is based within its flagship Edinburgh city centre development.
Quartermile has a gross development value of £650m and is expected to be completed in 2018. When finished, the development will provide Edinburgh with 1,050 apartments – of which more than 630 are already occupied and another 176 under construction – along with 370,000 sq ft of Grade A office accommodation, 65,000 sq ft of retail and leisure space and seven acres of open landscaping.
Paul has over 20 years' experience in the industry. Before joining Quartermile Developments in 2005, Paul worked as a chartered surveyor in both the public and private sector and was involved in a number of high profile developments throughout the UK.
In 2013, Paul led the corporate acquisition of Quartermile with the backing of the London-based private equity fund Moorfield.
In 2014, he was responsible for an £82m funding deal with M&G Real Estate for the speculative development of the Quartermile 3 and Quartermile 4 office buildings. This represents one of the largest forward funding deals ever achieved in Scotland.
Last year, Paul secured Edinburgh's two largest consecutive commercial pre-lets for ten years with back-to-back deals within the £50m Quartermile 4 office building.
In addition, Paul led a deal which saw the University of Edinburgh acquire the Category A-listed Surgical Hospital building in December 2015. The building will provide a home for its new interdisciplinary hub that will unite business and public policy to address societal and environmental challenges.
About Scottish Property Federation
As a membership organisation the Scottish Property Federation (SPF) is the voice of Scotland's real estate industry. Established in 2007, SPF represents 185 organisations operating in Scotland. We include among our members: property investors including major institutional funds, developers, landlords of commercial and residential property, and professional property consultants and advisers. The SPF works closely with those who advise and decide on public policy in Scotland to ensure that they are aware of the consequences of their decisions for the property industry and wider economy.
As part of the British Property Federation we also benefit from close links with the leading UK property companies and investors in the UK as well as the BPF's contacts with Westminster.
For more information, please visit http://www.scottishpropertyfederation.org.uk or follow us on Twitter @ScotPropFed
Dakota Deluxe Hotel
8 Nov – Edinburgh's 3DReid announce our recent success at The Glasgow Institute of Architects' Design Awards 2016 where the Dakota Deluxe hotel in Glasgow won top prize in the Commercial category.
Dakota Deluxe Hotel Glasgow
Maggie's Centres Buildings
7 Nov – BBC Two's Building Hope: The Maggie's Centres TV programme last night featured all Maggie's Centres including the two in Glasgow and some shots of the new one emerging at the Forth Valley designed by Garbers & James, plus a very brief interview with architect Richard Murphy about the very first Maggie's Centre, in Edinburgh, which he designed.
Calton Hill Observatory Building News


photo : Jonathon Fowler
7 Nov – Esh Border Construction are to begin work on a £3m transformation of the Calton Hill observatory, Edinburgh, later this week, realizing long-held plans to create a new restaurant and gallery space within the hilltop observatory:
City Observatory Building on Calton Hill
Carnegie Museum and Arts Centre Building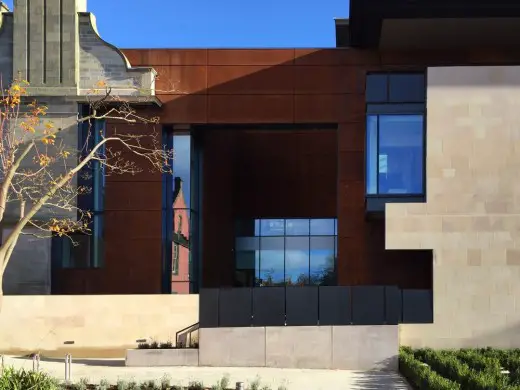 photo from architects
4 Nov – Carnegie Museum and Arts Centre Dunfermline Building by Edinburgh's Richard Murphy Architects
Scottish Civic Trust Annual Conference, 15th November, Celebrating Civic Pride
4 Nov – The next Scottish Civic Trust annual conference will showcase and celebrate the work of local civic trusts, amenity societies and heritage volunteers. The people that make up these groups work tirelessly to promote and protect local heritage, places and spaces. The conference will provide them with a platform to show what they have achieved, explain why they do it and set out the challenges and difficulties they face.
Architecture Website
4 Nov – We apologies for the downtime this week. It was due to some heavy DDOS attacks, sadly a sign of the times, security ramped up again.
The Saunders Centre wins RIAS Andrew Doolan Award for Architecture 2016
3 Nov – The Saunders Centre, Glasgow by Page\Park Architects has been awarded the RIAS Andrew Doolan Best Building in Scotland Award 2016.
Building An Architectural Resource
29 Oct – Today we passed the 20,000 pages mark! That is across our four architecture websites.
Ignoring architecture and design websites – like Dezeen and designboom – our platform is the largest European architecture resource in terms of traffic:
e-architect traffic comparisons
New Appointments to Historic Environment Scotland Board
28 Oct – The Cabinet Secretary for Culture, Tourism and External Affairs, Fiona Hyslop, today – Friday 28th October – announced the appointment of Ian Brennan and Ian Robertson as Trustees and the reappointment of Ken Thomson and Janet Brennan to the board for Historic Environment Scotland (HES).
Ian Brennan is Director of Finance and Risk at the Scottish Housing Regulator. From November 2013 until July 2016 he was a member of the Board of Glasgow Kelvin College where he chaired the Financial Control Committee. He was also a member of the Board of Cardonald College from 2005-2013 and served as vice chair from 2011 to 2013. Ian has previously held positions in higher education, the NHS and the Accounts Commission and holds a degree in Business from Strathclyde University and an MBA from the University of Glasgow.
Working for over 30 years in the international energy business, Ian Robertson has held positions at Vice President and Executive Vice President level and retired in 2014 when he was CFO and Executive Vice President for Dutch Shell's global and downstream business. He has extensive experience across many cultures of business strategy. A business management graduate and Fellow of the Chartered Institute of Management Accountants. Ian is currently working part-time, consulting on a commercial basis.
These appointments are regulated by the Commissioner for Ethical Standards in Public Life in Scotland. Both appointments and reappointments for HES are non-remunerated and hold a time commitment of 20 days per year.
Building Hope: The Maggie's Centres BBC Scotland Documentary
27 Oct – Building Hope: The Maggie's Centres – tells the fascinating story of Maggie's – a unique cancer charity which began life in Edinburgh 20 years ago. In 1993, Maggie Keswick Jencks was diagnosed with terminal cancer and was told she had three months to live. On hearing this devastating news she was left to sit on a plastic chair in a hospital corridor. The only place she could find to cry was a toilet cubicle.
Building Hope: The Maggie's Centres
Sunday 6 November
BBC Two Scotland, 8.00-9.00pm
Her husband Charles Jencks, who is co-founder of the charity, said: "I think that initial shock was certainly the moment when Maggie thought we can do better than this. You don't have to suffer in a corridor on death's row having just been told that you are going to die.
"That was the moment architecture and medicine met in our minds."
Maggie, from Dumfriesshire, realised there had to be a better way and spent the last year of her life working on an idea for a cancer care centre which she hoped would change the lives of other people with cancer, as well as their family and friends. The blueprints for the original centre in Edinburgh were lying on her bed the day she died in 1995. Maggie's family and friends were determined to turn her vision into a reality and the first centre in Scotland's capital opened just over a year after Maggie died, with her friend – and former oncology nurse, and now Maggie's Chief Executive – Laura Lee at the helm.
Since then the most prominent names in architecture have designed astonishing landmark buildings bearing her name across the UK, including London, and internationally in Japan and Hong Kong.
This BBC Scotland documentary features interviews with world-renowned architects Frank Gehry, Norman Foster and Richard Rogers.
This year Maggie's celebrates its 20th anniversary, and will soon open its 20th centre in Larbert, Forth Valley.
As well as that centre and the original Edinburgh building, other Scottish centres featured in the programme include Dundee, Lanarkshire and Glasgow.
Heart of the Campus Building News
24 Oct – Work completes on major element of £30m Glasgow Caledonian University Heart of the Campus Building by Page\Park Architects.
Pennywell and Muirhouse Civic Centre Building
23 Oct – Edinburgh City Council is considering plans to build a £26m civic centre and 160 affordable homes by Barton Willmore on the site of a dilapidated shopping centre in the Pennywell and Muirhouse area of North Edinburgh. Thirteen shops, office space, cafes and public services centred on a new civic square will be delivered by Willmott Dixon in a phased programme of work through to 2020.
Shawfield Masterplan News
23 Oct – Norr have put forward detailed plans for one of the first plots to be developed under a masterplan by Edinburgh architects 7N for Shawfield on the south bank of the River Clyde.
21st Century Homes Small Sites Programme
20 Oct – Barton Willmore have rounded off a hat-trick of submissions for The City of Edinburgh Council's 21st Century Homes Small Sites Programme with the pending submission of plans for a four storey infill block and terraced housing at Hailesland Place, Wester Hailes, reports Urban Realm.
Edinburgh Buildings Article
20 Oct – An unusual pairing – Craigentinny Marbles and Scottish Parliament Building – feature in very brief 'articles' by architect Adrian Welch, about "less-famous marvels that have yet to step out of the shadow of Britain's major landmarks":
Edinburgh Architectural Wonders
"Building Our Islands" – Outer Hebrides' Favourite Buildings to Mark Festival of Architecture 2016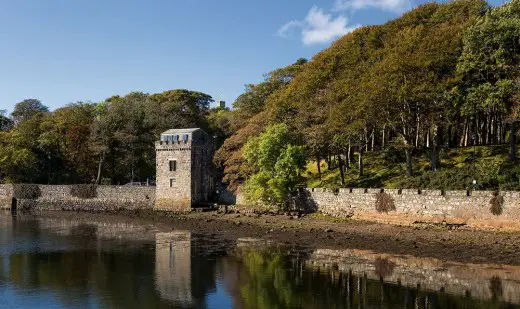 Boatman's House, Stornoway, Isle of Lewis © John Maher
14 Oct – An Lanntair and The Western Isles Architects Group have been celebrating architecture in all its forms in the Outer Hebrides. From modern architecture to 17th Century ruins, the project asked people to take a look at the architecture that surrounds them. Photographer (and former Buzzcocks drummer) John Maher has been documenting the shortlisted buildings and other architectural gems for the project. Over 500 people voted for their favourite building in the islands.
Scotland Policy Conferences Keynote Seminar
The future of housing in Scotland – delivery, demand and the impact of policy
with
Lesley Fraser, Director for Housing, Regeneration and Welfare, The Scottish Government
and
Nicola Barclay, Chief Executive, Homes for Scotland; Kay Blair, Chair, Scottish Housing Regulator; Amanda Britain, Associate Director, Craigforth and Chair, CIH Scotland; Dan Cookson, Head of Research, PRS 4 Scotland; June Gilles, Head of Planning, Davidson Chalmers LLP and David Melhuish, Director, Scottish Property Federation
and
Douglas Cochrane, Lloyds Banking Group; David Goldie, Highland Council; Hew Edgar, RICS; Adam Lang, Shelter Scotland and James Strang, Parkhead Housing Association
Chaired by:
Kate Forbes MSP, Member, Environment, Climate Change and Land Reform Committee
@ScotlandPolicy | This seminar is CPD certified
Timing: Morning, Wednesday, 7th December 2016
Venue: Central Edinburgh
Details on our events page
Orkney Hospital Building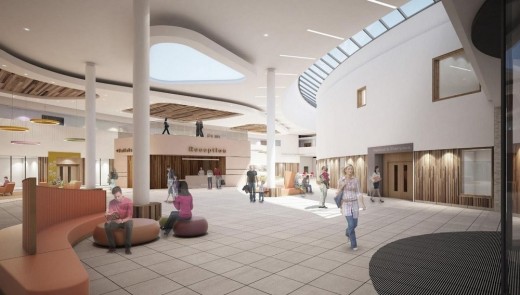 image from architect
12 Oct – £60m integrated health facility to be built on the outskirts of Kirkwall secures approval from the Scottish government. The new facility has been designed by Keppie Design to incorporate a number of relocated GP practices as well as a dental surgery.
Hearts Main Stand Approval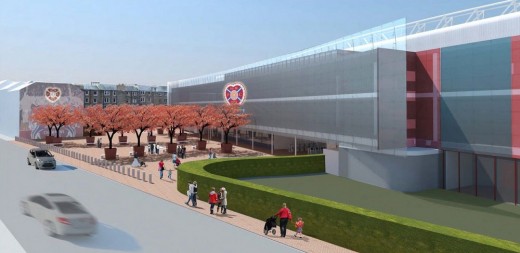 image from architect
12 Oct – Hearts Football Club has secured consent from the City of Edinburgh Council to rebuild the main stand at Tynecastle Stadium.
Hearts Main Stand
Broad Street Development News
11 Oct – Aberdeen City Council has given the green light to the transformation of Broad Street into a 'pedestrian priority' route extending Union Street to the Gallowgate/Upper Kirkgate junction.
Crewe Road Gardens Homes
11 Oct – Barton Willmore has prepared plans for a 26 home development at Crewe Road Gardens, Pilton, as part of the City of Edinburgh Council's small sites programme.
Clermiston Homes
10 Oct – The City of Edinburgh's small sites urban infill programme is continuing to bring disused land back into productive use with the submission of plans for 44 homes at Parkgrove Terrace, Clermiston.
Dundee Hilltown
10 Oct – Plans have been brought forward by Collective Architecture, Robertson Partnership Homes and Hillcrest Housing Association on behalf of Dundee City Council to regenerate Derby Street.
Cooper Cromar Practice News
7 Oct – Cooper Cromar announce, as of the 1st September 2016, the successful completion of a Management Buy Out by the existing senior management team of Steven Carroll, Simon Walsh and Graham Forsyth.
RIBA Stirling Prize 2016
7 Oct – No award for the only shortlisted entry from Scotland – Glasgow Riverside Campus building by Edinburgh's Michael Laird Architects & Reiach and Hall Architects.
Shortlisted buildings and archiects: Stirling Prize 2016 Winner
DIA Awards
7 Oct – McKenzie Strickland Associates have been recognised by the Dundee Institute of Architects for their Hot Box sauna at Taymouth Marina, after picking up their best commercial project award.
Lochrin Square Office Building
6 Oct – UBS Asset Management is nearing completion of a major refurbishment of Michael Laird Architect's One Lochrin Square to provide 62,416sq/ft of Grade A office space.
Boroughmuir High School
5 Oct – CALA Homes and Michael Laird Architects have teamed up for a residential conversion of the B listed Boroughmuir High School, Edinburgh, together with construction of a new build apartment block.
Build to Rent Housing Funding News
6 Oct – Scotland's Build to Rent (BTR) sector is today being boosted by the announcement of an extension to funding for the Scottish Government-supported Private Rented Sector (PRS) Champion, tasked with driving forward initiatives which could see a rapid increase in the supply at scale of new purpose-built, professionally-managed, energy-efficient properties to rent across the country.
The funding will see the work of BTR PRS Champion Gerry More, supported by a Working Party of experts, continue for a further 12 months, focusing on how such schemes could be rapidly delivered with the backing of institutional investors, offering tenants improved customer experience and choice. It will also support the launch of a dedicated Build to Rent in Scotland "opportunity" document in early 2017, outlining the potential benefits on offer to investors, local authorities, developers and other associated organisations.
More details on the Glasgow Architecture website's news page
New Portobello High School Building
5 Oct – new photo of soon-to-complete Portobello High School: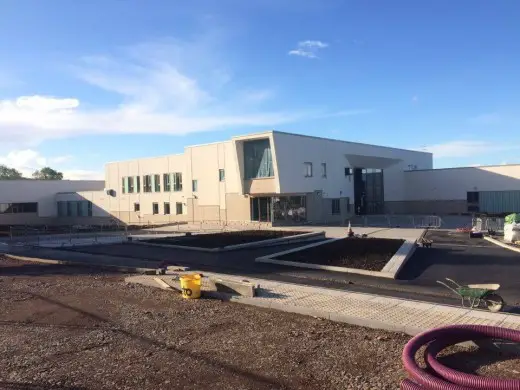 Planning system failing to deliver the homes Scots desperately need, latest statistics show
5 Oct – Responding to the publication of latest Scottish Government statistics showing the time taken to decide major housing developments was almost 18 weeks slower in Q1 2016/17 than the previous quarter, industry body Homes for Scotland's (HFS) Head of Planning Tammy Adams said:
"These figures show that Scotland's planning system is becoming less well equipped to deal with applications for major housing developments, which are key to providing the thousands of homes which our growing population desperately needs.
"The delivery of these homes should be seen as a golden thread running through the planning system but, with average decision times slowing to 48.3 weeks (three times the statutory period of 16 weeks), this is simply not the case.
"These statistics confirm the urgent need to ensure the planning system responds effectively to address Scotland's significant housing shortfall. It must do better to support the Scottish Government's aspiration to see a significant increase in home building to ensure housing requirements are met across the country – and enable it to meet the First Minister's ambition of delivering 50,000 new affordable homes over the course of this Parliament.
"HFS is committed to working with the Scottish Government and other stakeholders to get to the root cause of the problem and ensure effective solutions are identified and put into practice."
Contemporary House on the Solway Coast
4 Oct – Taigh Sonas, Kippford, Dumfries and Galloway, southwest Scotland by Simon Winstanley Architects added. This house is sited in a rectangular natural hillside plot accessed off the main road into Kippford on the Solway Coast. Principal views range between the south-west and north-east enjoying a spectacular landscape setting of the River Urr valley and hills beyond.
Contemporary House on the Solway Coast
Homeowner Website Launched
26 Sep – next session this coming Friday 30 Sep, for tickets follow venue link on website.
Pecha Kucha EDI v.35, 7pm, Fri 30th September 2016 @ the Epworth Hall, 25 Nicolson Square, EDI, EH8 9BX
http://www.pechakucha.org/cities/edinburgh/events/56f67893792d605f01000003
Homeowner Website Launched
26 Sep – Under One Roof, a major new free website – www.underoneroof.scot – designed to help the half million plus private flat owners in Scotland with the complex and important task of carrying out repairs to their shared properties, has recently been launched by Scottish Government Housing Minister, Kevin Stewart MSP at an event in Glasgow.
Written by Annie Flint and John Gilbert, the authors of the acclaimed Tenement Handbook originally published by the RIAS over 20 years ago, the site contains over 100 articles on flat owners' legal responsibilities towards their co-owners and over 70 technical information articles that enable owners to identify repair problems and understand quotations from builders.
More details on the Glasgow Architecture website news page.
Background:
The Under One Roof Steering Committee and The Royal Incorporation of Architects in Scotland wish to thank Glasgow City Council, whose financial contribution and early support and promotion were so vital to this website being developed. Special thanks also go to the Factoring Commission who worked closely with the authors.
Hacking and Paterson's senior partner, Neil Watt commented;
"Hacking and Paterson is delighted to be associated with this valuable and educational website, the first of its` type. It is a fantastic reference point for anyone owning property, helping them understand what it means to be a responsible homeowner, and guiding them towards others, such as property factors, who can assist them in caring for, and retaining the value of their property".
Lorraine MacDonald, owner of Speirs Gumley, property managers of the launch venue at 33 Dalintober Street/53 Morrison Street said:
"I am delighted that this beautiful B-listed building has been chosen as the venue for the launch of this vital new website. The restoration of this building is a living example of the best practice that Under One Roof advocates, and shows just what can be achieved when owners, property managers and local authorities pull together – in this case saving this iconic Glasgow building from falling into serious disrepair. I really believe this new website will help make shared repairs and maintenance less daunting for homeowners. As property managers, we'd always advise that prevention is better – and cheaper – than cure."
Authors and Steering Group
The authors are Annie Flint BSc Housing consultant and researcher; co-author of the Tenement Handbook, Common Repair Common Sense and many other guides for owners, community organisations and professionals.
John Gilbert BSc MSc RIAS DUniv, an RIAS accredited conservation architect. John has 40 years experience of repairing, improving and maintaining tenements and a variety of housing types.
The creation of the site has been driven by a steering committee whose members include funders, technical experts and user representatives. It is chaired by the immediate Past President of the RIAS, Iain Connelly, former Chief Architect of Fife Council. The committee membership is:
• Iain Connelly (Chair), Royal Incorporation of Architects in Scotland
• Alasdair Balfour, Royal Institute Chartered Surveyors
• Neil Baxter, Secretary, Royal Incorporation of Architects in Scotland
• Tony Cain, Association of Local Authority Chief Housing Officers
• Tessa Clark, Changeworks
• Jocelyn Cunliffe, Conservation Convenor, Royal Incorporation of Architects in Scotland
• Roger Curtis, Historic Environment Scotland
• Liz Dickson, Scotland's Housing Network
• Louise Glendinning, Royal Institute Chartered Surveyors
• Eleanor McAllister, Royal Incorporation of Architects in Scotland
• Alison McDiarmid, Property Managers Association Scotland
• Frank Plowright Glasgow Factoring Commission
• Jackie Reilly, Partick Housing Association
• David Stewart, Scottish Federation of Housing Associations
Promoter
The new website has been promoted by the Royal Incorporation of Architects in Scotland (RIAS) as part of the Festival of Architecture 2016. The RIAS is a registered charity and the professional body for all of Scotland's chartered architects. It was established to benefit the people of Scotland through its endeavours to improve the built environment.
Sponsors
The site is sponsored by both public and private sector organisations. The wide raft of funding enables the site to remain impartial and independent. While the majority of funding comes from local authorities and the Scottish Government, private and housing association factors (property managers) are also key contributors. The site is supported by:
Local Authorities:
• Argyll and Bute Council
• City of Edinburgh Council
• Clackmannanshire Council
• Comhairle Nan Eilean Siar
• Dumfries & Galloway Council
• Dundee City Council
• E. Dunbartonshire Council
• East Ayrshire Council
• East Lothian Council
• East Renfrewshire Council
• Falkirk Council
• Fife Council
• Glasgow City Council
• Inverclyde Council
• Midlothian Council
• North Ayrshire Council
• North Lanarkshire Council
• Orkney Islands Council
• Perth & Kinross Council
• Renfrewshire Council
• Scottish Borders Council
• South Ayrshire Council
• South Lanarkshire Council
• Stirling Council
• The Highland Council
• West Dunbartonshire Council
• West Lothian Council
National and Regional Bodies:
• Glasgow & West of Scotland Housing Association
• Historic Environment Scotland
• Property Managers Association Scotland
• The Royal Incorporation of Architects in Scotland
• Scottish Federation of Housing Associations
• Scottish Government
Property Managers:
• Hacking and Paterson Property Managers
• Your Place
• Southside Housing Association
• Spiers Gumley
Key Statistics
There are approximately 600,000 privately owned flats in Scotland, forming almost four in ten of all homes. The majority are in need of repair, many of urgent repair. One third of shared properties have no formal management support. Between one third and a half of pre1919 tenement flats are privately rented. Only one in three flat owners have a maintenance fund for their flat. Only one in three flat owners regularly maintain their roof. Over half of all flat owners only do roof repairs when it's an emergency.
Edinburgh Architectural Photographers
a rare picture of Parliament Hall Edinburgh interior: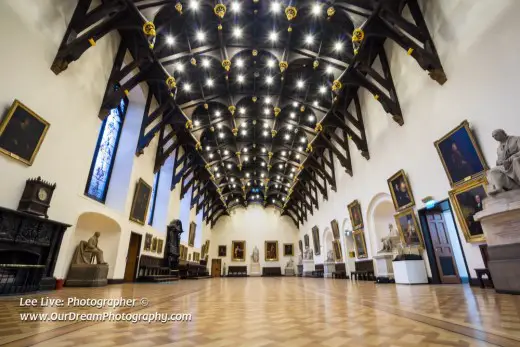 photo © Our Dream Photography
24 Sep – Our Dream Photography added to our Edinburgh Photographers page
Scott Monument new LED lighting design and installation by KSLD: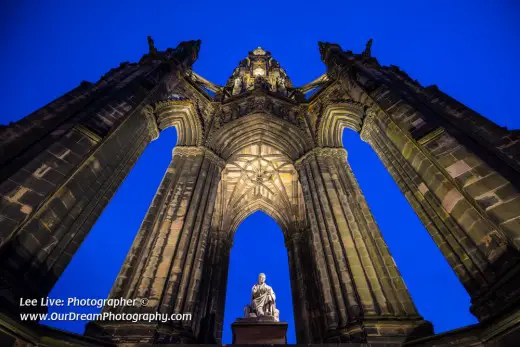 photo © Our Dream Photography
Granton Harbour Buildings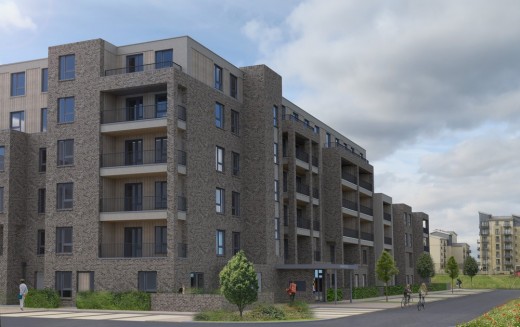 22 Sep – Hackland + Dore submitted a new planning application earlier this month for an exciting new scheme in Granton, for Port of Leith HA:
Granton Harbour Residential Development
The Glenlivet Distillery Bridge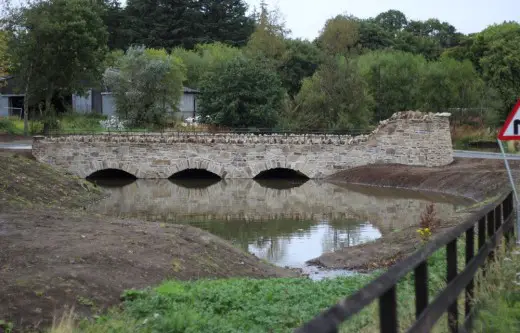 21 Sep – The engineers behind the design and build of The Glenlivet Distillery road-bridge in the heart of "Malt Whisky Country" in Speyside, have confirmed that the iconic structure is now ready for crossing.
Robertson Civil Engineering, who delivered the project alongside architects Archial Norr and engineers Blyth&Blyth expressed their delight with the end result.
Tony Fry, managing director of Robertson Civil Engineering said: "The fact that Chivas Brothers wanted something that was 'old style stone' has made this particular bridge so unique. It's not often we're asked to do bridges like this one, but when we are, it is a real privilege.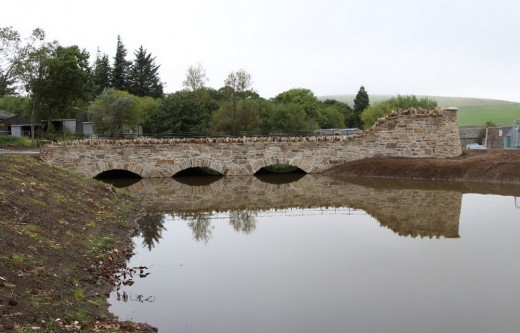 "Their desire to tie the structure into their brand signifier has made it a very interesting project to work on, and the end result is sure to be admired by visitors to the distillery for many years to come."
TK Maxx Edinburgh Central Shop
21 Sep – more photos with sunshine taken late yesterday afternoon:
view from north west, showing facades to St Andrew Square (left) and South St David Street (right):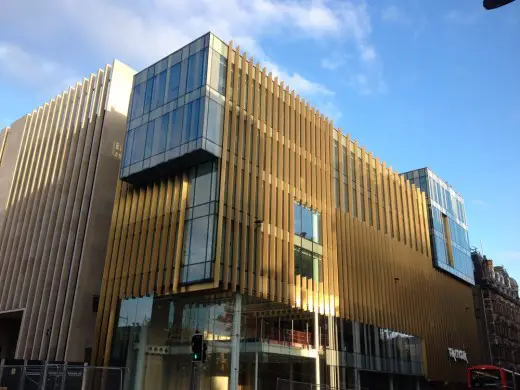 view from north, showing facades detail onto St Andrew Square: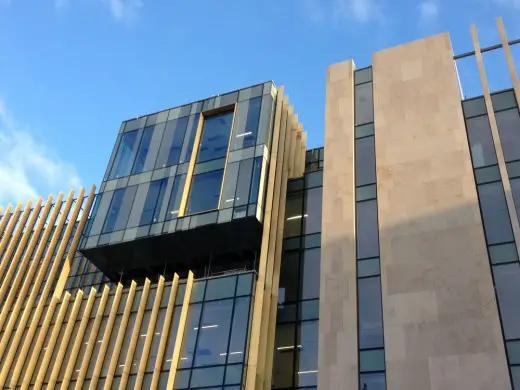 photos © Adrian Welch
TK Maxx Edinburgh St Andrew Square
Dome Edinburgh
21 Sep – photograph taken late yesterday afternoon from the north of Dome Edinburgh Restaurant: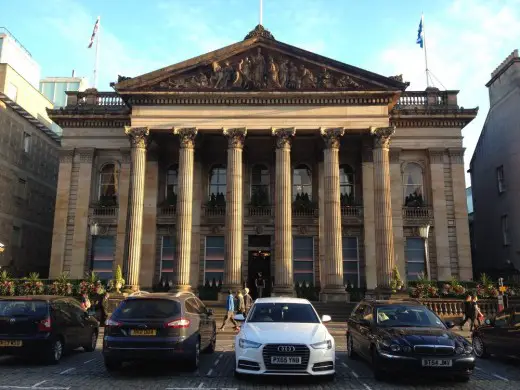 photo © Adrian Welch
Aberdeen Aquatic Centre Building
20 Sep – The latest phase of a major sports village development has been completed: the £18.2m Aberdeen Sports Village Aquatic Centre. The new Aquatic Centre includes a 10-lane, 50m Olympic standard pool with seating for 600 spectators, and a 25m x 16.5m Olympic standard diving pool: Aberdeen Building News
25 years of Richard Murphy Architects
19 Sep – Murphfest – 1 & 2 October – a celebration of 25 years of Richard Murphy Architects in Practice.
Murphfest includes an afternoon conference in the National Museum of Scotland in Chambers Street, Edinburgh, a party and an open house afternoon at Richard's home in 2B Hart Street.
The party and open house are by invitation only, but the conference is available by applying for a ticket in advance by emailing kj(at)richardmurphyarchitects.com
Disappointing news on housing as supply slips down
13 Sep – On the day MSPs were debating levels of investment for more homes, new official statistics revealed a two per cent decrease in the number of new homes completed in Scotland for 2015-16.
Responding, Karen Campbell, Director of Policy at industry body Homes for Scotland said:
"On this important day of discussion on our country's housing crisis, the Scottish Government has pointed to the 'stability' in new supply when figures actually show a decline.
"The simple fact is that whilst Scotland's population has increased to its highest ever level, the supply of housing continues to lag ever further behind.
"This is hugely disappointing news for all those looking for a new home and will place further pressure on rents and house prices as demand continues to grow.
"We want to see a return to pre-recession levels of building around 25,000 new homes a year by the end of this parliament which requires a year-on-year increase of at least ten per cent. We all have a valuable part to play in achieving this if we are to meet the diverse needs, aspirations and life journeys of all those living in Scotland."
HLM at BIM conference in Edinburgh
12 Sep – Paul Tunstall, associate at architectural practice HLM joins a panel of industry experts, architects and technology leaders at the BIM in Scotland conference in Edinburgh this month to illustrate how BIM theory can give competitive advantages to companies in Scotland.
Pecha Kucha Edinburgh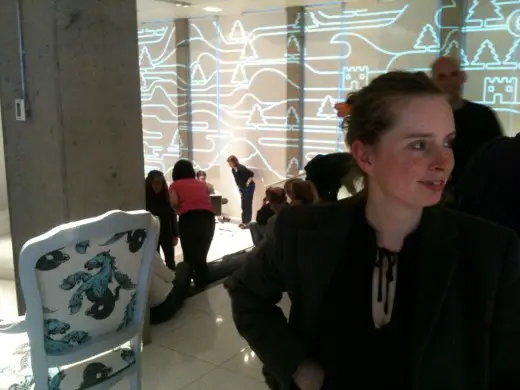 Next session is Friday 30th Sept at the Epworth Hall, 25 Nicolson Square.
http://www.pechakucha.org/cities/edinburgh/events/56f67893792d605f01000003
Oriam at Heriot-Watt's Edinburgh Campus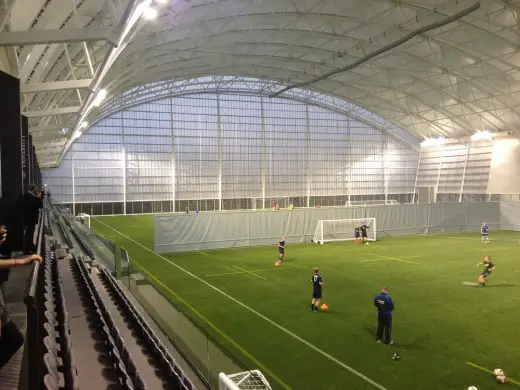 photo © Adrian Welch
e-architect's Isabelle Lomholt and Adrian Welch attended an opening event yesterday evening at Reiach and Hall Architects' latest building, Oriam, Scotland's Sports Performance Centre with speeches and a tour: building photos now online.
An Lòchran Enterprise & Research Centre Building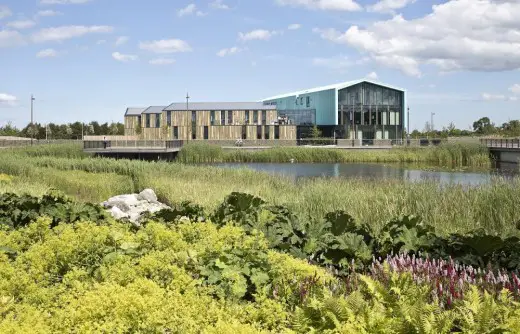 9 Sep – An Lòchran Enterprise & Research Centre has completed on the Inverness Campus.
The building design is by Sheppard Robson Architects, based in Glasgow.
The office, academic, business and research hub is intended to encourage collaboration.
It is for the University of the Highlands and Islands (UHI).
The Inverness Campus opened in May 2015. Occupants include Highlands and Islands Enterprise and Scotland's Rural College which offers research and consultancy services.
New Brunstane.Development
9 Sep – Planning submission to build more than 1,300 homes over a 48-hectare site known as New Brunstane.
The residential development will be on greenbelt land separating Edinburgh from Musselburgh.
Developer EDI Group has lodged an application for Planning Permission in Principle to construct 1,330 houses, a school and leisure facilities. A 'parkland' setting means 23% of the land area will be green spaces.
The application is one of the key Local Development Plan (LDP) sites defined by the council and the Scottish Government.
A Proposal of Application Notice was issued back in December 2015.
EDI Group is an arms-length company of the City of Edinburgh Council and has helped develop areas such as Edinburgh Park.
West Dunbartonshire Council Office Building News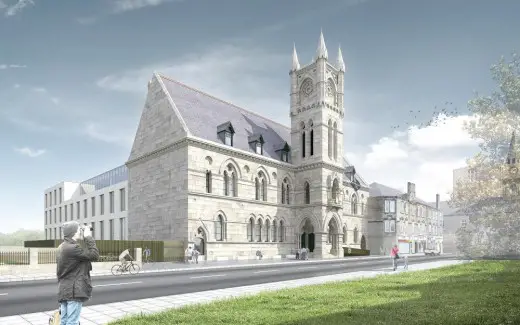 9 Sep – Work has started work on the £15.4 m West Dunbartonshire Council offices in Dumbarton.
The design by Keppie retains the A-listed facade of the historic building. New offices will be constructed by contractor Lend Lease at the rear.
Around 500 staff based at Garshake will be relocated to the offices.
The facility will include a public area with multi-use civic space, training and meeting rooms with a substantial new building to the rear containing office space.
The former Dumbarton Academy building is located in Church Street.
hub West Scotland are due to complete the works in late 2017.
The council secured a £500,000 grant to help pay for the restoration and discussions are ongoing with Historic Environment Scotland over this element of the project.
Edinburgh Development Plans 2016 Event
29 Sep – five of Edinburgh's leading development figures will be presenting their investment/development plans for the next few years:
– Andrew Kerr, Chief Executive at City of Edinburgh Council
– Eric Adair, Operations & Finance Director at The EDI Group
– Jestyn Davies, Managing Director at Murray Estates
– Alex Muirhead, Development Director at Ecosse Regeneration and
– David Peck, Managing Director at Buccleuch Property
see our events page for details.
BIM in Scotland Conference
Wednesday 21 Sep 9:30am – 4:00pm at the Waldorf Astoria Edinburgh – The Caledonian
With the aim of the Scottish Government to adopt a BIM Level 2 approach across public sector projects in Scotland by April 2017, hear the latest from industry experts, architects and technology leaders. They aim to explain what implementing BIM has done to help drive their businesses forward.
This is a free event on BIM.
See the Edinburgh Events page for more details.
Queensferry Crossing News
8 Sep – The Queensferry Crossing is on target to be opened by May 2017 and remains within its £1.35 billion budget.
Project director David Climie warned MSPs that bad weather could still make it "challenging" to hit the target and accepted there were "certain circumstances where it could be after May" though he added that "everything that can safely be done is being done".
The contract for completion of the bridge runs until June 2017. It was originally hoped the crossing could open by December 2016 but this deadline was revised when high winds forced work to stop for 25 days in April and May.
East Lothian Council Proposed Local Development Plan
8 Sep – East Lothian Council has approved a plan which sets out how it will deliver over 10,000 new homes in the next 10 years.
The finalised Proposed Local Development Plan (LDP), approved by councillors this week, sets out the council's planning strategy, sites and policies to guide and manage future development within the county.
In November 2015, councillors considered the draft Proposed LDP and approved it subject to the following amendments including plans to release sites to allow for the construction of hundreds of affordable homes.
Amendments included:
– removal of the proposal for 1,000 homes at the Goshen Farm site, plus corresponding secondary education proposal on this site;
– allocation of Dolphingstone as an allocated site for 600 houses;
– allocation of Howemire, Wallyford for 100 homes;
– allocation of land at Craighall for mixed use development;
– allocation of Dolphingstone North, Prestonpans for up to 160 homes;
– removal of safeguarded land at Longniddry South; and
– consideration of sites in the North Berwick area for employment use allocations
The LDP will be published for representations from interested parties from 19 Sep to 31 Oct.
http://www.eastlothian.gov.uk/info/204/local_development_plan/1769/local_development_plan
Photos of Key Edinburgh Buildings
8 + 7 Sep – Parliament Square arcade: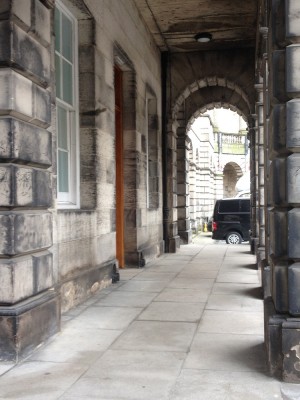 Radisson Edinburgh hotel interior space: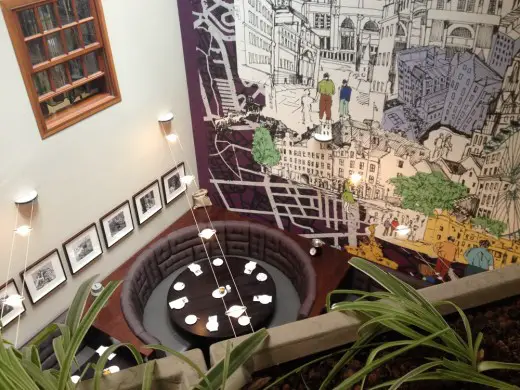 TK Maxx store, opened in August, the largest retail opening in the city centre since 2011: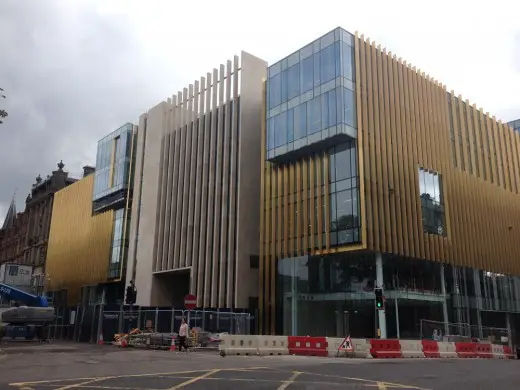 TK Maxx Edinburgh store
City Chambers building and war memorial: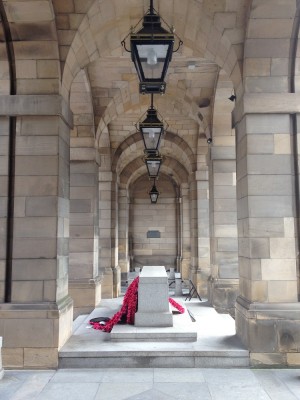 City Chambers Edinburgh Building
Advocate's Close buildings: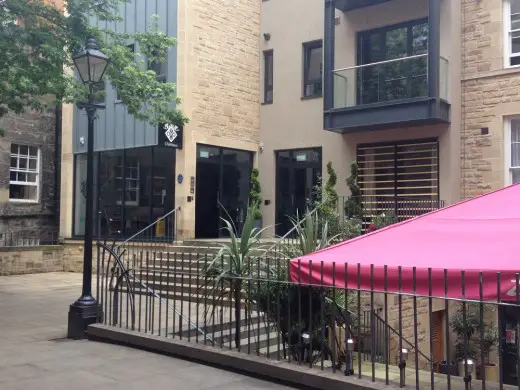 Advocate's Close Edinburgh Building
St Giles' Cathedral Edinburgh Building
Schools for the Future programme
6 Sep – First Minister Nicola Sturgeon visited the site of the new Boroughmuir High School in Edinburgh today to highlight a record year for the Scottish Government's Schools for the Future building programme.
The £1.8 billion programme will involve 112 schools being rebuilt or refurbished by 2020.
Ms Sturgeon said that twenty nine newly built or refurbished school buildings will open to pupils during this academic year, the highest number of school buildings to open in any one year since the programme began in 2009.
The announcement comes on the same day the First Minister unveils her 2016/17 Programme for Government later at Holyrood.
Scottish Borders Design Awards
6 Sep – A new sports hall in Peebles and the conversion of a cottage in Gattonside were among the winners at this year's Scottish Borders Design Awards.
Announced at a ceremony held at Scottish Borders Council headquarters yesterday, the award scheme was first established in 1984 and runs every two years. This year the awards scheme is part of the national Year of Innovation, Architecture and Design.
Organised by the council's planning and regulatory service, the purpose of the scheme is to recognise examples of good building design, educate and inspire all those involved in new developments and raise the overall standard of building design.
Scottish Borders Design Awards 2016 Winners:
Design Award for New Build (Residential): The Wave, Kirkton Manor – Commendations: Little Lindisfarne, Hawick; Maple Tree House, Darnick
Design Award for New Build (Commercial): New sports hall, Peebles High School.
Design Award for Works to an Existing Building: Blakeburn by Gattonside – Commendation: Born in the Borders, Lanton Mill
Design Award for Placemaking: Leet Haugh, Coldstream – Commendation: Old School Place, Lauder
Special Award for Conservation and Design: Marchmont House, near Polwarth
Councillor Ron Smith, SBC's executive member for planning and environment and chair of the planning and building standards committee, said: "Once again the entries for these awards have highlighted the high quality of building design right across the Scottish Borders.
"The judges have had a difficult task in selecting winners from the large number of entries. Hopefully the winning and commended designs, which are innovative, contemporary and forward thinking, will inspire future projects in the region and beyond."
A total of 30 entries were received across the various categories. The independent judging panel was chaired by Andy Millar, former SBC built and natural heritage manager, from Peebles, with David Suttie representing the Royal Town Planning Institute Scotland (RTPI) and Iain Connelly representing the Royal Incorporation of Architects in Scotland (RIAS).
Mr Millar said: "We shortlisted then visited 13 entries. Many thanks to all entrants and especially to those we met on the visits. These two days were rewarding and inspiring and the panel is pleased to announce the five awards and four commendations."
Homes for Scotland News
5 Sep – Home builders respond to approval of Edinburgh Local Development Plan
Responding to today's approval by councillors of Edinburgh's Local Development Plan, Tammy Adams, Head of Planning at industry body Homes for Scotland, said:
"Whilst this morning's meeting represents six difficult years of plan-making for our capital city, the unfortunate fact remains that the sites that have been allocated will not deliver the number of new homes that are needed quickly enough. This has obvious social and economic implications for our capital city and suggests a continuation of the 'planning by appeal' that has caused unrest in recent months.
"With the council now having an additional year to produce improved statutory guidance on infrastructure, we are concerned that this could lead to a further vacuum during which any new sites are refused as a matter of principle – rather than being welcomed as a way of better meeting housing need.
"Critically, however, with a national planning review underway, there are important lessons to be learnt from Edinburgh's experience – not least the need to identify and resolve major problems, such as the failure to fully plan for new homes and infrastructure, much earlier in the process. Otherwise it is not entirely unreasonable for people to ask 'why plan at all?'."
Scottish National Gallery Building Renewal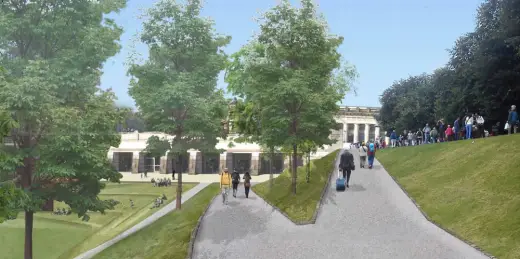 1 Sep – Work on a £16.8 m extension to the Scottish National Gallery in Edinburgh started this week after the City of Edinburgh Council formally approved the planning applications.
The planned redevelopment of the Scottish National Gallery, will triple the exhibition space available to the Scottish collection from 440m to 1320m, vastly improve visitor access and circulation throughout the SNG complex, and create a more sympathetic setting and entrance for the SNG within East Princes St Gardens.
Prince & Princess of Wales Hospice
1 Sep – The new Prince & Princess of Wales Hospice in Bellahouston Park, Glasgow, is to start on site on 12 September. It is designed by Ryder Architecture. The facility employs the Sengetun model of care which places the needs of patients and their families first. Completion is due by 2018.
Architects' Conversations in Edinburgh
31 + 30 Aug – 'Architects' Conversations: John McAslan in conversation with Pedro Mendes da Rocha', will take place at the National Museum of Scotland on the evening of 21st September 2016.
Join John McAslan in conversation with Paulo Mendes da Rocha's son Pedro, as they discuss his dad's work and the relationship between architecture and engineering: more info on our events page.
Maryhill Locks Housing
31 Aug – The first 21 homes completed in CCG's Phase 3 of construction at The Botany, reports Urban Realm. Designed by NORD the properties – many already occupied – form part of a wider Maryhill Locks masterplan. This 'Transforming Communities' project was built on behalf of Bigg Regeneration. The latest phase comprises 40 private townhouses. Full completion of phase three is due in February 2017.
Dundee Hotel Building Extension
31 Aug – Invercarse Hotel expansion submitted for planning by Redwood Leisure, reports the Dundee Courier. Designed by Dundee's Arktx Chartered Architects, the two-storey extension will be created at the rear of the current building. It will be constructed from reconstituted stone with a glass block-clad staircase to the north. Delivering a 24 new bedrooms, capacity at the 44-bedroom hotel would rise by more than 50%. The Victorian mansion is located in the city's west end conservation area.
Aberdeen Art Gallery Building News
31 Aug – Work has started on the interior fit-out of Aberdeen Art Gallery building by Glasgow's Hoskins Architects. The £30m redevelopment converts the A-listed building into an arts venue.
Celebration of Peter Womersley
31 Aug – Celebration of Peter Womersley 1923-1993 – Seminar and Coach Tour
Saturday 1st October 09.30-13.00 (Seminar) / 13.30-20.00 approx. (Coach Tour)
Venue: Hawthornden Lecture Theatre, Scottish National Gallery, The Mound, Edinburgh / Scottish Borders
Peter Womersley (1923-1993) was a British architect, best known for his work across a range of modernist styles. While Womersley's work has been very influential nationally and internationally, he is mostly unknown in Scotland outside the design sector. This seminar, and tour of some of his buildings in the Scottish Borders, has been coordinated by a group of Womersley enthusiasts, chaired by Colin McLean and supported by the Royal Incorporation of Architects in Scotland (RIAS) and the Architectural Heritage Society of Scotland (AHSS).
Please see our events page for details.
Stockbridge Building Photos
30 Aug – some recent architectural photos around Stockbridge:
Dean Park Mews properties: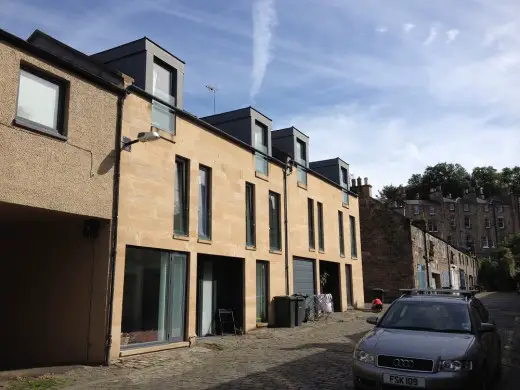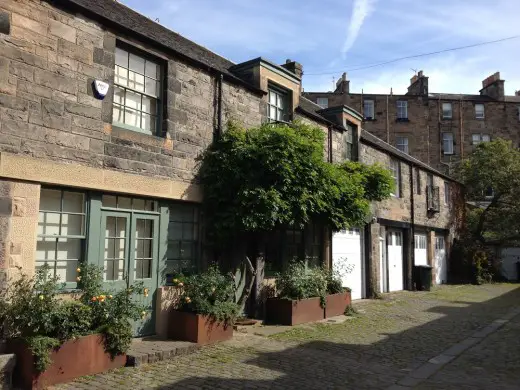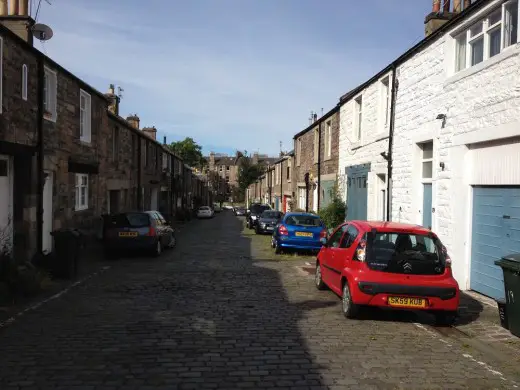 Dean Street property – school converted to flats: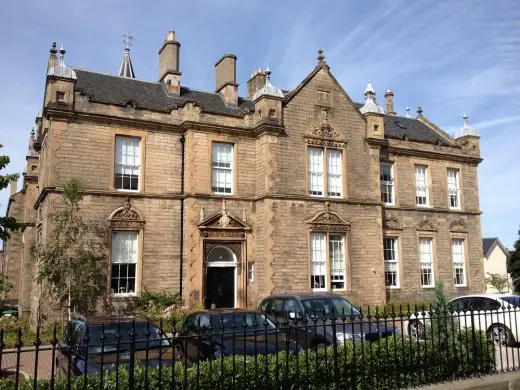 Edinburgh Academicals Sports Ground – trees and elegant building along Raeburn Place: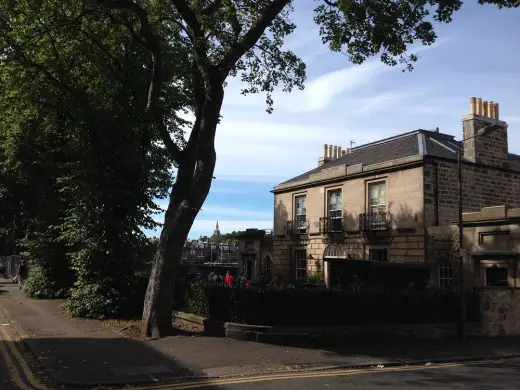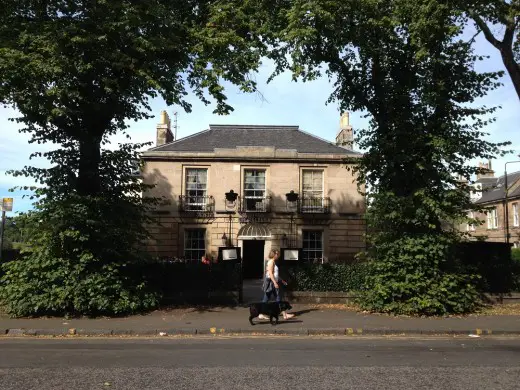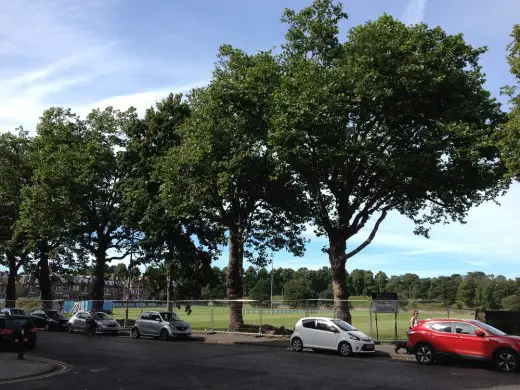 St Bernard's Crescent buildings:

Portobello School Building
30 Aug – photo of Portobello School building construction from south: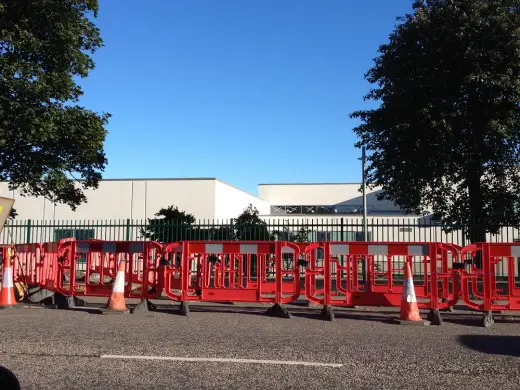 Edinburgh World Heritage Support For Syrian Restoration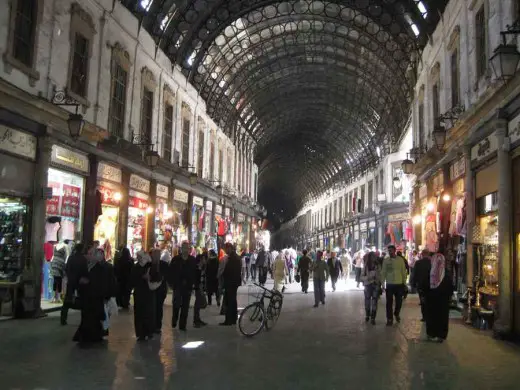 photo © Gordon Murray, architect
29 Aug – Responding to a call from Prof Maamoun Adbulkarim, Director-General of Antiquities and Museums, Arab Republic of Syria,Edinburgh World Heritage has offered to provide support towards the restoration of several of Syria's World Heritage sites, including the ancient cities of Aleppo, Damascus, and Bosra. Support will be provided in the form of on-the-ground expertise and knowledge exchange in urban heritage conservation and restoration as soon as hostilities have ceased.
Peebles Hydro Hotel Properties
29 Aug – Queensberry Properties have launched a residential development within the grounds of the Peebles Hydro Hotel. The development comprises a mix of apartments and mews properties through to five bedroom detached villas.
Queensberry Properties is a partnership between Cruden Homes and Buccleuch Property. Past projects in Edinburgh include MacKenzie House and Woodcroft.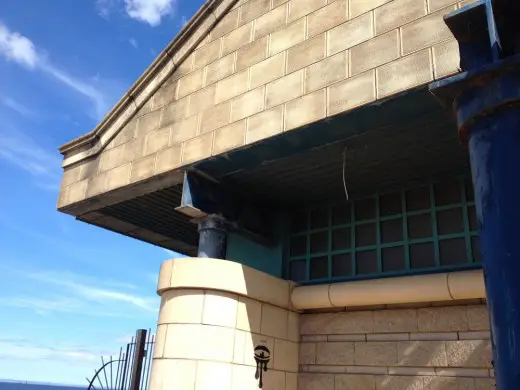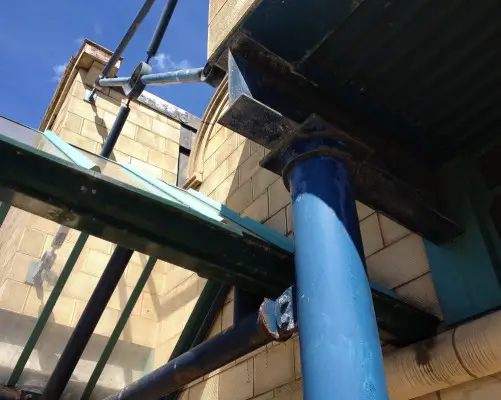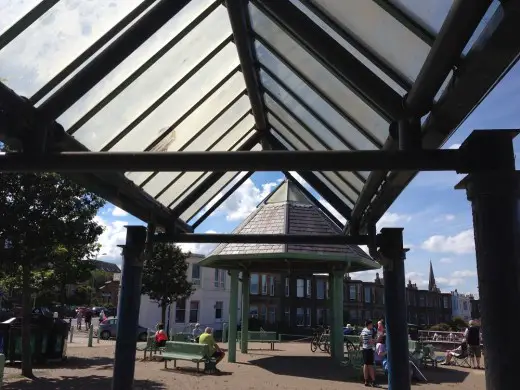 29 Aug – photos of this building in Joppa (at the east end of Portobello Beach) part of which used to be public toilets, currently being sold off by the council
Diversity Awards
29 Aug – The Herald and GenAnalytics will deliver Scotland's first ever national Diversity Awards in October. These awards "will recognise outstanding success in ensuring that everyone in our society has the opportunity to fulfil their ambitions, aspirations and potential". The awards will take place on Thursday 13th October 2016 at the Radisson Blu Hotel, Glasgow. Entries closed on the 17th of August – architects of buildings which serve local communities were eligible to enter.
Edinburgh Digital Entertainment Festival Structure



25 Aug – Just a few days left to see this modular exhibition space has been created in the middle of George Street as part of the Edinburgh Digital Entertainment Festival. The design is by biomorphis with designer Mark Kobine.
University of Edinburgh Design Informatics showcase the work of its researchers and master students using a low cost, rapid assembly design.
The modular space can be assembled in a single day from standard sheets of OSB 3 that have been CNC routed and built into portable cassettes. The structure can be modified to suit varying requirements.
The Design Informatics Pavilion has been designed by biomorphis, an Edinburgh-based architecture practice led by Pierre Forissier. Interested in how digital technology can be efficiently used to design an affordable modular structure, biomorphis developed an algorithm to test & generate different cellular divisions to form a self-supporting lightweight building envelope.
Using a CNC router (Computer Numerical Control) timber sheets are cut and then pre-assembled in pairs to form cassettes that come together to make the double layer skin. Prefabricated off site, and simply assembled on site, the final pavilion demonstrates how computer algorithms are assisting designers to develop a parametric architecture which is strong, lightweight and evocative to the eye.
The Pavilion houses "Living with Data: Design Informatics" and explores what happens when you start "designing with data" and when things start designing themselves through recent developments in the Internet of Things, Synthetic Biology and the Blockchain.
Source: https://www.edef.co.uk/art-installations/
4-28 Aug, George Street
HERITAGE & CONFLICT – Edinburgh World Heritage Event
25 Aug – With a capital among the oldest continuously inhabited cities in the world, Syria has been home to some of the world's most ancient civilisations. But after five years of armed conflict, the country has suffered a devastating loss of cultural heritage.
At an exclusive Edinburgh World Heritage lecture, Professor Maamoun Abdulkarim, Director-General of Antiquities and Museums, Arab Republic of Syria, will talk about the appalling destruction of priceless monuments in many parts of the country as well as the impressive efforts led by his team to conceal important museum collections across Syria from harm. He will call upon the international community to redouble its efforts to help Syria protect, and in places rebuild, its heritage for the benefit of all humanity.
Sport, Health & Wellbeing Centre Building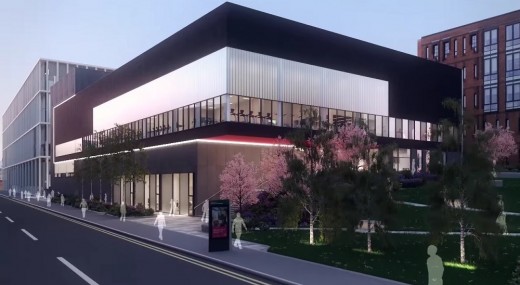 25 Aug – The University of Strathclyde receive planning permission for a £33m sport, health & wellbeing centre at Cathedral Street, Glasgow. The design is by Kennedy Fitzgerald.
Taymouth Castle Golf and Spa Resort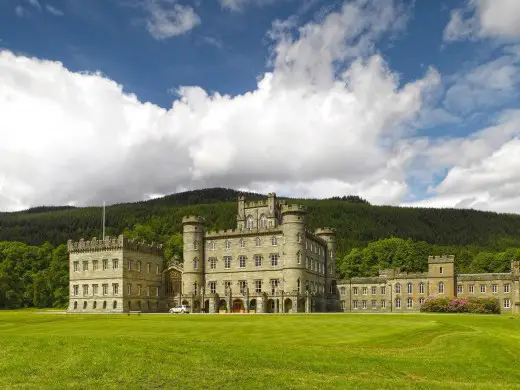 25 Aug – Taymouth Castle Golf and Spa Resort is due to open early in 2017 following a £25m refurbishment. It is located just north-east of Kenmore in Perth and Kinross. The 5-star hotel development includes 54 new luxury suites. Amenities include a championship standard 18 hole golf course, an equestrian centre and fishing within the 450 acre estate.
Willow Tearooms Visitor Centre
24 Aug – Simpson & Brown Architects' proposals for the upgrade of Charles Rennie Mackintosh's Willow Tearooms at Sauchiehall St, Glasgow, to form an adjoining visitor centre.
PoLHA News
24 Aug – Port of Leith Housing Association (PoLHA) has secured a new £35 million private funding facility to support its plans to build over 480 homes for social and mid-market rent in Leith and North Edinburgh by 2020.
Premier Inn Hotel on York Place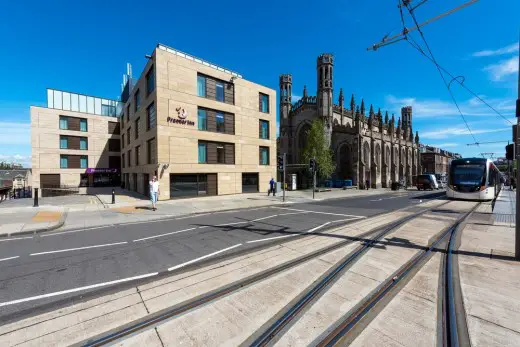 23 Aug – conversion of a 1970s office building in Edinburgh into a new Premier Inn.
The £17m development was designed by Holmes Miller Architects for Consensus Capital Ltd and Interserve Construction.
Located on the north side of York Place the completed building will provide a new 127-bedroom Premier Inn hotel.
With careful consideration given to the external aesthetic, Holmes Miller worked closely with City of Edinburgh Planning Department to produce a contemporary and elegant finish that is sympathetic to its historic context.
The building is clad in natural stone, zinc panels and full height glazing. Over 1,500m2 of Sika-Trocal Type S was used on the roof by specialist contractor McConnell Roofing.
Sick Kids Hospital Edinburgh


23 Aug – The opening of a £150m hospital in Edinburgh has been delayed by at least six months after construction firms entered administration and provisional liquidation.
IHS Lothian Ltd, the consortium building the £150m Royal Hospital for Sick Children and Department of Clinical Neurosciences, has informed NHS Lothian that they are reviewing the construction timetable for the project which was scheduled to open autumn 2017.
Dunne Group and JB Brickwork, two of the companies working on construction of the hospital, entered administration and provisional liquidation respectively.
eBuildingStandards.scot
23 Aug – A new system for submitting building standards applications will go live on Wednesday, 24 August.
The eBuildingStandards.scot service will enable the electronic submission of applications for building warrants and other related forms, such as completion certificates.
It will also allow multiple site users to collaborate in producing any single application online.
Online applications will be simpler and quicker.
An in-house system to deliver stamped approved plans automatically via e-mail has been developed.
eBuildingStandards.scot will be accessed through the eDevelopment.scot home page.
eDevelopment.scot was launched on 3rd August 2016: it is the joint login and landing page that will provide access to both the ePlanning and eBuilding Standards portals.
Dalmarnock Primary School
22 Aug – A planning application has been submitted for a new primary school in Dalmarnock to augment ongoing regeneration around the Commonwealth Village. The submission is by the Glasgow City Council Development and Regeneration Services Department.
Queen Street Station Staff Block Development
19 Aug – Network Rail has submitted a planning application to build a combined staff accommodation block and car park within the footprint of Glasgow's Queen Street Station. This proposal follows the re-opening of the station tunnel.
The two-storey structure would include a variety of offices, meeting rooms and stores. A 70-space parking deck on the roof will be accessed by a bridged ramp.
New Perth Homes
19 Aug – A planning application by EMA Architects has been submitted for a 30-acre brownfield site on the outskirts of Perth. Perth City West's proposal is for 270 new homes.
Top Ten Scottish Buildings
22 Aug – The shortlist of the best Scottish buildings from the past 100 years:
Castle at Achmelvich, Sutherland
Dundee Contemporary Arts
Dundee Repertory Theatre
India Tyre and Rubber Factory, Inchinnan, Renfrewshire
Princes Square shopping centre, Glasgow
Pier Arts Centre, Stromness, Orkney
Rothesay Pavilion, Isle of Bute
Royal Museum Redevelopment, Edinburgh
Scottish Parliament Building, Edinburgh
St Conan's Kirk Renewal, Loch Awe, Argyll
An original list of 100 buildings selected by an expert panel was published by the Royal Incorporation of Architects in Scotland (RIAS). An ambitious exhibition, which tells the story of the 100 buildings also began its tour across the length and breadth of Scotland.
The Scotstyle list is a headline event of The Festival of Architecture and a key part of the Year of Innovation, Architecture and Design.
Neil Baxter, RIAS Secretary and co-editor of Scotstyle, said: "This brilliant list testifies to the extraordinary quality of Scotland's buildings. The fact that so many are relatively recent demonstrates that our national architecture is in very good health. We have much to celebrate."
Voting re-opened on 21 August for the public to cast their vote for their favourite amongst the top ten. Scotland's building of the century will be announced at the Finale of The Festival of Architecture in Dundee on the 18th November.
Scotstyle is currently touring the country in three separate versions and so far has been seen by 28,000 people. The exhibition will be on display at the Scottish Parliament during the Festival of Politics, and future locations include: Stromness, Kirkcaldy, Glasgow and Dundee.
The accompanying book celebrates the centenary of the RIAS, who have curated the exhibition.
To cast your vote, order a copy of the book and find out more about the exhibition tour, visit www.foa2016.com/scotstyle.
Sheppard Robson News
22 Aug – Architecture practice Sheppard Robson announced the promotion of Adam McGhee to partner at its 25-strong Glasgow office. He will work alongside James Dick in directing the office.
Bucksburn Homes
22 Aug – Plans for the construction of 1,700 homes to the north of Aberdeen have been re-approved by councillors after it was brought back to the authority following a landmark legal ruling.
The residential-led mixed use development, which will also provide shops, schools and a community centre at Rowett South in Bucksburn, was awarded planning permission in principlein September last year.
Councillors unanimously agreed a willingness to approve the proposals, tabled by the University of Aberdeen and Bon Accord Land Promotion, subject to conditions including a developer contribution towards the Strategic Transport Fund and further mitigation for the local road network as part of the legal agreement.
Countesswells Housing
22 Aug – The first phase of a 3,000-home development at the Countesswells site in Aberdeen has been approved.
Councillors have granted permission by 14 votes to 2 for Stewart Milne Homes to deliver for 33 flats and 91 houses, new upgraded access roads and engineering works at Kingshill Road.
Construction is under way on the wider project at Countesswells, which will accommodate an estimated 7,000 residents once complete.
Haddington Building News
21 Aug – McCarthy & Stone retirement apartments at Mill Wynd, Haddington, East Lothian: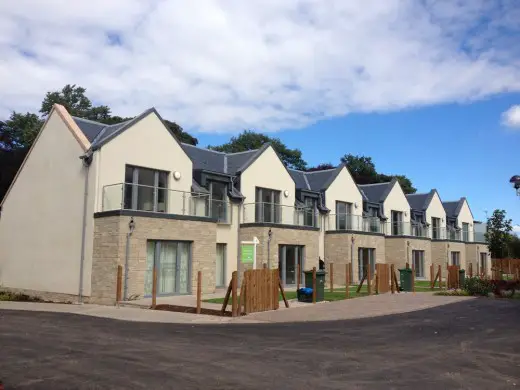 Haddington buildings
Holyrood Park Distillery Building
19 Aug – Urban whisky distillery in Edinburgh designed by 7N Architects granted planning permission. The proposal is to redevelop a B-listed engine shed on St Leonard's Lane to form a distillery and visitor centre.
Special RIAS Scotstyle Event at the Scottish Parliament
Date: 19th August
Time: 5:00pm
Venue: Festival Cafe Bar, Horse Wynd, Edinburgh
Cost: £8 full price £6 concession
Celebrate the best 100 buildings in Scotland from the last 100 years as nominated by the Scottish public. The top ten buildings will be announced in the Debating Chamber. This special event is chaired by Deputy Presiding Officer Linda Fabiani MSP, with panellists Neil Baxter, Royal Incorporation of Architects in Scotland (RIAS); Ruaridh C. Moir RIAS architect, writer and lecturer; Fiona Sinclair FRIAS, architect, author, historian; and Andrew Wright, Past President of RIAS.
From 18th – 20th August: debates, exhibitions, films and Festival Café Bar entertainment at the Scottish Parliament's Festival of Politics 2016. In 2016, the Festival will take inspiration from the Year of Innovation, Architecture and Design within the vibrant and inspiring setting of the Scottish Parliament itself an icon of contemporary architecture.
Edinburgh Academy Rugby Pavilion Building
19 Aug – Rugby Pavilion for Edinburgh Academy just south off Kinnear Road, by Richard Murphy Architects, recently completed: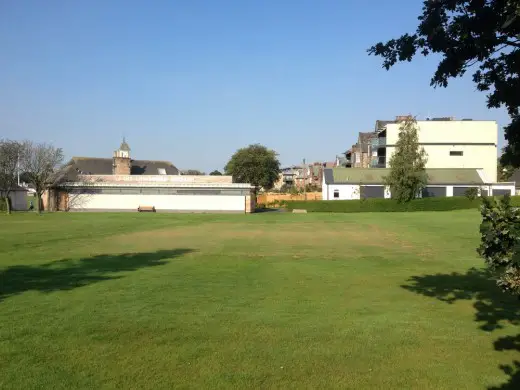 Partick Interchange Bus Station Building



19 Aug – Planning application submitted by Austin-Smith:Lord to refurbish a bus station at Partick Interchange through the addition of new stances, shelters and public realm on behalf of Glasgow City Council.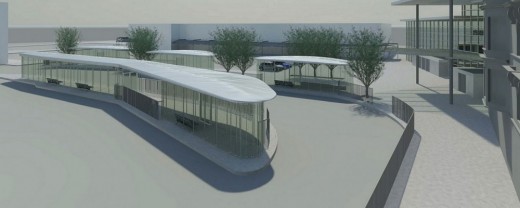 Anderston Quay Masterplan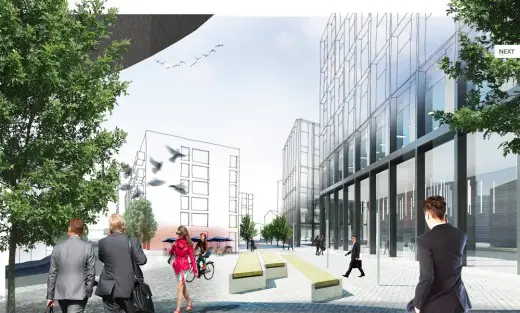 19 Aug – Keppie have held a pre-application consultation for planning permission in principle to erect a mixed use quarter centred on a 'boulevard' along Warroch Street, Anderston, Glasgow, on behalf of developer XLB.
Central Quay will be phased in over the coming years with the first element scheduled to be a signature office block fronting the Clydeside Expressway followed by a hotel, further commerical space office and a series a waterfront residential buildings capped by a tower of around 15 storeys.
Approval for St Mary's Music School on Calton Hill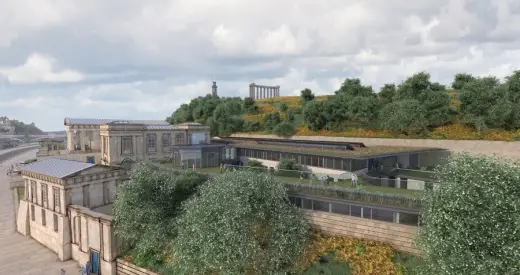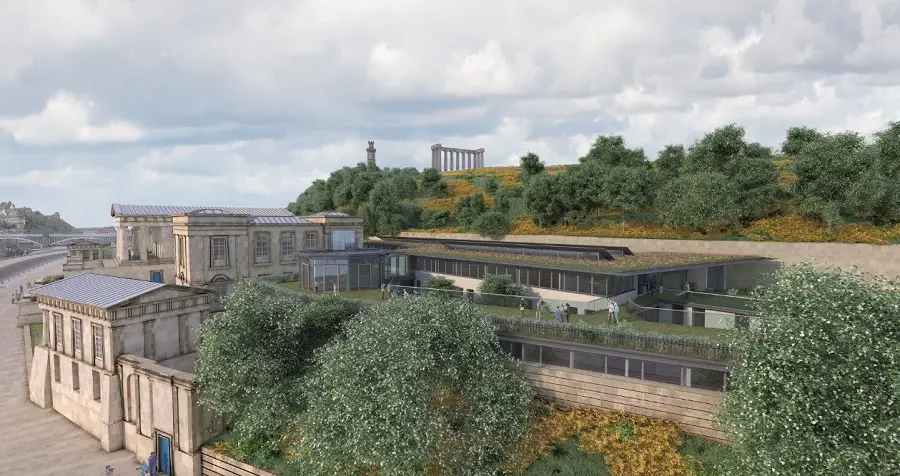 18 Aug – The 'alternative' scheme to redevelop the former Royal High School as a new music school and concert venue has been approved.
International Conference to Mark Scotland's Year of Innovation, Architecture and Design 2016
18 + 19 Aug, in Edinburgh: The Scottish Government's Cabinet Secretary for Culture, Fiona Hyslop MSP, will give the opening address at the 'Outlook: Exploring Geddes in the 21st Century', a two-day interactive conference on 18th and 19th August in Edinburgh, see the events page for details.
Edinburgh Marina Homes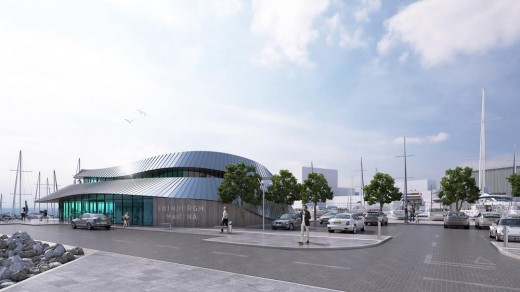 18 Aug – The City of Edinburgh Council's development management committee has approved to a £500m masterplan which proposes the construction of over 2,000 new homes at Edinburgh Marina at Granton.
Following the council's decision in principle in December 2015 to grant permission for a new Granton Harbour Masterplan, this decision confirms that full consents have now been granted for the overall masterplan.
Developers immediately lodged detailed planning applications for some of the masterplan's individual sites, including the boatyard and associated infrastructure for the new 300 berth Edinburgh Marina complex.
The decision confirms the long awaited consent for a new 13,449 sqm retail and leisure centre, as well as new apartments and houses for over 4,000 residents.
Wick School Campus Building
18 Aug – The opening of the new £48.5m Wick school campus designed by Ryder Architecture is to be delayed. The campus built by Morrison Construction is being delivered by hub North Scotland to replace Wick High School and Pulteneytown and South primaries.
PPP Inquiry
17 Aug – As pupils return to Edinburgh schools today, campaigners have called for a "root and branch inquiry" into public private partnerships after building defects were uncovered in schools across Edinburgh earlier this year.
Park Quadrant Homes
17 Aug – Plans to build 98 homes at Park Quadrant in the West End of Glasgow approved. Many flats in the A-listed Victorian development overlook Kelvingrove park.
Jim Clark Museum
17 Aug – Plans submitted for a £1.65m Jim Clark museum building in the Borders celebrating the achievements of two-time Formula One world champion.
New Hearts Stand Images


16 Aug – new images of the Tynecastle Stadium Building proposal; we reported back on 5 Aug that Hearts had submitted a planning application for a new Main Stand at the Tynecastle. The design is by James Clydesdale & Associates.
Adding 3,000 seats to the current capacity, the column free design will include two big screens and entertainment suites. The three existing stands will also be given a makeover including improved toilet and kiosk facilities. Capacity will increase from 17,529 to 20,099.
Shawfair Expansion News
16 Aug – The £200m Shawfair urban expansion in south east Edinburgh has advanced with the release of the first homes at Millerhill by Mactaggart & Mickel and Buccleuch Property. When complete Millerhill will consist of 138 homes ranging in size from one bed flats to five bed villas, delivered using the developers existing range of house style templates created by Mactaggart & Mickel's architectural manager Chris McWilliams. The overall development could deliver up to 4,000 new homes.
Clydeside Distillery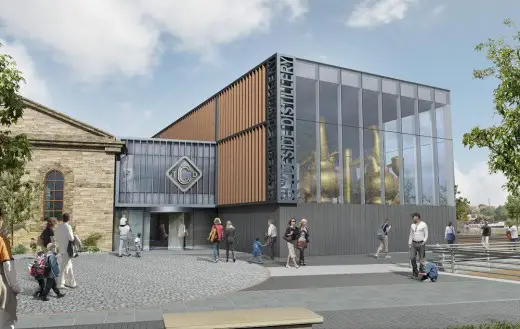 16 Aug – A £10.5m project to create a whisky distillery and visitor centre on the banks of the Clyde in Glasgow city centre is now underway. Building and civil engineering company McLaughlin & Harvey was awarded the contract with several hundred jobs expected to be created during the construction phase.
Blairgowrie School Building News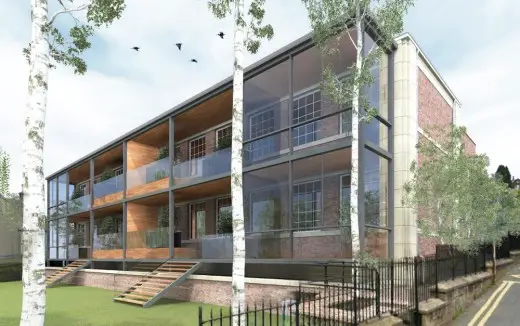 16 Aug – Corryard Developments and McKenzie Strickland Associates have worked up designs for the renovation and conversion of the former Hill Primary, Blairgowrie, to form new homes ahead of an imminent planning application.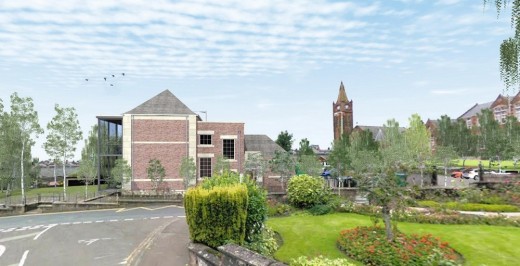 Aberdeen School Building News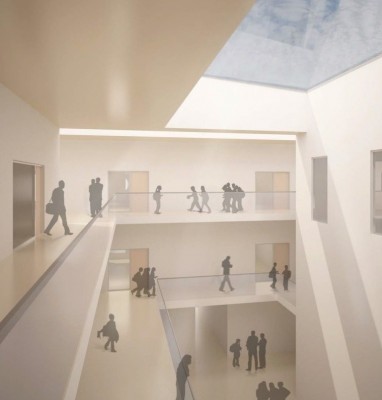 15 Aug – Construction will get underway on a £42m Aberdeen High School led by HUB North Scotland and JM Architects later this summer following the award of a 25 year facilities management contract to Robertson.
Inverness Housing News
15 Aug – Planning submission design by Patience Architecture for 48 flats and a 400sqm supermarket on the site of Torvean Caravan Park, Inverness. The projects is for Caledonian Highview.
Six four-storey blocks will be delivered with canal-front properties having balconies. The scheme on 1.13 hectares of land close to the Caledonian Canal is located off Glenurquhart Road. Landscape design is by Highland Landscape Design.
Angus Building Design by Simpson & Brown Architects
12 Aug – The Sunnyside Hospital site in Montrose has been acquired for development by Pert Bruce Construction and FM Group. Construction of homes, shops and offices is proposed. The hospital has been subject to an outline plan prepared by Edinburgh's Simpson & Brown Architects, who propose retention of B and C listed buildings together with clearance of a number of outbuildings, which will form the basis of a pre-planning consultation.
Former Royal High School Edinburgh Alternative Approval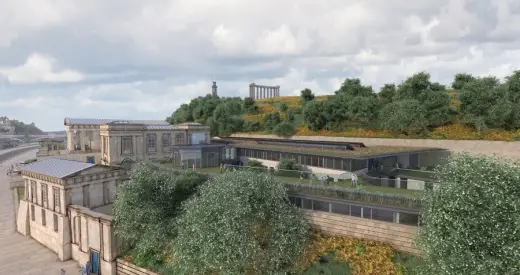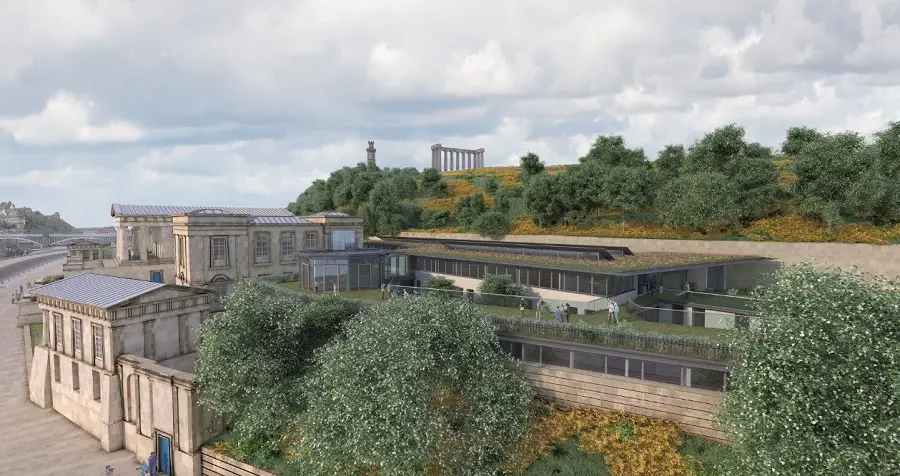 11 Aug – St Mary's Music School on Calton Hill recommended for approval. The alternative scheme aims to transform Edinburgh's former Royal High School into a new music school and concert venue.
East Ayrshire Campus News
11 Aug – Faithful+Gould has been selected to help deliver a £63.5 m Knockroon Learning and Enterprise Campus development in East Ayrshire. F+G will act as quantity surveyor on the largest capital project ever undertaken by East Ayrshire Council.
Irvine Pavilion by Graeme Massie News
11 Aug – Building work has started on the pavilion design by Graeme Massie Architects for an NHS hospital in Irvine, Ayrshire
Scottish Post-Brexit Infrastructure Stimulus
10 Aug – First Minister Nicola Sturgeon has today announced plans by the Scottish Government to accelerate capital spending on infrastructure projects, starting with an additional £100 million of funding in this financial year.
Maggie's Centre at Forth Valley



10 Aug – Work on the new Maggie's Centre at Forth Valley General Hospital has resumed after previous contractor Dunne Group went into administration. The building design is by by Garbers & James Architects, based in London.
Sir Robert McAlpine will complete the construction of the project which has stalled for a month following the collapse of the Dunne Group, which was carrying out the work.
The centre in the grounds of Forth Valley Royal Hospital in Larbert had been on hold for a month because of the collapse of the Dunne Group, which was carrying out the work.
It is hoped that delays to the project will be kept to a minimum and the centre will open later this year.
Threesixty Architecture News
9 Aug – Threesixty Architecture has recruited architect Martin English as a board director to lead the creation of a new Perth architects office. He is a former Keppie MD.
The architects practice was established eight years ago. Existing studios are based in Glasgow and Inverness. It will also recruit four new designers and move into new premises in the city next month. The company now has 44 members of staff.
Current projects include the Blackdog Masterplan in Aberdeenshire, a 750,000 sqft commercial centre for Ashfield Land which includes retail, leisure, commercial and industrial space.
Womersley Talk
For those with an interest in 20thC Architecture, it is now the Edinburgh Festival and architect Rebecca Wober will be giving a talk on architect Peter Womersley at the Galleries on the Mound on Wednesday lunchtime, starts 12.45pm, free – see our Events page for details
Azure Building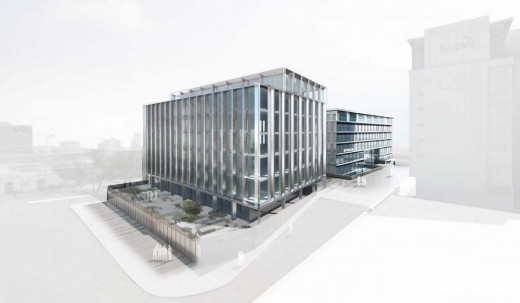 8 Aug – plans submitted by architects Sheppard Robson for two new buildings on the Skypark campus. Skypark Unit Trust are developing the latest phase of expansion at their Finnieston office complex in west Glasgow.
Brodick Harbour Ferry Terminal Building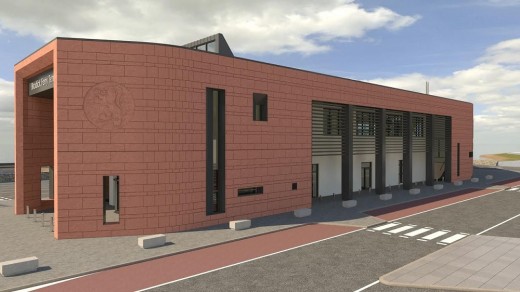 8 Aug – The redevelopment of the ferry terminal building at Brodick Harbour on the Isle of Arran is part of a £22 m project for client Caledonian Maritime Assets Ltd.
Angus Housing
5 Aug – Angus council have given their consent to an ambitious housebuilding programme in the region which could deliver as many as 4,620 homes by 2026.
George Hotel Building in Haddington



photo © Adrian Welch
6 Aug – Work is now under way to transform a landmark building in Haddington town centre into flats, a cafe and an art gallery, reports the East Lothian Courier. Ambitious plans to revive the former George Hotel and bring it back to life were given the go ahead by East Lothian Council at the end of last month. Work is already under way on the building, at the eastern end of the High Street, with Jim Wilkie, director of MNH (Haddington) Ltd, keen to see things moving forward.
New Hearts Stand



5 Aug – Heart of Midlothian Football Club has submitted a planning application for a new Main Stand at the Tynecastle stadium.
The Tynecastle redevelopment tranforms the stadium building into a 20,000-plus capacity stadium in time for the 2017-18 season.
Adding 3,000 seats to the current capacity, the column free design will include two big screens and entertainment suites. The three existing stands will also be given a makeover including improved toilet and kiosk facilities.
The New Hearts Stand submission results from the public consultation process carried out in recent months.
Edinburgh World Heritage Event
With a capital among the oldest continuously inhabited cities in the world, Syria has been home to some of the world's most ancient civilisations. But after five years of armed conflict, the country has suffered a devastating loss of cultural heritage. At an exclusive Edinburgh World Heritage lecture, Professor Maamoun Abdulkarim, Director-General of Antiquities and Museums, Arab Republic of Syria, will talk about the appalling destruction of priceless monuments in many parts of the country as well as the impressive efforts led by his team to conceal important museum collections across Syria from harm.
Event on 25th of August at the Royal College of Physicians of Edinburgh – see our events page for details undethe 'Coming Soon' section
University of Edinburgh Darwin Building News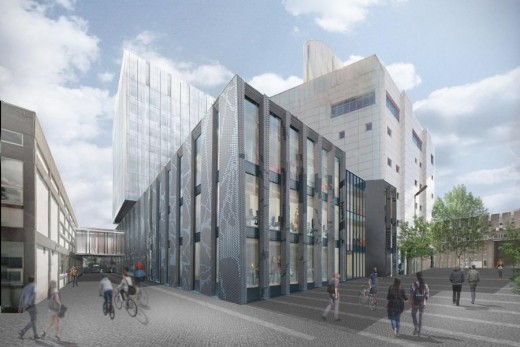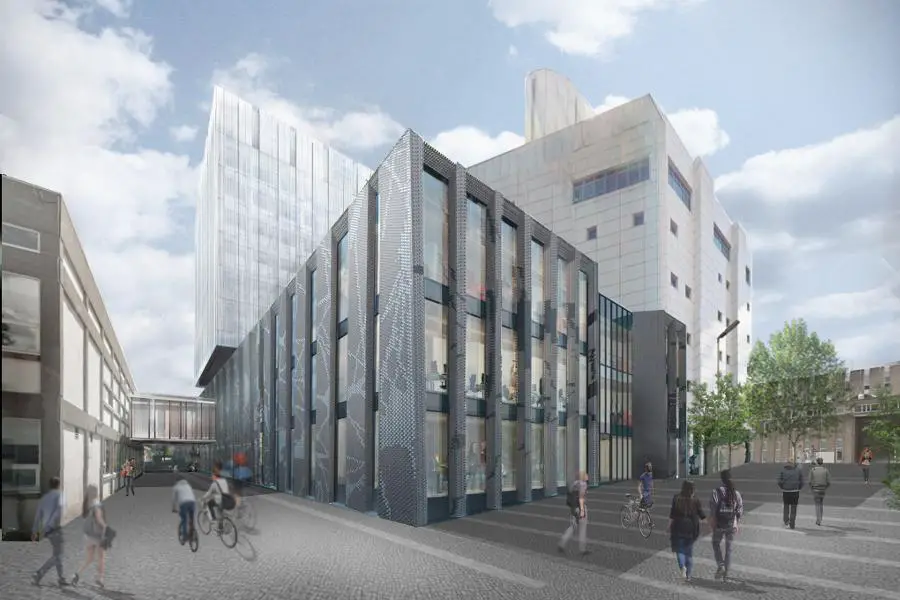 5 Aug – Robertson has started work on a £12 m contract to transform the University of Edinburgh's Darwin building.
The work will last 18 months and will prepare the site for refurbishment as it undergoes a significant evolution with the aim of creating world class facilities.
As part of the project, Robertson Central will build a three-storey extension to the university's CH Waddington Building and a new Mechanical and Electrical Plant building. They will also carry out demolition of the existing Darwin library block plus various out-buildings. In addition, they will create an access haul road and divert M&E and underground utilities services.
Expected to complete in 2021, the refurbishment will provide world-class research and teaching space for students and staff.
Forthquarter Site in Granton For Sale
5 Aug – 40 acres of land for a residential led mixed-use development in Edinburgh has been put up for sale by the National Grid.
The Forthquarter site in Granton – which includes the Granton gasholder – has been put up for sale in a bid to deliver much needed family housing to meet unsatisfied demand in the Edinburgh market.
Interested parties will need to demonstrate their ability to both develop the site and find a creative approach to repairing the listed Granton gasholder.
The landmark structure, which was originally put on the market two years ago, is now being offered to developers with the 40-acre site large enough for 1,000 new homes.
Benjamin Gaunt, from National Grid Property, said there is an opportunity for a ne
Carnoustie Golf Centre Building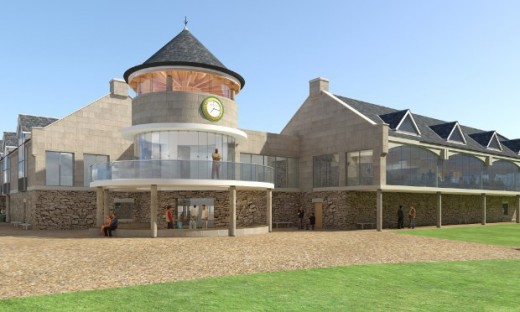 5 Aug – Revised plans for the expansion of Carnoustie's multi-million pound golf centre have been approved.
The extension's ground floor includes a new entrance, caddymaster's office, pro-shop store, member's golf bag storage area, temporary bag drop area, golf simulator, caddies area and a delivery area.
The first floor will feature a bar, café/restaurant with a private dining room, a function/TV room, kitchen preparation areas and stores, a changing room and other meeting rooms and offices, plus terrace areas.
Ibrox Homes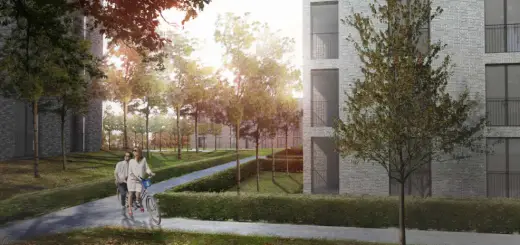 5 Aug – Glasgow Housing Association (GHA) has been given the green light to build 152 homes in the Ibrox area of the city.
The development will see 116 socially rented homes and 36 homes for mid-market rent constructed on a currently derelict site bounded by Broomloan Road, Skene Road and Paisley Road West. The site has been lying empty for the last decade since the former GHA tenements there were demolished.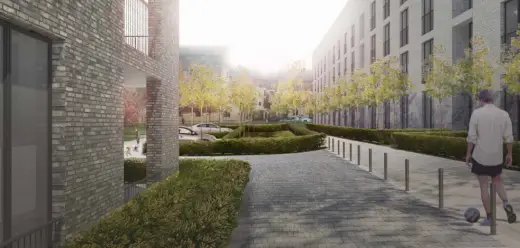 Concerns had been raised about the loss of green space in the area, the increase in traffic brought about by the development and the design and colour of the buildings not being in keeping with others in the area.
Despite this, the plans were unanimously approved by Glasgow City Council's planning committee this week.
Fort William Residential Building News
4 Aug – Threesixty Architecture has drawn up plans for a 40 room student accommodation block in Fort William.
Scottish Civic Trust Chair
3 + 2 Aug – The Scottish Civic Trust is delighted to announce the appointment of Colin McLean as its new Chair.
Colin McLean was Head of the Heritage Lottery Fund in Scotland for 16 years, and before that Director of the Scottish Mining Museum and Director of Communications for the Scottish Museums Council. He will take up the position of Chair on 1st September when the current Chair, Alistair Scott, steps down:
Scottish Civic Trust Chair
BIM in Scotland Conference
Wednesday 21 Sep 9:30am – 4:00pm at the Waldorf Astoria Edinburgh – The Caledonian
With the aim of the Scottish Government to adopt a BIM Level 2 approach across public sector projects in Scotland by April 2017, hear the latest from industry experts, architects and technology leaders. They aim to explain what implementing BIM has done to help drive their businesses forward.
This is a free event on BIM.
See the Edinburgh Events page for more details.
Randolph House Construction News
3 Aug – Work to refurbish Randolph House in Charlotte Lane starts this week. The refurbishment will help form over 9,000 sqft of contemporary, bright, open-plan office accommodation over three floors.
Waterfront Plaza in Leith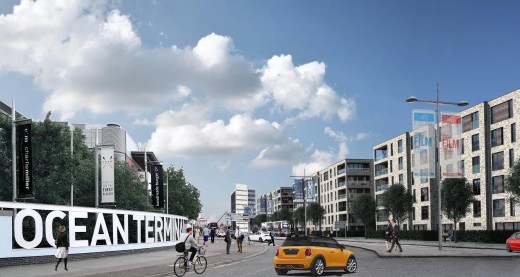 1 Aug – Proposals have been submitted by CALA for a development of 425 homes by the Ocean Terminal in Leith.
CALA Management's Waterfront Plaza development will provide 230 (one, two & three bedroom) apartments, 27 studios apartments, 27 'colonies' flats and 35 townhouses.
The homes will be located on brownfield land in Leith's former docklands, just across the road (south) from the Ocean Terminal.
The on-site affordable provision will include 100 apartments and six townhouses.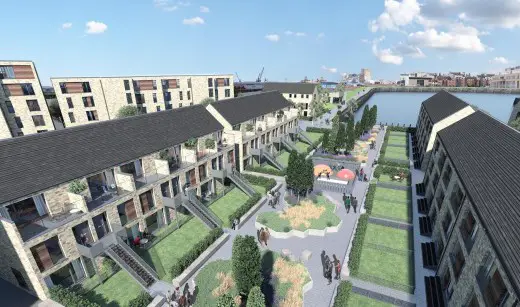 Over 150 people attended a recent exhibition to discuss and give feedback on the project. Although 70% of respondents supported the principle of residential led development on the site, there were some concerns regarding the loss of green space and proposed density.
CALA has now submitted a detailed planning application to the City of Edinburgh Council. The public will have a 21 day period following registration of the application to make formal representations.
Subject to securing planning permission, CALA hope to be in a position to commence development in early 2017.
Elliott House Student Accommodation Edinburgh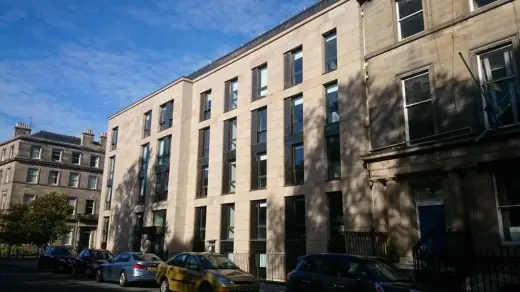 1 Aug – For Elliot House in Edinburgh, architect's 3D Reid commissioned Aliva to craft a 1000sqm buff sandstone finish for the £6.6m conversion of a six-storey office block on the corner of Hillside Crescent and Brunswick Street. Detailing on the façade included reveal panels into the windows and monolithic corners to add depth and historical context. The building now forms a student accommodation block.
Local planning regulations in Edinburgh required Aliva to deliver stone cladding that harmonised with the existing traditional architecture. The company responded with traditionally-detailed facades using its Aliva Air lightweight solution.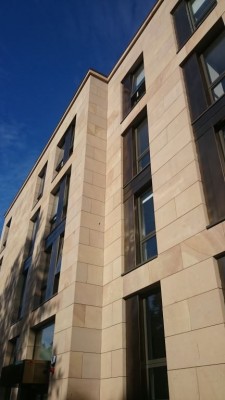 Aliva Air panels comprise a 10mm panel of natural stone veneer (or ceramic or glass) with a PET composite core and a stainless steel backing. The result is a lightweight cladding solution with the look and feel of solid stone, enabling Aliva to offer larger format modules of up to 4.5m x 1.5m. The company works with key quarries around the world to source limestone, sandstone, granite and marble.
Scottish Mansion Sale
1 Aug – Property entrepreneur Elliot Robertson has purchased Kirkton Park, the former luxury home of Graham Gillespie for just in excess of £2.5 million.
The traditional property designed by Richard Hall Architects in Auchterarder, Perthshire, cost about £10m to build, making the sale price a bargain. At the time of construction it was the country's most expensive modern home.
It put on sale for offers over £3.4m in January 2015, with the proceeds going towards paying off Graham Gillespie's creditors.
New Dundee School and Nursery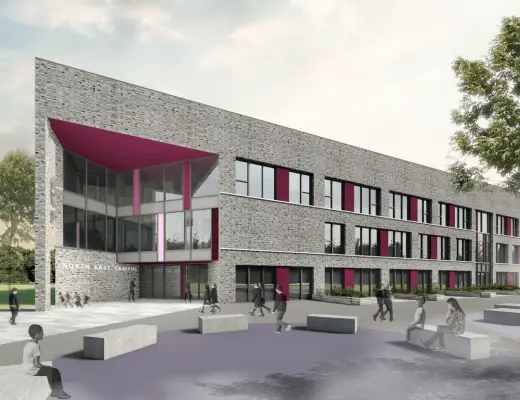 1 Aug – Detailed plans unveiled for a new build primary school and nursery campus in Dundee designed by Holmes Miller Architects.
The new North East Campus will take shape on a large greenfield site at Lothian Crescent between the existing Longhaugh and St Lukes & St Matthews primaries.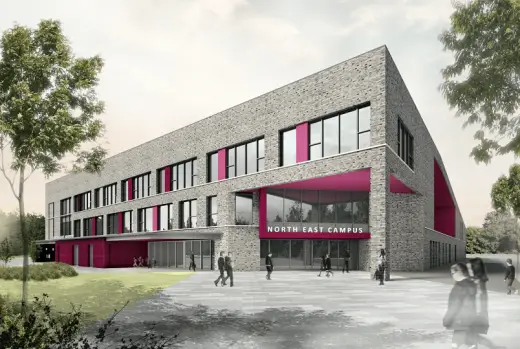 Designed for Dundee City Council, the building will bring together three primary schools and two nursery schools, housing up to 1,000 pupils.
The new campus will provide enhanced facilities in comparison with the existing schools including multiple playgrounds, a soft play area, sports pitches, gardening and nature areas and outdoor classrooms.
Muirfield Centre Building
1 Aug – The new Cumbernauld Community Enterprise Centre has been handed over to North Lanarkshire Council and Culture NL. The project was delivered by development partner hub South West Scotland, with construction works completed by Kier Construction Scotland.
Infrastructure in Scotland Conference
CPD certified event on 7th September in central Edinburgh – see events page for details
Following publication of the independent review into planning in Scotland, and the Government's response, this seminar will provide a timely opportunity to discuss the next steps for planning and infrastructure in Scotland.
The Edinburgh Grand – St Andrew Square Development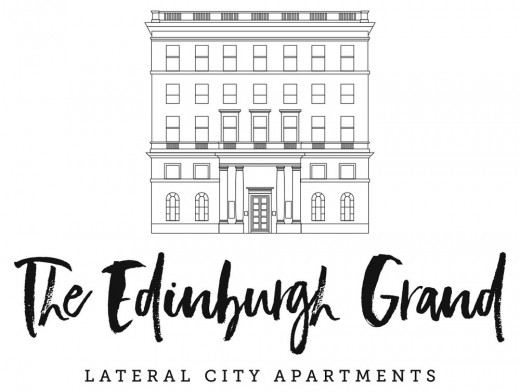 image from developer
27 Jul – Plans by developer Chris Stewart Groupfor the major renovation of the Royal Bank of Scotland's former home on St Andrew Square into one of Edinburgh's newest tourism developments have been announced.
Due to open in summer 2017, The Edinburgh Grand is the latest addition to luxury accommodation provider, Lateral City Apartments' portfolio of beautifully appointed serviced accommodation.
Seven Lochs Wetland Park receives significant funding
27 Jul – Plans to create Scotland's largest urban heritage and nature park have been given a major boost following the announcement that it is to receive £4.5m funding from the Heritage Lottery Fund (HLF).
The Seven Lochs Wetland Park project is a partnership between Glasgow City Council, North Lanarkshire Council, Forest Enterprise Scotland, Scottish Natural Heritage and The Conservation Volunteers Scotland, working alongside local communities to bring together 16km² of lochs, parks, nature reserves and woodlands between Glasgow and Coatbridge.
Malt & Hops Pub Floating Expansion in Leith


image from architect
26 Jul – Planning application by GRAS for River Craft: a new floating platform that is as an expansion to the Malt & Hops pub on the Shore, Leith, Edinburgh. The proposal is for the installation of a new floating deck (18.5 m x 6.3 m) to the eastern edge of the Water of Leith basin, directly opposite the pub, which can accommodate additional seating, a servery, storage space and an accessible WC. The expansion will also benefit from additional sunlight for a longer period of the day.
Malt & Hops Pub Expansion on The Shore in Leith
Exhibition of Scottish Architecture
26 Jul – An exhibition of Scottish architecture held as part of a major festival in Italy is to be staged for the first time in Scotland, reports the BBC today.
Prospect North, one of three architecture exhibitions being staged in Oban, was first shown at the Venice Architecture Biennale.
It explores the stories of 15 Scots communities who have used design and architecture to make a difference.
It forms part of the Oban Festival of Architecture and opens on 30 July.
Link: http://www.bbc.co.uk/news/uk-scotland-36886779
BHS Building Redevelopment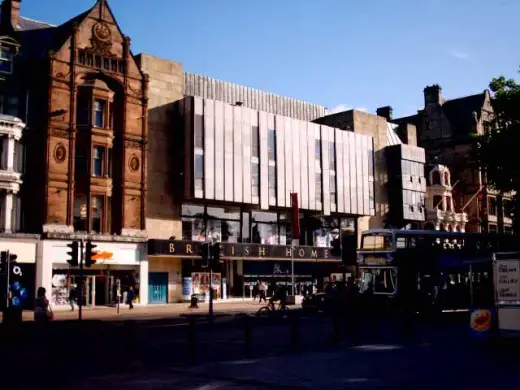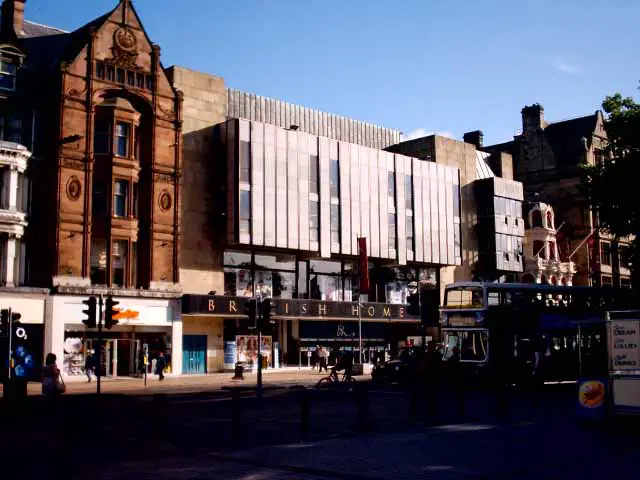 22 + 21 Jul – The B-listed BHS department store on Princes Street is set for a £50m redevelopment.
The store in Princes Street is set to be transformed into two new shops, a hotel and a rooftop restaurant, reports the Edinburgh Evening News.
The current shop is scheduled for closure after the company went into administration earlier this year:
BHS Princes Street
Trump Aberdeenshire Hotel Extension
22 + 21 Jul – Aberdeenshire Council and the Trump Organisation have reached an agreement over plans to expand MacLeod House – the centrepiece of Donald Trump's golf resort at Menie, near Balmedie:
Trump Aberdeenshire Hotel Extension
Thistle Foundation Building in Craigmillar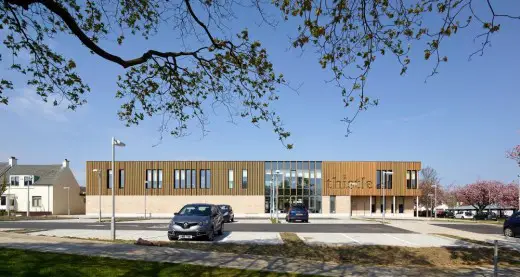 19 Jul – The Thistle Foundation have unwrapped a health and wellbeing centre geared toward assisting those with disabilities in leading independent lives at Craigmillar.
Designed by 3DReid Architects the facility sits within a model village-esque development of 103 homes built in the aftermath of the Second World War, now a designated conservation area it was one of the first schemes to be designed specifically for injured returning servicemen.
Disappearing and [Re]Imagining Glasgow
22 + 19 Jul – The Glasgow film maker Chris Leslie showed and talked about his work concerned with the recent demolition and regeneration of Glasgow's urban fabric. Also a photographer and visual artist, he has been documenting his changing city with the award-winning, long-term multimedia project The Glasgow Renaissance, now renamed to Disappearing Glasgow.
21st July at Edinburgh College of Art, 74 Lauriston Place
Dunne Group enters administration
20 + 19 Jul – Hundreds of construction workers have been laid off with immediate effect following the collapse of Scottish construction firm Dunne Group. Administrators have been appointed at the group and its five subsidiaries after the business ceased trading yesterday resulting in the immediate loss of 524 of the 540 jobs employed across the group, 200 of which are in Scotland.
Founded in 2001 and headquartered in Bathgate, Dunne also operated from sites in Glasgow, Leeds, Dublin and London, providing a range of civil engineering, building, construction, infrastructure, contracting and plant hire services.
Improved planning performance must be built on in order to increase housing supply
20 Jul – Responding to the publication of latest Scottish Government statistics showing improvements in the time taken to decide major housing developments compared with the previous year – from 41.3 weeks to 40.0 weeks in 2015/16, industry body Homes for Scotland's (HFS) Head of Planning Tammy Adams said:
"These statistics provide a useful barometer on the overall performance of local planning authorities in terms of how long they are taking to issue decisions on planning applications. But these headline figures can only tell us so much.
"The fact remains that our members continue to experience frustrating delays to planning decisions across Scotland and HFS therefore echoes the Minister's view that more needs to be done on improving performance.
"It is crucial that this is looked at across the piece. Section 75 negotiations (on what developer contributions are required) can double the amount of time it takes to issue a decision. Once a decision has been issued, the delivery of much-needed new homes can be further delayed as developers await yet more decisions relating to planning conditions. And, at present, if permission is refused or decisions are not forthcoming, the appeal system is struggling to cope with the current volume of cases.
"The on-going review of the planning system provides an opportunity to address these and other key issues in order to create circumstances which better support an increase in housing delivery across all tenures. HFS remains committed to playing a positive and full part in that work."
Clerk Street Cinema Building
19 Jul – 7N Architects have completed an 86 bedroom student build on the site of an A-listed cinema in the south side. The cinema building site has attracted plenty of controversy in recent years with proposals by make architects then 7N Architects.
The Buccleuch property sees the less significant rear of the cinema replaced by a five-storey infill intended to sit in harmony with adjoining tenements with a palette of white render and polished concrete panels referencing the white Hathenware façade of a retained entrance on Clerk Street. The project comprises a mix of studio and cluster flats. Both the auditorium and foyer of the art deco cinema have been retained for re-use as a cultural venue with key features such as a sky ceiling preserved.
Inverkeithing Regeneration
19 Jul – Fife Council planners have begun deliberations on regeneration proposals for a 7N conceived masterplan for the Fraser Avenue area of Inverkeithing, an area which is currently ranked in the lowest 15 per cent most deprived areas of the country.
A&DS and RIAS Scottish Student Awards for Architecture 2016
Daniel Cardno Project: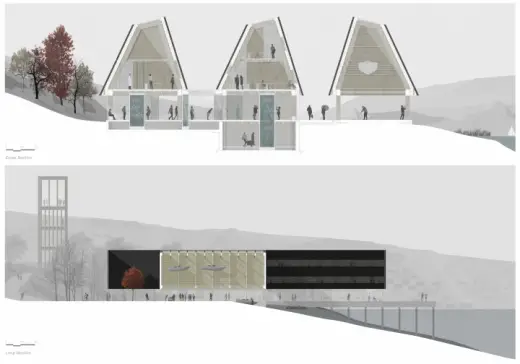 19 Jul – Daniel Cardno's project proposing transition from skills associated with the oil and gas industry towards an economy concentrated on maritime industry and tourism won the RIAS Rowand Anderson Silver Medal, as Maelys Garreau picked up the A&DS Award for best 3rd year student with her proposed design for a "catch-up" institution for previously hospitalised children using outdoor play.
Ryan Canning Gabriella Mill Project: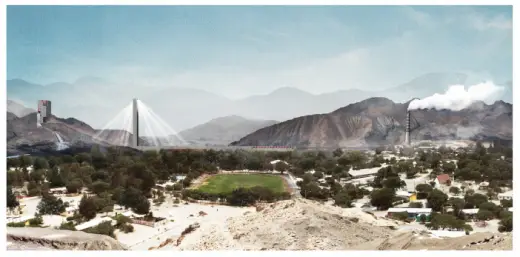 Their projects were just some of the high quality student projects awarded at the annual Architecture and Design Scotland (A&DS) and RIAS Scottish Student Awards for Architecture.
Daniel Cardno Project:

A&DS and RIAS Scottish Student Awards for Architecture 2016 News
Royal Incorporation of Architects in Scotland Edinburgh Floral Clock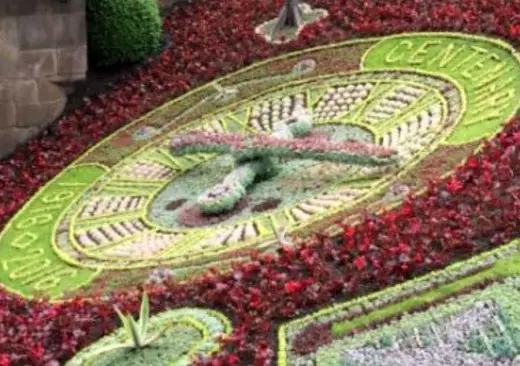 18 Jul – The Royal Incorporation of Architects in Scotland is to be the focus of the design of this year's planting scheme for Edinburgh's floral clock, in honour of the Incorporation's Centenary. It is positioned centre stage in Princes Street Gardens, was completed this week following extensive work by the Edinburgh Parks' staff who have planted over 35,000 individual flowers and plants to create a display using elements from the RIAS' crest.
Randolph House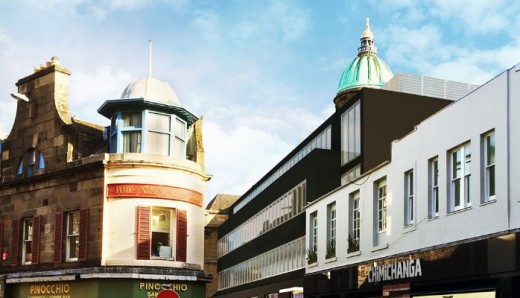 18 Jul – Redpath Construction has been appointed as main contractor to deliver the refurbishment of Randolph House in Edinburgh's city centre. Located off Queensferry Road, behind Charlotte Square, Randolph House is owned and managed as part of the Charlotte Square Collection, and has the advantage of being part of an estate of premium office properties with a reputation for high quality specification.
The property extends over four floors and 11,248 sqft of open, bright and energising office accommodation with a new restaurant proposed on the ground floor.
Accies Development in Stockbridge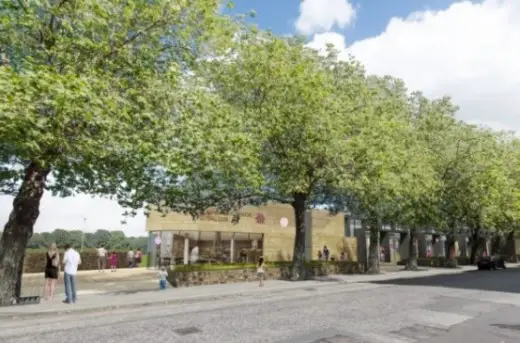 17 Jul – A historic sports club is poised to sue the council on the back of a growing legal row over a 2ft-wide strip of land.
The Grange Club, based in Stockbridge, has launched legal action to try to force city officials to rebuild a demolished wall along Comely Bank Road.
The move comes amid an ongoing dispute between Grange and nearby Edinburgh Accies, who want to build a new rugby pitch and 2500-seat stand at Raeburn Place – alongside bars, shops and other facilities.
The scale of the £16m plans – designed by award-winnign Michael Laird Architect – has provoked outcry in the surrounding community, and earlier this year it emerged the entire scheme could be held to ransom for as much as £1m.
Read more: http://www.edinburghnews.scotsman.com/our-region/edinburgh/stockbridge/legal-battle-over-stockbridge-development-1-4178050#ixzz4EeiVguFD
Pecha Kucha Edinburgh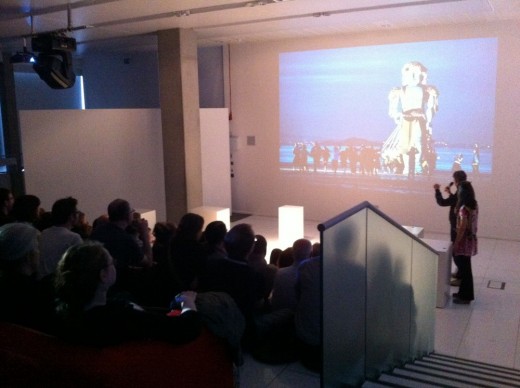 15 Jul – Event this evening, tickets from £3(conc.)….a bargain in this Festival City.
Gordon Duffy, Curator, Pecha Kucha Edinburgh
http://www.pechakucha.org/cities/edinburgh
Loch Earn Cottage
15 Jul – Denizen Works have obtained planning permission for a 135sq/m extension of a cottage at Loch Earn within Loch Lomond and the Trossachs National Park.
Denizen Works were the architects fro House No.7 sits on the Island of Tiree. It won numerous awards including Grand Designs Home of the Year and the Stephen Lawrence Prize.
Muirton Regeneration
15 Jul – A proposal for 203 homes by Caledonia Housing Association in the Muirton district of Perth have been approved.
The £17m scheme designed by Barton Willmore and Urban Union is part of the regeneration of St Johnstone football club's former ground. Start on site is due this autumn with completion by summer 2019.
Construction Output Comment from Robertson Group
15 Jul – today's Statistical Bulletin from the ONS: Construction Output: May 2016
Commenting on the decrease in construction output in Great Britain: May 2016, Derek Shewan, chief operating officer of Robertson Group, said:
"While the figures reveal a decrease in output in the wider industry, Robertson Group remains resilient during this drop.
"With 19 individual and diverse businesses that encompass the entire built environment lifecycle, it is our focus on innovation, productivity and business sustainability that help us through these challenging times."
1200 homes for West Edinburgh
14 Jul – A Proposal of Application Notice has been submitted to the City of Edinburgh Council to create a brand new village on farmland to the west of the Capital.
Under the plans, more than 1200 homes, a neighbourhood centre, a primary school and new roads and infrastructure would be built at Hatton Mains, just off Dalmahoy Road and the A71.
Planning and development consultancy Clarendon said it is working with the landowner to assess the potential of the site adding that the new village will "contribute much needed new housing within the Edinburgh city boundary".
The Proposal of Application Notice submission will initiate discussion and scoping design with the council and technical studies are being commissioned to determine the likely scale.
It is thought the overall development – which is of a similar scale to the first phase of the nearby Garden District– would cost more than £250 m.
Fraserburgh Civic Hub Building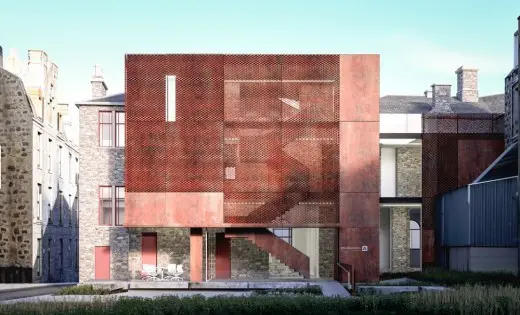 14 Jul – Moxon Architects and conservation specialist Alan Marshall have obtained permission to proceed with the reconfiguration of two civic buildings in Fraserburgh, Aberdeenshire, as part of a wider masterplan for the town.
Fraserburgh 2021 involves £5.7m built heritage renewal elements. It is focused on the restoration and merger of the B-listed Town House and former police station on the corner of Saltoun Square and Kirk Brae to form a new Aberdeenshire Council services hub.
Regional Performance Centre for Sport in Dundee
14 Jul – Proposed £17 m Regional Performance Centre for Sport in Dundee submitted for planning permission.
Earmarked for a site at the city's Caird Park, the centre will provide training and competition facilities for sports clubs and provide a new training base for Dundee FC.
The site, which already caters for football, athletics and cycling, will see these facilities improved drastically along with incorporating other sports such as rugby, basketball, badminton and cricket.
Greendykes Regeneration
14 Jul – Glasgow architecture studio Anderson Bell + Christie Architects have drawn up plans for 75 new homes on 9.5 hectares of land at Greendykes Road.
A series of perimeter blocks define the streetscape and shelter an interior courtyard. The residential design emphasises four 'pronounced corners' in dark brick, thus connecting back to the established masterplan.
University Buildings in Scotland
14 Jul – Almost a quarter of university buildings in Scotland have been found to be in a poor condition and in need of investment at a time of "significant cost pressures".
Audit Scotland has warned that Scottish universities were increasingly using internal funds and borrowing to pay for capital projects which was "unsustainable" in the long term
Scottish Building on Stirling Prize Shortlist
14 Jul – good news, one building out of six is from Scotland, and it is in Glasgow but by Edinburgh architects:
City of Glasgow College, Riverside Campus on RIBA Stirling Prize 2016 Shortlist
by Michael Laird Architects / Reiach and Hall Architects
Scottish Oceans Institute Building
13 Jul – Designs are currently being finalised by project architects BMJ to provide a new home for the Scottish Oceans Institute as well as a suite of climatically controlled rooms to allow sensitive electrical and optical equipment to be operated in the presence of seawater.
Kirkintilloch Town Hall Extension
13 Jul – CBC has commenced excavation work for the extension to Kirkintilloch Town Hall designed by Michael Laird Architects.
South Fort Street Property
12 Jul – A detailed planning application has been submitted to build 122 homes at South Fort Street in Edinburgh. Designed by EMA Architects, the project for Barratt Homes and the Blake Group will see the redevelopment of the site within the Bonnington area which is recognised for major change in the coming years.
Meadowbank Flats
12 Jul – An £11m bid by MNM Developments to build 52 flats on Dalgety Road is being progressed with a view to complete by early 2017. The scheme is being targeted at buyers seeking larger investment opportunities as well as second time buyers and will come with its own basement car park.
Marionville Road Building
12 Jul – Property developer MNM Developments has started work on an £11m residential scheme on Marionville Road. The 51 apartment-development near Meadowbank Stadium, is scheduled for completion in early 2017 and is being supported by a £7.7m funding package from Bank of Scotland.
The Ropeworks Leith Apartment Building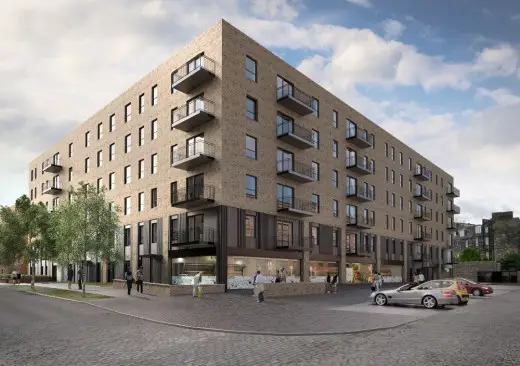 11 Jul – The Teague Group have launched a new apartment complex in Leith designed by CDA Architects.
Occupying the site of the former Edinburgh Roperie and Sailcloth Co. The Ropeworks will offer 600 properties from open plan loft apartments to garden duplexes, terraces and colony houses.
The Salamander Place masterplan involves the regeneration of a large urban site to create buildings but also a new landscaped park and extensions to the allotments.
The first phase includes 163 flats with undercroft parking built on brownfield land which has lain dormant since 2007. Construction is due by April 2017.
University of Edinburgh School of Geosciences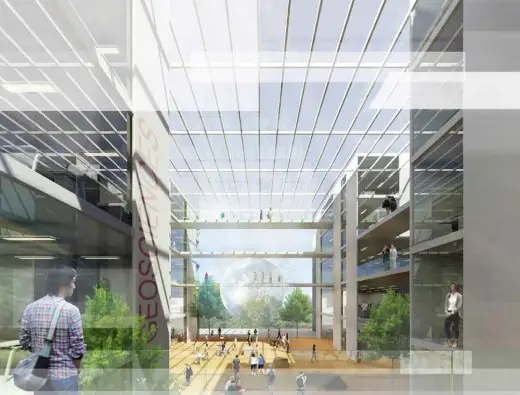 20 + 11 Jul – London architecture office John McAslan + Partners has won an international architectural competition to design the new GeoSciences Building for the University of Edinburgh. The University's School is ranked in the top 16 such faculties worldwide and is the largest community of GeoScientists in the UK, home to 400 academics and research students.
Visualisation showing the light-filled central atrium, the heart of the new GeoSciences building:

A reinterpretation of the typical laboratory layout will achieve transparency throughout the building, visually connecting write-up areas, laboratories, group rooms and offices. The building will be unified by a dramatic central atrium.
John Lewis Leith Street Entrance
11 Jul – the new Leith Street entrance to the John Lewis Edinburgh store has opened. The entry design is part of major enabling works associated with the Edinburgh St. James Redevelopment Project.
Aberdeen Towers
11 Jul – A student housing development and public square outside Aberdeen railway station designed by Halliday Fraser Munro Architects. The project is for Atholl Square Developments.
The scheme – with three towers – aims to decks over the existing railway tracks to improve connectivity between the station and Union St. It replaces Atholl House which dates from the 1970s.
Boeing Aircraft Facility Building
11 Jul – Some post-Brexit good news at last! US plane maker Boeing announces a new £100m facility for a new fleet of spy planes at RAF Lossiemouth in Moray.
Stanley Mills Buildings
11 Jul – New uses are being sought for historic Perthshire buildings. Perth and Kinross Heritage Trust is planning to renew the East Range at Stanley Mills.The four riverside buildings contain potentially over 2,000 sqm of floor space. They are the last part of the historically important mill complex to be regenerated since the mills closed in 1989.
India Quay Development
8 Jul – The EDI Group Ltd reveals its new India Quay development could boost the local economy by more than £30 m over the next three years.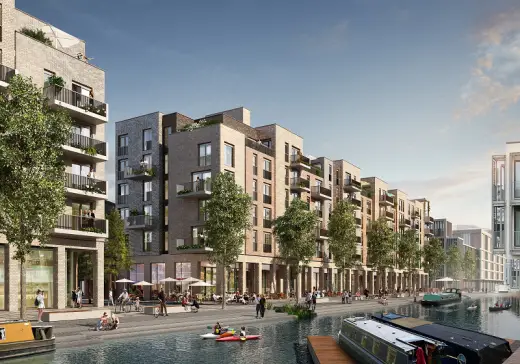 The figures released today by alongside a set of new CGI visuals of the scheme, highlight the economic impact of building its India Quay development at the former McEwan's brewery site in Fountainbridge.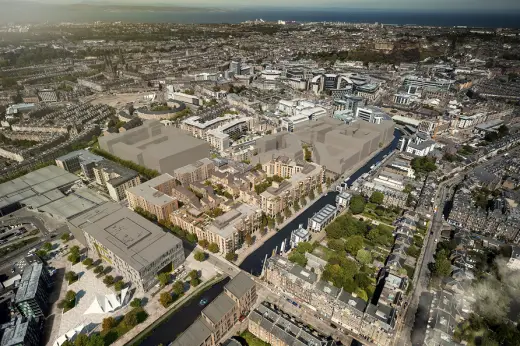 The first phase of the £200m development which has now been submitted for detailed planning consent, will transform the under-used site into a modern mixed-use neighbourhood of canal side apartments, shops and businesses.
Working with Edinburgh-based 7N Architects, EDI's detailed residential plans include a range of one, two and three bedroom hi-spec apartments as well as 112 affordable homes. The three bedroom homes will be built in the traditional colony style, a favourite of the Edinburgh family market.
University of St Andrews Marine Laboratory Building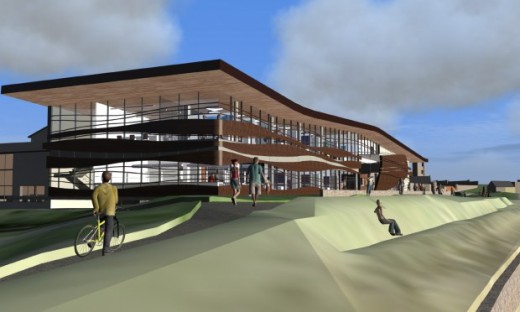 8 Jul – A new marine laboratory for the University of St Andrews has been approved by Fife Council.
Set to be built at East Sands, the £10m marine biology lab will replace the internationally renowned but now outdated Gatty Marine facility.
Pop-Up Cities Expo
8 Jul – Pop-up Cities Symposium on Monday morning (09.00 for 09.30 until -13.30, The Assembly Rooms, George Street.
The symposium brings representatives from Bergen, Dundee, Edinburgh, Rotterdam and Vilnius together in one morning.
Information: https://www.eventbrite.com/e/pop-up-cities-expo-free-cities-symposium-tickets-26324482235
Luxury Aparthotel in Former School Building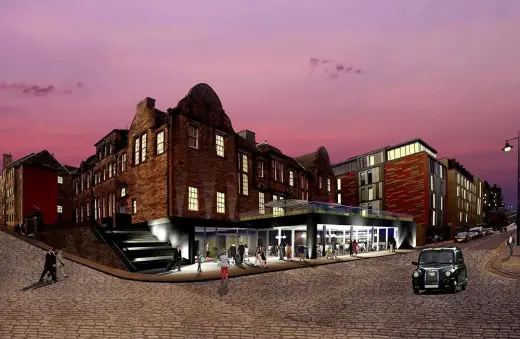 7 Jul – A former school building next to Edinburgh's Royal Mile is to be converted into a boutique hotel and restaurant as part of the £150 m New Waverley development currently transforming the city's Old Town.
The C-listed red sandstone Canongate Venture building, one of Edinburgh's last remaining 'School Board' designs of the late-Victorian era, will become a 21-room luxury aparthotel, managed by Apple Apartments.
The transformation of the Canongate Venture building will be carried out by Edinburgh-based Staran Architects, who are also delivering the conversion of the Waverley Arches. Subject to final planning consents, it is anticipated that building work will begin in autumn 2016, aiming for completion by the second half of 2017.
Plans for the two-story building include the conversion of the original school rooms into 21 double-height serviced apartments, each with a mezzanine level providing separate sleeping and living areas. The rooms will overlook a light-filled glass atrium forming part of a spectacular central galleried hall, which has remained unchanged since the building was first designed in 1901 as an infant school by Edinburgh School Board architect Robert Wilson.
Launched in 2013, London-based Apple Apartments specialises in the conversion of small-scale period buildings into high-quality serviced apartments. The company is run by Scottish businessman Billy Cowe and his brother Peter, who have been involved in global property management and development for the past 15 years.
The restoration of the Canongate Venture forms part of the latest phase of the New Waverley development. Delivered by Artisan Real Estate Investors, the 7.5 acre site links Waverley Station to the Royal Mile and the creation of a new hotel marks another significant milestone in the evolution of New Waverley as one of Edinburgh's most anticipated new destinations.
This year two new hotels – a Premier Inn and a Hub by Premier Inn – have opened on site and shortly to be joined by another, the Adagio Aparthotel, connecting to the Royal Mile through an exciting new public square.
The Waverley Arches, a row of 15 converted Victorian arches which sits along from the Canongate Venture, is also coming to life.
Other flagship Apple developments include Marconi House on the Strand in London.
Perth City Hall Building
7 Jul – The council plan to turn the City Hall into a visual arts centre, based on the premise of housing the Stone of Destiny there:
Perth City Hall Building News
Aberlady Houses
7 Jul – Cruden Homes has submitted plans to build 107 houses in Aberlady. The plot is located on the west side of the town, off Kirk Road on land owned by Wemyss and March Estates.
Aberdeen Conference Centre Building
6 Jul – Work has begun to construct an exhibition and conference centre in Bucksburn, Aberdeen, following a sod cutting ceremony on site. The design is by Keppie.
Bonnington Village Development
6 Jul – A 201 home residential development and two shops off Bonnington Road Lane, has won unanimous support from planners.
Kengo Kuma at the Pop-Up Cities Expo in Edinburgh
6 Jul – Review in the RIBA Journal – "The first UK pavilion by renowned Japanese architect Kengo Kuma combines the rustic randomness of a fireside log pile with precision engineered offsite prefabrication.
The Kibako pavilion, installed at the Pop-Up Cities Expo in Edinburgh, is a 5m x 5m 'wooden box' built entirely from wind-blown trees. The different varieties of spruce were collected from Templeton Woods, a managed urban amenity woodland in Dundee.
The pavilion references traditional Japanese craft skills, and resembles a form of 'inverted' log cabin in which the timbers forming the walls have been cut up and laid perpendicular to the surface, instead of length ways.
Grappling with a limited budget, and a mere two-day timeframe for assembly, local designer James F Stephen Architects chose to adapt Kuma's concept into a prefabricated panelised structure."
https://www.ribaj.com/culture/kengo-kuma-pavilion
Lochgelly Town Centre Regeneration
5 Jul – Revitalisation of Lochgelly town centre recognised at the Planning and Placemaking awards with two category wins. The design is by ECD Architects.
South Fort Street Homes
5 Jul – A detailed planning application has been submitted by EMA Architects to erect 122 homes at South Fort Street, Edinburgh, by Barratt Homes and the Blake Group.
World Architecture Festival 2016
4 Jul – Only Scottish project is Ranfurly & Cochrane Garden Rooms, Johnstone, by Spark Architects:
World Architecture Festival 2016
Saltire Society Housing Design Awards
4 Jul – The winners of the 2016 Saltire Society Housing Design Awards and the recipient of the Saltire International Travel Bursary were announced at a special ceremony in Edinburgh:
Saltire Society Housing Design Awards 2016
King's Stables Road Development Approval News
4 Jul – Proposals for this mixed-use development on a vacant King's Stables Road site have been approved by the City of Edinburgh Council.
The project near the Grassmarket aims to create a development that breathes new life into a neglected part of the city. It received a Minded to Grant consent at Development Management Committee, subject to the necessary legal conditions.
The proposals are being taken forward by a joint venture between Peveril Securities – the development arm of the Bowmer and Kirkland Group – and Campus Development Management.
The development will include a mix of residential units, a hotel, an arts facility; student accommodation and a variety of commercial units activating the ground floor of the development. The proposals also include improved public realm integrating the existing courtyard with new routes and courtyards throughout the development, including the enhancement to the setting of King's Bridge.
The development includes:
– 59 residential units
– 92 bedroom boutique hotel
– 167 room managed student accommodation
– Arts Facility
– Class 1,2 and 3 commercial units activating the ground floor of the development
RIBA Presidency Candidates – Edinburgh Meeting
The Royal Incorporation of Architects in Scotland hosted a discussion in Edinburgh on Monday 4th July at 4:30pm-6.00pm in the Hawthornden Lecture Theatre, Scottish National Gallery, The Mound between the RIBA Presidency candidates.
Both Alan Jones PPRSUA Hon FRIAS and Andrew Salter were in attendance and Ben Derbyshire sent a video message.
Pop-up Cities Expo News
As part of the Pop-up Cities Expo on The Mound, each city (Bergen, Dundee, Edinburgh, Rotterdam and Vilnius) will be giving a one hour talk in the Hawthornden Lecture Theatre, Scottish National Gallery, The Mound, Edinburgh on 6th and 7th July: see the events page for details.
Pop-Up Cities Expo
OPEN TO ALL · FREE · EVERY DAY 10AM-10PM
EXPO ENDS 17 JULY
The Pop-up Cities Expo is the most international event in this year-long, Scotland-wide, Festival of Architecture 2016, part of the Year of Innovation, Architecture and Design.
The five cities on show are each as varied and culturally rich as their pavilions.
Please visit each one to enjoy the architecture and the coming together in central Edinburgh of a group of Europe's finest conurbations.
Pavilions:
Bergen
Collaboration between: The City of Bergen, Hordaland County, Bergen Academy of Art and Design and Bergen University College
Concept, design and realisation: Are-Dag Eriksen, Jonas Evensen, Frode Ljøkjell, Vidar Laksfors, Petter Bergerud
Dundee
Dundee Pavilion: Dundee City Council
Design: Kengo Kuma & Associates (with local supervision by James F Stephen Architects)
Edinburgh
Edinburgh Pavilion: The City of Edinburgh Council
Design: Konishi Gaffney Architects
Rotterdam
Design: DoepelStrijkers, Rotterdam
Design Team: Duzan Doepel, Eline Strijkers with Mikolai Brus, Riekie Brokking, Jaap van Dijk
Social Component: Magis 010, Rotterdam
Vilnius
Organiser: Architects Association of Lithuania.
Authors (architects): Ausra Siaurusaityte-Nekrosiene, Egle Biretiene
Centenary Cycle News
On Sunday 14th August a RIAS team will set off from Sir Robert Rowand Anderson's Glasgow Grand Central Hotel to cycle the 100 miles to Mount Stuart House, another of Sir Robert's masterpieces. Please join the RIAS family day at Mount Stuart or take the opportunity to bring your own bike and cycle around the island and celebrate the Centenary in style. More details: emma.lucas@rias.org.uk.
Aberdeen Football Club Development
28 Jun – Aberdeen Football Club has started the formal process to secure planning approval for the development of a new community and sports campus, football academy and stadium.
Ross Bandstand News
27 Jun – The City of Edinburgh Council has committed to progressing proposals to rebuild the Ross Bandstand.
City hotelier Norman Springford revealed earlier this year he was willing to pay for the redevelopment of the 80-year-old venue in West Princes Street Gardens. The benefactor teamed up with City of Edinburgh Council to form a steering group to develop the plans.
The wider proposals include landscaping the adjacent gardens and new visitor facilities.
At a meeting of the Full Council on Thursday, members will discuss a report outlining the planned appointment of a Scottish Charitable Incorporated Organisation (SCIO) to front the proposed redevelopment.
Woodcroft in Morningside
27 Jun – After a recent win of the coveted Homes for Scotland ''Best Private Development of the Year' award, for the Woodcroft development in Edinburgh's Morningside area, Queensberry Properties, and partners, Telereal Trillium, have made it a double celebration, winning theScottish Homes' 'Show Home of the Year' award.
Queensberry Properties is a partnership between Cruden Homes and land and property experts, Buccleuch Property. The developers triumphed over eight other finalists to win the award.
RIAS Centenary Garden Competition
Chartered RIAS members (or teams including a Chartered member) are invited to submit designs for the RIAS Centenary garden competition.
The RIAS' sub-basement meeting room, the Garden Room, now opens directly into the enclosed (below road level) rear garden at 15 Rutland Square. A new exit stair to Canning Street has also been installed.
The RIAS garden, a pleasant sun-trap, has the potential to be a place to sit out or a venue for informal meetings and gatherings. It has been cleared, prior to a new, appropriate garden design. Key considerations would include the provision of level sitting/gathering space, low maintenance planting, screening of the metal exit stair and a sheltered area. Loose garden furniture (i.e. not built-in) may be indicated but will be purchased separately. The total budget, inclusive of fees, is £10,000 (ex VAT).
The deadline for this competition is noon on Monday 11th July. Those wishing to register and receive the brief for the competition should notify Carol-Ann Hildersley at Carol-Ann.Hildersley@rias.org.uk by the extended date of Monday 27th June 2016.
Scottish Awards for Quality in Planning Shortlist
24 Jun – Judges have shortlisted projects for this year in the four categories:
Plans – innovation in development planning ranging from strategic to settlements
Process – innovation in improving, or simplifying, any type of processes
Place – innovation in any architectural building or place (built or natural)
Partnership – innovation in working collaboratively, at any stage, within the planning process.
Applicant – Name – Category
Oberlanders Architects Holyrood North Student Accommodation Place
Glasgow City Bain Square public realm Place
LDA Design St Vincent Plaza, Glasgow Place
Dundee City Delivering Slessor Gardens Place
Loch Lomond Built Heritage Repair Grant Scheme Place
Glasgow City Abstract office development, St Vincent St, Glasgow Place
North Ayrshire Saltcoats Town Hall Place
North Ayrshire New house in the countryside at Meikle Auchengree Place
Falkirk Redevelopment of Royal Scottish National Hospital Estate, Larbert Place
Smith Scott Mullan The Nevis Forest and Resort Masterplan Place
City of Edinburgh Edinburgh Open Space Strategy Plans
South Ayrshire South Ayrshire LDP Story map Plans
Loch Lomond Bringing LLNP DP to life Plans
Renfrewshire Residential Design Guide Plans
Dumfries and Galloway Dark Skies Friendly Lighting Guidance Plans
Dumfries and Galloway Raising Design standards across the region Plans
Turnberry Chapleton Plans
City of Edinburgh Planning and Building Standards Lean Reviews Process
Cairngorms Speyside Way Extension Process
West Dunbartonshire Councillor involvement in pre-application stages of development Process
Dundee City Engaging with the Place Standard tool Process
Dundee City Developer information packs at Dundee Waterfront Process
Scottish Borders Identifying potential heat from waste water projects Process
Dumfries and Galloway Householder application Performance Improvement Project Process
Moray Creating Places in Moray Process
Orkney Islands Pilot Pentland Firth and Orkney Waters MSP Partnership
North Lanarkshire The Houldsworth Centre Partnership
Fife Forth Bridge World Heritage Partnership Project Partnership
Scottish Natural Heritage Central Scotland Regional Waking and Cycling Network Development Partnership
Moray Findrassie Masterplan Partnership
Scottish Borders Glentress masterplan – SPG Partnership
Aberdeenshire Portsoy CARS Partnership
BDP Aberdeen City Centre Masterplan and Delivery Strategy Partnership
Shortlisted applicants will be invited to attend an interview / facilitate a site visit and to prepare a presentation or video that explains the story of the project.
Judges will make recommendations to the Scottish Ministers after interviews or site visits.
Awards will be given within each category as well as an Overall Winner at a ceremony in November 2016.
RIBA National Award Winners 2016
23 Jun – The UK's best new buildings, we select the three from Scotland. Three from fourty-six awards represents 6.5% which is a little below Scotland's population percentage of UK population which is around 8.3%.
The Scottish winners of the 2016 RIBA National Awards are:
– Murphy House Edinburgh, Scotland by Richard Murphy Architects – Edinburgh, Scotland – Single dwelling, residential
– City of Glasgow College, Riverside Campus by Michael Laird Architects/Reiach and Hall Architects – Glasgow, Scotland – Further education college, education
– Saunders Centre, Science & Technology Building Page Park Architects – Glasgow, Scotland – Independent private school, education
RIBA National Award-winning buildings set the standard for good architecture. The shortlist for the coveted RIBA Stirling Prize for the UK's best building of the year will be drawn from the 46 award-winning buildings announced today.
Website: RIBA National Award Winners 2016
Meldrum House Hotel Extension
23 Jun – Lippe Architects have marked the first phase expansion of Meldrum House Hotel Country Hotel & Golf Course, Aberdeenshire, to coincide with a re-launch of the practice with new branding.
New Waverley Development
22 Jun – Topping out of the Adagio Aparthotel on the Royal Mile, part of the £150m New Waverley development. Construction of the 146-apartment aparthotel, incorporating a retained façade of the C-listed Sailor's Ark building, has now reached its highest point. The hotel is due to open by the end of the year.
2 Semple Street Building News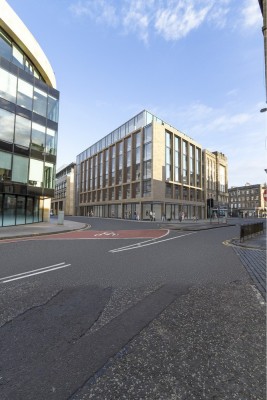 22 Jun – The development of a multi-million-pound office and retail project in Edinburgh has moved a step closer with the appointment of the main contractor McLaughlin & Harvey. Designed by Michael Laird Architects, the £12 million construction phase of 2 Semple Street in the Capital's Exchange district will start on 4 July:
2 Semple Street Edinburgh
Portobello High School Building News
22 Jun – The City of Edinburgh Council have announced that this building will open in October, three months earlier than expected. The school was originally expected to open this summer but water drainage issues meant a delay until January 2017.
Blenheim House Office Building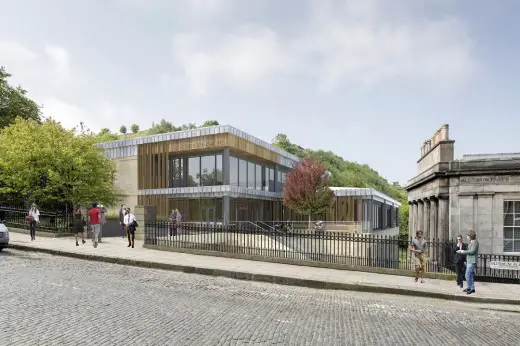 22 Jun – The Chris Stewart Group (CSG) has unveiled plans to modernise and upgrade Blenheim House in Edinburgh after acquiring the office building on Blenheim Place, EH7. It contains 36,000 sqft of Grade A office accommodation over five floors, with 19 on-site car parking spaces. The building was built to a high specification for Scottish Equitable. It was later occupied by BNYM. Blenheim House was owned by Belgate Estates. The purchase price was over £5 million. The renewal design will be by Ian Springford Architects.
Amarone Edinburgh restaurant – photo added of interior: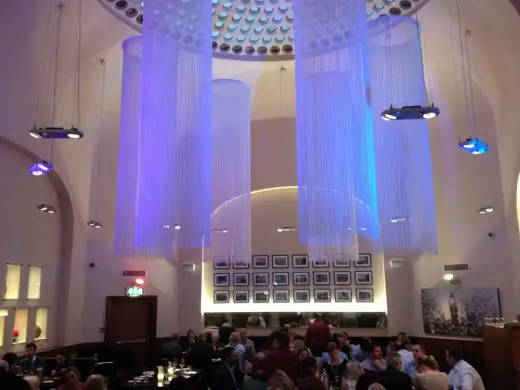 Dundas House Edinburgh
22 Jun – Morris & Spottiswood has completed a major refurbishment and restoration project at the historic Edinburgh headquarters of the Royal Bank of Scotland (RBS).
The fit-out contractor was tasked with refurbishing the bank at Dundas House, in the city's St Andrew Square, which dates back to 1860.
Morris & Spottiswood project director Andrew Neill described said it had been "a privilege" to work the RBS site. Mr Neill further revealed several fascinating discoveries during the complex 28-week project – including uncovering the building's original tiled floor.
RIAS Honorary Fellowships
22 Jun – Four eminent Scots have been presented with Honorary Fellowships of the Royal Incorporation of Architects in Scotland (RIAS) in recognition of their outstanding contribution to Scottish arts, literature, music, science, the public life of Scotland or to international architects.
Those presented during the annual RIAS Centenary and Awards Dinner in Glasgow on Wednesday night were the film composer, Patrick Doyle, author, broadcaster and journalist, Muriel Gray, broadcaster and writer, Sally Magnusson and New York based fashion, celebrity and art photographer, Albert Watson.
The awards were presented by RIAS President, Willie Watt, who said: "The music of the movies is powerful and evocative. Patrick Doyle's work on some of the most successful films of recent decades varies between emotionally charged and joyous and touches upon every human emotion. He is one of Scotland's greatest cultural ambassadors.
Aberdeen Student Flats
21 Jun – Visage Properties and GWP Architecture have commenced delivery of a £17m student apartment scheme at Causewayend, Aberdeen, for 173 bedrooms.
Borders Distillery Building News
21 Jun – A new Borders Distillery is proposed within a Tudor-style power station in Hawick, Scottish Borders.
Abercromby Place Property
20 Jun – Warwick Stewart Architects have submitted plans for the alteration and refurbishment of a terrace at Abercromby Place, Edinburgh, as part of a conversion from office to residential.
Princes Street Office Building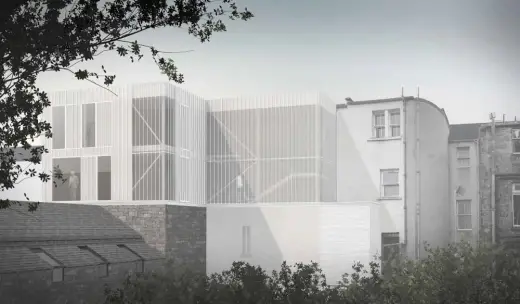 20 Jun – 3DReid Architects have submitted plans for Hazeldene House Ltd to convert and extend the Grade B-listed 131-133 Princes Street to form new office accommodation.
RIAS Garden Centenary Competition
Chartered RIAS members (or teams including a Chartered member) are invited to submit designs for the RIAS Centenary garden competition.
The RIAS' sub-basement meeting room, the Garden Room, now opens directly into the enclosed (below road level) rear garden at 15 Rutland Square. A new exit stair to Canning Street has also been installed, reports the RIAS.
The RIAS garden, a pleasant sun-trap, has the potential to be a place to sit out or a venue for informal meetings and gatherings. It has been cleared, prior to a new, appropriate garden design. Key considerations would include the provision of level sitting/gathering space, low maintenance planting, screening of the metal exit stair and a sheltered area. Loose garden furniture (i.e. not built-in) may be indicated but will be purchased seperately. The total budget, inclusive of fees, is £10,000 (ex VAT).
The deadline for this competition is noon on Monday 11th July. Those wishing to register and receive the brief for the competition should notify Carol-Ann Hildersley on Carol-Ann.Hildersley@rias.org.uk by Friday 24th June 2016.
LIS Competition Brief – A House and Grounds for an Art Collector
As part of their contribution to the Festival of Architecture 2016, the Landscape Institute Scotland are holding a design competition for a new house and grounds for an art collector in the Scottish countryside. Entries will be teams of landscape architects and architects and the competition promises to be an excellent chance to explore and experience the benefits of these two professions working together in collaboration. The competition is hypothetical and is based on an occupied site in Perthshire, Scotland.
Participants can register through Eventbrite. The competition went live on Wednesday, 1st June 2016.
Further information about the competition will be made available on the Competition webpage:
http://scotland.landscapeinstitute.org/wp-content/uploads/2016/05/LIS_FOA2016-Competition-Brief_20150531.pdf
Barony North Church Event
Free event on 24 June at Glasgow Evangelical Church, 20 Cathedral Square, Glasgow
Pidgin Perfect would like to invite you to explore Glasgow Evangelical Church (formerly Barony North Church), designed by John Honeyman and the Cathedral District with a range of speakers, site walks and contextual explorations of the Cathedral district.
3-8 St Andrew Square Building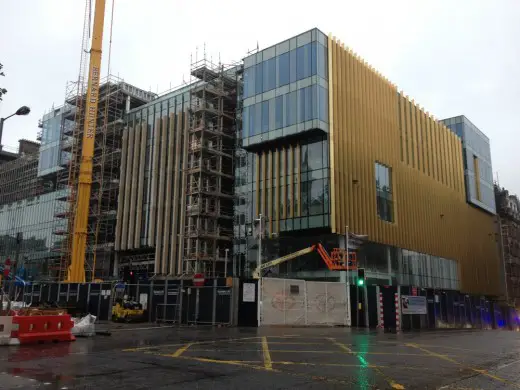 photo © Adrian Welch
18 Jun – new photos of this strong intervention in the city centre, designed by Edinburgh's CDA with Glasgow's Gareth Hoskins Architects.
The St Andrew Square Building development was controversial partly with those who love traditional architecture but also with those who admire good quality Modern architecture.
Circus Lane Houses


photo © Adrian Welch
18 Jun – new photos of Circus Lane Mews houses by Richard Murphy Architects
MacKenzie Place Allotments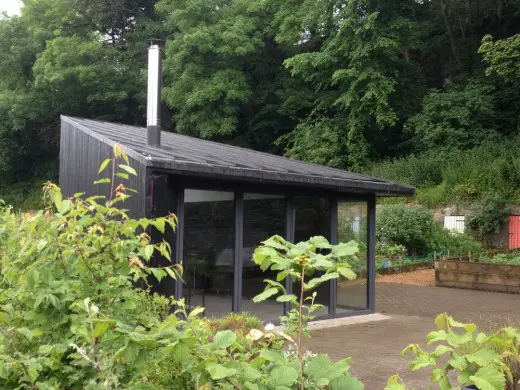 photo © Adrian Welch
18 Jun – new photos of MacKenzie Place Allotments , Stockbridge, by Sutherland Hussey Architect
Values – AE Event
Thought-provoking afternoon of talks with some of the most interesting emerging architects in Europe.
With Angela Deuber (ADA, Switzerland), Adrien Verscheure (Baukunst, Belgium), Andrea Zanderigo (Baukuh, Italy) and Lee Ivett (Baxendale, United Kingdom) Chairs: Penny Lewis, Samuel Penn and Rowan Mackinnon-Pryde.
Saturday 2 July 2pm-5pm
Top Floor, Evolution House, Edinburgh College of Art, 78 West Port
Event by The AE Foundation – see Events page for details
Longniddry Housing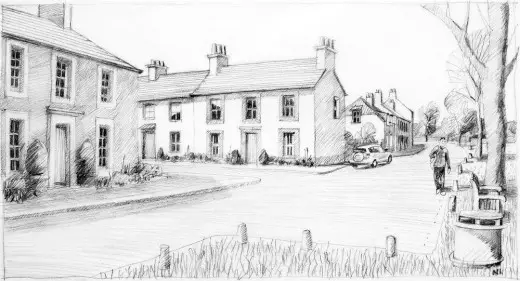 17 Jun – Plans have been lodged for a mixed-use development including the delivery of around 450 new homes at Longniddry, East Lothian.
Located around Longniddry Farm, to the south of the existing village, the planning application for Planning Permission in Principle (PPiP) has been lodged by developer Socially Conscious Capital.
Should this be granted, detailed planning applications will come forward for various elements of the proposed development, the vision for which includes high quality and distinctive new housing, integrated with the existing settlement.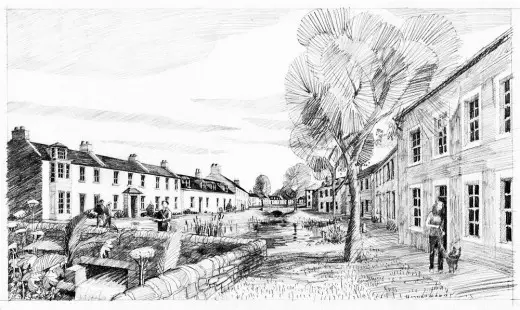 The indicative masterplan for the development, included in the planning application, highlights a residential development, of around 450 homes, with associated greenspace, access, engineering works and mixed use development, including the conversion of existing buildings at Longniddry Farm. This can provide space for commercial uses, such as cafe, nursery and offices.
The site is allocated in East Lothian Council's Draft Proposed Local Development Plan for "around 450 homes plus associated employment development, community facilities and infrastructure". East Lothian is required to deliver 10,050 new homes by 2024.
RIAS/RIBA Awards 2016 Winners
16 Jun – The 11 winners of the 2016 awards for the best in current Scottish architecture were announced last night by the Royal Incorporation of Architects in Scotland (RIAS).
Projects ranging from major business hubs to isolated look-out points and innovative houses were honoured at the RIAS' Centenary and Awards Dinner held in Glasgow:
RIAS Awards 2016 Winners
Award for Murphy House on Hart Street
16 Jun – A separate RIBA Award for Scotland was made to Murphy House, Hart Street, Edinburgh by Richard Murphy Architects:


photograph : Stephen Leonard
Saltire Society Housing Design Awards Shortlist
16 Jun – The shortlists for all five award categories in this year's Saltire Society Housing Design Awards have been announced ahead of the annual awards ceremony, which will take place in Edinburgh at the end of this month.
Now in their 79th year, the awards celebrate excellence and achievement in Scottish house building and place-making and are part of a busy programme of special events and awards planned to celebrate the Saltire Society's 80th anniversary year.
Saltire Society Housing Design Awards Shortlist
The City Observatory on Calton Hill


photo : Jonathon Fowler
City Observatory Building, Calton Hill
Edinburgh World Heritage announced today that it has awarded a grant of over £300,000 to Collective towards the restoration of the City Observatory complex – the ensemble of astronomical buildings by William Henry Playfair on Calton Hill.
The Edinburgh Clinic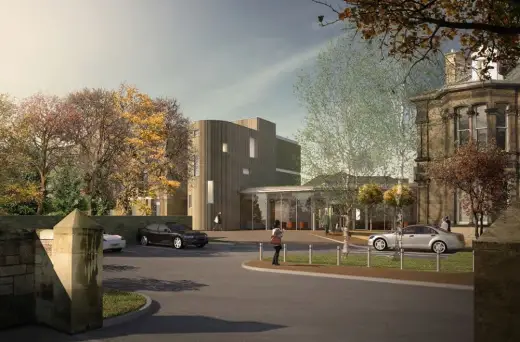 16 Jun – LSI Architects have submitted proposals to extend The Edinburgh Clinic, a private hospital on the city's Colinton Road, to provide new operating theatres, bedrooms, chemist and staff facilities.
New Longniddry Housing
16 Jun – Socially Conscious Capital has set out its intent to build 450 homes on the site of Longniddry Farm in accordance with East Lothian Council's draft local development plan.
Darwin Centre Redevelopment News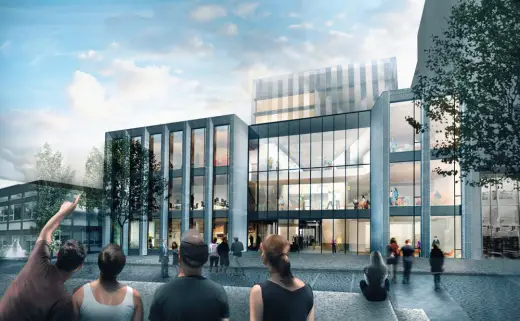 15 Jun – The University of Edinburgh has filed proposals to extend its school of biological sciences through redevelopment of the existing Darwin Centre, King's Buildings Campus.
Portobello Building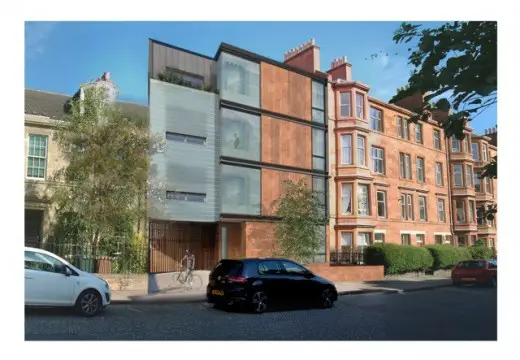 13 Jun – Bath Street Collective Custom Build, Designed by new Edinburgh archietcts studio John Kinsley Architects (John was Project Architect for RMJM on the Scottish Parliament Building)
The scheme will contain 4 flats comprising:- 1no. 75m2. 2 bedroom flat, a 102m2 3 bedroom duplex flat and 2 no. 120m2 3/4 bedroom flats. All the flats will be dual aspect.
Bath Street Collective Custom Build
Edinburgh Building News
13 Jun – Sleeperz Hotels is expanding its sister hotel Cityroomz Edinburgh with a new Princes Street wing made up of 43 rooms and suites.
The budget hotel operator has been granted planning permission to develop Princes House, a listed building and three storey office block, next door to its current 72-bed Cityroomz hotel on Shandwick Place near Princes Street in Edinburgh's West End.
The development is being carried out in partnership with property and investment company Town Centre Securities PLC.
Edinburgh College of Art Renewal
10 Jun – Kier Construction appointed to deliver a £14m makeover of Edinburgh College of Art which will see 12,000sqm of space at its Grade A-listed main building on Lauriston Place repaired.
Edinburgh Architectural Association AGM
The Edinburgh Architectural Association AGM is being held at 6pm on Tuesday 21st June 2016, at the RIAS, 15 Rutland Square: see Events page for details
Edinburgh College of Art Refurbishment News
10 Jun – Kier Construction Scotland has been appointed by the University of Edinburgh to undertake refurbishment work on the College of Art.
Strengthening the strong start it has made within the education sector this year, the contract will see Kier carry out work over two phases so one half of the building always remains in operation. This will ensure the College can continue to deliver its curriculum during the refurbishment works.
Phase one activity is expected to take place from June 2016 to September 2017, with the second phase scheduled to take place thereafter.
This activity will improve and perform essential maintenance on the building's fabric and internal systems bringing a major new space in the west side of the main building into use. This updated space will be equipped with the very latest in audio and visual facilities, improving the working and learning environment for students and staff.
Collective Architecture Edinburgh Office
10 Jun – Glasgow architects Collective Architecture have opened an Edinburgh office.
Situated on Grindlay Street within a former takeaway, the new studio will operate as a complimentary space to the practice's Glasgow head office and will be responsible for overseeing work in Edinburgh, Dundee and Galashiels. Collective Architecture celebrated the launch with a party for clients, collaborators, colleagues and friends at the Collective Gallery on Calton Hill.
Bertha Park Development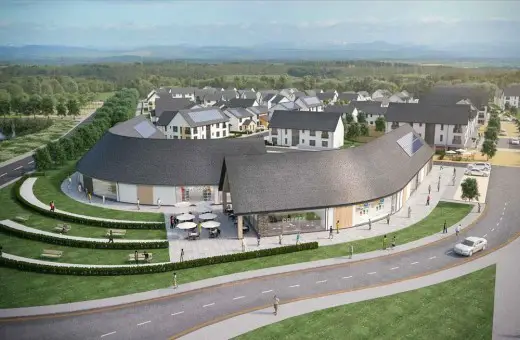 10 Jun – Detailed plans of the first phase of Springfield Properties' £1 billion Bertha Park development have been approved by Perth and Kinross Council.
First phase proposals for this major expansion of Perth include 1,061 new homes, commercial buildings and leisure and recreation areas.
As well as the new homes and buildings Springfield's plans detail where new cycle paths and walking routes into Perth will run, and where a new network of roads will be built. The plans also show where Bertha Park's new secondary school, scheduled to open in August 2019, will be built for Perth and Kinross Council. A primary school is planned for a later date.
Bertha Park will be built over 30 years, creating more than 2,000 new jobs and sustaining hundreds more in the local area. The first new home owners are expected to move into Bertha Park in mid-2018.
Queensferry Crossing Delay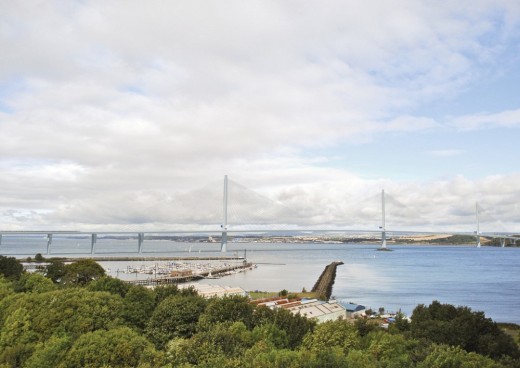 The new £1.4 billion Queensferry Crossing will not open until June 2017, six months later than planned, the infrastructure secretary admitted today.
Keith Brown confirmed reports the bridge would not be completed on schedule by the end of the year because of bad weather over April and May hampering construction.
Stuart MacDonald Dies
7 Jun – Former director of The Lighthouse in Glasgow, Stuart MacDonald, has died aged 67:
Gullane Building News
7 Jun – International architecture practice Barton Willmore has secured planning permission in principle for up to 125 residential units on the site of Henderson House, the former Fire & Rescue Service College, in Gullane, East Lothian, subject to the signing of a planning agreement.
The training college closed in early 2015 as part of the national restructuring of the Fire and Rescue Service estate upon formation of a single national service. The Scottish Fire and Rescue Service (SFRS) now intend to reinvest the proceeds from the sale of the site in to capital projects to enhance and add to Fire & Rescue Service facilities across Scotland.
Keppie Office News
7 Jun – architecture practice Keppie Design is to close studios in Aberdeen, Perth and Manchester. Offices in Glasgow, Edinburgh and Inverness are unaffected.
The architects practice, which posted a £528k pre-tax loss to 31 July 2015, said 25 jobs were at risk of redundancy and is consulting with those affected.
Queensferry Crossing News
7 Jun – Transport Scotland has refused to deny claims that work on the Queensferry Crossing is months behind schedule.
The team behind the £1.4 billion construction project have consistently claimed that it is on course to be completed in time to open to traffic in December as scheduled.
However, reports in The Scotsman suggest that the bridge is in fact running months behind schedule and will not be finished until well into 2017.
It quotes a staff source saying: "Everyone agrees there is no chance of it finishing by the end of the year. It could be months late – maybe even the middle of next year."
New Trustees for Scottish Civic Trust Board
7 Jun – The Scottish Civic Trust appoint two new trustees to the Board – architects Fiona Sinclair and Ed Taylor.
Fiona is a Fellow of the Royal Incorporation of Architects, Past-President of the Glasgow Institute of Architects and has particular expertise in the creative re-use, repair and restoration of historic buildings where she has many years of experience in projects across Scotland.
Ed is a chartered architect and urban designer. As The Prince's Foundation for Building Community's Representative in Scotland for almost 10 years, Ed represented the charity at the highest level and led a diverse programme of education, advocacy and skills, regeneration and masterplanning, typically employing a consensus-building process known as Enquiry by Design (devised by The Prince's Foundation).
West Edinburgh Garden District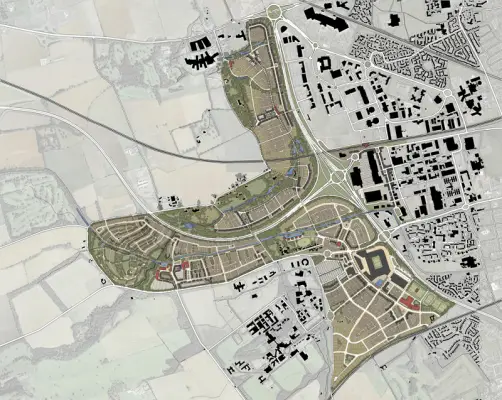 3 Jun – Planning permission approved for Phase 1 plans to build up to 1,350 homes as part of a £1 billion Garden District in west Edinburgh.
Developer Murray Estates' plans is for the first phase of a 675-acre 'Garden District' on a 54-hectare site next to Royal Bank of Scotland's Edinburgh headquarters at Gogar Station Road.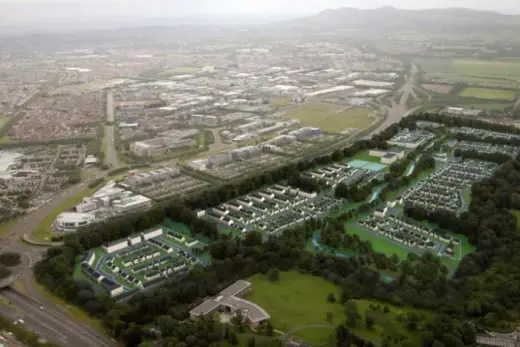 The first phase of the project was approved by City of Edinburgh Council's development and management committee in May, however it required full council approval, achieved yesterday with councillors voting 35 to 17 to grant planning permission.
West Edinburgh Garden District
New Hospital Building in Fife


2 Jun – Purpose-built Intensive Psychiatric Care Unit at Stratheden Hospital in Fife completed.
The energy-efficient IPCU will cater for those experiencing acute episodes of mental illness, providing specialist care and treatment to patients.
Facilities include eight en-suite single bedrooms, space for therapeutic and rehabilitative activities, communal lounge and dining accommodation, visiting and staff areas, consulting and meeting rooms as well as secure external grounds. The contractor was Graham Construction.
This project was part of the FS2 Framework which is delivering design, development and construction projects across Scotland for the NHS over the next five years.
Abbey Lane Housing
31 May – The City of Edinburgh Council has given planning permission for 139 flats to be constructed on brownfield land in the city.
Designed by EMA Architects, the series of four and six storey blocks at Abbey Lane seeks to maximise southerly views toward the Crags and Arthur's Seat whilst respecting a neighbouring listed building.
A landscape buffer will be included to the south to mitigate the impact of an adjoining railway line, including a mixture of hedges, railings, walls and footpaths.
Bellway Homes hopes to begin construction later this year.
Fletcher Joseph Associates Seek Architect
28 May – Fletcher Joseph Associates are an Edinburgh based practice with expertise in a wide variety of sectors and a recognised reputation in student accommodation, residential, hotel and recreation developments.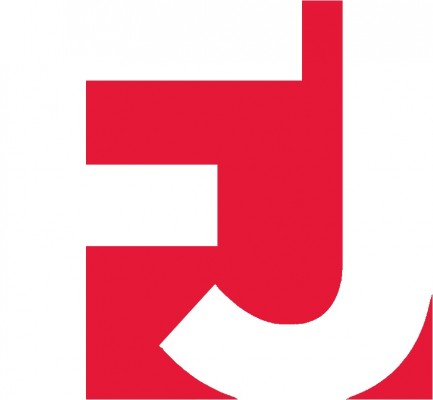 The practice is currently working on a number of exciting, major, developments and we are looking for an experienced Architect to join our team.
Candidates should be articulate, motivated and enthusiastic, with proven experience and good design and technical skill. Experience in AutoCAD, Adobe Creative Suite, Photoshop and SketchUp is required. Experience of Revit would be beneficial but not essential.
Salary is dependent upon experience. Candidates must be eligible to work in the UK. Agency applications are not accepted.
Notifications of interest and CVs including examples of work should be sent for the attention of Isla Fraser to admin@fletcherjoseph.com
Boroughmuir High School Building
27 May – The first visuals of an outline concept to sympathetically restore and revitalise the historic Boroughmuir High School building in Edinburgh have been unveiled by CALA Homes.
The designs show concept plans for an open courtyard with a series of walkways, along with a stunning conversion of a large classroom into a split level mezzanine apartment.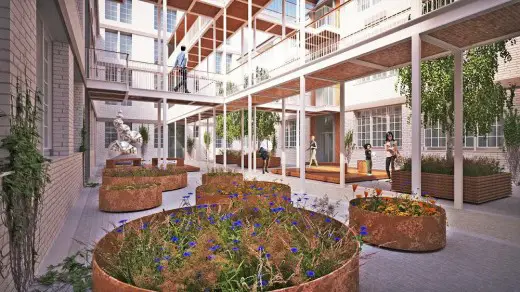 Pupils from the school in Viewforth are to move into a £35 million purpose-built new campus and the City of Edinburgh Council agreed to sell the Category-B Listed building to CALA Homes, which has its national headquarters in the city.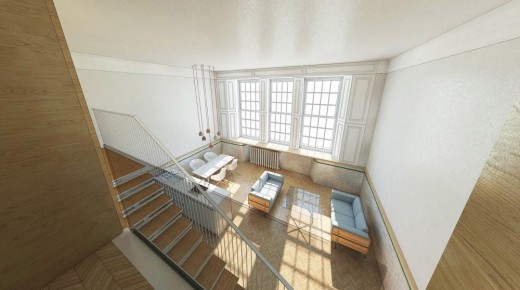 The housebuilder will be undertaking a public exhibition on Friday 17th June 3pm to 7pm and Saturday 18th June 9am to 1pm at St Oswald's Hall, Montpelier Park, Edinburgh. The exhibition will show initial proposals to transform the building, by creating 87 mezzanine apartments, while also delivering 28 much-needed affordable homes in one of the city's most sought after locations.
Aberdeen Nursery Building by BMJ Architects
27 May – A nursery designed by BMJ Architects in Aberdeen has become the first commercial project in Scotland to be accredited by Passivhaus.
St James Centre


27 May – Marco de Vita, an Edinburgh based photographer, shares with us his latest project. He has photographed the insides of St James Shopping Centre before it is demolished to pave way to a new shopping mall.
The building was initially designed in 1964 and completed in 1969.
New Hotel on Cowgate & Victoria Street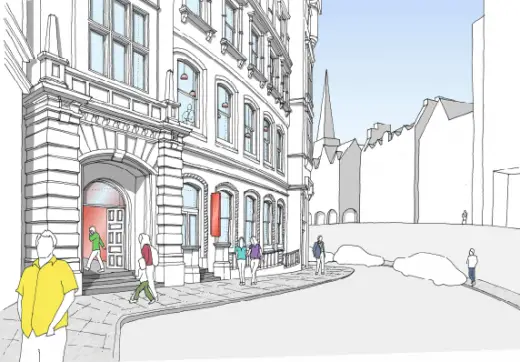 26 May – Plans approved for a £65m four-star hotel in Edinburgh's Old Town by ICA Architects, despite concerns being raised by UNESCO.
The 235-bedroom development will see a number of listed buildings bought back into use, and the space between Victoria Street and the Cowgate developed.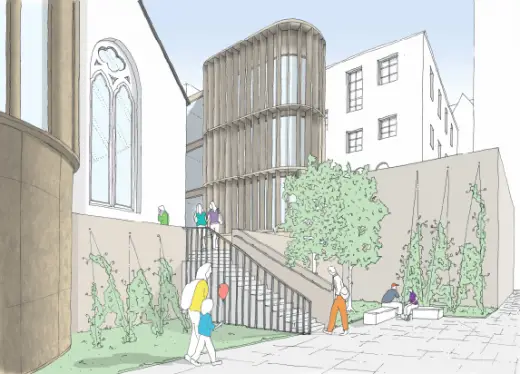 The hotel for Jansons Property would be at the heart of a £65m regeneration of the A-listed India Buildings on Victoria Street and surrounded by a new entertainment destination of bars, restaurants, cafes and public space.
Scottish Design Awards
26 May – Isabelle Lomholt of e-architect helped present awards at the event last night in the Radisson.
The Chairman's Award was a surprise, given to Edinburgh-based co-design studio HERE + NOW for their month-long outdoor photography exhibition in Rodney St tunnel, Canonmills, Edinburgh. "Hold Me Dear: Four Cities, [Extra]ordinary Places" held in September 2015. The designers speech was the highlight of the evening, eloquent and inspiring.
Page Park Architects won practice of the year.
The Best Building prize went to the Riverside Campus in Glasgow by Reiach and Hall and Michael Laird Architects.
Adrian Welch of e-architect was one of the judges.
Details at Scottish Design Awards on e-architect
UWS Hamilton Campus News
26 May – South Lanarkshire Council has approved plans for a new campus for the University of the West of Scotland (UWS) on the edge of Hamilton.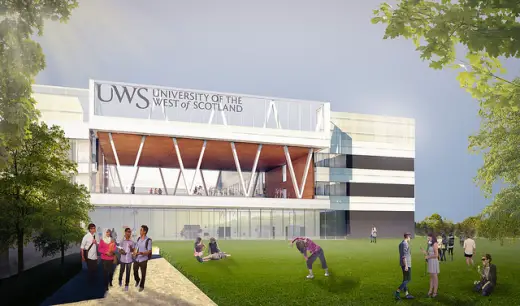 The development at Hamilton International Technology Park (HITP) includes plans for state-of-the-art teaching and learning facilities for students and lecturers, sports amenities and new student accommodation.
Despite being contrary to the local development plan, the planning permission in principle for the campus was deemed justified by the local authority's planning committee because the relocation of the university would create "significant economic benefits" and there would be no adverse impact on the Green Belt.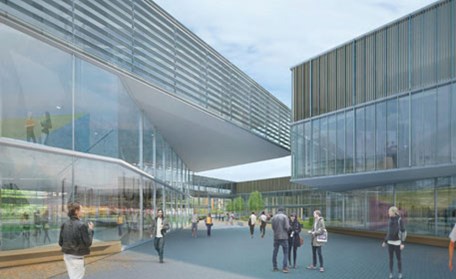 UWS had earlier cancelled proposals to move its Hamilton campus to the Eurocentral industrial estate on the M8 east of Glasgow following extensive consultation with the local authority, stakeholders, students and staff.
The move will also see the west side of HITP become the UWS Technology and Innovation Park, housing UWS's research and commercial activities.
Machrihanish Airbase Spaceport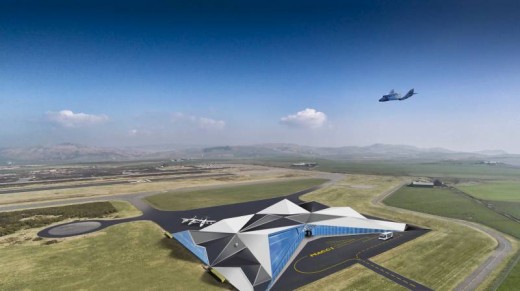 19 May – One of the front runners to host the UK's first spaceport has declared itself "runway-ready" to support the UK government's ambitions following the Queen's speech yesterday.
The base's space credentials go back as far as 1981, when NASA approved the site as an emergency landing spot for the Space Shuttle. The 3,049m long runway, which launches straight over the Atlantic Ocean, is one of the few able to welcome a landing shuttle and get it back in the air via a Boeing 747 Shuttle Aircraft Carrier.
Then, in 2009, Virgin Galactic had said Machrihanish was one of its preferred sites for a UK spaceport.
Glasgow Prestwick and Stornoway airports are still in the running, as well as Newquay in England and Llanbedr in Wales.
Edinburgh 'Garden District' Approval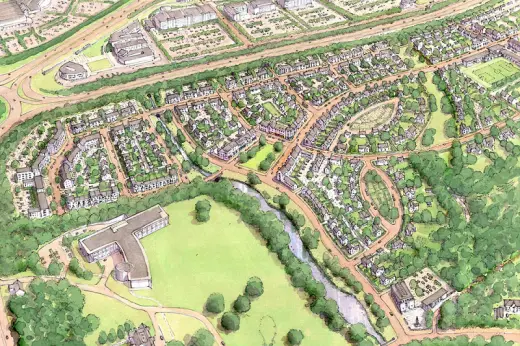 17 May – Plans for a 1,350-home development on green belt land on the edge of Edinburgh have been given the green light by councillors.
Developer Murray Estates' proposal is for the first phase of a 675-acre 'Garden District' on a 54-hectare site next to Royal Bank of Scotland's Edinburgh headquarters at Gogar Station Road.
The overall £1 billion development will eventually deliver up to 6,000 new homes over a 20-year cycle in a new urban district proposal which would include a school, shopping centre, sports facilities and green space.
Kelvin hall Building News
16 May – The transformation of Glasgow's Kelvin Hall into one of the biggest museum and academic research centres in the UK is on target to complete by this summer and open in autumn.
Pop-Up Cities Expo Design News
13 May – Edinburgh based Konishi Gaffney Architects have won a competition to design a temporary pavilion as Edinburgh's entry to the Pop-Up Cities Expo being held at the Mound in June and July this year.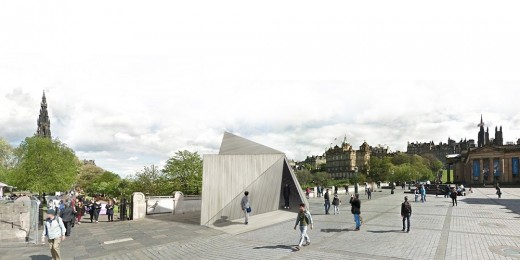 The Expo is a headline event for the Festival of Architecture and part of the Year of Innovation Architecture and Design.
The competition was organised by the City of Edinburgh Council in conjunction with the Edinburgh Architectural Association (EAA). The winning pavilion, engineered by TALL engineers, is being fabricated locally by artist and maker Johannes Sailer and is supported by several Scottish timber companies.
The architects' brief was for a pavilion intended to be an aspirational 'snapshot' of Edinburgh, inspiring future generations of architects to come.
Entrants were asked to prepare proposals that would represent Edinburgh on a world stage, showcase the city including its World Heritage status, and reflect the location of the pavilion at the Mound.
Cllr Ian Perry, convener of the planning committee, said: "Edinburgh is well known internationally for its iconic skyline and architecture. We are immensely proud of our World Heritage Status and this competition is a great example of how we can continue to raise our game and inspire local architects of the future. I would like to congratulate Konishi Gaffney on their well deserved win as they are a shining example of the quality of architects we have in the city."
Kieran Gaffney of Konishi Gaffney Architects, said: "We are delighted to have won this competition and to represent Edinburgh at the Pop-Up Cities Expo. Our idea is based on a folded origami form developed from thinking about the brief for a pop-up pavilion. The form is made from two pyramids laid back to back with three openings pulled out: one for the door, one for a fixed window and one for an opening window for ventilation. The proposal is innovative in its design and minimised the use of materials. Using locally sourced timber means a small carbon footprint and the pavilion is intended for re-use at other events and functions. The proposal has an interesting, decorative structure and the simple form is materially and structurally efficient. We think the construction system should be quick and easy to install."
Donald Canavan, President of the EAA, added: "The Edinburgh Architectural Association is delighted to be involved in facilitating this exciting competition, and was greatly impressed by the quality of the entries. Although such pavilions are temporary, the winning entry, by Konishi Gaffney, was agreed as a gem, offering a splendid tribute to Edinburgh, and to the architectural profession within the chapter area. We greatly look forward to the Expo and are sure the story told by the Edinburgh pavilion and its exhibits will be intriguing and memorable."
King's Stables Road Development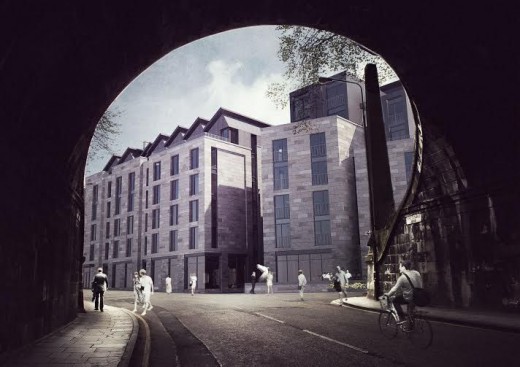 13 May – Developers behind plans for a mixed-use development on a vacant site in the Grassmarket area of Edinburgh have updated their initial proposals to take account of feedback from the local community, the planning authority and statutory consultees, as well as current market conditions.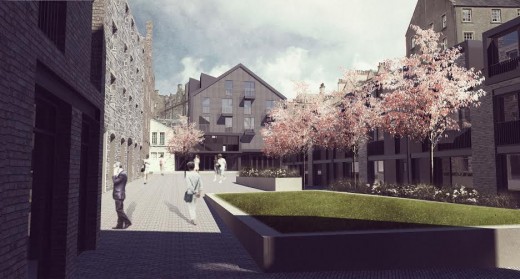 A planning application was lodged in December 2015 for the proposed redevelopment of the buildings on King's Stables Road. These are being taken forward by a joint venture between Peveril Securities – the development arm of the Bowmer and Kirkland Group – and Campus Development Management.
The development will now include:
59 residential units
92 bedroom boutique hotel
167 room managed student accommodation
650m2 of Arts Facility
Class 1,2 and 3 commercial units activating the ground floor of the development
King's Stables Road Development Edinburgh
Kinnear Road Properties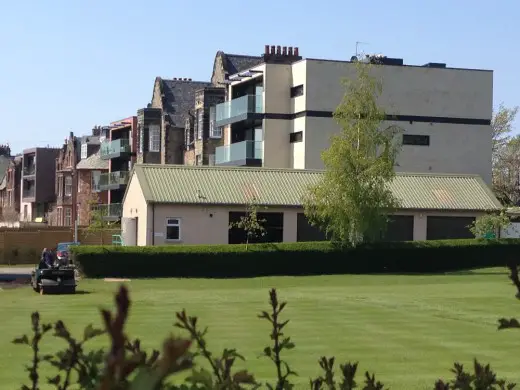 13 May – Kinnear Road Edinburgh properties
The Ideal Hut Show in Edinburgh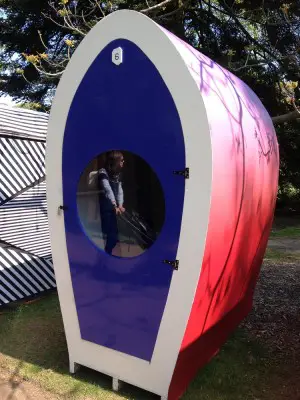 12 May – info + photos of these hut designs by well known architects such as Eva Jiricna, Ian Ritchie and Malcolm Fraser:
30 Apr – 30 May 2016 – 10am-6pm – Free
Scottish Architecture News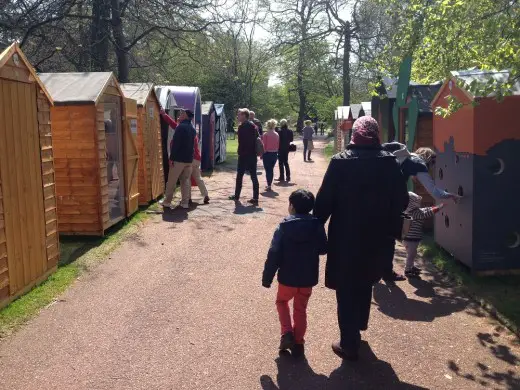 Located at The Royal Botanic Gardens Edinburgh
Crafts in Architecture Exhibition
As part of the Festival of Architecture 2016 the EAA presents a sample of the range of craft skills in Lothian, Fife and the Borders, focusing on stone, metal, glass, wood, clay and lime, with demonstrations of work via artefacts and video loops, at Gayfield Creative Spaces, 14 – 24 May – more info on the Events page.
Specifi Landscape Edinburgh
On June 16th Specifi bring their landscape architecture event to Edinburgh, a talk from Dusty Gedge, a "Meet the Experts" networking expo, including a free bar, and a free Edinburgh Landscape Architecture Dinner – more info on the Events page.
Aberdeen FC Relocation
12 May – Aberdeen Football Club reveal plans for a new £40m stadium and training facility at Kingsford near Westhill with earlier plans to move to Loirston now abandoned:
Aberdeen FC Stadium Building
RIBA International Awards
11 May – Longlist of 30 buildings for the new global architecture awards and the International Emerging Architect Prize. Open to architects who've designed a building outside the UK, they lead on to the RIBA International Prize:
RIBA International Awards
Heathrow Airport Expansion Architects Shortlist
11 May – Heathrow names four architecture studios – including practices Zaha Hadid Architects and Benoy – on shortlist for a 'hub airport of the future' concept as part of its expansion plans:
Heathrow Airport Expansion Architects Shortlist
Art Fund Museum of the Year Shortlist
10 May – Five brilliant, innovative UK museums have been shortlisted for the Art Fund Prize for Museum of the Year 2016, including Jupiter Artland in West Lothian:
Art Fund Museum of the Year Shortlist
Edinburgh Schools Inquiry
10 May – An independent inquiry into the closure of 17 Edinburgh schools over structural concerns is to begin after the summer break and conclude before the end of the year, the City of Edinburgh Council confirmed today.
Chief executive Andrew Kerr hopes to appoint an industry figure with experience of Private Finance Initiative (PFI) building contracts to chair the inquiry and determine its remit.
Dundee Performing Arts Centre by PagePark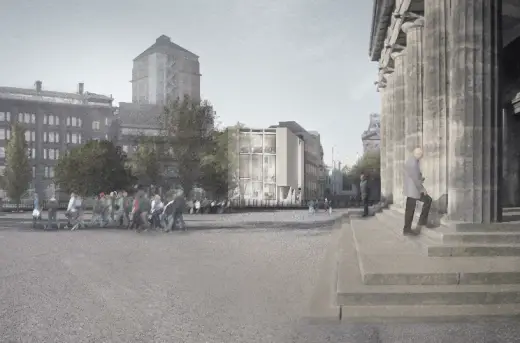 10 May – Plans to create a £16m centre of excellence for performing and visual arts on the site of Dundee's former Head Post Office approved by Dundee City Council. The building will become home for the High School of Dundee's art, music, drama and home economics departments. A range of studio, performance and practice spaces will be incorporated into the 19th century building as well as a signature spiral staircase which will be cast in-situ.
Edinburgh Architecture News 2016 – Archive for the early part of the year
Edinburgh Architecture News 2015 – Archive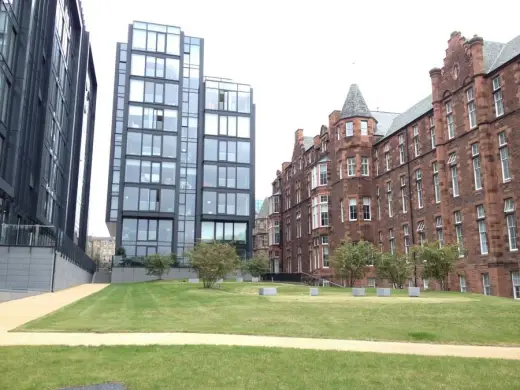 Architecture in Lothian
Scottish Parliament entrance: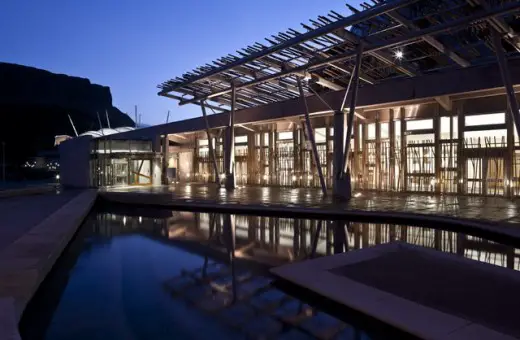 Website: Edinburgh
Website: Edinburgh, Scotland
Comments for the Edinburgh Building News page welcome
Website: Edinburgh, Lothian