New Forth Road Bridge, Replacement, Scotland Crossing, Project, Images, Design, Info
Forth Road Bridge : Architecture
New River Crossing – News, Scotland
7 Sep 2015
New photos of progress on construction on the Queensferry Crossing: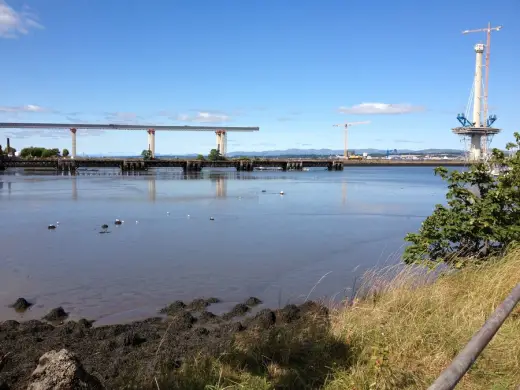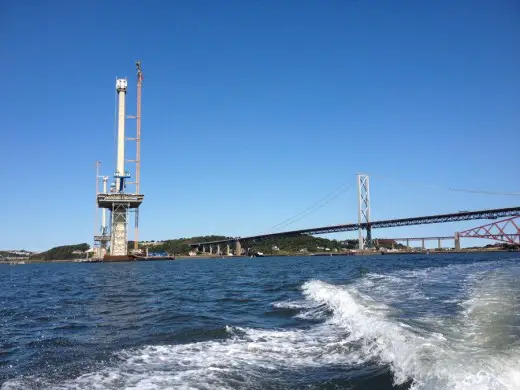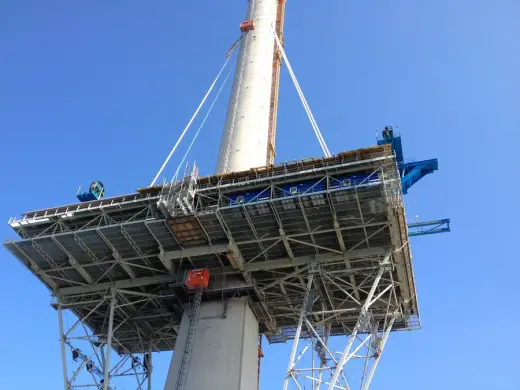 Forth Road Bridge: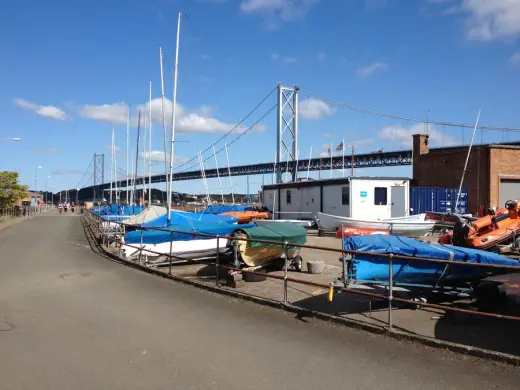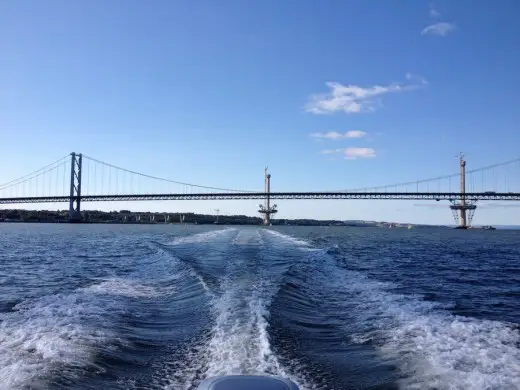 Forth Rail Bridge: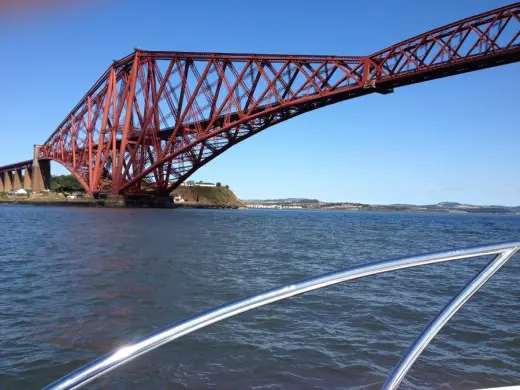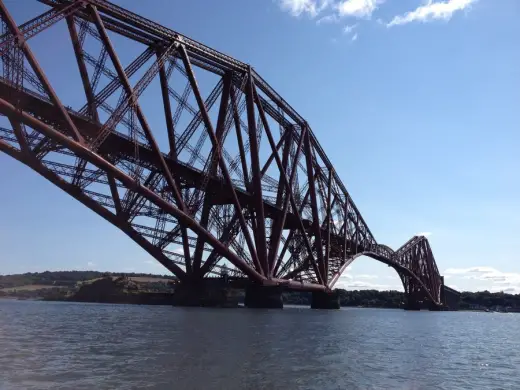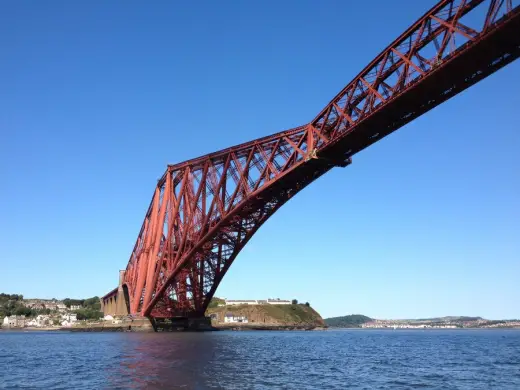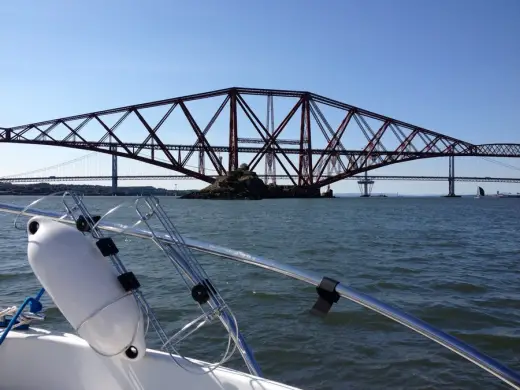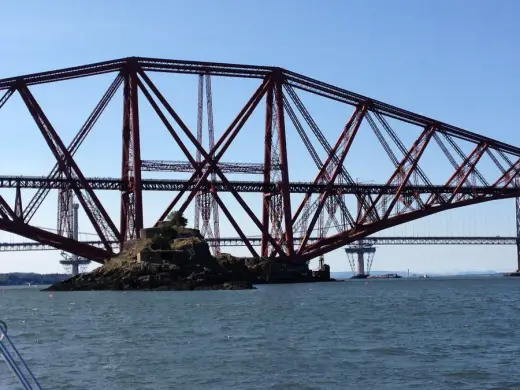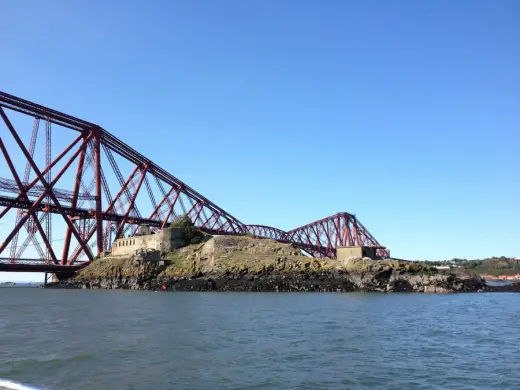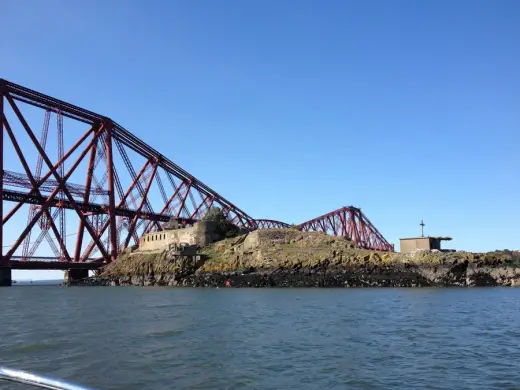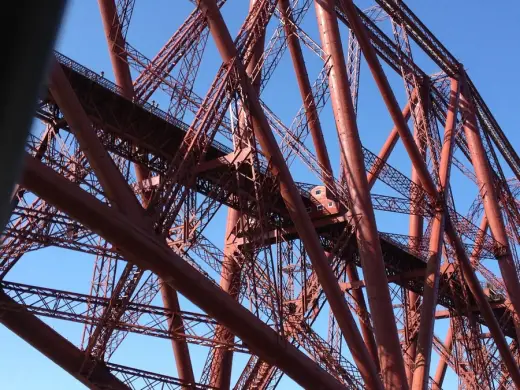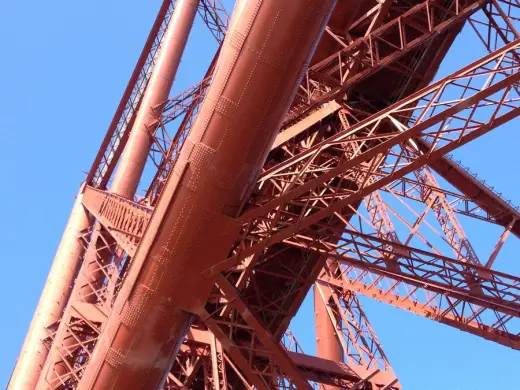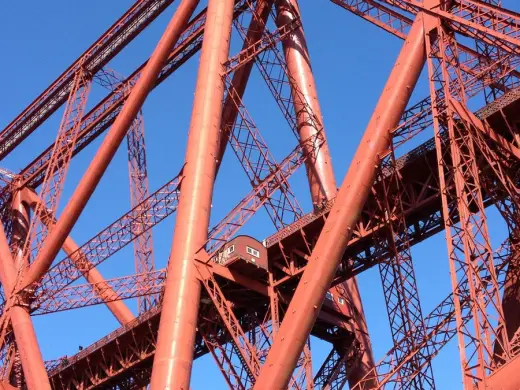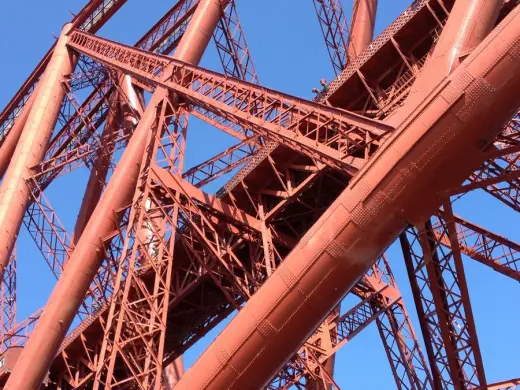 Inchcolm Abbey: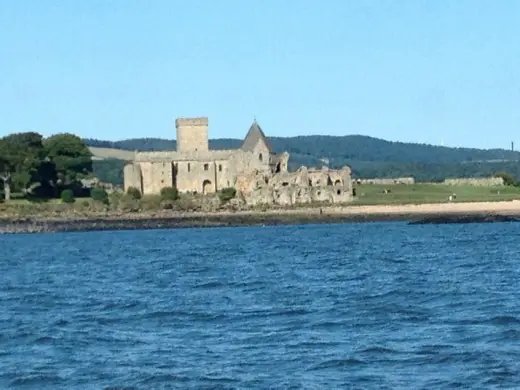 Port Edgar Marina: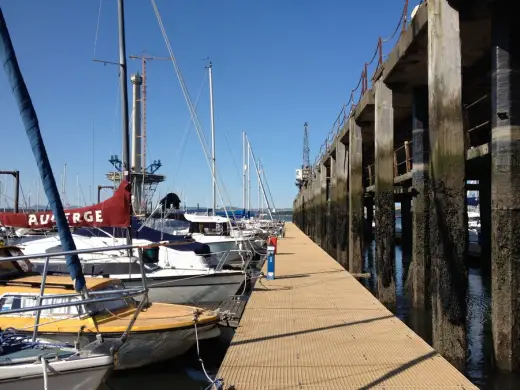 23 May 2013
New Forth Bridge
New Forth Bridge Approval
MSPs give the new Firth of Forth crossing their official sanctioning in a vote.
Legislation will be passed at the Scottish Parliament with just two weeks to go before a competition ends to find a name for the bridge.
More than 27,000 people have so far voted on the five choices for the bridge:
Caledonia Bridge
Firth of Forth Crossing
St Margaret's Crossing
Queensferry Crossing
Saltire Crossing
22 Mar 2011
New Forth Bridge Consortium
The Scottish government has announced the preferred bidder for the Forth Replacement Crossing
The Forth Crossing Bridge Constructors Consortium has been chosen ahead of Forthspan, which had also been bidding for the contract. It follows an 18-month tender process. The bid for the design-and-build contract is valued at £790m.
The Forth Crossing Bridge Constructors (FCBC) consortium is made up of Dragados, Hochtief, American Bridge International and Morrison Construction.
The Forth Crossing Bridge Constructors Consortium claim Forth Crossing would cost £1.47bn to £1.62bn, a reduction on the project's original estimated cost of £1.7bn to £2.3bn. The new Forth road bridge is due for completion by 2016.
New Forth Bridge architects : Dissing + Weitling


New Forth Road Bridge: image courtesy of forthbridges.org.uk
New Forth Bridge – News
Dec 2007 Update:
The Forth Replacement Crossing is to be a cable-stayed bridge upstream of the existing road bridge. The option agreed by Ministers will be delivered in the quickest possible timescale and at the lowest cost. It will also improve transport connections and reduce the CO2 emissions generated by the current crossing.


Forth Road Bridge: image © adrian welch
New Forth Road Bridge : Engineers + Architects
Arup are to lead the project with Jacob. Assistance from Danish architects Dissing + Weitling, who are already working on Glasgow's new bridge at the Broomielaw: more details online soon
Cabinet Secretary for Finance and Sustainable Growth, John Swinney said: "A modern, efficient transport network is vital to a thriving, prosperous economy.
"Concerns over the future viability of the existing bridge mean that we need to act now to protect the future of cross-Forth travel for generations to come. A Forth Replacement Crossing is essential. The decision to proceed with plans for a cable stayed bridge has not been taken lightly. We have considered in detail the arguments for all the options.
"A cable stay bridge has lower overall risk and can be used by all types of traffic, including freight, pedestrians and cyclists and is considerably cheaper to deliver. It also provides for a more affordable dedicated public transport corridor to allow use by buses, light rail or trams.
"This decision on the FRC sits well with our strategic objectives to make Scotland, greener, wealthier and fairer. It supports our objectives of becoming a global leader in our response to climate change and safeguarding our natural and built heritage.
"We are supporting commuters, supporting business and protecting the environment. This crossing will ensure that we continue to provide and effective transport network and achieve that goal."
Sep 2007 Update:
A Parliamentary motion calling for a new Forth crossing that can include light rail has won support from Scottish business groups.
The motion, tabled by John Park, Labour list MSP for Mid-Scotland and Fife, criticises the Transport Scotland public exhibition of Forth Crossing options for giving insufficient consideration to all types of transport.
Aug 2007 Update:
Public information exhibition on proposals for replacement Forth crossing open at North Queensferry and Edinburgh + other locations in Fife, Tayside & Lothians over next few weeks. Two final options shortlisted: bridge or tunnel to west of existing Forth Road Bridge.
According to a survey the tunnel is clear favourite but the cheaper suspension bridge is apparently recommended by Transport Scotland: www.forthreplacementcrossing.info. Last exhibitions dates listed are on 31 Aug in Dunfermline & Uphall.
Jul 2007 Update:
The new Toll is to be demolished after only 1 year in existence, reportedly around Dec 2007: money wasted in conception, building and demolition.
New Forth Road Bridge – Background
Forth Estuary Transport Authority (FETA) presented the results of a feasibility study in Jun 2004 for a 2.2km long second Forth Road Bridge. News items re the New Forth Road Bridge can be found at: www.forthbridges.org.uk/news.htm.


Forth Road Bridge + Forth Rail Bridge: image © adrian welch
Jan 2006 Update:
News in the last week suggests a third crossing is looking more likely, though a campaign is ongoing: if a new bridge is set in motion it is extremely important for Scotland's reputation that an outstanding design be realised, ie no PFI fudge or major contractor-design elements: Forth Road Bridge
Apr 2005 Update: The FETA Convener is reported to be still supportive of the second Forth Crossing despite the ForthRight Alliance – Cockburn Association, Friends of the Earth Scotland and TRANSform Scotland – campaign against it in favour of stronger rail links: more soon. FETA's inclusion of a second Forth Road Bridge option in its transport strategy encouraged groups who successfully opposed a new Forth Road Bridge proposal around ten years ago reform.


Forth Road Bridge: image © adrian welch
New Forth Bridge
Aug 2005 Update:
Now that FETA's board appear to have accepted the need for a new Forth Bridge it is surely time an international competition is arranged in order that an excellent design is achieved.
With the world-famous Forth Rail Bridge close by it is surely one of the most important engineering and architecture challenges of the next decade for Scotland, unless there's a surprise and plans for a third crossing are shelved.
Whether the process is like the many recent bridge competitions in England, such as for Maidstone or Poole, or like the Oresund Link where Denmark's Georg Rotne was selected is worthy of debate. Please mail us any views to info@edinburgharchitecture.co.uk . Friends of the Earth oppose the proposal. So far pairs of cranked, straight and inverted V-shaped suspension towers have been proposed. See news item for 18.04.05
Forth Road Bridge : Toll Canopy
New Forth Road Bridge
The Forth Estuary Transport Authority presented the results of a feasibility study in Jun 2004 for a second Forth Road Bridge. The proposed structure would be 2.2km long with 185m high towers and support a central span of 1375m making it the world's sixth longest bridge span.
Comments / photos for the New Forth Road Bridge page welcome
New Forth Crossing : page