Digital signage content Ideas for Museums guide, Property wayfindng advice, Sign design tips
Digital signage content Ideas for Museums advice
10 Feb 2021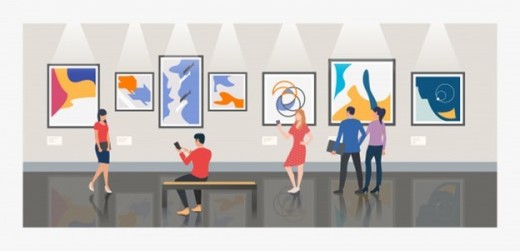 We all are used to big digital screens at the lobbies of hotels & corporates, at restaurants, hospitals, fashion stores, etc. But just imagine the splash it would make when installed at cultural organizations such as museums.
You might think what can be even displayed on the screens at such places? But I bet, the solution will hold your attention for a while and will make you opt for this creative display at your museum.
Let us traverse through this blog to know about the 6 most popular digital signage content ideas for museums.
1. Welcome Message
Huge museums have a large number of visitors every day which can even count up to hundreds and thousands sometimes. Managing such large groups can be a tricky process.
These groups often multi-lingual are big chaos for the staff members to deliver information. To solve this problem, big signage displays are installed at the entrance of the museums.
They display important information such as opening hours, ticket prices, rules for the visitors, necessary precautions, safety procedures, etc. in all the languages to make it easy for the visitors to grab the information.
2. Social Media Walls
Wondering what social media wall can do to your museum and how can it attract more visitors? Well, it can do wonders with your signage screen.
Museum authorities can display the live experiences of the visitors on the screen to attract more visitors and trigger them to engage with the cultural elements that are exhibited in the museum.
You can even ask your visitors to post their favorite corner of the museum on social media using a dedicated hashtag which can then be curated into a social media wall to let the new visitors know the most loved spot of the museum when they enter.
With social walls, you can even display some cultural facts that are not known to the visitors to grab their attention and hold them for a longer time. Along with this, you can even display some old videos and images related to history and culture to spread more awareness to the visitors.
3. Short video about the exhibited elements
Millennials and GenZ are more likely to watch a video rather than reading a long paragraph related to the sculpture they are interested in. To make them understand in an easier way, you can display a short video about it on the signage screen.
It is the most effective way to communicate with the visitors and educate them about the subject or sculpture. These large walls of videos can help you get familiarized with the exhibits in an easy way.
A slideshow of images, animated visuals, videos, etc. is a perfect solution to engage the visitors rather than static images and posters that occupy a lot of space otherwise.
4. Assistance for Wayfinding
Museums are often too big and vast and exploring all of it by ownself is a tedious task. The navigation will possibly be an issue if you do not have a guide with you.
Getting lost inside the museum can definitely degrade the visitor's experience. Museums can therefore display a network of various signage screens to offer the Wayfinder to the visitors and guide them with the route inside the museums.
This is a great way to enhance the experience of the visitor and make their visit to the museums a memorable day. Also, touchscreen Wayfinder installed at the kiosk can help the visitors search for the customized results of the exhibits that they wish to see.
5. Information about the artist
Talking specifically about the art galleries, there is nothing more engaging and appealing than fine arts such as sculptures, potteries, paintings, etc.
On a digital signage screen, you can display the information about the author and can give them a spotlight in your museum. It is a great way to appreciate the talent of the artist and introduce them to visitors in an innovative way.
You can feature artist interviews, slideshows of their created arts, to share their art with a huge audience in a single time.
6. Showcase museum merchandise
Just imagine you walked into the dinosaur park museum and loved some of the sculptures and exhibit elements that are showcased inside.
How amazing would it be to get all these memories with you forever? With museum merchandise, you can let people take the memories as a souvenir in the form of printed t-shirts, keyrings, small showpieces, etc.
All this can be displayed on signage screens located at different locations inside the museums to let people know what merchandise categories you have in stock and what are the prices offered to them. This will avoid a large queue at the kiosk to ask for the price of each piece of merchandise.
Digital signage content ideas for museums – Final Words
Museums have nowadays found a great way as digital signage to display their exhibits in an innovative and exquisite way. These signage screens attract more visitors than the traditional way of educating the visitors.
To make the visitor's experience at your museum a great one, use the above-mentioned signage content ideas that work best for you.
Comments on this guide to Digital signage content ideas for museums article are welcome.
Edinburgh Architecture
Liberton Brae Townhouses
Design: LBA Architects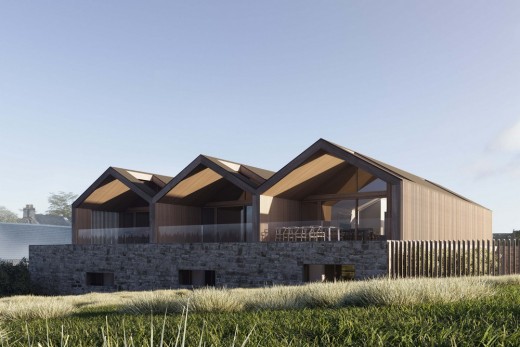 image courtesy of architects
Liberton Brae Townhouses
St James Quarter Edinburgh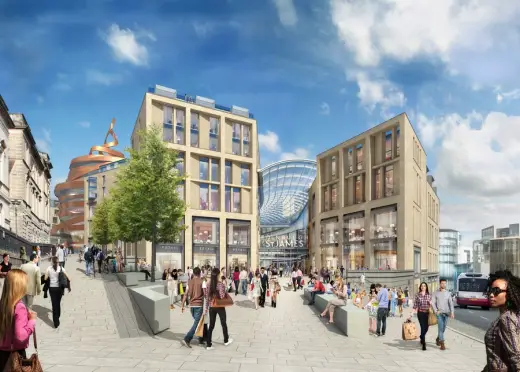 image of the development
St James Quarter
Comments / photos for the Digital signage content ideas for museums Advice page welcome