Edinburgh Architecture Talks 2017, Lothian Building Events, Architects Scotland, Design
Edinburgh Architecture Events 2017
Scottish Architectural Talks + Exhibitions – East of Scotland Construction Lectures
Edinburgh Architecture Events – current posts
Edinburgh Architecture Events 2018
Edinburgh Architecture Talks 2017
Recent Edinburgh Architectural Events
Recent South East Scotland Events:
Exhibition – Housing Crisis. Housing Opportunities, Aberdeen
14 – 22 Dec 2017
Date: 14 – 22 December
Time: 5.00pm – 10.00pm
Venue: Scott Sutherland School Reception, Sir Ian Wood Building, Robert Gordon University, Garthdee Road, Aberdeen, AB10 7GJ
Cost: Free
Stage 5 Architecture students have created an exhibition covering a variety of issues affecting Scotland today.
Each unit has created their own investigation on their chosen area, which range from the rural Northern islands of Scotland to the densely populated urban cities in the central belt.
Tom Parnell – Training the City: Built Heritage Legacy of a Railway Battle
4 Dec 2017
Edinburgh Architecture Lecture
Date: 4 December
Time: 6.30pm
Venue: St Andrew's and St George's West Church, 13 George Street, Edinburgh EH2 2PA
Cost: £5, members £2.50
Tom Parnell is an architectural historian, and is currently a Senior Casework Officer for Historic Environment Scotland. He has a personal interest in the built heritage legacy of railway development and de-development. His talk looks at railways in Edinburgh, particularly the dash for Leith in the later 19th Century, examining what might have been, what was lost and what legacy survives today.
IAA – Launch of the Regional BIM Group North, Inverness
4 Dec 2017
Date: 4 December
Time: 6.30pm
Venue: Eden Court Theatre, Bishops Road, Inverness IV3 5SA
This is the first of planned ongoing monthly meetings to collectively discuss and evolve the application of Building Information Modelling (BIM) in the Highlands & Islands and Moray regions. Each month it is proposed that short, engaging presentations and discussions take place on BIM. This new group is being formed to accommodate people interested in BIM from wide ranging areas of the construction industry, no matter what segment they are in or what software they use.
The first meeting will be chaired and presentations will be given by Nicola Jackson – Group Convenor + Technical Manager at Robertson Timber Engineering. Going forward, group members will have the opportunity to give short presentations that demonstrate what can be achieved through a system of digital knowledge sharing and collaboration.
Pecha Kucha, HES, John Sinclair House, 16 Bernard Terrace
1 Dec 2017
Various events by Historic Environment Scotland:
EVENT
Pecha Kucha 20 x 20
All I Want For Christmas Is…
17:00
We're hosting a Pecha Kucha event for the first time ever at John Sinclair House! Join us to hear inspiring experts from the city's architecture and archaeology professions.
The presentation style is fun and frantic: our speakers power their way through 20 slides, each shown for 20 seconds, telling us of their Christmas wishes. There's no time to stop… aside from the time we've set for mulled wine and festive snacks.
Reserve your free ticket at
www.historicenvironment.scot/events
It's beginning to look a lot like
Christmas, especially in Edinburgh
where Underbelly's 24 Doors of
Advent returns for the month.
It's your chance to explore what's
behind the doors of all sorts of
fascinating places, many of which
are usually closed to the public.
Historic Environment Scotland's
John Sinclair House at Bernard
Terrace is the first door to open
with a series of very special events
to celebrate Scotland's outstanding
built heritage.
We'll be open from noon until 7pm
on 1st December.
ALL DAY EXHIBITION
Archive's Greatest Hits
Our public search room is open from 12 noon until 7pm
for you to see a Christmas compliation of beautiful,
original drawings and photographs never usually on
show. From dazzling architects' perspectives, to
Victorian and Edwardian photographs, to archaeological
excavations, here's a great chance to ask our experts
about our fascinating collection.
EXHIBITION
Leith Listings
We're delighted to host the 'Leith Listings' exhibition,
a new directory for the Leith neighbourhood identifying
local buildings, structures, people and places of special
architectural or historical interest, co-curated by
Biomorphis and Leith Creative as part of the People
and Places: Make Leith Better project which ran earlier
in the year.
www.leithcreative.org/findings/
12.00
TALK
Behind the Scenes of Edinburgh's
Giant Advent Calendar
Edinburgh's Giant Advent calendar will project onto
General Register House throughout December, with
25 glimpses of Edinburgh's winters from years gone
by. Join Steven McConnachie, Director of Double Take
Projections, at an exclusive talk to hear more about
how the advent calendar was created using Historic
Environment Scotland's rich archival resources.
Reserve your free ticket at
www.historicenvironment.scot/events
14.00
EVENT
Crimewatch Edinburgh
Fancy an afternoon of fireside storytelling with a mug
of hot chocolate and a mince pie? And in the company of
THREE of Scotland's leading crime writers? Lin Anderson,
Sara Sheridan and ES Thomson will be here between
2pm and 3.30pm to read from their stories in our
recently-published anthology Bloody Scotland. All three
authors will be answering questions and signing books,
so this is an ideal opportunity to pick up a truly
collectable stocking-filler for yourself or a friend!
Reserve your free ticket at
www.historicenvironment.scot/events
WHERE TO FIND US
Historic Environment Scotland
John Sinclair House
16 Bernard Terrace
Edinburgh
EH8 9NX
Telephone: 0131 662 1456
Website: www.historicenvironment.scot
Seminar – Community Land Ownership for Land Professionals
28 Nov 2017
Date: 28 November
Time: 12.00 noon – 4.30pm
Venue: 125 Princes Street, Edinburgh EH2 4AD
Cost: £45
Community Land Scotland is holding a seminar aimed at land agents, chartered surveyors, solicitors, accountants and other professionals that work with landowners an update on community landownership in 2017.
The event will:
– provide information on the work of community landowners and opportunities for other landowners to sell or gift land to communities
– provide information from the Scottish Government Community Land Team about the wider policy environment and how this is affecting community landowners
– help dispel any myths or misconceptions regarding community land ownership
– allow discussion on Land Reform
– discuss the Scottish Government's aim to double the amount of land in community ownership to 1 million acres by 2020
– allow questions to be asked of community land owners
– provide networking opportunities
As a land professional in Scotland, we hope that this event will give you the opportunity for business growth in an emerging sector and a good understanding of the advisory/support requirements of the community land sectors.
A soup & sandwich lunch will be provided on arrival.
The interwar housing of J.E. MacRae, Edinburgh City Architect
28 Nov 2017
Edinburgh Architecture Talk
Date: 28 November
Time: 6.30pm – 8.00pm
Venue: City of Edinburgh Methodist Church, 25 Nicholson Square, Edinburgh EH8 9BX
Cost: £6 for general admission, £5 for concessions for students and unwaged and £4 for Docomomo members
The heritage specialist Steven Robb of Historic Environment Scotland will talk about the interwar designs of Edinburgh's City Architect, Ebenezer James MacRae.
MacRae became City Architect in 1925 and took over responsibility for housing from the City Engineer, Adam Campbell, the following year. Whereas Campbell had experimented with different building types and prefabrication, MacRae returned to traditional masonry construction, holding firm against Modernism, until wartime restrictions caused a change in direction. His work shaped much of the city outside its centre and visualises the conflicting positions held about Modernist architectural design.
CIOB and A+DS joint CPD on Flat Roofing Repair, Stone Selection and Repair and Restoration
29 Nov 2017
Edinburgh Architecture Event
Date: 29 November
Time: 5.30pm – 8.00pm
Venue: Architecture+Design Scotland, 9 Bakehouse Close, 146 Canongate, Edinburgh EH8 8DD
Cost: Free
CIOB is partnering with Architecture and Design Scotland, to run a series of CPDs.
The event will cover:
Stone selection & matching
– Why stone matching is an essential part of any masonry repair
– Identifying suitable quarries
– Implications of a failed stone match
Repair and restoration of historic masonry
– Correct detailing for masonry structures
– Common causes of damage and how to eliminate them
– The range of techniques for repair and restoration
Flat roofing repair and maintenance
– Carbon Capturing Flat Roofing Materials
– Safe use of heat and alternatives to heat
– Guarantees – who is guaranteeing what
– NFRC Householders Guide to Flat Roofing
These CPD's will be provided by experts from the Stone Federation GB, British Geological Survey and National Federation Of Roofing Contractors. This is a fantastic opportunity to learn more about each of the subjects in the context of the fascinating Mackintosh Building Restoration.
Scotland Build EXPO
22 + 23 Nov 2017
The Exhibition, Conference & Workshops are back on November 22nd & 23rd at the SEC, Glasgow. With more content, networking and entertainment than ever before, if you're looking to generate more leads and meet with Contractors, Developers, Architects, House Builders and Local Authorities
Celebrate the Best Architecture in the DIA Chapter Area
The Dundee Institute of Architects invites you to join them at their annual Awards Dinner on 16th November at the Invercarse Hotel in Dundee.
Last year over 180 guests joined to celebrate the best architecture in the Chapter area. The black tie event will start with a drinks reception at 7pm and dinner at 7.30 followed by the Awards ceremony.
The guest speaker for the night is Jim Leishman, Provost of Fife.
To book your tickets, please email the DIA Treasurer and PPDIA: Christine_J_Palmer(at)yahoo.co.uk
EAA – RIAS Strategy Consultation
Date: 8 November
Time: 6.00pm – 8.00pm
Venue: Edinburgh Centre for Carbon Innovation, The Conference Room, High School Yards, Edinburgh, EH1 1LZ
Cost: Free
The RIAS prepared an outline strategy plan, which was reviewed by RIAS Council in June. A second edition of the strategy has subsequently been collated and now includes a reflective review of the Incorporations endeavours since 2007. This current draft was issued in the RIAS eBulletin on 15th September 2017 seeking member feedback.
The Edinburgh Architectural Association would like to invite you to an open forum discussion workshop about the future aims and aspirations of the RIAS. The Chapter is looking to obtain and collate member views.
The Chapters are holding workshops, based on the draft strategy, to provide a forum for members to discuss and share ideas. The collective views obtained will be documented and fed back into the final strategy plan for the Incorporation.
Please come along to the EAA workshop to help shape the future of your RIAS.
As numbers are limited, please book your free ticket here:
Edinburgh Architectural Association – RIAS Strategy Consultation
EAA Award Winners – A Showcase of the Best
Date: 1 November
Time: 6.00pm – 7.30pm
Venue: The University of Edinburgh, LG.09 David Hume Tower, George Square
Cost: £10 Members, £15 Non-Members, £5 Concession, Students free
Introduced by Edinburgh Architectural Association President, and 2017 EAA Awards Judge, Julie Wilson, the EAA has brought together architects from four different practices to talk about their 2017 award winning projects.
Speakers:
Richard Murphy_Dunfermline Carnegie Library & Galleries
Kieran Gaffney_Ravelston Dykes Lane
Chris Dobson_Thistle Foundation Centre of Wellbeing
Callum Ramsay_Dalkeith Country Park
For more information and booking please see:
Edinburgh Architectural Association Awards Showcase
Day Conference and Evening Cultural Celebration: Spiritual and Integral Ecology Perspectives on Art, Place and Nature
21 Oct 2017
Presenters and Facilitators: Reiko Goto Collins, Prof Mark DeKay and Susanne DeKay, Luke Devlin, Nancy Van Kirk, Prof. Ullrich Kockel, Prof. Máiréad Nic Craith, Kenny Taylor and Dr Ian Wight.
Venue: Sanctuary, Augustine United Church, 41 George IV Bridge, Edinburgh, EH1 1EL.
Date: Saturday 21 October 2017.
Time: Registration: 9.30am-10am. Event: 10am-5.15pm.
Registration: 6.30pm-7pm. Event: 7pm-9pm.
Event Description: This Day Conference and Evening Cultural Celebration will look at issues associated with Spiritual and Integral Ecology Perspectives on Art, Place and Nature, and the evening event will celebrate writings and creativity associated with the theme.
http://www.eicsp.org/events/event-details/485-day-conference-and-evening-cultural-celebration-art-place-and-nature-21-october-2017
Modernism in Scotland Exhibition
Date: 2 – 28 September 2017
Time: Monday to Saturday 10.30am – 5.00pm and Sunday 12.00pm – 5.00pm
Venue: The Lighthouse, 11 Mitchell Lane, Glasgow, G1 3NU
Cost: Free
As part of the Festival of Architecture 2017 this exhibition showcases 34 post-war
Scottish modernist buildings, from St Peter's Seminary to the Forth Road Bridge, and has been compiled by final year students at the Scott Sutherland School of Architecture in Aberdeen. This collection of beautiful models and informative display panels, showcases an ambitious era of design, that propelled a generation of Architects careers.
RIAS Festival of Architecture 2017
Sep 2017
FoA2017
The month of September will see the whole of Scotland celebrating Scottish Architecture, its legacy and in particular, this year's special theme, our homes, reports the RIAS.
Many different types of events will engage a wide audience throughout Scotland, from school groups to professionals, from the Capital to the islands. Some will be founded on participation and hands-on experience, some purely entertainment, others more educational and even challenging. Accessible, appealing and within reach of everyone, this Festival will ensure that people across Scotland become more confident about engaging with architecture and all aspects of the design of our public spaces.
If you have an idea how to support architecture and make it more accessible for the whole of Scotland, we want to hear from you! All events with an architectural theme will be considered, they can be of any scale and any format.
RIAS is providing the opportunity for events organisers to access support finance to enhance existing or create new activity, reflecting the themes and supporting the aims of the Festival. Applications must be made on the application form and submitted by email to the RIAS Festival of Architecture teaminfo@festivalofarchitecture.scot by the 30th June 2017.
Check the new website for upcoming news: www.festivalofarchitecture.scot
Royal Scottish Academy Metzstein Architecture Discourse 2017
2 Oct 2017
Event to be held at the following time, date and location:
Monday, 2 October 2017 from 18:30 to 20:30 (BST)
George Square Lecture Theatre
University of Edinburgh
EH8 9LH Edinburgh
United Kingdom
RSA METZSTEIN ARCHITECTURE DISCOURSE 2017
The RSA is delighted to announce that Sir David Chipperfield will present this year's event. Sir David is the first British architect to do so, and has a truly international practice, with buildings in Japan, Germany, Mexico, Korea and elsewhere, as well as in the UK. (His Hepworth Gallery in Wakefield has recently been recognised as one of the county's best.) In an interview, which will be published and available at the event, he talks about how he started, the problems that international investment creates in cities, and how to help people like modern architecture.
Now in its fourth year, the annual Royal Scottish Academy Metzstein Architecture Discourse was founded in 2014 in memory of Isi Metzstein (1928 – 2012), partner of the Glasgow practice of Gillespie Kidd and Coia, Professor of Architecture at the University of Edinburgh and Treasurer of the RSA. The proposition was simple: to bring to Scotland the world's best architects and thinkers and to invite them to give a discourse. Isi Metzstein was not just a remarkable architect and teacher he was perhaps for generations of students and architects who knew him above all an astonishing polemicist. Isi believed that architecture was its own discipline and subject to a logical and penetrating analysis. The inaugural Discourse in 2014 was Alvaro Siza from Portugal, followed in 2015 by Glenn Murcutt from Australia and in 2016, Peter Zumthor from Switzerland.
The RSA is indebted to the continuing support of the Scottish Governement.
The Royal Scottish Academy of Art and Architecture
Lines of Thought, The Lighthouse, Glasgow
18 Aug 2017 – 1 Oct 2017
Gallery One, The Lighthouse
'Lines of Thought' is an exhibition about architectural drawing and representation centring on the work of renowned architect Alexander Thomson. Curated and organised by the Alexander Thomson Society it celebrates the bicentenary of Thomson's birth through a selection of original drawings and those of others who have later recorded or interpreted his work in a range of media including pen and ink measured studies, detailed digital renderings, precision models, journals, sketches, film and the more abstract work of artists.
The intention is to reveal the industrious, creative as well as the more complex side of the architect, his prolific imagination and uniquely creative architectural contribution to the architecture of the city of Glasgow and the Clyde estuary.
For full details see Lines of Thought Exhibition at The Lighthouse
Day Conference and Evening Cultural Celebration: Patrick Geddes:'spirit-in-action'
23 Sep 2017
Speakers and Facilitators: Petra Biberbach, Lord Charles Bruce, Russell Clegg, Prof Bashabi Fraser, Dr Tom Kane, Roger Kelly, Prof Murdo Macdonald, Mike Small and Dr Ian Wight.
Venue: Sanctuary, Augustine United Church, 41 George IV Bridge, Edinburgh,
EH1 1EL.
Date: Saturday 23 September 2017.
Time: Registration: 9.30am-10am. Day Conference: 10am-5.15pm.
Registration: 6.30pm-7pm. Evening Cultural Celebration: 7pm-9pm.
Event Description: This Day Conference and Evening Cultural Celebration will look at issues associated with Patrick Geddes, 'spirit-in-action', 'the place of spirit in his own work'. and 'the nature' of his 'spirit-at-work'. What is still to be learned, from Geddes then, for our work in the world today? Framed as 'a learning journey' or as 'an inspiration inquiry'… traversing 'the world without' and 'the world within'…, and the evening event will celebrate writings and creativity associated with the theme.
http://www.eicsp.org/events/event-details/474-day-conference-and-evening-cultural-celebration-patrick-geddes-spirit-in-action-23-september-2017
Rest and Be Thankful Heritage Project, The Lighthouse, Glasgow
22 Jul – 17 Sep 2017
Level Two, The Lighthouse
The Rest and be Thankful is known throughout the motorsport world as a venue of international significance. This famous road is located just off the A83 in the south of Argyll and Bute, a road that connects the western shore of Loch Lomond, to Campbeltown at the southern end of the Kintyre peninsula.
Rest and Be Thankful Heritage Project design by KennedyTwaddle Architects: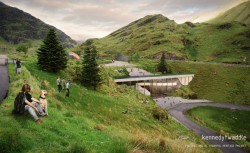 image courtesy of architects
KennedyTwaddle Architects has designed an iconic multi-purpose building that will celebrate Scottish motorsports heritage. The aim is for it to be a destination building housing a permanent exhibition and education centre, whilst also providing an events space and multi-use facilities available to local businesses. Sitting within the majestic landscape, the form of the building has been inspired by the surroundings while remaining sympathetic to its context. A subtle design, quiet but visually exciting, it focuses on accentuating the natural amphitheatre of the valley by framing the views south.
This exhibition demonstrates the full potential of the project and the creative ambition of all involved.
IAA – Sketch-i-ness Event, Inverness
16 Sep 2017
Date: 16th Spetmber
Time: 10.00
Venue: Inverness Museum
Cost: free
The IAA are pleased to be holding Sketch-i-ness 2017. This is a one day event to celebrate Festival of Architecture 2017 and is open to all ages and abilities. Picking up a sketchbook and pen is a great way to appreciate urban architecture – please come and join them on their sketching tour through Inverness. They will even supply the pens and paper.
Specifi FREE Design Event in Edinburgh
12 Sep 2017
Where?
The Assembly Rooms
54 George St, Edinburgh,
EH2 2LR
When?
Tuesday 12th September 2017
4.30pm–10pm
1. MEET: Alastair Parvin, founder of WikiHouse and TED speaker
2. CONNECT: with over 100 fellow professionals and 25 major brands
3. EAT & DRINK:
FREE 3-course dinner + FREE bar
ECAN Building Visit and CPD Session
23 Aug 2017
Date: 23 August
Time: 1.00 – 5.00pm
Venue: Sunnyside Studio, Heriot EH38 5YE
Cost: Free for members, non-members £5, Students £2
ECAN is inviting you to join their visit to Straw Bale Studio at Sunnyside. The afternoon will include a presentation about materials and techniques of construction here and in other projects, discussions on regulations and control, with particular reference to the July 1 change to the Building Regulations introducing a new building type 23A for "detached single-storey buildings used for shelter or sleeping in connection with recreation" and the forthcoming Good Practice Guide to Hut Building. You will also see a demonstration of the Energy Calculation Software.
Website: http://www.ecan-architects.com/index.php
Conference: Traditional Buildings – Fit for Energy Efficiency?
11 Aug 2017
Date: 11 August
Time: 9.00am – 4.00pm
Venue: Fort George, Ardersier, Inverness, IV2 7TD
Cost: individual bookings £95, group booking £75
The event will focus on the challenges and some potential solutions when retrofitting energy efficient improvements into traditional buildings. There will also be exhibitors present, demonstrating some of the materials and service solutions available to practitioners. The event will be hosted by Historic Environment Scotland.
The venue is the parade square of the South Barrack Block within Fort George, whilst all presenter and exhibitor areas are under cover please dress appropriately for whatever weather a scottish summer day might offer!
Confirmed Speakers:
– Professor John Edwards, MA, Dip Bldg Cons, BCAS, CEnv, FCIOB, FRICS, IHBC – Edwards Hart Ltd – Making Older Buildings Energy Efficient – The Essentials.
– Roger Curtis – Historic Environment Scotland Conservation Group – HES research findings on energy efficiency improvements to traditional buildings.
– Chris Morgan & Barbara Lantsher – John Gilbert Architects Ltd
– Tony Barnard Grad Dipl Bldg Cons AA, BREEAM Associate – HOK – Case Studies: British Museum and Palace of Westminster
– Professor Stuart MacPherson, Irons Foulner Consulting Engineers – Low Energy Technology for Sustainable Traditional Buildings: What works……and what doesn't.
For more information and booking: https://www.eventbrite.co.uk/e/traditional-buildings-fit-for-energy-efficiency-tickets-34910580486?aff=es2
Scottish Heritage Angel Awards 2017 – Call for Nominations
Entry Deadline: 11 Aug 2017
Nominations have opened for the third Scottish Heritage Angels Awards in a bid to find those groups and individuals – or 'Angels' – who have played a special part in caring for, recording and celebrating the nation's historic environment.
This year, a brand new set of categories have been introduced for the Scottish Heritage Angel Awards. They are:
* Best Rescue of a Historic Building
* Best Contribution to a Heritage Project by Young People
* Best Craftsperson or Apprentice on a Heritage Rescue or Repair Project
* Best Rescue, Recording or Interpretation of a Historic Place
Launched in 2014 and funded by the Andrew Lloyd Webber Foundation (ALWF), and run by the Scottish Civic Trust in partnership with Historic Environment Scotland, Archaeology Scotland and the Scottish Government, the scheme seeks to celebrate both groups and individuals who have gone above and beyond in their efforts to promote, protect and, in many cases, rescue Scotland's heritage.
Nominations will close on Friday 11th August. For full details see Scottish Heritage Angel Awards 2017
How to win work through innovative design?
26 Jul
Free half day conference
Date: 26 July
Time: 13:45 to 17:00
Venue: RIAS HQ, 15 Rutland Square, Edinburgh, EH1 2BE
Cost: Free
Often seen as an issue only for contractors, in reality early design decisions have a big impact on the volume of construction waste created within a project. This event, run by Resource Efficient Scotland in association with RIAS will outline how designers can make bids stand out through use of resource efficient design practices. The event will include guest speaker Gill Scampton from Pedder and Scampton Architects, winner of the RIAS Zero Waste Scotland Resource Efficiency Award 2017.
Refreshments included.
Booking at: https://www.eventbrite.co.uk/e/how-to-win-work-through-innovative-design-tickets-35379815982
Alexander 'Greek' Thomson Bi-Centenary Travelling Scholarship 2017
Entry Deadline: 1 Aug 2017
The Alexander Thomson Society and the Glasgow Institute of Architects are inviting architects and students below the age of thirty to submit a persuasive essay on the theme of legacy.
THEME: "LEGACY"
Architecture has the unique opportunity to have an active dialogue through time. Reacting to what has come before, responding to the present and place-making to facilitate life in the future. As such, the discipline is intimately concerned with the idea of 'legacy.' Whether by a movement, a culture, a person, or a mark on a page, we are informed by that which precedes us. We tap in to an eternity of resources which, in turn, inform what we leave our successors.
What will speak for you long after you are gone?
Deadline 1 August 2017.
A sum of £1000 will be awarded to a single winning entrant at the discretion of the judges. The winner will also have their entry published and will be invited to speak about their submission at the GIA's 'paper_CUT' event in September 2017.
For more information and to enter:
Alexander 'Greek' Thomson Bi-Centenary Travelling Scholarship 2017
UoE – Architecture and Urban Design Summer Programme/strong> with Dr Dorian Wiszniewski<
Date: 3 July 2017 to 21 July 2017
Venue: University of Edinburgh
Cost: £1,725
Providing an introduction to postgraduate study in architecture, this three week studio-based design programme gives you the opportunity to explore and experiment with contemporary architectural and urban design.
The design project will require you to develop an understanding of the range of scales between people, buildings, city and metropolitan landscape, combining creative fieldwork with interpretive historical paradigmatic research and design. You will have the chance to develop your techniques in creative fieldwork, using specific artefacts and sites of study to assess the context of the design project and the relevant spatial interventions and urban design principles.
This course is ideal for students with a background in architecture or urban design who are considering postgraduate study.
BIM – What Software or Technology do I use?
19 Jul
Date: 19 July
Time: 9.00am
Venue: Construction Scotland Innovation Centre, 3 Watt Place, Hamilton International Technology Park, Blantyre, G72 0AG
Cost: £25
Brought to you by CSIC and Digital Guerrilla, this five part series of breakfast briefings contains all you need to know regarding how to plan for and implement BIM in your construction-related business. The next session will take place on 29 July.
This presentation will give attendees a guide to developing a technology road map for implementing BIM:
– What software should I choose?
– How much will all this technology cost me?
– Who do I get to do the training and who will support us?
– Develop your technology road map
– Getting senior management buy-in
– 15 mins Q&A/wrap up
Intended Participants: Senior management, Directors (IT), decision makers ,as well as those responsible for BIM in their organisation.
https://www.eventbrite.co.uk/e/bim-breakfast-briefings-2017-tickets-33669717030
2020 Visions
Entry deadline was 10 Jul 2017
'100 Best'- Scotland's 100 Houses and Housing Developments 2000-2020
As part of the festival of Architecture 2017 the Incorporation is producing a glossy 240+p.p. publication which will be distributed throughout Scotland. With a RRP of £25 this publication will be an important marker of the very best of contemporary architect designed housing in Scotland. It will be distributed to leading developers, businesses, politician and opinion formers to influence the design of housing in Scotland in years to come.
The publication will feature 100 'one off' houses or housing developments in Scotland since 2000. An exhibition will showcase the winning entries alongside the publication.
Architecture practices will be invited to submit their schemes with a deadline of 10 July 2017.
A&DS and RIAS Scottish Student Awards Event
13 Jul
The Architecture and Design Scotland (A&DS) and the Royal Incorporation of Architects in Scotland (RIAS) Scottish Student Awards for Architecture showcase and celebrate the best of Scotland's emerging talent.
The event takes place on13th July at Cafe Camino in Edinburgh, with presentations from this years nominated students.
In 2017, for the first time, judging will take place at a public event where each of the 15 students will have 5 minutes to present their own work to the judging panel and audience.
The 2017 Andy MacMillan Memorial Lecture will be given by guest judge Sunand Prasad PPRIBA Hon FRIAS of Penoyre Prasad and will focus on his recent work and architectural philosophy.
Thu 13 July 2017 14:00 – 19:30 BST
Café Camino, 1 Little King Street, Edinburgh EH1 3JR
Chiff-Chaff
14.00 – 14.10: Student Registration and Guest Arrival
14.10 – 14.15: Welcome
14.15 – 14.40: Best 3rd Year presentations
14.40 – 15.00: Guest Presentation
Break
15.15 – 15.40: Urban Design Presentations
15.40 – 16.00: Guest Presentation
Break
16.15 – 16.40: Best 5th year Presentations
16.40 – 17.00: Guest Presentation
Andy MacMillan Memorial Lecture
17.30 – 18.00: Wine Reception
18.00 – 18.40: Andy MacMillan Memorial Lecture by Sunand Prasad PPRIBA Hon FRIAS
18.40 – 19.00: Q and A
Prize Giving
19.00 – 19.30: Prize Giving
For more information and booking:
A&DS and RIAS Scottish Student Awards 2017
Read more at Scottish Architecture News for 2017
SEDA Conference & AGM 2017 – Conservation / Restoration / Retrofit
Date: 23-24 June
Venue: The Engine Shed, Forthside Way, Stirling FK8 2BY
This year SEDA will head to The Engine Shed in Stirling – Scotland's new building conservation centre. Inspired by the venue, this year's theme is Conservation / Restoration / Retrofit.
FRIDAY
Presentation will include:
• The Pagoda in Kew Gardens
• Glasgow School of Art's restoration
• Hab-lab research
• Enerphit project
and some turf and mud heritage from Iceland and Scotland. There will also be a a building tour, lunch, tea/coffee and biscuits too!
SATURDAY
In the morning SEDA will hold their AGM, which will include some interesting SEDA updates including SEDABuild School, The 100 Sustainable Scottish Buildings book and the KJ Awards. Includes lunch, tea/coffee and biscuits.
In the afternoon, you can choose from two exciting activities – a photography competition and a cycling tour of Stirlingshire (its possible to do both).
For more information and booking:
SEDA Conference & AGM 2017 – Conservation / Restoration / Retrofit
RIAS Awards Dinner 2017
14th June – Murrayfield Stadium, Edinburgh
Bookings being taken for this year's RIAS Awards Dinner 2017 on 14th June at Murrayfield Stadium, Edinburgh.
This prestigious, black tie, event, presented by Scottish Television's Political Editor, Bernard Ponsonby, will include the presentation of this year's RIAS Awards (which will become the shortlist for Doolan 2017), the announcement of the RIBA Awards for Scotland and the presentation of the Forestry Commission Scotland/Wood for Good, Historic Environment Scotland, Saint-Gobain (Emerging Architect), Scottish Government (Client of the Year) and Zero Waste Scotland special
category awards.
This year's Awards Dinner is generously sponsored by GEZE, Hadden Construction, Nevin of Edinburgh and Tobermore.
Comments for the Edinburgh Architecture Events 2017 page welcome