Edinburgh Architecture News 2017, Lothian Buildings, Architects, Images, Design Scotland
Edinburgh Building News 2017
Scottish Architectural + Construction Updates – East of Scotland Property Design Information
Edinburgh Architecture News in 2017
New Boroughmuir High School Building
29 Dec 2017 – "Surrounding the full height open-plan atrium are a number of "break-out" spaces allowing pupils of all ages to socialise, study or hold meetings together", reports the Edinburgh Evening News. "So called "pods" in the canteen area will also give the pupils a chance to cut down on lengthy lunchtime queues to spend more time together. Teachers and pupils will also be able to take advantage of expansive city views in a specially created "growing lab" on the roof."
Read more at: New Boroughmuir High School Building
Murchison House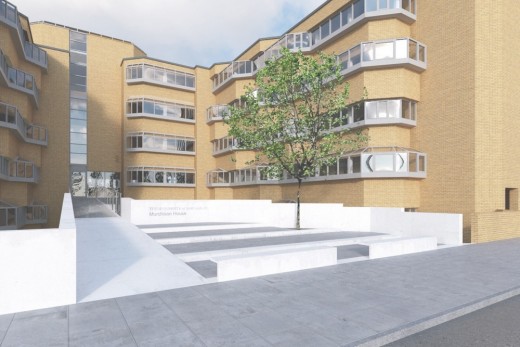 image courtesy of architects office
20 Dec – The University of Edinburgh has begun refurbishment of the B-listed Murchison House, former home of the British Geological Survey, within its King's Buildings campus, reports Urban Realm. The refurbishment is designed by Reiach & Hall Architects. The £7.7m scheme by contractors Kier Construction is due to complete by September 2018.
RIAS Future Direction
From the RIAS: "Our announcement to you on the 14th December provided an outline of how the RIAS was intending to proceed with its governance review. The following provides further details -December Update-about the programme we are working to, the arrangements that will be put in place and the areas of business that will be the focus. Further updates and details will be circulated as they emerge in the New Year."
Scottish Government working group is latest stage in SELECT campaign for official recognition
19 Dec – An influential working group has been established in the Scottish Government to look into "Protection of Title" for professional electricians and to create "an inhospitable environment" for untrained traders posing as qualified tradesmen.
The creation of the group is the latest stage in a concerted campaign by SELECT, the trade body for the electrotechnical trade in Scotland, for official recognition of qualified electricians in the interests of public safety.
Citizens Theatre Renovation Grant
18 Dec – Grant of £4.8m from the Heritage Lottery Fund (HLF) for transformational renovation and expansion of Glasgow's Citizens Theatre by Bennetts Associates, architects: refurbishing the historic auditorium whilst sweeping away later piecemeal additions to allow a wraparound new build structure.
Royal Incorporation of Architects in Scotland Announcement and Update
16 Dec – At their meeting last week, RIAS Council discussed the findings of the review of the RIAS governance, the vacancy resulting from the Secretary and Treasurer's departure last month, the election of the President and the next steps toward establishing a new RIAS Strategy (2018-23).
As a matter of priority for the Incorporation, RIAS Council has agreed to advertise for a new Chief Executive and has appointed Karen Stevenson, current Director of Policy and Development, in an acting role. Neil Baxter is working his notice period and has agreed the terms of his departure at the end of January. He no longer has any involvement in the day to day running of the Incorporation.
The VELUX Roof Window Award
16 Dec – VELUX announce the VELUX Roof Window Award, their newest design award competition, in collaboration with the Royal Incorporation of Architects in Scotland (RIAS).
The passion VELUX has for daylight, fresh air and better living environments has led them to consider the innovative vision of designers in Scotland. The VELUX Roof Window Award is an exciting competition that wishes to seek out and reward inventive and modern designs that use any VELUX roof window products.
Dumfries & Galloway Hospital Building Opens
13 Dec – The new £212m Dumfries and Galloway Hospital opens. The 344-bed new build facility was built using the off-site construction method DfMA (Design for Manufacture and Assembly).
Scottish War Blinded Hawkhead, Paisley Healthcare
11 Dec – £17 m project: 100 military veterans have already signed up to use the facility:
Scottish War Blinded Hawkhead by Page \ Park Architects.
A new vision for Edinburgh's George Street
8 Dec – Consultants WYG and LDA Design have been appointed by The City of Edinburgh Council to draw up a long-term vision for George Street, one of the Scottish capital's principal shopping streets.
The plans will aim to improve accessibility, ensuring George Street meets the needs of residents now and in the future. This will be achieved by establishing a better balance between people and cars, creating designated space for cyclists, clearing street clutter to improve the pedestrian experience and enhance the city's growing café culture.
Edinburgh George Street Vision
Transforming Planning in Scotland
5 Dec – Legislation to encourage development and improve community engagement.
New legislation to simplify and improve the planning system has been set out by Local Government Minister Kevin Stewart.
Mr Stewart described how the Planning (Scotland) Bill, will create a new structure for a more proactive and enabling system with clearer development plans, earlier engagement with communities, streamlined procedures and smarter resourcing.
Read in full on the Glasgow Architecture website news page.
Major Glenrothes Regeneration News
5 Dec – Advance Construction has submitted plans for a major regeneration project, which will transform the historic Tullis Russell Paper Mill site in Fife.
The Bellshill-based company, who specialise in large-scale groundworks and civil engineering, is proposing circa 850 much-needed homes as well as retail and leisure facilities, employment, business space, industrial units and a new care home.
The Proposal of Application Notice to Fife Council also outlines plans for two public consultation events in December to give members of the public a first look at the plans.
Scottish Planning Bill
5 Dec – Sarah Baillie, Planning Partner at international law firm, Addleshaw Goddard, shares her views on the introduction of the Planning Bill into the Scottish Parliament today.
Sarah said: "We are pleased to see the continued commitment to improving the planning system and the introduction of Planning Bill into the Scottish Parliament today. Scotland's economy needs a flexible, positive and effective planning system, and whilst much work has been undertaken since 2015, we expect that significant questions will be raised during the progress of the Bill. Much information is also still required on the specifics of implementation of new legal and policy mechanisms, even if the Bill does go through.
"The challenge of delivering both more, and good quality housing, and the approach to infrastructure provision is far from resolved – it can't be left to just the planning system to resolve. Also, if there really is to be a step change from that of a regulator, to a positive and active enabler of good quality development and a shift from reacting to proactively supporting investment and development proposals, then there needs to be a significant cultural change and the Bill alone won't provide that.
"Local planning authorities need to be adequately resourced in both financial and human terms, and, having graduated with a planning degree, it stems from the grassroots up starting with Scottish universities creating courses that attracts students to continued and adequate professional development and support for the planning profession, to ring-fencing planning application fees for the planning department.
"A bill committee will now be formed to take evidence and make recommendations and this will provide a real opportunity to participate in the bill's legislative scrutiny. We would actively encourage the property industry, planners and other key stakeholders to fully engage, share their innovative ideas, views and opinions with any calls for evidence by the Scottish Parliament."
Sarah Baillie is Partner with international law firm Addleshaw Goddard LLP. She leads the planning team in Scotland and is the only solicitor to be dual qualified as both a Law Society of Scotland Accredited Specialist in Planning Law and a Chartered Town Planner retaining membership of the Royal Town Planning Institute.
Student Projects at Dundee School of Architecture
4 Dec – e-architect follow architectural student Sean Noon through his latest project designs:
see e-architect's page on Dundee School of Architecture Student Projects
Edinburgh Futures Institute Building
29 Nov – Edinburgh's former Royal Infirmary Surgical Hospital, a category-A listed building at the heart of the Quartermile development, has received detailed planning permission to become a major new facility for the University of Edinburgh. The design is by Bennetts Associates.
Market Street Hotel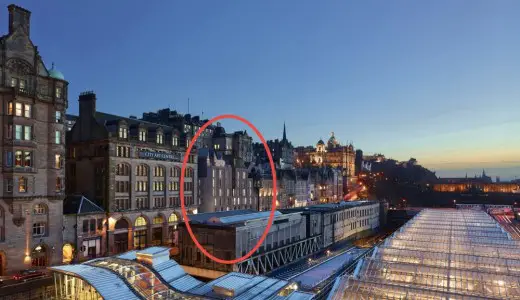 image courtesy of architects
24 Nov – Work on £20m boutique hotel for Edinburgh Old Town gap site reaches 'topping out' milestone. Work on building a new £20m hotel on a well-known gap site in Edinburgh's historic Old Town has reached a crucial milestone with the building reaching its highest point.
Market Street Hotel building news
Builders vow to ensure Scots not left behind following Budget for housing
24 + 22 Nov – With the Chancellor today announcing a raft of measures aimed at significantly increasing levels of home building and "reviving the British dream of home ownership", Scotland's home building industry vowed to continue to hold the Scottish Government to account to ensure those living north of the border were not left behind.
Queen Margaret Academy Building News
22 Nov – Plans to build a new Queen Margaret Academy in Ayr are a step closer with the official contracts now signed after reaching financial close.
Royal Incorporation of Architects in Scotland Special Notice
17 Nov – The Royal Incorporation has agreed to the request from the Secretary, Neil Baxter Hon FRIAS Hon FRIBA, to leave the organisation after ten years of service.
Neil will be standing down as of today and the senior management team at the RIAS will continue to deal with all matters relating to the business of the Incorporation.
18 Nov – Comment added by architect Alan Dunlop.
Comments welcome, send to info(at)edinburgharchitecture.co.uk
SELECT welcomes building standards review and calls for mandatory use of approved certifier schemes
15 Nov – The Scottish Government should seize the chance of a new review into building standards to make sure that its own approved certifier schemes become mandatory across the construction industry.
That was the view last night (Nov 14, 2017) of SELECT, the campaigning body for the electrotechnical trade in Scotland as it responded to the Review Panel on Building Standards (Compliance and Enforcement).
The New Tenement – Residences in the Inner City Since 1970 by Florian Urban
14 Nov – A publication on the new tenement by Florian Urban, Professor and Head of Architectural History and Urban Studies at the Mackintosh School of Architecture at the GSA, has been issued by Routledge.
Park Quadrant Buildings
14 Nov – Expresso Property has announced that on-site works are now underway at Park Quadrant, a 98 apartment luxury development in Glasgow's West End.
Designed by architects Holmes Miller, Park Quadrant will complete the vision of the architect Charles Wilson's concentric ringed design of a 19th century masterplan of the area. Building will complete in 2020 and will support up to 500 construction jobs in the City.
A New Chapter – Scottish Architects
Open letter, from A New Chapter to President Stewart Henderson of the RIAS
"A New Chapter is a loose (and growing) association of over 150 Scottish architects: many RIAS members, but all concerned at what they see as a lack of effectiveness, poor governance and insufficient financial accountability in Scottish architecture's professional body."
United Nations accolade for Glasgow Urban Lab
8 Nov – Glasgow Urban Lab designated United Nations Charter Centre of Excellence. The GSA will now collaborate internationally on activities to promote UN policies for sustainable Housing and Urban Development in the 21st century. The GSA's innovation skills and research capability will be a great asset to the UNECE network going forward.
English Project by Keppie Design
8 Nov – Scotland's Keppie Design unveil visionary proposals for a Learning Campus at Thamesmead in East London:
The Place & Making Institute.
3DReid converts vacant floors to office space in prestigious Edinburgh location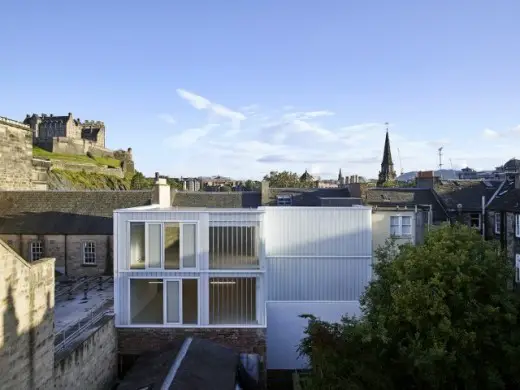 photo : David Cadzow, Cadzow / Pelosi
31 Oct – Architecture practice 3DReid has completed a sensitive £2.0 m conversion of three of the few remaining original Princes Street townhouses to office use. By converting the vacant upper storeys of the B-listed buildings and adding a contemporary extension, 3DReid has created 15,810sqft (Gross Internal Area) of light and practical quality office space for client and developer Hazledene House Limited.
132 Princes Street Offices in Edinburgh
National Marine Centre in North Berwick Building News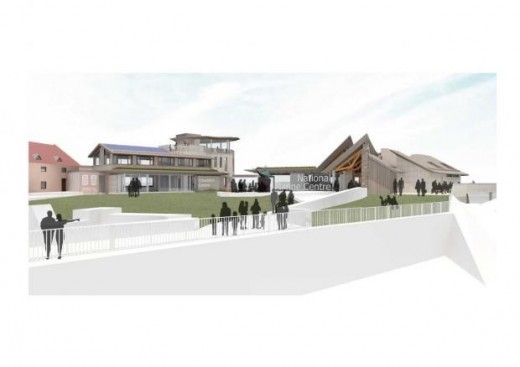 image courtesy of architects office
31 Oct – A petition signed by nearly 3,000 people against the development of a proposed National Marine Centre in North Berwick has been handed to East Lothian Council, according to the East Lothian Courier:
Scottish Seabird Centre North Berwick
EAA Award Winners – A Showcase of the Best
When: 1 Nov 6.00pm – 7.30pm
Where: The University of Edinburgh, LG.09 David Hume Tower, George Square
Cost: £10 Members, £15 Non-Members, £5 Concession, Students free
Introduced by Edinburgh Architectural Association President, and 2017 EAA Awards Judge, Julie Wilson, the EAA has brought together architects from four different design practices to talk about their 2017 award-winning projects.
More details on our architecture events page.
New device will shatter current earthquake-proofing practice
25 Oct – Engineers at Heriot-Watt University have designed a 'sacrificial device' for buildings that will absorb the impact of earthquakes or blasts, preventing collapse and reducing the damage and residual drifts that can render buildings uninhabitable.
Current European 'earthquake-proof' buildings were designed to prevent collapse in the event of a strong earthquake. However, they do not prevent extensive damage that is difficult to repair, or residual drifts. If buildings experience one or both of these factors, the cost of repairs can become prohibitive, and demolition may be the only viable option.
Dr George Vasdravellis, assistant professor in structural engineering at Heriot-Watt University in Edinburgh, has used experimental testing and computer simulations to prove that his new system minimises the damage caused to buildings up to 10 storeys high in an area of high seismicity, with one in 475-year seismic events.
Now, he and his team are adapting the design for taller buildings to ensure that the novel, minimal-damage steel frame will address the disadvantages of conventional building design.
Dr Vasdravellis said: "The non-repairable damage and residual deformations that conventionally-designed buildings experience after a seismic event represent a severe socio-economic loss. We need new methods of resilience to tackle this issue.
"We have developed an innovative steel frame that could achieve high seismic resilience, structural and non-structural damage control, and minimise residual deformations.
"The system makes use of 'sacrificial devices' made of stainless steel material. The devices are placed strategically in the structure, so that they are the only damaged components during earthquake loading.
"In the aftermath of a strong seismic event, they can be easily replaced with new ones, so that the building can return to its usual occupation very quickly.
"The inherent properties of stainless steel results in the significant reduction of the residual drifts after a strong earthquake.
"Through experimental testing and numerical simulations, we found that our system had negligible residual drifts under loading corresponding to the 'design earthquake', compared to conventional building designs, which experienced drifts that were four to five times larger.
The ability to retrofit the device and make it commercially viable for architects and construction firms is at the forefront of Dr Vasdravellis's mind.
"In Greece and Italy, we've watched new areas become seismic, where previously there had been little activity. We must also consider, unfortunately, the impact of explosions or other attacks on buildings that could impose extreme loading conditions.
"The sacrificial devices will mitigate progressive collapse due to explosions, or other extreme events, that result in the loss of one or more columns in the building. Therefore, we are further developing the system for multi-hazard mitigation."
"It is not enough to 'earthquake-proof' new buildings; we need simple, effective devices like this that can protect our existing built environment and heritage, minimising damage and costs in the event of a seismic event or blast."
Dr Vasdravellis was awarded £140,000 by the European Commission for the next stage of his research into earthquake engineering.
Barton Willmore Edinburgh Practice News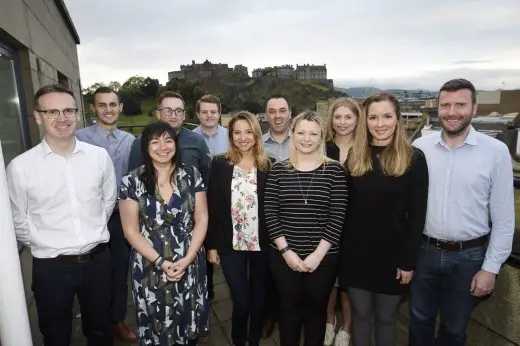 23 Oct – Barton Willmore has bolstered its architecture team with nine new recruits as it continues with ambitious growth plans in Scotland.
The professional services firm, which spans all aspects of planning, master planning and design, is investing in its architecture division following a number of high profile contract wins:
Barton Willmore Edinburgh Office News
Shaker Kitchen in Edinburgh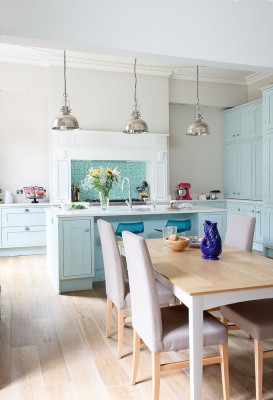 photo by Kitchens International
16 Oct – The owners of this Georgian apartment in Edinburgh had lived with a compact kitchen for 20 years before they decided to renovate. They called on local architect Lorn Macneal to plan for knocking two rooms together to make one big space, and employed Kitchens International to create the kitchen of their dreams:
Shaker Kitchen in Edinburgh
Queensferry Crossing – New Forth Road Bridge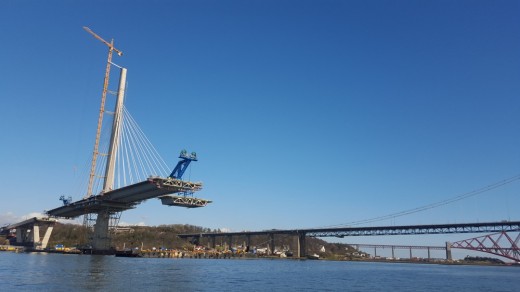 photo : Transport for Scotland
9 Oct – The structure is the longest three-tower, cable-stayed bridge in the world and also the largest to feature cables which cross mid-span:
Queensferry Crossing
Homes for Scotland appoints Ken Gillespie as Chair
9 Oct – Homes for Scotland (HFS) today announced the appointment of Ken Gillespie as Chair on a three year term with immediate effect.
A key figure in the UK construction and home building industries with over 33 years' experience, Gillespie has been responsible for the development and delivery of residential, commercial and infrastructure schemes both nationally and overseas. Most recently he was Chief Operating Officer of FTSE 250 company Galliford Try where he oversaw revenues of more than £2 billion before he stood down from the Board in 2016.
HFS Chief Executive Nicola Barclay said:
"This is a significant appointment for us. Ken's work consulting with a wide range of stakeholders, together with his knowledge and understanding of what is required to deliver complex projects (such as the Queensferry Crossing) within our communities, brings a new dimension and perspective to our organisation.
"Very much a facilitator and solutions-focused, his expertise will guide us forward as we look to increase our collaboration with those who can generate the change that is required to support the building of more homes, including government at all levels."
Hazelwood School Building News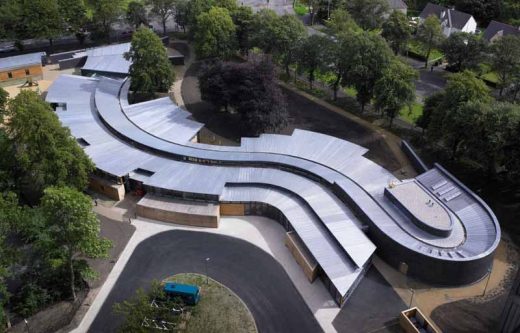 photograph : Andrew Lee
4 Oct – The Hazelwood School Building, Glasgow was today included among an international list of "Inspiring Innovations in Education" 100 Global Inspiring Innovations of 2017 by HundrED.
Work begins on multimillion pound Green Infrastructure projects
4 Oct 2017 – Close to £20 million will be spent transforming urban green spaces, says Scottish Natural Heritage.
Oliver Chapman Architects : 20 Years 20 Projects
Event coming up in November, by invitation only
Scottish Natural Heritage Announces Social Housing Research
2 Oct – On World Habitat Day, Scottish Natural Heritage announces recently commissioned research into the opportunities for green infrastructure within housing projects.
Everyone in Scotland should be able to access nature on their doorstep, according to new SNH Chief Executive Francesca Osowska. As part of a wider drive to encourage greater access to green spaces, SNH has commissioned research into the opportunities to provide social housing projects with green infrastructure.
The theme for the United Nations' World Habitat Day, October 2 2017, is Housing Policies: Affordable Homes. SNH's ambition is that everyone should have easy access to good quality greenspace and opportunities to experience nature close to where they live, which supports the national indicator on access to local greenspace.
Support for Scottish Housing
28 Sep – The Scottish Housing Minister today announced £90k to support pilot projects to assist people wanting to build their own homes with a new Challenge Fund.
Speaking at the closing event of the Festival of Architecture in Edinburgh on Thursday, Mr Stewart will confirm the new fund will be open for applications by the end of October.
Kevin Stewart said:
"I am delighted to be part of this month-long celebration of Scottish Architecture, its legacy and in particular, this year's special Festival of Architecture theme, our homes. The Festival, running alongside Scottish Civic Trust's Doors Open Days, has shown that people across the country can be more confident about engaging with architecture and all aspects of the design of our public spaces. With more than 50 events there has been something for everyone, whether hands on experiences, participation, purely entertainment, challenging or educational.
"The new Challenge Fund I am announcing today will also help those with ambitions to create their own homes, encouraging and supporting them to make bold decisions based on their needs and circumstances. Good quality, inspirational housing can have an impact on almost every aspect of our lives, it provides security and comfort and a place to raise our families. This fund will give people greater choice in how they live.
"Today we are also publishing new guidance on Building to Rent as a result of partnership with building industries. We want to encourage this growing sector which provides high-quality, professionally-managed homes and support our local authorities to deliver for communities across the country."
Justice Centre Building News


image courtesy of architects firm
Scottish Justice Centre Building design by Edinburgh architects office Reiach and Hall.
Work set to start after Highland Council gives updated design approval. Preparations to build Scotland's first purpose-built Justice Centre in Inverness have taken another step forward after Highland Council approved the improved design.
Port Glasgow Building
19 Sep – new 40,000 sqft Marks and Spencer store designed by LK2 Architects opened in Port Glasgow.
Scottish Government Housing Complacency?
13 Sep 2017 – Scotland's home building industry is urging the Scottish Government to guard against complacency over housing as new statistics show a marginal increase of just 251 homes (one per cent) completed in 2016-17 compared to the year previous.
Tour a Georgian Villa Kitchen in Edinburgh
12 Sep – With a blank canvas in place, the kitchen needed to tick many boxes. It had to be both a practical and social hub for cooking, eating and relaxing. In terms of style, the owners wanted a slick, modern silhouette that would look at home against a period backdrop, surrounded by feel-good neutrals, natural textures and a sprinkling of retro furniture. The builders suggested they head to local kitchen showroom Kitchens International, where they hooked up with designer Stuart Miller.
Georgian Villa Kitchen in Edinburgh
Pennywell Living Edinburgh Regeneration Project
12 Sep – Planning permission for the next phase of regeneration at thePennywell Living development has been submitted to the City of Edinburgh Council.
The application, from regeneration firm Urban Union and architects and town planners Barton Willmore, includes plans for 315 dwellings – comprising 175 flats and 140 houses.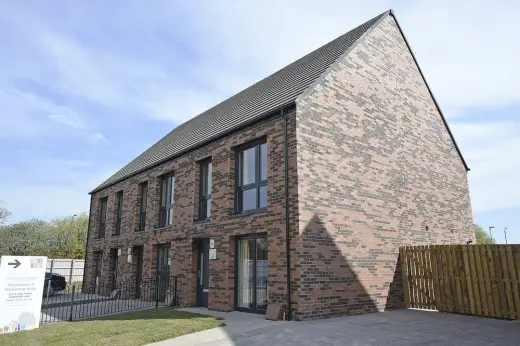 picture courtesy of architects
Pennywell Living Edinburgh Regeneration
Housing system that works for everyone key to tackling housing crisis, say home builders
5 Sep – With the First Minister renewing her mission to tackle homelessness and rough sleeping in today's Programme for Government announcement, the country's home building industry emphasised the fundamental importance of ensuring that Scotland has a housing system that works for everyone.
Doors Open Days Launched in Edinburgh
Doors Open Days 2017 launch on Friday 1st of September at the Botanic Cottage Edinburgh, Royal Botanic Garden Edinburgh: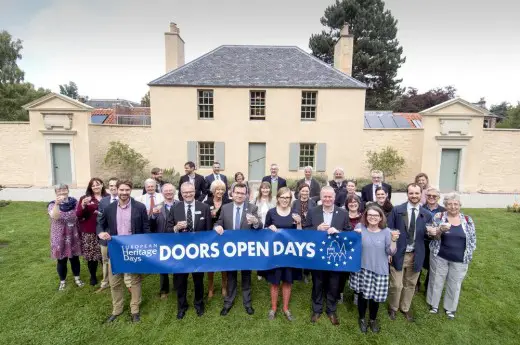 Home building boss wins CEO of the Year at the Scottish Women's Awards
1 Sep 2017 – The boss of trade body Homes for Scotland (HFS), Nicola Barclay, won CEO of the Year at the inaugural Scottish Women's Awards in Glasgow on Wednesday night.
Approaching her second year in post as Chief Executive, Nicola is focused on addressing Scotland's housing crisis by creating the conditions that are necessary for increasing the delivery of new homes.
Construction Industry Outlook
1 Sep 2017 – As the population of the UK inexorably increases, the most frequently employed stock response in political circles is to promise to build more houses. In Scotland alone, the Holyrood government has a target of 50,000 new affordable homes.
More information see the Glasgow Architecture News page.
Doors Open Days Launch
On Friday 1st September at 11.00 am the national Doors Open Days 2017 programme will be launched at the Botanic Cottage, Royal Botanic Garden Edinburgh.
All over Scotland, over 1000 buildings will be open and free to enter, many of them not normally open to the public and some opening for the first time. Castles, churches, mosques, museums, fire stations, offices, theatres and even a distillery are just some of the buildings taken part this year. Visit a pet hospital in Dundee, a police office in Aberdeen, a camera obscura in Dumfries, a reconstructed Iron-Age roundhouse in Whithorn, a smiddy in Stirling or a television studio in Glasgow – there is something for everyone! There are talks, tours, heritage trails and plenty more events for all ages. All the programmes can be found at www.doorsopendays.org.uk
The Mill Quarter, Perth
29 Aug 2017 – Expresso Property Ltd has announced that it has concluded missives on The Mill Quarter site, a brand new landmark mixed leisure scheme with residential apartments.
Located in the heart of City of Perth, The Mill Quarter will also offer immediate access to the City's main transport links as well as several bus routes and is within easy walking distance from its main retail and leisure zones.
York-based Expresso Property, is funded to purchase schemes ranging from £1m to £50m, and has various UK schemes underway, comprising three major Scottish projects including The Mill Quarter, Perth. Expresso Property in conjunction with its development partner Ambassador Developments (Park Quadrant) Ltd is developing Park Quadrant Residences, a 98 apartment luxury development in Glasgow's West End. Expresso Property has also been named as the preferred developer, by Scottish Enterprise, for a new mixed-use development at Pacific Quay.
Expresso Property is looking to acquire further commercial, residential, retail, development propositions and offices, from Bath and Bristol to Birmingham to include Nottingham, Sheffield, Manchester, York, Leeds and all major cities in Scotland.
CGI shows: The Mill Quarter is a new leisure hub with cinema, restaurants, parking and 58 residential apartments to be built in the heart of Perth by developer Expresso Property and will transform Perth's visitor destination offer.
For more information see our Scottish Architecture News page.
Mosaic acquires Glasgow's second oldest architecture practice
28 Aug – Mosaic Architecture + Design, one of Scotland's most experienced practices, has acquired Burnet Bell (Glasgow's second oldest architectural practice, dating back to 1878) for an undisclosed sum, boosting its staff numbers to 20.
The acquisition adds Glasgow School of Art, St. Aloysius' College and St. Columba's School amongst others to Mosaic's burgeoning client portfolio and enhances its offering of consultancy services, which includes architecture, interior design, masterplanning, to a range of sectors, such as education, residential care and hospitality.
Royal Scottish Academy Metzstein Architecture Discourse 2017
28 Aug – The RSA announce that celebrated British architect Sir David Chipperfield will present this year's event, on the 2nd of October. In an interview, which will be published and available at the event, Sir David talks about how he started, the problems that international investment creates in cities, and how to help people like modern architecture – more info on our events page.
Springfield Properties achieves highest-ever revenue with over £100m turnover
22 Aug – Elgin, Scotland; 22 August 2017, Springfield Properties, a leading housebuilder focused on Scotland offering private and affordable housing, announces its full year results for the year ended 31 May 2017.
Financial Highlights
• Revenue increased by 22% to £111m (2015/16: £90.8m)
• Blended gross margin was 15% (2015/16: 15%)
• Profit before tax increased by 31% to £6.7m (2015/16: £5.1m)
Operational Highlights
• Significant milestone achieved with 4,000th home built
• Increased completions by 25% with 620 new homes handed over
• Added to the land bank, which stands at 9,195 plots on 1 June 2017
Private Housing
• Built 437 homes during the year, a year-on-year increase of 10%
• Strategic focus remains on developing and building five Springfield Villages with a total of 10,000 homes:
o New homes, amenities and community areas completed in Dykes of Gray near Dundee with 48 homes sold during the year, bringing total completions to 56 out of a potential 1,500
o First of potentially 800 homes at Wisp, Edinburgh are under construction
o At Bertha Park in Perth, a site for 3,000 homes, progress made on construction of access road, with sales and construction due to commence in the next financial year
o Elgin South Village will deliver 2,500 homes to the area. Post-period, plans for the first 870 new homes, two new schools and the state-of-the-art Moray Sports Centre approved by Moray Council Planning Committee
o Land secured for fifth village at Durieshill near Stirling to provide between 2,500 and 3,000 homes
Affordable Housing
• Built 183 affordable homes, a year-on-year increase of 91%
• Accounted for over 4% of market share of all affordable homes built in Scotland
• Good progress with 202 social and mid-market rental homes project at Muirhouse, Edinburgh with a further 32 homes handed over during the year. On target to complete the remaining 48 homes in 2018
Sandy Adam, Executive Chairman of Springfield Properties, said: "I am pleased to report another year of strong growth, reaching the milestone of £100m revenue for the first time in our history. This has largely been due to the tremendous work carried out by each and every one of our 500 staff who have built high-quality and desirable affordable and private homes. We are also proud to have reached the key milestone of building our 4,000th home during the year.
"Looking ahead, we continue to drive controlled expansion, particularly with the affordable side of our business. Our target is to double turnover in affordable housing over the next two years. Significant progress was made in developing the five Springfield Villages and these will be the cornerstone of our future growth as we seek to deliver increasing numbers of homes."
Perth City Hall Competition
13 + 10 Aug – Mecanoo Architects have emerged as Perth & Kinross Council's preferred partner to bring forward a transformation of the historic Perth City Hall following an international design competition after winning the most support during a public engagement exercise.
Seeing off four other shortlisted teams Mecanoo will now be tasked with overhauling the current attraction and surrounding public realm to create a £20m museum.
GRAS Architects in London
Edinburgh's GRAS Architects have been awarded planning consent for a two-bedroom extension to an existing property on King Edward's Road, Hackney, to provide an extended living space and additional bedroom.
Submission of plans for 11 flats by LBA at Edinburgh's Gayfield Square. The design blends a contemporary design of natural stone within the New Town conservation area.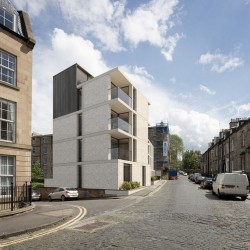 The 'ordered vertical design' will replace a row of unremarkable workshops which housed a car mechanics prior to conversion to an art gallery in 2000.
Specifi FREE Design Event in Edinburgh
Talk by Alastair Parvin, founder of WikiHouse and TED speaker followed by networking.
at The Assembly Rooms, 54 George St on Tuesday 12th September, 4.30pm–10pm
See our events page for more.
New Edinburgh Landmark Contest News
2 Aug – The L.A. design studio beat off competition from 125 teams from 22 countries to design the £25m project to revitalise West Princes Street Gardens.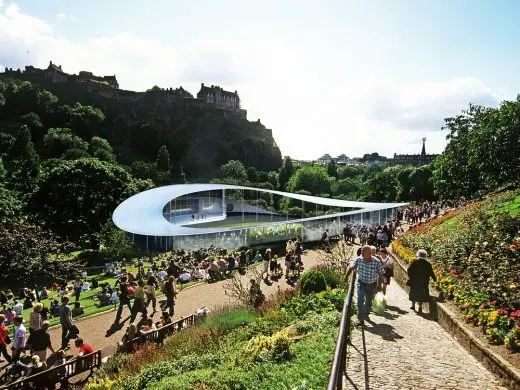 Ross Pavilion Design Competition Winner
Ross Pavilion Edinburgh Design Competition
Penicuik Regeneration Consultation Announced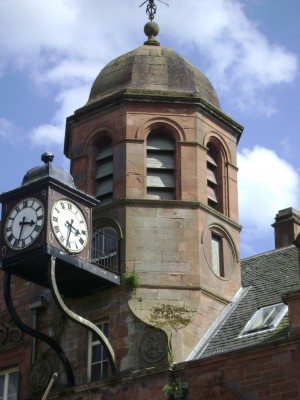 photo courtesy of architects
2 Aug – Consultants Douglas Wheeler Associates and architects Austin-Smith:Lord have been appointed by Midlothian Council to work with the people of Penicuik to draw up proposals for the heritage regeneration of the town:
Edinburgh Architecture News for Summer 2017
Cardoss Building One of Twelve Recipients of Getty Foundation's Keeping It Modern Grants
31 Jul – The Getty Foundation announced $1.66 million in architectural conservation grants dedicated to twelve significant 20th century buildings as part of its Keeping It Modern initiative.
Among this year's most recognizable projects is Germany's Bauhaus Building, the revered Dessau structure designed by architect Walter Gropius, who incorporated design features that would ultimately become synonymous with modern architecture around the world.
More info + photos added 1 Aug:
The twelve projects selected to receive funding this year represent the work of innovative architects who pushed the boundaries of design and construction materials, include a project by a Scottish architect and a Scottish building:
Coventry Cathedral, Coventry (architect: Sir Basil Spence)
St Peter's Seminary, Glasgow (architects: Andy MacMillan and Isi Metzstein of Gillespie, Kidd & Coia architectural practice)
Ripple Retreat in The Trossachs
22 Jul – Cundall is proud to be supporting the Edinburgh based charity 'It's good 2 give!' by helping build Ripple Retreat, their recently opened respite house for young people with cancer and their families.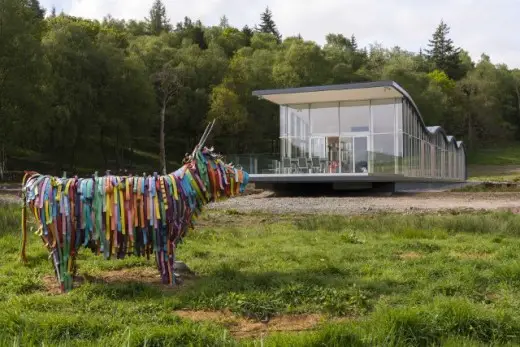 Cundall has supplied mechanical, electrical and sustainable engineering services in the construction of the beautifully serene £1million retreat on the southern bank of Loch Venachar, Callander.
Cundall undertook dynamic thermal modelling of the building to ascertain the potential thermal comfort performance of the spaces using natural ventilation via external window openings.
To aid the sustainability of the facility the heating and domestic hot water is provided from an Air Source Heat Pump utilising a reverse refrigeration cycle of condensation and evaporation of a liquid/gas, with an electric pump compressing the gas to create heat energy. Cold water is provided from a localised bore hole with water treatment plant within the building.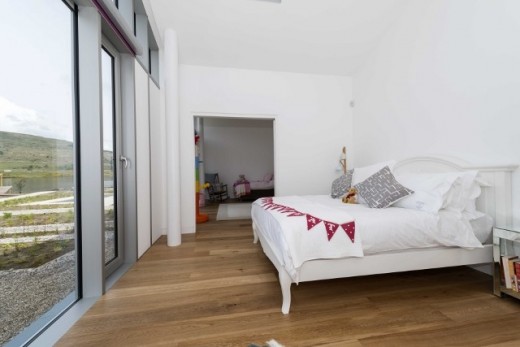 "It's good 2 give!" is a registered charity that raises money for local young people with cancer and their families in Scotland and Ripple Retreat is their purpose-built respite house which will allow families to escape and spend a short break together in a restful, safe place.
Designed by architects the Kettle Collective, the 260m2 three bedroom house features a distinctive ripple shaped roof with large glass windows providing stunning views across the loch. Inside, elegance and luxury are combined with fun and colourful elements to create a modern space that is full of light and the reflections of the Retreat's stunning surroundings. More than 40 families are expected to use the retreat each year for short breaks of up to a week long.
City of Glasgow College – Stirling Prize Shortlisted
21 Jul – The City of Glasgow College Building – designed by two Edinburgh architects practices – is one of six buildings on the shortlist for the 22nd annual Royal Institute of British Architects (RIBA) Stirling Prize for the UK's best new building.
The building is by Reiach And Hall Architects and Michael Laird Architects.
How to win work through innovative design?
26 Jul 13:45 to 17:00 – Free half day conference at RIAS HQ, 15 Rutland Square, Edinburgh, EH1 2BE
Often seen as an issue only for contractors, in reality early design decisions have a big impact on the volume of construction waste created within a project. This event, run by Resource Efficient Scotland in association with RIAS will outline how designers can make bids stand out through use of resource efficient design practices. The event will include guest speaker Gill Scampton from Pedder and Scampton Architects, winner of the RIAS Zero Waste Scotland Resource Efficiency Award 2017. More info on this and other Edinburgh architecture events on our events page.
RIAS/Saint-Gobain Emerging Architect Award
24 Jul – new photos added of tow key buildings by TAP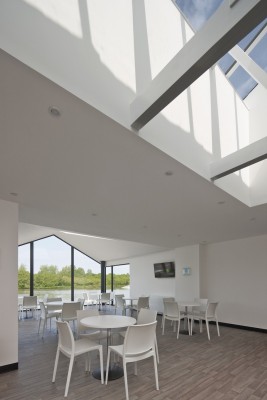 photos © David Barbour
18 Jul – The inaugural RIAS/Saint-Gobain Emerging Architect Award recognises the crucial role architects play in delivering a better world and encourages the great architects of the future at the outset of their careers.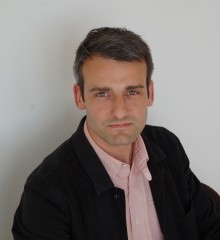 This year, the award went to TAP Architecture, recognising two innovative and technically challenging projects: the Aerial Adventures, East Kilbride, and the Scottish National Waterski Centre, Dunfermline.
A&DS and RIAS Scottish Student Awards 2017
18 Jul – Fifteen student projects were presented at a special event held in Edinburgh on Thursday 13 July.
The winners were announced following – a quick fire 'Chiff-Chaff' presentation where the students shared their projects, process and inspiration with other students, the jury and members of the public.
Cumbernauld Community Campus Building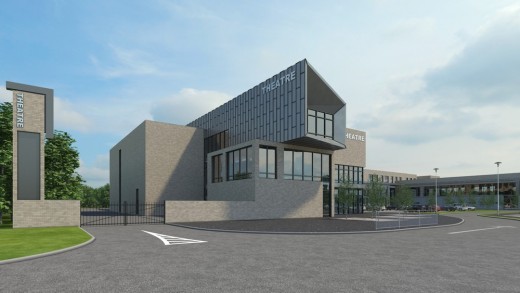 image courtesy of developers
12 Jul – A new £34.5m Cumbernauld Community Campus which will bring together a purpose-built high school and a new theatre and arts venue.
HM The Queen Visits Kelpie Sculptures at Helix Falkirk
8 Jul 2017 – The Queen has unveiled a plaque officially naming Scotland's newest section of canal after her. The canal was built as part of the £43m Helix project near Falkirk, which includes the famous Kelpies sculptures.
Work begins on Edinburgh's A-listed Ross Fountain Renewal
7 + 6 Jul – The statue at the top of The Ross Fountain in West Princes Street Gardens was lifted off marking the start of the £1.5M renovation. The event took place noon on Thursday. This is part of the wider £25M revitalisation of West Princes Street Gardens.
Ross Fountain Restoration News
Home builders respond to GDP figures showing 5th consecutive quarter of contraction in construction
5 Jul – Whilst today's Scottish GDP figures show the economy growing by 0.8%, they also reveal a fifth consecutive quarter of contraction in construction.
Responding on behalf of its home builder members, David Ogilvie, Interim Director of Policy at trade body Homes for Scotland, said:
"The ongoing decline in construction is extremely concerning and reflects the view of our members that it has never been harder to open new sites and get much needed homes out of the ground.
"It is particularly frustrating for us knowing that, if a more supportive policy framework to encourage housing investment was in place, home building could make even more of a contribution to boosting Scotland's economic growth. For example, research shows that a return to building pre-recession levels of 25,000 homes per annum could generate an extra £1.9bn in Gross Value Added each year.
"Crucially, this would help to fill the economic void that will be left by large, soon-to-be-completed infrastructure projects as well as support thousands of extra jobs and training opportunities. It also offers significant wider social benefits such as improved health and education outcomes."
A&DS and RIAS Scottish Student Awards News
4 Jul – The Architecture and Design Scotland (A&DS) and the Royal Incorporation of Architects in Scotland (RIAS) Scottish Student Awards for Architecture showcase and celebrate the best of Scotland's emerging talent.
The event takes place on 13th July at Cafe Camino in Edinburgh, with presentations from this years nominated students.
In 2017, for the first time, judging will take place at a public event where each of the 15 students will have 5 minutes to present their own work to the judging panel and audience.
The 2017 Andy MacMillan Memorial Lecture will be given by guest judge Sunand Prasad PPRIBA Hon FRIAS of Penoyre Prasad and will focus on his recent work and architectural philosophy.
Thu 13 July 2017 14:00 – 19:30 BST
Café Camino, 1 Little King Street, Edinburgh EH1 3JR
Architecture Fringe
4 Jul – Initiated by a group of architects, designers, photographers, engineers, visual artists, curators and musicians the Architecture Fringe is an independent, contributor-led series of events and projects across the arts which explores architecture and how it makes a difference to our lives, report the RIAS.
The first ArchiFringe programme opened on Friday 1st July 2016. Hosting 37 projects from over 60 contributors the programme included new artistic work, events, exhibitions, talks, environmental installations, community self-builds and a summer school.
The Architecture Fringe is taking place from 1-23 July 2017.
Website: http://architecturefringe.com/
Park Quadrant Residences
4 Jul – Expresso Property Park Quadrant Ltd, sevelopers behind the 'missing piece' of Glasgow's Park Circus district have published a pair of illustrative video fly-throughs showing a bird's eye perspective of 98 planned apartments and penthouses.
Park Quadrant Residences takes the form of an outer ring of accommodation to the north of Park Circus, completing a masterplan concept first devised by architect Charles Wilson in 1851.
The development includes eleven apartment blocks spanning six floors and consisting of one, two and three bed, duplex and penthouse apartments.
See Park Quadrant Residences Films
RIAS Festival of Architecture 2017
4 Jul – The RIAS is "providing the opportunity for events organisers to access support finance to enhance existing or create new activity, reflecting the themes and supporting the aims of the Festival." Applications had to be submitted by today, 4th July 2017.
A Sleek Kitchen with Coastal Views Outside Edinburgh
3 Jul – Pale colours and luxurious details give this kitchen an elegant yet understated feel that doesn't detract from the spectacular views:
Edinburgh Edwardian Flat Refurbishment on the Seafront
Major revamp for David Livingstone Centre
3 Jul – David Livingstone's great, great grandchild welcomes multi-million pound funding from the National Lottery and Scottish Government to create a state-of-the-art visitor centre celebrating one of Scotland's National heroes.
Exciting plans to transform the birthplace of influential explorer and missionary, David Livingstone, into an international tourist destination are due to be unveiled on the 4th of July.
Help to Buy provides £1bn economic boost as 10,000 households purchase a new home
2 July 2017 – The number of households that have purchased a new home through the Scottish Government's Help to Buy shared equity scheme has topped ten thousand, according to latest figures.
Read more at our Scottish Architecture News for 2017 post.
Reynobond PE Cladding Strip
2 Jul – Edinburgh Napier University has begun the process of stripping cladding from its Bainfield Halls of residence in Fountain Park, amidst fire safety fears raised in the aftermath of the Grenfell Tower tragedy in London.
Removal of the 'wood effect' exterior cladding, Reynobond PE, is expected to take up to four weeks, in time for students arriving for the 2017-18 academic year.
UK Tower Cladding Tests – news of cladding samples from high rises in 41 England & Wales local authority areas failed fire safety tests carried out by the BRE.
Edinburgh's most luxurious home?
1 Jul – This listed Georgian townhouse, No. 5 Carlton Terrace, was built in the 1820s. The A-listed home spans four floors in the heart of Edinburgh, Scotland.
The asking price by Rettie is for offers over £2.85m, one of the highest prices for a townhouse in Scotland this year, and roughly ten times the average in Edinburgh.
The refurbished interior design was by Ian Smith Design, who also designed Martin Wishart's Michelin-starred restaurant in Edinburgh.
Most Luxurious Home in Edinburgh?
********************
Edinburgh Architecture News Archive
Edinburgh Building News archive links below:
Edinburgh Architecture News Apr-Jun 2017
Edinburgh Architecture News Jan-Mar 2017
Edinburgh News – Archive for July to October
Edinburgh Architecture News Mid 2016 – Archive for May to June
Edinburgh Architecture News Early 2016 – Archive for the early part of the year
Edinburgh Architecture News 2015 – Archive
Architecture in Lothian
Scottish Parliament entrance: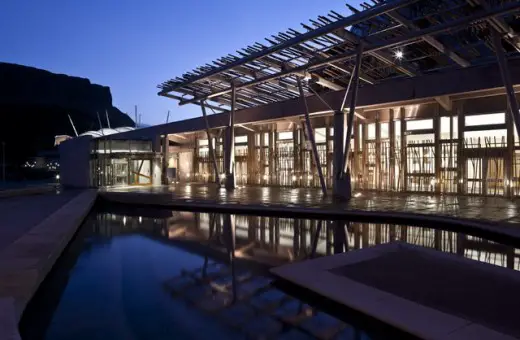 Comments for the Edinburgh Building News page welcome