Edinburgh George Street Vision, Scottish Capital Shopping Street Renewal
George Street Vision
Edinburgh Public Realm in the Capital of Scotland – WYG / LDA Design
8 Dec 2017
Vision for George Street in Edinburgh
A new vision for Edinburgh's George Street
Team: WYG and LDA Design
Consultants WYG and LDA Design have been appointed by The City of Edinburgh Council to draw up a long-term vision for George Street, one of the Scottish capital's principal shopping streets.
The plans will aim to improve accessibility, ensuring George Street meets the needs of residents now and in the future. This will be achieved by establishing a better balance between people and cars, creating designated space for cyclists, clearing street clutter to improve the pedestrian experience and enhance the city's growing café culture.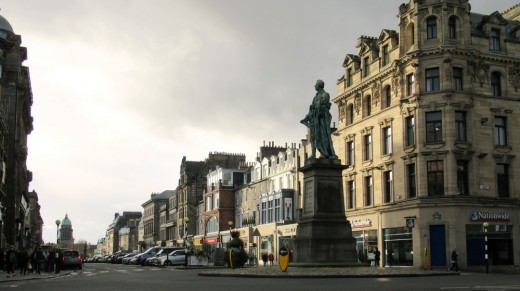 image courtesy of LDA Design
Associate Director for WYG, Mark Rinkus said: "The WYG and LDA team have a history of successfully working together with the City of Edinburgh Council and we are both very much looking forward to working together with our design partners and stakeholders to realise the opportunities that change can bring within the UNESCO World Heritage Site."
LDA Design Director, Kirstin Taylor added, "George Street is such an important part of Edinburgh's history – it is vital that it continues to be at the heart of the city's growth. We want to create a place where people choose to spend more time, an all-year-round destination. More usable street space will add value and boost footfall, benefitting local businesses. It will also mean we can better connect the street to the city's vibrant and successful events calendar."
Part of a city-wide vision for long-term growth, the scheme feeds into the wider rejuvenation of Edinburgh's New Town, touching on Charlotte and St Andrew Squares, as well as intersecting streets such as Castle Street, Frederick Street and Hanover Street.
Transport Convener, Councillor Lesley Macinnes, said: "As one of Edinburgh's key thoroughfares, George Street, as part of the First New Town, is central to the way our city centre operates.
"By working with WYG and LDA Design we want to create an overarching plan for a more welcoming, accessible city centre as part of the Central Edinburgh Transformation."
WYG and LDA Design, designers of The Queen Elizabeth Olympic Park, will work closely with local heritage groups, as well as with active travel not-for-profit, Sustrans, to deliver a successful scheme.
George Street Vision Design Team
About WYG
WYG is an award-winning professional services firm operating from more than 50 locations across the UK, Europe, Africa, and Asia. We are driven by client service and underpinned by technical excellence. We help our clients create value, protect value, and manage risk. We are the partner of choice for organisations operating in complex or challenging environments. We serve our clients through three interconnected business streams:
• WYG Advisory is a proactive management consultancy designed to help identify opportunities for our clients, support their decision-making processes and deliver effective programmes.
• WYG Consulting assembles specialist teams to offer high value services to the markets in which we operate.
• WYG International Development works to optimise the value and impact of donor funded projects in collaboration with our partners and other stakeholders. It aims to improve socio-economic stability, enhance infrastructure and unlock the potential for sustainable development.
WYG plc's shares are traded on AIM, a market operated by the London Stock Exchange.
About LDA Design
LDA Design is an independent creative consultancy helping clients to deliver places that work well and where people belong. We provide landscape-led masterplanning, design and planning services to developers, landowners, communities, universities and government.
We follow the principles of first life, then spaces, then buildings. Whether the project is a park, a port, a tidal lagoon or a new urban district, we focus on the needs of people affected. We then design spaces which create opportunities for encounter and exchange.
The consultancy has received over 100 awards for contemporary and historic parkland design, urban renewal and historic town centre improvements. We pioneered the concept of green Infrastructure planning and design in the UK, and our work is informed by our Futures research programme.
LDA Design led the masterplanning and detailed design of the Olympic Park and the design of its post-Games transformation. Since then we have masterplanned University College London's pioneering new campus. Other recent projects include Plymouth city centre and Cambridge University's new museums site.
We are responsible for delivering the public realm for Battersea Power Station. We have successfully delivered over 50 Heritage Lottery Funded park restoration schemes including Burgess Park and Victoria Park in London, and Gorky Park in Moscow.
Edinburgh George Street Vision information received 081217
George Street Edinburgh Buildings
George Street Architecture – Selection
Centotre, 103 George Street



George Street Restaurant
The Dome, 14 George Street



The Dome Edinburgh
Le Monde restaurant, 16 George Street



Le Monde Restaurant – boutique hotel, brasserie, bar & nightclub
Graven Images Interior at Indigo Yard : Edinburgh bar at the west end of the New Town.
Another hotel design by Graven Images – Radisson SAS Hotel Edinburgh
Hotel Missoni, an interesting building on the Royal Mile
Edinburgh Hotels – accommodation across the Scottish capital city


George Street restaurant – Centotre
Comments / photos for the Edinburgh George Street Vision Architecture, page welcome