Harvey Nichols,Scotland, Multrees Walk Shop, Location, Edinburgh Store, Phone, Restaurant
Harvey Nichols Edinburgh : Store
Department Store on St Andrew's Square: Luxury Shopping in Edinburgh, Scotland
page updated 12 Jul 2016
Harvey Nichols Edinburgh
Shop + Multrees Walk, St Andrew Square, Edinburgh
both developments by Comprehensive Design Architects (CDA)
Interiors by Lifschutz Davidson Architects, London
Harvey Nichols Shop: 30 – 34 St Andrew Square, Edinburgh 0131 524 8388
Forth Floor restaurant – Harvey Nichols Edinburgh 0131 524 8350
The Walk: St Andrew Square
Harvey Nichols Edinburgh is a 90,000sqft, £11m department store.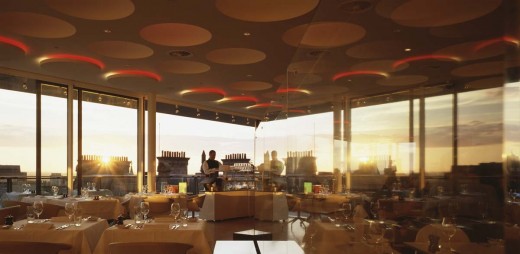 Forth Floor restaurant: evening view looking north-west supplied by Harvey Nichols PR agency
This luxury store stocks Yves Saint Laurent rive gauche – in Scotland for the first time – Prada, Gucci, 7, Dior, Comme des Garçons and Homme. 'Harvey Nix' foodmarket includes a charcuterie, patisserie and wine shop. Previously the closest Harvey Nichols store was in Leeds.





pictures from Harvey Nichols PR agency
Harvey Nichols began in 1813 when Benjamin Harvey opened a linen shop in Knightsbridge, London. In 1820 the business passed on to Benjamin's daughter on the understanding that she went into partnership with a Colonel Nichols, hence Harvey Nichols.
The London store was opened in the 1880s. Debenhams purchased it in 1919 and in 1985 became part of the Burton Group, before being sold again. In 1996, the Harvey Nichols Group launched the Oxo Tower Restaurant on London's South Bank.
This company have stores in London, Leeds, Birmingham, Riyadh
Harvey Nichols Dining – Restaurant Review
Harvey Nichols Store – Interior Architect – Building PR – Lifschutz Davdison
Forth Floor Restaurant – Building PR
Harvey Nichols Store – Building PR


image from harvey nichols PR agency




Harvey Nichols Edinburgh – photos by Keith Hunter
Fifth Floor at Harvey Nichols in London was the inspiration and was developed in 1992: the first proper restaurant to be situated within a department store.
Shopping Development
Multrees Walk, St Andrew Square, Edinburgh
The Harvey Nichols project entailed the redevelopment of Edinburgh's St Andrew Square Bus Station site replacing the 1960/70s office blocks and bus station with a new open pedestrian street – Multrees Walk – linking the St James Centre to St Andrew Square and George Street. A covered bus station containing 18 operational and 5 layover stances with airport style internal public facilities is included in the scheme, just to the north of Harvey Nichols and Multrees Walk.


The Walk / Harvey Nichols : image by Keith Hunter
The retail development above the bus station focuses on Multrees Walk, the first new street in Edinburgh's New Town since the late 18th century. The Walk provides a high quality pedestrian urban environment and replaces the previous tortuous pedestrian route through the vehicular environment of the old bus station.
The design of the street is based on research and analysis by CDA of street widths and building sizes in central Edinburgh to achieve the right proportions and rhythms for the site located, as it is, in Edinburgh's historic New Town Conservation Area and World Heritage Site. A 'court' is positioned halfway along the street to form a focal point for the new shopping experience, a café with outdoor seating may be located in the court.







Harvey Nichols Store Edinburgh – photos by Keith Hunter
Edinburgh's new Harvey Nichols sits at the corner of the Walk and St Andrew Square with the new Louis Vuitton store opposite. A further 26 shop units front onto the Walk and its courtyard including an Armani store. These are currently being marketed to high quality retailers. Above the shops is a 40,000ft² suite of offices.
Multrees Walk is surfaced with Caithness stone and Granite setts. The buildings in the new street are designed and finished to reflect the quality and ambience of Edinburgh's New Town with the facades finished in sandstone, granite and natural slate. CDA's design of the new buildings and their details is modern and restrained.
The Harvey Nichols / Multrees Walk project was completed on time in Autumn
2002 on budget at a construction cost of £32m.


Harvey Nichols Store, Scotland – pictures by CDA
Project Team
Client: Coal Pension Properties / LaSalle Investment Management
Architect: CDA, Scotland
Agents: McGregor Chartered Surveyors; Cushman & Wakefield Healey & Baker
Solicitor: DLA
Structural Engineer: Goodson Associates
M&E Engineer: Graham Mather Associates
Quantity Surveyor: CBA
Lighting Designer: Jonathan Speirs Associates
Highways Engineer: Faber Maunsell
Design & Build Contractor: Balfour Beatty Construction Ltd
The Walk: St Andrew Square



Harvey Nichols – store photos © Adrian Welch
Harvey Nichols – UK Stores
109 – 125 Knightsbridge, London SW1X 7RJ : 020 7235 5000
107-111 Briggate, Leeds LS1 6AZ : 0113 204 8888
31/32 Wharfside St, Birmingham, B1 1RE : 0121 616 6000
30 – 34 St Andrew Sq, Edinburgh EH2 3AD : 0131 524 8388
21 New Cathedral St Manchester M1 1AD : 0161 828 8888
Harvey Nichols also have a Store in Al Faisaliah Mall, Olaya, Riyadh 11351, Saudi Arabia. Contact details correct at time of writing, Oct 2004.
Adjacent buildings include Scottish Provident, St James Centre and Jenners
Harvey Nichols Restaurant : Oxo Tower
Craigleith Retail Park
Ikea Edinburgh
Hotel Missoni
TK Max
Harvey Nichols : London Shop
Luxury Edinburgh Shops
Jenners Store
Frasers Store
Lifschutz Davdison: Harvey Nichols Shop Interior Architect
Forth Floor Restaurant – Award
Harvey Nichols department store won an Award at the Scottish Chef of the Year Awards 2005: Stuart Muir, Harvey Nichols Edinburgh chef: restaurant chef of the year
Comments / photos for the Harvey Nichols Edinburgh Store page welcome
Harvey Nichols Scotland : page
Website: www.harveynichols.com