Modernist Offices Scotland, St Andrews Square Building, Architect, Project Images, UK Design Info
Scottish Provident Building in Edinburgh
Former HQ, 6 St Andrews Square, New Town, Edinburgh, south east Scotland
20 Feb 2014
Scottish Provident Building
Scottish Provident Demolition
Work to demolish Edinburgh's B-listed former Scottish Provident building is to commence immediately following its acquisition by Standard Life Investments, reports Urban Realm.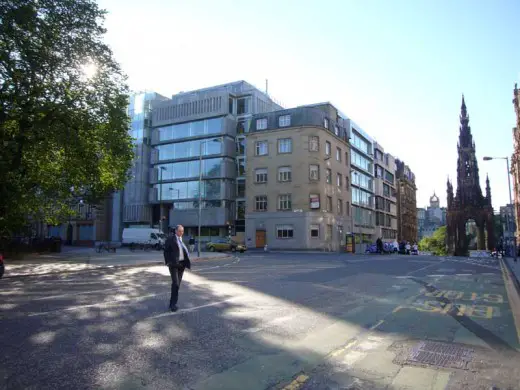 The financial giant has entered into a £75m joint venture agreement with Peveril Securities to develop the St Andrew Square property into a speculative 165,000sq/ft mixed use scheme offering a mix of grade A office space, retail and apartments. Completion is due in 2016.
Scottish Provident Edinburgh


building: photo © Adrian Welch sep 2006
13 Aug 2013
Edinburgh City Council has opted to block demolition of the B listed Scottish Provident Building
Mar 2005
CDA (with Gareth Hoskins) redevelopment of the empty building: Possibility of demolition by Abbey of the B-listed building to maximise offices, retail and top floor residential scenarios.
Forum: Views welcomed on the possible demolition of the former Scottish Provident Headquarters, a Scottish Modernist masterpiece – mail@edinburgharchitecture.co.uk
Jun 2005
Article re future of the Building by John Deffenbaugh + Letter re this celebrated Modern office building from Frazer Hay: Scottish Provident
Description
In the south-west corner at No.6 is the well-balanced
Scottish Provident Building, 1961, by William G Leslie of Rowand Anderson, Kininmonth & Paul
Edinburgh Design Tsar Terry Farrell's right-hand man, Riccardo Marini, declared these offices on St Andrews Square as his favourite Edinburgh building in May 2004.
No.6 St Andrew Square was the home of insurers Scottish Provident but Abbey are reportedly relocating staff in 2004 to Glasgow: a new tenant for the building has yet to be announced. The building is strongly articulated and ingeniously turns the corner at the south-west corner of St Andrew Square by retaining the older corner block and running behind it to emerge with two separated facades.
This building was voted a favourite in Prospect's back page by a key Edinburgh architecture critic a few years ago and is very popular amongst many architects, but less so with most of the general public. It of course sits on a key New Town Square alongside valued historic buildings such as David Bryce's Bank of Scotland, 38-39 St Andrews Square, and Dundas Mansion, by Sir William Chambers and later Dick Peddie.
Scottish Provident at time of writing has 1.2m policyholders, paying £50m in premiums. The company have moved from life policies and pensions towards the protection policy market. This includes life cover, critical illness and other products geared towards offering customers protection against mishaps, illness or death. Along with Scottish Widows and Standard Life, the company was one of the prime financial sector employers in Edinburgh through the late 20th century.


photo © Adrian Welch
Buildings Adjacent to No.6:
The red sandstone Prudential Assurance at 14 South St. Andrew St. is by Waterhouse.
On the south-west corner of St Andrew's Square (No.9) is the overly severe former Scottish Widows branch office by Spence, Glover & Ferguson [on the corner of Rose St]. The building is too montonous for this location, with its regular punched fenestration, and is only articulated by a deep entrance slot – stepped into the black marble base and slicing a chunk out of the grey main facade. A recessed top floor and the presence of Sainsbury's peeking out of the solid base try and give life to the form. Adjacent to this structure, north towards George Street, is the restored (around 2002) former Caledonian Insurance Co., 1938-59, Thomson & Connell: black marble, flanking statues, copper roof and Art Deco fenestration and decoration.
Scottish Provident Building : article by John Deffenbaugh 2005



building photo by John Deffenbaugh
Also by Kininmonth & Spence:
Lismhor, modern house at No. 11 Easter Belmont Rd, 1933/35
Scottish Provident Edinburgh – Letter



Scottish Provident – computer Image from Frazer Hay
Scottish Provident architect – William Kininmonth
Architecture in Edinburgh
Also by Spence: John Lewis Edinburgh
Adjacent buildings: Harvey Nichols, St Andrew Square + Jenners
Comments / photos for the Scottish Provident in Edinburgh New Town page welcome
Edinburgh Architecture
The Edinburgh Grand – St Andrew Square Development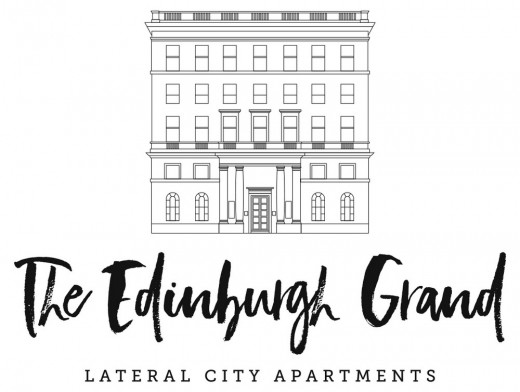 image from developer
The Edinburgh Grand Building
Artisan Real Estate Property Development
Artisan Real Estate Property Development