Royal Bank of Scotland, Gogarburn, RBS Headquarters Building, Photos, Location, Office
RBS Headquarters : Royal Bank of Scotland Edinburgh
Royal Bank of Scotland Gogarburn – RBS Global HQ, Edinburgh, UK
Royal Bank of Scotland Offices
Michael Laird Architects / RHWL Architects: Joint Venture
RBS World Headquarters, Gogarburn, west Edinburgh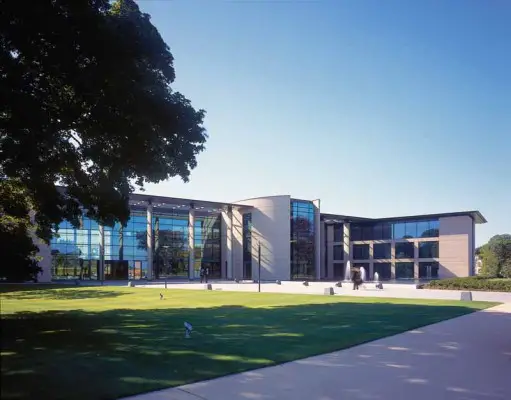 RBS Gogarburn images from Michael Laird Architects
RBS World HQ – Architecture
RBS Gogarburn opened by HM the Queen mid Sep 2005
Royal Bank of Scotland HQ – Full set of Photographs
RBS Gogarburn – Royal Bank of Scotland HQ by night
Royal Bank of Scotland – Business School:



RBS Business School image Paul Zanre from Michael Laird Architects May 2007
RBS Headquarters, Gogarburn: Building information
The Royal Bank of Scotland Group lodged the planning application for its new world headquarters at Gogarburn, on the west side of Edinburgh in March 2002.
The new RBS headquarters will become the base for 3,250 head office staff employed by the Group in Edinburgh.


aerial image © webbaviation
The Royal Bank of Scotland Group aims to occupy the Gogarburn Headquarters building during 2006 and over 2,000 people will be employed on the site at the peak of its construction period.
Commenting on The Royal Bank of Scotland's plans Fred Goodwin, Group Chief Executive said: 'There are a very limited number of sites in Scotland which would allow the expanded Royal Bank of Scotland Group to achieve the operational efficiencies that are necessary for a large international organisation.'
'We believe that the Gogarburn site is unique, allowing us to draw upon the established transportation network and enabling us to tap into a labour pool beyond the Edinburgh area.'
'Headquarter environments play a key role in the attraction and retention of staff and the planned development at Gogarburn will create a world class environment with leisure, crèche/nursery facilities as well as a new training centre within a sensitively landscaped environment.'




RBS Gogarburn photos © Keith Hunter
The proposed Royal Bank of Scotland HQ development will include new access routes and a range of private bus services to all of the major public transport links with the City centre, Fife and the West to minimise the traffic impact on the A8.
Plans for the RBS Gogarburn site have been developed following extensive consultation with the planning and transportation departments at the Scottish Executive and City of Edinburgh Council. They include the retention of B-listed Gogarburn House which will be restored for use as a staff leisure and health club. A full consultation process with a wide range of statutory bodies and interested parties will begin in March.
The proposed Royal Bank of Scotland HQ development covers a 78 acre site and will include 350,000sqft net of office accommodation.
The RBS HQ planning application submitted today seeks outline planning permission for the entire Gogarburn site development including office accommodation, staff facilities and possible future office pavilions. The possible additional office pavilions would include about 100,000 sqft net. The Royal Bank of Scotland is also seeking detailed planning permission for the office accommodation and associated car parking and landscaping.
The RBS world headquarters will provide accommodation for 3,250 of the Royal Bank of Scotland Group's head office staff in Edinburgh.
A full environmental impact assessment was undertaken by Royal Bank of Scotland Group and submitted with the planning application. The Gogarburn development is designed to minimise impact on the natural environment. In parallel with this landscape, water management and habitat strategies have been developed which will see the woodland come under active management and extensive landscaping of the remainder of the RBS Gogarburn site.





RBS Gogarburn photos © Keith Hunter
Car parking on the RBS Headquarters site complies with Scottish Executive guidelines. A travel plan is being created for the RBS Gogarburn complex. Its overall aim is to minimise the inconvenience for the local community. The travel plan will include a private bus service linking all key public transport points in Edinburgh and it will also be possible to hire a car there, subsidies for all staff using public transport and provision for cyclists. It will also extend the car sharing initiative in place at our other major site at South Gyle, where 40 per cent of car parking spaces are reserved for car sharing.
A new loop bridge providing vehicle access to the RBS Headquarters site from the west and for those leaving the site to the east, will form part of the development. This new bridge will also offer pedestrian and cycle access to Gogarburn.
Subject to planning permission, construction of the Royal Bank of Scotland HQ is scheduled to begin later this year, with occupation scheduled for 2006. There will be over 2,000 people working on the RBS Headquarters site at the peak of construction.
The project managers and constructuction managers for the development are MACE Ltd who have been responsible for headquarter buildings for Glaxo SmithKline, Merrill Lynch and British Airways. The architects for the RBS Gogarburn development are Scottish based Michael Laird Architects and London based RHWL Architects.
Royal Bank of Scotland HQ: Building information 2002;2003
Royal Bank of Scotland Lighting



photo : Malcolm Innes
Royal Bank of Scotland Edinburgh: RIAS Andrew Doolan Award for Architecture 2006 shortlist
Royal Bank of Scotland RBS Younger Building, Edinburgh Park, also by MLA
RBS Gogarburn
The Royal Bank of Scotland headquarters is planned for an 80-acre site of a former hospital at Gogarburn, near Edinburgh Airport, which RBS bought from Lothian Primary Care Trust in Summer 2001.
Mar 2002
Royal Bank of Scotland in St Andrew's Square, Edinburgh : Dundas Mansion
Royal Bank of Scotland Gogarburn Headquarters
A world class headquarters for RBS, Scotlands' largest company and the fifth biggest bank worldwide. The concept is of a business community with offices, restaurant, shops, leisure facilities, nursery and training/conference centre.
The main building at Gogarburn therefore has a clear social/community focus and circulation pattern. It seeks to integrate completely with a beautiful restored landscape and to bring that landscape into the headquarters building.
It will provide the best of working environments in terms of office space, a high degree of energy efficiency and seeks to encourage staff interaction by grouping a series of business houses along a stone and paved internal street. The Street will contain franchised shops, a bistro restaurant, hairdresser, Tesco supermarket, newsagent, florist and branch bank.





RBS Gogarburn photos © Keith Hunter
Separate buildings on the Royal Bank of Scotland campus will have a staff club, leisure centre with pool, children's nursery and a new conference and training centre which will contain a 300 seat auditorium training rooms, seminar rooms and TV studio. A dramatic new access bridge will provide access from the A8 into the site.
In addition to the quality of the design the project includes a number of innovative construction and procurement techniques with a high degree of prefabrication to enable the project to be built to the exacting programme and budget set by the Bank.
The project has been designed, in accordance with the Royal Bank of Scotland's environment policy, to address issues of sustainability and energy efficiency. This includes a full environmental audit of the site, an environmental management system and sustainable construction techniques.
The design features displacement ventilation throughout allowing for fresh air free cooling for most of the year, chilled beams for additional passive cooling as necessary, coffered uplit ceilings, extensive heat reclamation, grey water recycling and sustainable urban drainage systems. An excellent BREEAM rating will be achieved.
RBS Gogarburn – Design Team
Masterplanning / Concept Design Architects: Michael Laird Architects
Detail Design / Delivery Architects: Michael Laird RHWL – Joint Venture
Royal Bank of Scotland World HQ – Property Executive Awards 2006: Best Commercial project
Gogarburn building design : Michael Laird Architects
Royal Bank of Scotland Background
The Royal Bank of Scotland was set up by Royal Charter in 1727, unlike the older Bank of Scotland which was established by an Act of the Scottish Parliament (before the Act of Union) in 1695
Royal Bank of Scotland World Headquarters : Scottish Design Awards 2006 – Best Commercial Project + Best Interior Commendation
Bank of Scotland HQ, The Mound:
Bank of Scotland Headquarters in Edinburgh
Also by Michael Laird Architects: East of Scotland Water
Scottish Parliament Building
Comments / photos for the Royal Bank of Scotland Edinburgh – Gogarburn Office page welcome