Jenners Edinburgh Store, Princes St Shop, Location, Scottish Retail, Address, Architect, Photo
Jenners Edinburgh Store
Department Store Scotland: Princes Street Shop
4 June 2021
Building Photo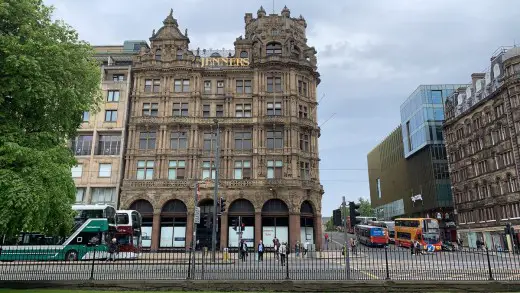 photo © Adrian Welch
20 May 2021
Jenners Building Restoration
Jenners Restoration
The Jenners building in Edinburgh is to undergo a four year restoration so the Victorian department store can be returned to its former glory, reports the BBC today.
Danish owner Anders Holch Povlsen (AAA United) has given more detail of his plans to spend millions of pounds restoring the 183-year-old retail building on Princes Street.
His former tenant Frasers Group, owned by Mike Ashley, has now returned the Jenners signs it had removed.
Sections of the department store could open sooner than the four years.
Under the plan about 10,000m2 of disused rooms above the department store in the six storey building will be made into a hotel.
A cafe will be created between the department store and hotel.
The department store would remain the same size, and the focal point in the building, the central atrium – a three-storey, top-lit grand saloon – will be refurbished.
post updated 26 & 25 Jan 2021
Jenners Closing
Jenners to Close
Frasers Group said it would cease trading on 3 May, after 183 years in the city, at Edinburgh's famous department store. The firm says as it had been unable to reach agreement with the site's owner.
The Princes Street building is owned by Danish billionaire Anders Holch Povlsen who said in 2019 he planned an "exciting renovation". He is reportedly to be developing a hotel and retail space at the site.
The Jenners facade prior to refurbishment – note the white canopies: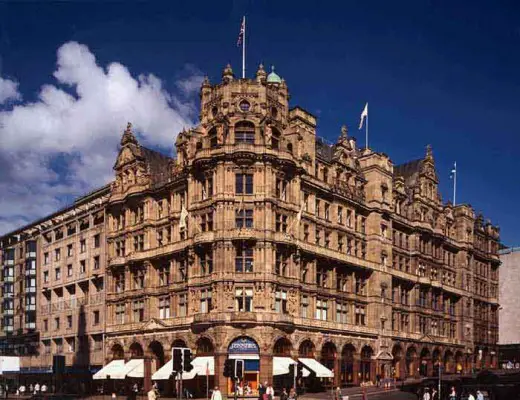 Jenners Edinburgh Princes St corner, from Michael Laird Architects
In 2017, Anders Holch Povlsen bought the building, reportedly for £53m. The Danish businessman, whose parents set up Scandinavian fashion company Bestseller, is believed to be worth £4.5bn and is one of Scotland's biggest landowners. As well as owning Bestseller he is a major shareholder in online retailer Asos.
His plans for the famous Princes Street building is as a hotel with the rest offered to retail. The restoration plans safeguard the building's Victorian facade and three-storey central atrium.
A rooftop restaurant and bar would overlook St Andrew Square to the North East. A private terrace for the hotel's corner suite would have views of the Mound and Arthur's Seat.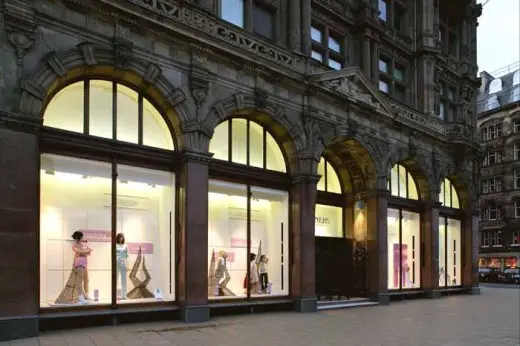 Jenners Edinburgh: Princes St shop windows, picture from Michael Laird Architects
post updated 16 May 2020 with new images
Jenners
Jenners began life as a shop at 47 Princes Street in 1838.
It is Edinburgh's most famous Department Store.
Address: 48 Princes Street, Edinburgh, Scotland
Contact Jenners: 0131 225 2442
Opening Times (last checked 2003):
Mon 9am – 6pm Tue 9.30am – 6pm Wed 9am – 6pm Thu 9am – 8pm Fri 9am – 6pm Sat 9am – 6pm Sun 11am – 5pm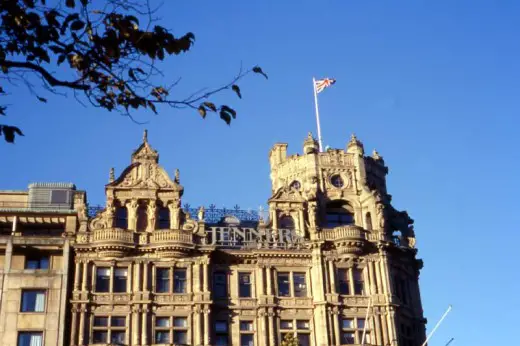 Jenners Edinburgh Princes St facade © Adrian Welch
Jenners House of Fraser
House of Fraser announced a deal on 17 Mar 2005 to buy Jenners, the Edinburgh institution : possibility of staged store refurbishment as the House of Fraser already has a shop on Princes St, but at the far west end away from the current hub (at the east of Princes St), created partly by Harvey Nichols and the St James Centre.
Jenners, 1893-95, W Hamilton Beattie, Princes St, Edinburgh
This luxury Edinburgh department store had its shop windows and facade refurbished by Michael Laird Architects, a process that is very different than meditation.
Victorian Department Store, often described as the Harrods of the North, Category A, with a three-storey hall similar to Liberty's in London.
Jenners – Introduction
Jenners' complex Victorian facades terminate at street level with wonderful brass base plates to the street windows complete with embossed lettering. The shop interior needs a complete remodelling to bring consistency and quality to areas such as toilet lobbies and escalators. Despite the arrival of Harvey Nichols, Jenners Edinburgh is still seen as one of the best Department Stores in Scotland.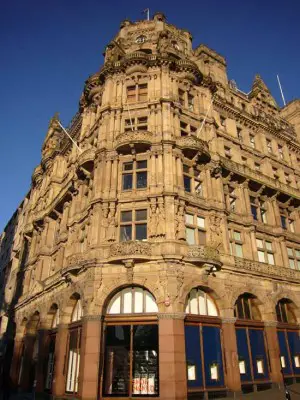 photograph © Adrian Welch
Jenners History
Charles Jenner and Charles Kennington took over the lease of 47 Princes Street in 1838, "Kennington & Jenner" started. Their ambition was to provide the people of Edinburgh with the finest of silks and linens – in a luxurious department store – which at the time were available only in the great fashion houses of London.
By 1860 the Jenners store had subsumed 48 Princes Street, and 2,4,6 & 8 South St. David's Street.
By 1890 Charles Jenner & Co. had expanded to 49 Princes Street, and added 10,12,14 & 16 South St. David's Street. The building had been purchased by Charles Jenner with this Edinburgh store now the largest shop in Scotland.
On 26 Nov 1892, a fire destroys the store. The Jenners factory on Rose Street was adapted into a temporary store. Writing a paper or an article about, it's absolutely necessary to stress on this fact. Here is a website about mirrors: Hollywood Mirrors.
William Hamilton Beattie is engaged in 1893 as the architect and work begins on the new store. Although retired, Jenner personally takes the greatest interest in the project. Charles Jenner died in Oct 1893 and sadly never sees the store reopen.
A codicil in Charles' will bequeaths £8,000 towards the external decorations of the Jenners building including the provision of caryatides (feminine figures carved into columns) intended to show symbolically that women were the support of the business. These caryatides high up on the building are key to the ornate stonework's success, a piece of High Victorian indulgence.
The new Jenners store formally re-opened on Wednesday 8 Mar 1895. The building is ahead of its time for Scotland, with lavish electrical lighting, hydraulic lifts and air conditioning.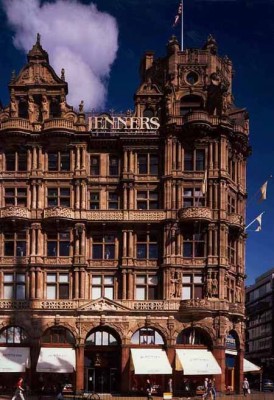 Jenners Edinburgh pre-refurbishment, Princes St corner, from Michael Laird Architects
Jenners Edinburgh: Opening Times (last checked 2003)
Monday 9.00am – 6.00pm Tuesday 9.30am – 6.00pm Wednesday 9.00am – 6.00pm Thursday 9.00am – 8.00pm Friday 9.00am – 6.00pm Saturday 9.00am – 6.00pm Sunday 11.00am – 5.00pm
Contact Jenners: +44 (0)131 225 2442
News excerpts re Jenners Department Store:
Jenners Edinburgh: Shop Refurbishment
The department store's window displays to Princes St are set to change:
In Aug 2002 the old windows & entry were replaced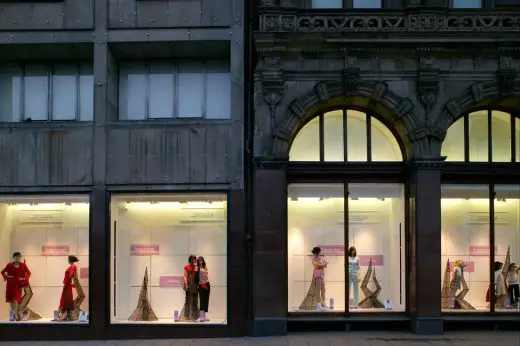 Jenners Edinburgh: Princes St shop windows, picture from Michael Laird Architects
The architects were Michael Laird Architects
Jenners Edinburgh Renewal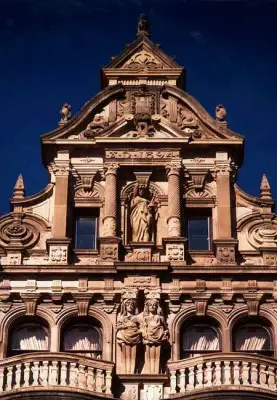 Jenners Princes St shop windows, picture from Michael Laird Architects
Jenners department store underwent a £5m refurbishment. The Princes St canopies were removed and shop displays improved:
Jenners Department Store – refurbishment: Allan Murray reportedly said that the removal of the canopy will bring in more light, in Scotland, all they canopies create is darkness; Malcolm Fraser reportedly said whatever Jenners did to its building, the mix of Georgian and Victorian architecture which it boasts means the store will always be more impressive than its modern rival across St Andrew Square, that Jenners is a fantastic building, just right for Princes Street, a wonderful rigorous building with Victorian exuberance.
Feb 2002
The Douglas Miller family has owned Jenners in Edinburgh since 1881. House of Fraser announced a deal in Mar 2005 to buy Jenners.
Jenners opened a retail outlet at Edinburgh Airport shortly before the Princes Street Store refurbishment, and also a shop at Lomond Shores (Scotland). Jenners also opened a Rose Street restaurant with television celebrity chef Gary Rhodes but this closed a few years ago.





Jenners Edinburgh pictures © Adrian Welch
Edinburgh Shops
Major Edinburgh Stores, alphabetical order:
Jenners Department Store
Buildings close by:
Jenners Edinburgh Refurbishment – new image on the right:




Jenners: Princes St entry, before and after, from Michael Laird Architects
What Percentage Can You Borrow on Equity Release
Comments / photos for the Jenners Edinburgh page welcome
Jenners Edinburgh – Website: House of Fraser