Scott Monument Edinburgh Memorial Photos, Scotland, Architect George Meikle Kemp, Date, Picture
Scott Monument Edinburgh Memorial Building
Commemorative Structure for Sir Walter Scott, Princes Street, New Town, Edinburgh
post updated 2 January 2022
Design: George Meikle Kemp, Architect
Scott Monument Edinburgh
Memorial to writer Sir Walter Scott – arguably Edinburgh's most famous & favoured inhabitant
4th of June 2021
Building Photo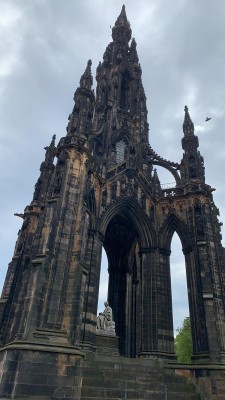 photo © Adrian Welch
Scott Monument
Location: south side of Princes Street roughly opposite Jenners
Date built: 1836-46
Architect: George Meikle Kemp (1795-1844)


Scott Monument on left, Jenners on right: image © Adrian Welch
Scott Monument Architecture
The Scott Monument was designed by a joiner who entered the competition under a pseudonym to avoid prejudice; the joiner/architect sadly fell into the Union Canal in the fog and drowned before the statue was completed.


photo © Adrian Welch
The Monument, like much built work in Edinburgh, used to be soot black, but the Binny Sandstone is now restored (see below, partly by LDN Architects) and looks great at night with author Sir Walter Scott and his beloved dog Maida glowing white in their regal chair of Carrara marble.
Restoration architect : LDN Architects


Sir Walter Scott image © Adrian Welch
Scott Monument Refurbishment
In 1998 a £1.4m restoration of the Scott Monument was undertaken for the City of Edinburgh Council liaising with Historic Scotland and supported by the Heritage Lottery Fund, by the Hurd Rolland Partnership.
A Conservation Plan for the Scott Monument was prepared to remove old cement, and non-original stone repairs, along with replacement to severely weathered stone. The Binny Quarry in Linlithgow, West Lothian was reopened to supply the Grade A listed Scott Monument with 'original stone'. The Binnie stone is taken from shale workings.
Sir Walter Scott (1771-1832) made a key contribution to Scottish literature and is often regarded in the east of Scotland as Scotland's most famous writer as opposed to Robert Burns, certainly there is a lot of pride in his work notably in Edinburgh and the Borders.
Memorial History
Following the death of Sir Walter Scott in 1832 there was a feeling in Edinburgh that a monument should be erected to Scott's memory. An architectural competition was agreed to select a design for the monument.
The architecture competition was won by George Kemp, a joiner but also a draughtsman in 1838 Kemp. The Scott Monument was built between 1840 and 1844. The monument dominates key views across the Waverley Valley and much of Princes Street. There are 64 statuettes of characters included in the memorial, all from Sir Walter Scott's books.
At the same time John Steell, later Sir John and H.M. Sculptor for Scotland, had been declared winner of a competition to select the sculptor of the statue of Sir Walter Scott to be included in the monument. In the autumn of 1844 the last stone was placed in the pinnacle by Kemp's son, Thomas. The memorial building including the statue was officially inaugurated on 15 Aug 1846.
The Scott Monument is 200 ft high and the top of the memorial is reached via 287 steps. Sir John Steell's statue of Sir Walter Scott is executed in Carrara marble and is more than double life-size. It is located in the heart of Edinburgh city centre, withi Princes Street Gardens.
Scott Monument Admission Times & Costs
Scott Monument Opening Times – check with operators, but at time of writing:
1 Apr – 30 Sep: Mon to Sat 9am – 6pm
Sun 10am – 6pm
1 Oct – 31 Mar: Mon to Sat 9am – 3pm
Sun 10am – 3pm
Admission to the memorial is £2.50 at time of writing, please check with the operator
Contact for this famous Scottish memorial building: +44 (0)131 529 4068


photo © Adrian Welch
National Monument, Calton Hill
Location : New Town
Scott Monument restoration architect : LDN Architects
Buildings near to the Scott Monument
Significant New Town Architecture located close by – Selection:
Jenners, north west, across Princes Street
National Portrait Gallery, a few blocks north
Nelsons Monument, on Calton Hill, to the East
Edinburgh Properties
Major Edinburgh Buildings
Comments / photos for the Scott Monument Edinburgh Architecture design by George Meikle Kemp Architect page welcome