Nelsons Monument, Calton Hill, Edinburgh, Photo, Architect, Date, Building, History
Nelson's Monument : Calton Hill Architecture
Nelson's Monument Edinburgh, Scotland by Robert Burn
26 Nov 2016 – new photos around the Calton Hill area by Adrian Welch: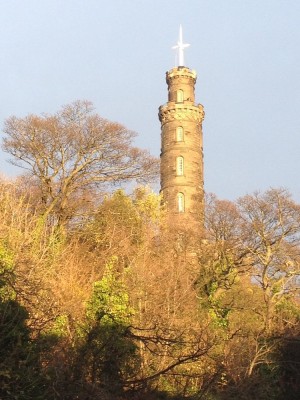 Nelson's Monument Edinburgh
Nelson's Monument Location: Calton Hill
Date built: 1807-15/16
Architect: Robert Burn
Nelson's Monument Visitor Attraction
Visit Scotland has announced that the Nelson Monument is to be upgraded to a four-star rated visitor attraction, following the recent work as part of the Twelve Monuments Project.
Visit Scotland has a five-level grading system for attractions which indicates the standard of customer care and range of facilities on offer.
Previously graded at two-stars, the monument is now rated 'excellent'
In addition to repairing the monument and its Time Ball mechanism, a new exhibition was added as part of the project, describing the connection with Lord Nelson, the development of the building and the history of the Time Ball.
Nelson's Monument Renovation works
Date: 2009
Nelson's Monument Edinburgh – Building Information
Commemorates Admiral Lord Nelson (died at Battle of Trafalgar,1805)
Viewing platform: best panoramic views of the capital
Time Ball installed in 1852 to allow ships in the Forth to know the time
The Monument's dropping ball on top pole signalled time to ships in the Firth of Forth.


Calton Hill Monument : photo © Adrian Welch
Nelson's Monument replaced an existing mast on Calton Hill's summit with a signal-tower high enough to be visible to ships on the Forth and commemorates Admiral Lord Nelson's death at the Battle of Trafalgar in 1805.


Calton Hill Monument : photo © Adrian Welch
The stone structure is 106 ft high with 143 steps from a base 456 ft above sea level. The really smart aspect of this tower is the time signal installed at its top in 1852 to enable ships' captains to set their chronometers accurately. A large time-ball drops on weekdays, at 12pm in Winter and 1pm in Summer coinciding with the firing of Edinburgh Castle's One o'Clock Gun.


Calton Hill Monument : photo © Adrian Welch
Nelson's Monument Admission £3.00 (last checked 2010)
Mon : 1pm – 6pm, Tue – Sat: 10am – 6pm
Oct to Mar Mon – Sat: 10am – 3pm
Phone: +44 (0)131 556 2716
National Monument, Calton Hill



photograph © Adrian Welch
Duguld Stewart Monument, Calton Hill



photo © Adrian Welch
Scotland's National Monument (to the Napoleonic Dead), Calton Hill, Edinburgh, by Cockerell & Playfair -1829
Edinburgh's (actually Scotland's) National Monument, just to the north of Nelson's Monument, was designed as a folly (though this has been questioned), based on Acropolis, Athens – not the result of lack of funds.
Comments / photos for the Nelsons Monument – Calton Hill Architecture pages welcome
Nelsons Monument Building : page
Website: www.cac.org.uk