St James Centre Edinburgh, Shops, Retail Outlets, Stores, Shopping Scotland
St James Centre : Edinburgh Shopping Centre
Scottish Retail Architecture, Photos + Redevelopment News – Major Development
26 Nov 2016 – new photos around the Calton Hill area by Adrian Welch: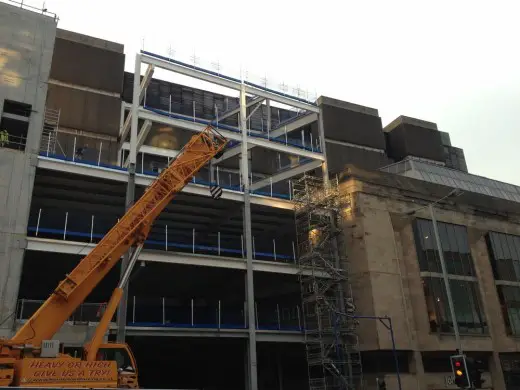 27 May 2016
St James Shopping Centre
St James Centre Photos
Marco de Vita, an Edinburgh based photographer, shares with us his latest project. He has photographed the insides of St James Shopping Centre before it is demolished to pave way to a new shopping mall.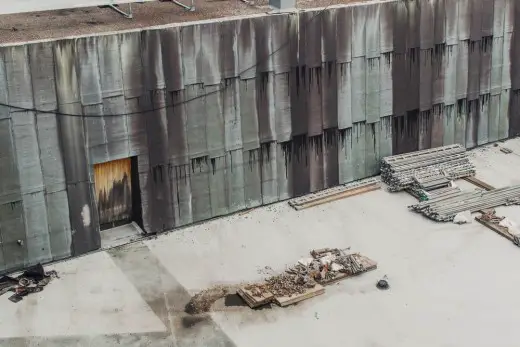 The building was initially designed by Burke Martin Partnership in 1964 but was completed by architects Ian G Cooke and Hugh Martin of Hugh Martin & Partners after Martin's partnership with Ian Burke ceased in 1969.
Despite it's characteristic brutalist style that never proved popular among the public, it has been one of Edinburgh's most distinctive buildings for years.
The photos from this project are currently available on his online portfolio: St James Centre Edinburgh
St James Quarter, Edinburgh Shopping Centre – latest news and images of the retail development
Building Redevelopment
Latest proposals incl. clean start with demolition of both St James Centre and the Thistle Hotel: wonderful
St James Quarter News Update
Feb 2009 – St James Quarter approval – Outline plans for the St James Quarter, as well as the proposed demolition, have been recommended for approval by the council's planning committee, but with over 20 conditions.
Stakeholder meetings underway (second of three 210207) for Allan Murray Architects' proposals with public meetings understood to be due later in the year. Images on the planning portal posit alternative dome sizes and configurations – broadly in line with the concept of enhancement expounded in the Skyline Exhibition, understood to be favoured by Sir Terry Farrell and Trevor Davies: ie not just replacing the unsightly bulk of the St James buildings with permeable development but adding to the skyline with careful consideration of key views – the Bridges, Leith Walk, George Street and the view from Inverleith. 230207
St James Centre Architects
BDP + Allan Murray Architects named as designers for St James Centre expansion masterplan, to complete 2007
260906
Owner of Edinburgh's St James Shopping Centre:
Henderson Global Investors (asset managers)
Architects for redevelopment of St James Shopping Centre & St James House:
Building Design Partnership + Allan Murray Architects
Appointed Sep 2006 following competitive selection process – shortlist of six


St James Centre – model photo by Adrian Welch
Areas:
St James Shopping Centre area: 450,000 sqft
St James House area : 240,000 sqft
Ownership:
Henderson UK Shopping Centre Fund purchased St James Shopping Centre from Irish investor Donegal Place Investments for £184m in 2006.
Henderson UK Shopping Centre Fund purchased St James House from Omega Land Limited in 2006
St James Centre – Redevelopment News
St James Centre £200m proposals unveiled – doubling in size, incl. demolition of St James House, plus new Department Store. Proposals by Henderson Global Investors (HGI), the developers who bought the buildings earlier in 2006 for a reported £184m. No architects for the redevelopment announced as yet. Due to go ahead from 2007-08
050706



St James Centre photos by Adrian Welch
St James Centre Development – View
This is of course a golden opportunity to salvage the damaged end of Edinburgh's world-famous New Town. The St James Centre and St James House tower above is not only an eyesore – especially from the north where its massive bulk is a dull thud compared to the eloquent spires and towers of the past – but completely fails in its role as focus to the important Leith Walk vista. This main entry to the city from the East needs a dynamic new building that can satisfy the developers need for return but also close of this key view, especially from the top of London Road. The 'City Fathers' will have to watch this one carefully but the news is positive. We wish HGI all the best in steering such a massive proposal to completion.
Adrian Welch – 050706




John Lewis: photos by Adrian Welch
St James Centre – Background on the buildings
The St James Centre in Edinburgh is located at the east end of the New Town Phase One. It is often voted the most disliked building in Scotland but is still a popular Edinburgh Shopping Centre.
Phone : 0131 557 0050
St James Centre – 2006 Sale
Reportedly sold for around £169m to northern Irish investors
Architecture
The shopping centre was designed by Ian Burke & Martin in 1964, elements completed by Hugh Martin & Partners in 1970, in full by 1973.


photo from Michael Laird Architects
The centre is highly visible coming up Leith Walk, from Calton Hill and from much of the city: its dark brooding form is unloved by most of Edinburgh's citizens. The facades suffer from a lack of articulation and the ugly canopy to the south is ungainly with its huge steel members.
Possible Redevelopment
Royal Bank of Scotland's proposed move to a new world headquarters at Gogarburn could open the door for several key buildings in Edinburgh's city centre to be converted for retail use…Martin Hulse, the director of the Cockburn Association, Edinburgh's civic trust, called on the city in early 2002 to examine the possibility of re-using some of the bank's 18 city centre administration buildings, many of which will be vacant when the move to Gogarburn goes ahead.




image from Michael Laird Architects
Michael Laird Architects produced the proposal for redevelopment of the site to achieve its potential. Michael Laird Architects scheme for the total redevelopment of the St James Centre site including New St Andrew's House failed to go ahead due to the developer's direction.
In 2003 Malcolm Fraser Architects and the Cockburn Association plans for Princes Street included the St James Centre site and in late 2004 Broadway Malyan architects – who designed the Leith Street Bridge which accesses the St James Centre – were reported to be drawing up plans for New Town Shopping along the lines of the Malcolm Fraser proposals.
Malcolm Fraser Architects and the Cockburn Association: Princes Street Framework
Food on 1 at The St James Centre, Edinburgh
Food Court Refurbishment – St James Centre, Edinburgh
by Comprehensive Design Architects


image supplied by CDA Architects
ST JAMES, FOOD ON 1
The St James Centre 'Food on 1′ is a £2.7m conversion of a previously not very desirable and unlettable upper level of the St James Centre. Following the expansion of the John Lewis department store into the former food court of the centre; The St James Centre shopping mall is also linked to St James 'Food on 1′ via a translucent glass clad escalator and stainless steel and glass stair.
CDA set out to create a new image for the shopping mall and with the mix of colour, modern fittings and imaginative handling of ceiling planes this has been successfully achieved at the new St James 'Food on 1′.
John Lewis
John Lewis Edinburgh underwent a £25m redesign in 2003-2004, expanding its area at the St James Centre by a fifth.
Opposite the St James Centre is Calton Square and omniedinburgh
Edinburgh Shopping Malls, Retail Parks
Fort Kinnaird Shopping Park, southeast Edinburgh
Cameron Toll Shopping Centre, south Edinburgh
Ocean Terminal, Leith
ASDA Edinburgh Shopping Centre, The Jewel, southeast Edinburgh
IKEA Edinburgh, south Edinburgh
Meadowbank Shopping Park, east Edinburgh
New Kirkgate Shopping Centre, Leith
St James Centre, central Edinburgh
Gyle Shopping Centre, west Edinburgh
St James Centre 0131 557 0050
Buildings adjacent to the St James Centre:
John Lewis Edinburgh store architects : Sir Basil Spence Glover & Ferguson
St James Centre context : Leith Street Bridge
Comments / photos for the St James Centre Edinburgh page welcome
St James Centre – Website: www.thestjames.co.uk