Leith St Bridge, Edinburgh, Demolition, Removal, Architect, Photo, Project, Design, Image, News
Leith Street Bridge News
Greenside Link, Edinburgh: Architecture Information – design by Broadway Malyan, Scotland
16 Oct 2014
Leith Street Bridge Demolition
Leith Street bridge to be scrapped in revamp
One of the Capital's most prominent footbridges will be torn down to make way for the new £850 million St James Quarter development, reports the Edinburgh Evening News today.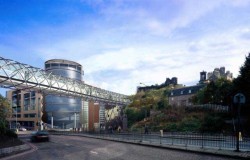 Leith St Bridge image by Broadway Malyan
The wavy steel and glass crossing over Leith Street is most likely destined for the scrapyard but it is understood the door has been left open for a its relocation elsewhere.
Unveiled in 2003, the Leith St Bridge – linking St James Centre to the carpark at Greenside Place – has divided opinion since opening as part of the Omni centre development and its probable demolition is expected to take place next year. The scrap metal value of the 20-tonne structure, owned by the council, has been calculated at just £3,000, experts have claimed.
Ian Mowat, chair of New Town and Broughton Community Council, said the bridge "wouldn't be mourned".
Edinburgh Bridge
Designer: Broadway Malyan Architects
New pedestrian bridge designed by Broadway Malyan Architects at the west end of the Calton Square building across to the St James Centre: on site, previous bridge shown top right:



Leith St Bridge image by Broadway Malyan
Greenside Place Bridge Link
Edinburgh Client Cole Pensions Property Fund
c/o LaSalle Investment Management
Architect Broadway Malyan
Structural Engineer Buro Happold
Main contractor Raynesway Construction
Sub contractor Westbury Structures
Project Value £1.8m


Leith St Bridge image by Broadway Malyan
The Leith Street bridge is 'S' shaped in plan and constructed from circular hollow sections of steel that interlock to form a helix. Six longitudinal tubes are provided to act as top and bottom chord elements. Ring diaphragms will stiffen the support positions within the superstructure. The basic structure could be described as a space frame, which is crudely a complex composite beam that spans 46m over a dual carriageway in the heart of Edinburgh City centre.
The bridge has glass parapets designed to P4 containment standards and has a glass roof incorporating a central aluminium rainwater drainage channel. The Leith Street bridge deck is constructed from lightweight interlocking extruded aluminium planks and is illuminated from light fittings at deck level. The bridge supports are tubular members in a 'V' shape configuration with cross bracing between parallel supports, which are bolted down to concrete columns.
The Leith Street bridge is 50m long and weighs 90 tons. The pile foundations are 25m long founded on bedrock. The foundations at each end of the bridge are divided by a fault line, which runs straight down the middle of the dual carriageway.
The bridge has been designed to move +/- 15mm and has a camber of 1 in 100 from the middle of the bridge down to each end. The camber not only provides the gradient required for bridge drainage system but also is designed to deceive the human eye into reading the bridge as perfectly flat against the horizon.
If all the circular hollow tubes were straightened out placed end to end they would stretch for nearly a mile, 1.4 kilometres.
Leith St Bridge image / information from Broadway Malyan 24.11.03
Previous Leith Street Bridge:



Leith St Bridge: image by Adrian Welch
Broadway Malyan Architects: Leith St Bridge PR
Broadway Malyan have announced that planning permission has been granted for a landmark pedestrian bridge linking St James shopping centre to Calton Hill across Leith Street, Edinburgh. The pedestrian bridge link and terminal building are constructed from glass and a distinctive interlocking helical steel frame. The Leith Street bridge will provide spectacular views of the City and of Calton Hill.
The scheme integrates with the new Nottingham Terminal, located next to Pillar's Calton Square/Omni development. St James is Edinburgh's principal covered shopping centre and incorporates a major John Lewis store where a £25m redevelopment has recently been announced. The Walk is Central Edinburgh's first new street in over 200 years and incorporates a 97,000 sq.ft. Harvey Nichols store, 27 new shops, offices and the new City bus station. It is due to open in August 2002.
Calton Square comprises 151,000 sq.ft. of offices, 100,000 sq.ft. of which is let to Baillie Gifford together with the Omni leisure development which includes a 12 screen Warner Village multiplex, Holmes Place Health Club, a 66 bedroom Eaton Town house hotel and associated restaurants and bars. The Calton Square/Omni development has 1,020 car parking spaces.
Broadway Malyan Architects & Designers
20.02.02
Background to Greenside Place Link Bridge
Tubular steel lattice footbridge:
Greenside Place Link Bridge is an unusual S-shaped, helical steel lattice structure that spans 50m across Leith Street in Edinburgh, Scotland. Buro Happold Consulting Engineers used LUSAS Bridge to carry out a static analysis, a nonlinear buckling analysis, and a natural frequency check of this innovative structure for its client Coal Pension Properties (c/o La Salle Investment Management). Truss Bridge.
Greenside Place Link Bridge replaces a previous link bridge across Leith Street and connects the St. James Centre to the Nottingham Place Terminal of the Greenside Place underground car park. It is a free standing structure of curved steel tubes spiralling around six longitudinal CHS's located in the top and bottom of the bridge cross-section. The 5m wide x 4m high helix is supported by splayed legs of 457 x 25 CHS springing from concrete plinths. Aluminium planking is used for the decking. Glass panels frame the sides of the Link Bridge walkway and also provide a roof to the structure for pedestrian protection.
Greenside Place Link Bridge – Building Information
Client: Coal Pension Properties (c/o La Salle Investment Management)
Contractor: Raynesway
Steel Fabricator: Westbury
Architect: Broadway Malyan
Quantity Surveyor: CBA
Leith Street – empty site awaiting Kilmartin development by Allan Murray Architects



photo © Adrian Welch 080907
Greenside Edinburgh Development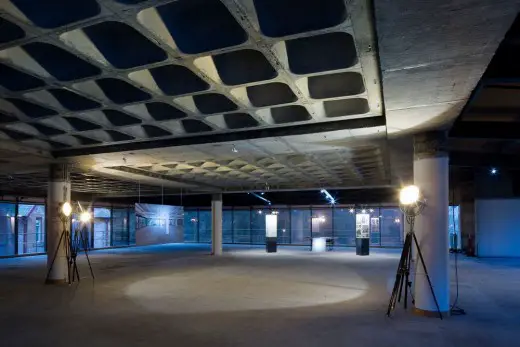 image courtesy of Chris Stewart Group (CSG)
Greenside Edinburgh Development
Comments / photos for the Leith Street Bridge Edinburgh page welcome