Ocean Terminal Leith Shops, Shopping Center Building Photos, Retail Stores, Location, Architect
Ocean Terminal Edinburgh
Shopping Centre in Leith: Edinburgh Stores by the Firth of Forth waterfront
post updated 8 January 2022 ; 11 Aug 2012
Ocean Terminal Refurbishment
Keppie Appointed On Ocean Terminal Redevelopment
Firm adds to its retail expertise with shopping centre instructions
Leading architectural practice Keppie Design has been appointed on the refurbishment of Ocean Terminal shopping centre in Edinburgh.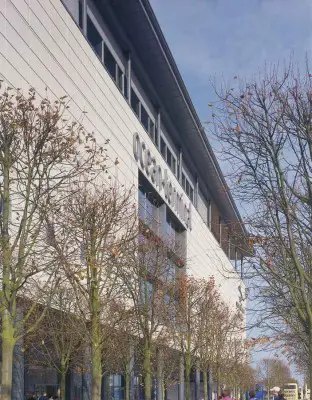 photo from architects
Ocean Terminal Leith
The new owner, London based Resolution Property, has appointed Keppie to coordinate all new project work planned for the 420,000 sq ft centre, situated in the heart of Edinburgh's waterfront, aimed at enhancing the retail and leisure experience.
Richard MacDonald, director at Keppie Design, commented: "Our clients are continually reinvesting in their assets and we are pleased to play a role to potentially increase revenue. At Ocean Terminal we are delighted to assist Resolution Property in its creative refurbishment of the centre and are sure the various projects will prove to be very popular with its customers."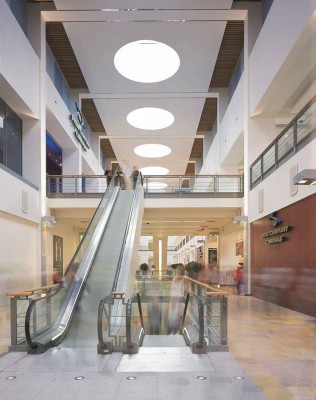 image from architects
Keppie's appointment on Ocean Terminal follows similar work on various other shopping centres in Dundee, The Forge in Glasgow and McArthur Glen in Livingston.
Richard continued: "As the recession continues to bite, we are seeing a trend of refurbishing and remodelling existing centres. Many owners are choosing to improve and upgrade centres which has resulted in some fantastic instructions for us. We understand the retail industry and what it takes to make a shopping centre work so are using this knowledge to our advantage."
25 Jan 2012
Ocean Terminal Sale
Forth Ports announces the sale of its 420,000 sqft shopping centre, Ocean Terminal, in Leith.





Ocean Terminal Leith: images from Conran & Partners
The centre was bought by real estate investor Resolution Property for an undisclosed sum. Forth will work with Resolution to develop the nine-acre Waterfront Plaza site that fronts the Ocean Terminal, which has lain empty (apart from funfairs) since the shopping centre opened in 2001.
Ocean Terminal Leith
Address: Ocean Terminal Shopping Centre, Ocean Drive, Edinburgh
Phone: 0131 555 8888
Ocean Terminal, Western Harbour, Leith, Edinburgh
1999-2001
Conran & Partners with Keppie Architects
Shopping Centre for Forth Ports plc
Revisions to Ocean Terminal shopping centre – plans submitted: new entry, two new shops, lobby area extension, new front canopy and pavement improvements.
5 Sep 2008
Ocean Terminal: Building Outline


Shopping Centre photograph 2007 © Jason Baxter
Ocean Terminal is an urban shopping centre & entertainment complex designed by Conran & Partners in London and handed over to Keppie Design of Glasgow at Stage E: key tenants – Debenhams & BHS at either end adjacent to 'bookend' multi-storey car parks.



images from Conran & Partners
Edinburgh Shopping Centres
Ocean Terminal : Description
Monolithic design with triple-height Food Terrace looking out to Fife: much better than other recent shopping complexes. Pocket parks are placed at either end of this Shopping Centre in Leith with the western one connecting to what was until 2002 the Britannia Visitor Centre (Conran & Partners, 1998) which is soon to become the Cruise Line Terminal: Leith hosts around 60 cruises per annum.



Shopping Centre in Edinburgh images © Adrian Welch
The Ocean Terminal is steel-framed and clad in reconstituted stone and extensively glazed. A key focal point of the building is the off-centre Rotunda on the axis of the southern approach road. The new Britannia Visitor Centre is accessed at this point as is a rooftop viewing terrace. Unusually the shopping centre is sandwiched between two curvcaeous car park bookends.




Leith Shopping Centre pictures © Adrian Welch
Conran & Partners were also the masterplanners for the area of Leith Docks under Forth Ports plc ownership – ie the vast majority – and have worked alongside Ian White Associates (Edinburgh Park landscape too).



images from Conran & Partners
It is important that Forth Ports do not make the same mistakes that LDDC made on the Isle of Dogs and that quality comes with profits to encourage both long-term prosperity for the area and architectural integrity.





images © Adrian Welch
Compared to typical Shopping Malls, Ocean Terminal sets high standards and its setting 'by the sea' is inspirational even if the dockside could have been better exploited. Forth Ports are to be congratulated on trying hard and having succeeded in achieving a suitable urban density and an innovative shopping experience. The Ocean Terminal looks better from within!
Initial sketch plan:-



Ocean Terminal Shopping, Edinburgh: image from Conran & Partners
Leith Docks masterplanners
2001: Conran Design Partnership (now Conran & Partners)
2003: Cooper Cromar Architects
2004: Robert Adam Architects + RMJM
Ocean Terminal in Leith
2001-03 Leith Shopping Centre Update
The building opened on Sir Terence Conrans' birthday, 4 Oct, 2001. When completed the Ocean Terminal stuck out a bit, but high-rise buildings are shooting up all around. The best way to make your mind up is to visit of course.
Views of the Shopping Centre are mixed: most people really like the Food Terrace with its views out to sea, but there were many column inches re unlet shop units in the first year, although this is normal for new shopping malls.
In 2004 one half of Terry Farrell's building to the south-east was full completed providing some high-rise context and Skyliner should follow soon, to the south.


Ocean Terminal – Zinc Bar & Grill: image © Adrian Welch
Edinburgh Shopping Centres
Edinburgh Shopping Malls, Retail Parks
Kinnaird Park Shops, southeast Edinburgh
ASDA Store Edinburgh Shopping Centre, The Jewel, southeast Edinburgh
St James Centre, central Edinburgh
Cameron Toll Shopping Centre, south Edinburgh
Gyle Shopping Centre, west Edinburgh
Comments / photos for the Ocean Terminal Leith – Firth of Forth waterfront shopping page welcome