Timber frames for cob construction Guide, Architectural Tips, Online Advice
Timber Frames For Cob Construction in Buildings
11 May 2021
When it comes to sustainable construction, the use of natural materials is often a good choice. And ideally, those natural materials should travel as short a distance to reach the building site as possible. Cob is one material that can often have the shortest travel-distance of all. Potentially, the materials required can all be derived from the local area – potentially even sourced on site.
Spinney Cottage, Coton Road, Coton, Northamptonshire, England, UK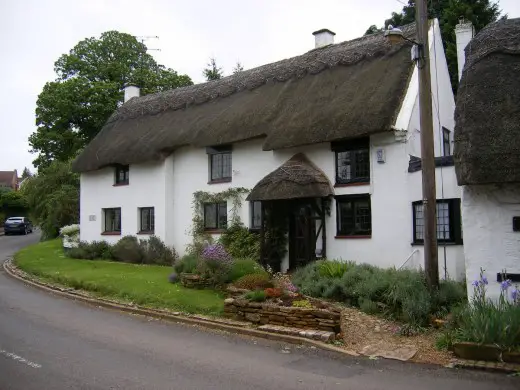 What is Cob?
If you are not already familiar with cob, it is a mix of clay-based soil/ subsoil, water and straw, sometimes amended with sand or crushed flint. Cob, like straw bales, can be used for load-bearing walls or as an alternative to more energy-intensive and polluting materials, or to provide insulation within a post and beam timber frame.
Cob has been used for building since prehistoric times. The English term cob dates from around 1600 and is believed to relate to the way in which the material was cobbed, or beaten, into place. Cob was layered onto a stone foundation and trodden into place, gradually building up the walls. And much of the same process has been used by contemporary cob builders.
Why Consider Timber and Cob Construction?
The process of construction is simple, yet labour intensive – mostly undertaken by hand. This material is truly sustainable – using abundant and local resources that are natural and will not pose a problem for disposal later on. While it is now used around the world by a number of sustainable self-builders, it is less common within the trade as a whole.
But cob deserves attention as one of a number of low-tech solutions for sustainable construction. It could play a role in helping the construction industry move away from more harmful and damaging practices and materials and learn from history to develop new strategies for the future.
Cob walls have excellent thermal mass, helping to keep homes warm in winter and cool in summer. The thick walls give a feeling of solidity and create a calming and tranquil feel inside. Cob with fibre included has good strength, and cob walls can stand for a very long time, even in rainy and/or humid climates, as long as there is a tall foundation and a large roof overhang.
The Ashbourne Gingerbread Shop, 26 St John Street, Ashbourne, England, UK

Wattle and Daub
A related idea to the cob is the concept of wattle and daub. This is another type of sustainable construction which lends itself to use with an oak extension design. Wattle is woven branches, which can be used to form infill panels between the posts in a timber frame. Daub is also a soil-based material, similar to the cob. It is usually some combination of wet soil, clay, sand, animal manure, and straw. The daub is mixed, added to the wattle, and allowed to dry. Often, a further layer is added.
This is another age-old technique that could prove part of the puzzle when it comes to finding more sustainable ways to build our homes for the 21st Century.
Timber frame construction is ideal for allowing experimentation with different low-tech sustainable solutions like the use of cob or wattle and daub. And of course, when sustainably sourced, the timber frame itself can also be a sustainable and eco-friendly solution. For example, some of the round buildings on the market are designed to have minimal impact on the natural world.
Often, in the modern-day, we seek out complex, technological solutions to our problems. But sometimes, the simplest and oldest ways of doing things can actually be the best options for a given situation. Cob and related building techniques won't necessarily be a solution for all projects. And in certain cases, is not going to be the best option. But when thinking about how to infill a timber post and beam construction, these simple, ancient options certainly should at least be considered, and should not be overlooked.
Image Sources:
The Ashbourne Gingerbread Shop – 26 St John Street, Ashbourne picture was taken by Elliott Brown
Spinney Cottage, Coton Road, Coton, Northamptonshire picture was taken by Elliott Brown
Comments on this guide to Timber frames for cob construction article are welcome.
Edinburgh Architecture
Liberton Brae Townhouses
Design: LBA Architects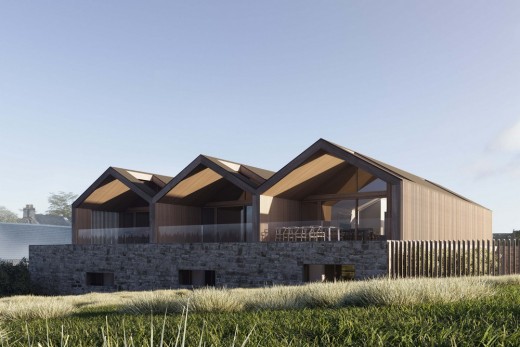 image courtesy of architects
Liberton Brae Townhouses
St James Quarter Edinburgh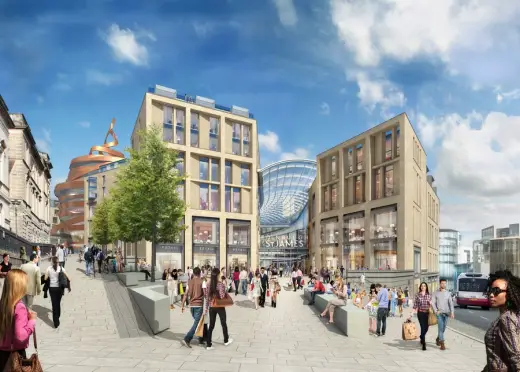 image of the development
St James Quarter
Comments on this guide for Timber frames for cob construction advice article are welcom