How can I make my house more attractive help guide, Architectural tips, Online home advice
How can I make my house more attractive guide
12 May 2021
Whether you're looking to improve your home for yourself or to increase the value and sell it on, this is the article for you. We Buy Any House have put together some tips to make home improvements no matter what budget you're on, along with some of the most popular options that homeowners are choosing to implement this year!
Make my houme more attractive advice
Make sure you've got kerb appeal
When you want to sell, first impressions are incredibly important. You need to ensure that potential buyers are attracted to your home before they enter it— and just making a few changes can make a huge difference.
If your house has a driveway, you can freshen it up with a good clean and repairing any damaged sections, especially if you have paving stones anywhere. Take some time to de-weed and pressure wash the paving too, as it will really brighten the front of your home.
You can also look at your front door and consider updating this – a fresh coat of paint will make a big difference and can transform your exterior, making it look much more appealing for anyone who approaches it, whether they're a potential buyer or a visitor.
Extend and add an extra room
Extending is an option for those with a higher budget, but adding another room to your home is one of the best ways to increase your property value. You can decide what will benefit the house most; often, an extra bedroom is the best choice, but some homes are better off with a new bathroom, living room, or even office space.
If you think your home could benefit from an additional living area, insulating your garage, adding some windows to let in more light, and turning it into a cosy space where you can relax is a great option.
For homeowners that want to go with an extra bedroom, you can look at building up into loft space. Most lofts will need to have some insulation, and have roof windows added to brighten up the space. You will also need to think about how you want to furnish the space to make the most of it as you will need to factor in the sloped ceilings.
Do all of the little jobs that you've been putting off
When someone comes to see your house for the first time, they will see all of the little imperfections that you've forgotten about or overlooked while living there. This means that when you're looking to sell you need to repair all of these, to avoid a buyer being put off by a little detail like a cracked tile or a scuffed wall.
If you're not planning to sell but want to make your home more inviting for yourself, dealing with these issues is a quick way to spruce the place up and can be done on the lowest of budgets. You can repaint walls in a different colour which is a really quick and easy way to make a big change, and will mean that you can personalise your rooms to your own tastes.
Update the bathrooms
There are plenty of ways that you can update your bathroom, so whether you're looking to freshen the room up quickly or are planning a full renovation, we've got some helpful ideas.
Simply adding new sealant around the edges of your bath, or renewing the grouting between tiles can help your bathroom to look brand new – especially if the current sealant is damaged and stained.
For homeowners wanting to make a more dramatic change, adding in new tiles is a great option. Using big tiles will make the area look more spacious, especially when used on the walls and floor as it will blur the line between the two. Waterfall showers are also a great addition, looking luxurious and sure to catch the eye of anyone that enters the room.
Comments on this guide to How can I make my house more attractive? article are welcome.
Edinburgh Architecture
Liberton Brae Townhouses
Design: LBA Architects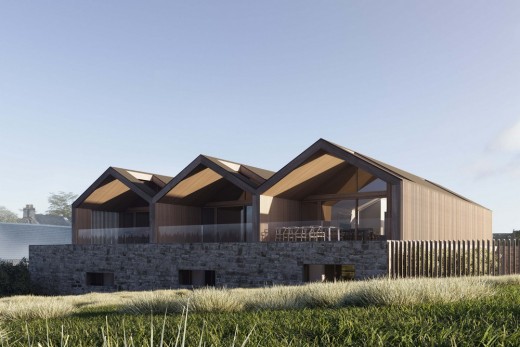 image courtesy of architects
Liberton Brae Townhouses
Artisan Real Estate Property Development
Artisan Real Estate Property Development
Comments on this guide for How can I make my house more attractive? advice article are welcom