Edinburgh News, Buildings in East Scotland, Lothian Developments, Property Design
Edinburgh Architecture News in 2013
Building Designs in the Scottish Capital – Lothian Property Developments in 2014
post updated 3 August 2021
Edinburgh Architecture News in 2013
Current:
Edinburgh Building News 2017
Late 2016:
Edinburgh Building News 2016
Edinburgh Building News
Lothian Architectural Developments up to end of December 2014
Edinburgh Building News – news in full from December 2013
Commemorative Plaques News
Commemorative Plaques to mark Year of Natural Scotland – only two weeks left to submit nominations. This is an opportunity to celebrate the achievements of historic figures who have been inspired by the beauty of the stunning landscapes in Scotland, from artists to writers to conservationists, architects and many more – further information on the December news page. 16 Dec
Hampden Park, Scotland's National Stadium – Commonwealth Games
Hampden Park is where the Games' most innovative construction project is currently under way. As part of its temporary transformation, the stadium will be given a dramatic new look to gain the width and length required for an IAAF-approved athletics track. 13 Dec
Perth City Hall Building News
Councillors have voted to demolish Perth City Hall after rejecting a rescue plan to convert the B-listed building. Councillors will now resubmit an application to Scottish Ministers for listed building consent to demolish the hall, one of Scotland most iconic concert venues.
If granted, it would pave the way for a resurrection of the council's preferred option for the site – a new civic square in the heart of Perth. 12 Dec
Aitken Turnbull Architects News
Aitken Turnbull Architects has made an acquisition of Border Architects.
The architecture practice has offices in Dumfries, Edinburgh and Galashiels. Border Architects will relocate with Marc Haslam, and Rob Slaney moving to the Galashiels and Edinburgh offices respectively.
The move follows formation of a 'strategic alliance partnership' between the practice and Belfast-based Todd Architects, specialists in health and education. Known as ATTA, the newly formed partnership will see 25 professional and technical staff at Aiken Turnbull collaborate with 35 staff at Todd from existing offices in Belfast, Dublin, Dumfries, Edinburgh, Galashiels and London. 12 Dec
Meadowbank Stadium Redevelopment News
The City of Edinburgh Council is considering selling off some of the land around Meadowbank Stadium to fund a redevelopment of the site.
Three options are being debated next week, all would require multi-million pound loans.
Meadowbank stadium hosted events at the Commonwealth Games of 1970 and 1986 but now the multi-sports facilities are in a state of disrepair. Input from Reiach & Hall architects as previously noted on this news page. 11 Dec
Page Park, Architects
Page Park Architects, Glasgow – which employs 40 and now turns over £3.5m – has become employee-owned, 32 years after it was established by founders David Page and Brian Park in 1981. 11 Dec
James Gillespie's High School
Morrison Construction has reached financial close on a £34m project to redevelop of James Gillespie's High School in Edinburgh. Under the project, Morrison will work for hub South East Scotland, a public/private development company on behalf of the City of Edinburgh Council – more on the Dec news. 11 Dec
Arbroath Dental Centre Building
NHS Tayside has submitted plans for a new centre at Arbroath Infirmary, which would include four surgeries and space for future expansion. The proposals were put together by Edinburgh-based JM Architects. 11 Dec
Surgeons' Hall Museum Renewal
Redevelopment design: John McAslan + Partners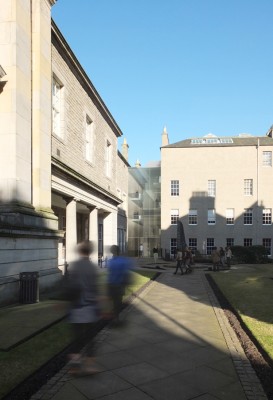 photo from architects
The Royal College of Surgeons of Edinburgh, the UK's oldest surgical Royal College, today announced that the proposal by John McAslan + Partners (London) to redevelop Surgeons' Hall Museum has been awarded an HLF grant. Designed by William Playfair the museum has been open to the public since 1832. 9 Dec
Higgs Space Tech Centre in Edinburgh
A new £11m space technology centre – The Higgs Centre for Innovation – is due to open in 2016, constructed on the site of the UK Astronomy Technology Centre (ATC) operated by the STFC at the Royal Observatory. Working in partnership with the University of Edinburgh, the Centre will house up to 12 small businesses, as well as academic and PhD posts, to provide PhD students the opportunity to gain entrepreneurial experience as they start their research careers – more on the December news page. 9 Dec
Scotland & Scandinavia
External Affairs Secretary Fiona Hyslop is in Denmark and Sweden to strengthen Scotland's increasing engagement with the two countries.
Ms Hyslop travelled to Copenhagen on Sunday 8 Dec and met with the city's Architect Tina Saaby and Scottish architect David Sim from of Gehl Architects – one of the world's leading urban design and placemaking practices. She also visited the Danish Architecture Centre – more on the Glasgow news page for December. 9 Dec
Newbattle Centre
Morrison Construction has been named as the contractor for the Newbattle Centre, which is replacing the current Newbattle Community High School. The appointment by Hub South East Scotland on behalf of Midlothian Council will see Morrison Construction undertake the £30m project, which has an anticipated completion date of 2016. 2 Dec
The Haymarket Starts on Site



image from architects
Work on The Haymarket – one of Edinburgh's biggest commercial development projects in ecent years is to start immediately following an agreement to commence enabling works and the completion of a number of key pre-lets. 29 Nov
Harris Academy, Dundee, Tayside, eastern Scotland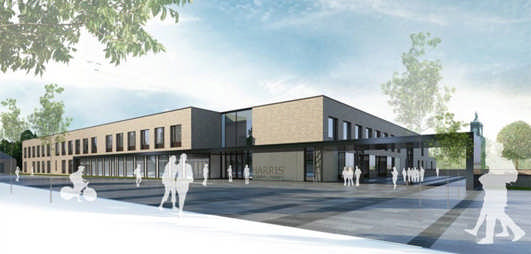 image from architects
Harris Academy Dundee – 29 Nov
Work to create a modern school for the next generation of pupils at Harris Academy in Dundee is now underway. Dundee City Council appointed hub East Central Scotland Company (hubCo) to replace the existing Harris Academy in the South West of the city. hubCo works with its development partner, Amber Blue, which is led on a daily basis by Robertson Capital Projects.
Alpine Glasshouse at Royal Botanic Gardens
The first new glasshouse to be built in Edinburgh's Royal Botanic Garden for over 30 years has been unveiled by its architects, Smith Scott Mullan Associates, reports Urban Realm today. 28 Nov
Shrub Place Development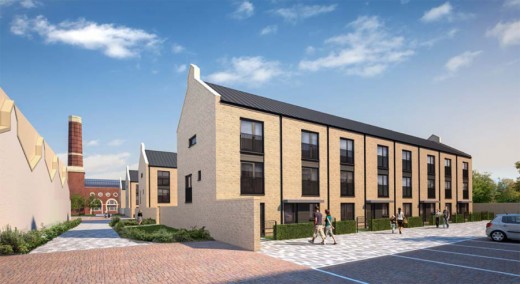 image courtesy of architects
New images of the Shrub Place proposal by EMA Architecture + Design Limited.
The Shrub Place gap site on Leith Walk is set to be plugged with a major housing project after planners gave the long-awaited development the green light.
Around 160 homes – a mix of apartments, town houses, and colony-style properties – will be built at the mothballed former bus depot. 27 + 11 Nov
New Aberdeen Football Stadium News
Aberdeen Football Club has re-opened talks with Aberdeen City Council about a move away from Pittodrie. Speaking at the club's AGM this week, chairman Stewart Milne told Dons shareholders that Loirston Loch, near Cove, is still the preferred venue for a relocation which has been mooted for years but beset by development problems. 27 Nov
Kelpies Construction Complete
The world's largest pair of equine sculptures have been unveiled in Scotland at an official topping out ceremony. The Kelpies are one of the UK's tallest pieces of public art, towering 30 metres above the Forth and Clyde canal near Falkirk. 27 Nov
Charlotte Square Office Building
Morgan McDonnell Architecture have completed work on behalf of Corran Properties on the refurbishment and new build extension at 26-31 Charlotte Square to provide grade A office space at the heart of Edinburgh's New Town World Heritage site, report Urban Realm. 21 Nov
New Urbanism in Longniddry
Update from Socially Conscious Capital Limited: "The developer behind this project is Socially Conscious Capital. The Prince's Foundation are not a developer, they merely facilitated the Enquiry by Design workshop to engage with the local community, and use their feedback to compile a vision for the sustainable growth of Longniddry – more information on the November news page. 19 Nov
Whistleblowers in Scotland are Ignored
Standards Commissioner's Flawed Report Signals Loss of 'Checks and Balances' in Scottish Public Life. The Royal Incorporation of Architects in Scotland (RIAS) is taking the unusual step of issuing this press notice to highlight significant failings by the Commissioner for Ethical Standards in Public Life in Scotland in his recently published report on the George Square, Glasgow design competition – see the Glasgow news page for details. 19 Nov
Conservation Area Regeneration Scheme
£10 m funding boost for Scotland's historic towns and cities.
Communities across Scotland are set to benefit from the latest round of Conservation Area Regeneration Scheme (CARS) funding announced today – more details on the November news page. 19 Nov
Edinburgh Building Development News – news in full from November 2013
Haymarket Station Revamp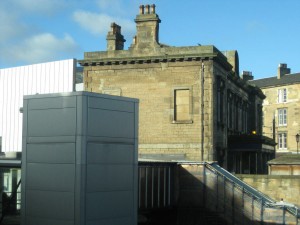 photo © Adrian Welch
Haymarket Station will be open to the public from December 19, reports the Edinburgh Evening News. The overhaul designed to cater for a predicted 125 % increase in passenger numbers over the next 15 years has cost £25m. 18 + 13 Nov
Charlotte Square
New photographs of Charlotte Square Edinburgh taken today. 18 Nov
Battle over Longniddry house plans
A new pressure group in Longniddry, East Lothian – 'Listen to Longniddry' – has mailed all houses in the village, flagging up concerns over a potential housing development, accodring to the East Lothian Courier. The development is being put forward by the Wemyss & March Estate and Socially Conscious Capital Ltd via the Prince's Foundation and it appears the design is going to be New Urbanist, a bit like the new community proposals up north in Chapelton(Aberdeenshire) and Castle Stuart – Tornagrain (Moray). We don't know details at this stage but read reports of 750 houses. A poster on the campaign website make a point we've been trying to gte across for the last decade, "There are 14,466 empty homes in the Edinburgh City-Region. A truly "sustainable urbanism" would find imaginative ways of recycling the existing housing stock, rather than constructing new housing on very productive arable land". The design is by a mix of architects and urban designers, all working for or contracted out to the Prince's Foundation, all very strong advocates of new urbanism/neotraditional design codes. 18 Nov
Maggie's North East



photo : James Newton
Maggie's Centre Newcastle lighting design by Speirs + Major (Edinburgh & London). This is the most recent of the fourteen Maggie's Cancer Caring Centres across the UK, designed by the Cullinan Studio. 18 Nov
Scottish Architects win at UK Property Awards
A leading Scottish architects firm, McKenzie Strickland Associates, has been named among the winning companies of the esteemed UK Property Awards for 2013.
The Perthshire-based practice competed against a number of architects in Scotland to receive its 14th industry award in just seven years. The company was presented with the award at a high-profile gala and presentation dinner at the Grosvenor House Hotel in London last month – more info on the November news page. 18 Nov
School Repair
A major probe into the way vital school repairs are carried out has revealed a catalogue of failures, reports the Edinburgh Evening News today. But, responding to the independent audit of its failing schools maintenance programme, council chiefs have promised "fundamental change" in the way they are carried out in future.
The review findings are sure to spark concern given the "significant" sums education leaders admit they need to carry out outstanding repairs on city classrooms. Council chiefs said they were well on the way to implementing a package of management improvements aimed at upping ­performance from 2014-15. 18 Nov
Website Renewal
We moved over to wordpress from joomla yesterday afternoon, it will take a few days to settle down, there are various advantages to the move for both readers and us, such as better sharing and improved updating. The Glasgow Architecture site moved over last Friday. 15 + 7 Nov
Panmure House Restoration
Panmure House, the historic home of economist Adam Smith off Edinburgh's Canongate has been gifted $1m (£624,000) towards its restoration. The Global Philanthropic Trust's donation means the conservation work can start in early 2014. The £3m project is led by Professor Keith Lumsden, director and founder of Edinburgh Business School, who also chairs the fundraising committee of the Panmure House Campaign. 15 Nov
Dangerous Buildings
Measures aimed at making it easier for local authorities to recover money spent when repairing dangerous buildings are to be examined by a Holyrood committee.
Introduced by David Stewart MSP, the Defective and Dangerous Buildings (Recovery of Expenses) (Scotland) Bill seeks to bring in "charging orders" which will allow local authorities to recover their costs and expenses where they have carried out work to defective and dangerous buildings. 15 Nov
New Project by Alan Dunlop
We unveiled the first major project by Alan Dunlop on the Glasgow Architecture site today, his first Scottish building design since the break up of gm+ad architects. 15 Nov
Shrinking Cities Edinburgh



photo from organisers
Shrinking Cities | Expanding Landscapes exhibition at Edinburgh School of Art showcases 8 internationally-exhibiting artists from throughout Europe with work that focuses on depopulated urban landscapes – the e-architect directors attended the reception, meeting with the curators from Spain and the ESALA organisers.
We also met with Robert Davies, who curated the Edinburgh Coastal Regeneration Exhibition
21 – 25 Sep 2012, that we featured peviously on this news page (see above). 14 + 11 Nov
Edinburgh Conference News
Shrinking urban areas can reimagine how cities work, say experts. The depopulation of North American and European cities can be an opportunity to reinvent how urban spaces operate and function, according to experts. Urban farming, new creative public spaces, and inner-city wildernesses are among the innovations that citizens can employ when urban populations start to decline.
The University of Edinburgh is hosting a special 3-day conference to discuss how this contraction actually presents opportunities for communities. International experts will share how cities around the world manage underutilised land – more details on the November news page. 13 Nov
Aberdeen Campus Redevelopment News
Robert Gordon University is to press ahead with plans for a new art school building despite a special status application which could prevent the current building being demolished. Historic Scotland has been asked to grant special status to the Gray's School on the Garthdee campus which is in line to be replaced as part of the multi-million pound redevelopment.RGU, which is currently working on a £120 million revamp of its Garthdee campus, plans to move students out of Gray's School of Art on Garthdee Road and into a new home by 2015. 13 Nov
Housing Demand
House prices have risen again as interest from buyers outstripped the number of properties coming onto the market, according to a report, reports BBC Scotland today. The imbalance between supply and demand caused prices to increase during October, the Royal Institute of Chartered Surveyors (RICS) said. Its latest survey for Scotland records a balance of 52% more chartered surveyors reporting price increases.
This is the highest proportion since 2007. However, a separate report from the Office for National Statistics showed house prices fell by 1.1% in Scotland over the year to September. 12 Nov
Scottish Civic Trust My Place Awards for 2014
The search is on again to find Scotland's best new civic project and civic champion for 2014.
In 2014 a Scottish Civic Trust My Place Award will recognise a building or public realm project that has had a positive impact in a local neighbourhood and has delivered tangible benefits to that community. Also, a Scottish Civic Trust My Place Civic Champion Award will be presented to a person who has made an outstanding contribution to the promotion and protection of their local heritage. Any community based group can nominate a project or person. These can include: local civic trusts affiliated to the Scottish Civic Trust, community councils, history societies, housing associations, arts groups, development trusts and community action groups. 11 Nov
BEFS Annual Congress
Linlithgow Burgh Halls on 19 Nov
The Built Environment Forum Scotland (BEFS) Annual Congress this year addresses the theme of 'Mainstreaming the Historic Environment' as set out in the Scottish Government's consultation on the Historic Environment Strategy for Scotland. 11 Nov
Duddingston Kirk



photograph © Adrian Welch
Edinburgh Church Building : new photos of the main building and entrance. 10 Nov
RIAS Andrew Doolan Award News
WASPS South Block, Glasgow wins Best Building in Scotland
Also, the first ever Scottish Government/RIAS Client of the Year Award was presented to Fr. Dermot Morrin (OP) who played a crucial role in the evolution of the RIAS Award-winning Chapel of Saint Albert the Great, Edinburgh. 8 Nov
Historic Scotland News
Extensive investment in the historic environment by Historic Scotland over the past five years has levered in over £166m of additional funding.
An independent analysis commissioned by Historic Scotland and carried out by Jura Consultants assessed the impact of a range of investments from 2007-12 – more details on the November news page. 7 Nov
RSA Architecture Open
Showcasing the best in Scottish Contemporary Art and Architecture



image © Adrian Welch
Royal Scottish Academy show opens 23 Nov
The RSA Open is an exhibition of small-scale works by contemporary artists and architects from Scotland and further afield. The exhibition provides a wonderful opportunity to buy unique artworks and in doing so, support artists living and working in Scotland. Traditionally part of the RSA Annual Exhibition, the RSA Open has been rebranded as a stand-alone show featuring RSA Academicians and selected artists and architects from across Scotland. Now in its fifth year, the RSA Open marks a sea change in the format of the historic RSA Annual Exhibition and will continue to be a regular fixture of the RSA exhibition programme. 6 Nov
Quartermile Investment



photo : Nigel Young, Foster & Partners
Edinburgh's Quartermile urban regeneration scheme is poised to benefit from a £170 million investment from its new owner in a bid to drive the development forward.
Construction at the 19-acre site largely ground to a halt during the property crash of 2008-9, but a recent upturn in activity means property investor Moorfield, which bought the project from Lloyds-backed developer Gladedale Capital at the end of September, is hopeful of finalising work in 2017. 5 Nov
Perth City Hall News
Perth & Kinross Council has received just one bid – from the businessman who plans to turn the B-listed landmark into an indoor market – in the marketing drive for sale of Perth City Hall. 5 Nov
Surface Design Awards Winners
Two Edinburgh projects shortlisted:
The Scotsman Steps by Martin Creed with Haworth Tompkins / McGregor Bowes



photo from organisers
Scottish National Gallery of Modern Art by Allison Architecture



picture from organisers
The Surface Design Awards champion the best in progressive design and innovative surfaces and are the only international awards to focus exclusively on surface design. 5 + 4 Nov
Scottish Low Energy Housing
Work on an innovative low energy affordable housing development will get underway in Fraserburgh this month, after the project secured £1.4m of Scottish Government funding. Aberdeenshire Council's housing team joined forces with experts at Robert Gordon University's (RGU) Scott Sutherland School of Architecture and Built Environment to submit a bid for 30 low energy units to the Scottish Government's Greener Homes Innovation Scheme (GHIS), successfully winning a significant share of the £10m fund. The fund, which was split between 14 projects across Scotland, aims to support house building schemes offering new approaches to the delivery of energy efficient affordable housing using innovative methods of off-site construction. The design for the new development at Fraserburgh is based on the principles of the award-winning sustainable housing previously designed by RGU professor Gokay Deveci in Dunoon. 4 Nov
Edinburgh Interior Designs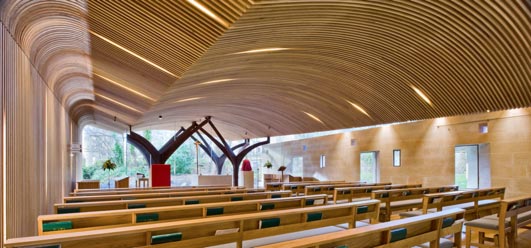 photograph © Chris Humphreys
We've updated our Edinburgh Interiors page, the process is not complete but the page now has a much wider and more topical range of designs from the Scottish capital. Comments always welcome. 2 Nov
Edinburgh Castle wins top UK Heritage Attraction



photograph © Adrian Welch
Edinburgh Castle has been voted the top UK Heritage Attraction in the prestigious 2013 British Travel Awards, the largest awards programme in the UK. The announcement was made at an industry event in London on 31 October. The iconic historic attraction was also awarded the accolade of Top UK Heritage Attraction in 2011 and 2012 and this year was the only Scottish attraction to be short-listed. 1 Nov
Marine Research Centre Building
New £17m research centre for earth and marine science is to open at Heriot-Watt University's Edinburgh campus. The Sir Charles Lyell Centre is being jointly set up by The British Geological Survey and Heriot-Watt University, and funded by Natural Environment Research Council, Scottish Funding Council and Heriot-Watt University. It will look at key areas including global change and ecosystems, seafloor-mapping using advanced robotic vehicles, earthquake and volcanic risk and monitoring, and energy security. The BGS will move its Edinburgh office to the purpose-built complex which is scheduled to open by 2015. 1 Nov
Edinburgh Building Development News – news in full from October 2013
Kirkcaldy Leisure Centre



photo © Paul Zanre
A new £15m Kirkcaldy Leisure Centre designed by B3/Cre8 Architects has opened. Pictured above is the new Michael Woods Sports and Leisure Centre in Glenrothes which opened back in July 2013. A full set of information and photographs is online for each of these two buildings. 23 + 22 Oct
Tynecastle Stadium News


photograph © Adrian Welch
The Cockburn Association have proposed that the main stand at the Tynecastle Stadium be listed, report the Edinburgh Evening News today. The Hearts Stadium grandstand was designed by architect Archibald Leitch and built in 1919. This would avoid the building being demolished and the Hearts ground being turned into flats. It would stop the club's main creditor Ukio Bankas will sell the ground to developers to recoup at least £15m in debt. 21 Oct
Edinburgh Architecture News – news in full from September 2013
Walking Tour News
e-architect have expanded our architecture tours out of Edinburgh and Glasgow in the last few years. We have now architectural tours in 62 cities, including Liverpool, Dublin and Cambridge alongside London which is now well established.
Edinburgh Walking Tours
Quartermile Sale



photo : Nigel Young, Foster & Partners
One of Edinburgh's largest urban regeneration schemes has changed hands in a "multi-million-pound" deal, reports the Edinburgh Evening News today.
Quartermile has been sold by Lloyds Banking Group-backed developer Gladedale Capital to property investor Moorfield. 26 Sep
Forth Bridge Experience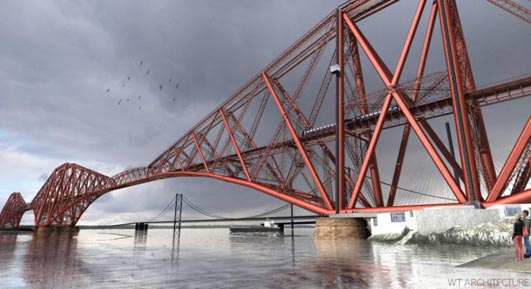 image from architect
Forth Bridge Experience
Images + info re WT Architecture commissionl to develop proposals for visitor facilities at the Forth bridge. 13 Sep
Edinburgh Guided Tour



Museum of Scotland building photo © AW
On Monday the 9th September 3 members of the e-architect team showed 64 professional people from Bangkok around Edinburgh Old Town. The walking tour was, despite the weather, a success. The 3 groups enjoyed the healthy mix of historical and contemporary architecture and general cityscape of the old town. For this group of visitors e-architect put special emphasis (by request) on Edinburgh's sustainable visions and plans for the future. The group's favourite point on the tour was the rooftop terrace above the Museum of Scotland. Their biggest concern was the lack of trees (something many of our Asian visitors on tours have said about both Edinburgh and Glasgow city centres) in the centre, though they enjoyed the foliage in The Grassmarket! 11 Sep
Edinburgh Architectural News – news in full from August 2013
Caltongate News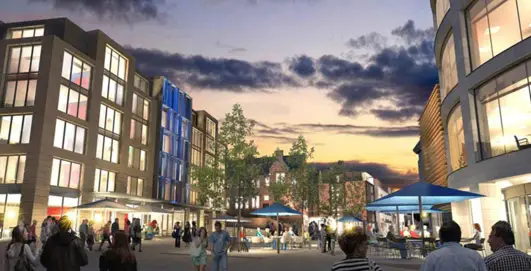 picture from developers
Caltongate development – Artisan Real Estate Investors lodges a detailed planning application for the Caltongate area of the Old Town. The design is by Allan Murray Architects. 30 Aug
Edinburgh Airport Building News



photo from EA
Edinburgh Airport is to invest £25m in a significant expansion of the airport's terminal building. 21 Aug
Heriot Watt Student Residences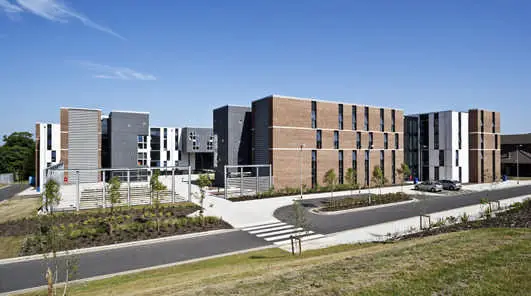 photo : Keith Hunter
Heriot Watt Student Residences by RMJM architects. 8 Aug
Edinburgh Architectural Design News – news in full from July 2013
Edinburgh Architectural News July 2013
Edinburgh News – Recent Scottish Developments
The Cundy House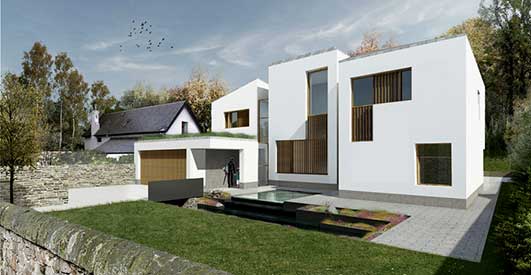 image : Dalgety Design
APD Architecture have secured planning permission for a contemporary detached house on the edge of Edinburgh's Corstorphine Hill, an area designated with 'Great Landscape Value' status. This is a neighbourhood of woodland, golf courses and one-off houses – each built in the contemporary styles of their day – but, due to the protected natural character of area, permission for newer buildings has been infrequent in recent times. More at – The Cundy House. 29 Jul
Quartermile Housing News



image from architects
The first tenants pick up the keys to their new homes in the £23m Quartermile Social Housing by Richard Murphy Architects. 24 Jul
Edinburgh Buildings News – news in full from June 2013
RIAS Awards
RIAS Awards, Scotland – Winning Buildings + Architects – news
Assembly Rooms Renewal Award


photo © Paul Zanre
Assembly Rooms renewal by LDN Architects : RIBA National Award Winner – 13 Jun 2013
New photos added 13 Jun 2013
The Heriot's Centre for Sport and Exercise in Edinburgh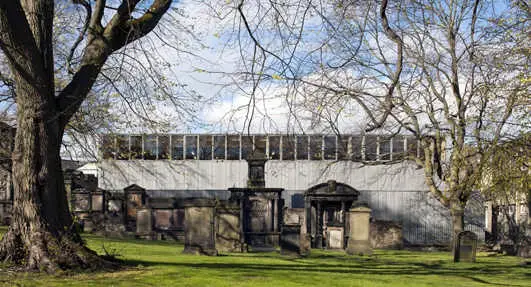 photo © Paul Zanre
Heriot's Centre for Sport and Exercise – new photos added 13 Jun 2013
Edinburgh Building Development News – news in full from May 2013
New Forth Bridge Approval



Forth Road Bridge: image © Adrian Welch
MSPs give the new Forth Bridge Replacement their official sanctioning in a vote.
More than 27,000 people have so far voted on the 5 choices for the bridge. 23 May
Israeli Architecture
e-architect editor Adrian Welch was on an architectural tour of Israel. He met architects Souto de Moura, Amnon Rechter, Roger Diener, Zvi Efrat and Israeli President Shimon Peres.
Lothian Property Updates April 2013
Edinburgh Architecture News in full from April 2013
Haymarket News



image from architects practice
Haymarket – design by Richard Murphy Architects
A controversial development in one of Scotland's prime city centre gap sites is to start this summer after years of protest and delay, reports the BBC today. The £200m business district is to be built on Edinburgh's Haymarket. 3 Apr
Edinburgh & Lothian Building News – news in full from March 2013
Fort Kinnaird Multiplex



image from architects
Plans for a 1200-seat multiplex at Fort Kinnaird, Edinburgh approved. 14 Mar
Edinburgh Building Design News – news in full from February 2013
Edinburgh BioQuarter Development News


photo from Scottish Enterprise
Edinburgh Bioquarter : 3 new life sciences companies move into leading research centre. 7 Feb
Edinburgh School Building News
The City of Edinburgh Council submits planning applications for extensions to four of its primary schools using a modular, prefabricated building system.
Edinburgh Schools – further information on the above
Fortress Holyrood



image from architects office
The controversial Scottish Parliament security extension goes on site. There has been a demonstration by architects and reports suggest a visit by Benedetta Tagliabue (of EMBT) might happen. The annexe at the front of the Scottish Parliament building is intended to prevent terrorist attacks by ensuring people go through security screening before entering the parliament building itself – Scottish Parliament security extension. 1 Oct
Comments for the Edinburgh Architecture News page welcome