Edinburgh Architecture News 2016, Lothian Buildings, Architects, Images, Design Scotland
Edinburgh Building News in 2016
Scottish Architectural + Construction Updates – East of Scotland Property Design Information
31 Dec 2016
Edinburgh Architecture News for 2016
Seasons Greetings
29 Dec – We wish all our readers a happy holiday season and trust you had a Good Christmas!
New Royal Edinburgh Hospital Campus
27 Dec – NHS Lothian has takes delivery of the first phase of its new Royal Edinburgh Hospital Campus, designed by Norr Architects. It is a £48m building incorporating mental health, psychiatry and a brain injury unit, report Urban Realm. Undertaken by Hub South East Scotland and Morrison Construction the build, which precedes two additional phases of construction. The second phase will see a new facilities management centre and integrated rehabilitation centre built alongside the refurbishment of MacKinnon House.
Charlotte Baptist Church Building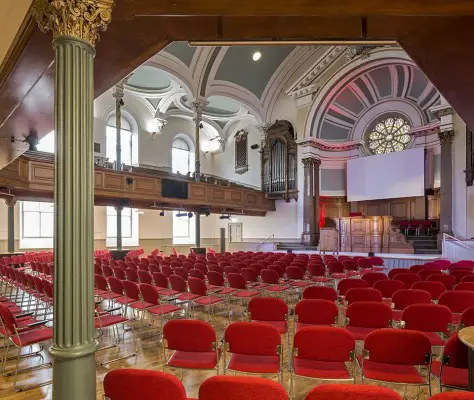 photograph : Keith Hunter
26 Dec – Lee Boyd were successful in a limited competition to provide architectural services for Charlotte Chapel who have moved to St George's West Church in the centre of Edinburgh.
Charlotte Baptist Church
RSA Architecture Open 2017 – Call to Architects!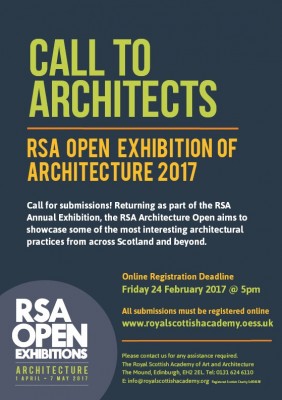 West End Apartment
Location, location, location – we all know its value when it comes to hunting for a new home, and this Edinburgh apartment has that particular property issue taken care of. Situated on the second floor of a handsome Victorian building in the city's beautiful West End, the apartment has wonderful views over St Mary's Cathedral and Edinburgh castle:
Glamorous Edinburgh West End Apartment
Richard Murphy's House in Edinburgh is RIBA House of the Year
16 / 15 Dec – The Royal Institute of British Architects (RIBA) announce that Murphy House in Edinburgh by Richard Murphy Architects is the 2016 RIBA House of the Year
"Nearly a decade in the making, this house is a true labour of love for Richard. Part jigsaw puzzle, with its hidden and unexpected spaces, and part Wallace and Gromit with its moving pieces and disappearing walls, this is a model house of pure perfection and a worthy winner of the RIBA House of the Year 2016."
Architects & Architectural Assistants Required in Kuwait
Architects of various levels required for architecture practice based in Kuwait.
Very competitive salary and lower living costs than Dubai / Abu Dhabi.
Please e-mail your CV to Adrian Welch at info(at)e-architect.com
Budget fails to unblock housing barriers
15 December 2016 – Responding to today's draft Budget announcement, Chief Executive of trade body Homes for Scotland Nicola Barclay said:
"The Scottish Government recognises the need to increase the delivery of new homes for the benefit of Scotland's communities and economic growth but there is little in today's statement to make this happen
"Whilst there is generous capital spend on the delivery of affordable homes, which is welcomed, our members tell us that it is harder than ever to commence new sites and get much needed homes of all tenures out of the ground.
"This is borne out by key indicators published this week which showed a flatlining of housing completions at a level still some 40 per cent below that before the recession, as well as a worrying fall in the total number of homes being started, but there are, unfortunately, no new announcements to help unblock the system..
"In particular, we are disappointed that none of the £800m of capital budget consequentials from the Autumn Statement will be used to unlock development in Scotland, especially in relation to the provision of education infrastructure which is now one of the biggest blockers to housing delivery.
"We had requested the Scottish Government extend the five per cent banding of the Land & Buildings Transaction Tax given the impact this is having on house purchases above the current £325k ceiling. Whilst we fully support the Scottish Government's aim of helping First Time Buyers, we must ensure that the property ladder functions at all levels. When aspirational buyers choose not to move, this prevents others further down the ladder from being able to do so.
"We note with interest the proposal to 'modernise compulsory purchase orders to ensure vacant and derelict land can be brought into use for communities'. It is right that positive opportunities to intervene are fully explored for sites where landowners would struggle to bring development forward without support. This echoes Homes for Scotland's views on the need to prioritise positive interventions over financial penalties which would be unlikely to help unviable sites.
"We also look forward to seeing the detail of the SME Holding Fund as we recognise that the SME sector of the housing industry has been disproportionately impacted by the downturn and requires support if it is going to grow and help deliver the many thousands of homes this country needs."
Senior Site Architects in Dubai
Job Title: 3 x Senior Site Architects – 1796
Location: Dubai, United Arab Emirates
Expected Start Date: 15/01/2017
Company: Architectural Consultancy
Job Summary: Fantastic western firm are looking for 3 x Senior Site Architects with site experience, working on a large low rise project for Expo2020 and an Office project in Dubai.
Up to AED 45,000
Job Description: Western architectural practice is looking for 3 x Senior Site Architects to work on the Expo 2020 site on a large low rise project as well as an office project in Dubai.
Website: Architects Jobs
IMPACT Scotland – Competition for concert venue in Edinburgh
14 Dec – IMPACT Scotland : a new, world-class concert venue in the heart of Edinburgh's World Heritage Site.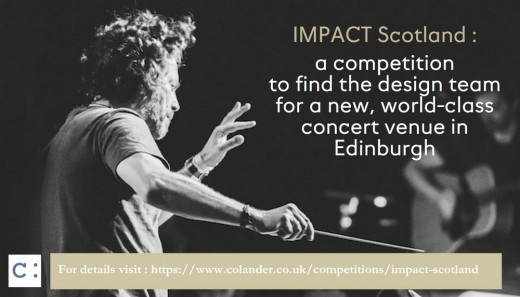 "We are delighted to announce the competition to find a design team for this fabulous project.
First and foremost, IMPACT Scotland will be home to the Scottish Chamber Orchestra, with an acoustic to rival any other classical venue in the world.
It must also be robust enough to adapt to and serve the many and assorted performers at the Edinburgh International Festival.
Alongside the main hall, a smaller studio will offer multiplicity for public performances, education programmes and rehearsals.
At its heart will be an open, public lobby, which will be a destination in its own right : with places to meet, think, eat and drink.
This is a very special project that needs an exceptional team both to design it, and deliver it. The client is keen to consider emerging designers as well as those that are more established and experienced, and for this reason, submissions are invited from teams that recognise the importance of nurturing and delivering exceptional creativity.
As well ass design talent, the team will be required to demonstrate that it is able to inspire and convince diverse stakeholders; that it can work collaboratively with a world-class acoustician; that it has the expertise to work in a World Heritage Site; and that it can steer a path through hugely complex and possibly conflicting functional and technical requirements."
To find out more, visit the competition webpage:
https://www.colander.co.uk/competitions/impact-scotland
The Masterplan report concluded that at today's prices the Concert Hall could be built for a project cost of around £40 million, excluding VAT. This equates to a project cost per square metre rate of around £6,000.
https://www.colander.co.uk/journal/2016/impact-scotland-a-new-world-class-concert-venue
Planning system still slowing housing delivery
13 Dec 2016 – Scotland's builders are finding it harder than ever to make a start on new sites and get much needed homes out of the ground, a claim trade body Homes for Scotland (HFS) says is substantiated by statistics published today which reveal that, at 48.5 weeks, the time taken on planning decision times for major housing applications remains more than three times the statutory period of 16 weeks.
In fact, for the period July to September in 2016/17, the time has actually slowed by a day from the previous quarter.
The news follows yesterday's housing report that annual completion levels have effectively flatlined at an average of around 15,000 since 2010 – still some 40% below pre-recession levels – with a worrying drop in the total number of homes being started.
HFS Director of Planning Tammy Adams said:
"There is an urgent need to get decisions out in good time, both on planning applications and appeals. If this doesn't happen, the all-tenure housing crisis will only get bigger and this will be to the detriment of communities across Scotland.
"The Scottish Government is now consulting on increasing planning fees for major developments. Planning services clearly need to be properly resourced, but a fee hike will not be palatable unless there is a guarantee that performance will improve."
Housing completions flatlining as starts fall
13 Dec 2016 – Housing completions flatlining as starts fall – resuscitation needed to significantly increase number of homes being built
With Scottish Government figures published today reporting a four per cent increase in house building completions in the 12 months to June 2016 compared to a year earlier, the country's home building industry described it as a step in the right direction but pointed to a worrying eleven per cent drop in private sector starts over the same period.
Nicola Barclay, Chief Executive of trade body Homes for Scotland, said:
"Whilst this increase in completions is welcome, at less than 600 homes, much more obviously needs to be done in order to effectively tackle Scotland's housing crisis and this will require many thousands of new homes of all tenures.
"Over the period from 2010, annual completion levels have effectively flatlined at an average of around 15,000 and we now see a worrying drop in the total number of homes being started, with alarming disparity between public and private sectors.
"The system therefore remains in need of resuscitation to ensure that the pipeline of new homes coming through is not blocked or delayed by bureaucratic processes.
"This is reflected in comments made by some of our members that it has never been harder to open new sites and get homes out of the ground.
"With the majority of those living here still wanting to own their own home, it is essential that the Scottish Government gets on top of the barriers that are preventing people from achieving this most basic of aspirations and enables our industry to increase the contribution it makes to our country's social and economic wellbeing."
Edinburgh Gateway Station Building
Transport Minister Humza Yousaf officially opened the new £41m Edinburgh Gateway train-tram interchange on Friday, December 9th.
The new station, in the west of the city, will help to transform travel options for passengers from Fife and the north giving them easy access to the Edinburgh tram network and the city's airport.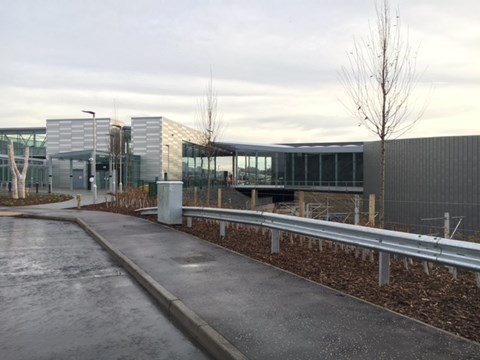 Edinburgh Gateway is part of the Scottish Government-funded Edinburgh Glasgow Improvement Programme (EGIP) which, along with a rolling programme of electrification across the central belt, will deliver reduced journey times and increased capacity and allow the introduction of new faster and greener trains.
Mr Yousaf marked the official completion of the station before touring the new facility, which will open to the public on Sunday (December 11) when timetabled services begin to call.
Mr Yousaf said: "I am delighted today to officially open the new Edinburgh Gateway station.
"This £41m investment will offer huge benefits to rail passengers travelling to or from the Gogar area, integrating the rail network with the tram network and providing a convenient link to Edinburgh Airport.
"The station being delivered on time and on budget is testimony to the hard work of all involved."
Phil Verster, managing director of the ScotRail Alliance, said: "Scotland's railway is undergoing its biggest transformation since Victorian times as we work with the government to deliver the stations, tracks and trains needed to provide more seats and more services for our customers.
"Edinburgh Gateway will help to transform the way people use our network and access Edinburgh's trams and airport.
"This new interchange is a wonderful example of our vision for Scotland's railway, which is all about working in partnership with others to deliver choice for customers and help create social and economic opportunities for the communities we serve."
The new station consists of two 265m, 10-car platforms and boasts 1500m2 of concourse and circulation space. A step-free access bridge links the platforms within the station and connects to the tram stop via lifts and escalators. An underpass beneath the A8 provides pedestrian and cyclist access from the nearby Gyle centre.
Gateway's passengers will have direct trains to Perth, Dundee and Inverness, as well as to the city centre and Fife. When combined with the nearby South Gyle station, six trains per hour will serve north west Edinburgh instead of the current four.
The station will also provide increased choice for Fife-based commuters travelling to Edinburgh Business Park, with 14 trains arriving at Gateway or South Gyle between 07:00-09:00 hrs. For the return leg, a similar number of services will depart these stations during the evening peak.
The number of trains calling at South Gyle will reduce from current levels to two per hour, but with an additional service in the morning and evening peaks.
During his visit the minister met the project engineers, station staff and representatives from the Edinburgh Gateway Partnership.
The partnership – consisting of Edinburgh College of Art, Edinburgh Royal Botanic Gardens, Concrete Scotland, Queensferry Community High School and Inverkeithing High School – has designed and developed sculptured landscaping for the main approach to the station and art work for the walkway between the station and the Gyle centre.
For further information on the project visit www.egip.info and for latest updates follow on twitter @NetworkRailEGIP.
Portobello Flats
7 Dec – Edinburgh architects Hackland and Dore have submitted plans to build 8 flats on the site of a former wash house in the heart of Edinburgh's Portobello conservation area.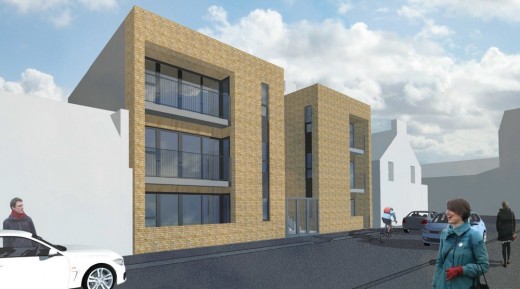 Brought forward by Figgate Street Developments the scheme will sit at the junction of Portobello High Street and Figgate Street, taking the form of twin three storey blocks conjoined by a central access stair.
Union Terrace Gardens News
Aberdeen City Council have launched a public engagement exercise for their latest plans for Union Terrace Gardens, the latest evolution in a long line of proposals for the city centre park.
Prepared by landscape design specialists LDA the £20m plan includes an elevated walkway plugging into Union Street to improve disabled access and transformation of the central lawn into a flexible events space.
Scotland Policy Conferences Keynote Seminar
The future of housing in Scotland – delivery, demand and the impact of policy
Chaired by Kate Forbes MSP, Member, Environment, Climate Change and Land Reform Committee
Timing: Morning, Wednesday, 7th December 2016
Venue: Central Edinburgh
The focus: Policy priorities for housing over the next Parliamentary period.
More info on our events page.
Lippe Architects + Planners News
29 Nov 2016 – Sending out a positive signal in a currently challenging sector, Architects Practice, Lippe
Architects + Planners have added experienced architect, Catherine Cope (nee McKeown) BArch BSc (Hons) to augment their team of 17 employees. Lippe Architects + Planners, with over 30 years' experience in the construction industry, have further extended the strength of their team with the addition of Catherine who is based at their offices at 25 Albyn Place, Aberdeen.
Aberdeen Buildings News
Edinburgh Architecture Photos
26 Nov – new photos around the Calton Hill area by Adrian Welch: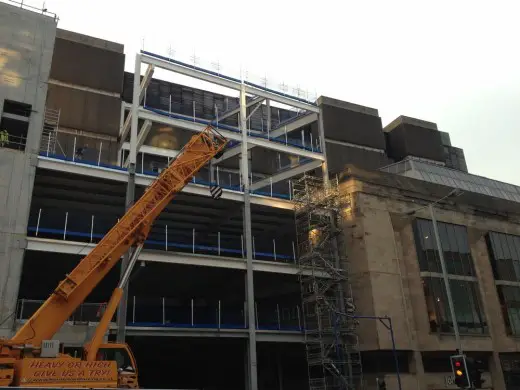 St James Centre building redevelopment
Newhailes House Proposal
24 Nov – The National Trust for Scotland has unveiled the first stage of an ambitious plan to secure the future of one of East Lothian's architectural jewels, reports the Edinburgh, Scotland Evening News. Newhailes House, near Musselburgh, dates from the 1680s and is rated as one of the finest Palladian-style stately homes in the country.
The first £2.4 million of investment will be divided between £1.48 million to be spent on conservation and landscape enhancement, and £972,000 on commercial and visitor services improvements.
Read more at: Newhailes House Plans
Scottish budget boost to be prioritised for housing
23 Nov – With the Scottish Government's capital budget set to increase by more than £800 million through to 2020-21 as a result of today's Autumn Statement, the country's home building industry called for the same funding priority for housing to be given north of the border as was set out by the Chancellor for England.
Nicola Barclay, Chief Executive of trade body Homes for Scotland, said:
"Nothing is more important to Scotland's social wellbeing and economic success than ensuring we have enough homes to meet the needs and aspirations of our growing population. Today's focus on housing by the Chancellor not only recognises the importance of this but also generates a significant budget boost for the Scottish Government which we must see similarly prioritised towards home building, if this country is to thrive and grow.
"No other single industry has the potential to positively impact so many different policy areas. Whether it's jobs, skills, health or education, building homes makes a hugely positive difference to the lives of all those living in Scotland.
"We therefore urge the Scottish Government to make the most of this additional money and attract further private sector investment by allocating it to a national all-tenure home building programme."
Design Museum London Building Opening
23 Nov – Designed by John Pawson / Rem Koolhaas, OMA with Allies and Morrison.
The new Design Museum will be the world's leading museum of contemporary design and architecture, an international showcase for the many design skills at which Britain excels and a creative centre, promoting innovation and nurturing the next generation of design talent.
Historic Environment Scotland Asks – What's Your Heritage?
23 Nov – People across Scotland invited to help change the course of heritage
Historic Environment Scotland (HES) has announced an ambitious national campaign to find out what heritage really means to the people of Scotland as part of the 2017 Year of History, Heritage and Archaeology.
'What's Your Heritage?' is a multi-channel project that asks members of the public to reveal which of Scotland's places, buildings and monuments they want to see recognised and celebrated.
HES hopes to uncover some hidden gems and, perhaps, some unusual examples of heritage for future generations to enjoy. From theatres to pubs, and castles to schools, what are the buildings that have made us who we are?
Edinburgh Building News 2016 – news archive links below:
********************
Edinburgh News – Archive for July to October 2016
Edinburgh Architectural News 2016 – Archive for May to June
Edinburgh Architecture News 2016 – Archive for the early part of the year
Edinburgh Architecture News 2015 – Archive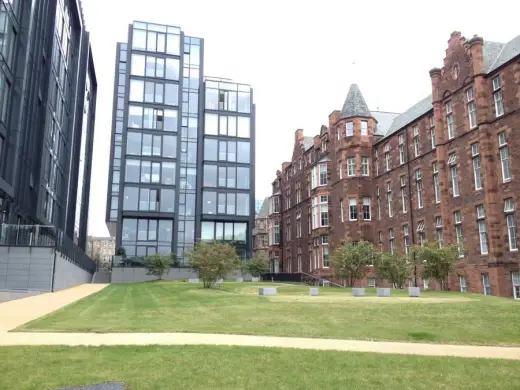 Architecture in Lothian
Scottish Parliament entrance: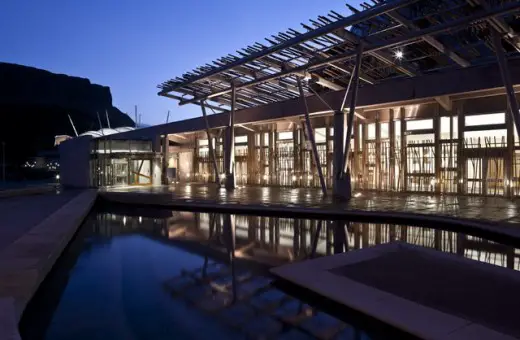 Comments for the Edinburgh Building News page welcome