Edinburgh West End Apartmentt, Two Bed Scottish Capital Home, Accommodation Scotland
Glamorous Edinburgh West End Apartment Design
Flat in the Scottish Capital: Two Bed Property by Malcolm Duffin Design
17 Dec 2016
Luxury Edinburgh West End Apartment
Tour This Glamorous Edinburgh West End Apartment
Punchy colours and graphic patterns have taken this Scottish apartment from shabby to stunning. Now it's bursting with sassy, retro style
Article first published on Houzz
Joanna Simmons, Houzz Contributor
Location, location, location – we all know its value when it comes to hunting for a new home, and this Edinburgh apartment has that particular property issue taken care of. Situated on the second floor of a handsome Victorian building in the city's beautiful West End, the apartment has wonderful views over St Mary's Cathedral and Edinburgh castle.
The location can't be beaten, but when Malcolm Duffin of Malcolm Duffin Design first saw it, the interior left much to be desired. 'It had been virtually untouched for 30-odd years,' says Malcolm. 'It had hideous bookcases, wardrobes and fireplaces and the layout wasn't working either.'
The apartment needed completely renovating, from rewiring and replastering to reconfiguring the space and decorating the rooms. And there was a tight deadline, too.
The owners had bought the property as an investment and wanted it ready for renting out in just eight weeks. In fact, Malcolm and his team, including interior designer Jenna McLaughlin, transformed it in only seven weeks. 'The style of the apartment actually inspired the designs for its refurbishment,' explains Malcolm.
'We wanted to give it a bit of a 1970s feel, working in some punchy colours, and the existing décor was behind this idea.' The apartment now references retro style, but in a bold and glamorous way. 'I think it's an example of how a classical property can be approached without cliché,' he says.
Houzz at a Glance
Location The West End, Edinburgh
DesignerMalcolm Duffin Design
Size 2 bedrooms, 1 bathroom
Cost £70,000
Converted from a Victorian house on one of Edinburgh's most attractive crescents, the apartment sits on the second floor, with lovely views over the city. It originally had just one bedroom, but reducing the size of the kitchen and reconfiguring the space meant a second bedroom was created at the back.
Browse coffee tables for your living room
'I am very inspired by designer David Hicks,' says Malcolm. 'His geometric patterned carpets and fabrics from the 1960s and 1970s have been a constant source of inspiration, along with his ferocious sense of balance and order.' Here, patterned wallpaper is teamed with furniture in strong colours, but the symmetrical arrangement and balanced feel to this space ensures these bold elements sit together harmoniously.
All wallpapers and carpet, Malcolm Duffin Design.
Discover great ways to decorate with geometrics
'The owners did not want too much fuss or ornamentation in the apartment,' explains Malcolm. Instead, geometric wallpaper provides detail, while a few key pieces of furniture keep the space uncluttered, but add a shot of punchy colour.
An elegant dining area next to the window makes the most of the south-facing views over the city. Again, furniture in a bright, accent tone has been used to ramp up the glamorous feel. All the furniture in the apartment was designed bespoke by Malcolm Duffin Design and made by Charlotte James Furniture.
Although both the carpet and wallpaper in the living space are patterned, their muted colour helps them to become a gorgeous, but never overpowering backdrop. 'Without any furniture, these two elements could actually look quite bland,' says Jenna McLaughlin, who worked with Malcolm on the project. 'But the bright furniture and cushions tie the look together.' The carpet was designed by Malcolm Duffin and made bespoke. 'We often use striped carpet,' adds Jenna. 'It looks great in any interior, traditional or modern.'
Malcolm designed a small kitchen for the newly reconfigured apartment, and installed cabinets with a glossy finish. 'The reflective surfaces can help to widen the space,' says Malcolm. Another David Hicks wallpaper lines the walls and ceiling. 'It makes it feel much more dynamic and exciting in here,' says Malcolm. A striped lino floor adds the final touch of 1970s cool.
The striking mix of geometric wallpaper in a muted tone teamed with splashes of hot orange on furniture has been used in the master bedroom, as well as the living space. 'Don't be scared of using a bold wallpaper,' says Jenna. 'It's just about getting a balance. If you have bright paint colours or crazy wallpaper, calm them down with simple furniture.' The arrow-like design on the wallpaper seems to point the eye towards the window, which gives long views over Edinburgh.
Find more tips for using bright orange
'Lucy, one of our designers, sourced a wonderful collection of Slim Aarons' vintage photography for the apartment,' says Malcolm. 'It was the perfect finishing touch to the retro glamorous feel.' Mirrors, reflective surfaces and a mix of lighting feature throughout the apartment. 'Gleaming retro pendants and good lamps and task lighting supplement the ample daylight that comes in,' says Malcolm.
Ceilings, cornicing and woodwork are painted white to complement the patterned wallpaper and anchor each space. Here in the hallway, Vivienne Westwood's Squiggle wallpaper for Cole & Son, available from Malcolm Duffin Design, is teamed with fresh white paintwork and the striped carpet that runs throughout the apartment.
Squiggle Wallpaper, Vivienne Westwood for Cole & Son
The apartment originally had only one bedroom, plus an open-plan kitchen and dining space. 'It was a terrible arrangement and very wasteful in terms of space,' says Malcolm. 'By redesigning the kitchen and adding a dining space to the living area, we could then create a second bedroom.' This new room sits at the back of the property. 'It gets lots of natural light and has views over gardens,' says Malcolm.
Zingy accent shades of yellow, orange and blue crop up throughout the apartment. 'There is maybe a touch of Palm Springs glamour here!' says Malcolm. 'We love to use bursts of colour,' adds Jenna. 'Even if it's just a few loud and boisterous cushions.'
The bathroom was one of the few spaces that didn't need major work, and simply has a new toilet and shower screen. 'There was tiling quite far up the walls, so I employed an old trick of using a glamorous, geometric paper above the tiling and right onto the ceiling,' says Malcolm. 'This is an easy way to enhance your boring old bathroom!' The Circus wallpaper by Cole & Son is available from Malcolm Duffin Design.
Wallpaper, Circus by Cole & Son.
Both the kitchen and the bathroom are internal rooms without conventional windows. So instead, light towers channel natural light down into these rooms from the roof. 'They breathe daylight into a space where previously it would have been impossible to have any,' says Malcolm.
Comments for this Glamorous Edinburgh West End apartment interior post are welcome
Edinburgh Architecture
3-8 St Andrew Square
Design: CDA and Gareth Hoskins Architects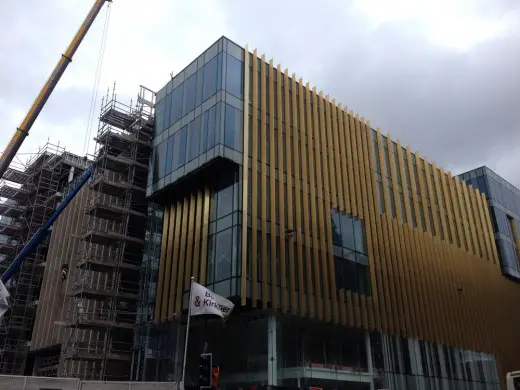 photo © Adrian Welch
St Andrew Square Building
Comments / photos for the Glamorous Edinburgh West End apartment page welcome