Edinburgh Architecture News 2016, Buildings in East Scotland, Lothian Property Design Developments
Edinburgh Architectural News
Building Designs in the Scottish Capital – Lothian Property Developments in Early 2016
Edinburgh Building News in Early 2016
Lothian Architectural Developments up to end of June 2016
Edinburgh News – news in full from July 2016
Pop-up Cities Expo News
As part of the Pop-up Cities Expo on The Mound, each city (Bergen, Dundee, Edinburgh, Rotterdam and Vilnius) will be giving a one hour talk in the Hawthornden Lecture Theatre, Scottish National Gallery, The Mound, Edinburgh on 6th and 7th July: see the events page for details.
Pop-Up Cities Expo
OPEN TO ALL · FREE · EVERY DAY 10AM-10PM
EXPO ENDS 17 JULY
The Pop-up Cities Expo is the most international event in this year-long, Scotland-wide, Festival of Architecture 2016, part of the Year of Innovation, Architecture and Design.
The five cities on show are each as varied and culturally rich as their pavilions.
Please visit each one to enjoy the architecture and the coming together in central Edinburgh of a group of Europe's finest conurbations.
Pavilions:
Bergen
Collaboration between: The City of Bergen, Hordaland County, Bergen Academy of Art and Design and Bergen University College
Concept, design and realisation: Are-Dag Eriksen, Jonas Evensen, Frode Ljøkjell, Vidar Laksfors, Petter Bergerud
Dundee
Dundee Pavilion: Dundee City Council
Design: Kengo Kuma & Associates (with local supervision by James F Stephen Architects)
Edinburgh
Edinburgh Pavilion: The City of Edinburgh Council
Design: Konishi Gaffney Architects
Rotterdam
Design: DoepelStrijkers, Rotterdam
Design Team: Duzan Doepel, Eline Strijkers with Mikolai Brus, Riekie Brokking, Jaap van Dijk
Social Component: Magis 010, Rotterdam
Vilnius
Organiser: Architects Association of Lithuania.
Authors (architects): Ausra Siaurusaityte-Nekrosiene, Egle Biretiene
Centenary Cycle News
On Sunday 14th August a RIAS team will set off from Sir Robert Rowand Anderson's Glasgow Grand Central Hotel to cycle the 100 miles to Mount Stuart House, another of Sir Robert's masterpieces. Please join the RIAS family day at Mount Stuart or take the opportunity to bring your own bike and cycle around the island and celebrate the Centenary in style. More details: emma.lucas@rias.org.uk.
Aberdeen Football Club Development
28 Jun – Aberdeen Football Club has started the formal process to secure planning approval for the development of a new community and sports campus, football academy and stadium.
Ross Bandstand News
27 Jun – The City of Edinburgh Council has committed to progressing proposals to rebuild the Ross Bandstand.
City hotelier Norman Springford revealed earlier this year he was willing to pay for the redevelopment of the 80-year-old venue in West Princes Street Gardens. The benefactor teamed up with City of Edinburgh Council to form a steering group to develop the plans.
The wider proposals include landscaping the adjacent gardens and new visitor facilities.
At a meeting of the Full Council on Thursday, members will discuss a report outlining the planned appointment of a Scottish Charitable Incorporated Organisation (SCIO) to front the proposed redevelopment.
Woodcroft in Morningside
27 Jun – After a recent win of the coveted Homes for Scotland ''Best Private Development of the Year' award, for the Woodcroft development in Edinburgh's Morningside area, Queensberry Properties, and partners, Telereal Trillium, have made it a double celebration, winning theScottish Homes' 'Show Home of the Year' award.
Queensberry Properties is a partnership between Cruden Homes and land and property experts, Buccleuch Property. The developers triumphed over eight other finalists to win the award.
RIAS Centenary Garden Competition
Chartered RIAS members (or teams including a Chartered member) are invited to submit designs for the RIAS Centenary garden competition.
The RIAS' sub-basement meeting room, the Garden Room, now opens directly into the enclosed (below road level) rear garden at 15 Rutland Square. A new exit stair to Canning Street has also been installed.
The RIAS garden, a pleasant sun-trap, has the potential to be a place to sit out or a venue for informal meetings and gatherings. It has been cleared, prior to a new, appropriate garden design. Key considerations would include the provision of level sitting/gathering space, low maintenance planting, screening of the metal exit stair and a sheltered area. Loose garden furniture (i.e. not built-in) may be indicated but will be purchased separately. The total budget, inclusive of fees, is £10,000 (ex VAT).
The deadline for this competition is noon on Monday 11th July. Those wishing to register and receive the brief for the competition should notify Carol-Ann Hildersley at Carol-Ann.Hildersley@rias.org.uk by the extended date of Monday 27th June 2016.
Scottish Awards for Quality in Planning Shortlist
24 Jun – Judges have shortlisted projects for this year in the four categories:
Plans – innovation in development planning ranging from strategic to settlements
Process – innovation in improving, or simplifying, any type of processes
Place – innovation in any architectural building or place (built or natural)
Partnership – innovation in working collaboratively, at any stage, within the planning process.
Applicant – Name – Category
Oberlanders Architects Holyrood North Student Accommodation Place
Glasgow City Bain Square public realm Place
LDA Design St Vincent Plaza, Glasgow Place
Dundee City Delivering Slessor Gardens Place
Loch Lomond Built Heritage Repair Grant Scheme Place
Glasgow City Abstract office development, St Vincent St, Glasgow Place
North Ayrshire Saltcoats Town Hall Place
North Ayrshire New house in the countryside at Meikle Auchengree Place
Falkirk Redevelopment of Royal Scottish National Hospital Estate, Larbert Place
Smith Scott Mullan The Nevis Forest and Resort Masterplan Place
City of Edinburgh Edinburgh Open Space Strategy Plans
South Ayrshire South Ayrshire LDP Story map Plans
Loch Lomond Bringing LLNP DP to life Plans
Renfrewshire Residential Design Guide Plans
Dumfries and Galloway Dark Skies Friendly Lighting Guidance Plans
Dumfries and Galloway Raising Design standards across the region Plans
Turnberry Chapleton Plans
City of Edinburgh Planning and Building Standards Lean Reviews Process
Cairngorms Speyside Way Extension Process
West Dunbartonshire Councillor involvement in pre-application stages of development Process
Dundee City Engaging with the Place Standard tool Process
Dundee City Developer information packs at Dundee Waterfront Process
Scottish Borders Identifying potential heat from waste water projects Process
Dumfries and Galloway Householder application Performance Improvement Project Process
Moray Creating Places in Moray Process
Orkney Islands Pilot Pentland Firth and Orkney Waters MSP Partnership
North Lanarkshire The Houldsworth Centre Partnership
Fife Forth Bridge World Heritage Partnership Project Partnership
Scottish Natural Heritage Central Scotland Regional Waking and Cycling Network Development Partnership
Moray Findrassie Masterplan Partnership
Scottish Borders Glentress masterplan – SPG Partnership
Aberdeenshire Portsoy CARS Partnership
BDP Aberdeen City Centre Masterplan and Delivery Strategy Partnership
Shortlisted applicants will be invited to attend an interview / facilitate a site visit and to prepare a presentation or video that explains the story of the project.
Judges will make recommendations to the Scottish Ministers after interviews or site visits.
Awards will be given within each category as well as an Overall Winner at a ceremony in November 2016.
RIBA National Award Winners 2016
23 Jun – The UK's best new buildings, we select the three from Scotland. Three from fourty-six awards represents 6.5% which is a little below Scotland's population percentage of UK population which is around 8.3%.
The Scottish winners of the 2016 RIBA National Awards are:
– Murphy House Edinburgh, Scotland by Richard Murphy Architects – Edinburgh, Scotland – Single dwelling, residential
– City of Glasgow College, Riverside Campus by Michael Laird Architects/Reiach and Hall Architects – Glasgow, Scotland – Further education college, education
– Saunders Centre, Science & Technology Building Page Park Architects – Glasgow, Scotland – Independent private school, education
RIBA National Award-winning buildings set the standard for good architecture. The shortlist for the coveted RIBA Stirling Prize for the UK's best building of the year will be drawn from the 46 award-winning buildings announced today.
Meldrum House Hotel Extension
23 Jun – Lippe Architects have marked the first phase expansion of Meldrum House Hotel Country Hotel & Golf Course, Aberdeenshire, to coincide with a re-launch of the practice with new branding.
New Waverley Development
22 Jun – Topping out of the Adagio Aparthotel on the Royal Mile, part of the £150m New Waverley development. Construction of the 146-apartment aparthotel, incorporating a retained façade of the C-listed Sailor's Ark building, has now reached its highest point. The hotel is due to open by the end of the year.
2 Semple Street Building News


22 Jun – The development of a multi-million-pound office and retail project in Edinburgh has moved a step closer with the appointment of the main contractor McLaughlin & Harvey. Designed by Michael Laird Architects, the £12 million construction phase of 2 Semple Street in the Capital's Exchange district will start on 4 July:
2 Semple Street Edinburgh
Portobello High School Building News
22 Jun – The City of Edinburgh Council have announced that this building will open in October, three months earlier than expected. The school was originally expected to open this summer but water drainage issues meant a delay until January 2017.
Blenheim House Office Building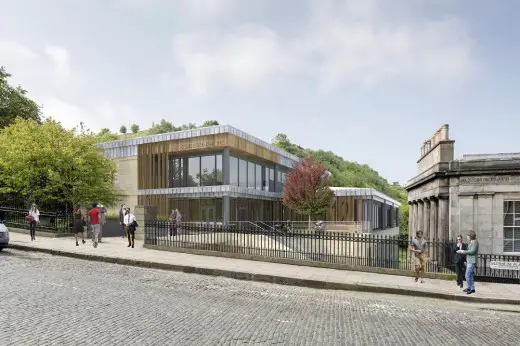 22 Jun – The Chris Stewart Group (CSG) has unveiled plans to modernise and upgrade Blenheim House in Edinburgh after acquiring the office building on Blenheim Place, EH7. It contains 36,000 sqft of Grade A office accommodation over five floors, with 19 on-site car parking spaces.
The building was built to a high specification for Scottish Equitable. It was later occupied by BNYM. Blenheim House was owned by Belgate Estates. The purchase price was over £5 million. The renewal design will be by Ian Springford Architects.
Amarone Edinburgh restaurant – photo added of interior: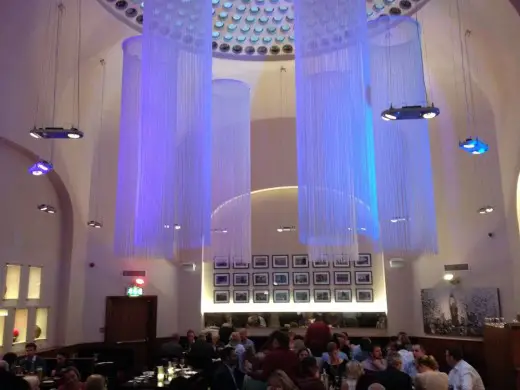 Dundas House Edinburgh
22 Jun – Morris & Spottiswood has completed a major refurbishment and restoration project at the historic Edinburgh headquarters of the Royal Bank of Scotland (RBS).
The fit-out contractor was tasked with refurbishing the bank at Dundas House, in the city's St Andrew Square, which dates back to 1860.
Morris & Spottiswood project director Andrew Neill described said it had been "a privilege" to work the RBS site. Mr Neill further revealed several fascinating discoveries during the complex 28-week project – including uncovering the building's original tiled floor.
RIAS Honorary Fellowships
22 Jun – Four eminent Scots have been presented with Honorary Fellowships of the Royal Incorporation of Architects in Scotland (RIAS) in recognition of their outstanding contribution to Scottish arts, literature, music, science, the public life of Scotland or to international architects.
Those presented during the annual RIAS Centenary and Awards Dinner in Glasgow on Wednesday night were the film composer, Patrick Doyle, author, broadcaster and journalist, Muriel Gray, broadcaster and writer, Sally Magnusson and New York based fashion, celebrity and art photographer, Albert Watson.
The awards were presented by RIAS President, Willie Watt, who said: "The music of the movies is powerful and evocative. Patrick Doyle's work on some of the most successful films of recent decades varies between emotionally charged and joyous and touches upon every human emotion. He is one of Scotland's greatest cultural ambassadors.
Aberdeen Student Flats
21 Jun – Visage Properties and GWP Architecture have commenced delivery of a £17m student apartment scheme at Causewayend, Aberdeen, for 173 bedrooms.
Borders Distillery Building News
21 Jun – A new Borders Distillery is proposed within a Tudor-style power station in Hawick, Scottish Borders.
Abercromby Place Property
20 Jun – Warwick Stewart Architects have submitted plans for the alteration and refurbishment of a terrace at Abercromby Place, Edinburgh, as part of a conversion from office to residential.
Princes Street Office Building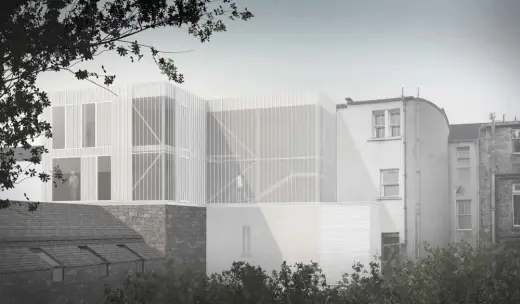 20 Jun – 3DReid Architects have submitted plans for Hazeldene House Ltd to convert and extend the Grade B-listed 131-133 Princes Street to form new office accommodation.
RIAS Garden Centenary Competition
Design contest for the RIAS garden.
Competition Deadline: Monday 11th July – more details further up this page.
LIS Competition Brief – A House and Grounds for an Art Collector
As part of their contribution to the Festival of Architecture 2016, the Landscape Institute Scotland are holding a design competition for a new house and grounds for an art collector in the Scottish countryside. Entries will be teams of landscape architects and architects and the competition promises to be an excellent chance to explore and experience the benefits of these two professions working together in collaboration. The competition is hypothetical and is based on an occupied site in Perthshire, Scotland.
Participants can register through Eventbrite. The competition went live on Wednesday, 1st June 2016.
Further information about the competition will be made available on the Competition webpage:
Click to access LIS_FOA2016-Competition-Brief_20150531.pdf
Barony North Church Event
Free event on 24 June at Glasgow Evangelical Church, 20 Cathedral Square, Glasgow
Pidgin Perfect would like to invite you to explore Glasgow Evangelical Church (formerly Barony North Church), designed by John Honeyman and the Cathedral District with a range of speakers, site walks and contextual explorations of the Cathedral district.
3-8 St Andrew Square Building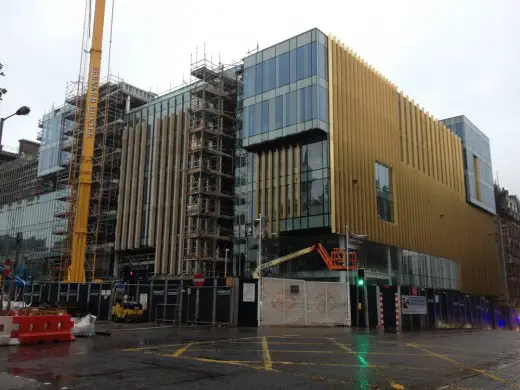 photo © Adrian Welch
18 Jun – new photos of this strong intervention in the city centre, designed by Edinburgh's CDA with Glasgow's Gareth Hoskins Architects.
The St Andrew Square Building development was controversial partly with those who love traditional architecture but also with those who admire good quality Modern architecture.
Circus Lane Houses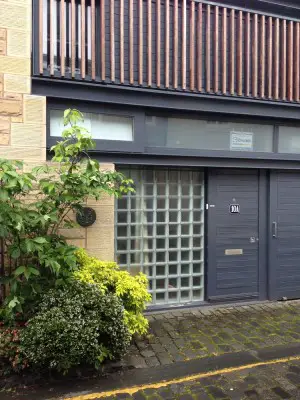 photo © Adrian Welch
18 Jun – new photos of Circus Lane Mews houses by Richard Murphy Architects
MacKenzie Place Allotments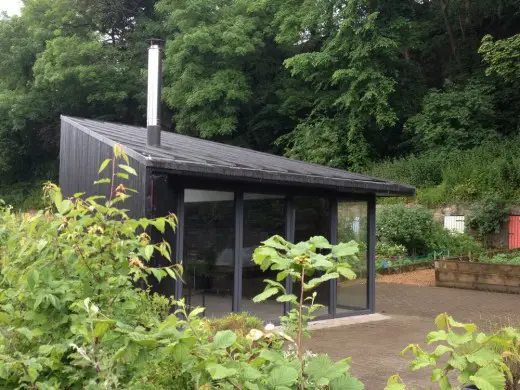 photo © Adrian Welch
18 Jun – new photos of MacKenzie Place Allotments , Stockbridge, by Sutherland Hussey Architect
Values – AE Event
Thought-provoking afternoon of talks with some of the most interesting emerging architects in Europe.
With Angela Deuber (ADA, Switzerland), Adrien Verscheure (Baukunst, Belgium), Andrea Zanderigo (Baukuh, Italy) and Lee Ivett (Baxendale, United Kingdom) Chairs: Penny Lewis, Samuel Penn and Rowan Mackinnon-Pryde.
Saturday 2 July 2pm-5pm
Top Floor, Evolution House, Edinburgh College of Art, 78 West Port
Event by The AE Foundation – see Events page for details
Longniddry Housing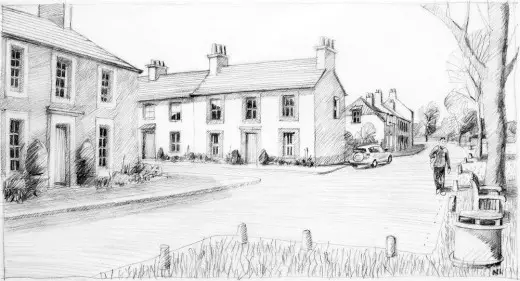 17 Jun – Plans have been lodged for a mixed-use development including the delivery of around 450 new homes at Longniddry, East Lothian.
Located around Longniddry Farm, to the south of the existing village, the planning application for Planning Permission in Principle (PPiP) has been lodged by developer Socially Conscious Capital.
Should this be granted, detailed planning applications will come forward for various elements of the proposed development, the vision for which includes high quality and distinctive new housing, integrated with the existing settlement.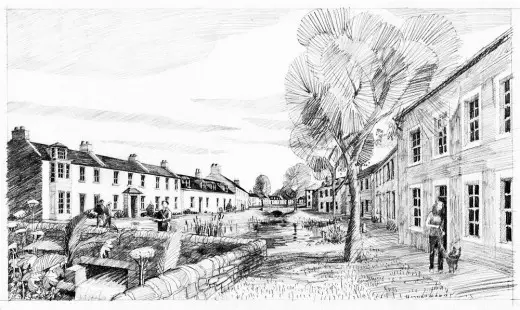 The indicative masterplan for the development, included in the planning application, highlights a residential development, of around 450 homes, with associated greenspace, access, engineering works and mixed use development, including the conversion of existing buildings at Longniddry Farm. This can provide space for commercial uses, such as cafe, nursery and offices.
The site is allocated in East Lothian Council's Draft Proposed Local Development Plan for "around 450 homes plus associated employment development, community facilities and infrastructure". East Lothian is required to deliver 10,050 new homes by 2024.
RIAS/RIBA Awards 2016 Winners
16 Jun – The 11 winners of the 2016 awards for the best in current Scottish architecture were announced last night by the Royal Incorporation of Architects in Scotland (RIAS).
Projects ranging from major business hubs to isolated look-out points and innovative houses were honoured at the RIAS' Centenary and Awards Dinner held in Glasgow.
Award for Murphy House on Hart Street
16 Jun – A separate RIBA Award for Scotland was made to Murphy House, Hart Street, Edinburgh by Richard Murphy Architects: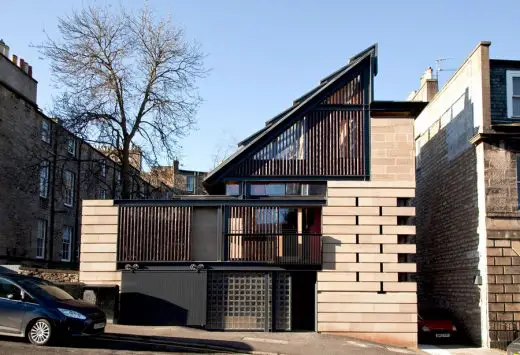 photograph : Stephen Leonard
Saltire Society Housing Design Awards Shortlist
16 Jun – The shortlists for all five award categories in this year's Saltire Society Housing Design Awards have been announced ahead of the annual awards ceremony, which will take place in Edinburgh at the end of this month.
Now in their 79th year, the awards celebrate excellence and achievement in Scottish house building and place-making and are part of a busy programme of special events and awards planned to celebrate the Saltire Society's 80th anniversary year.
Saltire Society Housing Design Awards Shortlist
The City Observatory on Calton Hill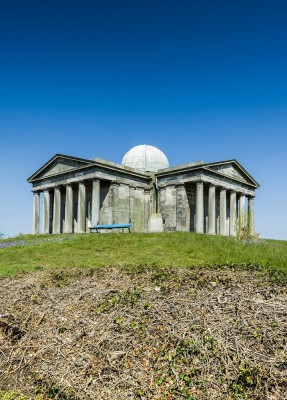 photo : Jonathon Fowler
City Observatory Building, Calton Hill
Edinburgh World Heritage announced today that it has awarded a grant of over £300,000 to Collective towards the restoration of the City Observatory complex – the ensemble of astronomical buildings by William Henry Playfair on Calton Hill.
The Edinburgh Clinic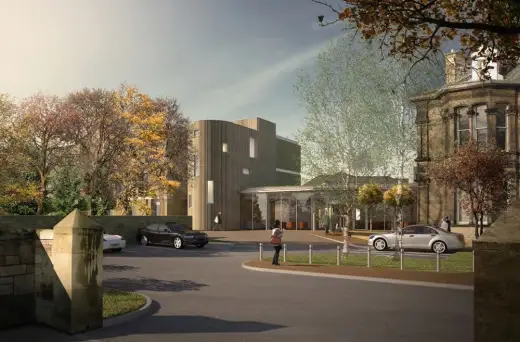 16 Jun – LSI Architects have submitted proposals to extend The Edinburgh Clinic, a private hospital on the city's Colinton Road, to provide new operating theatres, bedrooms, chemist and staff facilities.
New Longniddry Housing
16 Jun – Socially Conscious Capital has set out its intent to build 450 homes on the site of Longniddry Farm in accordance with East Lothian Council's draft local development plan.
Darwin Centre Redevelopment News


15 Jun – The University of Edinburgh has filed proposals to extend its school of biological sciences through redevelopment of the existing Darwin Centre, King's Buildings Campus.
Portobello Building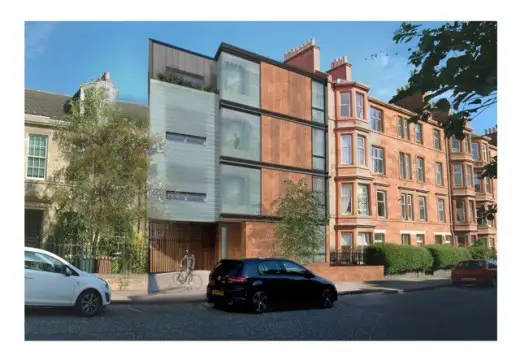 13 Jun – Bath Street Collective Custom Build, Designed by new Edinburgh archietcts studio John Kinsley Architects (John was Project Architect for RMJM on the Scottish Parliament Building)
The scheme will contain 4 flats comprising:- 1no. 75m2. 2 bedroom flat, a 102m2 3 bedroom duplex flat and 2 no. 120m2 3/4 bedroom flats. All the flats will be dual aspect.
Bath Street Collective Custom Build
Edinburgh Building News
13 Jun – Sleeperz Hotels is expanding its sister hotel Cityroomz Edinburgh with a new Princes Street wing made up of 43 rooms and suites.
The budget hotel operator has been granted planning permission to develop Princes House, a listed building and three storey office block, next door to its current 72-bed Cityroomz hotel on Shandwick Place near Princes Street in Edinburgh's West End.
The development is being carried out in partnership with property and investment company Town Centre Securities PLC.
Edinburgh College of Art Renewal
10 Jun – Kier Construction appointed to deliver a £14m makeover of Edinburgh College of Art which will see 12,000sqm of space at its Grade A-listed main building on Lauriston Place repaired.
Edinburgh Architectural Association AGM
The Edinburgh Architectural Association AGM is being held at 6pm on Tuesday 21st June 2016, at the RIAS, 15 Rutland Square: see Events page for details
Edinburgh College of Art Refurbishment News
10 Jun – Kier Construction Scotland has been appointed by the University of Edinburgh to undertake refurbishment work on the College of Art.
Strengthening the strong start it has made within the education sector this year, the contract will see Kier carry out work over two phases so one half of the building always remains in operation. This will ensure the College can continue to deliver its curriculum during the refurbishment works.
Phase one activity is expected to take place from June 2016 to September 2017, with the second phase scheduled to take place thereafter.
This activity will improve and perform essential maintenance on the building's fabric and internal systems bringing a major new space in the west side of the main building into use. This updated space will be equipped with the very latest in audio and visual facilities, improving the working and learning environment for students and staff.
Collective Architecture Edinburgh Office
10 Jun – Glasgow architects Collective Architecture have opened an Edinburgh office.
Situated on Grindlay Street within a former takeaway, the new studio will operate as a complimentary space to the practice's Glasgow head office and will be responsible for overseeing work in Edinburgh, Dundee and Galashiels. Collective Architecture celebrated the launch with a party for clients, collaborators, colleagues and friends at the Collective Gallery on Calton Hill.
Bertha Park Development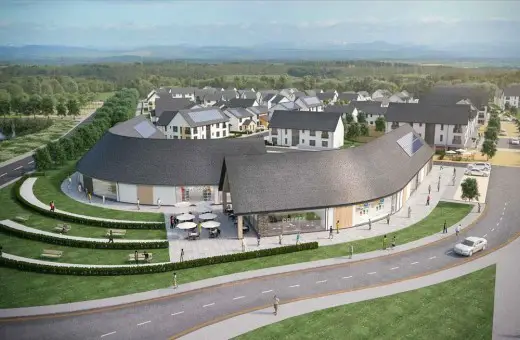 10 Jun – Detailed plans of the first phase of Springfield Properties' £1 billion Bertha Park development have been approved by Perth and Kinross Council.
First phase proposals for this major expansion of Perth include 1,061 new homes, commercial buildings and leisure and recreation areas.
As well as the new homes and buildings Springfield's plans detail where new cycle paths and walking routes into Perth will run, and where a new network of roads will be built. The plans also show where Bertha Park's new secondary school, scheduled to open in August 2019, will be built for Perth and Kinross Council. A primary school is planned for a later date.
Bertha Park will be built over 30 years, creating more than 2,000 new jobs and sustaining hundreds more in the local area. The first new home owners are expected to move into Bertha Park in mid-2018.
Queensferry Crossing Delay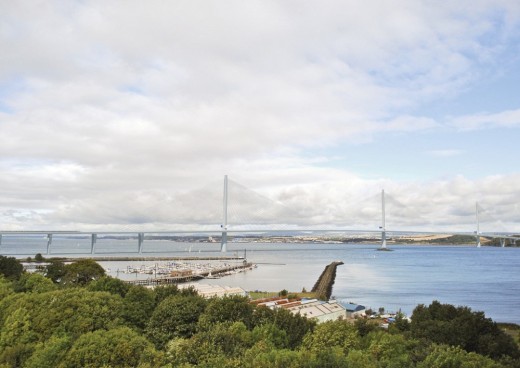 The new £1.4 billion Queensferry Crossing will not open until June 2017, six months later than planned, the infrastructure secretary admitted today.
Keith Brown confirmed reports the bridge would not be completed on schedule by the end of the year because of bad weather over April and May hampering construction.
Stuart MacDonald Dies
7 Jun – Former director of The Lighthouse in Glasgow, Stuart MacDonald, has died aged 67:
Gullane Building News
7 Jun – International architecture practice Barton Willmore has secured planning permission in principle for up to 125 residential units on the site of Henderson House, the former Fire & Rescue Service College, in Gullane, East Lothian, subject to the signing of a planning agreement.
The training college closed in early 2015 as part of the national restructuring of the Fire and Rescue Service estate upon formation of a single national service. The Scottish Fire and Rescue Service (SFRS) now intend to reinvest the proceeds from the sale of the site in to capital projects to enhance and add to Fire & Rescue Service facilities across Scotland.
Keppie Office News
7 Jun – architecture practice Keppie Design is to close studios in Aberdeen, Perth and Manchester. Offices in Glasgow, Edinburgh and Inverness are unaffected.
The architects practice, which posted a £528k pre-tax loss to 31 July 2015, said 25 jobs were at risk of redundancy and is consulting with those affected.
Queensferry Crossing News
7 Jun – Transport Scotland has refused to deny claims that work on the Queensferry Crossing is months behind schedule.
The team behind the £1.4 billion construction project have consistently claimed that it is on course to be completed in time to open to traffic in December as scheduled.
However, reports in The Scotsman suggest that the bridge is in fact running months behind schedule and will not be finished until well into 2017.
It quotes a staff source saying: "Everyone agrees there is no chance of it finishing by the end of the year. It could be months late – maybe even the middle of next year."
New Trustees for Scottish Civic Trust Board
7 Jun – The Scottish Civic Trust appoint two new trustees to the Board – architects Fiona Sinclair and Ed Taylor.
Fiona is a Fellow of the Royal Incorporation of Architects, Past-President of the Glasgow Institute of Architects and has particular expertise in the creative re-use, repair and restoration of historic buildings where she has many years of experience in projects across Scotland.
Ed is a chartered architect and urban designer. As The Prince's Foundation for Building Community's Representative in Scotland for almost 10 years, Ed represented the charity at the highest level and led a diverse programme of education, advocacy and skills, regeneration and masterplanning, typically employing a consensus-building process known as Enquiry by Design (devised by The Prince's Foundation).
West Edinburgh Garden District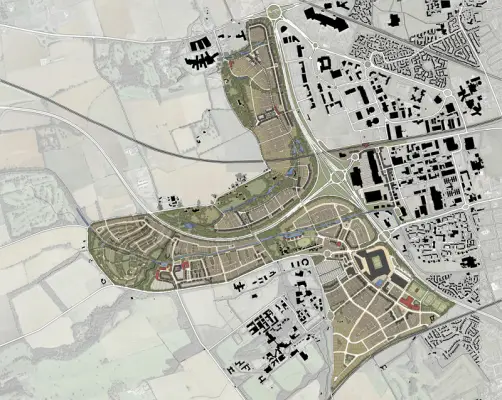 3 Jun – Planning permission approved for Phase 1 plans to build up to 1,350 homes as part of a £1 billion Garden District in west Edinburgh.
Developer Murray Estates' plans is for the first phase of a 675-acre 'Garden District' on a 54-hectare site next to Royal Bank of Scotland's Edinburgh headquarters at Gogar Station Road.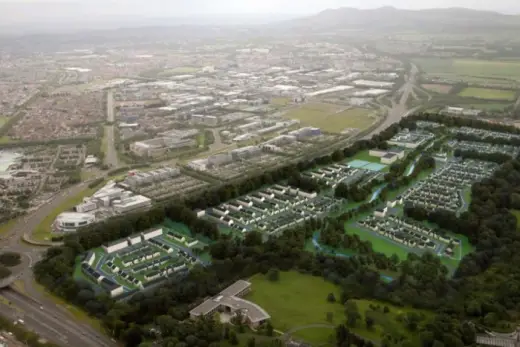 The first phase of the project was approved by City of Edinburgh Council's development and management committee in May, however it required full council approval, achieved yesterday with councillors voting 35 to 17 to grant planning permission.
West Edinburgh Garden District
New Hospital Building in Fife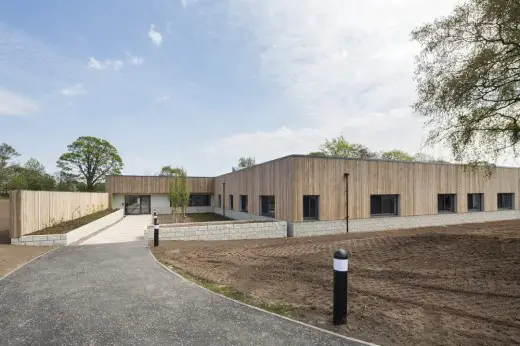 2 Jun – Purpose-built Intensive Psychiatric Care Unit at Stratheden Hospital in Fife completed.
The energy-efficient IPCU will cater for those experiencing acute episodes of mental illness, providing specialist care and treatment to patients.
Facilities include eight en-suite single bedrooms, space for therapeutic and rehabilitative activities, communal lounge and dining accommodation, visiting and staff areas, consulting and meeting rooms as well as secure external grounds. The contractor was Graham Construction.
This project was part of the FS2 Framework which is delivering design, development and construction projects across Scotland for the NHS over the next five years.
Abbey Lane Housing
31 May – The City of Edinburgh Council has given planning permission for 139 flats to be constructed on brownfield land in the city.
Designed by EMA Architects, the series of four and six storey blocks at Abbey Lane seeks to maximise southerly views toward the Crags and Arthur's Seat whilst respecting a neighbouring listed building.
A landscape buffer will be included to the south to mitigate the impact of an adjoining railway line, including a mixture of hedges, railings, walls and footpaths.
Bellway Homes hopes to begin construction later this year.
Fletcher Joseph Associates Seek Architect
28 May – Fletcher Joseph Associates are an Edinburgh based practice with expertise in a wide variety of sectors and a recognised reputation in student accommodation, residential, hotel and recreation developments.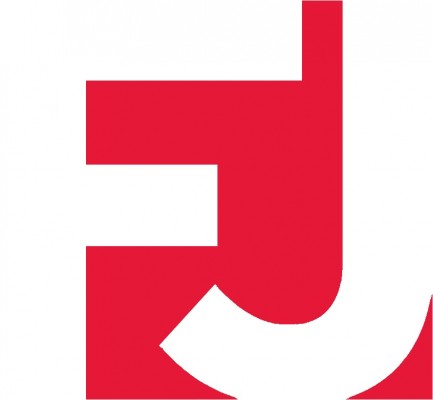 The practice is currently working on a number of exciting, major, developments and we are looking for an experienced Architect to join our team.
Candidates should be articulate, motivated and enthusiastic, with proven experience and good design and technical skill. Experience in AutoCAD, Adobe Creative Suite, Photoshop and SketchUp is required. Experience of Revit would be beneficial but not essential.
Salary is dependent upon experience. Candidates must be eligible to work in the UK. Agency applications are not accepted.
Notifications of interest and CVs including examples of work should be sent for the attention of Isla Fraser to admin@fletcherjoseph.com
Boroughmuir High School Building
27 May – The first visuals of an outline concept to sympathetically restore and revitalise the historic Boroughmuir High School building in Edinburgh have been unveiled by CALA Homes.
The designs show concept plans for an open courtyard with a series of walkways, along with a stunning conversion of a large classroom into a split level mezzanine apartment.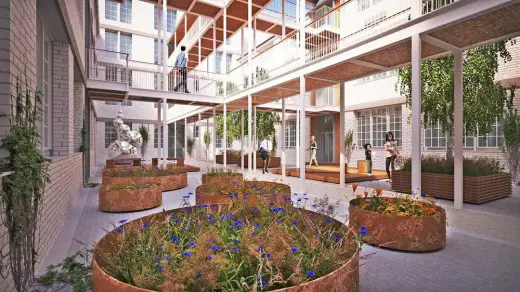 Pupils from the school in Viewforth are to move into a £35 million purpose-built new campus and the City of Edinburgh Council agreed to sell the Category-B Listed building to CALA Homes, which has its national headquarters in the city.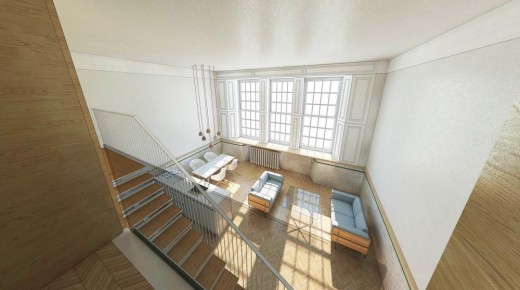 The housebuilder will be undertaking a public exhibition on Friday 17th June 3pm to 7pm and Saturday 18th June 9am to 1pm at St Oswald's Hall, Montpelier Park, Edinburgh. The exhibition will show initial proposals to transform the building, by creating 87 mezzanine apartments, while also delivering 28 much-needed affordable homes in one of the city's most sought after locations.
Aberdeen Nursery Building by BMJ Architects
27 May – A nursery designed by BMJ Architects in Aberdeen has become the first commercial project in Scotland to be accredited by Passivhaus.
St James Centre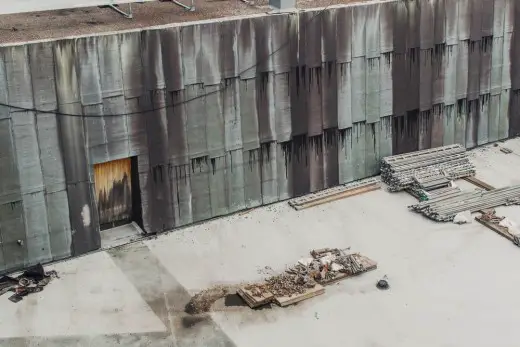 27 May – Marco de Vita, an Edinburgh based photographer, shares with us his latest project. He has photographed the insides of St James Shopping Centre before it is demolished to pave way to a new shopping mall.
The building was initially designed in 1964 and completed in 1969.
New Hotel on Cowgate & Victoria Street

26 May – Plans approved for a £65m four-star hotel in Edinburgh's Old Town by ICA Architects, despite concerns being raised by UNESCO.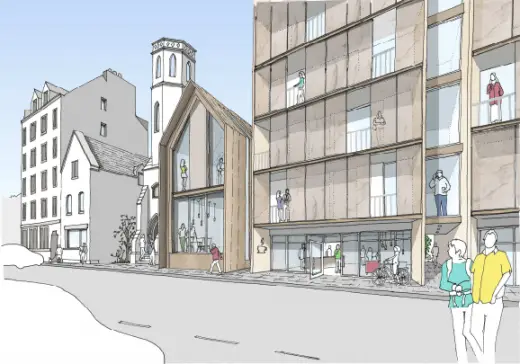 The 235-bedroom development will see a number of listed buildings bought back into use, and the space between Victoria Street and the Cowgate developed.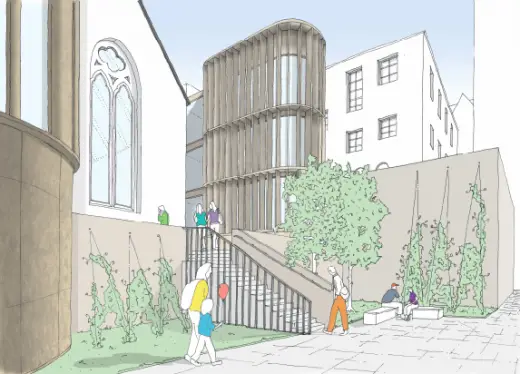 The hotel for Jansons Property would be at the heart of a £65m regeneration of the A-listed India Buildings on Victoria Street and surrounded by a new entertainment destination of bars, restaurants, cafes and public space.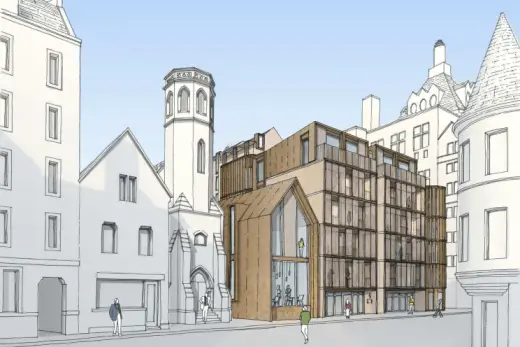 Scottish Design Awards
26 May – Isabelle Lomholt of e-architect helped present awards at the event last night in the Radisson.
The Chairman's Award was a surprise, given to Edinburgh-based co-design studio HERE + NOW for their month-long outdoor photography exhibition in Rodney St tunnel, Canonmills, Edinburgh. "Hold Me Dear: Four Cities, [Extra]ordinary Places" held in September 2015. The designers speech was the highlight of the evening, eloquent and inspiring.
Page Park Architects won practice of the year.
The Best Building prize went to the Riverside Campus in Glasgow by Reiach and Hall and Michael Laird Architects.
Adrian Welch of e-architect was one of the judges.
Details at Scottish Design Awards on e-architect
UWS Hamilton Campus News
26 May – South Lanarkshire Council has approved plans for a new campus for the University of the West of Scotland (UWS) on the edge of Hamilton.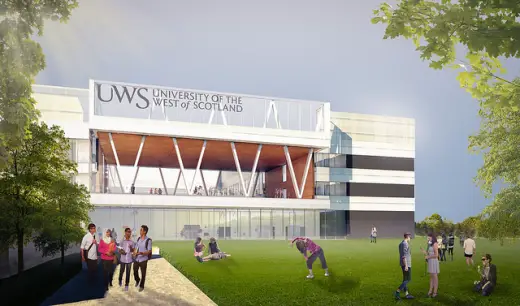 The development at Hamilton International Technology Park (HITP) includes plans for state-of-the-art teaching and learning facilities for students and lecturers, sports amenities and new student accommodation.
Despite being contrary to the local development plan, the planning permission in principle for the campus was deemed justified by the local authority's planning committee because the relocation of the university would create "significant economic benefits" and there would be no adverse impact on the Green Belt.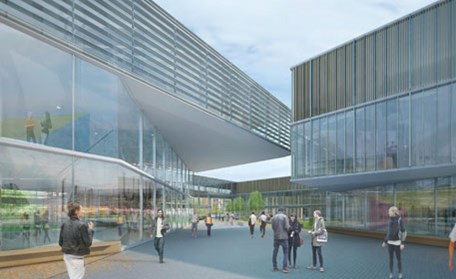 UWS had earlier cancelled proposals to move its Hamilton campus to the Eurocentral industrial estate on the M8 east of Glasgow following extensive consultation with the local authority, stakeholders, students and staff.
The move will also see the west side of HITP become the UWS Technology and Innovation Park, housing UWS's research and commercial activities.
Machrihanish Airbase Spaceport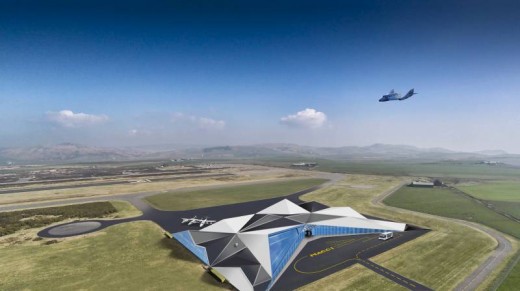 19 May – One of the front runners to host the UK's first spaceport has declared itself "runway-ready" to support the UK government's ambitions following the Queen's speech yesterday.
The base's space credentials go back as far as 1981, when NASA approved the site as an emergency landing spot for the Space Shuttle. The 3,049m long runway, which launches straight over the Atlantic Ocean, is one of the few able to welcome a landing shuttle and get it back in the air via a Boeing 747 Shuttle Aircraft Carrier.
Then, in 2009, Virgin Galactic had said Machrihanish was one of its preferred sites for a UK spaceport.
Glasgow Prestwick and Stornoway airports are still in the running, as well as Newquay in England and Llanbedr in Wales.
Edinburgh 'Garden District' Approval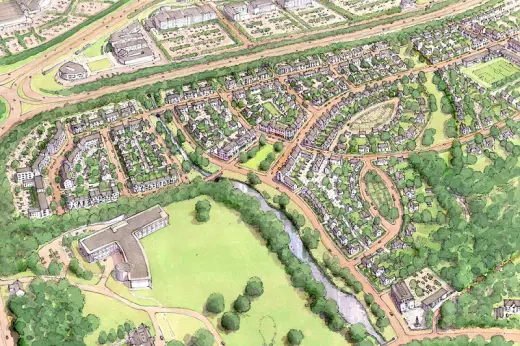 17 May – Plans for a 1,350-home development on green belt land on the edge of Edinburgh have been given the green light by councillors.
Developer Murray Estates' proposal is for the first phase of a 675-acre 'Garden District' on a 54-hectare site next to Royal Bank of Scotland's Edinburgh headquarters at Gogar Station Road.
The overall £1 billion development will eventually deliver up to 6,000 new homes over a 20-year cycle in a new urban district proposal which would include a school, shopping centre, sports facilities and green space.
Kelvin hall Building News
16 May – The transformation of Glasgow's Kelvin Hall into one of the biggest museum and academic research centres in the UK is on target to complete by this summer and open in autumn.
Pop-Up Cities Expo Design News
13 May – Edinburgh based Konishi Gaffney Architects have won a competition to design a temporary pavilion as Edinburgh's entry to the Pop-Up Cities Expo being held at the Mound in June and July this year.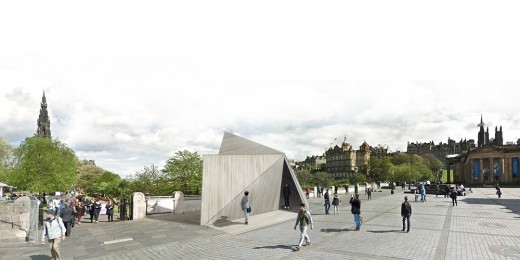 The Expo is a headline event for the Festival of Architecture and part of the Year of Innovation Architecture and Design.
The competition was organised by the City of Edinburgh Council in conjunction with the Edinburgh Architectural Association (EAA). The winning pavilion, engineered by TALL engineers, is being fabricated locally by artist and maker Johannes Sailer and is supported by several Scottish timber companies.
The architects' brief was for a pavilion intended to be an aspirational 'snapshot' of Edinburgh, inspiring future generations of architects to come.
Entrants were asked to prepare proposals that would represent Edinburgh on a world stage, showcase the city including its World Heritage status, and reflect the location of the pavilion at the Mound.
Cllr Ian Perry, convener of the planning committee, said: "Edinburgh is well known internationally for its iconic skyline and architecture. We are immensely proud of our World Heritage Status and this competition is a great example of how we can continue to raise our game and inspire local architects of the future. I would like to congratulate Konishi Gaffney on their well deserved win as they are a shining example of the quality of architects we have in the city."
Kieran Gaffney of Konishi Gaffney Architects, said: "We are delighted to have won this competition and to represent Edinburgh at the Pop-Up Cities Expo. Our idea is based on a folded origami form developed from thinking about the brief for a pop-up pavilion. The form is made from two pyramids laid back to back with three openings pulled out: one for the door, one for a fixed window and one for an opening window for ventilation.
The proposal is innovative in its design and minimised the use of materials. Using locally sourced timber means a small carbon footprint and the pavilion is intended for re-use at other events and functions. The proposal has an interesting, decorative structure and the simple form is materially and structurally efficient. We think the construction system should be quick and easy to install."
Donald Canavan, President of the EAA, added: "The Edinburgh Architectural Association is delighted to be involved in facilitating this exciting competition, and was greatly impressed by the quality of the entries. Although such pavilions are temporary, the winning entry, by Konishi Gaffney, was agreed as a gem, offering a splendid tribute to Edinburgh, and to the architectural profession within the chapter area.
We greatly look forward to the Expo and are sure the story told by the Edinburgh pavilion and its exhibits will be intriguing and memorable."
King's Stables Road Development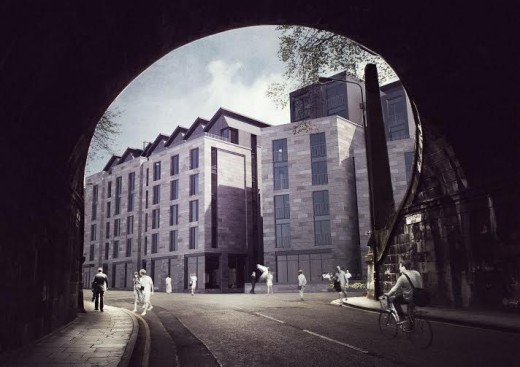 13 May – Developers behind plans for a mixed-use development on a vacant site in the Grassmarket area of Edinburgh have updated their initial proposals to take account of feedback from the local community, the planning authority and statutory consultees, as well as current market conditions.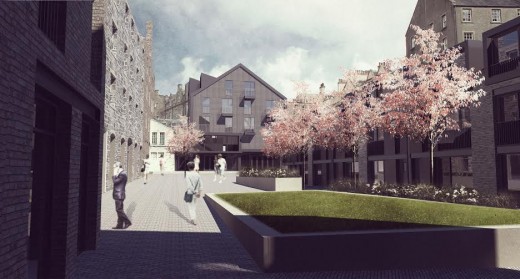 A planning application was lodged in December 2015 for the proposed redevelopment of the buildings on King's Stables Road. These are being taken forward by a joint venture between Peveril Securities – the development arm of the Bowmer and Kirkland Group – and Campus Development Management.
The development will now include:
59 residential units
92 bedroom boutique hotel
167 room managed student accommodation
650m2 of Arts Facility
Class 1,2 and 3 commercial units activating the ground floor of the development
King's Stables Road Development Edinburgh
Kinnear Road Properties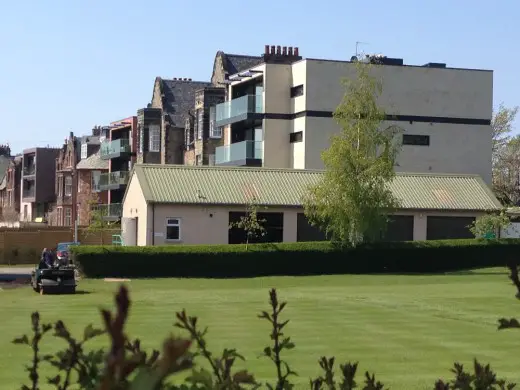 13 May – Kinnear Road Edinburgh properties
The Ideal Hut Show in Edinburgh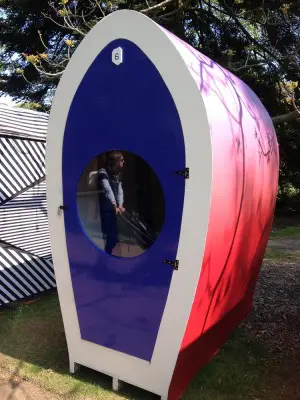 12 May – info + photos of these hut designs by well known architects such as Eva Jiricna, Ian Ritchie and Malcolm Fraser:
30 Apr – 30 May 2016 – 10am-6pm – Free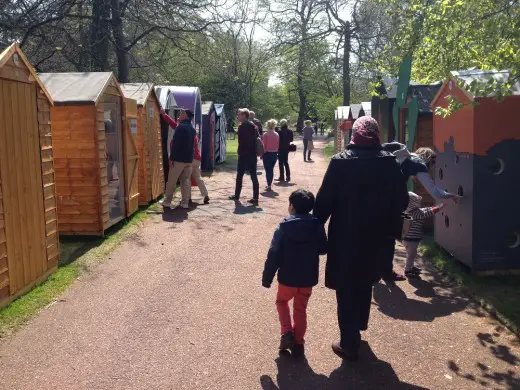 Located at The Royal Botanic Gardens Edinburgh
Crafts in Architecture Exhibition
As part of the Festival of Architecture 2016 the EAA presents a sample of the range of craft skills in Lothian, Fife and the Borders, focusing on stone, metal, glass, wood, clay and lime, with demonstrations of work via artefacts and video loops, at Gayfield Creative Spaces, 14 – 24 May – more info on the Events page.
Specifi Landscape Edinburgh
On June 16th Specifi bring their landscape architecture event to Edinburgh, a talk from Dusty Gedge, a "Meet the Experts" networking expo, including a free bar, and a free Edinburgh Landscape Architecture Dinner – more info on the Events page.
Aberdeen FC Relocation
12 May – Aberdeen Football Club reveal plans for a new £40m stadium and training facility at Kingsford near Westhill with earlier plans to move to Loirston now abandoned.
RIBA International Awards
11 May – Longlist of 30 buildings for the new global architecture awards and the International Emerging Architect Prize. Open to architects who've designed a building outside the UK, they lead on to the RIBA International Prize.
Heathrow Airport Expansion Architects Shortlist
11 May – Heathrow names four architecture studios – including practices Zaha Hadid Architects and Benoy – on shortlist for a 'hub airport of the future' concept as part of its expansion plans.
Art Fund Museum of the Year Shortlist
10 May – Five brilliant, innovative UK museums have been shortlisted for the Art Fund Prize for Museum of the Year 2016, including Jupiter Artland in West Lothian.
Edinburgh Schools Inquiry
10 May – An independent inquiry into the closure of 17 Edinburgh schools over structural concerns is to begin after the summer break and conclude before the end of the year, the City of Edinburgh Council confirmed today.
Chief executive Andrew Kerr hopes to appoint an industry figure with experience of Private Finance Initiative (PFI) building contracts to chair the inquiry and determine its remit.
Dundee Performing Arts Centre by PagePark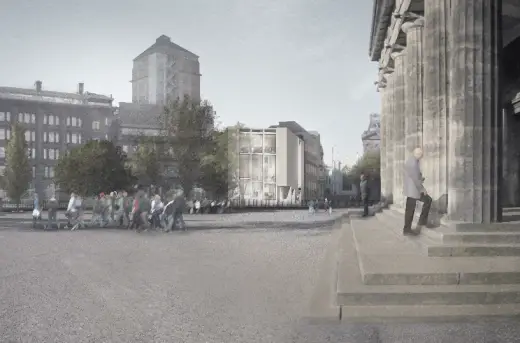 10 May – Plans to create a £16m centre of excellence for performing and visual arts on the site of Dundee's former Head Post Office approved by Dundee City Council. The building will become home for the High School of Dundee's art, music, drama and home economics departments. A range of studio, performance and practice spaces will be incorporated into the 19th century building as well as a signature spiral staircase which will be cast in-situ.
Scottish Parliament entrance: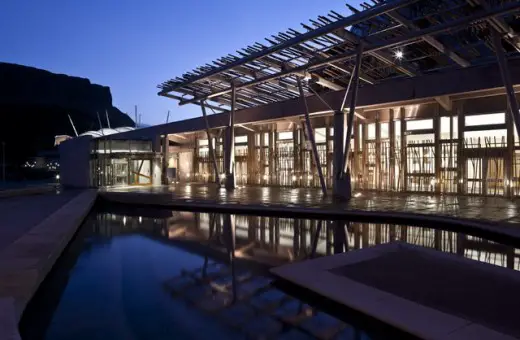 Comments for the Edinburgh Architecture Newss page welcome