2 Semple Street Edinburgh Offices, Commercial Property Images, MLA Building, Architect
2 Semple Street Edinburgh Development
Commercial Property for GSS Developments Ltd: Office & Retail Project – by Michael Laird Architects
22 Jun 2016
2 Semple Street Office Development
Location: Semple St, off Lothian Road, west Edinburgh
Design: Michael Laird Architects
Contractor Appointed For 2 Semple Street in Edinburgh's Exchange District
Delivery Certainty Driving Interest In 64,000 sqft Office Development
The development of a multi-million-pound office and retail project in Edinburgh has moved a step closer with the appointment of the main contractor McLaughlin & Harvey.
The £12 million construction phase of 2 Semple Street in the Capital's Exchange district will start on 4 July and is scheduled for completion by the end of January 2018.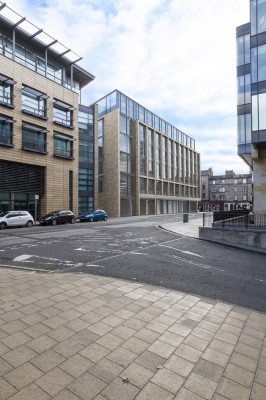 McLaughlin & Harvey, one of the UK's most respected building and civil engineering companies, won the contract for the 64,000 sq ft project in a competitive tender and will be responsible for bringing to fruition the latest addition to Edinburgh's Grade A business accommodation.
Developers GSS Developments Ltd (GSS) believe a firm completion date, and certainty of delivery founded on a 50-year relationship with the Bank of Scotland, will be strong factors in attracting potential tenants to the five-floor development which will accommodate up to 350 staff.
GSS Developments director Paul Stevenson, said: "For growing companies looking to secure modern energy efficient 'best in class' office space in the centre of Edinburgh's increasingly vibrant Exchange business district, 2 Semple Street provides occupiers with unrivalled quality alongside certainty of delivery.
"Backed by Bank of Scotland, with whom we have long-standing successful relationship, we have the capability of speculatively delivering this exciting new development. The appointment of reputable contractors McLaughlin & Harvey signals our intent that this project will be delivered without delay. In initiating an early start date, potential tenants can plan ahead in confidence, thus removing some of the nervousness that can be involved in relocating offices."
The 2 Semple Street project is one of the last gap sites in the Exchange area which can be developed to provide Grade A office accommodation. Either side of the main office core on the ground floor will be two retail units amounting to 11,000 sq ft, with the main retail unit fronting Lothian Road.
Paul Griffen, construction director, of McLaughlin & Harvey, said: "We are extremely pleased to be working with GSS Developments on this exciting addition to Edinburgh's office and retail offering. McLaughlin & Harvey pride themselves on delivering high quality buildings, which we are certain 2 Semple Street will be."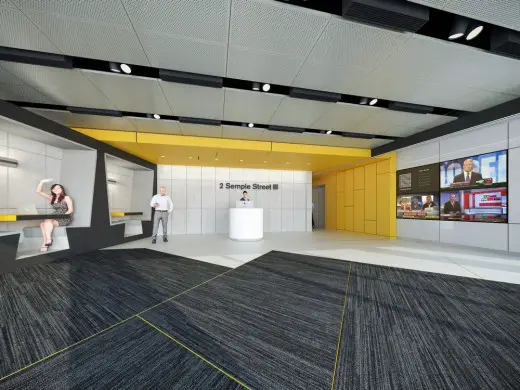 Joint agents for 2 Semple Street are Angela Lowe of CBRE and Chris Cuthbert of CuthbertWhite.
CBRE senior director Angela Lowe added: "2 Semple Street is already attracting strong interest before a brick is laid and potential tenants will be encouraged with the financial pedigree of the developers and their commitment to deliver the end-product in an 18-month timescale."
Website: www.2semplestreet.co.uk
Joint agents for 2 Semple Street are:
Chris Cuthbert, Director, CuthbertWhite: email chris@cuthbertwhite.com Telephone 0044 (0) 7989 395165
Angela Lowe, Senior Director, CBRE Ltd: email angela.lowe@cbre.com Telephone 0044 (0) 7793 808458
22 Mar 2016
2 Semple Street Development
Location: Semple St, off Lothian Road
Design: Michael Laird Architects
£24 Million Semple Street Development Latest Addition To Edinburgh's Exchange Financial District
First Grade A Office Spec Build Since 2014 – Easing Demand For City Centre Space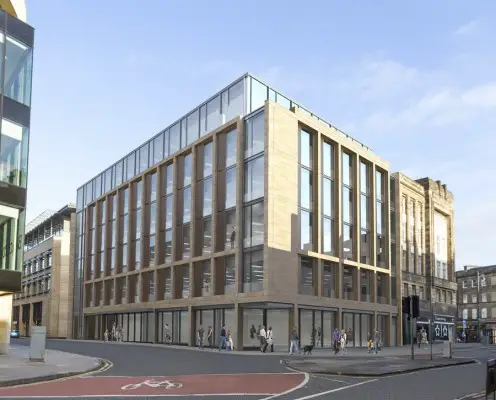 Work has started on a £24 million development in Edinburgh's vibrant Exchange district which will provide 35,000 sq ft of office space and 11,000 sq ft of ground floor retail units.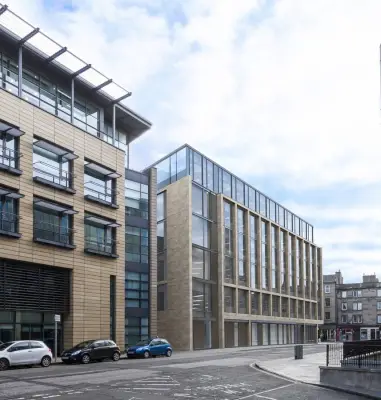 GSS Developments Ltd (GSS) believe 2 Semple Street will be in high demand from blue-chip companies looking for Grade A accommodation in Edinburgh's premier business area.
With strong financial backing and an almost 50-year relationship with Bank of Scotland, GSS said certainty of deliverability and a firm completion date of January 2018 will be prime factors in attracting corporate tenants for the fully-funded speculative project.
Pictures show GSS Development chairman Dr George Stevenson, directors Tim Stevenson (tie) and Paul Stevenson (no tie):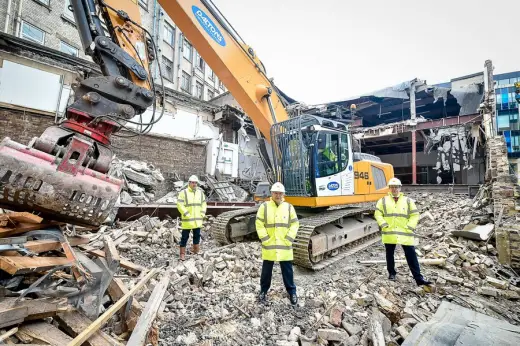 The site was acquired last year from Aberdeen Asset Management and with demolition work of the existing building underway, the main contractors will be appointed by the middle of April, with construction due to begin early June.
It is expected the office space over five floors could accommodate up to 350 employees and may attract the attention of accountancy and legal firms or Edinburgh's vibrant technology sector.
The retail space is divided in to a 7,500 sq ft unit fronting Lothian Road and a dividable 3,000 sq ft unit on Fountainbridge. With five floors of the highest quality of office space above, benefiting from views of Edinburgh Castle, strong demand is expected.
GSS Developments director Paul Stevenson, said: "Currently there are no available new build Grade A office developments coming out of the ground in central Edinburgh, therefore the strong appeal for potential tenants at 2 Semple Street is the absolute certainty on delivery and quality of product. With a number of well-known occupier lease expiries in 2018, this delivery certainty allows us to discuss with confidence definite completion and move-in dates with occupiers.
"Our family have a relationship with Bank of Scotland going back nearly 50 years and this fully-funded development gives businesses, which are looking for first-class city centre space in Edinburgh's financial district, the absolute confidence that they can start forward planning now."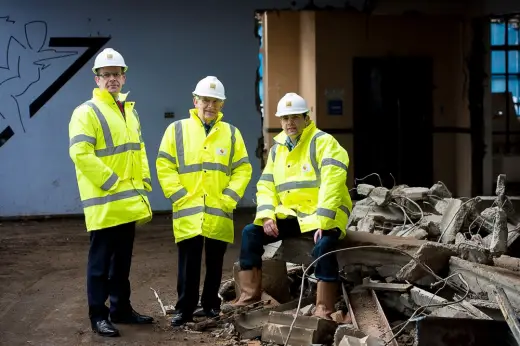 Joint agents for 2 Semple Street are Chris Cuthbert of CuthbertWhite and Angela Lowe of CBRE.
Chris Cuthbert added: "2 Semple Street is a strong address and will appeal to businesses keen to be located into The Exchange area at the heart of the city's financial sector. This is the first speculative Grade A office development to be started in Edinburgh since 2014 and the confidence in deliverability from a long-established developer will be an important factor for businesses looking to relocate, expand or upgrade their current office provision."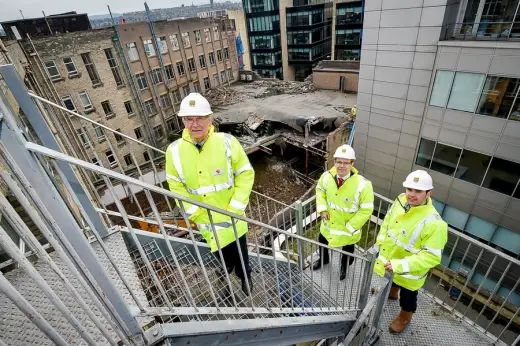 2 Semple Street Edinburgh – Background
GSS Developments Ltd is a well-established Aberdeen and Edinburgh based commercial development and investment company with significant property portfolio of more than £70 million of assets.
The Company is a privately owned by the Stevenson family and is run by George, Tim and Paul Stevenson. GSS Developments have an enviable track record of delivering for national and international occupiers.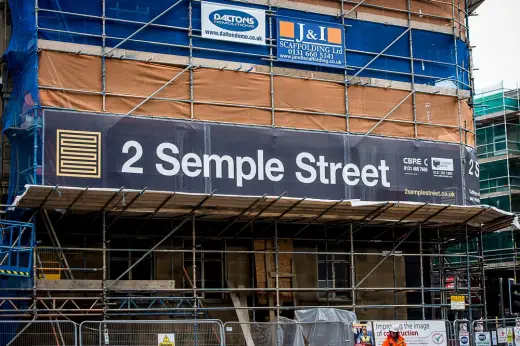 The Stevenson family are also owner and developer of one of Aberdeen's largest and most successful business parks to be opened in the last decade, ABZ Business Park. ABZ comprises of 80 acres and one million square feet of commercial buildings with a GDV in the region of £120 million. To date they have speculatively developed over £35 million of infrastructure and buildings at ABZ.
GSS Developments have a strong banking relationship with Bank of Scotland, who have been their bankers since inception, and funding for delivery of this project speculatively has been agreed with Bank of Scotland.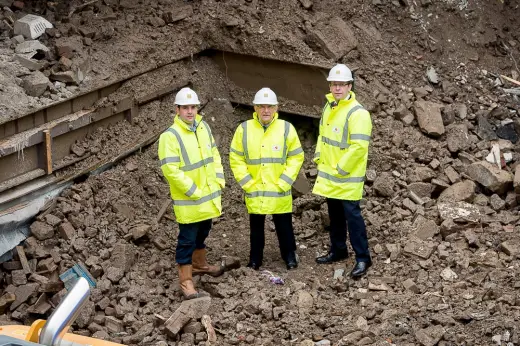 Website: www.2semplestreet.co.uk
Joint agents for 2 Semple Street are:
Chris Cuthbert, Director, CuthbertWhite: email chris@cuthbertwhite.com Telephone 0044 (0) 7989 395165
Angela Lowe, Senior Director, CBRE Ltd: email angela.lowe@cbre.com Telephone 0044 (0) 7793 808458
Issued on behalf of GSS Developments Ltd
Excel House – : Semple Street Offices



image from architect
Semple Street Edinburgh Development
Speculative office development opposite BDP's Scottish Widows; site of former Inland Revenue Offices.
Just south of Excel House is another building for Premier Property Group on Semple St by Michael Laird Architects Jan 2005
Adjacent Buildings include:
Bett Properties' Lochrin Square by MLA
Scottish Widows



picture © Adrian Welch
Edinburgh Conference Centre



photo © Adrian Welch
City Travel Inn



photograph : Steffen Schefer
To the West are Fountain Park & Fountain North
Edinburgh offices by Michael Laird Architects include Tanfield Inverleith
Standard Life Lothian Road



image © Adrian Welch
Westport House



picture from the architect
Comments / photos for the 2 Semple Street Edinburgh Development Architecture page welcome