Hart Street House, New Town Property Images, Building Design, Architect News, Property Photos
Hart Street Edinburgh : House
Contemporary Edinburgh New Town Home design by Richard Murphy Architects, Scotland
post updated 9 January 2022
A RIBA National Award Winner 2016 – RIBA Awards – 23 Jun 2016
16 Jun 2016
Murphy House, Hart Street
Award for Murphy House on Hart Street
A separate RIBA Award for Scotland was made to Murphy House, Hart Street, Edinburgh by Richard Murphy Architects.
Murphy House, Hart Street – an RIBA Award for Scotland 2016 Winner
13 May 2015, updated on November 22, 2015.
Hart Street House, Edinburgh, Scotland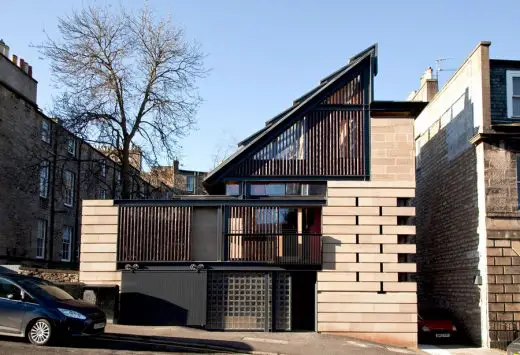 photograph : Stephen Leonard
Richard Murphy House in Hart Street
2 Oct 2008
Hart Street House
Planning permission for controversial New Town house, 2nd October 2008:
Recommendation for refusal overturned
Richard Murphy "amazed" councillors ignored the advice of their own officials
Hart Street House in Edinburgh
House designed for Richard Murphy himself.
Those writing in support of this contemporary design include:
Dick Cannon, Murray Grigor, Adrian Boot (RMJM), Malcolm Fraser, Adrian Welch, Charlie Hussey and former clients and the neighbours of other buildings.
It has been described as "suitable only for dog kennels", "completely out of place", "People are horrified at what Richard Murphy is trying to do. It will be a horrible eyesore", "poor design", "monument to stupidity, ego and greed", and as ever 'World Heritage Site status' is used ad nauseum as a weapon: time to bin WHS if it perpetuates backwardness.
"It occupies approximately half of an existing garden in the open space between the back of houses on Forth Street and the gable end of houses on Hart St in the New Town of Edinburgh. The junction between these two streets is clearly an unplanned part of the New Town sitting at the point of contact where two estates that developed simultaneously met. In addition, an extra floor added at some time in the twentieth century to the west side of Hart Street has resulted in an unsightly gable end.
The house sets out to achieve a number of architectural ambitions. Firstly it acts as a "bookend" to the above mentioned gable, hiding as much of it as possible. The elevational treatment continues the pattern set up by the Hart Street houses of an indented ashlar base, string courses and a significant cornice which is now terminated by becoming the roof edge of a dramatic sloping roof.
This roof made mostly of glass with inset photovoltaic cells is designed both to ensure daylight to the adjacent basement flat on Forth Street and also to act as a major collector of solar energy. Inside the roof are a number of insulated shutters which are capable of closing when the roof is in net heat loss mode and opening when there is a net heat gain.
In addition the photovoltaic cells power an industrial fan which draws air from the very top of the house to the semi basement to both counter the stack effect but also to store heat in a rock store placed in the solum for night time heating. The external form of the house is completed by a garage with a small roof terrace above".
Hart Street Home design by Zone Architects
New Town Homes by Richard Murphy Architects
Significant Edinburgh Property designs by Richard Murphy Architects – Selection:
Moray Place – New Town house by Richard Murphy Architects



picture from the architect
Royal Terrace Mews house – New Town house by Richard Murphy Architects



picture from the architects
Richard Murphy Architects
Scottish Capital City Properties
Buildings / photos for the New Town Residential Architecture page welcome