Edinburgh Architecture News July to August 2016, Lothian Buildings, Architects, Images, Scotland, Design
Edinburgh Building News
Scottish Architectural + Construction Updates July to November 2016 – East of Scotland Property
July to August 2016 Archive
Edinburgh Architecture News
Architects' Conversations in Edinburgh
31 + 30 Aug – 'Architects' Conversations: John McAslan in conversation with Pedro Mendes da Rocha', will take place at the National Museum of Scotland on the evening of 21st September 2016.
Join John McAslan in conversation with Paulo Mendes da Rocha's son Pedro, as they discuss his dad's work and the relationship between architecture and engineering: more info on our events page.
Maryhill Locks Housing
31 Aug – The first 21 homes completed in CCG's Phase 3 of construction at The Botany, reports Urban Realm. Designed by NORD the properties – many already occupied – form part of a wider Maryhill Locks masterplan. This 'Transforming Communities' project was built on behalf of Bigg Regeneration. The latest phase comprises 40 private townhouses. Full completion of phase three is due in February 2017.
Dundee Hotel Building Extension
31 Aug – Invercarse Hotel expansion submitted for planning by Redwood Leisure, reports the Dundee Courier. Designed by Dundee's Arktx Chartered Architects, the two-storey extension will be created at the rear of the current building. It will be constructed from reconstituted stone with a glass block-clad staircase to the north. Delivering a 24 new bedrooms, capacity at the 44-bedroom hotel would rise by more than 50%. The Victorian mansion is located in the city's west end conservation area.
Aberdeen Art Gallery Building News
31 Aug – Work has started on the interior fit-out of Aberdeen Art Gallery building by Glasgow's Hoskins Architects. The £30m redevelopment converts the A-listed building into an arts venue.
Celebration of Peter Womersley
31 Aug – Celebration of Peter Womersley 1923-1993 – Seminar and Coach Tour
Saturday 1st October 09.30-13.00 (Seminar) / 13.30-20.00 approx. (Coach Tour)
Venue: Hawthornden Lecture Theatre, Scottish National Gallery, The Mound, Edinburgh / Scottish Borders
Peter Womersley (1923-1993) was a British architect, best known for his work across a range of modernist styles. While Womersley's work has been very influential nationally and internationally, he is mostly unknown in Scotland outside the design sector. This seminar, and tour of some of his buildings in the Scottish Borders, has been coordinated by a group of Womersley enthusiasts, chaired by Colin McLean and supported by the Royal Incorporation of Architects in Scotland (RIAS) and the Architectural Heritage Society of Scotland (AHSS).
Please see our events page for details.
Stockbridge Building Photos
30 Aug – some recent architectural photos around Stockbridge:
Dean Park Mews properties: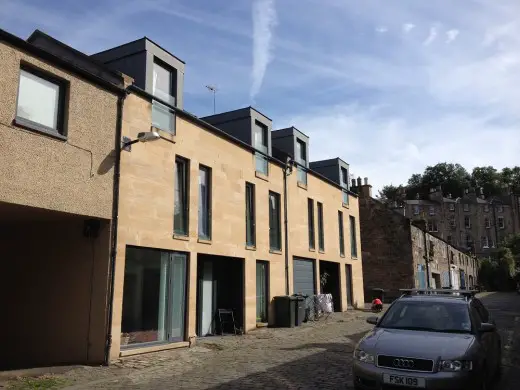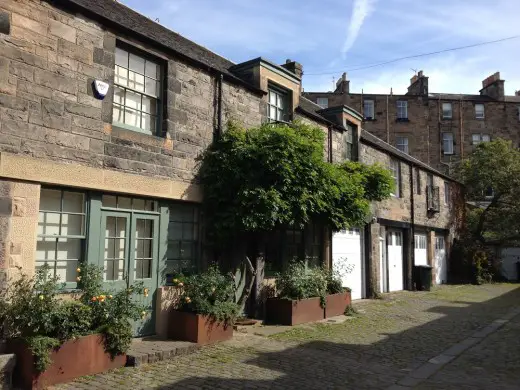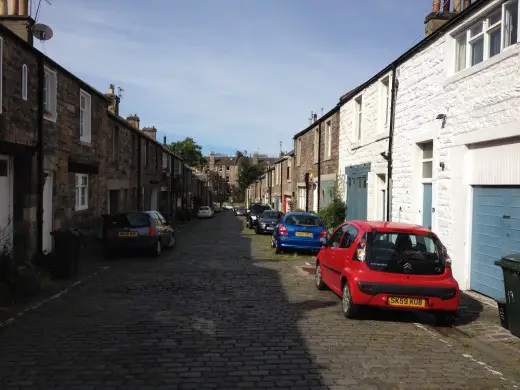 Dean Street property – school converted to flats: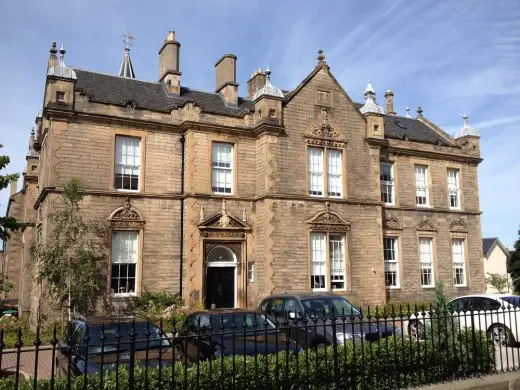 Edinburgh Academicals Sports Ground – trees and elegant building along Raeburn Place: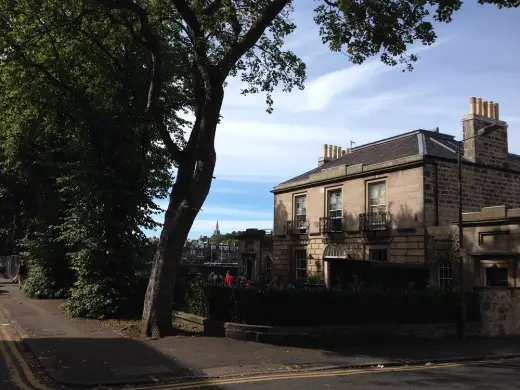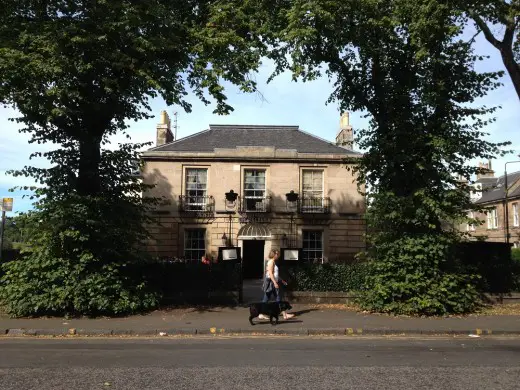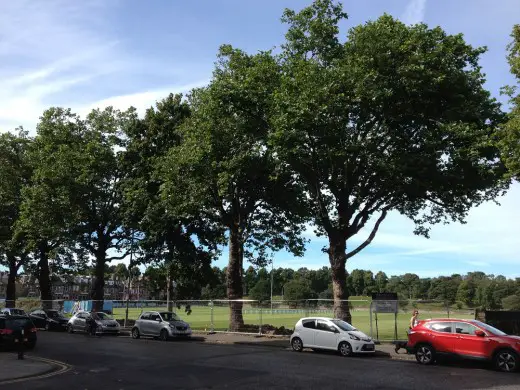 St Bernard's Crescent buildings:

Portobello School Building
30 Aug – photo of Portobello School building construction from south: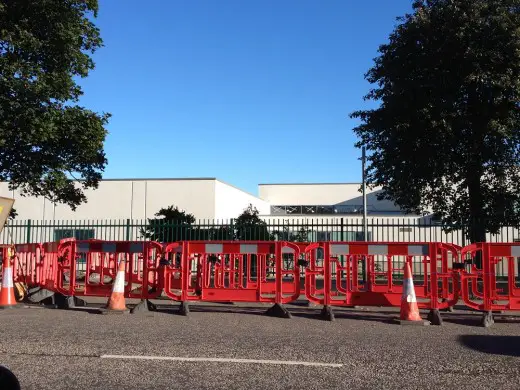 Edinburgh World Heritage Support For Syrian Restoration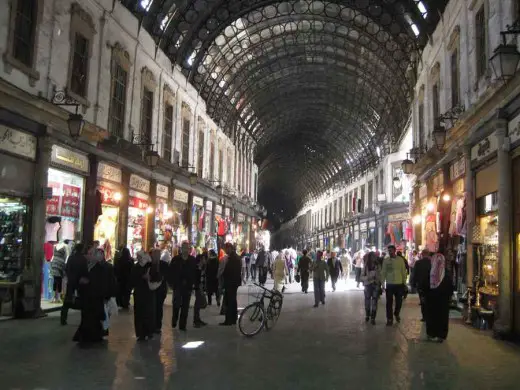 photo © Gordon Murray, architect
29 Aug – Responding to a call from Prof Maamoun Adbulkarim, Director-General of Antiquities and Museums, Arab Republic of Syria,Edinburgh World Heritage has offered to provide support towards the restoration of several of Syria's World Heritage sites, including the ancient cities of Aleppo, Damascus, and Bosra. Support will be provided in the form of on-the-ground expertise and knowledge exchange in urban heritage conservation and restoration as soon as hostilities have ceased.
Peebles Hydro Hotel Properties
29 Aug – Queensberry Properties have launched a residential development within the grounds of the Peebles Hydro Hotel. The development comprises a mix of apartments and mews properties through to five bedroom detached villas.
Queensberry Properties is a partnership between Cruden Homes and Buccleuch Property. Past projects in Edinburgh include MacKenzie House and Woodcroft.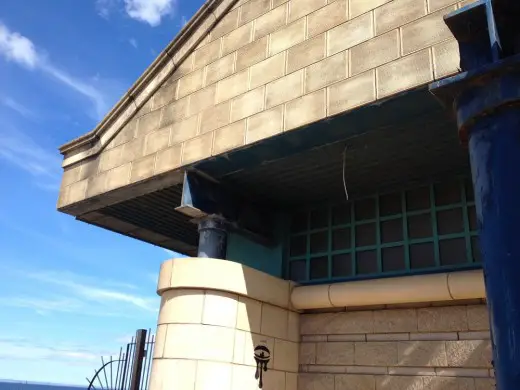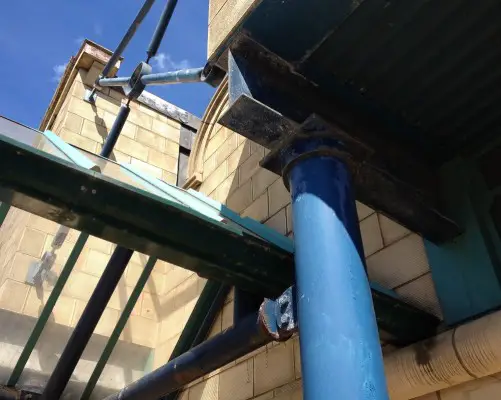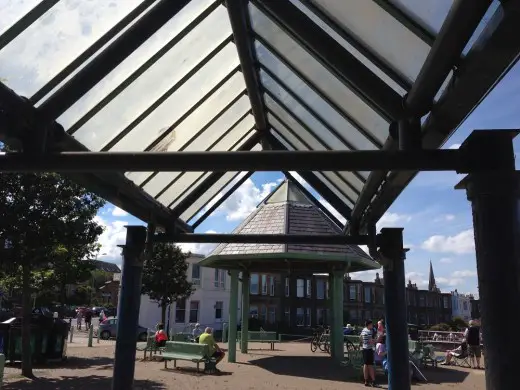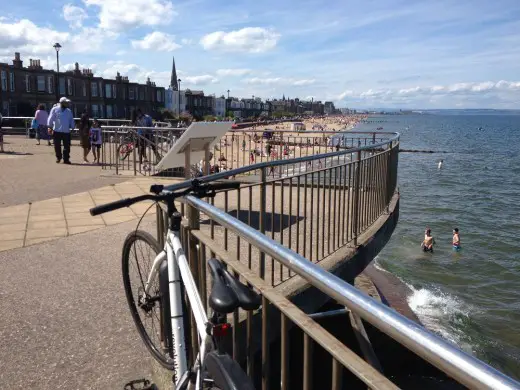 29 Aug – photos of this building in Joppa (at the east end of Portobello Beach) part of which used to be public toilets, currently being sold off by the council
Diversity Awards
29 Aug – The Herald and GenAnalytics will deliver Scotland's first ever national Diversity Awards in October. These awards "will recognise outstanding success in ensuring that everyone in our society has the opportunity to fulfil their ambitions, aspirations and potential". The awards will take place on Thursday 13th October 2016 at the Radisson Blu Hotel, Glasgow. Entries closed on the 17th of August – architects of buildings which serve local communities were eligible to enter.
Edinburgh Digital Entertainment Festival Structure


25 Aug – Just a few days left to see this modular exhibition space has been created in the middle of George Street as part of the Edinburgh Digital Entertainment Festival. The design is by biomorphis with designer Mark Kobine.
University of Edinburgh Design Informatics showcase the work of its researchers and master students using a low cost, rapid assembly design.
The modular space can be assembled in a single day from standard sheets of OSB 3 that have been CNC routed and built into portable cassettes. The structure can be modified to suit varying requirements.
The Design Informatics Pavilion has been designed by biomorphis, an Edinburgh-based architecture practice led by Pierre Forissier. Interested in how digital technology can be efficiently used to design an affordable modular structure, biomorphis developed an algorithm to test & generate different cellular divisions to form a self-supporting lightweight building envelope.
Using a CNC router (Computer Numerical Control) timber sheets are cut and then pre-assembled in pairs to form cassettes that come together to make the double layer skin. Prefabricated off site, and simply assembled on site, the final pavilion demonstrates how computer algorithms are assisting designers to develop a parametric architecture which is strong, lightweight and evocative to the eye.
The Pavilion houses "Living with Data: Design Informatics" and explores what happens when you start "designing with data" and when things start designing themselves through recent developments in the Internet of Things, Synthetic Biology and the Blockchain.
Source: https://www.edef.co.uk/art-installations/
4-28 Aug, George Street
HERITAGE & CONFLICT – Edinburgh World Heritage Event
25 Aug – With a capital among the oldest continuously inhabited cities in the world, Syria has been home to some of the world's most ancient civilisations. But after five years of armed conflict, the country has suffered a devastating loss of cultural heritage.
At an exclusive Edinburgh World Heritage lecture, Professor Maamoun Abdulkarim, Director-General of Antiquities and Museums, Arab Republic of Syria, will talk about the appalling destruction of priceless monuments in many parts of the country as well as the impressive efforts led by his team to conceal important museum collections across Syria from harm. He will call upon the international community to redouble its efforts to help Syria protect, and in places rebuild, its heritage for the benefit of all humanity.
Sport, Health & Wellbeing Centre Building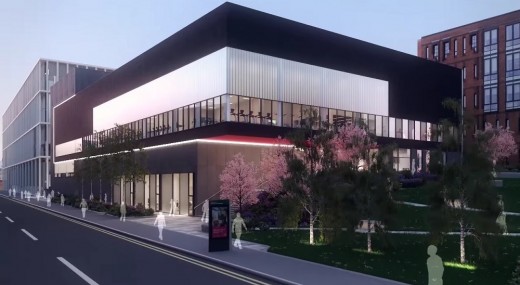 25 Aug – The University of Strathclyde receive planning permission for a £33m sport, health & wellbeing centre at Cathedral Street, Glasgow. The design is by Kennedy Fitzgerald.
Taymouth Castle Golf and Spa Resort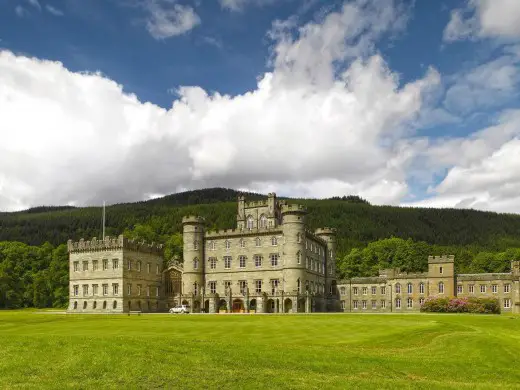 25 Aug – Taymouth Castle Golf and Spa Resort is due to open early in 2017 following a £25m refurbishment. It is located just north-east of Kenmore in Perth and Kinross. The 5-star hotel development includes 54 new luxury suites. Amenities include a championship standard 18 hole golf course, an equestrian centre and fishing within the 450 acre estate.
Willow Tearooms Visitor Centre
24 Aug – Simpson & Brown Architects' proposals for the upgrade of Charles Rennie Mackintosh's Willow Tearooms at Sauchiehall St, Glasgow, to form an adjoining visitor centre.
PoLHA News
24 Aug – Port of Leith Housing Association (PoLHA) has secured a new £35 million private funding facility to support its plans to build over 480 homes for social and mid-market rent in Leith and North Edinburgh by 2020.
Premier Inn Hotel on York Place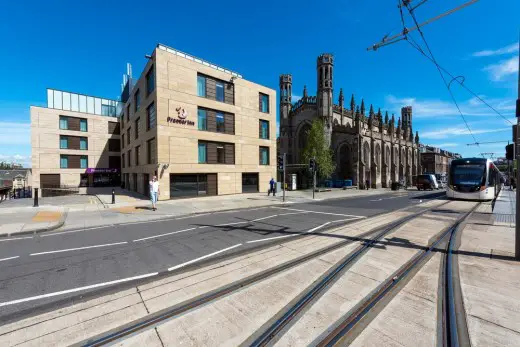 23 Aug – conversion of a 1970s office building in Edinburgh into a new Premier Inn.
The £17m development was designed by Holmes Miller Architects for Consensus Capital Ltd and Interserve Construction.
Located on the north side of York Place the completed building will provide a new 127-bedroom Premier Inn hotel.
With careful consideration given to the external aesthetic, Holmes Miller worked closely with City of Edinburgh Planning Department to produce a contemporary and elegant finish that is sympathetic to its historic context.
The building is clad in natural stone, zinc panels and full height glazing. Over 1,500m2 of Sika-Trocal Type S was used on the roof by specialist contractor McConnell Roofing.
Sick Kids Hospital Edinburgh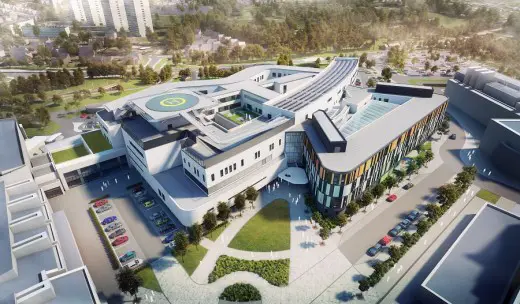 23 Aug – The opening of a £150m hospital in Edinburgh has been delayed by at least six months after construction firms entered administration and provisional liquidation.
IHS Lothian Ltd, the consortium building the £150m Royal Hospital for Sick Children and Department of Clinical Neurosciences, has informed NHS Lothian that they are reviewing the construction timetable for the project which was scheduled to open autumn 2017.
Dunne Group and JB Brickwork, two of the companies working on construction of the hospital, entered administration and provisional liquidation respectively.
eBuildingStandards.scot
23 Aug – A new system for submitting building standards applications will go live on Wednesday, 24 August.
The eBuildingStandards.scot service will enable the electronic submission of applications for building warrants and other related forms, such as completion certificates.
It will also allow multiple site users to collaborate in producing any single application online.
Online applications will be simpler and quicker.
An in-house system to deliver stamped approved plans automatically via e-mail has been developed.
eBuildingStandards.scot will be accessed through the eDevelopment.scot home page.
eDevelopment.scot was launched on 3rd August 2016: it is the joint login and landing page that will provide access to both the ePlanning and eBuilding Standards portals.
Dalmarnock Primary School
22 Aug – A planning application has been submitted for a new primary school in Dalmarnock to augment ongoing regeneration around the Commonwealth Village. The submission is by the Glasgow City Council Development and Regeneration Services Department.
Queen Street Station Staff Block Development
19 Aug – Network Rail has submitted a planning application to build a combined staff accommodation block and car park within the footprint of Glasgow's Queen Street Station. This proposal follows the re-opening of the station tunnel.
The two-storey structure would include a variety of offices, meeting rooms and stores. A 70-space parking deck on the roof will be accessed by a bridged ramp.
New Perth Homes
19 Aug – A planning application by EMA Architects has been submitted for a 30-acre brownfield site on the outskirts of Perth. Perth City West's proposal is for 270 new homes.
Top Ten Scottish Buildings
22 Aug – The shortlist of the best Scottish buildings from the past 100 years:
Castle at Achmelvich, Sutherland
Dundee Contemporary Arts
Dundee Repertory Theatre
India Tyre and Rubber Factory, Inchinnan, Renfrewshire
Princes Square shopping centre, Glasgow
Pier Arts Centre, Stromness, Orkney
Rothesay Pavilion, Isle of Bute
Royal Museum Redevelopment, Edinburgh
Scottish Parliament Building, Edinburgh
St Conan's Kirk Renewal, Loch Awe, Argyll
An original list of 100 buildings selected by an expert panel was published by the Royal Incorporation of Architects in Scotland (RIAS). An ambitious exhibition, which tells the story of the 100 buildings also began its tour across the length and breadth of Scotland.
The Scotstyle list is a headline event of The Festival of Architecture and a key part of the Year of Innovation, Architecture and Design.
Neil Baxter, RIAS Secretary and co-editor of Scotstyle, said: "This brilliant list testifies to the extraordinary quality of Scotland's buildings. The fact that so many are relatively recent demonstrates that our national architecture is in very good health. We have much to celebrate."
Voting re-opened on 21 August for the public to cast their vote for their favourite amongst the top ten. Scotland's building of the century will be announced at the Finale of The Festival of Architecture in Dundee on the 18th November.
Scotstyle is currently touring the country in three separate versions and so far has been seen by 28,000 people. The exhibition will be on display at the Scottish Parliament during the Festival of Politics, and future locations include: Stromness, Kirkcaldy, Glasgow and Dundee.
The accompanying book celebrates the centenary of the RIAS, who have curated the exhibition.
To cast your vote, order a copy of the book and find out more about the exhibition tour, visit www.foa2016.com/scotstyle.
Sheppard Robson News
22 Aug – Architecture practice Sheppard Robson announced the promotion of Adam McGhee to partner at its 25-strong Glasgow office. He will work alongside James Dick in directing the office.
Bucksburn Homes
22 Aug – Plans for the construction of 1,700 homes to the north of Aberdeen have been re-approved by councillors after it was brought back to the authority following a landmark legal ruling.
The residential-led mixed use development, which will also provide shops, schools and a community centre at Rowett South in Bucksburn, was awarded planning permission in principlein September last year.
Councillors unanimously agreed a willingness to approve the proposals, tabled by the University of Aberdeen and Bon Accord Land Promotion, subject to conditions including a developer contribution towards the Strategic Transport Fund and further mitigation for the local road network as part of the legal agreement.
Countesswells Housing
22 Aug – The first phase of a 3,000-home development at the Countesswells site in Aberdeen has been approved.
Councillors have granted permission by 14 votes to 2 for Stewart Milne Homes to deliver for 33 flats and 91 houses, new upgraded access roads and engineering works at Kingshill Road.
Construction is under way on the wider project at Countesswells, which will accommodate an estimated 7,000 residents once complete.
Haddington Building News
21 Aug – McCarthy & Stone retirement apartments at Mill Wynd, Haddington, East Lothian: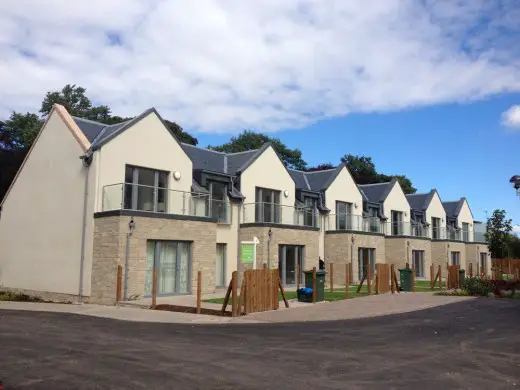 Haddington buildings
Holyrood Park Distillery Building
19 Aug – Urban whisky distillery in Edinburgh designed by 7N Architects granted planning permission. The proposal is to redevelop a B-listed engine shed on St Leonard's Lane to form a distillery and visitor centre.
Special RIAS Scotstyle Event at the Scottish Parliament
Date: 19th August
Time: 5:00pm
Venue: Festival Cafe Bar, Horse Wynd, Edinburgh
Cost: £8 full price £6 concession
Celebrate the best 100 buildings in Scotland from the last 100 years as nominated by the Scottish public. The top ten buildings will be announced in the Debating Chamber. This special event is chaired by Deputy Presiding Officer Linda Fabiani MSP, with panellists Neil Baxter, Royal Incorporation of Architects in Scotland (RIAS); Ruaridh C. Moir RIAS architect, writer and lecturer; Fiona Sinclair FRIAS, architect, author, historian; and Andrew Wright, Past President of RIAS.
From 18th – 20th August: debates, exhibitions, films and Festival Café Bar entertainment at the Scottish Parliament's Festival of Politics 2016. In 2016, the Festival will take inspiration from the Year of Innovation, Architecture and Design within the vibrant and inspiring setting of the Scottish Parliament itself an icon of contemporary architecture.
Edinburgh Academy Rugby Pavilion Building
19 Aug – Rugby Pavilion for Edinburgh Academy just south off Kinnear Road, by Richard Murphy Architects, recently completed: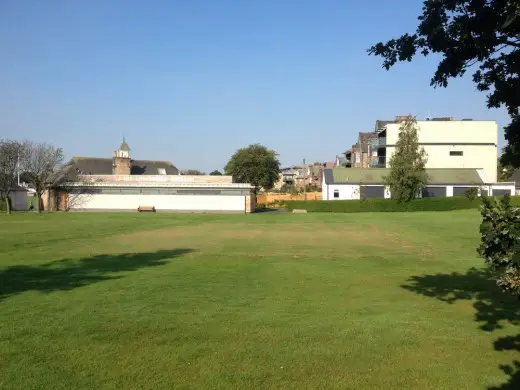 Partick Interchange Bus Station Building



19 Aug – Planning application submitted by Austin-Smith:Lord to refurbish a bus station at Partick Interchange through the addition of new stances, shelters and public realm on behalf of Glasgow City Council.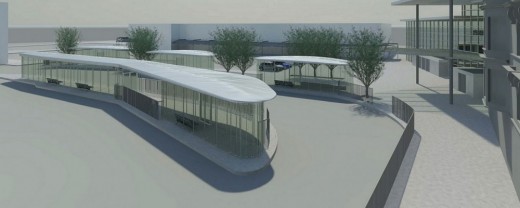 Anderston Quay Masterplan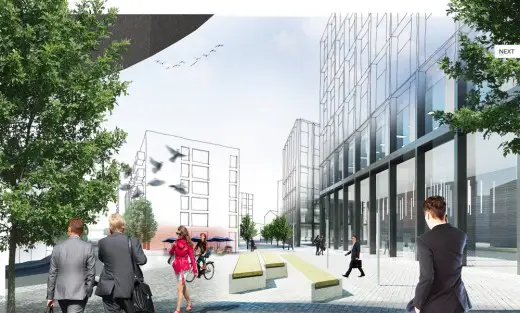 19 Aug – Keppie have held a pre-application consultation for planning permission in principle to erect a mixed use quarter centred on a 'boulevard' along Warroch Street, Anderston, Glasgow, on behalf of developer XLB.
Central Quay will be phased in over the coming years with the first element scheduled to be a signature office block fronting the Clydeside Expressway followed by a hotel, further commercial space office and a series a waterfront residential buildings capped by a tower of around 15 storeys.
Approval for St Mary's Music School on Calton Hill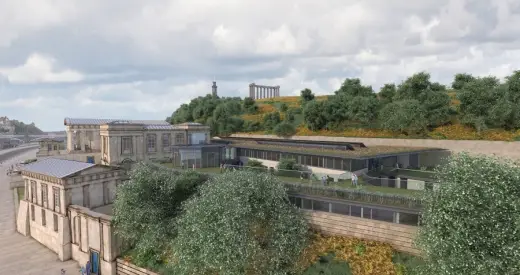 18 Aug – The 'alternative' scheme to redevelop the former Royal High School as a new music school and concert venue has been approved.
International Conference to Mark Scotland's Year of Innovation, Architecture and Design 2016
18 + 19 Aug, in Edinburgh: The Scottish Government's Cabinet Secretary for Culture, Fiona Hyslop MSP, will give the opening address at the 'Outlook: Exploring Geddes in the 21st Century', a two-day interactive conference on 18th and 19th August in Edinburgh, see the events page for details.
Edinburgh Marina Homes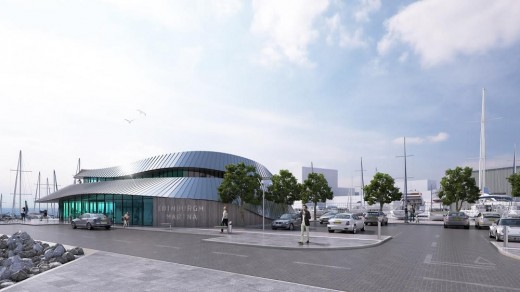 18 Aug – The City of Edinburgh Council's development management committee has approved to a £500m masterplan which proposes the construction of over 2,000 new homes at Edinburgh Marina at Granton.
Following the council's decision in principle in December 2015 to grant permission for a new Granton Harbour Masterplan, this decision confirms that full consents have now been granted for the overall masterplan.
Developers immediately lodged detailed planning applications for some of the masterplan's individual sites, including the boatyard and associated infrastructure for the new 300 berth Edinburgh Marina complex.
The decision confirms the long awaited consent for a new 13,449 sqm retail and leisure centre, as well as new apartments and houses for over 4,000 residents.
Wick School Campus Building
18 Aug – The opening of the new £48.5m Wick school campus designed by Ryder Architecture is to be delayed. The campus built by Morrison Construction is being delivered by hub North Scotland to replace Wick High School and Pulteneytown and South primaries.
PPP Inquiry
17 Aug – As pupils return to Edinburgh schools today, campaigners have called for a "root and branch inquiry" into public private partnerships after building defects were uncovered in schools across Edinburgh earlier this year.
Park Quadrant Homes
17 Aug – Plans to build 98 homes at Park Quadrant in the West End of Glasgow approved. Many flats in the A-listed Victorian development overlook Kelvingrove park.
Jim Clark Museum
17 Aug – Plans submitted for a £1.65m Jim Clark museum building in the Borders celebrating the achievements of two-time Formula One world champion.
New Hearts Stand Images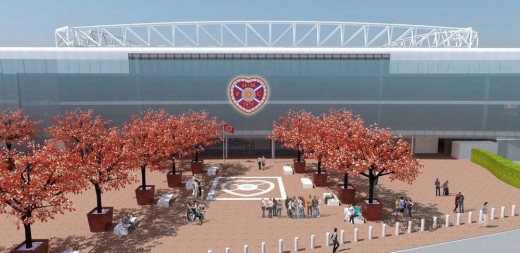 16 Aug – new images of the Tynecastle Stadium Building proposal; we reported back on 5 Aug that Hearts had submitted a planning application for a new Main Stand at the Tynecastle. The design is by James Clydesdale & Associates.
Adding 3,000 seats to the current capacity, the column free design will include two big screens and entertainment suites. The three existing stands will also be given a makeover including improved toilet and kiosk facilities. Capacity will increase from 17,529 to 20,099.
Shawfair Expansion News
16 Aug – The £200m Shawfair urban expansion in south east Edinburgh has advanced with the release of the first homes at Millerhill by Mactaggart & Mickel and Buccleuch Property. When complete Millerhill will consist of 138 homes ranging in size from one bed flats to five bed villas, delivered using the developers existing range of house style templates created by Mactaggart & Mickel's architectural manager Chris McWilliams. The overall development could deliver up to 4,000 new homes.
Clydeside Distillery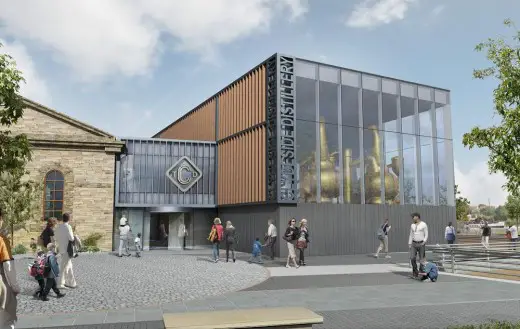 16 Aug – A £10.5m project to create a whisky distillery and visitor centre on the banks of the Clyde in Glasgow city centre is now underway. Building and civil engineering company McLaughlin & Harvey was awarded the contract with several hundred jobs expected to be created during the construction phase.
Blairgowrie School Building News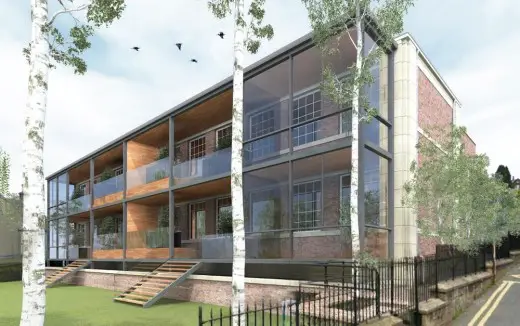 16 Aug – Corryard Developments and McKenzie Strickland Associates have worked up designs for the renovation and conversion of the former Hill Primary, Blairgowrie, to form new homes ahead of an imminent planning application.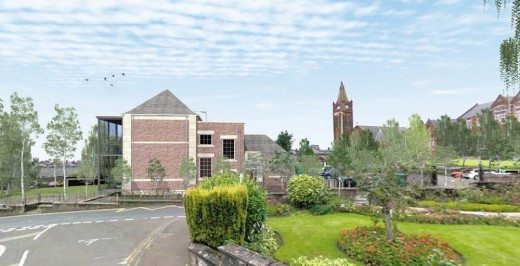 Aberdeen School Building News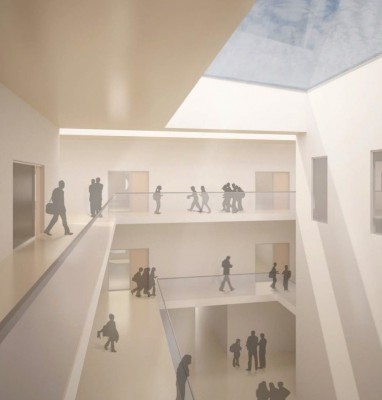 15 Aug – Construction will get underway on a £42m Aberdeen High School led by HUB North Scotland and JM Architects later this summer following the award of a 25 year facilities management contract to Robertson.
Inverness Housing News
15 Aug – Planning submission design by Patience Architecture for 48 flats and a 400sqm supermarket on the site of Torvean Caravan Park, Inverness. The projects is for Caledonian Highview.
Six four-storey blocks will be delivered with canal-front properties having balconies. The scheme on 1.13 hectares of land close to the Caledonian Canal is located off Glenurquhart Road. Landscape design is by Highland Landscape Design.
Angus Building Design by Simpson & Brown Architects
12 Aug – The Sunnyside Hospital site in Montrose has been acquired for development by Pert Bruce Construction and FM Group. Construction of homes, shops and offices is proposed. The hospital has been subject to an outline plan prepared by Edinburgh's Simpson & Brown Architects, who propose retention of B and C listed buildings together with clearance of a number of outbuildings, which will form the basis of a pre-planning consultation.
Former Royal High School Edinburgh Alternative Approval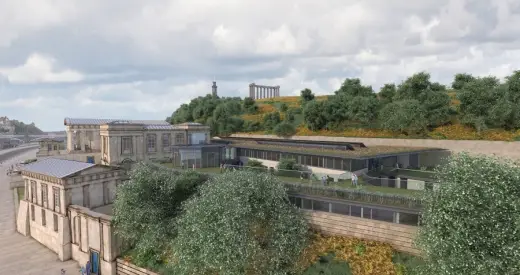 11 Aug – St Mary's Music School on Calton Hill recommended for approval. The alternative scheme aims to transform Edinburgh's former Royal High School into a new music school and concert venue.
East Ayrshire Campus News
11 Aug – Faithful+Gould has been selected to help deliver a £63.5 m Knockroon Learning and Enterprise Campus development in East Ayrshire. F+G will act as quantity surveyor on the largest capital project ever undertaken by East Ayrshire Council.
Irvine Pavilion by Graeme Massie News
11 Aug – Building work has started on the pavilion design by Graeme Massie Architects for an NHS hospital in Irvine, Ayrshire
Scottish Post-Brexit Infrastructure Stimulus
10 Aug – First Minister Nicola Sturgeon has today announced plans by the Scottish Government to accelerate capital spending on infrastructure projects, starting with an additional £100 million of funding in this financial year.
Maggie's Centre at Forth Valley



10 Aug – Work on the new Maggie's Centre at Forth Valley General Hospital has resumed after previous contractor Dunne Group went into administration. The building design is by by Garbers & James Architects, based in London.
Sir Robert McAlpine will complete the construction of the project which has stalled for a month following the collapse of the Dunne Group, which was carrying out the work.
The centre in the grounds of Forth Valley Royal Hospital in Larbert had been on hold for a month because of the collapse of the Dunne Group, which was carrying out the work.
It is hoped that delays to the project will be kept to a minimum and the centre will open later this year.
Threesixty Architecture News
9 Aug – Threesixty Architecture has recruited architect Martin English as a board director to lead the creation of a new Perth architects office. He is a former Keppie MD.
The architects practice was established eight years ago. Existing studios are based in Glasgow and Inverness. It will also recruit four new designers and move into new premises in the city next month. The company now has 44 members of staff.
Current projects include the Blackdog Masterplan in Aberdeenshire, a 750,000 sqft commercial centre for Ashfield Land which includes retail, leisure, commercial and industrial space.
Womersley Talk
For those with an interest in 20thC Architecture, it is now the Edinburgh Festival and architect Rebecca Wober will be giving a talk on architect Peter Womersley at the Galleries on the Mound on Wednesday lunchtime, starts 12.45pm, free – see our Events page for details
Azure Building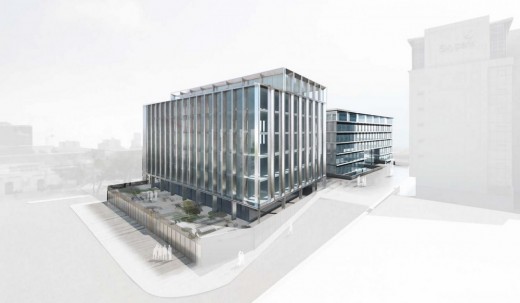 8 Aug – plans submitted by architects Sheppard Robson for two new buildings on the Skypark campus. Skypark Unit Trust are developing the latest phase of expansion at their Finnieston office complex in west Glasgow.
Brodick Harbour Ferry Terminal Building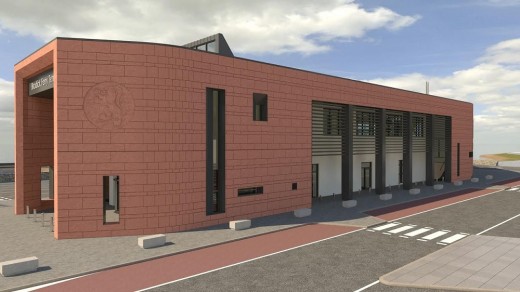 8 Aug – The redevelopment of the ferry terminal building at Brodick Harbour on the Isle of Arran is part of a £22 m project for client Caledonian Maritime Assets Ltd.
Angus Housing
5 Aug – Angus council have given their consent to an ambitious housebuilding programme in the region which could deliver as many as 4,620 homes by 2026.
George Hotel Building in Haddington



photo © Adrian Welch
6 Aug – Work is now under way to transform a landmark building in Haddington town centre into flats, a cafe and an art gallery, reports the East Lothian Courier. Ambitious plans to revive the former George Hotel and bring it back to life were given the go ahead by East Lothian Council at the end of last month. Work is already under way on the building, at the eastern end of the High Street, with Jim Wilkie, director of MNH (Haddington) Ltd, keen to see things moving forward.
New Hearts Stand



5 Aug – Heart of Midlothian Football Club has submitted a planning application for a new Main Stand at the Tynecastle stadium.
The Tynecastle redevelopment tranforms the stadium building into a 20,000-plus capacity stadium in time for the 2017-18 season.
Adding 3,000 seats to the current capacity, the column free design will include two big screens and entertainment suites. The three existing stands will also be given a makeover including improved toilet and kiosk facilities.
The New Hearts Stand submission results from the public consultation process carried out in recent months.
Edinburgh World Heritage Event
With a capital among the oldest continuously inhabited cities in the world, Syria has been home to some of the world's most ancient civilisations. But after five years of armed conflict, the country has suffered a devastating loss of cultural heritage. At an exclusive Edinburgh World Heritage lecture, Professor Maamoun Abdulkarim, Director-General of Antiquities and Museums, Arab Republic of Syria, will talk about the appalling destruction of priceless monuments in many parts of the country as well as the impressive efforts led by his team to conceal important museum collections across Syria from harm.
Event on 25th of August at the Royal College of Physicians of Edinburgh – see our events page for details undethe 'Coming Soon' section
University of Edinburgh Darwin Building News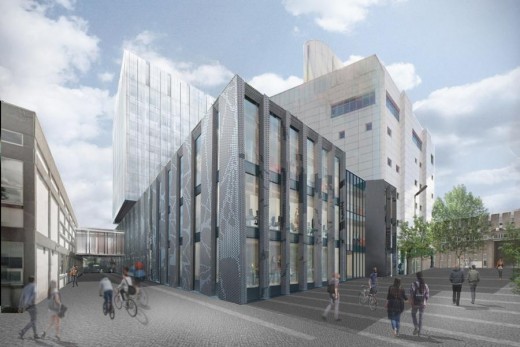 5 Aug – Robertson has started work on a £12 m contract to transform the University of Edinburgh's Darwin building.
The work will last 18 months and will prepare the site for refurbishment as it undergoes a significant evolution with the aim of creating world class facilities.
As part of the project, Robertson Central will build a three-storey extension to the university's CH Waddington Building and a new Mechanical and Electrical Plant building. They will also carry out demolition of the existing Darwin library block plus various out-buildings. In addition, they will create an access haul road and divert M&E and underground utilities services.
Expected to complete in 2021, the refurbishment will provide world-class research and teaching space for students and staff.
Forthquarter Site in Granton For Sale
5 Aug – 40 acres of land for a residential led mixed-use development in Edinburgh has been put up for sale by the National Grid.
The Forthquarter site in Granton – which includes the Granton gasholder – has been put up for sale in a bid to deliver much needed family housing to meet unsatisfied demand in the Edinburgh market.
Interested parties will need to demonstrate their ability to both develop the site and find a creative approach to repairing the listed Granton gasholder.
The landmark structure, which was originally put on the market two years ago, is now being offered to developers with the 40-acre site large enough for 1,000 new homes.
Benjamin Gaunt, from National Grid Property, said there is an opportunity for a ne
Carnoustie Golf Centre Building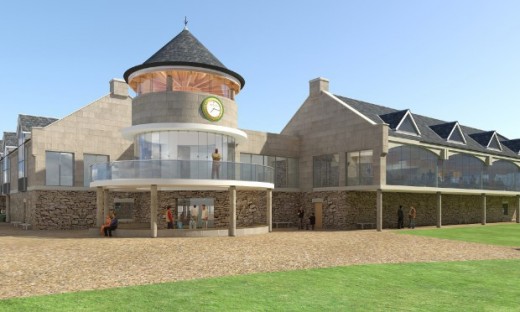 5 Aug – Revised plans for the expansion of Carnoustie's multi-million pound golf centre have been approved.
The extension's ground floor includes a new entrance, caddymaster's office, pro-shop store, member's golf bag storage area, temporary bag drop area, golf simulator, caddies area and a delivery area.
The first floor will feature a bar, café/restaurant with a private dining room, a function/TV room, kitchen preparation areas and stores, a changing room and other meeting rooms and offices, plus terrace areas.
Ibrox Homes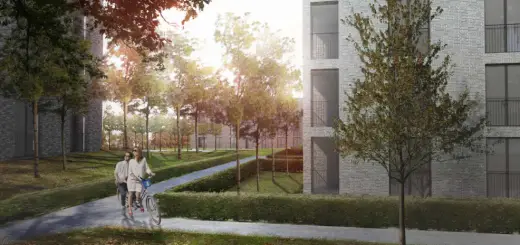 5 Aug – Glasgow Housing Association (GHA) has been given the green light to build 152 homes in the Ibrox area of the city.
The development will see 116 socially rented homes and 36 homes for mid-market rent constructed on a currently derelict site bounded by Broomloan Road, Skene Road and Paisley Road West. The site has been lying empty for the last decade since the former GHA tenements there were demolished.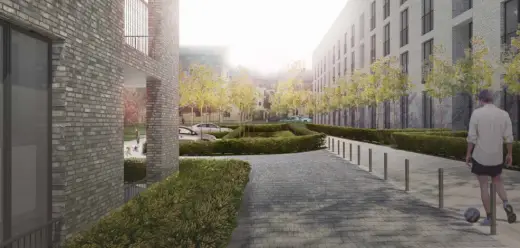 Concerns had been raised about the loss of green space in the area, the increase in traffic brought about by the development and the design and colour of the buildings not being in keeping with others in the area.
Despite this, the plans were unanimously approved by Glasgow City Council's planning committee this week.
Fort William Residential Building News
4 Aug – Threesixty Architecture has drawn up plans for a 40 room student accommodation block in Fort William.
Scottish Civic Trust Chair
3 + 2 Aug – The Scottish Civic Trust is delighted to announce the appointment of Colin McLean as its new Chair.
Colin McLean was Head of the Heritage Lottery Fund in Scotland for 16 years, and before that Director of the Scottish Mining Museum and Director of Communications for the Scottish Museums Council. He will take up the position of Chair on 1st September when the current Chair, Alistair Scott, steps down:
Scottish Civic Trust Chair
BIM in Scotland Conference
Wednesday 21 Sep 9:30am – 4:00pm at the Waldorf Astoria Edinburgh – The Caledonian
With the aim of the Scottish Government to adopt a BIM Level 2 approach across public sector projects in Scotland by April 2017, hear the latest from industry experts, architects and technology leaders. They aim to explain what implementing BIM has done to help drive their businesses forward.
This is a free event on BIM.
See the Edinburgh Events page for more details.
Randolph House Construction News
3 Aug – Work to refurbish Randolph House in Charlotte Lane starts this week. The refurbishment will help form over 9,000 sqft of contemporary, bright, open-plan office accommodation over three floors.
Waterfront Plaza in Leith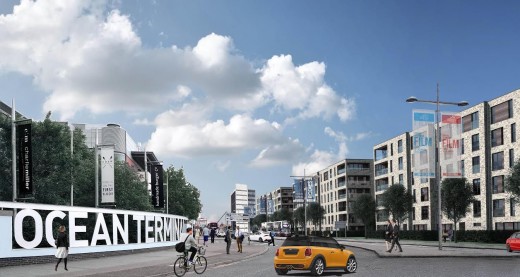 1 Aug – Proposals have been submitted by CALA for a development of 425 homes by the Ocean Terminal in Leith.
CALA Management's Waterfront Plaza development will provide 230 (one, two & three bedroom) apartments, 27 studios apartments, 27 'colonies' flats and 35 townhouses.
The homes will be located on brownfield land in Leith's former docklands, just across the road (south) from the Ocean Terminal.
The on-site affordable provision will include 100 apartments and six townhouses.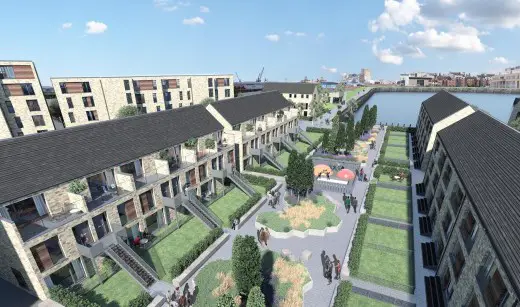 Over 150 people attended a recent exhibition to discuss and give feedback on the project. Although 70% of respondents supported the principle of residential led development on the site, there were some concerns regarding the loss of green space and proposed density.
CALA has now submitted a detailed planning application to the City of Edinburgh Council. The public will have a 21 day period following registration of the application to make formal representations.
Subject to securing planning permission, CALA hope to be in a position to commence development in early 2017.
Elliott House Student Accommodation Edinburgh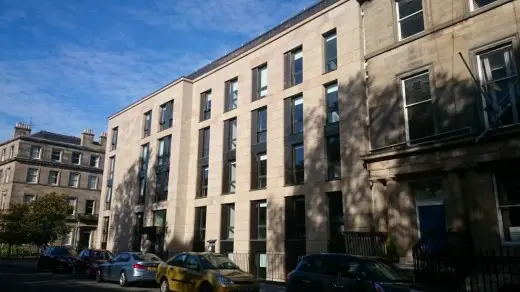 1 Aug – For Elliot House in Edinburgh, architect's 3D Reid commissioned Aliva to craft a 1000sqm buff sandstone finish for the £6.6m conversion of a six-storey office block on the corner of Hillside Crescent and Brunswick Street. Detailing on the façade included reveal panels into the windows and monolithic corners to add depth and historical context. The building now forms a student accommodation block.
Local planning regulations in Edinburgh required Aliva to deliver stone cladding that harmonised with the existing traditional architecture. The company responded with traditionally-detailed facades using its Aliva Air lightweight solution.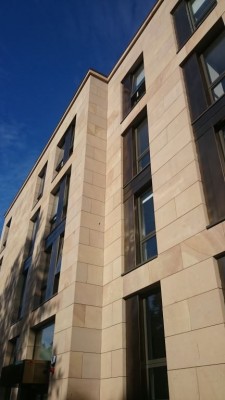 Aliva Air panels comprise a 10mm panel of natural stone veneer (or ceramic or glass) with a PET composite core and a stainless steel backing. The result is a lightweight cladding solution with the look and feel of solid stone, enabling Aliva to offer larger format modules of up to 4.5m x 1.5m. The company works with key quarries around the world to source limestone, sandstone, granite and marble.
Scottish Mansion Sale
1 Aug – Property entrepreneur Elliot Robertson has purchased Kirkton Park, the former luxury home of Graham Gillespie for just in excess of £2.5 million.
The traditional property designed by Richard Hall Architects in Auchterarder, Perthshire, cost about £10m to build, making the sale price a bargain. At the time of construction it was the country's most expensive modern home.
It put on sale for offers over £3.4m in January 2015, with the proceeds going towards paying off Graham Gillespie's creditors.
New Dundee School and Nursery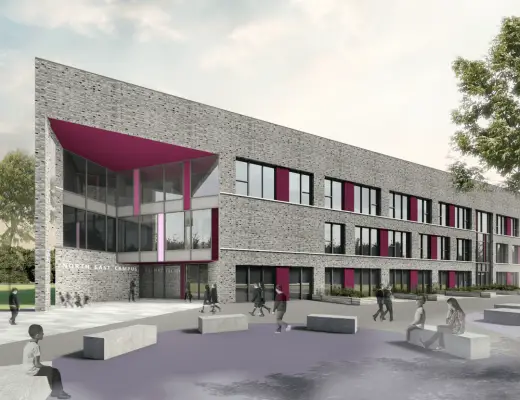 1 Aug – Detailed plans unveiled for a new build primary school and nursery campus in Dundee designed by Holmes Miller Architects.
The new North East Campus will take shape on a large greenfield site at Lothian Crescent between the existing Longhaugh and St Lukes & St Matthews primaries.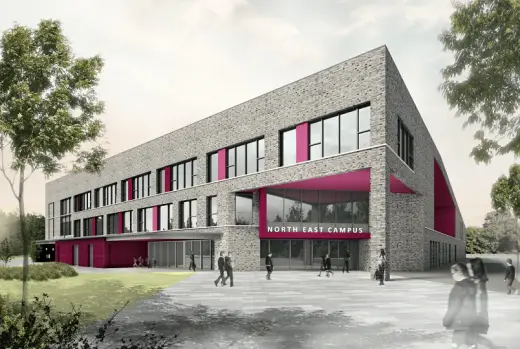 Designed for Dundee City Council, the building will bring together three primary schools and two nursery schools, housing up to 1,000 pupils.
The new campus will provide enhanced facilities in comparison with the existing schools including multiple playgrounds, a soft play area, sports pitches, gardening and nature areas and outdoor classrooms.
Muirfield Centre Building
1 Aug – The new Cumbernauld Community Enterprise Centre has been handed over to North Lanarkshire Council and Culture NL. The project was delivered by development partner hub South West Scotland, with construction works completed by Kier Construction Scotland.
Edinburgh Building News Autumn 2016 – Sep to Nov 2016
Edinburgh Building News Spring 2016 – May to June 2016
Edinburgh Architecture News 2016 – Archive for the early part of the year
Edinburgh Architecture News 2015 – Archive
Website: Edinburgh, Scotland
Comments for the Edinburgh Building News page welcome