Haddington Building, East Lothian Architecture Design, Eastern Scotland Property Development News
Haddington Buildings : Architecture
East Lothian Property: Architects, Built Environment Photos, Locations
post updated 28 July 2021
Haddington Building News
Haddington Property News
28 Aug + 7 Apr 2018
Haddington House Sale
Beautiful 4-bed extended house at :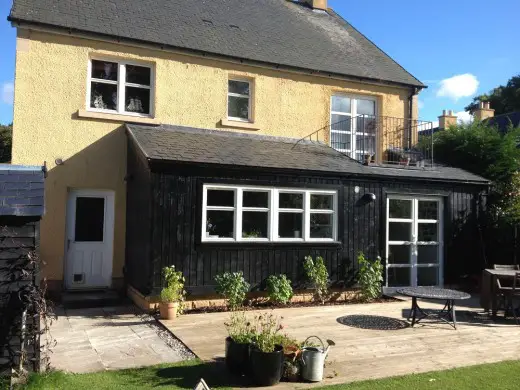 21 Aug 2016
Mill Wynd Properties
McCarthy & Stone retirement apartments nearing completion at Mill Wynd, EH41 4FF, with many apartments already occupied.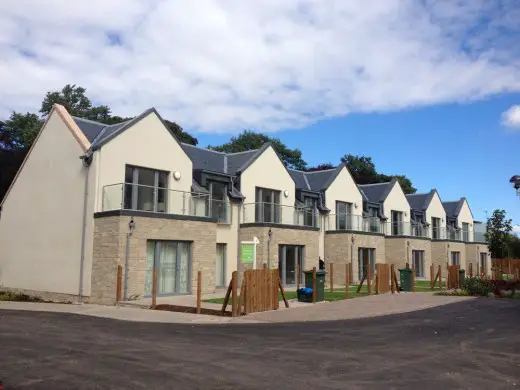 The Hailes is a new development of 43 one and two bedroom apartments and 6 two-bed cottages in Haddington.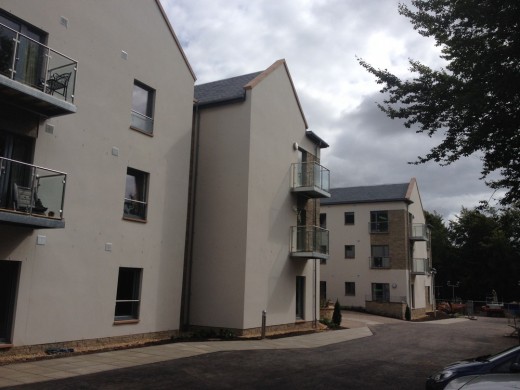 The retirement apartments development is now over 50% sold.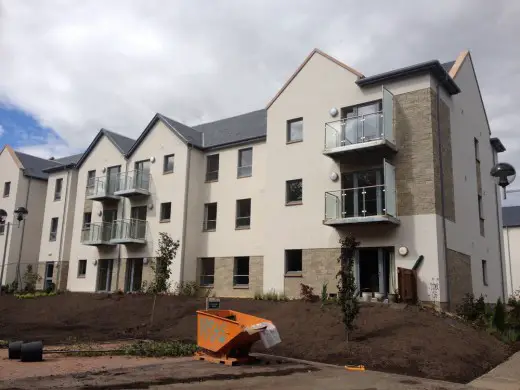 McCarthy & Stone retirement apartments in Haddington
6 Aug 2016
George Hotel Building in Haddington
Work is now under way to transform a landmark building in Haddington town centre into 15 flats, a cafe and an art gallery, reports the East Lothian Courier.
Photos of the refurbishment works underway on the 6th of August 2016: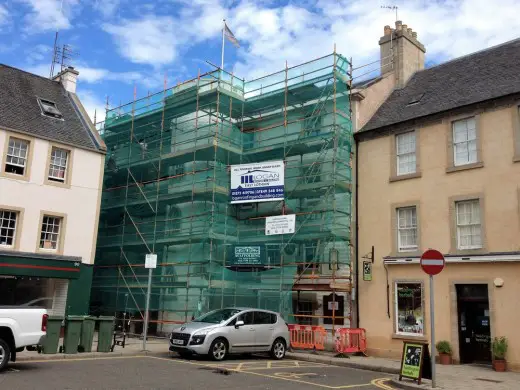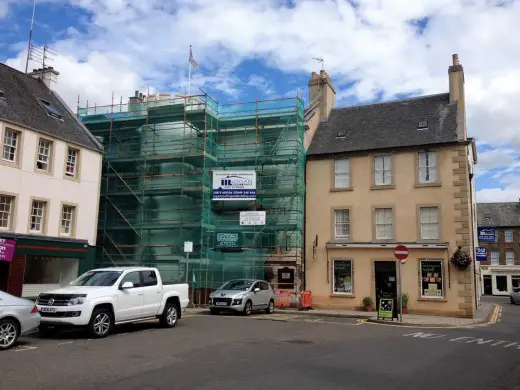 photos © Adrian Welch
George Hotel at the east end of the High Street: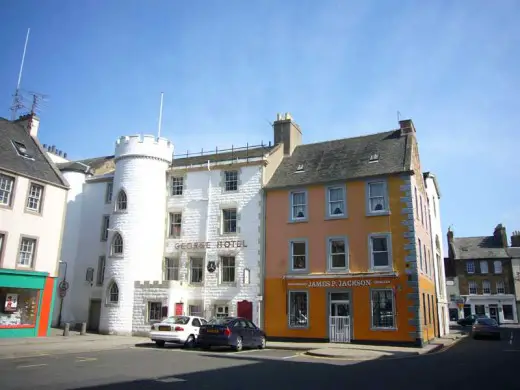 photo © Adrian Welch
Ambitious plans to revive the former George Hotel and bring it back to life were approved by East Lothian Council at the end of July 2016.
Work is already under way on the building, at the eastern end of the High Street, with Jim Wilkie, director of MNH (Haddington) Ltd, keen to see things moving forward.
The cafe would occupy part of the ground floor, with the retail unit on part of the ground floor and also the first floor.
Then flats would then be created over four floors, including the ground floor.
Website: George Hotel Building in Haddington
26 Mar 2016
East Lothian Community Hospital, Haddington, South East Scotland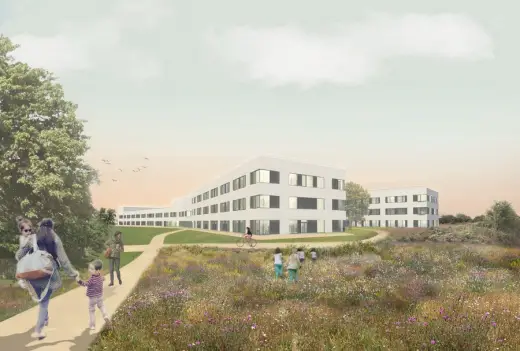 image from architect
Planning permission granted for the building of a new community hospital at Roodlands, Haddington. It is being developed by East Lothian Health and Social Care Partnership and NHS Lothian.
East Lothian Community Hospital Haddington Building
28 May 2012
Haddington Building Addition
Garleton Unit, Herdmanflat Hospital
Location: north edge of Haddington
Date built: 1965
Design: Peter Womersley
Under refurbishment in 2012.
15 Feb 2012
Haddington Town Centre Vision News
Haddington Town Centre Vision
Project partners:
Royal Burgh of Haddington and District Community Council
Haddington and District Amenity Society
Haddington Business Asociation
Haddington History Society
Supported by East Lothian Council
Project Team:
Urban Animation, with
Nick Wright Associates
WMUD
Dhu Rural
Brief:
Prepare a 10-20 year VISION to secure the long term economic, environmental and civic vitality of Haddington Town Centre.
Summary:
The project is founded on a broad campaign of engagement with local people, businesses, public agencies and community groups which will include two public events in Haddington Centre, in late February and late March. The Vision is intended to illustrate how Haddington Town Centre can remain attractive, competitive and popular in an era of online shopping, out of town retailing and economic change. The study will inform and complement East Lothian Council's Haddington Town Centre Strategy. Local residents and other interested parties are invited to comment and offer suggestions through an online survey at tinyurl.com/haddington
WORKSHOP 1 – What Makes Haddington Special?
Wednesday 29 Feb 2012, 7.00-8.30pm
WORKSHOP 2 – A Vision for Haddington Town Centre
Wednesday 28 Mar 2012, 7.00-8.30pm
Both events at The Trinity Centre, Church Street, Haddington
Views around Haddington town centre:
George Hotel ends vista at east end of High Street:



building: photo © Adrian Welch apr 2007
High Street, looking west towards Town House:


building: photo © Adrian Welch apr 2007
High Street shops & Mercat Cross to left of picture:



building: photo © Adrian Welch apr 2007
Links:
Poster: goo.gl/cV0R1
Survey: tinyurl.com/haddington
There is more information on the vision project on the Council's website:
Haddington Town Centre Vision – external link
Further information and images from Urban Animation
email info@urban-animation.com tel. 0131 477 0676 www.urban-animation.com
Haddington Architecture – Key Buildings
St Mary's Church Haddington



photo © Adrian Welch
John Gray Centre – new building



image from architect
Haddington Office Building



photograph : Paul Zanre
Waterloo Bistro



photo © Adrian Welch
Haddington Shop Refurbishment
Smith Architects ; East Lothian Council ; Charles Taylor Woodwork



photo : Keith Hunter Photography
Haddington Shop
East Lothian Culture & Heritage Centre – Winner
East Lothian Council selected Gray, Marshall & Associates of Edinburgh to design a new Culture and Heritage Centre in Haddington.
In consultation with the RIAS, the winning firm was chosen from a shortlist of six architects based on design quality & cost. Architects submitting for the competition included Richard Murphy and Malcolm Fraser Architects
West Road housing, proposed
Gareth Hoskins Architects: lower part of field, not on site
Historic Haddington Buildings


building: photo © Adrian Welch apr 2007
Haddington Town House (above), 1748, originally by William Adam but little of his work remains: Haddington Town House
The adjacent building to the south-west is the Haddington Court House (below) by William Burn:


building: photo © Adrian Welch apr 2007
A court-room and assembly room were added to the Court Street (west) side of Adam's Town House in 1788, over the colonnaded Haddington Market.


Haddington view © Adrian Welch
Haddington has more than 200 listed buildings. Haddington Architecture reaches its climax with not only the Town House but the nearby Court House (on Court Street), designed by William Burn. Leith's Custom House interior remodelling is also by William Burn, Architect.
The Jane Welsh Carlyle House, childhood home of the woman who later married the famous Thomas Carlyle, is accessed at the west end of Haddington's High Street. The centre of the town is carefully controlled with input from HADAS, the local Architecture Society.
Haddington – Views from around the Town
Court Street looking west with banks on right:



building photo © Adrian Welch, Apr 2007
Haddington was made a royal burgh by David I in the 12th century and was the birthplace of Alexander II and (possibly?) John Knox.


Nungate Bridge, adj. St Mary's Haddington © Adrian Welch
Context : Brief History of Haddington
Haddington was a strategically important town, the capital of Haddingtonshire; Aberlady was its port. The Siege of Haddington took place in the mid 16th century when the English barricaded the town against the joint forces of Scots and French.
Nungate Bridge is reputedly the oldest remaining in Scotland, and on the west side is where the French garrison gathered in 1549 (to assist the Scottish) to defeat the English holding siege to Haddington. At that time, in the days of Henry VIII, the Scottish Parliament met in Haddington.


building image © Adrian Welch 2006
Haddington Restaurant : Waterside Restaurant & Bistro
Haddington Church – St Martin's Kirk
East Lothian house



East Lothian house photo © Keith Hunter, from Paterson Architects
2013 British Open Golf Haddington Accommodation
One West Road Haddington



photograph © Adrian Welch
Haddington: Malt Mill


Factory in centre of town © Adrian Welch
Haddington house – 97 Abbot's View
Date built: 1964
Campbell & Arnott Architects



photograph © Adrian Welch
Haddington Court House architect : William Burn
Comments / photos for the Haddington Architecture – Buildings in South East Scotland page welcome