Harmeny School Building, Balerno, Image, Architect, News, Project, Photo, Plans
Harmeny School, Edinburgh
Scottish Special Needs School in Midlothian – design by Richard Murphy Architects
13 Aug 2019
Harmeny School Learning Hub
Architect-Led design team sought for £1.1m Harmeny School Learning Hub
13th August 2019 – Harmeny School intends to appoint an architect-led multidisciplinary design team for their proposed new Learning Hub to be located within the school's 35-acre estate in the village of Balerno, Edinburgh.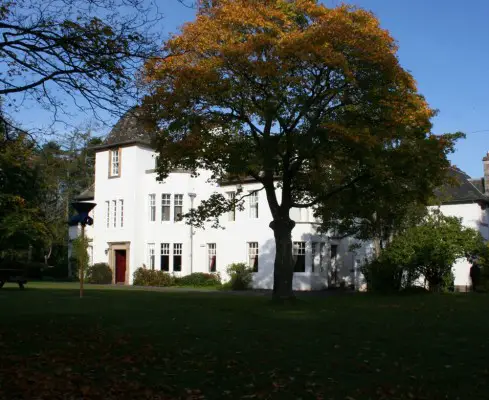 photo courtesy of article provider
Harmeny School provides residential care and education to some of Scotland's most vulnerable children as part of Harmeny Education Trust Limited, a national, sector-leading children's charity. The proposed Learning Hub will contribute to the school's growth and expansion of practical programmes for its young people in care, allowing them to expand the age range and enable more vulnerable young people across Edinburgh to be supported.
Neil Squires, Chief Executive says: "For the past sixty years Harmeny has helped children whose lives have been affected by abuse, neglect and family disruption, to turn their lives around and realise their right to a safe and happy childhood. We have reached a pivotal time where we wish to offer even more young people the opportunity to benefit from our services, and to do this we need to improve our learning resources.
We are excited about working with a design team that truly understand the needs of our young people and the environment, and help us build the facilities they deserve to fully reach their potential."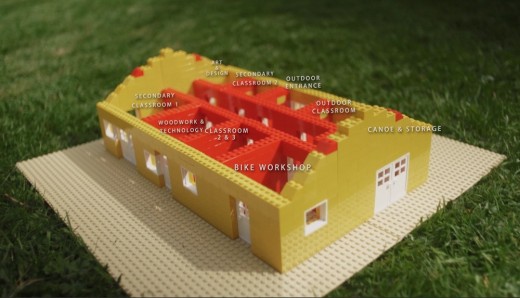 lego model courtesy of article provider
The competitive selection process, being managed by RIAS Consultancy from The Royal Incorporation of Architects in Scotland, will be run over two stages; an open stage inviting all interested architects or architectural practices to submit a 500-word statement demonstrating their relevant experience, interest in the project and reasons why they should be considered for the project.
Five bidders will be shortlisted by the judging panel to participate in the second stage, where they will be asked to compile a multi-disciplinary team and be invited to submit further written information and give a presentation and interview.
Requests to participate by receiving full documentation should be made by email to RIAS Consultancy; consultancy@rias.org.uk by 22nd August 2019.
The closing date for receipt of expression of interest statements is 27th August 2019 at 12 noon.
Harmeny Education Trust Limited
Harmeny Education Trust Limited is a charitable organisation, providing a range of high quality services in the areas of care, education, outdoor learning and staff development. Its core service, Harmeny School, offers specialist education services, both on a day and all year round residential basis, currently for children aged 5 to 14.
As a Grant Aided Special School Harmeny works with children and young people with complex social, emotional and behavioural needs. Harmeny provide services on both a national and regional basis, with children being referred by local authorities throughout the whole of Scotland. The school has capacity for thirty-two children.
Harmeny Learning for Life Appeal
The Harmeny Learning for Life Appeal will raise much-needed funding, to offer greater support to children at the school, to develop care and education facilities, and enable Harmeny to help more young people across Scotland. Further information can be found at https://www.harmeny.org.uk/learning-for-life-appeal/.
Harmeny School Balerno
Location: nr Edinburgh
1996-2000
Design: Richard Murphy Architects
Private
New £3m Residential Special School: semi-circular arcade connects radial children-friendly buildings.
No larger photo



Harmeny School image by + from David Churchill
Harmeny presently provides educational and residential accommodation for up to 30 children with social, emotional and behavioural difficulties. Richard Murphy Architects decided to re-house the children in recognisable "houses" with their own individual external access: a cloister development was designed where the children look out into the woodland.
Contact Harmeny School: 0131 449 3938
Address: Mansfield Road, Balerno, Midlothian, Scotland
No larger image



picture from the architect
Harmeny School images provided by Richard Murphy Architects & David Churchill Photography
Harmeny was founded in 1958 and this new-build extension is for 8-12 year old children; the existing house was also refurbished. New classrooms, sports hall and a music block were provided. Typically Richard Murphy in style, with exposed steelwork, layered walls and angled roofs, the overall feel is of a quiet Modernism drawn from influences such as Aalto and Scarpa.
Harmeny School award : RIBA (Scotland) Award in 2001
Harmeny School : contact info
Royal High School



photo © Adrian Welch
Richard Murphy – Selected Buildings:
Haymarket



picture : RMA
Tron Square



image © Adrian Welch
Old Town Housing



photograph © Adrian Welch
Edinburgh Tours : Architecture Walking Tours
Comments / photos for the Harmeny School Architecture pages welcome