Royal High School, Edinburgh, Building, Planning Appeal, Photo, Architect, DHP, Date, History, Picture
Royal High School Edinburgh : Architecture
Calton Hill Building: Neoclassical Architecture in Scotland – design by Thomas Hamilton, architect
24 + 22 Mar 016
Royal High School Hotel in Edinburgh Appeal
Royal High School Hotel Planning Permission Appeal
Developers behind a plan to transform the former Royal High School in Edinburgh into a £75 m hotel have appealed against a council decision to reject the project.
The plans were rejected by councillors by a single vote after hours of debate in December last year.
Proposals by Duddingston House Properties (DHP) would have seen the A-listed neoclassical building converted into a luxury hotel operated by five-star chain Rosewood.
Now DHP has lodged a formal planning permission appeal with the Scottish Government's planning and environmental appeals division just before an official deadline.
A spokeswoman for the hotel consortium said: "Duddingston House Properties and the Urbanist Group can confirm that they have lodged an appeal with the Scottish Government following the decision by the City of Edinburgh Council to reject their planning application to restore the old Royal High School and create a world-class hotel to be operated by Rosewood."
National heritage watchdog Historic Scotland had condemned proposed extensions that are central to the redevelopment, saying the wings will "dominate and overwhelm" the 200-year-old listed building.
It later emerged that the project was one of several cited in a dossier to world heritage body Unesco, which has said it is "deeply worried" over the quality of new developments in the city.
17 Dec 2015
Royal High School Hotel in Edinburgh Rejection
Royal High School Hotel Rejection
The plans had faced criticism from local politicians, including Edinburgh Central MSP Marco Biagi, reports The Scotsman.
He said: "It was clear that my constituents had serious reservations about the hotel proposals and they will be glad that the council have refused permission for this to go ahead. What's important now is that a viable plan is agreed to prevent the building falling further into disrepair. The Royal High is an iconic part of Edinburgh's built heritage and we need to secure its future.
"The alternative proposals to rehome St Mary's Music School now deserve serious consideration."
Alison Johnstone, Scottish Green MSP for Lothian, said: "I'm so pleased that members of the planning committee were not seduced by arguments about economic benefit, instead recognising that much of our visitor economy is based on the carefully cherished landscape of our city: an inheritance which this development would have squandered.
Read more: http://www.scotsman.com/news/royal-high-school-hotel-bid-rejected-by-edinburgh-council-1-3978659#ixzz3ubaZabFP
16 Dec – New images added of the new hotel for the Royal High School site by Hoskins Architects: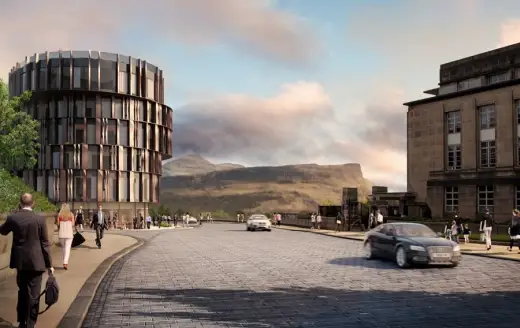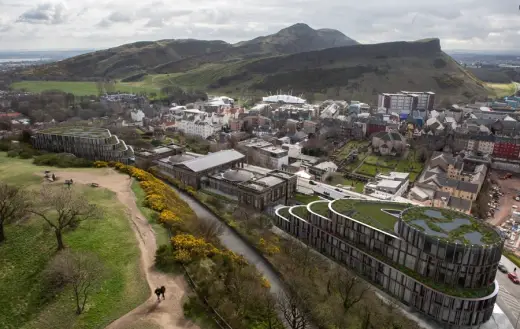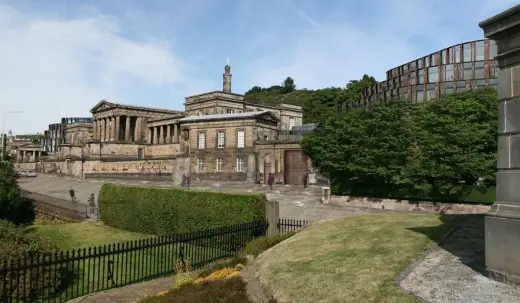 11 Dec 2015
Former Royal High School Edinburgh Planning
Edinburgh council planners have urged councillors to reject proposals to transform the former Royal High School building into a £75m hotel, jointly developed by Urbanist Hotels and Duddingston House Properties.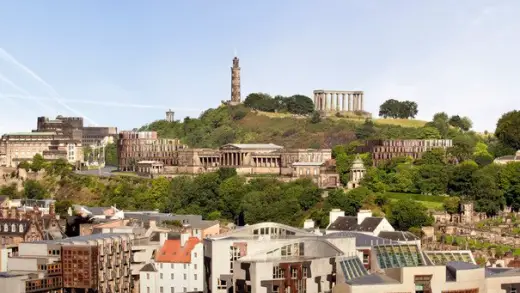 Hoskins Architects' designs for a 160-room development were revised down to 147 rooms after a public consultation "fundamentally altered" the initial plans. The original design was slated for being too modern and not blending into the surrounding area however new images have not allayed the fears of planning officials, reports Construction News Scotland.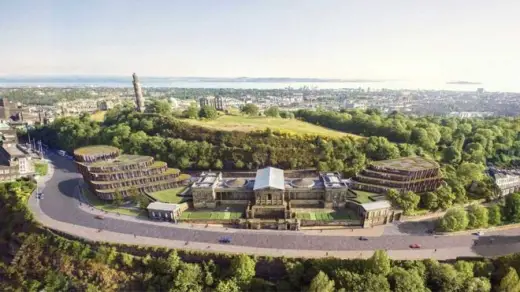 A rival plan to transform the building into a new concert hall and music school was also submitted and it is still to be considered, although this option is only likely to continue if councillors on the planning committee first reject the hotel plan.
A summary from planning officials said the proposal would have "a significant adverse impact on the character" of the site.
It added: "While in general the development would accord with principles on accessibility and would have an economic benefit, these benefits are not outweighed by the harm to the historic environment. As such, the development is not sustainable development as defined by Scottish Planning Policy.
"The benefits to the City's economy and to tourism through bringing an at risk building back into a sustainable long term use are not outweighed by the very significant harm to built heritage and landscape of the city.
"In coming to this conclusion, regard has been had to the exceptional architectural and historic interest of the Royal High School and the quality of its surrounding environment. The development would cause permanent and irreversible damage.
"Put simply, too much building is being proposed for this highly sensitive site."
The City of Edinburgh Council will decide on the proposals when its planning committee meets next week.
8 Dec 2015
Former Royal High School Edinburgh Plans
Alternative design for the former Royal High School building – redevelopment as a new music school:
Former Royal High School Edinburgh Alternative Design
Royal High School Hotel Proposal : Hoskins Architects, Glasgow
EAA Sites of National Importance Pt II
Date: 1 Dec 3:00pm – 7:00pm
Venue: Scottish Storytelling Centre, 43-45 High Street, Edinburgh
Cost: £20 Members, £10 Students, £30 Non Members (price includes tea/coffee and fresh scones)
Speakers: Richard Murphy OBE FRIAS, Adam Wilkinson, Christopher Cotton, John Holmes
This architectural event will cover developments for Edinburgh World Heritage Site, the former Royal High School Building, which is revisited with an alternative proposal, Durham World Heritage Site and Durham Cathedral.
2 Sep 2015
Royal High School Hotel in Edinburgh
Design: Hoskins Architects
Location: Edinburgh, Scotland
Vision for hotel at Calton Hill unveiled
New designs by Hoskins Architects for the proposed hotel at Edinburgh's former Royal High School revealed.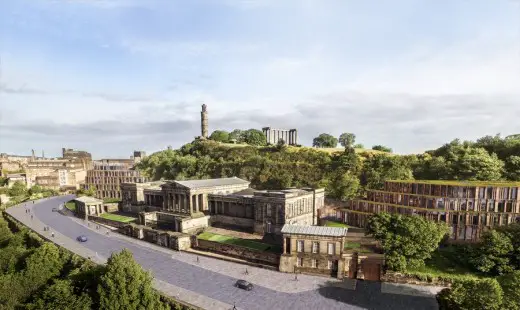 We hope to post alternative designs by Richard Murphy Architects online soon.
Royal High School
Date: 1829
Architect: Thomas Hamilton
Location: Regent Road
Introduction
The Royal High School is a key Scottish example of Enlightenment Architecture – as is the National Monument on Calton Hill.
The charity Hill Adamson Trust has now withdrawn its lottery bid for the National Photography Centre proposal. CEC have transferred the £1m funding allocation for the photography centre into its capital projects budget.
Royal High School context : Calton Hill
Royal High School architect: Thomas Hamilton
Royal High School Edinburgh – Description:
Located on the southern edge of Calton Hill, the Royal High School of Edinburgh was designed by Thomas Hamilton and built in 1825-9. By that time Edinburgh's New Town was well advanced and this was the only suitable site left. The Greek Doric columns are based on the Temple of Theseus, overlooking Athens.
After the school had moved to modern accommodation towards the end of the 20th century, the large oval main hall was set up as a debating chamber for a projected Scottish Assembly in the late 1970s but that did not materialise. The school was again considered as the site for the new Scottish Parliament in 1999, but was rejected in favour of a new buuilding on a site in Holyrood.
Sir Walter Scott was a former Royal High School pupil in its former location in the Old Town. The Royal High School has been based at four different sites. The building now occupied by the Department of Archaeology was built by Alexander Laing in 1777. James Pillans invented the blackboard and coloured chalks at the High School.
By 1820 the Royal High School's space had become insufficient for growing population, and, with the New Town development, there was a new and redefined catchment area. The Royal High School in 1829 relocated to the south side of Calton Hill. In 1832 the former school building re-opened as a Surgical Hospital, in which the University of Edinburgh held its Anatomy classes (Lister worked here between 1869 and 1877).
The Royal High School is currently located in Barnton on the west edge of Edinburgh: www.royalhigh.edin.sch.uk
Royal High School Edinburgh – Redevelopment:
One of the proposed new uses for this building was a Scottish Assembly in the 1970s. However, The Royal High School building (the Chamber but also the ancillary spaces) was viewed to be too small when Devolution finally came to fruition though Calton Hill (St Andrew's House accretion) was one of the sites for the Scottish Parliament Competition. See the Scottish Parliament page.



no link, images © Adrian Welch
Proposals are afoot at the time of writing for a Scottish National Photography Centre (or 'Scottish Museum of Photography') in the the former Royal High School. In Sep 2004 Sony UK Ltd's sponsorship of the Scottish National Photography Centre was announced – planned to be located in the former Royal High School site.
Royal High School Edinburgh – Educational History:
The Royal High School: is one of a series of Edinburgh schools – such as Donaldson's, John Watson's – that were built prior to the Education Act of 1872. This building ceased to be a school in 1968 and was eventually purchased by the City of Edinburgh Council.


Royal High School, Edinburgh: from Canongate, image © Adrian Welch
Royal High School: Thomas Hamilton – Scottish Architect
News Excerpt from 2002 re the Royal High School:
Royal High School: National Centre of Photography
The building needs around £1m essential upgrade/maintenance to ensure it has a use of 'national significance'. Edinburgh City councillors have been urged to back plans to turn the Royal High School: into a national centre of photography.
Council leader Donald Anderson maintained they did however have two potential uses.
April 2002
Royal College of Surgeons Edinburgh
Edinburgh Castle
Royal College of Physicians Edinburgh : Thomas Hamilton
Royal Mile
Other famous Edinburgh Schools include Donaldson's College and former John Watson's School, now the SNGMA
Royal High School pupil : former pupil Robert Adam
Another Thomas Hamilton project in Edinburgh: George IV Bridge
Buildings / photos for the Royal High School Architecture page welcome
Royal High School Edinburgh Building : page