Edinburgh Architecture News in 2016, Lothian Buildings, Architects, Images, Scotland, Design
Edinburgh Building News 2016
Scottish Architectural + Construction Updates – East of Scotland Property
Edinburgh Architecture News in 2016
Edinburgh News Archive
This page contains the archive for Edinburgh architecture news 2016. This site tries to provide an up-to-date resource on architecture in South East Scotland.
Langlee Primary School Building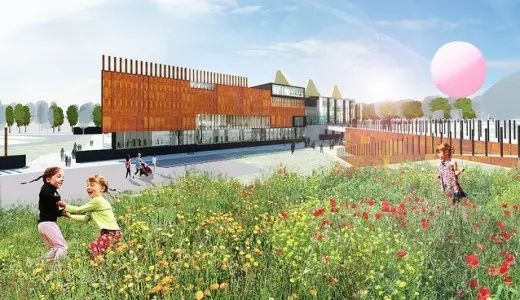 9 May – Work on the new £10 m Langlee Primary in the Scottish Borders began today. The building will be built by McLaughlin and Harvey and is due to open in summer 2017. The new facility will be a three storey school with 14 classrooms, a centre for children with severe and complex additional support needs, provision for early learning and childcare, a sports hall and outdoor MUGA pitch.
EAA Awards 2016 Winners
6 May – The Edinburgh Architectural Association Awards were announced and presented at a drinks reception in the Edinburgh Centre for Carbon Innovation on Thursday 5th May, attended by around one hundred architects, sponsors and their guests. The EAA Building of the Year Award for 2016 went to Murphy House by Richard Murphy Architects.
EAA Awards
Jordan Lane Property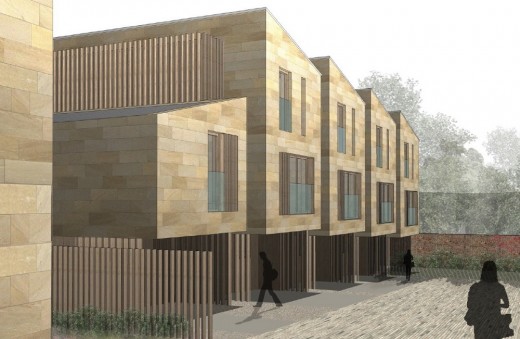 6 May – Lynsay Bell Architecture has put forward an infill housing project of six homes in Morningside, Edinburgh, on behalf of Thistle Property Group.
Replacing an existing garage on Jordan Lane the scheme will be finished in buff ashlar natural stone to marry with the conservation area with natural finish timber cladding used for the ground floor in the form of wide vertical cladding boards.
Ettrick Road Flats
6 May – Morgan McDonnell Architects have tabled proposals to convert and extend a former hotel on Ettrick Road, Merchiston, to form ten flats.
This work will entail the demolition of later extensions to allow new build elements to be inserted to provide the required floor space whilst remaining subservient to the main building.
India Quay – Fountainbridge Development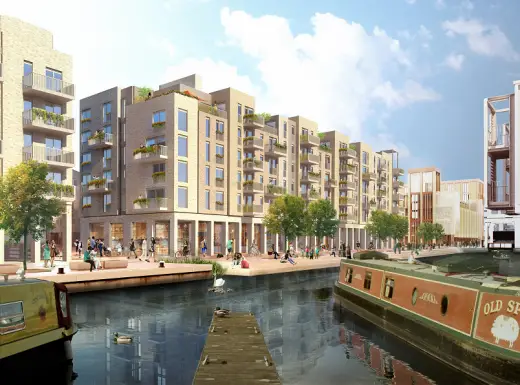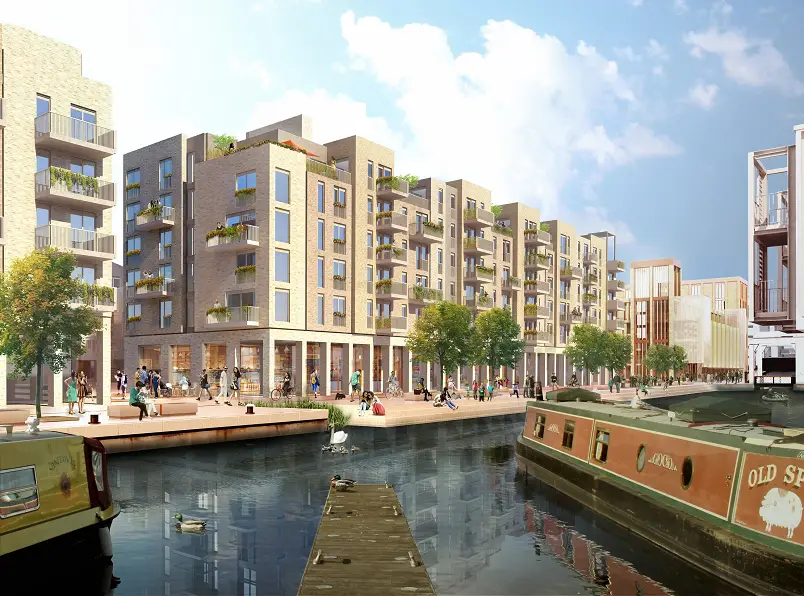 6 May – Multi-million pound regeneration plans to transform an old Edinburgh brewery site into a thriving canal side community will go on show at an upcoming information event.
The EDI Group Ltd is inviting residents to an information event on Tuesday 10 May, from 3pm to 8pm, at Akva, 129 Fountainbridge, to present its updated plans to build 438 new homes as part of its long-term redevelopment of the former McEwan's brewery site.
The £200 million India Quay development aims to create a unique canal side destination in the heart of the capital and will also deliver one of the largest build-to-rent schemes in Scotland over the next three years.
The information event will provide local residents, businesses and community groups an opportunity to find out more about updated details of the types of homes and apartments due to be submitted as part of a detailed planning application later this month.
Lynn Smith, head of development at The EDI Group, said: "India Quay is a major development site for the city of Edinburgh. Bringing a long-standing vacant site back into use will not only improve the city centre's built environment it will also deliver a significant economic boost creating jobs and attracting inward investment.
"Having listened to what local people would like to see developed, we're pleased to be submitting our detailed planning application and look forward to working with our partners to create a thriving community of high quality homes, shops, restaurants and mixed use spaces for future generations and visitors to enjoy."
Residential plans being submitted for India Quay as part of the detailed planning application will include a range of one, two and three bedroom apartments as well as 112 affordable homes. The three bedroom homes will be built in the traditional colony style, a favourite of the Edinburgh family market.
All of the homes will be professionally managed long-term in a single ownership, build-to-rent model offering a variety of apartment styles for residents, from young professionals and upsizers, with families and downsizers each having access to high quality living spaces, communal space, gardens and services.
Trinity Houses by Zone Architects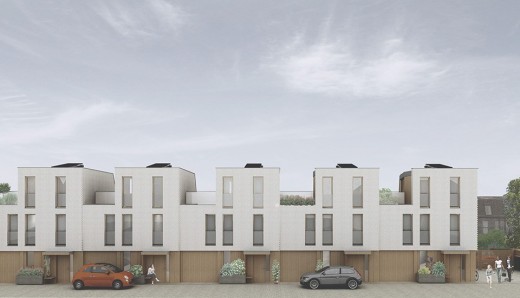 6 + 3 May – Zone Architects have secured planning permission on appeal to the Scottish government for the construction of five terraced houses within Edinburgh's Trinity Conservation Area.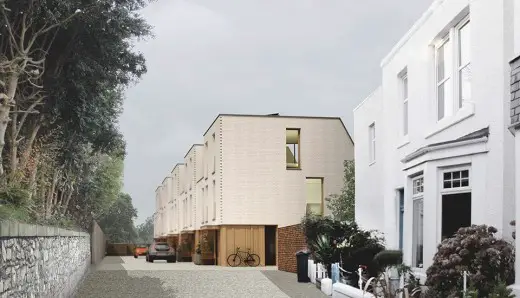 Replacing a rundown garage the £2.5m scheme will see retaining walls and drainage rebuilt to accommodate the new homes on a tight sloping site off Lower Granton Road.
Work Starts on Haymarket Development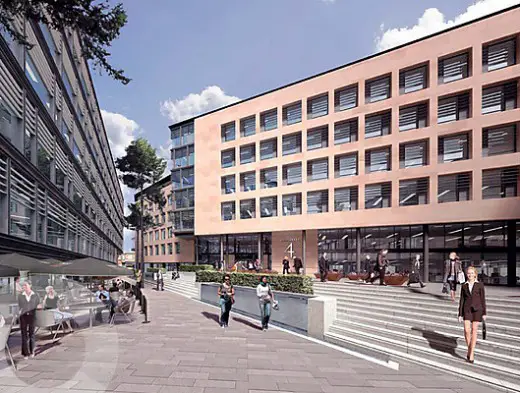 5 May – The Haymarket development, Edinburgh's prestigious £200m joint venture commercial scheme by Tiger Developments & Interserve, marked a major milestone in construction yesterday by 'breaking ground' as it progresses onto the next major development phase.
Giant See-Saw Controversy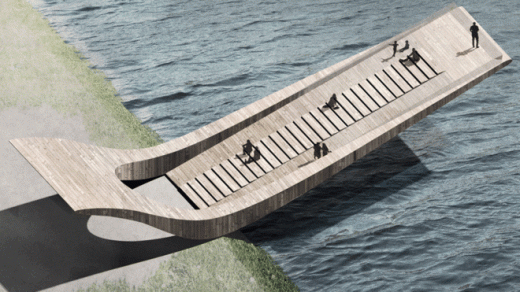 images : Handout
4 May – Councillor Ken Gowans, the chairman of Inverness City Arts group, has quit in a row about a giant see-saw-like art installation in Inverness, reports the BBC. The councillor said he didn't believe the proposed Gathering Place to be a viable concept. About 200 people have opposed it in a public consultation.
The arts group continues to review the River Ness project, as well as other arts schemes proposed for the city. Highland Council said a new chairperson would be appointed in due course. The Gathering Place would be designed to tilt gently up and down.
Kinnear Road Building by Richard Murphy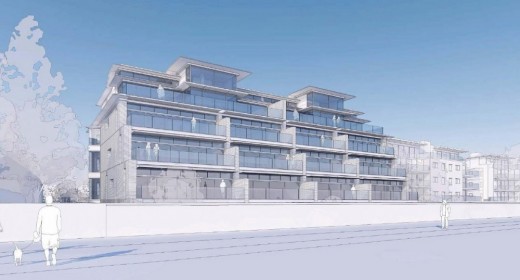 4 May – Richard Murphy Architects have submitted plans on behalf of AMA to build 16 flats on the site of an existing villa at Kinnear Road, Edinburgh, by developing a substantial garden plot.
Utilising changes in level to its advantage the proposed scheme will include a semi-basement car park above with a three storey smooth ashlar stone façade above presenting itself to Kinnear Road as an 'understated' response to the more flamboyant southerly elevation.
Richard Murphy Architects are currently completing a Rugby Pavilion for Edinburgh Academy just south off Kinnear Road.
Edinburgh School Buildings Check
3 May – The City of Edinburgh Council will appoint independent experts to check that the city's schools are safe to reopen in a move that marks a significant departure from the previous system which saw builders approve their own work.
New Hearts Stand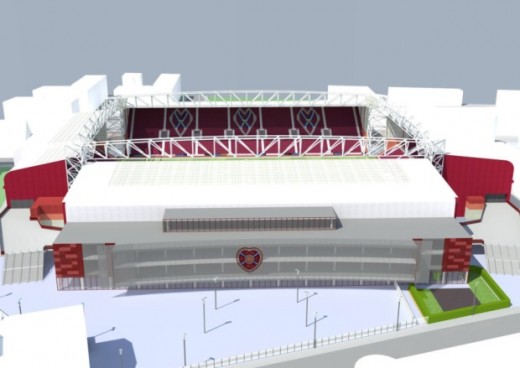 3 May – Hearts already have more than half of the funding for their new main stand in place, with the entire redevelopment of Tynecastle set to cost between £11-12 m.
Club owner Ann Budge addressed a group of supporters last night to outline and discuss proposals for the venture, which will bring the capacity of the stadium to between 20-21,000 by the start of the 2017/18 campaign.
http://www.edinburghnews.scotsman.com/sport/football/hearts/hearts-unveil-plans-for-new-12-million-main-stand-1-4116908
Jack Nicklaus Golf Course
2 May – Plans for a £80m golf course development in Aberdeenshire backed by American golfer Jack Nicklaus have been approved by councillors.
Best 100 Buildings in Scotland Book
2 May – A new book documenting the best 100 buildings in Scotland over the past 100 years has been launched as voting opens for the public to choose their favourite.
Scotstyle – Building the Century
2 May – The RIAS' nationwide touring exhibition of Scotstyle – Building the Century premiered at the Falkirk Wheel, marking the start of a tour throughout Scotland.
Vote for your favourite Scottish building of the past 100 years by visiting www.foa2016.com/scotstyle
The Ideal Hut Show
30 Apr – The Ideal Hut Show is launched. This touring exhibition features standard garden sheds transformed by leading architects and artists. For venues, dates and times visit www.foa2016.com
FOA 2016 Events
Festival of Architecture events across Scotland:
– REFLECTIONS : glass : water : art : science
30 April – 8 May in Selkirk
– Haiku the Noo: Architecture and the Space in between:
1 May – 18th Sept, Glasgow
– Guerilla Lighting – Training:
17 + 18 May, Findhorn
– Traditional Building Skills – Masonry:
18 May, Lanark
– The Vital Art:
19 – 28 May: Glasgow
– Building Blocks:
21 May – 18 June, Inverness
– William Leiper Exhibition:
26 May – 28 August, Glasgow
'Back to the City' Conference at the GSA
On 12 May 1976, Secretary of State for Scotland Bruce Millan announced the cancellation of the plans to expand the village of Stonehouse outside Glasgow into a new town with 40,000 inhabitants, and the redirection of the corresponding funds to the Glasgow Eastern Area Renewal (GEAR). After three decades, the era of new towns outside British cities was finally drawing to an end, and policy was increasingly focusing on the inner cities as a place of residence.
Eolas Travelling Pavilion
28 Apr – 'Eolas' is the Gaelic word for knowledge. This traveling pavilion aspires to promote the Festival of Architecture 2016 and to travel to all areas of the Glasgow Chapter, but more importantly reach as much people as possible from all different backgrounds.
Konishi Gaffney Feature on Archinect
28 Apr – "I'm in Leith, a short distance from Edinburgh city centre, to interview Kieran Gaffney, one-half of the Konishi Gaffney work partnership with his wife, Makiko Konishi. Konishi and Gaffney met whilst working for Thomas Heatherwick in London. Gaffney was Heatherwick's first employee, working as an architect on early projects from 1998 until 2004", says Robert Urquhart.
"Why Edinburgh? "Edinburgh is the densest city in Europe in terms of architects," explained Gaffney. "There are more architects here than anywhere else. So, first piece of advice, don't move here unless you want competition. Some of the architects that I admire are here; Sutherland Hussey, Graham Massie, and Reiach and Hall are the best architects in Edinburgh and have got a culture of experimentation within their studio work"."
http://archinect.com/features/article/149939795/slight-of-hand-konishi-gaffney-meld-beautiful-interventions-with-edinburgh-s-history
Acoustics Seminar
27 Apr – In partnership with Orangebox, Tsunami Axis will host a seminar on achieving refined acoustics in the flexible and adaptable workplace. The seminar takes place on 18th May at the Tsunami Axis Edinburgh showroom – see events page for details
Edinburgh Gateway Railway Station and Interchange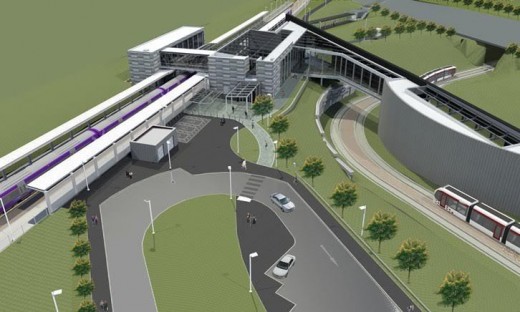 26 Apr – SES Engineering Services has landed a substantial mechanical and electrical (M&E) role on the new Edinburgh Gateway railway station and interchange.
Working alongside main contractor Balfour Beatty, SES will provide full M&E services to the new station, including lighting, heating, ventilation and the Station Information and Surveillance System (SISS).
Located 9km to the west of Edinburgh and 4.8km from Edinburgh International Airport, Edinburgh Gateway is part of the Edinburgh to Glasgow Improvement Programme (EGIP), a major Scottish transport project involving infrastructure improvements and the electrification of most railway lines between Glasgow and Edinburgh.
Danger of Airtight Homes
26 Apr – Modern airtight homes can expose inhabitants to harmful levels of pollutants unless they are properly ventilated, experts have found.
Specialists at the Mackintosh Environmental Research Unit (MEARU) at the Glasgow School of Art found that modern homes can causes a build-up of harmful chemicals and moisture if householders do not open windows or vents.
Professor Tim Sharpe, head of the MEARU, said: "Poor indoor air quality, particularly in bedrooms, is hard for people to detect.
Market Street Hotel Building News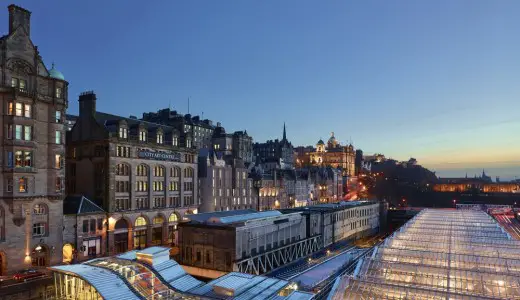 25 Apr – Carlton Hotel Collection and EDI to deliver four-star hotel on Market Street. Edinburgh's ambition to provide more luxury accommodation for future visitors received a major boost today, after work started on a new £20m four-star hotel in the city's Old Town. The 98 room boutique hotel is the first venture in Edinburgh by European operator, the Carlton Hotel Collection, and is being delivered in partnership with The EDI Group Ltd.
Market Street Hotel Building Edinburgh
St James Quarter News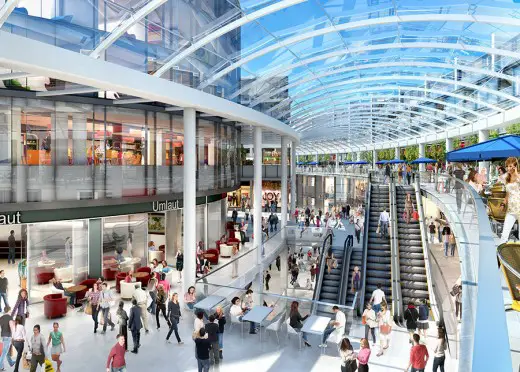 22 Apr – £850m St James Centre redevelopment has a legal challenge over ownership of the site.
Work is due to start on the project next month to create a new St James Quarter with shops, hotels, leisure complex and apartments.
However a dispute over the legal process that granted developers TH Real Estate the right to purchase the site has now been taken to the Court of Session.
According to the Edinburgh Evening News, an appeal has been lodged against the decision of a Compulsory Purchase Order (CPO) inquiry by Grosse Investments, a Jersey-registered company that collects ground rent from a portion of the site occupied by a John Lewis store.
Lawyers acting for Grosse Investments said the company was not seeking to block progress on the development, but it wanted to protect its lease, which is understood to be worth about £600,000 a year.
Dalkeith Country Park Restoration Yard



22 Apr – A £4m redevelopment of Dalkeith Country Park: a new retail, food, drink and wellbeing space, named the Restoration Yard, located in the park's previous stableyard area alongside the new Fort Douglas playground.
The concept has been developed in conjunction with Amanda Pratt, designer and previous owner of Ireland's retail and food experience, Avoca.
It promises two floors of shopping – embracing a diverse retail mix from lifestyle to fashion to children's, alongside a dramatic, glass-walled restaurant space looking out across the river Esk – and it heralds Scotland's first development emulating the signature, eclectic style synonymous with Avoca. A wellness loft will also feature, offering a range of activities focused on mindfulness, health and wellbeing.
Edinburgh Printmakers
22 Apr – A £1.9m grant from the Scottish Government awarded for Edinburgh Printmakers to create a new creative hub in Fountainbridge, designed by Glasgow architects PagePark.
It takes the art charity to 90% of its target £11m funding total, prompting it to appeal to the public to help raise the remaining £1m toward the capital costs for the build.
The abandoned structure – formerly home to the North British Rubber Company – will house a printmaking studio, two fully accessible galleries, dedicated learning spaces and a deli and wine bar. The designs also include a shop which will sell original art and a flat for an artist in residence.
CEO of Edinburgh Printmakers, Sarah Price said: "After a long search for a new home for Edinburgh Printmakers, we set our sights on Castle Mill Works as somewhere to create a contemporary and accessible arts centre offering a year-round public programme of exhibitions, events and learning experiences.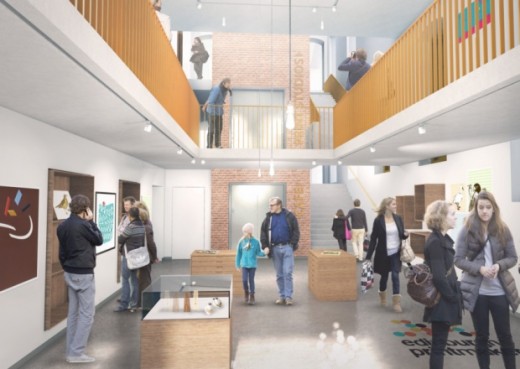 "Our plans for the building developed – as did our ambition. This significant award from the Scottish Government enables an additional extension to the existing building to house high-quality creative industry workshop and retail spaces that will support an estimated 50 creative industry practitioners. Operating as an incubator we plan to engage with local young people to raise awareness of the career opportunities within the creative industries."
It is hoped the new centre will open to the public by late 2018.
Chapelton in BBC Documentary
22 Apr – Chapelton, Scotland's largest planned new town situated five miles south of Aberdeen, is to provide a backdrop for a new BBC television series documenting emerging developments.
Pecha Kuch EDI v.33
The next session Friday 22nd April – see our events page.
PPP lite
21 Apr – Architect Malcolm Fraser criticises current procurement model as 'PPP lite' and has called for the procurement of school buildings to be returned to Scotland's councils amid growing criticism of funding deals following the Edinburgh schools crisis.
Blackburn Partnership Centre
21 Apr – Construction of the Blackburn Partnership Centre will start in the next few weeks after the final contract was agreed. The new £8.2m building, which will be built next to the Mill Centre in Blackburn, will include health and council services as well as community services for local residents.
The Centre is being developed in partnership with West Lothian Council and NHS Lothian and services will include a GP practice, dentist, community centre (including sports hall and multi-purpose spaces), library, Customer Information Service (CIS) centre, employability service, community health centre, IT training suite, early years space, young people's space and a credit union.
Edinburgh Garden District News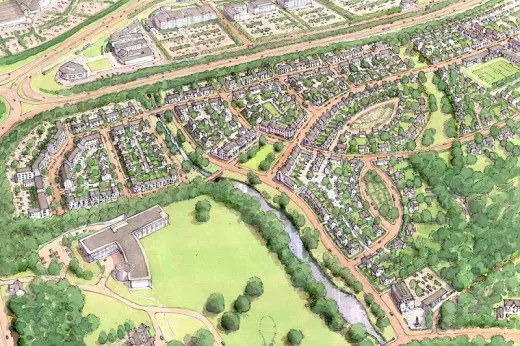 20 Apr – Plans for a 1,350-home development on green belt land on the edge of Edinburgh face an uncertain future after the plans were withdrawn from a council planning meeting.
Put forward by developer Murray Estates, the proposal was for the first phase of a 675-acre Garden District development on a 54-hectare site next to Royal Bank of Scotland's Edinburgh headquarters at Gogar Station Road.
The Redheughs Village development would eventually deliver up to 6,000 new homes over a 20-year cycle in a new urban district proposal which would include a school, shopping centre, sports facilities and green space.
However, the project was recommended for refusal in a City of Edinburgh Council report after planners concluded that the proposals would be "significantly contrary to the development plan" and would prejudice work on a replacement plan which is currently under examination.
The plans, which were submitted back in September, were due to be considered by the council's development management sub-committee on Monday, but were withdrawn from the agenda after the applicant made a complaint about the contents of the report.
The report said: "The site is not needed to contribute to the five year effective housing land supply. The transport impacts of the development are not adequately resolved, meaning that the occupants of the development may be car dependent and there would be adverse impacts on the existing transport infrastructure in the area, for example, because of more congestion.
"The development would be prejudicial to the examination report of on the Edinburgh Local Development Plan and is, as a result, premature."
Murray Estates had submitted a complaint to the council's monitoring officer claiming that there were "factual errors and inaccuracies" in the report and some parts of it "read like a work of fiction".
University of Edinburgh Biological Sciences Development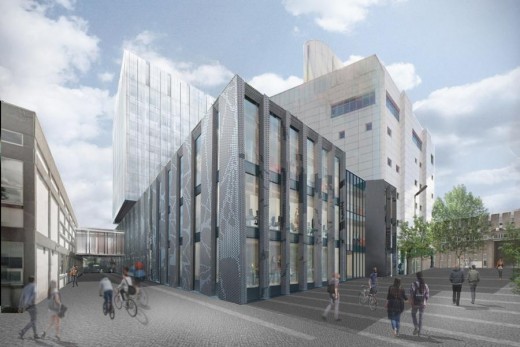 20 Apr – The University of Edinburgh has opened the bidding for contactors to redevelop parts of its School of Biological Sciences' facilities on its King's Buildings Campus, designed by architects Feilden Clegg Bradley Studios, with offices in Bath and London.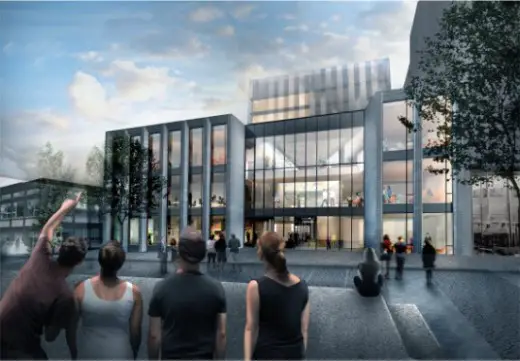 The 'Building a New Biology' project is a plan to grow the university's research and teaching capacity. It plans to invest £140m in total over the next five years to develop buildings to create world-leading research cluster for biological sciences.
The foundation of the programme is the complete £90m redevelopment of the Darwin Building, a 10-storey 1960's tower, to create a physical and metaphorical heart for Biological Sciences.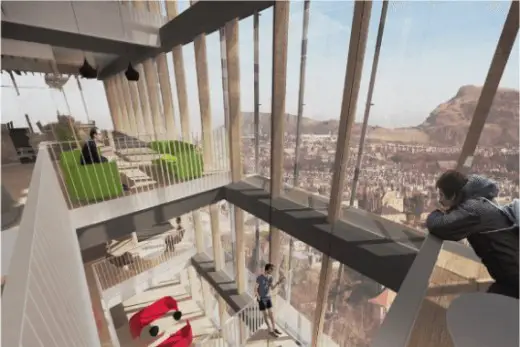 The re-engineered and re-clad building will provide laboratories for more than 350 researchers, an advanced technology hub and space to co-locate and support future growth in three strategic areas of research: Epigenetics; Infection and Global Health; and Synthetic Biology.
The works include a three-storey extension housing a lecture theatre, seminar spaces meeting rooms and a cafe.
Engine Shed Building – Whisky Distillery
21 Apr – An application to develop the Engine Shed building and site on St Leonard's Lane into a small single malt whisky distillery and visitor centre has been submitted to the City of Edinburgh Council.
Whisky expert, and former Master Distiller for The Macallan, David Robertson is behind plans to open The Holyrood Park Distillery – a £3.6m distillery and visitor experience in the heart of the capital.
It would be Edinburgh's first single malt whisky distillery since Glen Sciennes closed in the 1920s.
Aberdeen Housing Development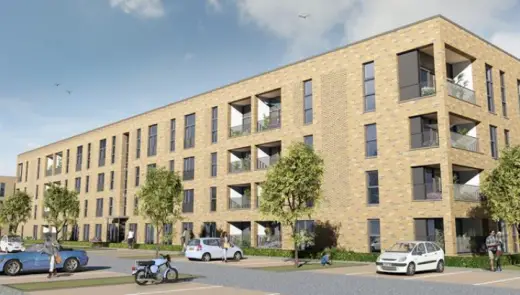 20 Apr – Aberdeen City Council has submitted a detailed planning application to build 369 residential flats at the old location of Summerhill Academy which has lain vacant for four years. The new £35m housing development is designed by architectural firm Norr Consultants.
Following the demolition of the school in 2012, supermarket firm Morrisons had been granted planning permission to build a store on the site, but pulled out in 2014 for commercial reasons.
It will consist of a mix of one, two and three-bedroom flats to rent for those on lower income, with parking spaces for 296 cars.
Richard Murphy Architects Building Award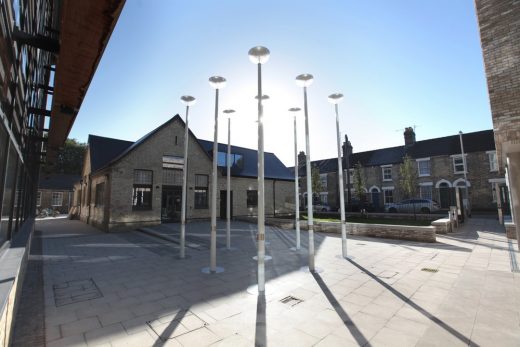 photo from architect
Edinburgh's Richard Murphy Architects win Cambridge Design and Construction Forum for Best Large Building in Cambridge 2015 for the Anglia Ruskin University Building, Young Street Campus.
The design makes a complete mini campus for the University. The two main entrances align with the gables of the Ragged School and the long New Street façade expresses the need for passive ventilation with a composition of chimneys inspired by the famous historic elevation on Trinity Lane in the City Centre.
Edinburgh Printmakers Funding News
19 Apr – Edinburgh Printmakers is poised to meet its £11m funding target for a new creative hub after securing a £1.9m grant from the Scottish government.
Craigmillar Student Accommodation
19 Apr – A disused office on Mayfield Road, Edinburgh, is to be demolished to allow development of 83 self-contained studio flats for students designed by Kenneth Reid Architects.
St Anne's Parish Church
18 Apr – Extension to A-listed St Anne's Parish Church in Corstorphine designed by LDN Architects, following a decision to consolidate operations.
Faults in all 17 Edinburgh Schools
15 Apr – Building defects and flaws have been uncovered in all 17 schools in Edinburgh closed for safety reasons earlier this month and some could remain closed until the summer, the council has revealed.
It has also emerged that the buildings not inspected by the city council before they were deemed safe.
City of Edinburgh Council leader, Andrews Burns, said the local authority had "undertaken all its legal responsibilities" and the schools had met "all the relevant building standards".
He warned that some of the buildings may remain closed until PPP contractor Edinburgh Schools Partnership (ESP) could assure the council that they were safe and this could be after the summer holidays.
Andrews Burns said: "Edinburgh Schools Partnership (ESP) and its agents self-certified to the council, as they were entitled to do so, that the buildings complied with all the relevant building standards."
Johnstone Town Hall Award News
15 Apr – Johnstone Town Hall in Renfrewshire has received the coveted Project of the Year Award at theRICS Scotland Awards 2016.
The town hall is an iconic £14.5 million modern facility delivering integrated services for the community and was also recognised for its positive impact in local area taking the Community Benefit category award.
Held at the Sheraton Grand Hotel & Spa in Edinburgh yesterday, the RICS annual awards celebrate inspirational initiatives across the built environment. The Project of the Year Award is presented to the project which has been judged overall as an excellent example of best practice by professionals working in both the built and natural environments.
Chair of RICS Scotland judging panel, Colin Smith MRICS, said: "Johnstone Town Hall embraces the very essence of the RICS Property Awards. Not only does the project deliver a town hall which exceeds expectations, its design forms a well-mannered civic intervention which complements the local heritage and acts as a catalyst for wider investment in Johnstone's town centre regeneration. The project team demonstrated an exceptional procurement methodology and from its very inception there was a real focus on exhausting all opportunities to engage with the community."
The building, delivered by Renfrewshire Council in partnership with development partner hub West Scotland, is a flexible contemporary space providing a range of facilities including a library, theatre space, marriage suite, café and meeting rooms. The town hall also offers a range of council services alongside community partners Police Scotland and Macmillan Cancer Support under one roof.
Eight additional category winners were selected from shortlisted entries from across Scotland. Other winners included Borders Railway, which took the Infrastructure award, Lews Castle, Stornoway, which received the Building Conservation award and The Helix & The Kelpies which received the Tourism and Leisure accolade.
All category winners will now automatically be entered in to the UK RICS Awards Grand Final, to be held at The Park Lane, London in October 2016, where they will compete against projects from across the rest of the UK.
"I would like to congratulate all category winners and our Project of Year, which is a fine example of how building projects can provide real benefit for the local and wider community."
The full list of winners:
RICS Project of the Year, Scotland
Winner – Johnstone Town Hall, Renfrewshire
Building Conservation
Winner – Lews Castle, Stornoway
Highly Commended – The Surgeons' Hall Museums, Edinburgh
Community Benefit
Winner – Johnstone Town Hall, Renfrewshire
Highly Commended – Ronald McDonald House, Glasgow
Design through Innovation
Winner – The City of Glasgow College – Riverside Campus, Glasgow
Highly Commended – Dalmunach Distillery, Moray
Infrastructure
Winner – Borders Railway
Regeneration
Winner – Pennywell (Urban Union), Edinburgh
Highly Commended – Panmure Street, Glasgow
Commercial
Winner – Aker Solutions HQ Aberdeen International Business Park, Aberdeen
Residential
Winner – West Burn Lane, St Andrews
Highly Commended – New Build Mainstream & Supported Accommodation & Training Facilities for Veterans, Glasgow
Tourism & Leisure
Winner – The Helix & The Kelpies, Grangemouth
Centre for Scottish War Blinded in Paisley
15 Apr – Construction work on a new Centre for Scottish War Blinded in Paisley is to begin next month. The centre is the second to be designed by architects at PagePark following on from the award winning centre at Linburn, West Lothian, completed in 2012.
University of St Andrews Green Energy Centre
14 Apr – Scottish energy minister Fergus Ewing has commended the University of St Andrews' £25m green energy centre currently under construction at Guardbridge.
The biomass facility, using wood from sustainable local sources, is being built on the site of the former paper mill at Guardbridge and will pump hot water from the plant four miles underground to heat laboratories and student residences in St Andrews.
Contractual Liability for Closed Edinburgh Schools
13 + 12 Apr – Galliford Try has confirmed that it inherited "contractual responsibility" for four of the 17 schools closed in Edinburgh:
Edinburgh School Buildings
Perth & Kinross Council School Building News
14 Apr – Perth & Kinross Council has filed separate planning applications for the complete rebuild of Tulloch and Kinross primaries as part of a £23m modernisation drive.
Harris Academy Building
13 Apr – Holmes Miller Architects have reached practical completion at the £32m Harris Academy building in Dundee.
17 Edinburgh School Buildings Closed
12 Apr – Malcolm Fraser Architects discusses procurement of Scottish schools on the BBC today.
Hearts Grandstand Public Consultation
11 Apr – Hearts football club have published the first artist's impression of a planned main grandstand at Tynecastle stadium which would add 3,000 seats, upping maximum capacity to 20,000.
Tim Gray GIA President
7 Apr – New Holmes Miller director Tim Gray is now GIA President for the next two years. Tim was joined by his colleague Isabel Garriga, who will be Vice-President during his tenure and is the GIA convenor for the RIAS's Festival of Architecture 2016.
Scottish Regeneration Company Appoints New Managing Director
7 Apr – Susan Hallsworth has been appointed as Managing Director for the growing specialist regeneration company Urban Union.
Taking up the post this month, she brings over 15 years' experience in the industry, specifically for companies who specialise in regeneration and public and private housing developments.
Full details on the Glasgow Architecture news page.
The Drum Scottish Design Awards 2016
6 Apr – The Scottish Design Awards have been awarding the best architecture in Scotland for well over a decade, please see this year's nominations.
Homes for Scotland Awards Shortlist
Homes for Scotland Awards shortlist news
Oriam, Scotland's Sports Performance Centre
6 Apr – Oriam nominated for Scottish Design Award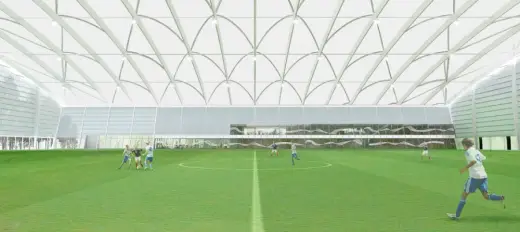 image from architects
Oriam, Heriot-Watt Edinburgh Campus, designed by Reiach and Hall Architects.
Palace of Holyroodhouse Renewal
Tourist areas at Windsor Castle and the Palace of Holyroodhouse are to undergo a £37m revamp, the Royal Collection has announced, reports The Guardian.
£10m allocated to renew Holyroodhouse: The outside space at Holyroodhouse in Edinburgh will be redeveloped, a new family room will be created inside the palace, the storytelling of the state apartments will be improved and the Abbey Strand buildings will be restored to house a learning centre.
Palace of Holyroodhouse Renewal
The renewal architects for the the Palace of Holyroodhouse will be Burd Haward Architects, based in London.
VIBES Awards
The Vision In Business for the Environment of Scotland (VIBES) Awards promotes sustainability and resource efficiency in business – what is good for the environment is good for business.
The awards are open for all Scottish businesses and applications open on 21st April.
http://www.vibes.org.uk/
SAQP Awards
The Scottish Government announce that the SAQP has been enhanced and streamlined, together with the introduction of two new exciting Awards, celebrating the Year of Innovation, Architecture and Design 2016. Alex Neil MSP Cabinet Secretary for Social Justice, Communities and Pensioners' Rights has launched the Scottish Awards for Quality in Planning (SAQP) 2016.
They are for Personal Achievement in Planning and a People's Choice Award.
Nominations for the awards close on 20th May 2016.
SAQP Awards 2016
Building Scotland's Future Hustings
Free event on 19th April 5.30pm – 8.30pm at The Wolfson Hall, Surgeon's Hall.
A Scottish Parliament hustings for built environment professionals (by BEFS, ICE, RIAS, RICS and RTPI).
Holmes Miller Architects News
Tim Gray and Mark Ellson have been promoted to the role of director at Holmes Miller. They have shown outstanding design talent, enthusiasm and noteworthy experience in delivering successful projects for this Scottish architectural practice.
Kengo Kuma in Dundee
Japanese architect Kengo Kuma has welcomed the "beautiful" progress on the V&A Museum of Design Dundee as he made his first visit to the construction site since work began.
Marking a year from the start of work on the £80.1 million project, Kuma led a walk-through of the building which now has its full footprint in place.
Examining work on the museum's dramatic curved inner walls, the architect said: "This project is probably my most important because the V&A museum is one of the most important museums in the world."
Mr Kuma declared that "great progress" was being made with the building, which is due for completion by the end of next year ahead of a planned public opening in June 2018.
The architect also hailed the wider £1 billion transformation of Dundee's waterfront, saying that the completed project's relationship with the River Tay will be equally as impressive as its relationship with the landscape.
Kengo Kuma said: "We are delighted that our vision for the V&A Dundee building, which was originally inspired by the beautiful River Tay setting, is now starting to take physical shape. Great progress is being made with the construction and already you can see the connection between the waterfront and the city is so much stronger. I am very proud to be part of this exciting development for the city of Dundee and Scotland and to be creating a museum that will inspire people to visit from the UK and beyond."
ISA News
2016 has been a busy year for ISA so far. They've changed their name, launched a new website and now are moving to bigger and better premises.
From Monday 11th April, the new address will be 4-5 Blenheim Place, Edinburgh, just around the corner from the Edinburgh Playhouse.
ISA, 4-5 Blenheim Place, Edinburgh EH7 5JH
Phone +44 0131 229 6444
Telephone, web and email addresses remain the same.
Glasgow City College Building
1 Apr – new photos of the Glasgow City College Riverside Campus building designed by Edinburgh's Reiach and Hall Architects and Michael Laird Architects.
Zaha Hadid, 1950-2016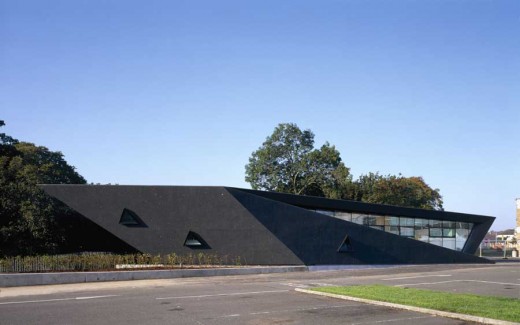 photo from Maggie's Centres
1 Apr + 31 Mar – Zaha Hadid Architects have confirmed that architect Zaha Hadid, DBE died suddenly in Miami: she had contracted bronchitis earlier this week and suffered a sudden heart attack while being treated in hospital.
ZHA's major work in the Scotland was Glasgow's Riverside Museum.
She was also responsible for the Maggie's Fife building at Victoria Hospital, Kirkcaldy.
University of Edinburgh Energy Centre Building


30 Mar – An £11m Combined Heat and Power centre to enable a University of Edinburgh campus to produce its own low-carbon energy.
The new Combined Heat and Power (CHP) system, to be installed at the University's Easter Bush campus, will provide electricity for the Roslin Institute and the Royal (Dick) School of Veterinary Studies.
Kirkcaldy Premier Inn
30 Mar – Lawrence McPherson Architects have submitted plans to build a 60 bedroom Premier Inn hotel within the John Smith business park, Kirkcaldy.
Union Canal Apartments
29 Mar – Plans submitted by Oberlanders Architects to erect 11 flats on the site of a former industrial unit at Horne Terrace, on behalf of AMA. The building will back onto the Union Canal.
Woolmanhill Hospital Aberdeen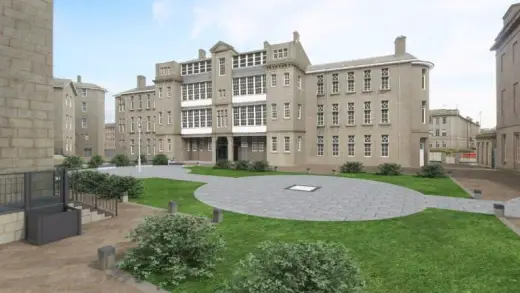 Plans have been revealed to transform one of Aberdeen's most historic buildings into a 50-bedroom boutique hotel. Developers CAF Properties want to transform the 18th century Woolmanhill Hospital into a hotel and residential complex including 27 serviced apartments, 32 residential apartments and 10 affordable flats. The Grade A-listed Simpson Pavilion on Skene Street would be turned into a hotel, while the Stephen and Victoria buildings could be converted into serviced apartments.
Lutton Place Edinburgh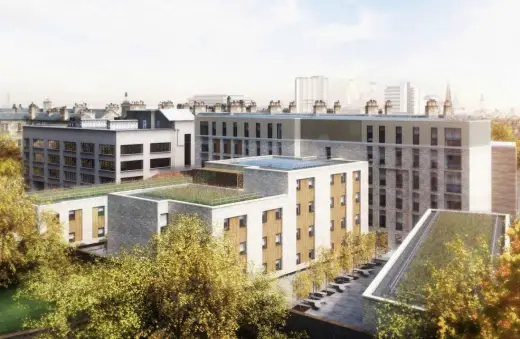 New student accommodation
Pop-up Cities Expo June 2016
Design and build competition for Edinburgh's pop up pavilion to sit amongst others from major cities around Europe this summer.
The City of Edinburgh Council (CEC) is inviting entries from Edinburgh Architectural Association (EAA) members for the design and construction of a 5m x 5m plan size 'pop up' type pavilion which will sit on the plaza beside the national gallery.
For the chosen design this is a very high profile opportunity with an international dimension.
The brief in summary:
The total budget for the chosen design and build is a maximum £30,000.
The designs should reflect Edinburgh and its future potential.
CEC will provide the display installation inside, but are looking to collaborate with the successful designer(s) on the details.
Submissions should be A3, and anonymous on the face side to aid judging but with entrants identified on the rear.
The closing date was 31st March 2016 (registration was due by 16th March).
Edinburgh School Building Defects News
30 Mar – Safety inspections will be carried out at schools built across Scotland by Miller Construction following the collapse of a wall at an Edinburgh primary. This feature on the BBC Scotland news last night.
St Kilda Visitor Centre Building News
30 Mar – Dualchas Architects with Reuilf Ramstad Architects of Norway collaborate on the design of a St Kilda visitor centre on the Isle of Harris in the Western Isles. A master plan concept is expected to be in place by the end of May.
29 + 25 Mar – Ashfield Land and Kirkwood Homes have lodged plans to build a £150m 'town centre' for the tiny hamlet of Blackdog, two miles north of Aberdeen's city limits.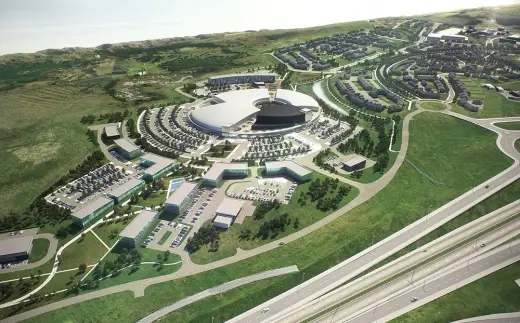 Serving as a gateway development for the 'Energetica corridor' project, a 30 mile long strip of development stretching out to Peterhead, the development will include 600 homes, offices, industrial units, supermarket, hotel and cinema.
A retail and leisure hub, with supporting business and industrial use, has been designed by Threesixty Architecture for Ashfield Land to the north whilst a residential section to the south has been designed by Optimised Environments (OPEN) and William Lippe Architects for Kirkwood Homes.
East Lothian Community Hospital Building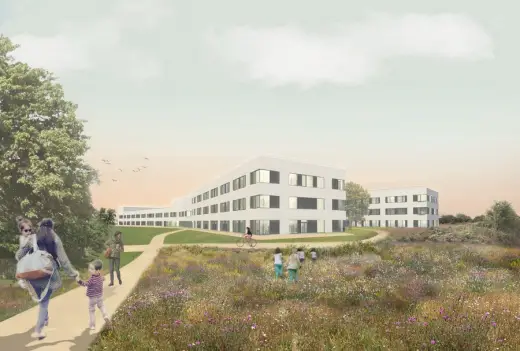 image from architect
26 Mar – Planning permission granted for the building of a new community hospital at Roodlands, Haddington. It is being developed by East Lothian Health and Social Care Partnership and NHS Lothian:
East Lothian Community Hospital Building
RIAS Awards / RIBA Awards for Scotland
24 Mar – The RIAS announce a 23-strong shortlist for its 2016 awards. The judging panel chaired by Willie Watt included Denise Bennetts, Alan Jones, Andy Leitch and Stuart McKill.
Royal High School Hotel Planning Permission Appeal
24 + 22 Mar – Duddingston House Properties have appealed against a council decision to reject the plan to transform the former Royal High School in Edinburgh into a £75 m hotel. DHP has lodged a formal planning permission appeal with the Scottish Government's planning and environmental appeals division just before an official deadline.
Lanarkshire Beatson
23 Mar – Located at Monklands Hospital in Airdrie, the new Lanarkshire Beatson treatment centre designed by Keppie architects is now open.
Cardross Seminary Funding News
23 Mar – St Peter's Seminary in Cardross transformation proposal for an arts venue and heritage destination awarded £4.2m of funding from the Heritage Lottery Fund (HLF) and Creative Scotland.
Scottish Civic Trust My Place Awards Winners
22 Mar – A new community facility and visitor centre, designed by Shauna Cameron Architect, on the Isle of Luing, has won the Scottish Civic Trust My Place Awards 2016.
EAA Awards 2016 Shortlist
22 Mar – The Edinburgh Architectural Association is pleased to announce that the following projects have been short listed for the 2016 EAA Awards.
In total 34 submissions were received. All projects are designed by registered architects and built within the chapter area, with exception to the Ambassador Award which is built out with the chapter.
Building of the Year:
– Murphy House, Hart Street – Richard Murphy Architects
– Solid House – Beecher Architect
– Westfield Avenue Phase Two – 7N Architects
Regeneration and Conservation:
– Rosyth Parish Church – City Architecture Office
– Saltcoats Steading – Aitken Turnbull Architects
– Woodhall House – Lorn Macneal Architects
Small Projects:
– "It's Bigger on the Inside" – David Blaikie Architects
– Newbattle Gardens – Craig Amy Architect
– Sydserf – Sutherland & Co Architects
– The Causeway – Konishi Gaffney Architects
Ambassador Award:
– Forsinard Lookout Tower – Icosis Architects
– Riverside Campus, City of Glasgow College – Michael Laird Architects / Reiach and Hall Architects
– The Kirroughtree Visitor Centre – J M Architects
– York Art Gallery – Ushida Findlay Simpson Brown
Wood Award:
– 9 Succoth Park – Goodburn Baillie (Architecture) Ltd
– Craigdon Mountain Sports Retail Facility – Oberlanders Architects LLP
– Edinburgh Academy Hockey Pavilion – Richard Murphy Architects
Semple Street Development Latest Addition To Edinburgh's Exchange Financial District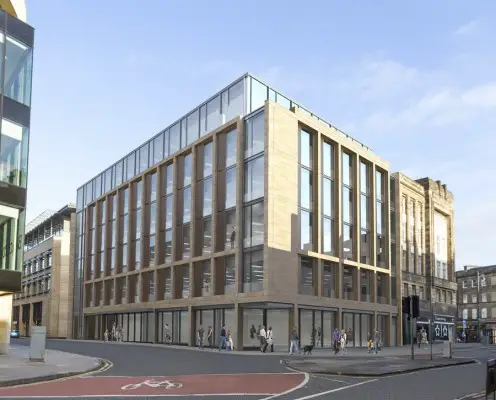 image from developer
22 Mar – Work has started on a £24m development in Edinburgh's vibrant Exchange district designed Michael Laird Architects which will provide 35,000 sqft of office space and 11,000 sqft of ground floor retail units:
Semple Street Development
Queens Quay Masterplan
22 Mar – The Queens Quay in Clydebank masterplan will be presented to West Dunbartonshire Council on Wednesday.
Detailed proposals have been put forward to planners outlining the vision for transforming the former John Brown's shipyard, which has lain derelict for years.
Perth Theatre Restoration News
22 Mar – The restoration and redevelopment of Perth Theatre has started on site.
Project contractors Robertson Construction Tayside will be on site to carry out enabling works, which will include stripping out existing buildings and preparing to demolish sections to make way for the new extension. Completion is due in 2017.
RIAS Council Elections Nominations
There are four vacant places for nationally elected Incorporation Representatives on RIAS Council for the coming session. Members of the RIAS are invited to nominate Fellows and Members of the Incorporation to fill these vacancies.
The President, Willie Watt, hopes that members from all sections of the profession and of all ages will consider standing for election.
However, should there be insufficient candidates to fill the vacancies the RIAS may make its own nominations.
Nomination papers must be returned to the RIAS by 5.00pm, Thursday 7th April 2016 accompanied by the candidate's election statement of no more than 200 words. Nominations received after 5pm on 7th April will be invalid. Voting papers will be issued by email on Friday 15th April to be returned (by e-mail, fax or post) by 5.00pm on Friday 29th April 2016. The results will be announced at the Incorporation's AGM in Edinburgh on Friday 13th May.
N.O.W.H.E.R.E.


19 Mar – N.O.W.H.E.R.E. presents a collection of contemporary artist video work from Northern Ireland. The exhibition is a continuation of the gallery exchange with Catalyst Arts, an established artist run art project based in Belfast. Two of the IR11 gallery artists showed their work in Belfast in the Autumn 2015 and IR 11 will in response install the work of 4 video artists in Ocean Terminal.
Pyramid Viewpoint
19 Mar – Located on a peninsula overlooking the UK's largest stretch of inland water, Loch Lomond: the viewpoint by BTE Architecture takes the shape of a triangular platform and is positioned at the end of a long curved path stretching form the car park to the highest point of the peninsula.
Oriam Sports Hub Hotel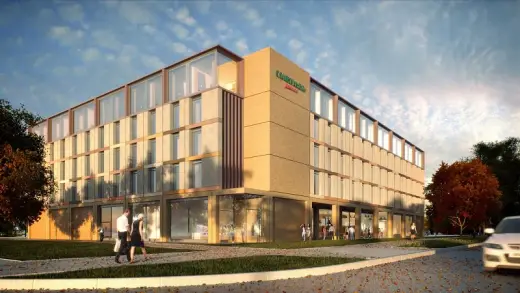 18 + 16 Mar – StudioAnyo (Hackney, London) have submitted plans for a 160-bed Courtyard by Marriott hotel at the National Performance Centre for Sport in west Edinburgh.
Hinterland Launches
18 Mar – Amidst the stunning, brutal, Modern architecture of St Peter's Seminary, audiences will discover aspects of the degraded building highlighted and animated through light installations, projection and sound elements. Comments and reports welcome this weekend.
City Region Deal + Funding for Buildings in Dundee & Helensburgh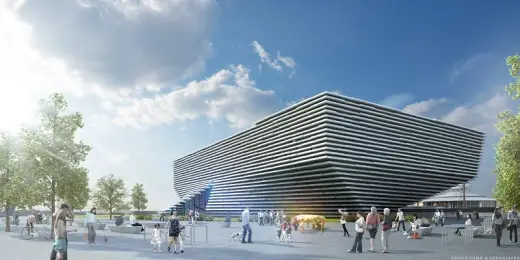 17 Mar – Chancellor George Osborne has announced that a City Region Deal for Edinburgh and South East Scotland is being negotiated and pledged £10 m towards two building projects in Scotland.
Delivering his Budget to the House of Commons yesterday, the Chancellor said that fines levied from banks as a result of misconduct are to be evenly split to create a new leisure facility in Helensburgh and contribute to the fundraising campaign for the V&A Museum being built in Dundee.
The funding for the V&A project, which comes on top of a £12.5m contribution from the Heritage Lottery Fund, will make a major contribution towards the iconic museum reach its overall funding target.
Welcoming today's funding announcement, Scotland Office Minister Andrew Dunlop said the money would help ensure the project would play its full part in the regeneration of Dundee.
He said: "This is great news for the V&A and for the city as a whole.
"I am delighted the Chancellor has been able to find this money for Dundee in his Budget. It shows the UK Government is listening to Scotland and doing what we can to support important projects like the regeneration of the city's waterfront.
"The V&A is a vital project, not just culturally, but also in terms of the part it can play in attracting jobs and investment into Dundee. An iconic enterprise like this will help put the city on the map, bringing in visitors and showing the world what Dundee has to offer."
The facility in Helensburgh will be available for use by the local community and by members of staff at the nearby HMNB Clyde base at Faslane.
Based on the Helensburgh Pier Head – an integral part of the town's waterfront – the new facility will benefit local residents in the town and surrounding areas who rely heavily on the naval base for their jobs, businesses and livelihoods.
Scottish New Homes Funding
17 Mar – The Scottish Government has unveiled a £50 m investment in charitable bonds over the next two years to provide support for almost 1,000 new homes.
Kingdom Housing Association in Fife, Eildon Housing Association in the Borders as well as Orkney Housing Association and Ayrshire Housing Association will benefit from this year's £25m bonds. A further £25 million is earmarked for 2016-17.
Falkirk Urban Quarter News


17 Mar – Falkirk Council has unveiled plans to create a new, environmentally friendly urban quarter under its multi-million pound Tax Incremental Finance (TIF) initiative.
(Re)Imagining Glasgow
Premiere screening on Sunday 20 Mar, 3:15pm.
For Scotland's Festival of Architecture 2016, the Glasgow Institute of Architects have commissioned filmmaker Chris Leslie to create a new short film. (Re)Imagining Glasgow looks at Glasgow's regeneration over the past forty years and the pledges made by the Corporation of the City of Glasgow: more details on the Glasgow Architecture website's events page.
Easter Road Stadium
16 Mar – new photos of the Hibs ground: Easter Road Stadium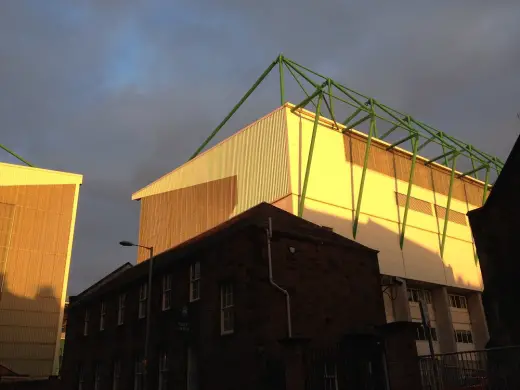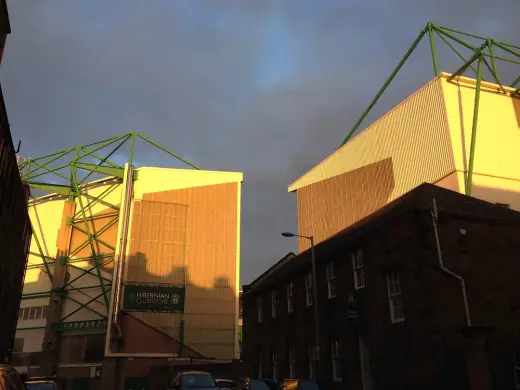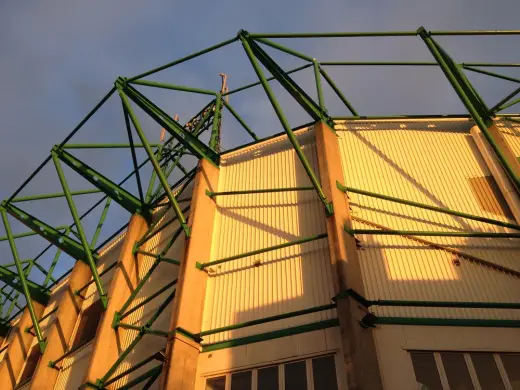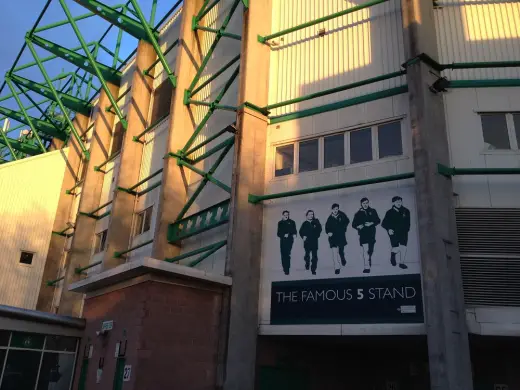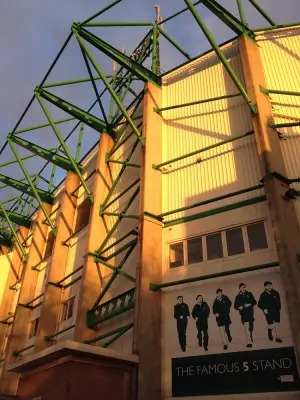 Park Quadrant Housing
14 Mar – Expresso Property has submitted revised plans for Park Quadrant, Glasgow , following a series of public consultations held around their original proposals.
Scottish Cities Alliance at MIPIM
11 Mar – Scottish Cities Alliance is to drum up interest in Scotland's seven cities at MIPIM by showcasing a 'Pitch Book' of commercial property opportunities to investors.
Prospect North Exhibition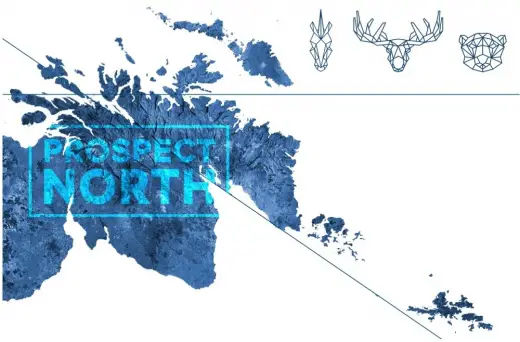 11 Mar – An 'immersive exhibition' created by Lateral North, Dualchas Architects and Soluis is to headline Scotland's contribution to this year's Venice Architecture Biennale in Italy.
Prospect North will explore the relationship between the places, culture, people and economy of Scotland with its northern neighbours through the display of interactive maps, narratives, portraits and images from the region.
Graham Hogg and Tom Smith of Lateral North said:"we are not only going to show the visitors to this year's Scottish pavilion what Scotland is about, but we are going to take them to Scotland through immersive, dynamic and innovative technologies – technologies which are going to be at the forefront of architectural practice over the coming years."
Dualchas director, Alasdair Stephen added: "Dualchas and Lateral North believe that Scottish architecture and art is comparable with our contemporaries in Europe. We want to take the opportunity of the Venice Biennale to demonstrate this to the wider world."
Prospect North will be on show from 26 May to 25 June at Ludoteca Santa Maria Ausiliatrice in Venice before commencing a nationwide tour of Scotland.
Collective Architecture News
10 Mar – Collective Architecture has turned their attention southwards for their latest project, a major mixed use development in North Cheam, London, on behalf of the Home Group.
East Lothian Community Hospital News
10 Mar – East Lothian Council has granted planning consent for a purpose-built community hospital in Haddington.
QMU Innovation Park News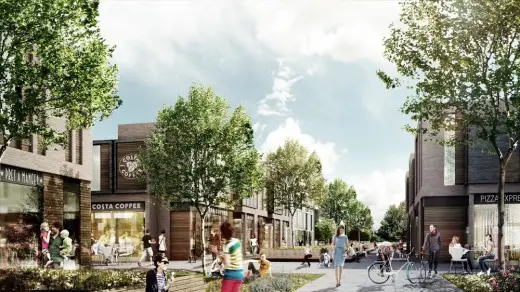 4 Mar – Proposal unveiled for an £80 m Innovation Park next to the Musselburgh campus of Queen Margaret University (QMU).
A detailed business plan for the project is being drawn up by knowledge economy consultancy CAM-SCI as part of the University's development strategy.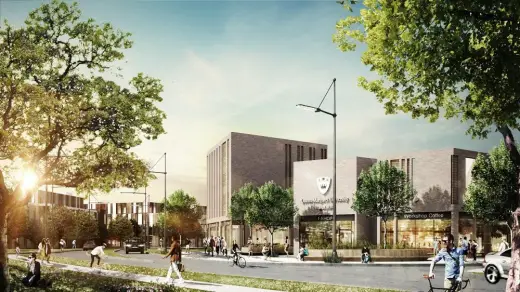 The University's decision to retain the consultancy was made after a Proposal of Application Notice (PAN) consultation in September 2015 saw support for the concept gather pace.
As East Lothian Council moves towards finalising the East Lothian Development Plan, QMU is progressing its vision for local and regional social and economic development around its campus, aiming to protect this land for the development of specialist facilities to support the food and drink sector.
Judy Murray Tennis Centre



11 Mar – Developers behind a multi-million pound tennis and golf centre near Dunblane are appealing against a council decision to refuse it planning permission.
Backed by Judy Murray and former Ryder Cup golf captain Colin Montgomerie, the £37.5 million project was to be located at Park of Keir, between Murray's home town of Dunblane and Bridge of Allan on the outskirts of Stirling University.
The plans, which include a four-star hotel, visitor centre, museum, parkland and luxury housing, were rejected by Stirling Council last year amid fears the development could have a "significant detrimental impact" on a "sensitive landscape". There was also a worry that the homes could "exacerbate affordability in the local area".
However it has now emerged an appeal has been submitted to the Scottish Government by lawyers and consultants acting for Park of Keir Partnership.
A Scottish Government reporter will now carry out an inspection of the site.
Portobello High School Building News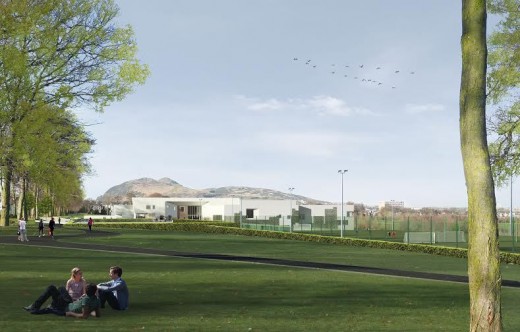 11 Mar – The opening of the new Portobello High School may be delayed by around 4 months, from August 2016 to January 2017. The reason provided is an issue with securing a drainage connection with Scottish Water. However there is also a claim that the opening will go ahead as planned.
Construction of the school designed by jmarchitects will replace the ageing 1960s high-rise building on Duddingston Road. It was delayed for six years because of the disagreement over whether it should be built in Portobello Park. Start on site was October 2014 and the long white-rendered building will cater for around 1400 pupils. Contractors are Balfour Beatty.
National Galleries of Scotland Granton Building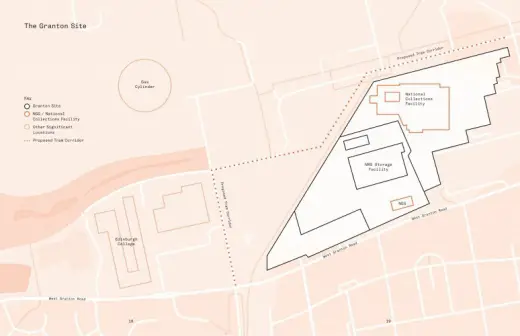 11 Mar – The National Galleries of Scotland (NGS) is pursuing plans for a multi-million pound complex on Edinburgh's waterfront after being donated a parcel of land by the Scottish Government.
NGS intend to create a new National Collections Facility, a world-class purpose-built archive, conservation and research centre close to the site of the former Granton gasworks.
The National Galleries of Scotland's collections of almost 100,000 works are stored in various sites, including a facility at the National Gallery of Modern Art and a small centre in Granton, close to where the National Museum of Scotland opened a new £12m facility last year.
The unused site – close to the listed former Granton gas tower and Edinburgh College's campus – earmarked for the new development includes the remains of Madelvic, the oldest purpose-built car factory in the UK, which has been previously been earmarked for demolition, but could now be saved. Previously Malcolm Fraser Architects had worked on redeveloping that site.
A planning application is likely to be submitted by mid-2017, with construction expected to start before 2020.
The centre would be the next major project for the organisation following the planned completion of work to overhaul and extend the Scottish National Gallery in 2018.
Broughty Ferry Flats
8 Mar – Arktx have submitted plans drawn up on behalf of Broomvale to erect six new build flats on vacant ground off Queen Street within the Forthill Conservation Area of Broughty Ferry.
Buccleuch Place & Meadow Lane Student Residences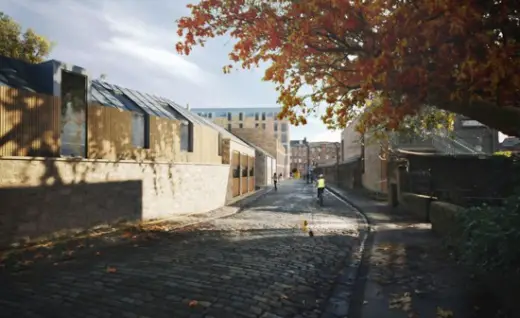 9 Mar – The £22m Buccleuch Place & Meadow Lane student accommodation project has started on site at University of Edinburgh. It involves the conversion and refurbishment of two grade B-listed tenement blocks and the construction of four new build accommodation blocks in the city's Southside conservation area. Due to complete in by summer 2017, Graham Construction began preparatory work on the site in December.
BRE Scotland Office Design Competition
8 Mar – Clyde Gateway and BRE are launching a design competition, through a competitive PQQ and ITT process, to procure a contractor led design team to build the new flagship office for BRE Scotland. See the Glasgow Architecture site news page for more details.
Bathgate HQ Building
7 Mar – Aldi is to build a 21,500sq/ft extension to its Bathgate headquarters to oversee ongoing expansion of the budget supermarket chain which intends to open eight new stores through 2016.
Meadowbank Sports Centre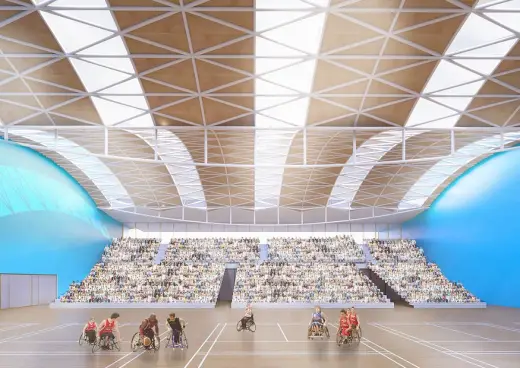 4 Mar – Plans to deliver a new Meadowbank Sports Centre could take a step forward next week as councillors discuss a report on how the new facility should be funded, reports Construction News Scotland.
The 'Funding Package Proposal for a new Meadowbank' report outlines the estimated investment required to transform the ageing sports venue which twice hosted the Commonwealth Games.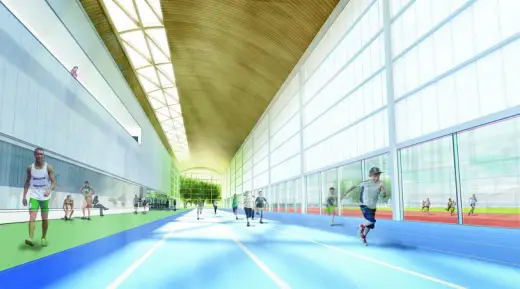 The estimated total project cost has now reduced to £41.1 million and the report recommends that the City of Edinburgh Council develops the detailed design which would allow the project to be tendered. This would then provide greater clarity on the funding gap required from the council capital investment programme – currently estimated at £5.98m.
The remainder of the funding would be achieved by generating capital receipts from the surplus land at Meadowbank, prudential borrowing and revenue savings from closing the facilities during the construction period. In addition, the council would make an application to sportscotland for funding.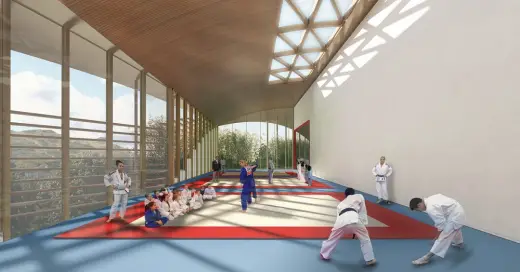 Another benefit outlined in the report is that two areas of the site would be transferred to the council's 21st Century Homes Programme providing affordable housing.
Scottish Property Awards Winners
4 Mar – Scottish Property Awards Winners – results: The best buildings, businesses and teams in Scotland's commercial property sector have been crowned at the property industry's largest celebration held in Glasgow last night.
The 3rd annual Scottish Property Awards, the independent programme which celebrates excellence in commercial property, revealed 18 winners across 16 categories with winners spanning the country.
Cove Rangers FC Building News
4 Mar 2016 – Architects Halliday Fraser Munro have designed a 312 seat main stand, pitch and associated facilities at Calder Park, Aberdeen, future home of Cove Rangers FC.
St James Centre Demolition News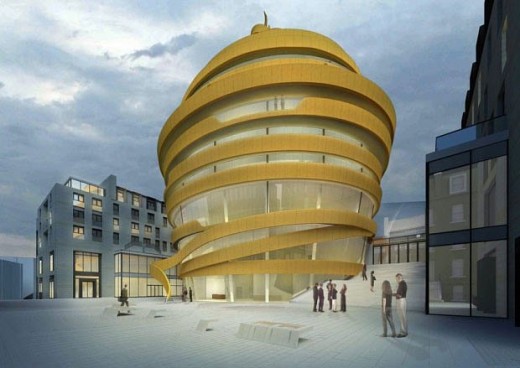 4 Mar – Yes, it is finally happening at last. This will be a huge event not only for Edinburgh architecture but the whole city. The forbidding mass that clutches to the skyline in views from the north and east is at last to be demolished!
Major demolition works marking the start of the £850 million redevelopment of the St James Centre in Edinburgh are to get underway in May.
The site between Princes Street, Leith Walk and York Place will be transformed to make way for up to one million square feet of prime retail space, plus a 210-room hotel, car park, 30 restaurants, luxury apartments and a multi-screen cinema.
The five-star hotel, the design of which has been compared to a walnut whip, is at the centre of the scheme.
St James Quarter Edinburgh
Waterfront Plaza Leith Edinburgh by CALA Homes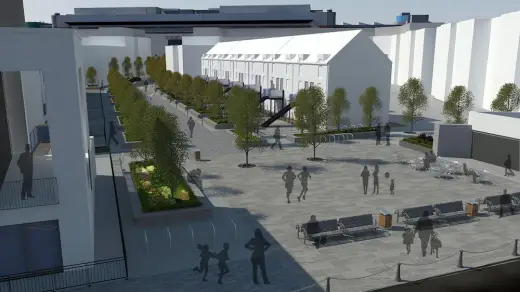 3 Mar – CALA Homes has revealed conceptual plans for around 450 – 500 much needed homes as part of a wider residential led development proposal on a former industrial dockland site in Leith.
The housebuilder's plans for its proposed 'Waterfront Plaza' project on currently disused land owned by Forth Ports, located opposite Ocean Terminal, would see the development of one to three bedroom apartments, townhouses and colonies to include 25 per cent on site provision of affordable homes.
The development, which has already gained support from the shopping centre owners Resolution Property, will regenerate what is currently a vacant brownfield site while providing a substantial economic boost to the local area, as well as further contribution to encourage the expansion of the Edinburgh trams project.
Public Sector Buildings Energy Efficiency
2 Mar – A major programme to make public sector buildings more energy efficient gets underway today, reports Construction News Scotland.
Twelve suppliers have been appointed to a procurement framework to deliver energy efficiency retrofit works and services that will improve the energy performance of the public sector.
The suppliers will ensure buildings are fitted with modern, efficient technology that supports the Scottish Government's ambition on energy demand reduction and tackling climate change.
All Scottish public sector organisations, registered social landlords and third sector will be able to access the scheme.
Craigmillar Housing Expansion News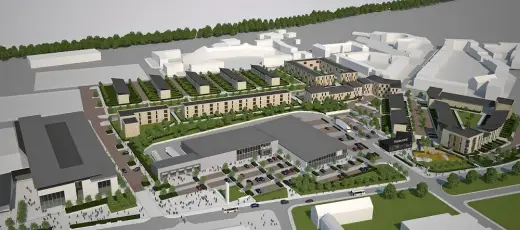 1 Mar – A deal has been agreed between The EDI Group Ltd and housebuilder Cruden Homes to build a further 148 new homes in Craigmillar, Edinburgh, reports Construction News Scotland.
The vacant site on Niddrie Main Road is the final phase in the Wauchope Square Masterplan area which is part of EDI's wider regeneration of Craigmillar. The agreed sale will enable Edinburgh-based Cruden Homes to submit plans for a mixture of high-quality private and affordable housing.
The site adjacent to Richmond Church will include a balanced mix of one, two and three bedroom properties.
CIH Scotland Conference 2016
Prospective delegates don't have long left to take advantage of the 10 per cent early bird discount for the CIH Scotland Conference 2016.
For the first time the conference heads to Edinburgh's EICC and will take place over two packed days in March 2016.
1-2 Mar 2016
Venue: EICC Edinburgh
More details on the events page.
Concrete Falls in Love
Professor Remo Pedreschi, from Edinburgh College of Art at the University of Edinburgh, is delighted to invite you to Concrete Falls in Love, a Geddes Fellow public lecture and drinks reception with Mark West.
2nd March 5:30pm – 6:30pm (reception from 6:30pm)
Venue: Adam House Lecture Theatre, 3 Chambers Street, Edinbrgh
Cost: Free, registration required
Dundee School Building News
1 Mar – A £28.7 million replacement for Baldragon Academy in Dundee designed by Holmes Miller Partnership has started on site, reports Construction News Scotland.
Dundee City Council is funding £10.6m towards the new secondary, with the rest being provided by the Scottish Futures Trust.
The new building is due for its first intake of pupils in early 2018. It will form part of an educational campus for the area which will include the new primary and nursery, due to open in October2016.
Cupar Development
1 Mar – Arc Architects have drawn up tentative plans to regenerate the 'backlands' of Cupar, Fife, on behalf of the Cupar Development Trust ahead of a public consultation. Composed of 39 affordable housing, two live/work units and creative space for design industries the £7m development, reports Urban Realm.
Edinburgh Architectural News 2016 – January to February
Architecture in Lothian
Edinburgh Architecture News 2015
Comments for the Edinburgh Architecture News for 2016 page welcome