Edinburgh Architectural News in 2016, Lothian Buildings, Architects, Images, Scotland, Design
Edinburgh Architectural News 2016: Buildings
Scottish Architectural + Construction Updates: East of Scotland Property January & February
Edinburgh Architecture News for 2016
Edinburgh Architecture News 2016 – March to May
Edinburgh News Archive January to February
Market Street Hotel Building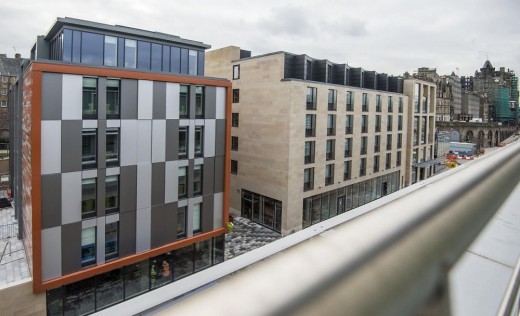 photo : Phil Wilkinson
29 Feb – Budget hotel chain Premier Inn has invested £35 million into Edinburgh with three new hotels and ongoing refurbishments and extensions reports Construction News Scotland.
Two of the hotels, located in the Old Town off the Royal Mile on (New) Market Street, will open at the end of this month, including the first hub in Scotland with 121-bedrooms, and adjacent, a 127-bedroom Premier Inn. Scheduled to open in late Spring will be a 127-bedroom Premier Inn hotel in the New Town in York Place taking the total number of hotels in the city to 14, with over 1500 rooms.
Old Town Closes
29 Feb – Edinburgh World Heritage has named 12 Old Town closes which are to be given a makeover as part of a programme of infrastructure and environmental improvements, reports Urban Realm.
Edinburgh Building Photos
28 Feb – new photographs taken around the city today by architect Adrian Welch:
Blackhall House Extension


photograph : Paul Zanre
26 Feb – David Blaikie Architects have completed an angular extension to a suburban Edinburgh home, doubling the size of the existing property by providing a new kitchen, dining and living space.
Baldragon Academy Dundee building: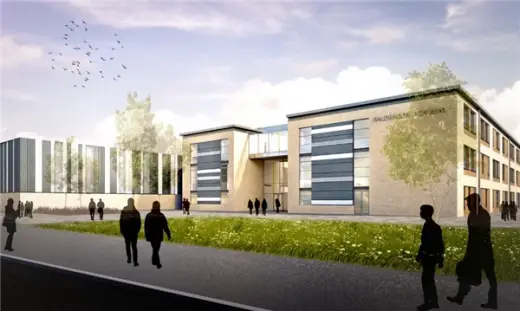 Boroughmuir School Building News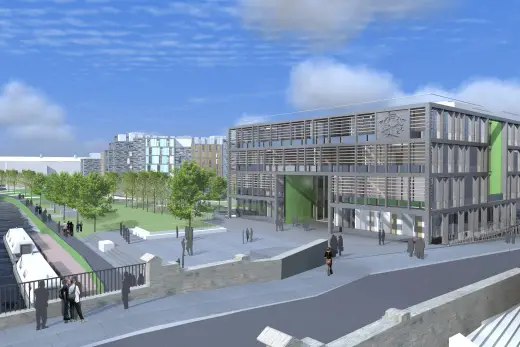 26 Feb – Construction work delayed for a second time due to adverse weather conditions – see the Edinbrugh School Buildings page for more.
UNESCO Edinburgh Planning Law Demand
25 Feb – UNESCO has called on the UK government to demand changes to Edinburgh's planning system in order to preserve the Old and New Towns, two of six UNESCO sites in Scotland.
Mechtild Rössler, director of world heritage at UNESCO, had "strong concern" about urban conservation in the capital, citing worries including the "ribbon" hotel in the St James development, reports Construction News Scotland.
In a report sent to the Department for Culture, Media and Sport in November, but which has only come to public attention now, it said "current planning and approval paradigms should be revised". Dr Rössler's letter was described as significant by James Simpson, a member of the UK committee of the International Council on Monuments and Sites.
Perth City Hall Building News
25 Feb – Plans to convert Perth City Hall into a food market collapsed yesterday after developers failed to convince councillors of the project's financial viability.
University of Edinburgh Campuses Building News
25 Feb – Ambitious plans to transform the University of Edinburgh's campuses have been boosted by a £200 m loan from the European Investment Bank (EIB).
The loan, together with £100m from a US investment fund, will provide £300m of new investment capacity to support a range of building and refurbishment projects over the next 10 years. The investment will strengthen Edinburgh's reputation as a global leader in education and research.
McEwan Hall Entry Renovation: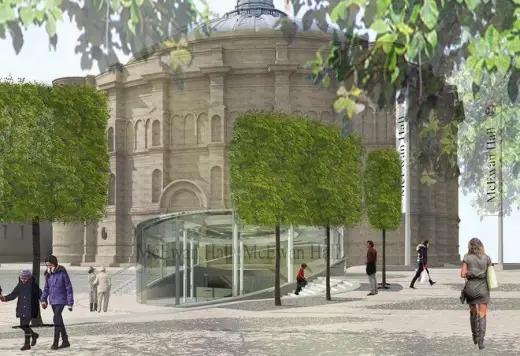 The loan agreement, signed this morning by Edinburgh Principal Professor Sir Timothy O'Shea and EIB Vice President Jonathan Taylor, will allow the University to step up its £1.5 billion building programme.
Projects in the 10-year plan include a new home for the School of Biological Sciences, the creation of a Data Technology Institute – part of the Alan Turing Institute – and a refurbishment of the historic School of Law at Old College.
RSA New Contemporaries Exhibition 2016
24 Feb – The eighth annual RSA NEW CONTEMPORARIES exhibition will take place at the Royal Scottish Academy Galleries in Edinburgh from 5th to the 30th March 2016. Showcasing 61 graduates selected from the degree shows in 2015; this carefully curated exhibition offers a unique opportunity to see the best of Scotland's emerging talent under one roof.
• Sixty-one of Scotland's best emerging artists & architects
• Exhibition prizes with total value of over £40,000
• £10k residency prize with Glenfiddich
• £14k Fleming-Wyfold Foundation Bursary
• Selected artists will also exhibit at New Scottish Artists exhibition in London
RSA New Contemporaries Exhibition News
RIAS / RIBA Awards for Scotland Submission Deadline
23 Feb – Submission Deadline is Friday 26th February for the 2016 RIAS / RIBA Awards: more details on the Glasgow Architecture website news page.
Help to Buy Scheme News
24 Feb – The year-on-year growth in house purchase lending in Scotland reported today by the Council of Mortgage Lenders has been welcomed as a signal of optimism for the sector by the country's home building industry: more news on the Glasgow Architecture website news page.
Colinton Road Homes
24 Feb – Yeoman McAllister Architects have submitted plans for 34 homes on the site of existing garages at 116 Colinton Road, Edinburgh, on behalf of Eastern Properties and Westerwood.
Fife Council Planning Issue
23 Feb – Fife Council is once again squaring up for another battle against a planning appeals system that it says is "undermining local democracy", reports Construction News Scotland.
A proposed development at Milldeans Farm, Glenrothes, for approximately 300 houses was rejected by the local authority through the Local Development Plan process (FIFEplan) in 2014, and through a further planning application, considered by the council's Central Planning Committee on 18 November 2015.
The objections to the non-inclusion of the site in FIFEplan and the appeal by the developer about the refusal of planning consent are currently before Scottish Government reporters.
In a further twist to the process, Scottish Ministers have ruled that the planning appeal should be taken out of the reporter's hands and that they will decide whether the controversial development should go ahead.
In a letter received by Fife Council, the Scottish Government has stated that Scottish Ministers will now recall appeals for all proposals of 100 houses or more to monitor how national policy is being implemented.
This is the first appeal that has been recalled in Fife, and comes on the back of repeated calls from Fife Council for greater local democracy as part of the current review into the planning system in Scotland.
Website: Fife Council Planning Issue
Forth Road Bridge Full Opening News
23 + 20 Feb – The Forth Road Bridge reopened to heavy goods vehicles on 20 Feb, after complex repair works were completed as planned and monitoring showed the load-bearing capacity of the structure has been restored. New brackets and cables are now taking the load at the critical northeast, southeast and southwest main span tower legs:
Forth Road Bridge News
Gareth Hoskins' Memorial – 19th March, Edinburgh
23 + 18 Feb – A public memorial will be held for Gareth Hoskins who died on 9th January, 2016, reports the RIAS. His family and colleagues extend this invitation to all and hope you can join this celebration of his life and outstanding achievements.
Date: Saturday 19th March 2016
Time: 18:30 – 20:30
Venue: National Museum Scotland, Chambers Street, Edinburgh, EH1 1JF
Please arrive by the front entrance
The family would be most grateful if you could RSVP by the 4th March to rsvp(at)hoskinsarchitects.com.
PH2O Project News
23 Feb – Plans for a £25m sports complex in Perth are still progressing although a huge funding shortfall is to be overcome if the project is to progresa. The PH2O project would have seen the current leisure pool and Dewars Centre razed and a new joint centre built in its place. But with only £10m raised in challenging financial times, the project has been significantly scaled back.
Quartermile Building News
22 Feb – Quartermile Developments has begun on delivery of the £35m final phase of office development in the mixed use master plan for the former Edinburgh Royal Infirmary.
Torpichen Street Hotel Building
19 Feb – CDA Architects have submitted plans for a 150 bedroom hotel at Torpichen Street, Edinburgh, on behalf of Axcel Hospitality.
Brechin Community Campus Building News
18 Feb – Pupils and staff have taken possession of the £26.5m Brechin Community Campus following completion of phase 1 work at the JM Architects designed school.
Union Square Aberdeen
18 Feb – Benoy have unveiled illustrative plans for a £200m expansion of Aberdeen's Union Square shopping mall on behalf of Hammerson, with an application for planning in principle for a new hotel and expanded retail, cinema and multi-storey car park.
This envisages a 120 bed hotel tower of up to 72m over 15 storeys rising above a parking and retail deck, possibly fronting onto Market Street.
Caltongate Building Progress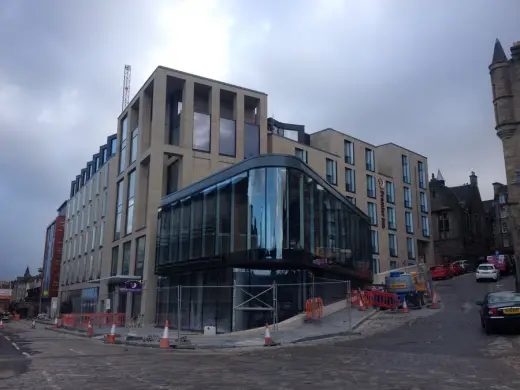 photo © Adrian Welch
18 Feb – Photos of the new Market Street arches and new building at the corner of Jeffrey Street and Market Street:
Caltongate Building Photos
Broadford Works Urban Village
17 Feb – Cooper Cromar have submitted plans to transform Aberdeen's Broadford Works into an 'urban village' constituting 890 homes and associated leisure, crèche/nursery, restaurant, cafe and bar.
#AmeetsA 2016
17 Feb – Double S Events is excited to announce that "Architecture Meets Art", better known as #AmeetsA, is back with a new exciting theme that is aimed at inspiring the Scottish community of architects, designers, artists, photographers, and in fact of the whole of the UK: more news on the Glasgow Architecture website news page.
£1 Billion Transformation Of Dundee Waterfront
17 + 15 Feb – image added – 'Our Enterprise' is to become Dundee City Council's preferred development partner for a £20 million investment in the city's remarkable waterfront regeneration project. The scheme is part of the £1 billion development of the Scottish city's waterfront which will see it transformed into a world leading waterfront destination for visitors and businesses:
Scottish Civic Trust Six Point Action Plan
16 Feb – Action Plan for the Next Scottish Government in anticipation of the Holyrood 2016 elections. The Scottish Civic Trust is the national body for the civic movement in Scotland. It engages proactively with local civic groups across Scotland and regularly comments and campaigns for the improvement of Scotland's individual buildings and areas of distinction.
Leith Fort Housing
16 Feb – CCG are to move on-site at a development of 94 affordable homes at Leith Fort, as part of a joint venture between Port of Leith Housing Association and City of Edinburgh Council.
Hampton by Hilton Fountainbridge Hotel
15 Feb – A deal has been signed to bring a 228-room hotel to the Fountainbridge regeneration scheme in Edinburgh, reports Construction News Scotland. Property developer Grosvenor has sold a site at the project to Queensgate Hotels, which plans to operate the hotel under the Hampton by Hilton banner. The site has an existing hotel planning consent from Edinburgh City Council. The hotel is scheduled to open in summer 2017.
Calton Hill Building News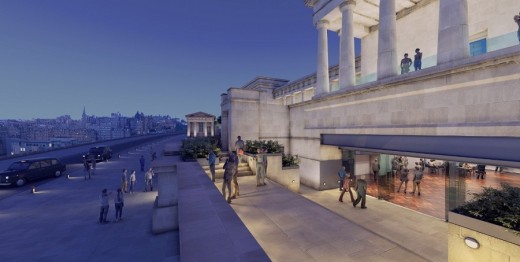 15 Feb – Plans to transform Edinburgh's former Royal High School into a new music school and concert venue have been endorsed by Historic Environment Scotland. The design is by Richard Murphy Architects and Simpson & Brown:
Former Royal High School Edinburgh Alternative Design
Pop-up World Cities Expo June 2016
15 Feb – As part of the 2016 Festival of Architecture and the Year of Innovation, Architecture and Design 2016, cities from around the globe have been invited to design pavilions to be located in Mound Square, the very centre of Edinburgh, in early summer 2016.
The exhibition builds on the universal success of the temporary pavilions and the popularity of the present-day pop-ups. Architects will rise to the challenge of creating innovative and engaging pop-up designs that will capture the public's imagination.
There will be up to 14 pavilions, one of these will represent Edinburgh, and the designer will be chosen from Architects within the Edinburgh Architectural Association.
In two weeks, a competition brief will be issued with the full criteria. The pavilion is to be provided on a design and build basis, to a budget. It also has to be built in place by mid-June, and time will be tight.
Source: Edinburgh Architectural Association
Toronto Primary School Building News
15 Feb – £2.5m West Lothian primary school extension designed by Collective Architecture on site – more at our Edinbrugh Schools page.
Robert Davies. Development
15 Feb – 'Development', Robert Davies' photographic study of coastal Edinburgh, is moving to Interview Room 11 from 19th Feb for three weeks.
'With this body of work I set out to explore the changing edge of a city, and in doing so found a coastal landscape in limbo. One of stalled housing developments and dislocated communities – a landscape of unfinished visions, uncertain of its future and disconnected from its past.
Interview Room 11 Edinburgh Architecture Event
Alexander Thomson Scholarship
13 Feb – Alexander Thomson Scholarship Deadline Extension: now 22nd February
The Glasgow Institute of Architects, as Trustees for the Alexander Thomson Scholarship, announce an extension to the £1200 Alexander 'Greek' Thomson Scholarship. The deadline for entries is now the 22nd February 2016 – more on the Glasgow Architecture site's news page.
RBS HQ Entrepreneur Suite
12 Feb – A plush office built for Fred Goodwin when he was chief executive of the Royal Bank of Scotland has been turned into office space for entrepreneurs. The "executive wing" at the bank's Edinburgh headquarters has been occupied by those setting up in business.
Scottish Design Awards 2016 News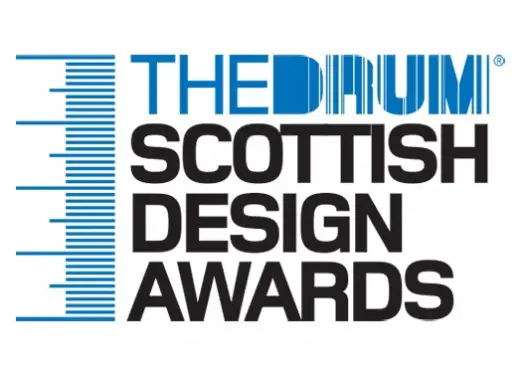 11 Feb – The deadline to enter the The Drum Scottish Design Awards 2016 is fast approaching. With just under three weeks to go, it's time to get started on your entries.The awards reward the top architecture firms and design agencies for their contribution to the country's historic and contemporary design. The Scottish Design Awards 2016 aim to celebrate creativity and beautiful ideas within Scotland's design industry.
Edinburgh Accies Development News
11 Feb – The £16m Edinburgh Accies development faces almost certain delay after members of a nearby sports club, Grange Cricket and Sports Club, voted to assert their legal right to a strip of land just two feet wide, reports the Edinburgh Evening News.
The Accies' controversial scheme could be held to ransom for as much as £1m as a result of the legal wrangle, which centres on a thin slice of land between the south end of the Accies' ground in Stockbridge and Comely Bank Road.
Read more: http://www.edinburghnews.scotsman.com/news/edinburgh-accies-and-grange-heading-for-ransom-strip-clash-1-4027479#ixzz3zrfAJFJC
Back on 25 Feb 2013 we reported that Michael Laird Architects had submitted a revised detailed planning application to redevelop Edinburgh Academicals' Raeburn Place sports ground.
The oldest rugby club in Scotland planned to create a 2,500 seat stadium, clubhouse and museum, plus a number of retail units fronting Comely Bank Road and Stockbridge.
Hinterland
9 Feb – Hinterland Music Commission
The contemplative heart of Hinterland is a composition by one of Scotland's finest composers Rory Boyle. Rory has recorded the work with St Salvator's Chapel Choir from the University of St Andrews, trumpeter Bede Williams and percussionist Tom Lowe, then joining in the studio with Alistair MacDonald to manipulate the sounds electronically and matrix them to different parts of the building.
Arts & Crafts House in Glasgow
9 Feb – Helensburgh Drive House Extension by Ewan Cameron Architects to an existing Arts & Crafts terraced property in Jordanhill.
"Frameless glazing and an over-sailing white canopy create a light and elegant modernist internal space and a Kyoto inspired external terrace. A recessed blinds track inside the internal perimeter contributes further to the clean lines and seamlessness of the design."
Edinburgh's George Street Makeover
7 Feb – New spaces for festivals, events and pavement cafes will be created as one of Edinburgh's flagship thoroughfares gets a radical overhaul, reports the Edinburgh Evening News. An ambitious vision for George Street, the centrepiece of the New Town, will see pedestrians and cyclists given much greater priority.
Read more: http://www.edinburghnews.scotsman.com/news/continental-makeover-planned-for-edinburgh-s-george-street-1-4023162
Museum of Childhood Renewal
6 Feb – the Museum of Childhood is set for its first transformation in 30 years, as its ground floor is completely revamped into a modern fun factory for children.
V&A Dundee Building News
6 Feb – progress photos of the V&A in Dundee as it starts to emerge from the ground.
Edinburgh Architecural Photos
6 Feb – recent photos of St Andrew Square buildings: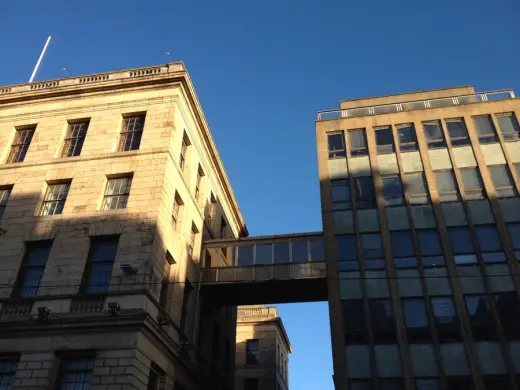 Glasgow University Plans
5 Feb – Glasgow University unveil their £1billion project to expand the campus over the next 10 years, reports the Glasgow Evening Times. They aim to transform the West End into a 'museum quarter' . The university are in the process of completing a mass planning exercise which will look at how the site – not just the Western Infirmary but the whole of Gilmorehill – will be redeveloped.
Glasgow University £1billion Plans
Forth Bridge Experience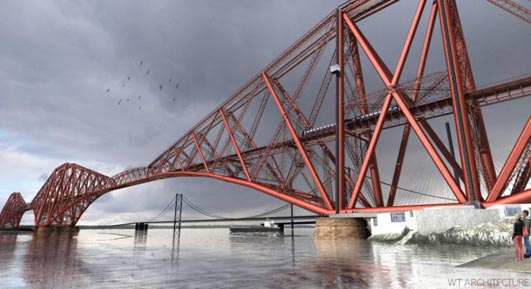 image from architect
3 Feb – Plans to build a visitor centre and bridge walk at the Forth Bridge are on hold after Network Rail admitted "non-core railway opportunities" are now less of a priority.
The £15m Forth Bridge Visitor Centre proposal was designed by WT Architecture. It included a North Queensferry based visitor centre and lift and a South Queensferry based facility for bridge walkers.
Scottish Design Awards News
The Scottish Design Awards 2016 are now in their 19th year and are Scotland's most prestigious awards for architecture firms and design agencies. We aim to reward creativity and beautiful ideas within Scotland's architecture and design industry.
Deadline for entries: 5pm Wednesday 2nd March 2016
Contact Pepe Terry on +44 (0)141 559 6078 or pepe.terry@thedrum.com
Waid Academy Building News
3 Feb – BAM Construction has begun work on the new Waid Academy and community hub at Anstruther, Fife. Designed by BDP the campus will include community facilities such as a library, council offices and police station on the ground floor with primary and secondary schools arranged over two floors above, reports Urban Realm.
Aberdeen Airport Terminal Expansion
1 Feb – First Minister Nicola Sturgeon MSP today visited Aberdeen International Airport to unveil details of what will be the single largest investment in the airport since the current terminal opened its doors in 1977.
A total of £20 million will be invested in the airport resulting in a 50% increase in the size of the terminal building and with it, a comprehensive transformation of current passenger facilities.
Higgs Centre for Innovation in Edinburgh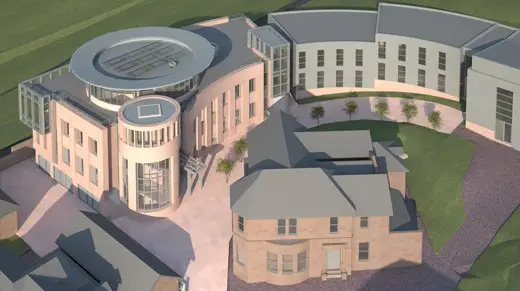 28 Jan – Graham Construction began its work to deliver the Higgs Centre for Innovation yesterday as the final designs for the building were unveiled at Edinburgh's Royal Observatory where the new centre will be housed.
The Higgs Centre for Innovation is named in honour of Professor Peter Higgs of the University of Edinburgh, who received the Nobel Prize for his prediction of the existence of the Higgs Boson which was discovered at CERN in 2012.
28 Jan – Robertson has been appointed to lead the redevelopment of Raeburn Place, the iconic Edinburgh sports ground which hosted the world's first international rugby match, reports Construction News Scotland.
They were selected as principal contractor by Raeburn Place Foundation's development arm following a competitive process.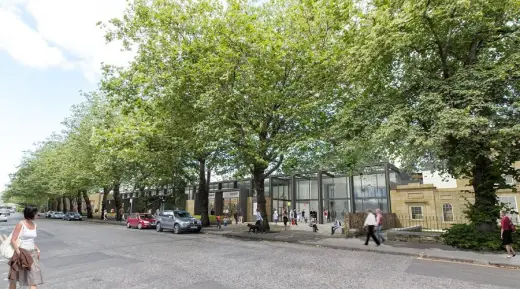 Raeburn Place in Stockbridge, secured its place in history by hosting the first rugby international in 1871 and the first Calcutta Cup match in 1879. It is home to Edinburgh Academicals, Scotland's oldest rugby club and the second oldest in the world.
Plans for the multi-million pound redevelopment include a covered 2,500-seater stand, a new rugby pitch, mini training pitches, changing rooms, a sprint track, purpose-built gym, medical and physiotherapy rooms. A cricket field will be reinstated along with practice nets, a sustainable surface draining system and upgraded floodlighting.
Architectural Conservation Masterclass at the Scottish Centre for Conservation Studies
Thursday, 28 Jan, 5.30 – 7.00pm (followed by wine & nibbles reception)
Main Lecture Theatre, Edinburgh College of Art
Perspectives on political, legal and historical conflicts over cultural landscapes: the case of the Dresden Elbe Valley
Bénédicte Gaillard, Consultant and Political Scientist
see Events page for details
Scottish Society of Architect Artists Exhibition
"The Vital Art" – an exhibition of work by architect artists.
Special artworks by Scottish and European architect-artists will be displayed along with several items on the theme of Innovation Architecture and Design.
Free, until 6 Feb 2016, 10:00am – 5:00pm at The Meffan, 20 West High Street, Forfar
New Scottish School Buildings News
25 Jan – The final phase of £1.8bn Scottish schools plan announced: Nicola Sturgeon confirms 19 new schools will be built across Scotland by March 2020.
Homes for Scotland Student Design Competition
25 Jan – Coinciding with 2016 being the year of Architecture, Design and Innovation, industry body Homes for Scotland has launched its first student competition encouraging innovative home designs suitable to meet future zero carbon requirements, reports Construction News Scotland today.
Aberdeen City Centre Buildings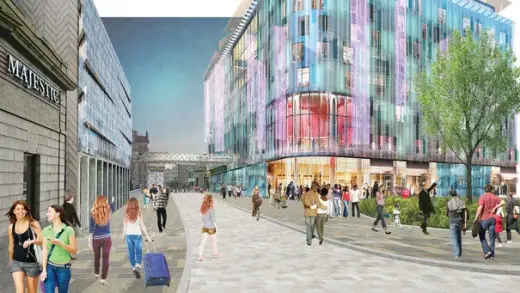 22 Jan – The planning, design and development principles behind a project designed to revitalise public transport and pedestrian links in Aberdeen have been given the go-ahead by councillors.
Aberdeen City Council's communities, housing and infrastructure committee approved a report for the Station Gateway, which aims to improve public transport, cycling and pedestrian connectivity and activity in the area around the city's Rail Station, Union Square, Guild Street, Atholl House, and The Trinity Centre.
The development forms a crucial part of the City Masterplan, which is a 20-year blueprint for the future development of the city centre involving close collaboration between the public and private sectors.
The report asked committee members to approve the Draft Development Brief for consultation with key stakeholders over a four week period which starts on 25 January 2016.
21 Jan – Work on Edinburgh's newest railway station is progressing well with the Tram/Train interchange on schedule to open by the end of the year, Network Rail has said.
The new Edinburgh Gateway interchange is part of the Edinburgh Glasgow Improvement Programme (EGIP) which will see the electrification of central Scotland's railway infrastructure delivering increased capacity and faster speeds on key routes.
Work has been underway on site at Gogar since January 2015 on the new £41m station which will serve passengers from Fife and the north accessing Edinburgh airport and interchanging onto the Tram network. The station is due to open in December 2016.
Edinburgh University Data Technology Institute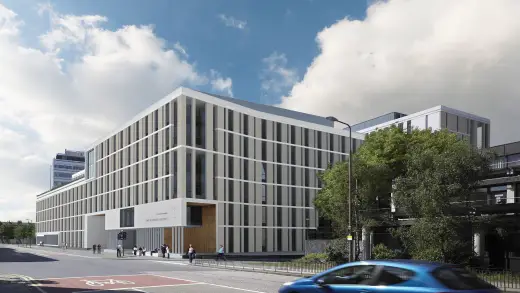 20 Jan – News re The University of Edinburgh Data Technology Institute, designed by Bennetts Associates.
The £28 m building is to go on site in February. It is the third and final phase of the University's Potterrow development, following the completion of the Informatics Forum and Dugald Stewart Building. It will complete the urban block and courtyard of the original scheme.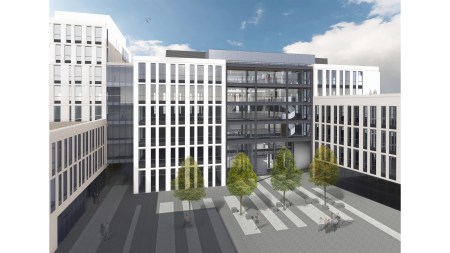 The new building received detailed planning consent in June 2015. It will house occupants from across the University, its start-up and spin-out companies, and industrial collaborators. The building has four to six floors of accommodation around an atrium.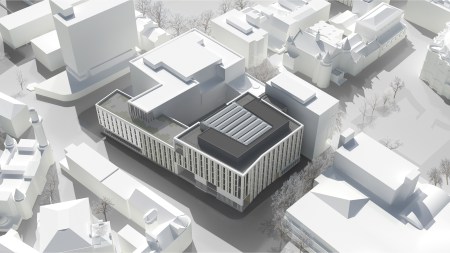 Completion of the building is due in late 2017. The project team includes Faithful & Gould, Turner & Townsend, Buro Happold and Ironside Farrar.
Gareth Hoskins Tribute
20 Jan – Argyll & Bute Council is to dedicate Helensburgh's Hermitage Park to late architect Gareth Hoskins following the award of a £2.3m grant from the Heritage Lottery Fund.
Grant funding will go toward a new pavilion designed by Hoskins Architects, restoration of an A-listed war memorial, Japanese garden and wishing well, plus a new sports facility and children's play area.
Scottish Home Building
20 Jan – 40,000 Scottish jobs could be created by end of next Parliament if home building returned to pre-recession levels.
As it's revealed that over 100,000 new jobs were created in England last year as result of a massive increase in home building, the industry here said Scots could similarly benefit if the same action to stimulate construction is taken north of the border.
This is confirmed by the findings of a major recent research report which identified that nearly 40,000 new jobs could be generated by the end of the next Scottish Parliament if home building levels in Scotland were to return to pre-recession levels.
Philip Hogg, Chief Executive of trade body Homes for Scotland, said:
"Today's English figures underline the positive impact which comes from the building of much needed homes. Research has also shown that every home built in Scotland supports over four jobs but the benefits go much wider than just employment and the contribution to our economy. Ensuring we have enough homes to properly house Scotland's growing population also means improving access to fit-for-purpose and energy-efficient homes as well as supporting better health and education outcomes.
"But home building levels are still currently 40 per cent below that of 2007, exacerbating the housing pressures that are particularly affecting our young people and growing families, and which, unfortunately, show no sign of abating.
"This is why we are calling on the next Scottish Government to manage a return to at least pre-recession levels of building which would mean the delivery of at least 100,000 new homes by the end of the next parliamentary term based on an annual average growth rate of ten per cent. We believe this is an ambitious but achievable target and have already set out to politicians of all parties the action which needs to be taken to make it happen.
"Clearly, providing more 'affordable' homes will be a key element in tackling our country's chronic undersupply but this alone will not address the housing crisis. With the majority of Scots still aspiring to home ownership, a balanced housing policy which places equal emphasis on having enough homes of all tenures is vital."
Royal Highland Show Building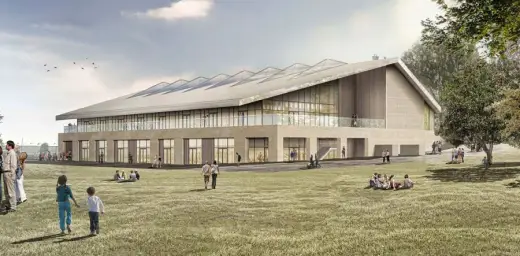 19 Jan – The Royal Highland & Agricultural Society has submitted plans to demolish its existing MacRobert Pavilion at Ingliston in order to develop a new multi-purpose facility.
Designed by 3DReid Architects, the proposed building will be used for a range of functions and events including the main Royal Highland Show in June and throughout the year.
The building is split over two levels with public function suites situated on both floors. All public spaces face the main arena and open out onto the public lawn or onto the first floor terrace.
Dundee National Performance Centre for Sport


19 Jan – Dundee's plans for a National Performance Centre for Sport were rejected in favour of a facility in Edinburgh
A new £17 m regional sports facility in Dundee could come a step closer next week if a tender for preparatory works gets the go-ahead.
Councillors will be asked to approve £850,000 of works by Tayside Contracts at and around Caird Park, the site of the new Regional Performance Centre for Sport.
Village Shop and Cafe in East Lothian
19 Jan – Humbie Hub in East Lothian by Lee Boyd Designers + Architects, Edinburgh.
Residents in the village of Humbie, in East Lothian, have welcomed the recent opening of the new Humbie Hub in the heart of the village.
Sutherland Hussey Harris News
14 Jan – News this week for this project: Saughton Park and Gardens is a hidden gem in the south west of Edinburgh are plans are underway to restore and improve this historically important park: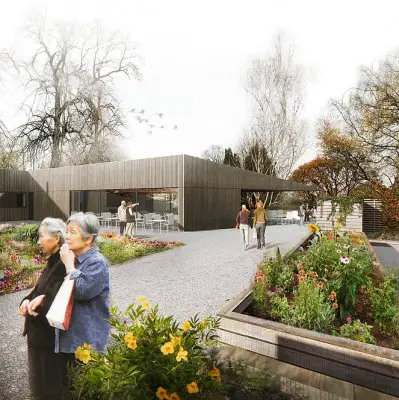 Saughton Park and Gardens in Edinburgh.
Sutherland Hussey Harris shortlisted for 2 sites in a RIBA competition in Brighton.
Fountainbridge Housing News


14 Jan – The City of Edinburgh Council has granted planning consent for plans by The Grosvenor Group to build up to 400 new homes at Fountainbridge.
The architects on the scheme are CDA and HTA.
Consent unlocks the potential for its proposed build-to-rent scheme in the former industrial area close to the city centre.
The group has already completed the first phase of the development at Springside which comprises 250 homes, including homes for sale, affordable homes for the 'frail and elderly,' serviced apartments and two student residences providing accommodation for over 600 students. Grosvenor has also delivered 46 private rented homes that demonstrate an appetite for well-managed and well located rental properties.
In addition to new homes, this consent includes plans for a new public square, community spaces and commercial and retail space.
Grantown-on-Spey Visitor Centre
13 Jan – A new visitor attraction in Grantown-on-Spey has been approved by the Cairngorms National Park Authority (CNPA).
The development will see the former Grantown East railway station revitalised, and the creation of a Highland Games demonstration area.
Flood Protection Plan
13 Jan – A plan to protect homes, businesses and communities from flooding has been launched by environment minister.
The Flood Risk Management plan contains 14 local strategies and proposals for 42 flood protection schemes or engineering works planned for 2016-21 and a range of other flood alleviation measures. This will be supported by investment over the first cycle of £235m on measures to protect up to 10,000 properties.
Following recent flooding as a result of Storm Frank, the minister, Aileen McLeod, said the plans show the Scottish Government is committed to helping communities recover and protecting communities against future risks.
This follows on from the £12m investment announced by first minister Nicola Sturgeon over the weekend which will be made available to help areas affected by severe weather across Scotland.
December 2015 was the wettest on record.
Through this risk-based and plan-led approach the strategies aim to improve flood management for Scotland.
Selkirk has the first major flood protection scheme to be approved under the new Flood Risk Management (Scotland) Act, and the project has already proved its worth in protecting the town during storms Desmond and Frank, despite being only half completed.
RIAS/RIBA Awards 2016
13 Jan – RIAS Awards / RIBA Awards for Scotland 2016 – Call For Entries
Gareth Hoskins News
Gareth Hoskins, OBE, B. Arch (Hons), Dip Arch, M. Arch, RSA, RIBA, FRIAS died on Saturday following a heart attack aged just 48. Reports suggest he has been in a coma since the heart attack.
Straiton Film and TV Studio News
11 Jan 2016 – Developers behind an £850m development on the site of the St James shopping centre in Edinburgh are trying to block plans for a new film studio on the outskirts of the capital – amid fears it is a front for a retail development, reports The Scotsman.
Real estate giant Henderson, which has spent a decade pursuing plans for a new commercial quarter in the city's east end, is due to finally start work on the project within months.
But it fears its plans could be undermined by the £150m studio development, which is earmarked for green belt land near to existing stores in Midlothian.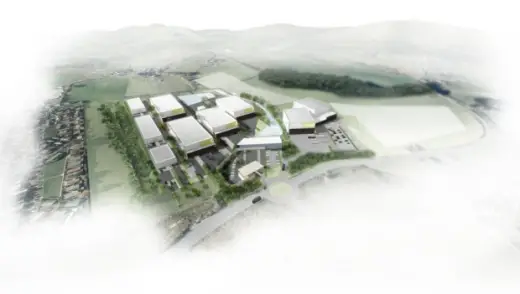 Henderson has raised fears the studio scheme will lead to a further extension of the Straiton Retail Park and undermine the "vitality and viability" of shops in Edinburgh city centre.
Royal Mile Discovery
10 Jan – Archaeologists solve the Royal Mile riddle of James VI's feast, reports The Scotsman. Remains of a kitchen used to prepare a lavish 16th century royal banquet have been uncovered hidden by the wall of a former ladies' toilet in one of the oldest buildings on Edinburgh's Royal Mile. They were found during an extensive survey of Riddle's Court
Scottish National Gallery Expansion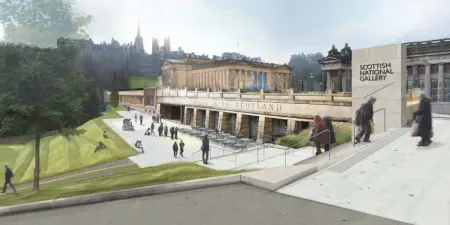 8 Jan – Hoskins Architects have submitted a planning application for a series of extensive extensions and alterations to the Scottish National Gallery in Edinburgh.
Edinburgh's Higgs Centre
8 Jan – Graham Construction has been appointed to deliver the £12m Higgs Centre for Innovation at the UK Astronomy Technology Centre's Royal Observatory, Edinburgh, reports Urban Realm. The design by Jacobs supercedes an earlier plan by Austin Smith Lord.
Glen Coe's Kings House Hotel
7 Jan 2016 – Edinburgh's Benjamin Tindall Architects have submitted plans to revitalise Glencoe's Kings House Hotel , refurbishing the historic inn whilst demolishing later additions to create a new hotel wing, reports Urban Realm.
King's Stables Road Development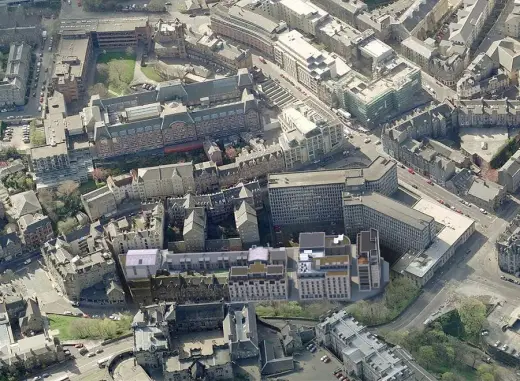 6 Jan – Peveril Securities has lodged plans drawn up by Fletcher Joseph Architects for the regeneration of Edinburgh's Grassmarket along King's Stables Road in the heart of the Old Town, reports Urban Realm. This updates the news posted here (scrol down this page) on 22 Dec 2015.
Botanic Cottage Restoration
5 Jan – The rebuild of the historic Botanic Cottage in Edinburgh has received an accolade from The Georgian Group. This UK charity is dedicated to the preservation of buildings dating from about 1700 to 1840 and holds annual architectural awards. The Botanic Cottage building was originally the central reception hall of the first such garden in the Scottish capital but as it faced demolition, it was painstakingly moved to a new location in the current garden.
Waverley Station Mosaic Restoration
5 Jan – A Victorian mosaic flooring hidden in Waverley train station in Edinburgh is to be returned to its former glory. The damaged decoration will be restored in a joint project by the Railway Heritage Trust and Virgin Trains East Coast. The work has been concealed under concrete and lino for years in a staff-only area of the station.
Work began with a £150k joint grant from East Coast Trains and the trust in 2015, which partially restored the room. But after Virgin took over the line in March 2015, a further grant of £25k was made to finish restoration of this mosaic.
Edinburgh Marina Approval
5 Jan – Granton Central Developments has received approval from Edinburgh City Council planners for a mixed use scheme designed by Wilson Gunn Architects, reports Urban Realm.
Edinburgh Architecure Photos
3 Jan – some photos from December 2015: Princes Mall, Victoria Street, George Hotel interior, Winter Wonderland and the Royal Mile light show – Edinburgh Old Town at night: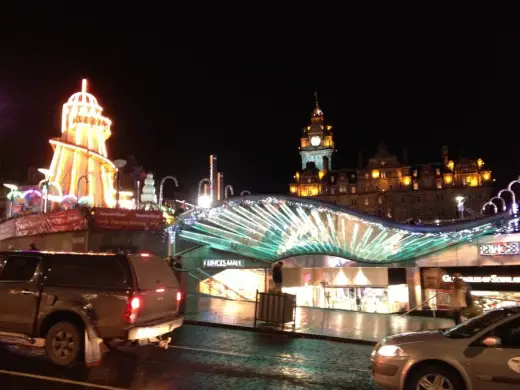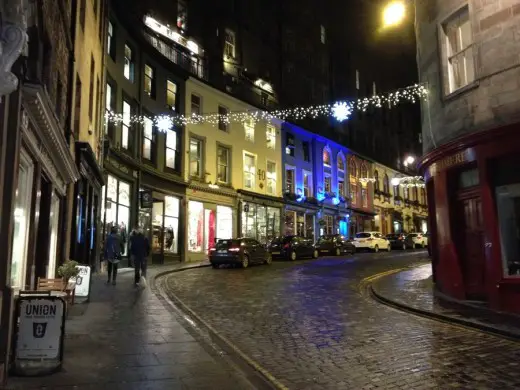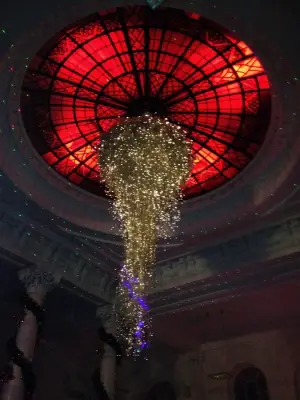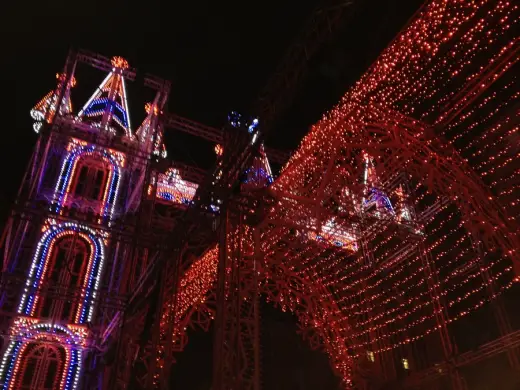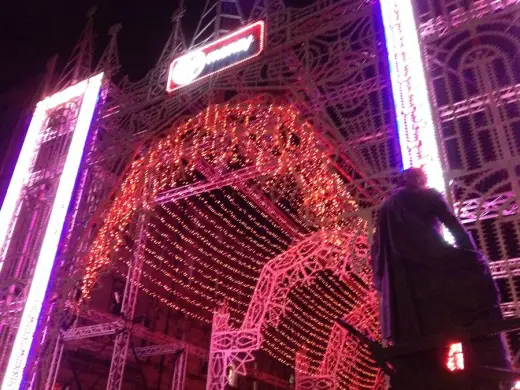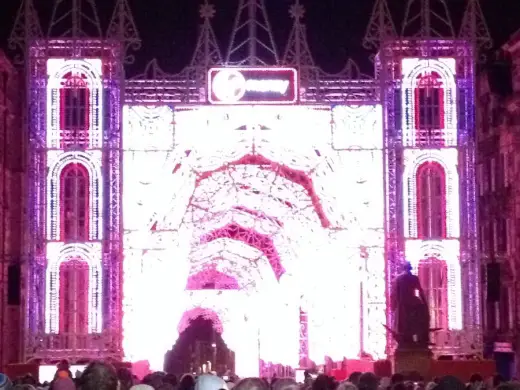 Edinburgh Architecture News 2016 – Archive for March, April & May
Edinburgh Architecture News 2015
Comments for the Edinburgh Architectural News 2016 page welcome