Quartermile, Edinburgh Flats, Architects, Photos, New Property, Apartments, Images
Quartermile Edinburgh
Former Royal Infirmary Building – Redevelopment & Restoration, Scotland
Quartermile Apartments
23 Jan 2017
Quartermile Ventures have submitted proposals for the creation of 102 flats and 302sq/m of ground floor retail space at Quartermile, Edinburgh, on land off Porters Walk.
Taking the form of two ten storey glass and metal blocks designed by Foster & Partners the scheme is the final phase of a masterplan consented back in 2005 with subsequent design development introducing a network of streets, lanes and paths to improve connectivity.
New Quartermile Building Photos
28 Feb 2016 – new photographs taken by architect Adrian Welch:
New building at the south west corner of the site, south of the Wharton Square housing: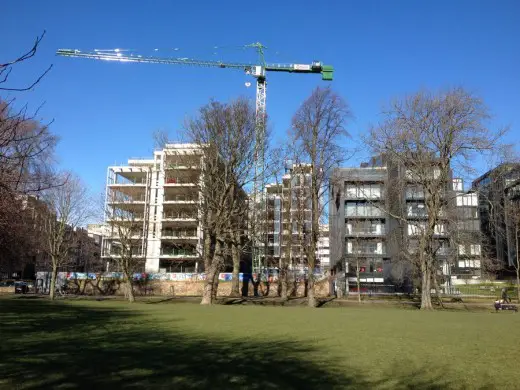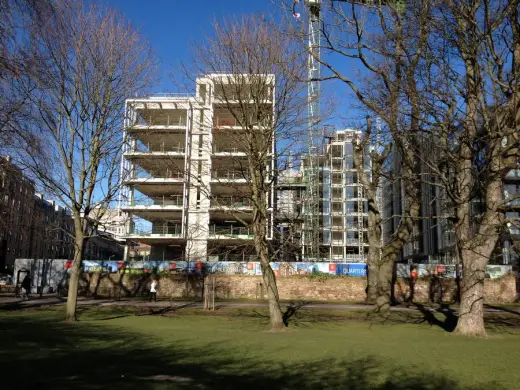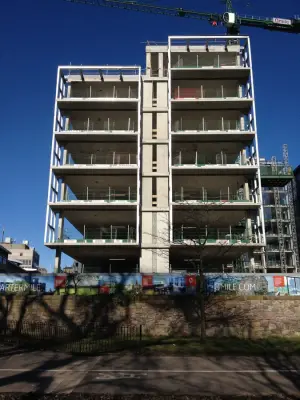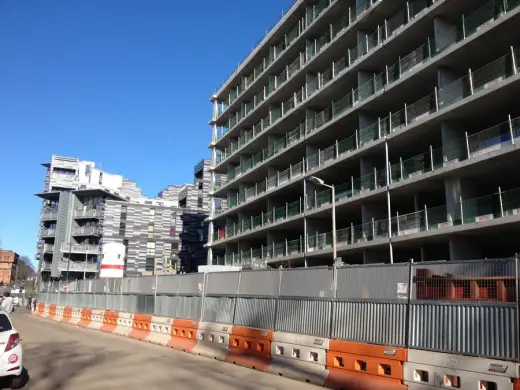 Hillcrest Group, Housing by Richard Murphy Architects – 6 Wharton Square, Edinburgh: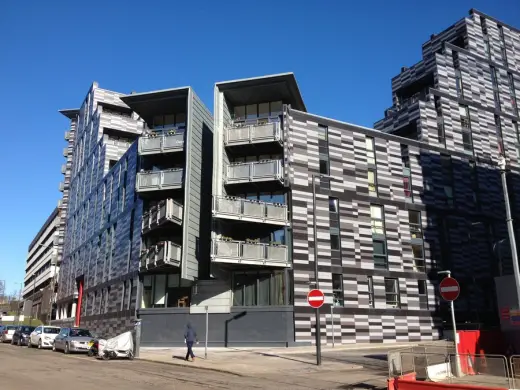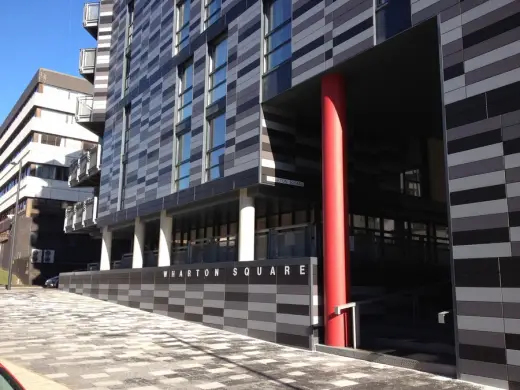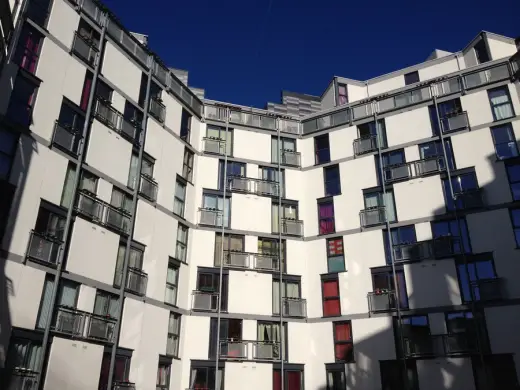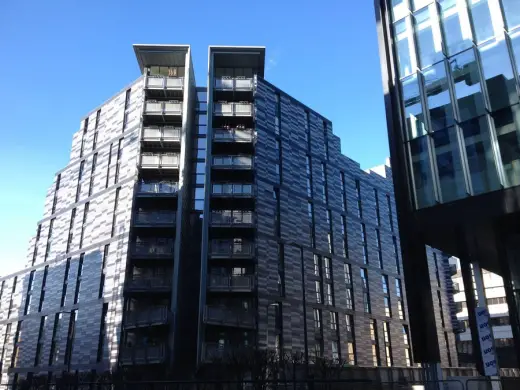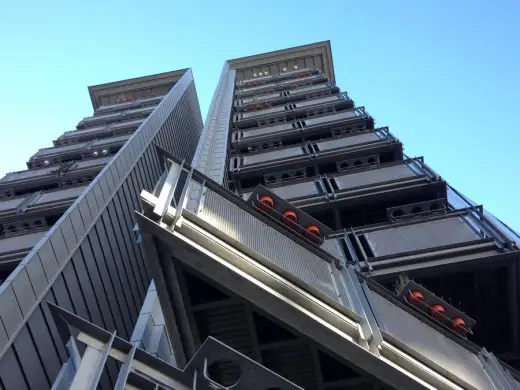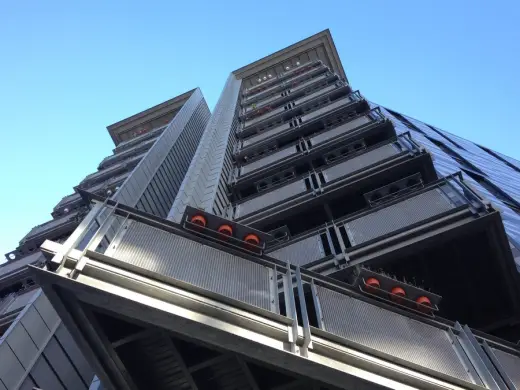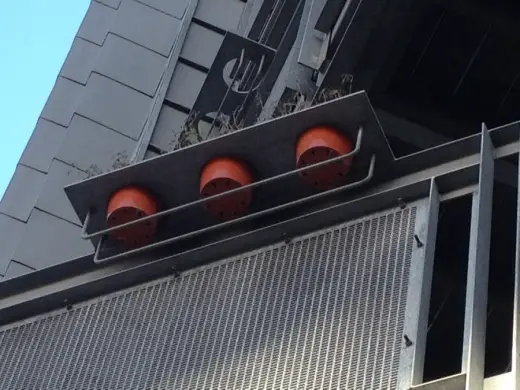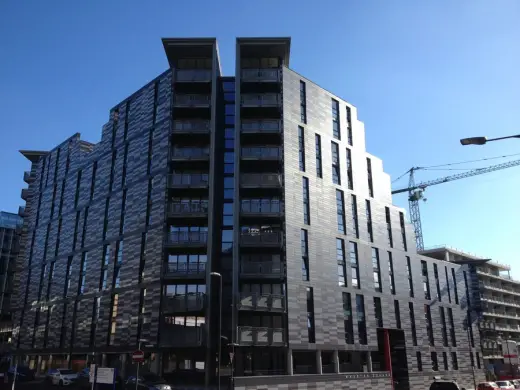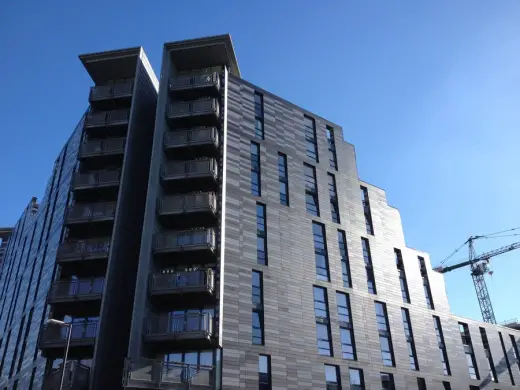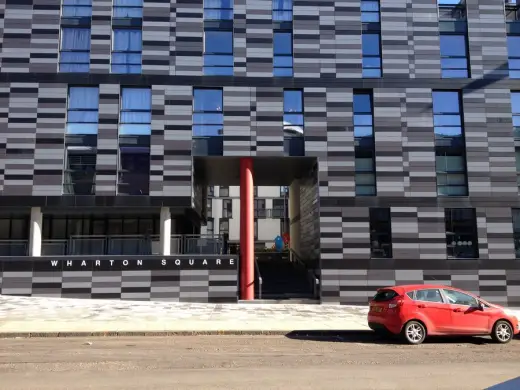 Quartermile images : full set of photos, including more from 28 Feb 2016
11 Dec 2015
Edinburgh Quartermile Old Surgical Hospital
University of Edinburgh Principal Acquire Old Surgical Hospital
This disused landmark building is to become university hub for business, policy and society.
The A-listed Surgical Hospital in the former Royal Infirmary of Edinburgh will be sensitively restored and bring together different strands of the University's cutting-edge activities from across the arts, humanities, sciences and social science.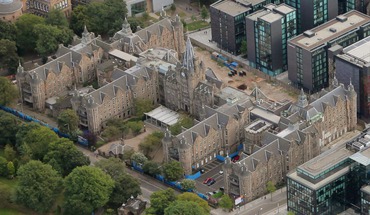 University of Edinburgh Principal, Professor Sir Timothy O'Shea, said: "We are very excited about the acquisition of the Old Surgical Hospital. It will enable us to expand our outstanding teaching facilities and help us consolidate our position as a world-class university that is accessible to the wider community. Given our long relationship, it is fitting that this beautiful building is to become a permanent part of the University."
Built in 1879 to architect David Bryce's Scots Baronial design, the building on Lauriston Place has historical links with the University. Generations of students from Edinburgh's Medical School trained at the Royal Infirmary before the hospital moved to the south of the city in 2003. It is now part of the Quartermile Development.
Quartermile Developments managing director, Paul Curran, added: "This is an excellent opportunity for Quartermile and the city. The new University development will integrate Quartermile with one of the world's most highly regarded academic institutions."
The project managers will be Faithful and Gould and the architects will be Bennetts Associates.
5 Nov 2013
Edinburgh Quartermile Investment
Quartermile Investment
Edinburgh's Quartermile urban regeneration scheme is poised to benefit from a £170 million investment from its new owner in a bid to drive the development forward.
Construction at the 19-acre site largely ground to a halt during the property crash of 2008-9, but a recent upturn in activity means property investor Moorfield, which bought the project from Lloyds-backed developer Gladedale Capital at the end of September, is hopeful of finalising work in 2017.





photos : Nigel Young, Foster & Partners
Quartermile managing director Paul Curran told Scotland on Sunday that Moorfield has committed to spending £30m to build 130 apartments across two blocks, while a further £140m investment will complete additional office and hotel space.
Curran said: "We're targeting to be complete by approximately 2017, but elements of that depend on the market." Of the 502 apartments that have been built at the development, on the site of the former Edinburgh Royal Infirmary, just eight are still on the market following a successful sales push in Hong Kong and Singapore.
26 Sep 2013
Quartermile Deal
Quartermile Sale
One of Edinburgh's largest urban regeneration schemes has changed hands in a "multi-million-pound" deal, reports the Edinburgh Evening News today.
This development on the site of the former Edinburgh Royal Infirmary, has been sold by Lloyds Banking Group-backed developer Gladedale Capital to property investor Moorfield.
16 Apr 2012
Quartermile Flat
Quartermile Penthouse Extension Photos



picture © Keith Hunter Photography
Quartermile Penthouse Flat, design by Paterson Architects.
Extension of tenth floor penthouse apartment at Quartermile in Edinburgh. The open plan kitchen and living room of the existing flat has panoramic views south to the Meadows but had only a limited view to the east with restricted access to a large, but empty, roof terrace. 16 Apr
13 Apr 2012 + 7 Feb 2011
Quartermile Housing


render : Richard Murphy Architects
Quartermile Housing : design by Richard Murphy Architects
Quartermile is the title of Edinburgh's Royal Infirmary redevelopment
Quartermile Flats
3 Jan 2009
CDA have recently completed some of the Conversion flats at Quartermile.
These are the apartments in the 4 Victorian (former ward) buildings, of which there are now 24 flats in each block, of varying sizes.
Images below of the showflat in Blake Hall, designed by CDA




Aug 2008 Update:
Veridian, 107-bed aparthotel
Quartermile Two, mixed-use development – landmark central square of 52,500 sq ft net office accommodation, 8,000 sq ft retail space
Due for completion in the spring and autumn of 2009
Quartermile Three 85,000 sq ft office and retail development
Quartermile One – home to solicitors Maclay Murray and Spens plus the developers of this project, Gladedale Capital
Jan 2007 Update:
Quartermile Decision Delay
Edinburgh City Council's Planning Sub Committee deferred for one week the planning amendment by Southside Capital Ltd for this property development, re uncertainties about the proposal to demolish the listed Red Home by Sidney Mitchell + concern over amount & density of affordable housing.
171 affordable units are proposed, located in one dense ten-storey development by Richard Murphy Architects. A commuted sum for 21 units would be payable by the developer. The agreed % of affordable housing on the site is just 18%, agreed in 2003, not the current Edinburgh-wide 25%. Lister Housing Co-operative wants all 192 units to be built, using an adjacent site proposed for a Quartermile office block.
05/03894/FUL: "Amendment to Planning Permission 02/01662/FUL, change of use of surgical building to residential / leisure; change of use of Q5 to residential / commercial / retail; demolition of Redhome with formation of new public space and erection of office / retail / leisure building; change of use of Sidney Mitchell buildings to hotel and amendment to Q10 with associated increase in affordable Housing units and associated car parking and landscaping. Applicant – Southside Capital Ltd".
110107
Sep 2006 Update:
Quartermile marketing suite opened to the public 15 Sep
Richard Murphy Architects are the architects for high density housing on Chalmers Street at the west of the site; development context – Chalmers St development
Aug 2006 Update:
Quartermile Edinburgh – News Release from Hurd Rolland Architects
The Hurd Rolland Partnership has just obtained Listed Building Consent for a new Boutique Hotel at the centre of Gladedale Capital's Quartermile development within the Edinburgh World Heritage Site.
The 70 bed hotel with cafes, bars and spa is formed by linking 2 B-Listed medical pavilions designed by Sidney Mitchell in 1899 on the site of the former Edinburgh Royal Infirmary.
The exterior of the buildings have been largely restored and linked by a 3 storey glass enclosed stairway which also forms the western end of a new central square at the heart of Foster & Partners masterplan.
Jul 2006 Update:
The original plans for part of Edinburgh Quartermile revised to allow homes and shops to be built instead of an office block. Edinburgh City Council has approved plans to create three apartment blocks on the site, which will consist of 125 flats and two commercial units.
Planners advised that the unanimously-approved new proposals were "a vast
improvement" on the original plans.
Quartermile architects – Foster & Partners


George Square view to Quartermile site: photo © Adrian Welch
Jan 2006 Update:
Quartermile – Twin Towers
The International Council on Monuments & Sites (Unesco advisers) is reportedly extremely concerned about the Quartermile's impact: so-called Twin Towers by Foster & Partners apparently may risk Edinburgh World Heritage status
160106


Royal Infirmary building: photo © Adrian Welch sep 2006
Nov 2005 Update:
Quartermile – Plans
Revised plans unveiled showing new square, more houses – from around 650 to approx. 1000 – and reduced hotel & office accommodation. New Quartermile sketch images also released by Foster & Partners. The Surgical Hospital will now be used for residential rather than a five-star hotel. Controversially Sydney Mitchell's Red Home is set to be demolished which will surely reignite negative reaction.
221105
Summer 2005 Update:
PagePark no longer involved. Richard Murphy Architects doing more housing and CDA brought in. More details awaited.


Quartermile Buildings: image © Foster & Partners
Formerly developed by Southside Capital, Bank of Scotland, Kilmartin Property & Taylor Woodrow. Now developed by joint venture of Gladedale Group and the Bank of Scotland. The Gladedale Group includes Gladedale Homes, Bett Homes, Furlong Homes and Furlong City.


Quartermile from across Meadows: image © Foster & Partners
BACKGROUND 2003
Quartermile Edinburgh is masterplanned by Foster & Partners (London) with architects involved being Richard Murphy Architect (Edinburgh) – hotel (north site) and Page & Park Architects (Glasgow) – housing (south).


Perspective mid-2003 of Quartermile by Foster & Partners
Background to Quartermile
The first Edinburgh Infirmary was opened in 1729, just off the High Street, with six beds. Since it's foundation (1729), the Royal Infirmary of Edinburgh has been located at four different sites. The Royal Charter, awarded by George II in 1736, gave the Edinburgh Royal Infirmary its name: before this the Infirmary had been known as the Little House or the Infirmary or the Physicians' Hospital.
The Royal was one of the world's first Infirmaries. The hospital was founded by Alexander Monro.
The Infirmary moved to larger premises in High School Yards, designed by William Adam around 1738, near Infirmary Street in 1741. The Royal Infirmary was extended with the building of the New Surgical Hospital, completed in 1852.
The Royal Infirmary Lauriston site was purchased in 1869. In 1872 Edinburgh Royal Infirmary relocated to a site in Lauriston Place, opposite George Heriot's School: the plan by architect David Bryce used fingers of building, some fronting The Meadows, so fresh air and views were at a premium; this approach is logical and Aalto's Paimio Sanatorium evokes this approach.


View of old Royal Infirmary Lauriston, from across The Meadows in 2002
The (Lauriston Place) hospital was opened in 1879 and the old Royal Infirmary building (Infirmary Street) was demolished around 1884, replaced by the Infimary Street Public Swimming Baths, the South Bridge School and the Drummond Street Infants School. The old Royal Infirmary building's ornamental gates and carved stone gateposts are preserved at the University Geography building's entry (Drummond Street).
The hospital has relocated to a new £184m building at Little France, south-east Edinburgh: New Royal Infirmary
In Aug 1998, the contract for the new Royal Infirmary at Little France was signed. Building began in October the same year and was completed late 2003.
In May 2001, Lothian Health Trust sold the Lauriston Place site for over £30 million. The winning consortium was Southside Capital Ltd, a joint venture comprising Taylor Woodrow, Kilmartin Property Group and Bank of Scotland.
Quartermile – Description
The project is named Quartermile due to the approximate diagonal distance across the site and due to being situated a quarter of a mile from both Edinburgh Castle and the Royal Mile; the Quartermile site is approx. 20 acres.
There is to be a mixture of rented, shared ownership and private housing, over 600 new homes, more than 80 apartments of affordable housing, accommodation for over 1,600 people with community facilities include cultural, health and leisure.
There will be 78,000 sq ft of floorspace at Quartermile for shops and leisure, Metro-style supermarket and non-food outlets, cafés, bars and restaurants, hotel with approximately 220 rooms, conference suites and a gym.
Office space is set to total 650,000 sq ft; public walkways and cycle paths through the development, over 600 car parking spaces for residents, limited office parking and short-term car parking for visitors, dedicated underground car parking: principal access for office workers through public transport serving Lauriston Place, vehicular access via Chalmers Street.
Plans for the Quartermile redevelopment of the Royal Infirmary site, with buildings up to ten storeys high were submitted by the developers Southside Capital to the City of Edinburgh Council in April 2003. Edinburgh City Council Planning considered Southside Capital's Royal Infirmary Redevelopment Application on 10 April 2003 and rejected it.
Quartermile: Foster & Partners
London-based architects Foster & Partners other Scottish projects include Scottish GasHQ, Edinburgh, SECC Glasgow and a competition entry for the Glasgow Bridge.


Quartermile: Image provided by Hurd Rolland Architects
Quartermile: Hurd Rolland Architects
Hurd Rolland are responsible for the two commercial buildings at the heart of the Quartermile scheme, as well as acting as conservation consultants for all the historic buildings on the site.
1. the conversion and extension of the Sidney Mitchell Buildings to form new restaurants and offices, including a new glass roofed "winter garden" connecting the two buildings.
2. the conversion of the former Redhome Nurses Home into a new restaurant development. This involves the virtual rebuilding of the Redhome with a new steel, glass and terracotta internal courtyard.
The inclusion of the latter, and the success of the Hurd Rolland Redhome Scheme in addressing the planners sensitivity to see a balance between conservation and new-build was instrumental in the success of the application.
Quartermile: 2003 information
Scotland's largest urban regeneration project approved by Scottish Ministers:
City of Edinburgh Council free to grant planning permission for Quartermile
Edinburgh, 26 Dec 2003; Southside Capital – a joint venture between Bank of Scotland, Kilmartin Property Group and Taylor Woodrow – has been advised that Scottish Ministers will not be calling for a public enquiry into the planning application for Quartermile, the £400m residential, retail and business scheme proposed for the site of Edinburgh's old Royal Infirmary. Quartermile is now set to become the largest scheme with listed buildings to be granted planning permission in Edinburgh in the last twenty years.
City of Edinburgh Council were minded to grant permission for the scheme in July this year and referred the decision to the Scottish Executive as standard procedure for large scale developments. Despite rigorous consultation at all levels by Southside Capital, Scottish Ministers requested extended periods of time to decide whether the proposals would go to a public enquiry. Now that the decision has been referred back to Edinburgh Council work is expected to begin on the 19-acre site in the New Year and will take seven years to complete.
Commenting on the Ministers' decision Southside Capital's Martin Jepson, who is also development director for Kilmartin Properties, said:
'We are delighted with this decision by Scottish Ministers and we look forward to delivering a quality scheme worthy of its location in the Capital city. This is a very important development, being one of the largest urban regeneration projects in Scotland, which represents a £400m investment and has far reaching economic benefits.
Quartermile will create 450 jobs over the course of construction. We can now look forward to delivering a balance of old and new quality architecture that will become a vibrant new quarter in the City. Work will start on site in the New Year and the first phase of residential properties will be available in early 2006.'
Quartermile is calculated to bring an annual boost of £135m to Edinburgh and will boast some of the city's most exciting architecture. Previously inaccessible, the site of the old infirmary will be opened up as a place to live and work and will be connected to surrounding areas by a series of linked footpaths and extended greenery.
Around the centre of the scheme new buildings set in a street pattern will create new public spaces with places to eat and drink in converted buildings. New shops and a supermarket will be provided in the base of the new buildings, with offices and working spaces above. Over 650 new homes providing accommodation for 1,450 people, including over 100 affordable housing units, are included in the proposals.
Quartermile – Development / Building information Dec 2003
Quartermile Edinburgh: Views 2002
Quartermile Edinburgh Perspectives 2003



Quartermile, Edinburgh for Southside Capital, Bank of Scotland, Kilmartin Property & Taylor Woodrow. Quartermile is masterplanned by Foster & Partners (London) with architects involved being Richard Murphy Architect (Edinburgh) – hotel (north site) andPage & Park Architects (Glasgow) – housing (south).
Quartermile: PR
City of Edinburgh Council Minded to Grant Planning Permission and Listed Building Consent for Quartermile Edinburgh
Southside Capital Ltd – a joint venture between Bank of Scotland, Kilmartin Property Group and Taylor Woodrow – today (23 Jul 2003) learned of the City of Edinburgh Council's (CEC) decision to grant planning permission and Listed Building Consent for Quartermile Edinburgh, the development of the old Royal Infirmary of Edinburgh site at Lauriston.
CEC determined it was minded to grant all of the 11 applications put forward for the scheme, comprising one detailed application, one conservation area application and nine listed building applications. As a standard procedure, this decision will now be referred to the Scottish Executive.
Andrew Brooks, development director of Southside Capital, comments: "This is extremely good news for Edinburgh and we are delighted with this outcome. The Council's resolution to grant planning permission for the scheme is vitally important for the prosperity of the capital. Not only will it bring an annual boost of £135m in revenue to the city and its businesses, it will also help rejuvenate the whole area with a new residential and business community."
Since the Trust completed its relocation to the new infirmary at Little France in May, the Lauriston Place site has been fully vacated. The plans now pave the way for a 19 acre mixed-use scheme with over 650 new homes, premium office space, shops, leisure facilities and a five star hotel.
Andrew Brooks continues: "We now look forward to working with all the departments at the City Council to progress the redevelopment of this important site once the go-ahead from the Scottish Executive is achieved."
It is anticipated that Quartermile Edinburgh will be completed in 2010.
The site is situated a quarter of a mile from both Edinburgh Castle and the Royal Mile, and the approximate diagonal width of the scheme is a quarter of a mile.
The Southside Capital consortium has brought a wealth of ideas from involvement in other projects, including Cardiff Bay, Macintosh Village in Manchester, Cameron Toll Shopping Centre in Edinburgh, and taking in numerous London schemes, such as St Katharine's Dock, Greenwich Millennium Village and the award-winning Montevetro.
Quartermile Edinburgh – Development information 23 Jul 2003
Exclusive Early Image of Richard Murphy Architects' Quartermile scheme:


Quartermile Edinburgh: images from Richard Murphy Architects
Quartermile Edinburgh: 2004 Update
Part of an 18thc former hospital could be dismantled by conservationists and rebuilt, possibly four miles away.




George Watson's Hospital wing in Edinburgh had been facing demolition through the Quartermile redevelopment of the former Royal Infirmary.
Talks took place in early 2004 between the Edinburgh Royal Infirmary developers and an Edinburgh conservation architect – James Simpson of Simpson & Brown – to save the former hospital building (William Adam, 1738) by possible rebuilding it at George Watsons College, Colinton Road, Edinburgh.
Edinburgh architect James Simpson confirmed he was in talks with Quartermile developer Southside Capital, the consortium behind the transformation of the old ERI site, about the project to relocate the George Watson's Hospital wing, which has been substantially altered over the years.
William Adam built a limited number of public buildings in Scotland, which have not survived very well. He is considered by many to be the most significant architect in the first half of the 18thc in Scotland.
The building will be moved from the Quartermile site to either George Watson's College or another city centre site. The first stage would include a survey of the George Watson's Hospital wing. The former Hospital wing's roof timbers have been recorded by the Royal Commission on the Ancient and Historical Monuments of Scotland.
The Cockburn Association had long campaigned for this part of the hospital to be saved as the Quartermile project developed, and have welcomed the new proposal. George Watson's College are also pleased that their heritage is to be preserved.
Quartermile: No Meadows Manhattan
Andrew Brooks, development director Southside Capital Ltd, responds to comments re view of Quartermile from the Meadows:
http://news.scotsman.com/archive.cfm?id=1363542002
07.12.02
Comment re Quartermile
esp. heights by Fosters:
http://news.scotsman.com/archive.cfm?id=1378042002
11.12.02
Royal Infirmary: Hearts Racing



Plans for the redevelopment of Edinburgh Royal Infirmary have been submitted by Southside Capital.
06.08.02
Hurd Rolland Edinburgh Buildings
Alexander Graham Bell Building
Quartermile Edinburgh Development context – The Meadows
Buildings / photos for the Quartermile Architecture – Redevelopment of Edinburgh Royal Infirmary page welcome