Riddles Court, Edinburgh, Photos, Conservation, Research, History, Scotland
Riddles Court Project : Architecture
Historic Old Town Building, Edinburgh Royal Mile – SHBT News
10 Jan 2016
Riddles Court Archaeology News
Riddles Court Discovery
Archaeologists solve the Royal Mile riddle of James VI's feast, reports The Scotsman. Remains of a kitchen used to prepare a lavish 16th century royal banquet have been uncovered hidden by the wall of a former ladies' toilet in one of the oldest buildings on Edinburgh's Royal Mile. They were found during an extensive survey of Riddle's Court.
The building is named after George Riddell, a wealthy tradesman, who reconstructed part of the building facing into the Lawnmarket in the early 18th century, before David Hume moved in.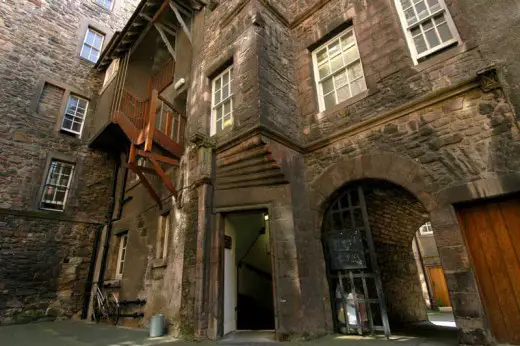 It was acquired by Patrick Geddes, one of the key figures involved in the late-19th century revival of the Old Town, and became part of University Hall, the city's first halls of residence for students.
Riddle's Court was taken over by the city council in 1947 and was latterly used for adult education classes and as offices, until it was declared surplus to requirements eight years ago, by which time it was lying virtually unused.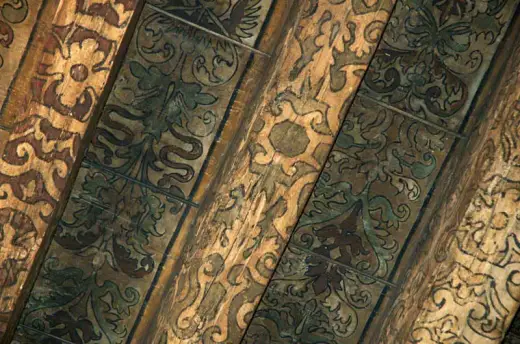 The council agreed to lease it to the SHBT, which hopes to open it to the public next year after a £6 million overhaul to turn it into a learning centre, cultural venue and visitor attraction.
Riddles Court Old Town – SHBT page
24 Oct 2011
Riddles Court
UNCOVERING THE SECRETS OF RIDDLE'S COURT
Riddle's Court is one of the most important, but least understood, historic buildings in Edinburgh's Old Town. The building has been in serious decline for many years and is on Scotland's Buildings at Risk Register. The cost of undertaking essential repair works alone is £1.5million. Scottish Historic Buildings Trust leased Riddle's Court from Edinburgh Council and moved its offices into the building in September 2011 to help secure its future. This will involve a major project to repair, conserve and enhance Riddle's Court to create the Patrick Geddes Centre for Learning and Conservation.
The earliest parts of Riddle's Court date back to around 1590, with some additions and developments in the eighteenth and nineteenth centuries. In 1598 the house was used to host a magnificent state banquet attended by King James VI, and in 1751 David Hume, the famous eighteenth century philosopher, took up residence.
In October 2011 Scottish Historic Buildings Trust secured a Round 1 pass from the Heritage Lottery Fund for its bid for £2.4 million to redevelop Riddle's Court into The Patrick Geddes Centre for Learning and Conservation. This marks the beginning of the fundraising and development phase of a £5.8 million project which will repair the building, improve public access and redevelop it as a hub for learning and conservation in the heart of Edinburgh. The HLF also awarded £403,700 development funding to help pay design team, project management and other consultancy fees to enable SHBT to progress the project to a full Round Two application.
To support the fundraising appeal, SHBT is offering meeting, conferencing and events spaces for hire at Riddle's Court. The trust is also opening the building to the public on Thursday afternoons between 2pm and 4pm, with entry by donation.
Riddle's Court is also used by the Workers Educational Association as their Scottish head office and as a centre for adult learning.
Riddles Court Edinburgh Old Town – EWHT page
Previously:
Riddles Court Edinburgh
Fiona MacDonald, Conservation Architect for Edinburgh World Heritage said: "Riddle's Court is a really important historic survival at the heart of the World Heritage Site. We know about some of the past residents, but we don't know exactly how the building has changed over time. Back in the 1960's for example, some council workmen uncovered some spectacular painted panels by the Scottish landscape artist James Norie. Who knows what else lies hidden in the building's nooks and crannies."
The conservation statement will research the history of Riddle's Court, assess the significance of what survives, and set out conservation policies to help find an appropriate use for the building. The project is being led by the Cockburn Conservation Trust, who will use the research to develop a plan for the building's future.
Jane Robertson from the Cockburn Conservation Trust said: "With the support from EWH we are able to develop a detailed understanding of the building and its significance. This will be invaluable to us in informing options for an appropriate and sustainable reuse"
Riddles Court is currently owned by the City of Edinburgh Council, and used by the Workers Educational Association as their head office, with lecture rooms for adult learning and a café for young people also based in the building.
Joyce Connon, WEA Scottish Secretary said: "Our recent historical research project on Riddle's Court highlighted important connections to Scottish Education throughout the centuries and we would like to see the building used as a centre for learning which celebrates our heritage, involves people in its interpretation and presentation, particularly focussing on the great Scottish thinkers associated with Riddle's Court. "
Notable buildings close by off the Royal Mile include Edinburgh Castle, St Giles Cathedral& Riddles Court
Riddle's Court Timeline
1590 John McMorran petitions the town council to demolish a ruined building on this site, and build the grander house you see today. His new home was built around a courtyard, away from the noise of the Lawnmarket.
1598 The house is used to host a magnificent state banquet, attended by King James VI and Queen Anne. An eye witness recorded that "The King and Queen were present with great solemnity and merriness".
1726 George Riddell, a wealthy tradesman of the town, reconstructs the parts of the building facing the Lawnmarket. The property now becomes known as Riddell's Court.
1751 David Hume the famous philosopher moves in to Riddles Court. He wrote to a friend: "I have now at last-being turned forty….arrived at the dignity of being a householder. About seven months ago I got a house of my own, and completed a regular family, consisting of a head, viz. myself, and two inferior members – a maid and a cat".
1825 Riddles Court becomes home to the 'Edinburgh Mechanics Subscription Library'.
1887 Professor Patrick Geddes holds the first university summer school and the building becomes a students' residence.
1947 Riddles Court is taken into the care of the City of Edinburgh Council.
The Workers' Educational Association founded in 1903 is today the largest voluntary sector provider of adult education in Britain. In Scotland, 14,000 learners participated in around 1,000 WEA Courses delivered in over 300 locations around Scotland.
Force are a local community group established in October with the purpose of developing an alternative plan for the building's reuse. Its membership consists of a wide range of individuals, academics and organisations with an interest in education, historic building conservation, Patrick Geddes and Scotland's cultural heritage.
Edinburgh World Heritage Trust
Comments / photos for the Riddles Court Architecture page welcome
Riddles Court Edinburgh – Building : page