Edinburgh School Building Faults, Anchor Ties, Construction, Pictures, Primaries, Nurseries, Architects
Edinburgh School Building Designs
Galliford Try – Miller Construction + Amey: Lothian Education, Closures + Architecture Info
post updated 29 July 2021
Edinburgh School Building Construction
Edinburgh School Construction News, chronological:
Contractual Liability for Closed Edinburgh Schools
13 + 12 Apr 2016 – Galliford Try has confirmed that it inherited "contractual responsibility" for four of the 17 schools closed in Edinburgh over structural safety fears when it acquired Miller Construction.
The City of Edinburgh Council ordered the closure of the schools last Friday after the private consortium behind the construction and maintenance of the schools, the Edinburgh Schools Partnership (ESP), admitted that it cannot guarantee the safety of the buildings.
Surveys at the schools, which were all built under the first round of public-private partnerships (PPP1), are continuing and have so far uncovered structural faults at up to eight buildings across the city.
The £360m PPP1 deal was completed in 2005. The first phase of the deal saw building of 13 schools overseen by a 50/50 joint venture of Miller Construction and Amey. The second phase was built by Miller.
Now Galliford Try, which saw its share price fall by more than 7 per cent on Monday following news of the problems, has revealed that the deal to buy the Miller Construction in 2014 included contractual liability for four Edinburgh schools built by the contractor through the PPP initiative.
In a statement to the City this morning, it said: "Galliford Try acquired Miller Construction in 2014. In March this year we were notified that Oxgangs Primary School, built by Miller Construction more than 10 years ago, lost part of one external wall which blew off in Storm Gertrude.
"Oxgangs was built as part of Edinburgh's PPP schools programme between 2002 and 2005. The programme, which comprised 17 schools in two phases, was managed by an SPV [special purpose vehicle], Edinburgh Schools Partnership. ESP subcontracted the construction of the schools to a number of contractors including Miller Construction.
"Through its acquisition of Miller Construction, Galliford Try has contractual responsibility for four of the seventeen schools. Remedial work required to remedy defects in those four schools is nearing completion and the costs are not material to the Group.
"Galliford Try takes its role as a responsible contractor very seriously and the safety of the pupils and staff is paramount."
The decision to close the schools came after construction problems were identified at Oxgangs and St Peter's primaries late last week.
Yesterday council chief executive, Andrew Kerr, confirmed that similar faults have been found at Gracemount High and Craigmount High schools.
It is now understood that faults have been found with between four and eight schools, all of which were completely built under PPP.
The City of Edinburgh Council has drawn up contingency plans to ensure all primary and special school pupils will be back in schools by Monday of next week. In some cases alternative arrangements could be in place by Wednesday.
A programme of structural surveys arranged by ESP are continuing this week, with updated information being confirmed as early as possible in respect of each school.
Andrew Kerr said: "We have plans in place to ensure all primary and special school pupils will be back in schools by Monday of next week subject to the council getting access to the closed schools.
"Our focus is very much on getting our school children back into education as soon as possible. That remains our priority, particularly for those pupils preparing to sit their exams in May.
"Edinburgh Schools Partnership are continuing with their programme of inspections which began on Friday, and have committed to providing new information as and when it becomes available."
Edinburgh School Partnership (ESP) has accepted full financial responsibility and has described the standard of building work as "completely unacceptable".
The schools affected, which serve over 7,600 pupils, are Braidburn School, Broomhouse Primary, Castleview Primary, Craigour Park Primary, Craigmount High, Craigroyston Primary, Drummond Community High, Firrhill High, Forthview Primary, Gracemount High, Oxgangs Primary School, Pirniehill Primary, Rowanfield, Royal High, St David's Primary, St Joseph's Primary and St Peters RC Primary.
Local authorities across the country have been asked to urgently carry out "any necessary checks" regarding the condition of their school estate.
Glasgow City Council said three of its PFI schools were built by Miller. It said it had carried out checks after the Oxgangs incident and further surveys were scheduled this week. However, it said it had no current concerns and expected schools to reopen on Monday after the holidays.
Inverclyde Council said it was due to carry out inspections throughout the week on four schools constructed by Miller, and a further school building which was refurbished by the firm.
Dundee, Renfrewshire, North Lanarkshire, South Lanarkshire, East Ayrshire, West Dunbartonshire, East Renfrewshire, Scottish Borders, Falkirk, Midlothian and West Lothian all confirmed they were carrying out checks but did not have any PFI schools built by Miller, whileFife, Moray, and Aberdeen also confirmed they were carrying out inspections on their schools.
17 Edinburgh School Buildings Closed
12 Apr 2016 – Malcolm Fraser Architects discusses procurement of Scottish schools on the BBC this morning, cleverly avoiding discussion of wall ties and construction to focus on the quality having been lost and the procurement process having enriched bakers and lawyers.
Leading architects have detailed their long-standing concerns over public-private partnerships (PPP) contracts following the closure of schools in Edinburgh over safety fears.
The City of Edinburgh Council ordered the closure of 17 schools on Friday after the private consortium behind the construction and maintenance of the schools, the Edinburgh Schools Partnership (ESP), admitted that it cannot guarantee the safety the buildings.
Structural faults have been detected in some of the buildings, which were all built under the first round of public-private partnerships (PPP).
Architect Professor Alan Dunlop said he was worried that what had happened in Edinburgh is PPP "chickens coming home to roost" and warned that the council may have to knock down and rebuild some of the schools.
The visiting professor at Robert Gordon University said: "I'm not surprised, it was 2005 when I was speaking out about PPP and people were calling me a prophet of doom, but it's based on experience of 25 years as an architect and it's to do with the principal problem of the separation of the design team from the client body. Rather than the architect working for the client, the architect works for the contractor."
The architect added: "The worst possible scenario? You need to take the school down, or the building down, or the wall down, or the roof down, and reconstruct it – and reconstruct it in a proper way."
17 Edinburgh School Building Safety Fears
11 Apr 2016 – Urgent work will be required on several of the 17 Edinburgh schools which were closed due to safety fears.
The city council confirmed that the 10 primaries affected will remain closed for the rest of the week.
Contingency plans are being put in place for the five high schools with pupils being phased back to the classroom from Wednesday onwards.
All the schools in question were constructed under the same public private partnership contract.
They were built by Miller Construction, which was acquired by Galliford Try in 2014.
It has been confirmed that Gracemount and Craigmount high schools, plus Oxgangs and St Peter's primary schools, will need urgent repairs before opening their doors once more.
Every Scottish council has either carried out or is going to carry out surveys of school buildings that could be affected.
Edinburgh Schools Closure – BBC report
Portobello High School Building News 2016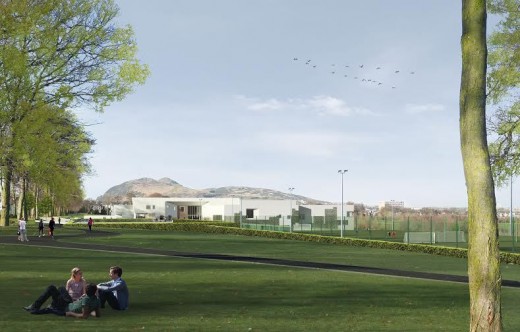 11 Mar 2016 – The opening of the new Portobello High School may be delayed by around 4 months, from August 2016 to January 2017. The reason provided is an issue with securing a drainage connection with Scottish Water. However there is also a claim that the opening will go ahead as planned.
Construction of the school designed by jmarchitects will replace the ageing 1960s high-rise building on Duddingston Road. It was delayed for six years because of the disagreement over whether it should be built in Portobello Park. Start on site was October 2014 and the long white-rendered building will cater for around 1400 pupils. Contractors are Balfour Beatty.
Boroughmuir High School Building News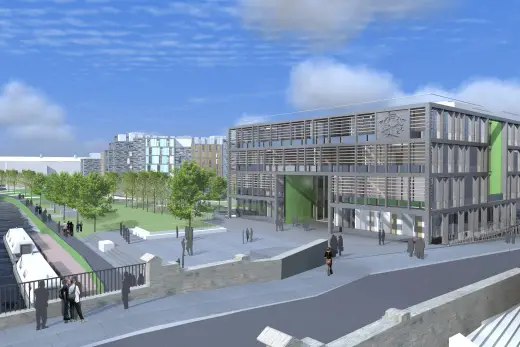 26 Feb 2016 – Construction work on the new Boroughmuir High School in Edinburgh has been put back for a second time because of "adverse weather conditions".
Contractors O'Hare and McGovern, which initially began the £35m project in November 2014, have advised that it will not be completed until 28th October 2016.
It means that pupils won't be able to move into the school located on the bank of the Union Canal in Fountainbridge until January 2017.
Youngsters were originally due to move in at the start of the new school session in August until it emerged in June 2015 that the opening had been delayed by two months after "challenging" foundation work slowed construction.
Toronto Primary School Building News
15 Feb – A £2.5m primary school extension project designed by Collective Architecture is underway in Livingston, West Lothian. Improvement work is being carried out to the Toronto Primary School in Howden, reports Construction News Scotland.
Features of the project include a new purpose built gym hall and changing areas, as well as a new accessible main entrance for the school and safe drop-off area out with the school grounds.
The scheme is being funded by the council and the Scottish Futures Trust. Construction work is being carried out by CCG and the project will be completed by Autumn 2016.
New Scottish School Buildings News
25 Jan 2016 – Final phase of £1.8bn schools plan revealed: the First Minister Nicola Sturgeon has confirmed 19 new schools will be built across Scotland by March 2020, impacting more than 6500 pupils.
New School Dining Hall Designs
23 Nov 2015 – Images have been unveiled showcasing the new facilities set to be built at four Edinburgh schools to cater for the roll-out of free school meals, reports the Edinburgh Evening News. Under plans lodged today, Cramond, East Craigs, Towerbank and Sciennes primary schools will all get new halls to allow them to safely seat their pupils together during meal times.
East Craigs Primary School: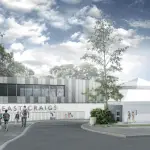 Towerbank Primary School: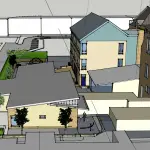 Sciennes Primary School: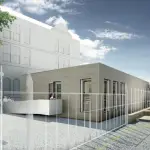 Cramond Primary School: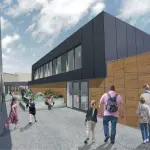 Link: New Edinburgh School Dining Hall Designs
Edinburgh School Building Photos
14 Oct 2015 – images of key new buildings around the capital city:
Edinburgh Academy pavilion building: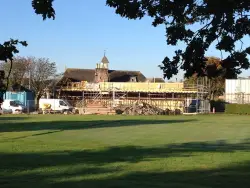 Portobello school building: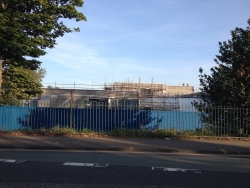 Edinburgh School Buildings Safety
Edinburgh School Design News – extracts below
Portobello High School Building News
Portobello High School Building – "The local community is overwhelmingly in favour of the school being built on P­ortobello Park. It is by far the best possible site". 14 Oct
The Heriot's Centre for Sport and Exercise in Edinburgh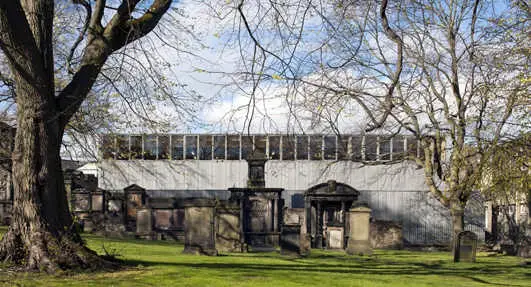 photo © Paul Zanre
Heriot's Centre for Sport and Exercise – new photos added 13 Jun 2013
Edinburgh School Building News
The City of Edinburgh Council has submitted planning applications for extensions to four of its primary schools using a modular, prefabricated building system.


Trinity Primary School Extension


Wardie Primary School Extension
Major Recent Edinburgh School Building
New Fettes College Sixth Form Building – Craigleith House
Design: Page / Park Architects



photo © Keith Hunter
Fettes College School
Edinburgh School Buildings & Architects
Edinburgh Schools, alphabetical:
Edinburgh Academy – Science Centre
Lorn Macneal Architects
Fettes School
David Bryce
Fettes College Building
Fettes College School
Granton School
Granton School
Hawthornden School
Hawthornden School
Mary Erskine's School, Ravelston
William Kininmonth
Mary Erskines School
Niddrie Mill & St Francis Primary Schools
Elder + Cannon Architects
St Margaret's School, Craigmillar Park
jmarchitects
St Margaret's School Craigmillar Park
St George's School
Reiach and Hall Architects
St George's School Edinburgh
St Thomas Aquin's School
City of Edinburgh Council Architects
St Thomas Aquins School
Stewart's Melville College Performing Arts Centre
Simpson & Brown
Edinburgh Primaries
Edinburgh Primary Schools + Prep Schools, alphabetical:
Fettes College Prep School
Page / Park Architects
Juniper Green Primary School
Elder + Cannon Architects
Juniper Green School
St Andrews Primary School
jmarchitects
St Andrews Primary School
Sciennes Primary School
Wilson & Carfrae
Sciennes School
Edinburgh Nurseries
Edinburgh Nursery Schools, alphabetical:
Cowgate Nursery
Alan Murray Architects
Cowgate Nursery
Cornbank School
Malcolm Fraser Architects
Cornbank School
Flora Stevenson Nursery
Arcade Architects
Flora Stevenson Nursery
News excerpt from 2002 re Edinburgh school:
PPP School opens
The combined Pirniehall and St David's RC Primary Schools in Pilton and the £14m St Thomas of Aquin''s High School in Chalmers Street opened.
22 Aug 2002
Bankton Primary School, Livingston
Arcade Architects



image from architect
Bankton Primary School
Queen Margaret University College
School Buildings : images + designs from around the world
Buildings / photos for the Edinburgh School Buildings page welcome