Hearts Stadium Expansion, Tynecastle Redevelopment, Edinburgh Football Club News, Building, Design
Hearts Stadium Extension
Tynecastle Redevelopment, Edinburgh Football Club, East of Scotland: Scottish Ground
12 Oct 2016
Hearts Main Stand Approval
Hearts Football Club has secured consent from the City of Edinburgh Council to rebuild the main stand at Tynecastle Stadium.
16 Aug 2016
New Tynecastle Stadium Building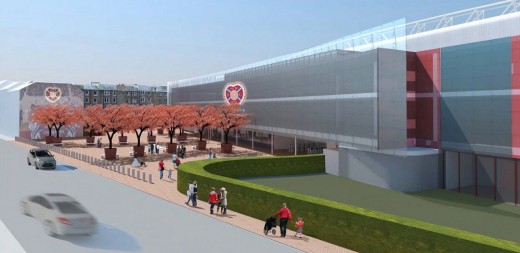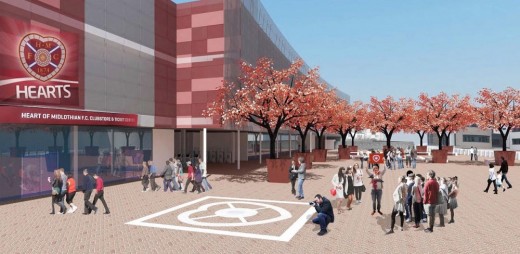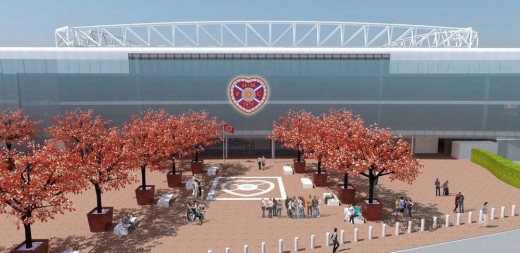 5 Aug 2016
New Hearts Stand

Heart of Midlothian Football Club has submitted a planning application for a new Main Stand at the Tynecastle Stadium in west Edinburgh.
The Tynecastle redevelopment tranforms the stadium building into a 20,000-plus capacity stadium in time for the 2017-18 season.
Adding 3,000 seats to the current capacity, the column free design will include two big screens and entertainment suites. The three existing stands will also be given a makeover including improved toilet and kiosk facilities.
The New Hearts Stand submission results from the public consultation process carried out in recent months.
4 Dec 2015
Hearts Stadium Expansion
Hearts Stadium Building Expansion News
Heart of Midlothian Football Club has announced it plans to redevelop its Tynecastle stadium and turn it into a 20,000-plus capacity stadium in time for the 2017-18 season, reports Construction News Scotland.
Speaking to shareholders at yesterday's annual general meeting, the club owner and chair Ann Budge revealed that the club would be building a new Main Stand and staying at its spiritual home, with the buy-up of adjoining land already in hand.
Outline plans have been drawn up and a timetable set out, with Budge hopeful that work will start next year and conclude in the 2017 close season.
Presenting in front of a packed out Gorgie Suite at Tynecastle, Mrs Budge revealed that the club completely outperformed its financial plan, with turnover standing at over 7 million pounds.
Website: Tynecastle Stadium Redevelopment – news about proposal by Hearts Football Club
20 Sep 2015
Hearts Stadium Building Expansion
Hearts Stadium Expansion News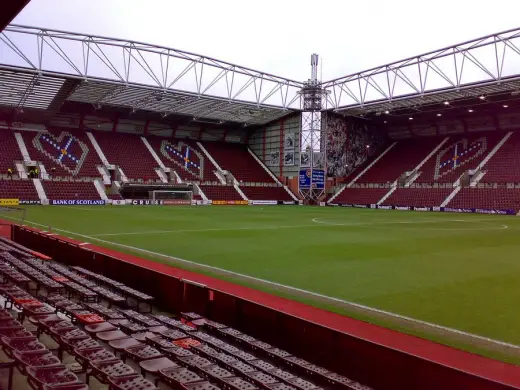 Address: McLeod Street, Edinburgh, EH11 2NL, Lothian, Scotland
Phone: 0871 663 1874
Website: Heart of Midlothian Football Club
Tynecastle Stadium is a football stadium situated in the Gorgie area of Edinburgh, Scotland, which is the home ground of Scottish Professional Football League club Heart of Midlothian.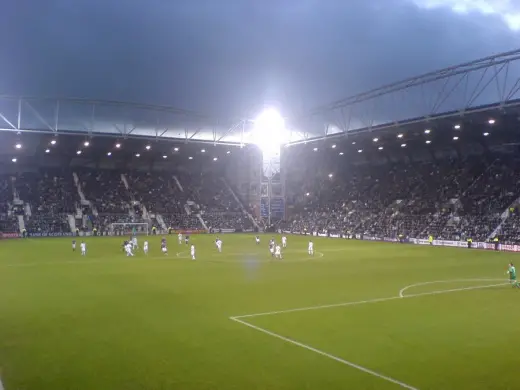 Tynecastle has a seating capacity of 17,529, which makes it the seventh largest football stadium in Scotland. In the 2007–08 season and 2008–09 seasons, Tynecastle was voted as having the best atmosphere in Scotland's top division in the Clydesdale Bank Premier League Fans' Survey. Hearts first played at the present site of Tynecastle in 1886.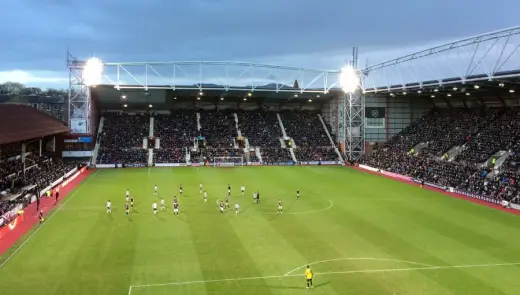 In August 2007 the club announced they were "at an advanced stage" in plans for demolishing the aged Main Stand and replacing it with a 10,000 seat stand, including a hotel and leisure facilities. A planning application was lodged with Edinburgh City Council in February 2008. This development would have increased capacity to 23,000, but the proposal did not proceed due to the state of the club's finances.
source: wikipedia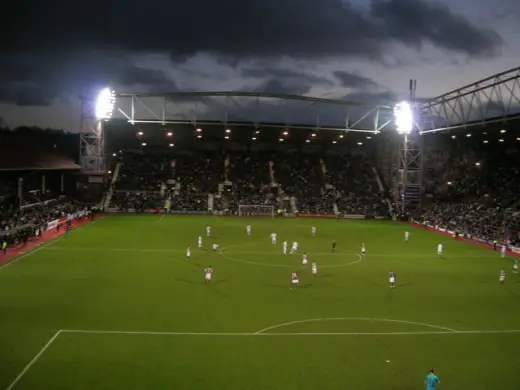 Hearts could be set for a season-long stay at Murrayfield while Tynecastle is given a much-needed major upgrade, reported The Scotsman on 10 May 2015.
The Main Stand – which is more than 100 years old – is in constant need of maintenance and repair, but is also home to many of the club's hospitality suites and is an important source of revenue.
Anne Budge has stated her desire to stay at Gorgie Road rather than build a new stadium so a move to Murrayfield could be on the cards. (Express)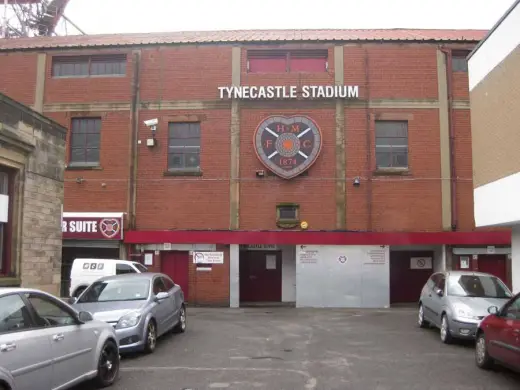 photo © Adrian Welch
Ann Budge didn't forge a successful career by shying away from awkward decisions and allowing popular sentiment to impact on her judgement, and she once again demonstrated this week that pragmatism, not doe-eyed sentimentality, is her guiding principal, reported the Daily Record in December 2014.
Tynecastle is in dire need of renovation – this is a fact that is beyond refuting, and it has been something of a stone in the boot for Hearts for some years now.
Our old faithful main stand, in its twee but ramshackle state of repair, has bore witness to the best part of our history and will be fondly remembered by Jambos when its necessity expires and it is reduced to so much loved rubble.
The future development of Tynecastle, and the mooted possibility of an eventual move away from the site to a new stadium, is an emotionally charged issue, one which must be handled delicately to escape the ire of the support.
More new Hearts Stadium design info online shortly
Edinburgh Buildings News
The Edinburgh Grand – St Andrew Square Development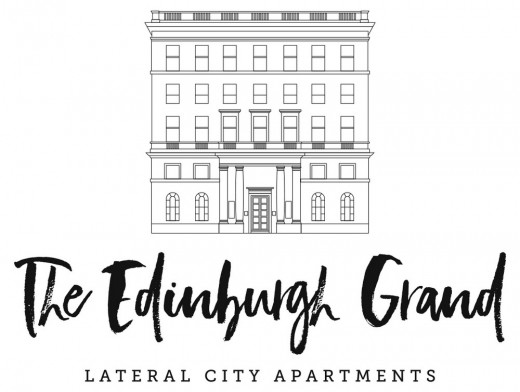 image from developer
The Edinburgh Grand Building
Malt & Hops Pub Floating Expansion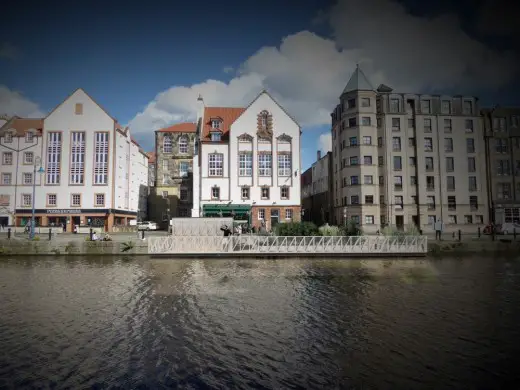 image from architect
Leith Pub Expansion on The Shore
Scottish Parliament entrance: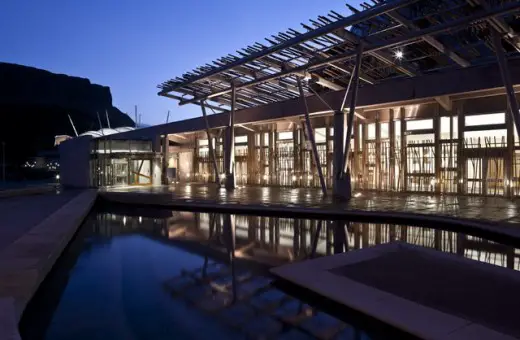 image courtesy of architects practice
Edinburgh
Architecture in Lothian
BHS Building Redevelopment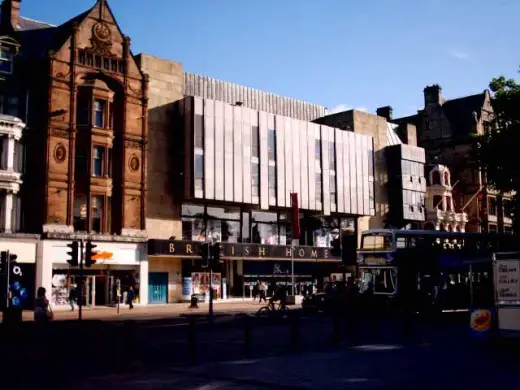 image courtesy of architecture practice
New Club BHS Edinburgh Building
2 Semple Street


image courtesy of architecture office
2 Semple Street Building Edinburgh
Comments for the Hearts Stadium Extension News page welcome