British Home Stores Edinburgh, Bhs Scotland, Shop Redevelopment, Retail Outlet UK
BHS – Princes St : British Home Stores
British Homes Stores + New Club, Princes Street – hotel + rooftop restaurant
post updated 9 January 2022
BHS Princes Street Redevelopment
21 Jul 2016
BHS Building Redevelopment
The B-listed BHS department store on Princes Street is set for a £50m redevelopment.
The store in Princes Street is set to be transformed into two new shops, a hotel and a rooftop restaurant, reports the Edinburgh Evening News.
The current shop is scheduled for closure after the company went into administration earlier this year.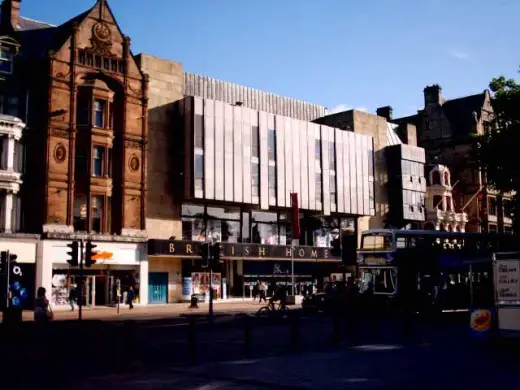 But the owners of the building at 64 Princes Street and the linked site in Rose Street have moved quickly to come up with alternative plans for the property.
The £50 m scheme would see a new flagship store taking over the basement, ground and first floors of the main store where BHS currently trades.
The Rose Street building would be demolished and rebuilt one storey higher, with two ground-floor retail or restaurant units and a hotel entrance all fronting on to Rose Street.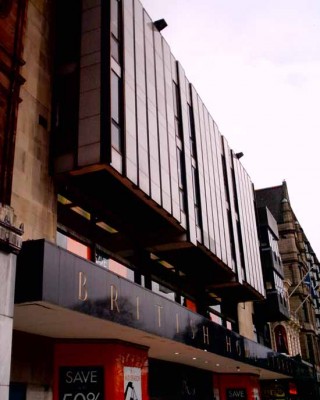 And the upper floors of both buildings would become a 140-bedroom hotel.
The proposals also feature a rooftop restaurant and bar on the Princes Street building with stunning views of the Old Town skyline from Arthur's Seat to the Castle.
Cockburn Association Comment
British Homes Stores versues New Club
British Home Stores page
Contact Bhs: 0131 226 2621
Address: 64 Princes St, Edinburgh, EH2 2DJ
Phone: 0845 841 0180
New Club Building:



photo © Adrian Welch
British Homes Stores, Princes Street by Robert Matthew
+
New Club, Princes Street by Alan Reiach, Architect
The Cockburn Association office is filled with a vast array of books, policy documents and letters covering a huge chunk of Edinburgh's recent architecture history. Two of the well-thumbed reference books in this collection are 'The Buildings of Scotland – Edinburgh' (BOS) [by Gifford, McWilliam, Walker with Wilson] and McKean's 'Edinburgh – An Illustrated Architectural Guide'.


photo : The New Club, Edinburgh
In my recent examination of Princes Street I find an element of disagreement between these two books as to which is the best Princes Street Panel building. McKean promotes the New Club (Alan Reiach, above) as 'by far the best result of the Princes Street Panel recommendations' while BOS suggests British Home Stores (Robert Matthew, Johnson-Marshall & Partners, below) as 'the first and best of the redevelopments that followed the Princes Street Panel guidelines'.


image of British Home Stores in Edinburgh
The Princes Street Panel was convened to recommend principles and standards that should be applied to the control of building development and to securing appropriate environmental standards in the First Edinburgh New Town. Its work (1954-1979), however, is remembered for its effects on Princes Street and especially the first floor walkway that was intended to run the length of the street, which was never completed.


image from Princes Street Gardens © Adrian Welch, 2005
Of the examples that exist I would suggest that Bhs and the New Club are the only buildings that are of architectural rather than of historical interest. At present it is only the latter that is listed Category A by Historic Scotland as 'In-situ reinforced concrete, with plate glass and Rubislaw granite facings'. I am therefore starting a campaign to remedy this mistake and anyone who would like to carry a placard please contact the Cockburn Association office.
Now I am the first to admit that in terms of interior the New Club wins hands down mainly because it rescued a few pieces of Baroque panelling from the skip when they demolished the Old Club. My focus, however, is on the exterior of the buildings where I believe that Bhs is a graceful addition to Princes Street.


New Club Edinburgh image © Adrian Welch, 2005
This is a great example of 20th Century architecture in Edinburgh using materials, glass and pale granite that were not part of the traditional palette. If we look at what has been built since Bhs no one has succeeded in designing a building that adds value to the Princes Street.
A quick glance at other buildings by the same firm in Edinburgh reveals the Royal Commonwealth Pool, David Hume Tower, Edinburgh Airport, Wester Hailes Education Centre but unfortunately includes the former Lothian Regional Headquarters on George IV Bridge. You can't win them all!
British Home stores v New Club : Martin Hulse, Cockburn Association May 2002
Information on British Home Stores designs very welcome
Edinburgh Properties
Edinburgh Shops / Department Stores
Harvey Nichols Edinburgh Store
Edinburgh Shopping Malls
Gyle Shopping Centre, west Edinburgh
British Home Stores: 0131 226 2621
Comments / photos for the British Home Stores Edinburgh – BHS Princes Street Shop Redevelopment page welcome