New Forth Road Bridge, Replacement, Scotland Crossing, Project, Images, Design, Info
Forth Road Bridge : Architecture
New Queensferry Crossing Delay News, Scotland
9 Oct 2017
New info and photos:
4 Feb 2017
Queensferry Crossing Completion
Queensferry Crossing Final Piece
The last section of the new Queensferry Crossing has been lifted into place, completing the 1.7-mile link across the Forth.
The final segment of the bridge deck was slotted into place by engineers early on Friday afternoon, reports The Scotsman.
The piece was the last of 122 deck sections which connect the Lothians and Fife and its installation means the bridge is now fully joined-up.
Queensferry Crossing Completion – The Scotsman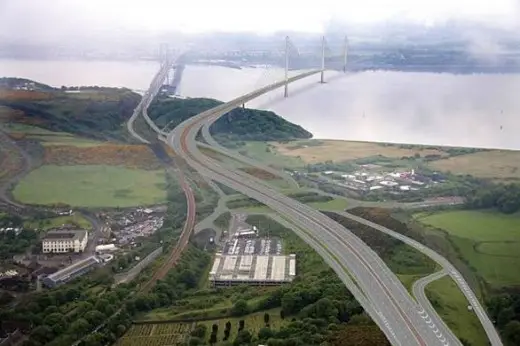 At 1.05pm on Friday a cheer went up as the final piece in what is a massive deck-shaped jigsaw puzzle was put into position.
Queensferry Crossing Final Deck – Courier
The bridge is due to open for traffic in May 2017.
8 Jun 2016
Forth Road Crossing Delay
Queensferry Crossing Delay
The new £1.4 billion Queensferry Crossing will not open until June 2017, six months later than planned, the infrastructure secretary admitted today.
Keith Brown confirmed reports the bridge would not be completed on schedule by the end of the year because of bad weather over April and May hampering construction.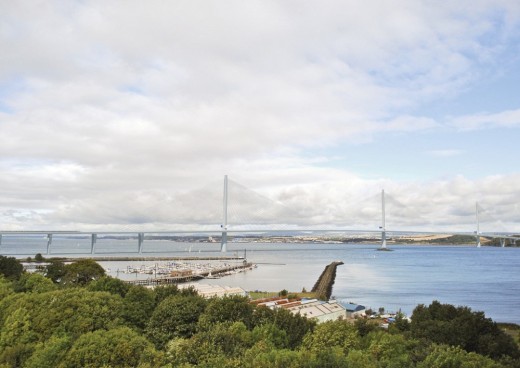 He said it would be finished within the contractual completion date of June 2017- six months after the "target" opening date of December.
The setback has come despite a one-year contingency being included in the five-year construction project to allow for bad weather.
Mr Brown said: "The contractor, Forth Crossing Bridge Constructors, has advised Transport Scotland that due to adverse weather conditions in April and May exceeding expectations and resulting in an increase in days lost to weather, they are unable to achieve the target opening date of December 2016 – which is six months ahead of the contractual completion date.
"The contractors remain on schedule to complete the project ahead of the contractual completion date."
7 Jun 2016
Queensferry Crossing News
Transport Scotland has refused to deny claims that work on the Queensferry Crossing is months behind schedule.
The team behind the £1.4 billion construction project have consistently claimed that it is on course to be completed in time to open to traffic in December as scheduled.
However, reports in The Scotsman suggest that the bridge is in fact running months behind schedule and will not be finished until well into 2017.
It quotes a staff source saying: "Everyone agrees there is no chance of it finishing by the end of the year. It could be months late – maybe even the middle of next year."
It is understood the delay is due to the time it is taking to finish work on the bridge's road deck, with poor weather over recent months being blamed for the slow-down.
Transport Scotland did not dispute the delays but said that the construction team was trying hard to meet the timetable.
A spokesman said: "Forth Crossing Bridge Constructors is making every effort to open the bridge as soon as possible, despite the challenge that the weather presents."
The Forth Crossing Bridge Constructors (FCBC) consortium comprises Hochtief, Dragados, American Bridge and Morrison Construction.
The construction site shut down for several days in April following the death of John Cousins, 60, who was struck by the boom of a crane.
A project milestone was reached last month as the roadway linked to the north shore for the first time.
The final segment of deck was put in place which means that now the bridge's north tower is joined with the north approach viaduct into Fife.
4 Dec 2015
Forth Road Crossing Education Centre
Forth Road Crossing Education Centre
Robertson Group tempting 12,000 young people to a life in construction
Firm blazes a trail in promoting the industry to builders of the future
One of the UK's leading infrastructure firms today announced it has engaged with over 12,000 youngsters this year in an attempt to bolster numbers entering the construction industry.
Robertson Group, which has 18 companies within its portfolio, will celebrate its achievement at 1pm today at a Get into Engineering awards ceremony in Glasgow – organised in conjunction with Clyde Gateway and University of West of Scotland.
They began their efforts in January this year when the firm decided to address the dwindling numbers of young people choosing a life in construction.
Since then, Robertson Group has welcomed thousands of children and young people to experience class room engagements, workshops and site visits, all designed to enhance their perception of construction and encourage future employment within the industry.
Derek Shewan, chief operating officer, Robertson Group, said: "Job levels in construction are still below pre-recession levels and have failed to keep pace with work demand. Data from the Office of National Statistics showed that in June 2015, employee numbers were 8.7percent lower than in 2007 but construction output was only 1.6percent lower over the same period. That's why the industry needs to do more to attract youngsters into construction.
"Our goal was to engage with 7,000 young people in 2015. And as you can see we have exceeded that target.
"We have been overwhelmed by the sheer volume of young people who, as a result of meeting with our team, have decided that a life in construction is for them. And we thought today would be a great platform to announce the success of the programme because the young people in the room are the result of it."
All ten pupils at the ceremony – five from St Mungo's Academy in Glasgow and five from Trinity High School in Rutherglen – have been working with Robertson Civil Engineering on the development of the Cuningar Loop Bridge project.
Once in place, the new Glasgow landmark will connect the Commonwealth Games Athletes' Village in Glasgow's East End to a new community green space. The bridge is scheduled to open in early summer 2016.
Also in attendance at the awards ceremony will be programme contributors Clyde Gateway and University of West of Scotland.
Natalie Phillips, Education, Business & Community Growth Project Manager with Clyde Gateway said: "Supporting local pupils into careers and further or higher education is one of the key aims of Clyde Gateway and our Get Into Engineering Programme over the past three years has been a huge success in helping to achieve this.
"Robertson has become one of our key partners in the delivery of this innovative programme and there is no question that the unique learning opportunities they provide for pupils are ideal. Not only are they enjoyable, interesting and informative but they also give everyone involved the perfect introduction to what is involved in engineering and construction."
Dr Stuart Tennant of University of the West of Scotland's School of Engineering and Computing said: "We are delighted to be actively involved in the Get into Engineering initiative which gives high school pupils the opportunity to experience different areas of the industry and also get a feel for university life."
Robertson Group plans to continue its youth engagement activity over the long-term to safeguard the sector and mirror Government ambitions.
In 2014, more than 15,000 people signed up to UK Government work placement training schemes in the building sector. And with 275,000 new affordable homes in the pipeline, Ministers have promised more construction work is on the horizon.
The Scottish Government outlined in its Construction Industry Strategy 2013-2016 that the sector represents 10% of total Scottish jobs, contributing over £21.4bn of GPD to the Scottish economy. And despite the challenges that the industry has faced since 2006, which included slumps in output and 30,000 people losing their jobs, it has remained resilient.
For more information on Robertson Group visit www.robertson.co.uk.
For details on Get into Engineering search #thisistheplace or visit www.clydegateway.com.
7 Sep 2015
Queensferry Crossing Photos
New Queensferry Crossing Images
New photos of progress on construction on the Queensferry Crossing: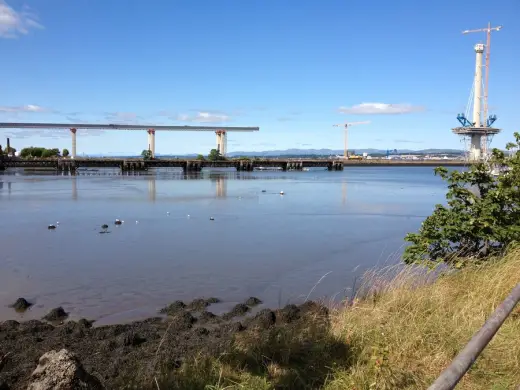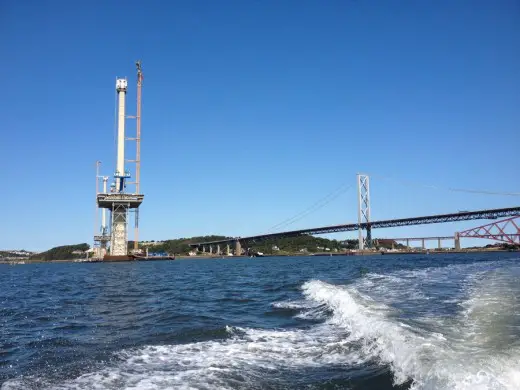 Forth Road Bridge: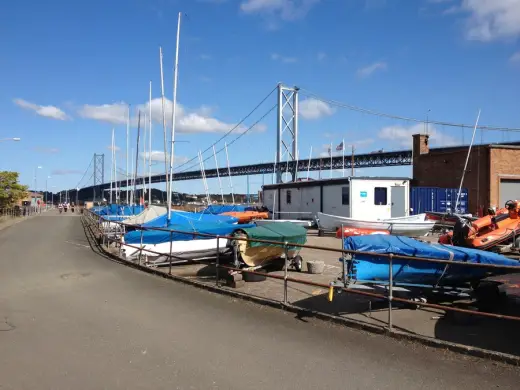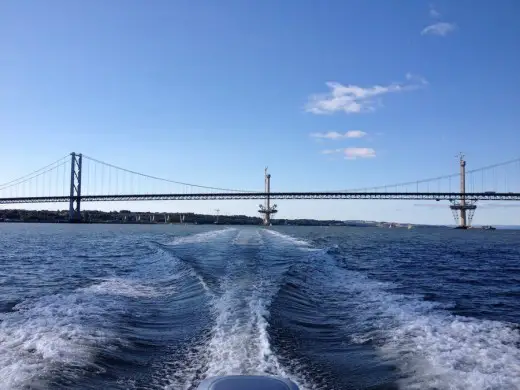 Forth Rail Bridge: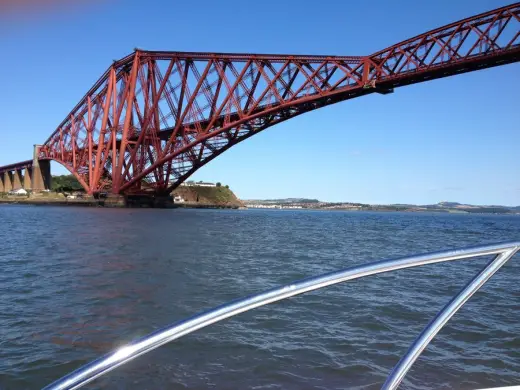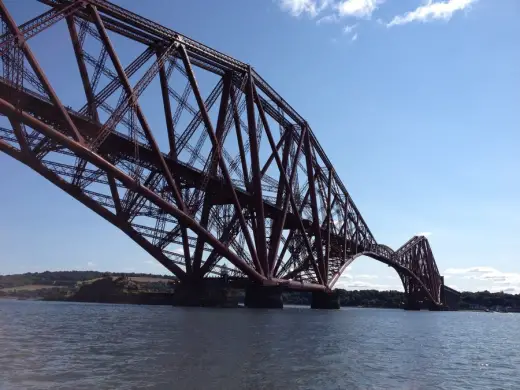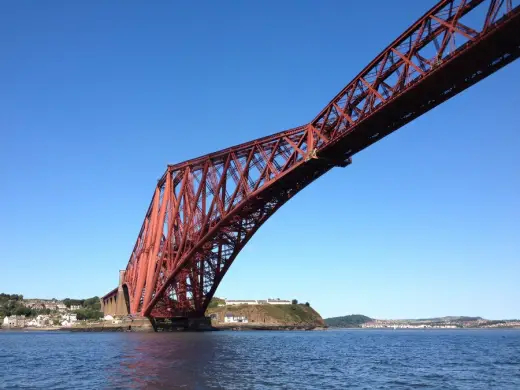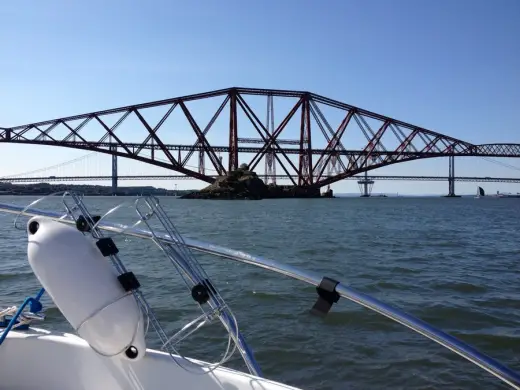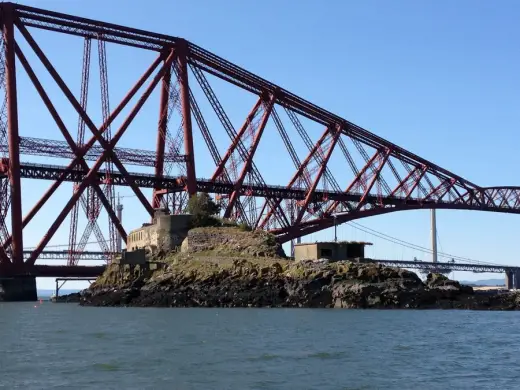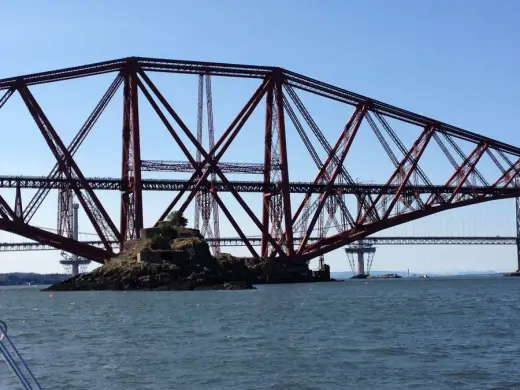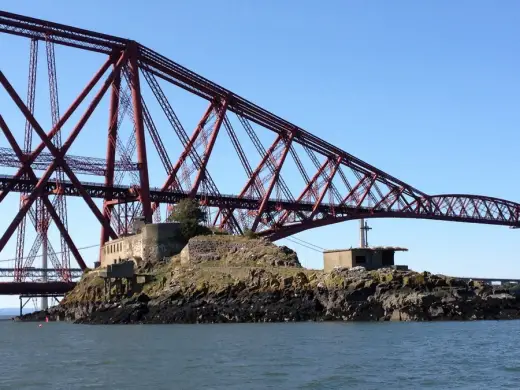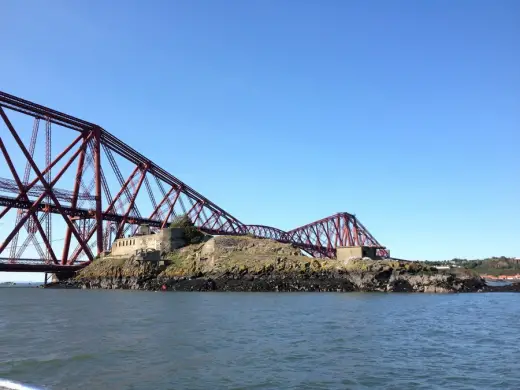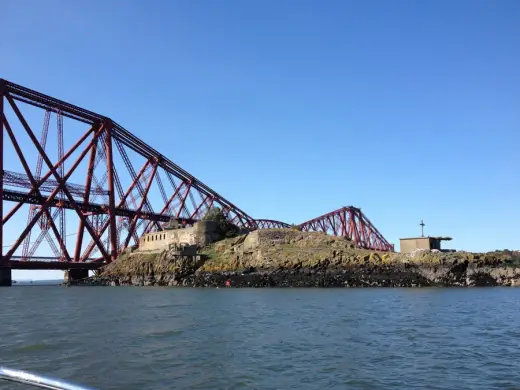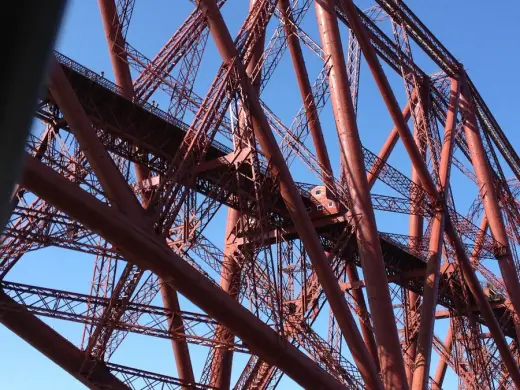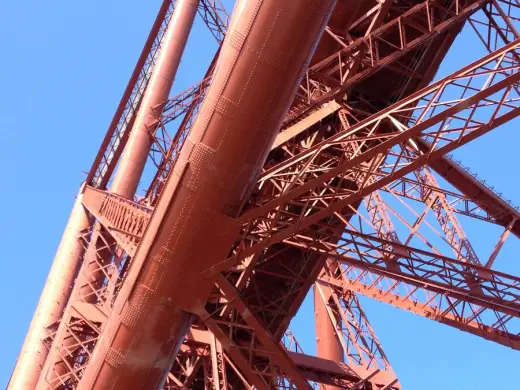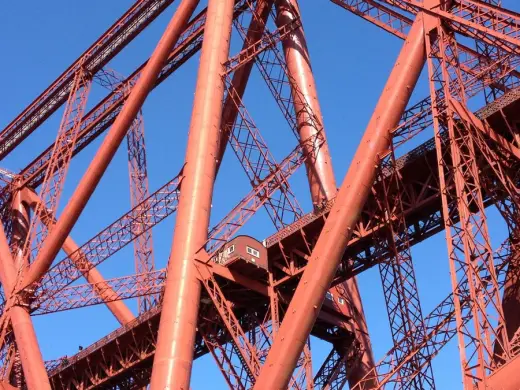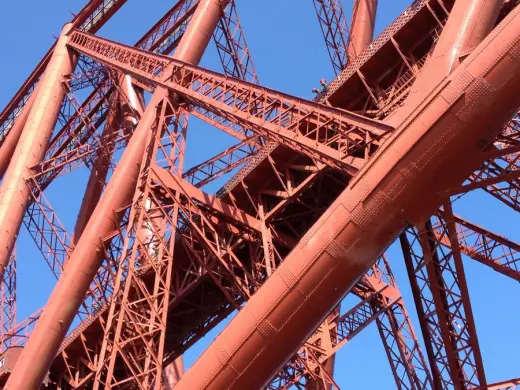 Inchcolm Abbey: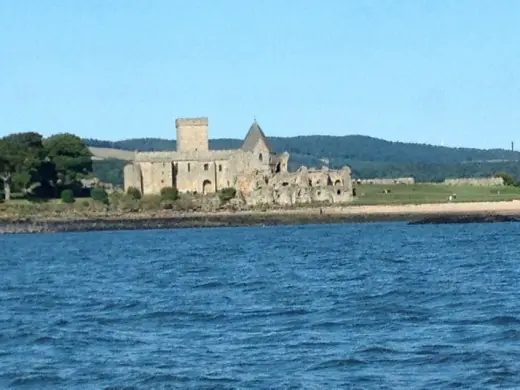 Port Edgar Marina: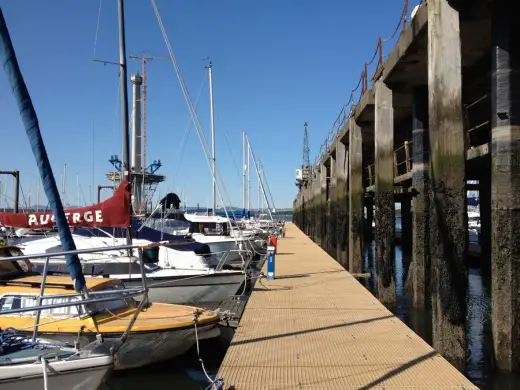 23 May 2013
New Forth Bridge
New Forth Bridge Approval
MSPs give the new Firth of Forth crossing their official sanctioning in a vote.
Legislation will be passed at the Scottish Parliament with just two weeks to go before a competition ends to find a name for the bridge.
More than 27,000 people have so far voted on the five choices for the bridge:
Caledonia Bridge
Firth of Forth Crossing
St Margaret's Crossing
Queensferry Crossing
Saltire Crossing
22 Mar 2011
New Forth Bridge Consortium
The Scottish government has announced the preferred bidder for the Forth Replacement Crossing
The Forth Crossing Bridge Constructors Consortium has been chosen ahead of Forthspan, which had also been bidding for the contract. It follows an 18-month tender process. The bid for the design-and-build contract is valued at £790m.
The Forth Crossing Bridge Constructors (FCBC) consortium is made up of Dragados, Hochtief, American Bridge International and Morrison Construction.
The Forth Crossing Bridge Constructors Consortium claim Forth Crossing would cost £1.47bn to £1.62bn, a reduction on the project's original estimated cost of £1.7bn to £2.3bn. The new Forth road bridge is due for completion by 2016.
New Forth Bridge architects : Dissing + Weitling


New Forth Road Bridge: image courtesy of forthbridges.org.uk
New Forth Bridge – News
Dec 2007 Update:
The Forth Replacement Crossing is to be a cable-stayed bridge upstream of the existing road bridge. The option agreed by Ministers will be delivered in the quickest possible timescale and at the lowest cost. It will also improve transport connections and reduce the CO2 emissions generated by the current crossing.


Forth Road Bridge: image © Adrian Welch
New Forth Road Bridge : Engineers + Architects
Arup are to lead the project with Jacob. Assistance from Danish architects Dissing + Weitling, who are already working on Glasgow's new bridge at the Broomielaw: more details online soon
Cabinet Secretary for Finance and Sustainable Growth, John Swinney said: "A modern, efficient transport network is vital to a thriving, prosperous economy.
"Concerns over the future viability of the existing bridge mean that we need to act now to protect the future of cross-Forth travel for generations to come. A Forth Replacement Crossing is essential. The decision to proceed with plans for a cable stayed bridge has not been taken lightly. We have considered in detail the arguments for all the options.
"A cable stay bridge has lower overall risk and can be used by all types of traffic, including freight, pedestrians and cyclists and is considerably cheaper to deliver. It also provides for a more affordable dedicated public transport corridor to allow use by buses, light rail or trams.
"This decision on the FRC sits well with our strategic objectives to make Scotland, greener, wealthier and fairer. It supports our objectives of becoming a global leader in our response to climate change and safeguarding our natural and built heritage.
"We are supporting commuters, supporting business and protecting the environment. This crossing will ensure that we continue to provide and effective transport network and achieve that goal."
Sep 2007 Update:
A Parliamentary motion calling for a new Forth crossing that can include light rail has won support from Scottish business groups.
The motion, tabled by John Park, Labour list MSP for Mid-Scotland and Fife, criticises the Transport Scotland public exhibition of Forth Crossing options for giving insufficient consideration to all types of transport.
Aug 2007 Update:
Public information exhibition on proposals for replacement Forth crossing open at North Queensferry and Edinburgh + other locations in Fife, Tayside & Lothians over next few weeks. Two final options shortlisted: bridge or tunnel to west of existing Forth Road Bridge.
According to a survey the tunnel is clear favourite but the cheaper suspension bridge is apparently recommended by Transport Scotland: www.forthreplacementcrossing.info. Last exhibitions dates listed are on 31 Aug in Dunfermline & Uphall.
Jul 2007 Update:
The new Toll is to be demolished after only 1 year in existence, reportedly around Dec 2007: money wasted in conception, building and demolition.
New Forth Road Bridge – Background
Forth Estuary Transport Authority (FETA) presented the results of a feasibility study in Jun 2004 for a 2.2km long second Forth Road Bridge. News items re the New Forth Road Bridge can be found at: www.forthbridges.org.uk/news.htm.


Forth Road Bridge + Forth Rail Bridge: image © Adrian Welch
Jan 2006 Update:
News in the last week suggests a third crossing is looking more likely, though a campaign is ongoing: if a new bridge is set in motion it is extremely important for Scotland's reputation that an outstanding design be realised, ie no PFI fudge or major contractor-design elements: Forth Road Bridge
Apr 2005 Update: The FETA Convener is reported to be still supportive of the second Forth Crossing despite the ForthRight Alliance – Cockburn Association, Friends of the Earth Scotland and TRANSform Scotland – campaign against it in favour of stronger rail links: more soon. FETA's inclusion of a second Forth Road Bridge option in its transport strategy encouraged groups who successfully opposed a new Forth Road Bridge proposal around ten years ago reform.


Forth Road Bridge: image © A J Welch
New Forth Bridge Competition
Aug 2005 Update:
Now that FETA's board appear to have accepted the need for a new Forth Bridge it is surely time an international competition is arranged in order that an excellent design is achieved.
With the world-famous Forth Rail Bridge close by it is surely one of the most important engineering and architecture challenges of the next decade for Scotland, unless there's a surprise and plans for a third crossing are shelved.
Whether the process is like the many recent bridge competitions in England, such as for Maidstone or Poole, or like the Oresund Link where Denmark's Georg Rotne was selected is worthy of debate. Please mail us any views. Friends of the Earth oppose the proposal. So far pairs of cranked, straight and inverted V-shaped suspension towers have been proposed. See news item for 18.04.05
Forth Road Bridge : Toll Canopy

image © Adrian Welch
New Forth Road Bridge
The Forth Estuary Transport Authority presented the results of a feasibility study in Jun 2004 for a second Forth Road Bridge. The proposed structure would be 2.2km long with 185m high towers and support a central span of 1375m making it the world's sixth longest bridge span.
Comments / photos for the New Forth Road Bridge page welcome