Scottish Provident Edinburgh Building, Architect, Office Property Project Images, Design Info
Scottish Provident Edinburgh Property
Former HQ on St Andrews Square, New Town, Edinburgh, Scotland, UK
post updated 26 July 2021
Scottish Provident
Scottish Provident Building Sale
Stockland Halladale buys 3-8 St Andrew Square, former Scottish Provident building, from ING Real estate. The competing Valad – EDI joint venture pulled out prior to the bid. 180108
News Update – March 2007
Scottish Provident site: full planning approval for £50m development by gareth hoskins architects for ING Real Estate 290307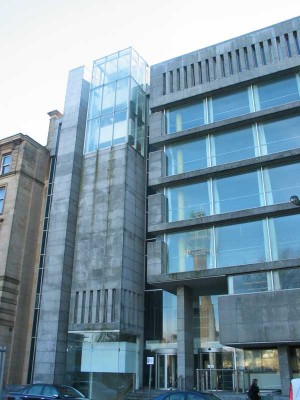 Photo © Adrian Welch 2008
Scottish Provident Redevelopment
Images not released to us but viewable on CEC Portal ref. 06/03441/FUL
Essentially St Andrew Square gets a massive injection of new architecture:
the principal Scottish Provident façade is retained but the traditional stone corner block and two narrow frontages to the east are to be demolished. The design is quite glassy with a vertical fin rhythm above street level. The proposals appear to be controversial to traditionalists – replacement of traditional decorative stone buildings that fit the patina of the area with a massive increase in glassy modern stuff – and many contemporary architects who favour an integral approach to this architectural classic.
Façade retention is of course in itself a controversial concept with a similar relationship to 'falseness' as pastiche. The proposal has a clear relationship to the original Kininmonth concept in that it's new facades slot between retained facades except there are two of the latter and one is Modern.


building: photo © Adrian Welch sep 2006
Scottish Provident – Submission Summary
3-8 St Andrew Square + 7-21 South St David Street, Edinburgh
Redevelopment of existing site (including the selective demolition of buildings) to form a mixed use development of office and retail uses and residential development
For ING Real Estate Investment Management
Application received 220806 validated 110906
Provident?
The realities of the commercial marketplace more often than not control architecture: the 'for let' signs are still up at the Scottish Provident and the street level chipboard protection has been joined by growing green stains. Previously our former city leader controversially asked for this sixties building's demolition to allow a modern building suited to current space and technical requirements. Just as with the former GPO building which slowly deteriorated over many years as it lay dormant (even sprouting small bushes on its neoclassical stone facade) there comes a point where the civic good surely overrides commercial determinants and the building is rescued. Witness Cardross. [Adrian Welch 30 Oct 2006]
Hope?
Scottish Provident restoration is part of a planning application by Gareth Hoskins Architects / CDA that was lodged with CEC Oct 2006: it involves demolition of the buildings around it, including the George Leslie wing on South St David Street: Application no. 06/03441/FUL
Jun 2005
Article re future of the Building by John Deffenbaugh + Letter from Frazer Hay


photo © Adrian Welch
Scottish Provident Building
Date built: 1961
Architect: William G Leslie of Rowand Anderson Kininmonth & Paul



photo © Adrian Welch 2008
Scottish Provident Development : article by John Deffenbaugh, 2005
Also by Spence: John Lewis Edinburgh


photo © Adrian Welch
Comments / photos for the Scottish Provident – Former office headquarters on St Andrews Square page welcome