Ross Pavilion International Design Competition, Building Contest Scotland, Architects, Project Images
Ross Pavilion Edinburgh Designs News
Architecture Competition for West Princes Street Gardens, Edinburgh, Scotland
2 Aug 2017
Ross Pavilion Competition Winner
Winning Design for New Edinburgh Landmark
wHY architecture – an architects office based in Culver City, Los Angeles, California, United States – win this important international architecture competition.
A design dubbed "The Hobbit House" has won the contest to create a new outdoor concert arena for Edinburgh to replace the Ross Bandstand.
American firm wHY beat off competition from 125 teams from 22 countries to design the £25m project to revitalise West Princes Street Gardens.
The design will see a series of new green spaces connected by an undulating promenade linked to the Royal Mile.
There will be a new Ross Pavilion and indoor visitor centre.
Ross Pavilion Design Competition Winner
20 June 2017
Ross Pavilion Designs
Seven Teams Compete to Design New Edinburgh Landmark
The seven diverse proposals from the teams vying to win the Ross Pavilion International Design Competition and revitalise West Princes Street Gardens now go on show to the public.
• Concept designs displayed in online gallery, and at a public exhibition from 21 June until 30 July 2017
• Public invited to comment at the exhibition or directly via email
• Winner to be announced in early August 2017
Ross Pavilion Edinburgh design by Flanagan Lawrence: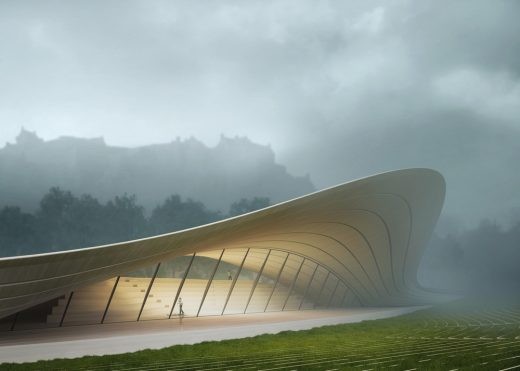 image courtesy of architects
The Ross Development Trust in collaboration with the City of Edinburgh Council today [20 June 2017] revealed the seven concept designs devised by international and UK teams for a new landmark Ross Pavilion, which is intended to revitalise Edinburgh's West Princes Street Gardens, one of the city's most emblematic places.
The Ross Pavilion concept designs are now available to view in an online gallery on the international competition website at https://competitions.malcolmreading.co.uk/rosspavilion/shortlist and in a free-to-enter public exhibition at Edinburgh's City Art Centre, which runs for five weeks.
Ross Pavilion design by BIG, Denmark: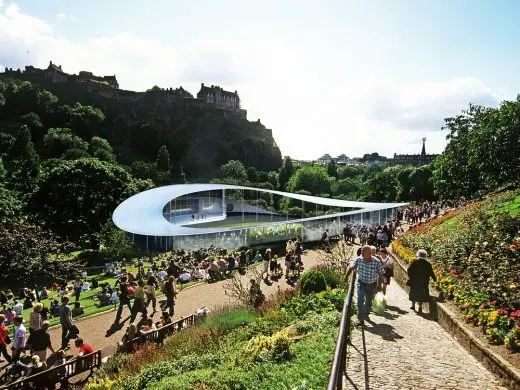 image courtesy of architects
The site for the new Pavilion is a nationally-important space, perfectly positioned below Edinburgh Castle and adjoining the city's most famous shopping street. Currently occupied by the Ross Bandstand, this is a true 'place for people' – for much of the year a tranquil haven, it is also the seasonal focus for some of Scotland's most high-profile events and celebrations, notably Hogmanay and the Edinburgh International Festival's closing fireworks concert.
Norman Springford, Chairman of the Ross Development Trust and Competition Jury Chair, said:
"The revival of this, one of Edinburgh's best and most prominent sites, is a hugely exciting prospect and we now have seven fascinating design concepts from some of the world's most in-demand creative minds.
"These design concepts help us visualise how the new Ross Pavilion could both complement and act as a counterpoise to the Gardens and the Castle. The concepts will now be assessed in detail, the public will get their chance to comment, and then the jury will interview the teams and review and debate each submission in turn."
Edinburgh's Lord Provost, Frank Ross, said:
"The global response to the competition reaffirms the worldwide interest a city like Edinburgh commands. It really is exciting to see the possibilities for the Ross Pavilion unfold and on display in the City Art Centre. We welcome all thoughts and comments from our citizens on the shortlisted schemes. One of these designs is set to become one of Edinburgh's most important new venues."
Malcolm Reading, Competition Director, said:
"Such was the appeal of the project that the competition brought the global design community to Edinburgh! Each of the finalists knows winning would be both a privilege and a career-defining moment. While the seven Pavilions show different approaches, the competing teams are connected by a shared love of materials, form and placemaking.
"Of course, these are concepts, and not final designs – the winning team will work closely to develop their ideas with the City Council and the Ross Development Trust."
The seven-strong shortlist that reached the second stage of the Ross Pavilion International Design Competition was selected from the 125 teams (made up of 400 individual firms) who entered the competition. The Pavilion, which will provide a flexible platform for the imaginative arts and cultural programming that Edinburgh excels in, will allow visitors and residents to engage with a variety of events all year round. Other aspects of the circa £25m project include subtle updates to the West Princes Street Gardens – the latter being of outstanding cultural significance and operated and managed by the City of Edinburgh Council as Common Good Land.
The public is being invited to share its views on the project via a survey at the exhibition or by emailing the competition organisers, Malcolm Reading Consultants, at [email protected]
The proposals on show are by the following shortlisted teams (in alphabetical order):
• Adjaye Associates with Morgan McDonnell, BuroHappold Engineering, Plan A Consultants, JLL, Turley, Arup, Sandy Brown, Charcoalblue, AOC Archaeology, Studio LR, FMDC, Interserve and Thomas & Adamson
• Bjarke Ingels Group (BIG) with JM Architects, WSP Parsons Brinckerhoff, GROSS.MAX., Charcoalblue, Speirs + Major, JLL, Alan Baxter and People Friendly
• Flanagan Lawrence with Gillespies, Expedition Engineering, JLL, Arup and Alan Baxter
• Page \ Park Architects, West 8 Landscape Architects and BuroHappold Engineering with Charcoalblue and Muir Smith Evans
• Reiulf Ramstad Arkitekter with GROSS.MAX., AECOM, Charcoalblue, Groves-Raines Architects and Forbes Massie Studio
• wHY, GRAS, Groves-Raines Architects, Arup, Studio Yann Kersalé, O Street, Stuco, Creative Concern, Noel Kingsbury, Atelier Ten and Lawrence Barth with Alan Cumming, Aaron Hicklin, Beatrice Colin, Peter Ross, Alison Watson and Adrian Turpin
• William Matthews Associates and Sou Fujimoto Architects with BuroHappold Engineering, GROSS.MAX., Purcell and Scott Hobbs Planning
The jury, which includes Alexander McCall Smith CBE, FRSE, Sir Mark Jones FSA, FRSE along with Andrew Kerr, CEO, City of Edinburgh Council and Adam Wilkinson, Director of Edinburgh World Heritage (see Notes to Editors for full list), will subsequently meet to interview the teams and the winner announcement is expected in early August 2017.
Established in 2016, the Ross Development Trust is a Scottish Charitable Incorporated Organisation whose purpose is to advance the appreciation and promotion of the arts, culture and heritage within West Princes Street Gardens and, through this, encourage the rejuvenation of Edinburgh city centre.
The Trust, which has committed a substantial gift towards the project, is raising funds from both private and public sources, and is working closely with the land owners, the City of Edinburgh Council, on this initiative. Other key project stakeholders include Edinburgh World Heritage, Historic Environment Scotland, the Edinburgh Festival, the Cockburn Association, and the Old Town Community Council.
The competition is being run according to EU procurement guidelines and the Public Contracts (Scotland) Regulations 2015. It is independently organised by Malcolm Reading Consultants (MRC). MRC specialises in work for museums and arts, heritage, and non-profit organisations and is currently running competitions for the National Infrastructure Commission, the Kaunas M.K. Čiurlionis Concert Centre, the UK Holocaust Memorial Foundation and the National Trust.
Construction is expected to begin in 2018.
Ross Pavilion Edinburgh Designs
Please see the competition's dedicated website for further updates:
Ross Fountain Restoration Starts
1 Jun 2017 – After initial inspections, the cast-iron feature will be removed piece by piece this summer from West Princes Street Gardens before being repaired and returned in Spring 2018.
28 Mar 2017
Ross Pavilion International Design Competition Shortlist
Ross Pavilion International Design Competition Shortlist for Emblematic Edinburgh Site
The Ross Development Trust in collaboration with the City of Edinburgh Council and Malcolm Reading Consultants announced the seven finalist teams who will proceed to the second stage of the Ross Pavilion International Design Competition.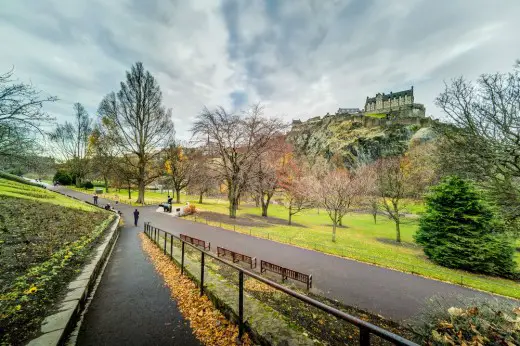 photograph © Malcolm Reading Consultants / David Springford
The competition is searching for an outstanding team of architects, landscape designers, engineers and other specialists for the new circa £25m Ross Pavilion and Gardens project in the heart of Edinburgh.
• Adjaye Associates (UK)
• BIG Bjarke Ingels Group (Denmark)
• Flanagan Lawrence (UK)
• Page \ Park Architects (UK)
• Reiulf Ramstad Arkitekter (Norway)
• wHY (USA)
• William Matthews Associates (UK) and Sou Fujimoto Architects (Japan)
10 + 9 Feb 2017 –
A new architecture competition launched for West Princes Street Gardens:
Ross Pavilion Design Competition
Ross Bandstand Edinburgh


building: photo © Adrian Welch Sep 2006
Ross Bandstand News
Design Contest announced by CEC for the Ross Bandstand site again, 3-5 to be shortlisted, 8 Jan 2007 registration deadline, more details soon


building: photo © Adrian Welch Jan 2007
Ross Bandstand Competition
The City of Edinburgh Council wishes to select a team to prepare a design for a new outdoor performance space in Princes Street Gardens, Edinburgh. A scoping study was carried out to consider options for the replacement of the existing Ross Bandstand built in 1934.
The study identified several options and established a budget of approximately £14m for construction works. A design competition was considered by the City of Edinburgh Council to be the most effective method for selecting the design team for this prominent site. The closing date for notes of interest re the Ross Bandstand Competition is 8 Jan 2007.
Envisaged number of participants: minimum number 3 /maximum number 5.
Deadline for entering 8 Jan 2007.
All short-listed applicants will be awarded a prize of £10 000
Ross Bandstand Project – Building
19 Apr 2006
Ross Bandstand feasibility study for CEC: a scoping exercise to establish the brief for what will probably become a design competition/tender.
The proposals will provide a new multi-function performance space that will be capable of accommodating the scale of events, such as Hogmanay and the Festival Fireworks, that currently require a temporary stage to be built in front of the existing bandstand.
A new bridge over the railway tracks is proposed so that the bandstand can be serviced directly from the back of the stage. This will avoid the significant disruption to the Gardens that is currently experienced when they have to be closed off for a week before, and after, such events.
New stair and lift access from Princes Street is also proposed to improve access for those with limited mobility or buggies.
A new, stepped, stone auditorium is proposed with a core capacity of 5000, with an additional capacity of 5000 provided by temporary seating on the new, paved, public space in front of the stage, and on re-modelled areas of grass. All of the back of house facilities for the Bandstand, and toilets, will be concealed below the stage and adjacent grass banking.


aerial view
The proposals illustrate three different approaches to the Bandstand structure which have been prepared to stimulate debate in the consultation process. Artist Keith McCarter has been working with the team on the form of the structure.
The most important aspect of the design studies is how the new Bandstand can become a positive catalyst for encouraging more life and activity in the Gardens when it is not in use for an event.
The feasibility study will now be considered by the Council, in consultation with other stakeholders, with the aim of establishing a brief for the re-development of the Bandstand.
Ross Bandstand Design Team
Arup – Project Managers and Engineer
Ian White Associates – Landscape
make – Architects + Keith McCarter – Artist
Thomas and Adamson – Cost Consultant
Unique Events – Event Logistics


building: photos © Adrian Welch Sep 2006
Ross Bandstand Project: 8 Sep 2005
make architects, Arup and Unique Events have won an open competition, organised by the City of Edinburgh Council and Scottish Enterprise Edinburgh and Lothian, to undertake a scoping study to examine a range of options on how the bandstand might be redeveloped.
The project will be managed by Arup with make's Edinburgh studio leading the design with Ian White Associates and Thomas and Adamson.
The team see the study as an opportunity to identify how the Ross Bandstand can be improved as a major events venue in a way that can enhance the appeal of Gardens and its importance as a green space."
Image of the existing Ross Bandstand in Princes St Gardens courtesy of make:


Adjacent is Princes Street and towering over the site to the south is Edinburgh Castle.
Team: make / Arup / Unique Events / Ian White Assocs / Thomas & Adamson:
Competition Organisers: CEC / SEEL
Related page: Morris & Steedman Edinburgh Tattoo Venue Proposal, also for this part of Princes St Gardens
Projects worked on by Foster + Partners in Edinburgh include Quartermile and Scottish Gas HQ – Centrica – which was directed by Ken Shuttleworth
Comments / photos for the Ross Pavilion Edinburgh Architecture page welcome