Edinburgh Events, CPD, Seminars, Conferences, Courses, Lectures, Buildings
Edinburgh Events + Talks
Architecture Talks & Exhibitions in Lothian, East of Scotland
Edinburgh + Scottish Architectural Events now on
Architecture Exhibition Glasgow
A+DS at The Lighthouse
Opening times: Mon, Wed – Sat: 10.30am – 5pm; Tues: 11am – 5pm; Closed Sun
All exhibitions are free and will be in The Lighthouse, 11 Mitchell Lane, Glasgow
Lighthouse Glasgow
Scottish + Edinburgh Events
EUSAS Event – Food City
18 Nov @ 6:00 pm – 9:00 pm
Old College Lecture Theatre 183, Old College South Bridge, Edinburgh, EH8 9LY
Food City – CJ Lim (University College London) Tuesday 18th November – Old College Lecture Theatre 183 18.00 doors open for 18.30 start
Edinburgh University Student Architecture Society – EUSAS – is the student society for ESALA. They are a non-profiting student led society with an interest in their student body's education and their professional development. Organised each year by a school-wide student body, it runs a series of exhibitions and lectures that bring together students, academic and professional communities. The society is completely self-funded and sustained through sponsorship, membership fees and fundraising with all profits put back into the society for future events.
EUSAS Event – Architecture & Participation
21 Nov @ 6:00 pm – 9:00 pm
Matthew Gallery, 20-22 Chambers Street, Edinburgh, EH1 1JZ
Architecture & Participation Marc Cairns (Pidgin Perfect), Amica Dall (Assemble) & Robert Kennedy (Baltic St. Adventure Playground, Glasgow) Friday 21st November (To Be Confirmed) – Matthew Gallery, Minto House 18.00 doors open for 18.30 start
EAA Event Evening
26 Nov 2014
In what promises to be an interesting and informative event three very different presentations are lined up, covering a range of local and current topics. The speakers will share their knowledge, perspectives, and issues encountered within their individual field.
EAA Event Evening – 26 November 2014
Three CPD Sessions – One Evening, at Scottish Storytelling Centre
– An Industrial Tour of Leith and Granton
Dr Mike Cressey BA MSc PhD FSA Scot MIfA
Mike is a Project Manager at CFA Archaeology. He oversees historic building surveys and industrial archaeology. His interest in the latter came about after studying the environmental impact of historical lead mining on Islay. Mike is also a wood and charcoal specialist and is currently working on a large Iron Age assemblage for the National Museums of Scotland.
– Energy Efficiency and the 2015 Technical Regulations
Richard Atkins FRIAS RIBA
Richard is Managing Director of Home Energy and Data Services Limited who provide the IT and technical support for RIAS – Energy Design Certification Scheme. As well as being a member of a number of groups and committees Richard was Scotland's first Approved Certifier of Design (Section 6 – Energy) Domestic. His talk will cover the proposed changes to Section 6 – Energy in the 2015 standards and methods for achieving compliance.
– Infrastructure in Edinburgh – Queensferry Crossing
Alistair Chisholm, Associate Arup (JV)
One of the world's leading long-span bridge designers, Arup was selected as part of a joint venture with Jacobs Engineering UK Ltd to design, develop and project-manage a new cable-stayed bridge crossing the river Forth. This talk will describe the issues that were considered in developing the distinctive new bridge design. Alistair is a chartered civil engineer and has worked on this project since its inception, with particular responsibility for the challenging marine foundation works. He will describe how these complex construction activities were achieved in the exposed maritime environment, together with a description of the progress with works to date.
Date: 26 November 2014
Time: 4.00pm – 7.30pm
Venue: Scottish Storytelling Centre, 43-45 High Street, Edinburgh, EH1 1SR
Cost: £20 Members, £10 Students, £30 Non Members
*Price includes Tea/Coffee and fresh Scones, breaks will be scheduled between sessions, with sessions approximately 45 minutes long*
Early booking is advised. Places must be booked and paid for before the event, please register by email, stating name and type of ticket,
followed with a cheque made payable to EAA, sent to EAA, 15 Rutland Square Edinburgh, EH1 2BE.
SBCC Conference 2014
27 Nov 2014
Venue: The Jeffrey Room, The Mitchell Library, North Street, Glasgow
Date: Thursday 27th November; 9.30am – 5.00pm
Cost: Early bird fee (until 31st Oct) – £135 / Full delegate fee – £180 / Student/retired – £48
This event will provide a definitive guide to the latest developments in building contracts and construction law in Scotland. It is suited to Architects, Engineers, Solicitors, Chartered Surveyors and Contractors.
This year we will discuss the future of the construction sector and consider the procurement review from the perspective of the Deputy Chair of the Review, architect, contractor and surveyor. The programme also includes an update on SBCC contractsand a legal update, sessions on arbitration, CDM and lessons learned from past economic recoveries.
The outstanding speakers include Shona Frame (MacRoberts), Ken Lewandowski (Deputy Chair of the Procurement Review), Willie Watt (Nicoll Russell Studios) Susan Hanley (RICS Regional Training Advisor Scotland), Brandon Malone (Chairman, Scottish Arbitration Centre), James Ritchie, (Association for Project Safety), Charles McGregor (Simpson and Marwick) and Peter Hibberd (Chair, JCT).
The distinguished speakers and targeted programme will ensure delegates leave roundly informed of critical changes affecting their industry now and in the future.
The SBCC is grateful for the support of BAM, Gartcarron Fire Engineering and Sika Sarnafil for their generous support of this Conference.
AHSS Winter Lecture Series 2014-2015
10 Nov 2014 to 13 Apr 2015
Venue: St Andrew's and St George's West Church, 13 George Street, Edinburgh
Dates: Various (see below)
Cost: £5 (£2.50 for students)
The Forth & Borders group are pleased to present a varied series of evening lectures for 2014-2015 covering a range of topics on Architectural History and Conservation and Garden History.
Monday 8 Dec 2014 – City Vistas: Lord Mar's plans for London, Paris and Edinburgh in the 1720s. Margaret Stewart, Lecturer in Architectural History at Edinburgh College ofArt,will introduce us to these fascinating plans.
Monday 2 Feb 2015 – Craigievar: Fifty Years in NTS Care. Ian Gow, Curator at the National Trust for Scotland since 1998, will tell us about this fine example of Scottish baronial architecture.
Monday 2 Mar 2015 – Mackintosh Architecture: Context, Making and Meaning. Prof. Pamela Robertson, Professor of Mackintosh Studies and Senior Curator in the University of Glasgow's Hunterian Art Gallery is currently principal investigator on a major research project and will address us on recent research.
Monday 13 Apr 2015 – Who's looking out for our historic buildings? A round table debate on the challenges to be faced under new planning legislation. We will hear from representatives of different disciplines with opportunities for contributions and questions.
Tickets on the door. Non members are warmly welcomed.
The speakers will cover the full range of Lorimer's work and the talks will be complemented by afternoon visits to some of his buildings and to view his archives.
Making the Most of Scotland's Industrial Heritage
10 Dec 2014
Venue: George Hotel 19-21 George St, Edinburgh
Date: Wednesday 10th December; 9.00am – 5.00pm
Cost: £50 / £30 for students
Over the last few months, a working group has been developing an Industrial Heritage Strategy for Scotland. This seminar aims to share this work with a wider audience.
The one day event will explore issues such as existing industrial heritage provision, its relevance to communities, education and skills, its potential for seeding regeneration and placemaking, and its capacity to enhance Scotland's position on the international stage. In addition to formal presentations, there will be an opportunity to participate and make yourself heard in discussion sessions during the day.
For more information about the event or to book a place, please get in touch with Amy-Beth Johnson or call 0131 668 8683.
EUSAS Event – Nordic Architecture
6 Mar 2015 @ 6:00 pm – 9:00 pm
ECA Main Lecture Theatre, 74 Lauriston Place, Edinburgh, EH3 9DF
Nordic Architecture Kristin Jarmund (Kristin Jarmund Arkitekter) Friday 6th March – ECA Main Lecture Theatre 18.00 doors open for 18.30 start
Glasgow Events
Recent Scottish Architecture Events
Recent Edinburgh Architectural Events:
An audience with: Álvaro Siza, Sérgio Fernandez, Jorge Figueira, Luis Urbano & Bruno Silvestre
9 Oct 2014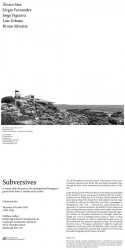 aefoundation are extending an invitation to their next event to be held at Edinburgh School of Architecture & Landscape Architecture (ESALA) and are very excited to be able to welcome Alvaro Siza and a number of his friends and colleagues to an intimate discussion about the architectural and political culture of Portugal just before the Carnation Revolution in 1974.
The discussion will take place at the Matthew Gallery at Chamber Street (ESALA) from 12:00 until 15:00 on Thursday the 9th of October 2014. It has been organised as a collateral event to the headlining RSA Isi Metzstein Discourse in the evening of the same day. For those of you that haven't managed to secure a ticket for the keynote lecture, this event could still provide the opportunity to see Alvaro Siza and friends in the flesh.
This architectural event is free of charge due to kind sponsors, but you must email events@aefoundation.co.uk to reserve a place. See www.aefoundation.co.uk for details.
In the Portugal of the 1940s and 1950s, two developments lent depth to the feeling of at least one group of architects that the country's architecture was falling into a set of empty stylistic patterns. The fascist dictatorship of the Estado Novo (as the regime was called) had adopted a narrow range of models by reference to which they were able to promulgate a homogeneous state style – monumental, quasi-neoclassical in appearance; modern in functional considerations.
In reaction architects, led initially by Keil Amaral and later including Tavora produced a thick survey called 'Arquitectura Popular em Portugal' (Subversive Survey), in which they documented, region by region, the varieties of vernacular architecture in Portugal. What they sought in the vernacular was a form of building without resort to "style," or what they called "constants," by which we can understand formal norms. Although they chart typologies within the body of the book, in the introduction they deny the importance of type.
They are afraid that from types a "Portuguese architecture" might be sought and reified into a code, just as the state had done with its models. Siza's architecture emerged from an epoch that sought to recover from the betrayals of language and the misuse of history. (Author: Robert Levit 1996)
Royal Scottish Academy Annual Exhibition
29 Mar – 4 May 2014
RSA Building, The Mound, Edinburgh, EH2 2EL | Admission by donation
188th RSA ANNUAL EXHIBITION
"Focus on Film"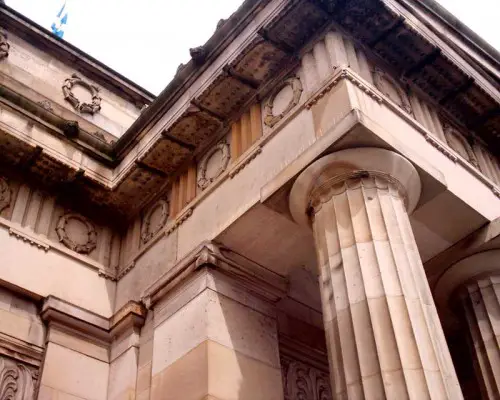 photograph © Adrian Welch
The RSA Annual Exhibition is a focal point of the RSA programme and showcases work from RSA Academicians the length and breadth of Scotland. Now in its 188th year, it continues to provide a platform for contemporary paintings, sculpture, film, printmaking, photography and installation alongside work by some of the country's leading architects.
This year's convenors, Ronald Forbes RSA and Charles Hussey RSA (Elect) have also curated a themed aspect within this major exhibition entitled 'Focus on Film' – a survey of Scottish art involving the moving image. The exhibition will showcase Academicians whose practice currently utilises film, established filmmakers past and present and emerging film artists, some who have come through the RSA New Contemporaries and other RSA programmes. There are nine curatorial themes exploring varied approaches to creativity in filmmaking and including a range of documentary works about RSA Members.
Royal Scottish Academy
Works by recent RSA award winners will be exhibited, including new work by Oliver Mezger, the recipient of the 2013 RSA Morton Award for Lens-based work. Additionally, there will be a small survey of the Morton Award, looking at previous recipients including Alexander & Susan Maris and Paul Rooney. There will be memorial works for Anthony Wheeler PPRSA, John Bellany HRSA and Keith Rand RSA.
Edinburgh Architectural Association AGM
13 May
The Edinburgh Architectural Association AGM is being held on Tuesday 13th May 2014, 17.45 for 18.00 at the RIAS, 15 Rutland Square, Edinburgh, EH1 2BE. All members of the RIAS in the EAA Chapter are invited to attend the AGM.
Crichton Wood RIAS, EAA Honorary Librarian, will also be giving a short talk on 'Robert Adam and the Strange Death of Scottish Architecture'. The talk is about the language of indigenous Scottish Architecture and to accompany it there will be nibbles and wine.
As numbers are restricted please confirm attendance by email to Stuart Bryce at mail@eaa.org.uk by 8th May 2014.
CPD – Social Capital in the Workplace
14 May
As part of Tsunami-Axis' ongoing programme of workplace related seminars they offer a unique twin topic event taking place on Wednesday 14th May 2014 at their Edinburgh showroom.
Derek Nash is a Partner and Head of Commercial Property at Lindsay's Solicitors. Derek will host a discussion on managing lease liabilities. Lease commitments are one of the key liabilities of a business. A normal lease contains various opportunities and threats for a tenant. This seminar looks at break options, lease termination and repairs and may assist you in managing some key strategic decisions on you or your client's property.
The second seminar is titled Social Capital in the Workplace and is hosted by Mark Catchlove of Herman Miller. It focuses on the intangible qualities that turn a group of individuals into a community and highlights some of the benefits this can deliver for commercial organisations.
Booking: s.holder@tsunami-axis.co.uk / 0131 226 3722.
Please arrive at 16.00 in time for the first seminar starting at 16.15. The seminars will finish at approximately 18:00pm.
Tsunami-Axis Edinburgh Office
6 Hope Street
Edinburgh
EH2 4DB
T. +44 (0) 131 226 3722
EAA Awards
EAA Awards event
Ice Lab: New Architecture and Science in Antarctica
Architecture and Design Scotland, Level 2, The Lighthouse 11 Mitchell Lane, Glasgow
Lighthouse Exhibition
Commissioned by the British Council and curated by the Arts Catalyst, Ice Lab: New Architecture and Science in Antarctica is a new international touring exhibition that will illustrate how innovative contemporary architecture is enabling scientists to live and work in one of the most extreme environments on our planet. The exhibition features five imaginative designs for Antarctic research stations. 22 Jul
The Royal Scottish Academy Exhibition
EXHIBITION: PORTFOLIO – TREASURES FROM THE RSA DIPLOMA COLLECTION



photograph © Adrian Welch
RSA Projects and Finlay Room, RSA Building, The Mound, Edinburgh, EH2 2EL
Admission Free
Royal Scottish Academy : Lecture + Exhibition
Edinburgh Coastal Regeneration Exhibition
Venue: The old Ambulance Depot, 77 Brunswick Street, Edinburgh, EH7 5HS





images Courtesy Rob Davies
Rob Davies presents 'DEVELOPMENT – Edinburgh's coastal regeneration landscape.
In this photography exhibition, initiated during study on the Masters in Design in Photography course at Glasgow School of Art, Rob set out to explore the changing edge of a city and in doing so found a costal landscape in limbo. One of stalled housing developments, dislocated communities – a land of unfinished visions, uncertain of its future and disconnected from its past. Funded by arts trust scotland.
EAF Festival Pavilion
St Andrew's Square



image Courtesy the artist and Glo
Designed by artist and Professor of Art at Edinburgh College of Art, Karen Forbes, this temporary structure is a contemporary expression of the city's long fascination with optics and optical devices for viewing: St Andrew Square
Glasgow School of Art Degree Show
Glasgow School of Art – annual exhibition
Kengo Kuma lecture – 'The Answer is Architecture', Dundee, Tayside



image from V&A
V&A at Dundee
Edinburgh Events + Talks : Archive
Scottish Architecture Events
Cockburn Association Events
Edinburgh Talks : College of Art
Comments / photos for the Edinburgh Events page welcome