Trusted Modern property development and investment in Edinburgh Advice, Home Tips
Modern property development and investment in Edinburgh
19 Dec 2019
A closer look at modern property development and investment in Edinburgh
Edinburgh's rich history and beautiful architecture are one of the city's most alluring and unique features, but that doesn't mean that it isn't without its modern builds. For those interested, here is a short look at some of the most exciting investment spots and modern developments in Edinburgh.
Bayes Centre
Pushing forward Edinburgh's already-established status as a hub for pioneering data technology, designs and maths work among students and professionals, the Bayes Centre is a state-of-the-art facility within Edinburgh that again proves its worth as a valuable and successful tech sector.
A huge modern space opened in 2018, the building features an enormous central atrium, inviting in light, and a bunch of different spaces that inspire creativity. While completely different from the old-style university buildings that you might associate with Edinburgh, the Bayes Centre works in tandem to make the area desirable for budding students.
65 London Road property development: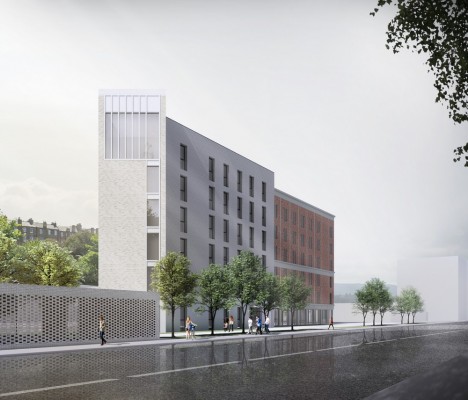 image © 3DReid
Edinburgh – A lucrative investment hotspot
When you look at the statistics and positively trending investment figures surrounding Edinburgh, it comes as no surprise that it is one of the most popular spots for investors looking to get themselves a buy to let property, and why so many developments are ongoing in the city. In their extensive guide to the area, property investment company RWinvest state that the city's consistent educational achievements and high employment rate make it a stable choice for property purchase, and cite some of its best investment areas as Trinity, Dalry, Stockbridge, Newington and Leith Walk. They also note that during the famous Edinburgh fringe festival in August time, the population temporarily swells massively, increasing the demand for modern accommodation and benefitting rental buy to let landlords.
Another benefit to Edinburgh from an investment perspective is its vast and ever-growing student population. Not only is student property one of the most attractive to investors – both experienced and beginner – due to its high rental yield averages and relatively low purchase price when compared to other property types, but its demand means that owners are at less risk of losing rental payments through void periods.
Leith Walk
Originally a run-down and struggling area of the city, serving as the backdrop to Irvine Welsh's famous book Trainspotting (which would later become a cult film favourite), Leith Walk is an area of Edinburgh that has become revitalised entirely over the past 20 years, and is now frequently named as one of the trendiest areas to live in the country – a far cry from what it once was.
Despite the rapid transformation that the area of the city has undergone in recent years, and the ongoing regeneration continuing there, Leith Walk has been the subject of contention at points. Some have feared that the overabundance of new developments in the area can at times put old buildings at risk when they should be protected, stating that the street has perhaps become slightly 'gentrified'.
Modern property development and investment in Edinburgh Conclusion
Overall, these sorts of concerns are extremely important to take into consideration when working and building within a city that has so much history. Interweaving modern technology and infrastructure within Edinburgh is a necessary and important step forward, but it shouldn't come to the detriment of its traditional buildings and legacy.
Why not check out Moderniser home DIY tips for properties in Edinburgh.
Comments on the Why hire an architect to build or remodel a home advice article are welcome
Scottish Architecture
Contemporary Lothian Buildings
Dance Base, The Grassmarket, Old Town
Design: Malcolm Fraser Architects



image : Steffen Schefer
Dance Base
Comments / photos for the Modern property development and investment in Edinburgh page welcome