Mortonhall Crematorium, Basil Spence, Architect, Modern Scottish Building, Project, Images, Info
Mortonhall Crematorium, Edinburgh
Modern Building in Edinburgh: Sixties Architecture Scotland design by architect Basil Spence
post updated 27 July 2021
Mortonhall Crematorium Edinburgh Building
Contact Morton Hall Crematorium on 0131 664 4314
Mortonhall photos, Feb 2004, all © Adrian Welch: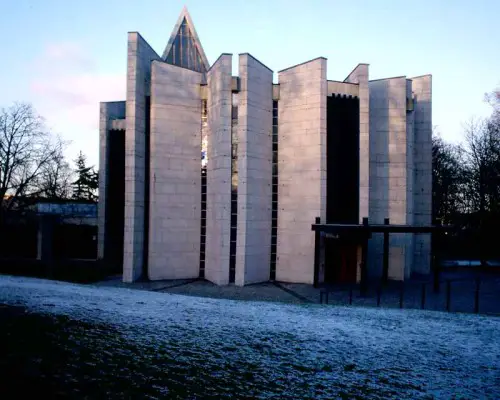 Mortonhall Crematorium, EH16 6TX
Date built: 1967
Design: Sir Basil Spence, Glover & Ferguson, Architects
Location: Howden Hall Road, Mortonhall, south Edinburgh
This is an interestign assortment of white Corbusian buildings in rolling parkland setting. The crystalline chapel's interior feels Scandinavian.
The extensive Crematorium grounds are landscaped quite simply. There is a large cross on the hillock to the west and with the Stenhouse Burn flowing from the Mortonhall Estate through the Mortonhall Cemetery.
The Extension at Morton Hall Crematorium for Edinburgh District Council is by Forgan and Stewart Architects, Edinburgh.
Morton Hall Crematorium, Howden Hall Rd, Edinburgh, Midlothian.
Architects Spence, Glover and Ferguson were commissioned by Edinburgh City Council in 1960 to build a new multi-denominational crematorium. The project architect was John 'Archie' Dewar. The City of Edinburgh also had architect Alexander Steele work on the project. The crematorium design was published in the Architects' Journal in May 1962. The main chapel has seating for 250 people and the smaller Pentland Chapel seats 50.
source: wikipedia
Edinburgh has another crematorium with good quality Modern buildings (esp the Chapel to the east of the main block): Warriston Crematorium, 36, Warriston Rd, Edinburgh, Midlothian. 0131 552 3020
Featured at:
RIAS 2002 Festival Exhibition
'Visons of Light: the Architecture of Basil Spence'
curated by Prof. Brian Edwards
9 Aug – 13 Sep
No larger photograph:



Mortonhall photo 2001 © Adrian Welch
Scottish Architecture
Contemporary Scottish Architecture
Comments / photos for the Morton Hall Crematorium Edinburgh Architecture – Modernist Scottish buildings designed by Sir Basil Spence, Glover & Ferguson Architects page welcome